The John Report: The WWE Raw Deal 11/16/20 Review
Welcome to the WWE Raw Deal review on TJRWrestling. This week's Raw has a bigger feel than normal because Randy Orton is defending the WWE Title against Drew McIntyre while The New Day are defending the Raw Tag Team Titles against Shelton Benjamin and Cedric Alexander of The Hurt Business. It's also the last Raw episode before Survivor Series (known as the "go-home show" by some people) on November 22 featuring Raw vs. Smackdown matches, plus The Undertaker's "Final Farewell" will be there.
As a reminder, we're always looking for writers on TJRWrestling. Even though it's not a paid gig, it is a good opportunity to write a pretty popular website. If you ever want to submit a column to TJRWrestling or write news posts for us (I really need people to help with news posts), there's info on how to do that on our Contact Us page right here. I usually reply to every sample, but it might take a few days as well. We have posted some guest columns over the past few weeks.
From the WWE ThunderDome at the Amway Center in Orlando, Florida, this is the Raw Deal for episode #1434 of Monday Night Raw. Follow me on Twitter @johnreport. Please visit TJRWrestling.net daily for our regular updates on the wrestling business featuring WWE news coverage, insightful columns from our team along with reviews about wrestling's past and present. Let's roll.
The Raw intro video aired to start the show. I have gotten used to the new song. I like it.
There was a shot of the WWE ThunderDome with the Raw announce team of Tom Phillips, Byron Saxton and Samoa Joe welcoming us to the show. They hyped up the big matches coming up this week.
Let's Hear from Drew McIntyre
Drew McIntyre entered in street clothes including a jacket. They showed highlights from Smackdown when McIntyre got in the face of Universal Champion Roman Reigns and then Drew beat Jey Uso in the main event. Reigns faces Orton or McIntyre at Survivor Series depending on who the WWE Champion is.
Drew welcomed us to Raw while noting that Survivor Series is a Thanksgiving tradition. Drew said he loved Thanksgiving because you get to tell your loved ones what you're thankful for. Drew said he's thankful for his family/friends to lean on, he's thankful for the fans and he's thankful for the ThunderDome bringing them closer together. Drew asked if they are ready for him to regain the WWE Championship and there were tears. Drew said he was thankful for the doubter that laugh at you, talk trash at you, which makes you believe in yourself more and tell them to read between the lines while holding up three fingers (that means a middle finger salute).
Drew spoke about being on Smackdown saying that Reigns should concern himself with Drew because he'll be WWE Champion. Drew said that Roman doesn't care about anybody but himself because he's put himself on a pedestal way above everybody else and Roman has his head up his ass. Drew said that he's going to win the WWE Title, then he's going to climb up there to face Roman and bring him back down to Earth because he's going to beat that man.
Randy Orton appeared backstage on the video screen with the WWE Title on his right shoulder. Orton said that he is thankful for being a 14-time WWE World Champion, but he's also thankful for that fine he was handed by WWE for putting his hands on Adam Pearce – he's thankful that the fine didn't faze him. Orton said that he has been fined more than any other WWE superstar and suspended more than any other WWE superstar. Orton claimed that he's been suspended longer than 80% of the roster has been in that ring. Orton said that he's still there, he's the best, he's still on top and it's because he is the "greatest wrestler ever." Orton said he'll prove it again tonight just like he did at Hell in a Cell and he'll prove it as the WWE Champion.
Drew told Orton that he forgot the most dangerous letters in WWE…RKO. Drew said they've been doing this so long that they finishing eachother's sentences. Drew talked about how at Hell in a Cell he went crashing off the cell, but tonight he's going to deliver a Claymore Kick to Randy Orton to become WWE Champion again.
The Miz and John Morrison showed up in suits with Miz also carrying the Money in the Bank briefcase. They plugged the Miz & Mrs. TV show as well as they got into the ring with Drew. Miz noted that they cashed in some favors to sit front row for the WWE Championship match tonight. Drew threatened them about getting involved in his match tonight. Miz noted that the possibilities are endless and he said there's a chance that he could be holding the WWE Title. Morrison and Miz claimed that Bray Wyatt was afraid of them. They once again talked about how Miz could change things by becoming the WWE Champion via MITB contract cash in. Miz told Drew that change is coming whether he likes it or not. Drew said that the difference between Drew and Randy is that Randy can actually be a patient man, but Drew is not. Miz told Drew that his impatience cost him the WWE Title and Miz/Morrison backed out of the ring. Miz said that Drew gave too many title matches while noting that Orton got three title matches. Miz said that maybe he (Miz) doesn't deserve a title match, but he's going to laugh all the way to the (money in the) bank. Miz and Morrison left as Drew stared at them.
Analysis: I liked this a lot. It was an effective use of the first 15 minutes to put over the importance of the WWE Title match in the main event. Raw is repetitive with promos to start the show, but I think it's fine for them to do a lengthy promo like this when there's a WWE Title match in the main event. I like the confidence shown by Drew, which was reciprocated by Orton and then it was smart to have Miz/Morrison out there to tease a possible Money in the Bank cash-in later. I think it worked in terms of enticing viewers to tune in for the main event.
There were replays shown of Nia Jax giving Lana a Samoan Drop through the announce table eight times in the last few months.
Lana was shown warming up backstage in the gorilla position behind the curtain. Lana told Shayna Baszler and Nia Jax that she earned her spot on the Survivor Series. Lana said she wants to prove that she actually belongs. Lana said she's here for this match and here for Team Raw. Shayna said that this match is about her and Nia proving they run this division. Jax told Lana not to tag in for this match.
Shayna Baszler entered with Nia Jax for the match beginning after a break.
(Commercial)
Lana made her entrance for her team as well. That led to the other team making their entrance with Raw Women's Champion Asuka followed by Dana Brooke and Mandy Rose. There was some black Kinesio tape on Mandy's left shoulder. No team name for Dana and Mandy yet.
Asuka, Mandy Rose and Dana Brooke vs. Nia Jax, Shayna Baszler and Nia Jax
Baszler tagged herself in when Lana was standing in the ring. Baszler with a backbreaker on Brooke followed by a knee to the face. Baszler sent Brooke out of the ring, Jax tagged in, she went after Brooke and Rose checked on her partner. Baszler stepped on the left arm of Rose by the steel steps, so that led to a break.
(Commercial)
The match continued with Baszler trying to step on Brooke's arm, but Brooke moved and sent Baszler into the turnbuckle. Rose was taken to the back. Asuka tagged in with a shoulder tackle, then a corner hip attack on Baszler and Asuka with a double knee attack on Baszler. Jax broke up a pin attempt by kicking Asuka. There was a roundhouse kick by Asuka to Baszler, then Asuka kicked Jax out of the ring and Baszler had Asuka trapped in a Kirifuda Clutch, but Lana tagged herself in. Baszler complained about it. Lana with a kick to Asuka for a two count. Jax wanted Lana to tag out, but she didn't and Asuka hit a roundhouse kick on Lana. Asuka with the Asuka Lock for the submission win over Lana. They went about seven minutes.
Winners by submission: Asuka, Mandy Rose and Dana Brooke
Analysis: *1/2 It was more about the story than the match because Lana wanted to try to bring her team together. That didn't work and Asuka easily finished off Lana to win the match. Jax and Baszler could have saved Lana, but they chose not to do it and that's why Lana lost. That outcome wasn't surprising.
Post match, Jax cleared off the announce table while Baszler sent Lana out of the ring. Brooke and Asuka went to the back. Jax told Lana she showed a lot of courage and she welcomed her to Team Raw. That was all a ruse as Jax picked up Lana and Jax gave Lana a Samoan Drop through the announce table for the NINTH TIME on Raw.
There was a backstage scene with Team Raw members Sheamus, Riddle, Keith Lee and Braun Strowman bickering. AJ Styles showed up with his tall associate Jordan. Styles talked about how their egos were getting in the way of their team. Styles claimed he was Team Captain, which led to arguing, Riddle mentioning the nickname and more bickering. Styles said that all of them hate to lose, so they can agree to that. Styles talked about how they have a tune-up match against Retribution and he tossed Raw t-shirts at his four partners while adding that it will prove they are a team. The team walked away, so then Riddle said that he had a sweet nickname for AJ's tall friend. Styles told him not to, Riddle said something, AJ said his friend doesn't even speak English and the big man said of course he did, but AJ never asked. AJ was shocked by it as they went to break.
Analysis: More bickering and arguing. I'm ready for Survivor Series to be over so that I don't have to listen to people arguing about who the captain is. The fans don't care. AJ is a goofy heel sometimes as seen by the final part of that segment.
(Commercial)
Dana Brooke was shown backstage getting interviewed by Charly Caruso. Brooke complained about what Shayna did to Mandy Rose, so then Reckoning (Mia Yim) showed up to shove Brooke in the door. Reckoning kicked the back of Dana's head into an equipment case. Officials showed up to break it up while Dana was down selling the attack.
Analysis: We would find out later that Dana and Mandy were out of Survivor Series.
Firefly Funhouse
Bray Wyatt and Alexa Bliss were on the set of their show. Wyatt talked about The Miz and Bliss said that it's Wyatt vs. Miz because Wyatt wants to teach him some manners. Wyatt noted that Miz doesn't want to see his bad side, which led to images of The Fiend being shown. They showed Wyatt training with some agility tests where he knocked down Huskus and Mercy. Wyatt also did some spelling: Jackass – he spelled it as Miz and that was correct. Good work, kid. Ramblin' Rabbit was on a dartboard, Wyatt threw it and he threw it at Rabbit, which led to laughter. Wyatt: "Bullseye!" Bliss: "More like rabbit's heart." Get it? Instead of a bull's eye, it was a rabbit's heart. They laughed some more. That was it.
Analysis: There have been rumors/reports that Wyatt is considered a face now, so if that is true then it makes sense for him to go after Miz like this. Earlier in the show, Miz took a shot at Wyatt, so this was payback of sorts.
The Hurt Business foursome of US Champion Bobby Lashley, MVP, Cedric Alexander and Shelton Benjamin entered for the Tag Team Title match.
(Commercial)
This Friday on Smackdown: Seth Rollins vs. Murphy. Plus, it's the last Smackdown before Survivor Series.
The Hurt Business foursome were in the ring doing a promo with Montel Vontavious Porter talking as usual. MVP said that Sunday at Survivor Series, it's best vs. best and there's nobody better than The Hurt Business. MVP talked about how US Champion Bobby Lashley will squeeze the life out of Intercontinental Champion Sami Zayn. Benjamin said that he and Cedric are going to take out New Day to become the Raw Tag Team Championships. Then they'll take on The Street Profits at Survivor Series and we all know how that's going to end. MVP said that they will collectively control most of the gold on Monday Night Raw, so they can get credit for putting Smackdown out of business.
Kofi Kingston and Xavier Woods of The New Day entered as the Raw Tag Team Champions. Kofi said that what they were saying wasn't true while the only truth they said is that it's Best of the Best at Survivor Series while adding that it will be New Day in that much. Kofi said they sound like a bunch of jerks. MVP said something, so Kofi told him to wait until they get the punchline business and Kofi said that they are more like the Jerk Business. Woods said that people would be laughing if they were there. Woods noted that they won't let Hurt Business represent Raw and then said it's New Day that will represent Raw because "New Day rocks" which they said repeatedly. That match is after the break.
Analysis: It was some simple back and forth trash talk between the two teams in a match that was advertised last week. They really didn't need to do this segment, but it's a three-hour show with time to kill. The "jerk business" joke was lame. I guess somebody on the creative team liked when George Costanza made the "jerk store" comment on Seinfeld about 25 years ago.
This Wednesday on NXT: Io Shirai defends the NXT Women's Championship against Rhea Ripley. Plus, NXT Champion Finn Balor is back. Read my review on TJRWrestling on Thursday.
Analysis: There was only one match in the first hour of Raw. Not good. I prefer two or three matches in an hour.
(Commercial)
It's official for later on Raw with Bray Wyatt facing The Miz. Plus, the WWE Title match in the main event.
Raw Tag Team Championships: The New Day (Kofi Kingston and Xavier Woods) vs. The Hurt Business (Shelton Benjamin and Cedric Alexander) (w/MVP)
Cedric took down Kofi with a gator roll early, then Kofi with a shoulder tackle and Woods tagged in with a running clothesline. Kofi hit a splash off the ropes while Woods hit a fist drop for two. Cedric with a shot to the throat, Benjamin tagged in with a shoulder tackle and Woods hit a spinning forearm to rock Benjamin. Woods hit a dropkick for two on Benjamin. Woods bounced off the ropes with Benjamin hitting a clothesline and two body slams followed by a spinebuster for two. Shelton with a kick to the back of the neck. Cedric with a dropkick for two as Benjamin tagged back in with a chinlock. Woods got a sunset flip for a two count and then Woods hit an enziguri kick to the head. Kofi tagged in with a springboard chop, then a dropkick and Kofi went up top with a frog splash cross body block on a standing Benjamin for two. Kofi bounced off the ropes with a leaping clothesline. Benjamin caught Kofi going for the leg drop and gave him a Buckle Bomb (a recently unbanned move in WWE) against the turnbuckle. Benjamin held up Kofi up, which led to Alexander jumping off the ropes with a clothesline, so it was clothesline into a Powerbomb for a two count. Cool move. That led to a break.
(Commercial)
The match returned with Benjamin in control of Kofi with a chinlock as Kofi hit a jawbreaker to break free. Kofi broke free with a Tornado DDT Out of the corner. Woods tagged in against Cedric with Woods hitting a jumping kick to the face. Woods with the honor roll clothesline on Shelton. Woods hit a combo splash/dropkick on both guys by the apron. Woods went up top and he jumped off with a missile dropkick on Cedric for two. Kofi tagged back in and did the double foot stomp on Cedric off the ropes. Benjamin with a knee to send Woods out of the ring. Benjamin sent Kofi out of the ring. Cedric hit two suicide dives in a row on Kofi with Cedric hitting the barricade both times. Cedric jumped onto Woods with a punch on the floor. Benjamin made a tag, he sent Kofi into the turnbuckle and they went back into the ring. Benjamin hit an Angle/Olympic Slam on Kofi for a two count as an ode to Shelton's Team Angle history. Cedric back in, Benjamin with a kick and Cedric hit a brainbuster for two as Woods broke up the pin. Kofi with a superkick on Cedric, Kofi with Trouble in Paradise on Benjamin on the apron after Kofi kicked Cedric down. Woods jumped off the top with a double foot stomp known as Daybreak (thanks Tom) while Kofi held Cedric and Woods covered Alexander for the pinfall win after 17 minutes.
Winners by pinfall: The New Day (Kofi Kingston and Xavier Woods)
Analysis: ***1/2 This was a great match especially in the second half of it after the break. The pace really picked up, there were some nearfalls for both sides, these teams really worked well together and in the end, it was the more experienced New Day team that found a way to get the win. An easy match to get into with Woods/Kofi taking turns as the face in peril while Cedric and Shelton were very aggressive throughout the match. I thought a title change was possible, so that unpredictability factor definitely helped the match. I think they'll have a rematch before year's end with Hurt Business winning the titles when they do it again.
The win by New Day means they are still facing The Street Profits at Survivor Series.
Sheamus was backstage where he called for Drew McIntyre to come to talk to him. Sheamus said that they have known eachother for a long time and he said they were so close that he knew Drew's mom, who was like a second mom to him. Sheamus said he had something for Drew. It was a crate that had some of Drew's wrestling gear in it. Sheamus walked up to Drew and handed him a big sword with Drew looking happy to see his gear.
AJ Styles made his entrance with the big man Jordan as the show went to break.
(Commercial)
The Retribution group led by Mustafa Ali did a promo backstage. Ali claimed that the Raw team underestimated Retribution. Reckoning spoke briefly about how they're always a step ahead as she proved earlier in the show. Ali spoke about how Team Raw is everything that Retribution despises since they are spineless cowards ready to stab themselves in the back.
AJ Styles joined commentary for this match with the big man standing behind him.
Team Raw made their entrances individually. Retribution entered as a group. Styles called them a selfish group that nobody likes.
Braun Strowman, Sheamus, Riddle and Keith Lee vs. Retribution (Mustafa Ali, T-Bar, Mace and Slapjack)
Riddle grappled with Slapjack (who wears a white/black mask) on the mat. Riddle hit a gutwrench suplex across the ring. Riddle with a jumping kick to T-Bar along with a running forearm. T-Bar with a boot to Lee to kick him off the apron. Riddle hit an Exploder Suplex and broton splash for just a one count. Sheamus and Strowman argued about who should tag in, so Styles tried to calm them down by telling them he's the captain. Strowman shoved Styles into AJ's big security guy as the show went to break.
(Commercial)
The match continued with T-Bar battling with Riddle as T-Bar and Mace hit double knees followed by Slapjack hitting a cannonball attack on Riddle against the turnbuckle. Ali tagged in with a neckbreaker on Riddle for a two count. T-Bar and Mace hit a double team boot to the face of Riddle with Mace getting a two count on Riddle. Slapjack was back in, he grabbed Riddle in an ankle lock and Slapjack came back with a knee to the face. Riddle with a fisherman's suplex on Slapjack leading to tags for Lee against Ali, who ran away. Lee with running splashes on T-Bar, Mace and Slapjack and Lee tossed Slapjack into his partners. Lee with a pounce on Slapjack. Ali remained on the floor as Lee swung Slapjack into his partners. Lee with a clothesline on T-Bar and Mace to the floor, which led to Ali hitting a suicide dive to Lee's back to send Lee into the announce table. Back in the ring, Ali got a two count out of that. Strowman was frustrated so he ran over T-Bar and Mace with shoulder tackles. Sheamus hit a Brogue Kick on Slapjack. Lee slammed down Ali, so Sheamus tagged himself in and Strowman tagged himself in as well. Sheamus pulled Ali off Strowman's shoulders, so Sheamus and Strowman argued with Strowman throwing Sheamus out of the ring. Riddle tagged himself in, Ali shoved him into Strowman into Lee and Ali did a ROLLUP OF DEATH~! where he put his body weight on top of Riddle for the pinfall win after 12 minutes.
Winners by pinfall: Retribution (Mustafa Ali, T-Bar, Mace and Slapjack)
Analysis: *** The match was about the story of Team Raw not being able to work together. Retribution picking up a meaningful win is okay with me because that's what they need in order to gain some credibility with the fans. I don't like the silliness of Retribution, but if they are booked strong with victories then that's going to help the group in a big way. Since the Raw Survivor Series team are not allies, they can be booked to lose a match and it will have no effect on them other than a story that they may have issues on Sunday at Survivor Series. I like how it was booked even with a ROLLUP OF DEATH~! finish.
After the match, Styles went into the ring to show he was frustrated with the four guys on his team.
Nikki Cross was shown walking backstage with Sarah Schreiber asking her why she was looking for Alexa Bliss. Cross said that friends don't give up on eachother. Cross said that no matter what, she has to get Lexie (Alexa) away from The Fiend.
Jeff Hardy was shown backstage with a flyer in his hand with Sarah asking if something was making him upset. Jeff held up a flyer with pictures from the Jeff Hardy framed car crash from May with Jeff saying this was the work of Elias. A phone number was on there saying to call 555-AMEN with more info. Jeff said if Elias wanted information, he's about to give him the big break he's been waiting for.
(Commercial)
Elias was in the locker room playing his guitar. Jeff Hardy showed up with Elias saying he took matters into his own hands. Jeff told Elias that he didn't hit him with the car. Elias said that you are the one that did it. Jeff pushed Elias up against a locker and told Elias to stop accusing him of something he did not do. Jeff left.
Analysis: I thought this story was over. I guess not.
The Miz made his entrance with John Morrison, who was still in a suit like earlier in the show. The Miz did a promo saying there was no good reason to have this match with Bray Wyatt tonight. Miz said that Drew McIntyre and Randy Orton have a WWE Title match, so they should work together with Miz cashing in the Money in the Bank contract while Wyatt wants to face Orton, so what do you say? No reply from Bray Wyatt.
Alexa Bliss made her entrance in her unique FunHouse gear. Bliss: "He says no." Nikki Cross showed up telling Alexa she needs to stop this because he is bad for you. Bliss said you're right and then she slapped Cross. Bliss punched Cross, then Cross punched her back and they were separated by WWE Officials from the back. Bray Wyatt made his entrance with Bliss excited to see him, so Bray went to the ring to have his match with Bliss joining him. Wyatt was in the red sweater that he has worn in the past for matches.
(Commercial)
The bell rang to start the match.
Bray Wyatt (w/Alexa Bliss) vs. The Miz (w/John Morrison)
Wyatt said he would forgive him, then Miz kicked him in the hand and Wyatt hit a running headbutt. Miz choked Wyatt against the middle rope and Morrison hit a cheap shot forearm to the face. Wyatt decked Miz with a punch followed by repeated punches. Miz left the ring, so Wyatt whipped Miz into the steel steps. Wyatt charged, Miz hit him with a big boot and Miz to the apron where he drove Wyatt's head into the top rope. Miz off the top with a double axehandle leading to a DDT for just a one count. Miz with the kicks to the chest. Miz missed a roundhouse kick when Wyatt moved, Wyatt went for the neckbreaker, Miz slipped out and Wyatt decked him with a clothesline. Wyatt with a corner splash and a running cross body block to take down Miz. Wyatt with a standing uranage slam followed by a twisting neck move. Morrison grabbed Wyatt's foot, so Bliss charged and Morrison and tackled him over the barricade! That was pretty cool. Miz hit a double axehandle on Wyatt followed by a clothesline, but Wyatt no sold that. Wyatt hit the Sister Abigail neckbreaker for the pinfall win after about five minutes.
Winner by pinfall: Bray Wyatt
Analysis: ** A dominant win by Wyatt. Miz did get some offense, but this result was never in doubt. I liked that spot with Bliss and Morrison on the floor. Miz continues to be booked poorly with a lot of losses this year, but WWE seems to enjoy booking Miz and Morrison as jokes. Wyatt is supposed to be a face now…we think, but it's hard to get behind him as this character.
Post match, Bliss happily walked across the barricade. Bliss jumped off that and went hand in hand with Wyatt up the ramp. That's when The Fiend's graphic was shown on the video screen and the red light filled the arena. Wyatt and Bliss stared at the screen. Then it went black and it was on to the next thing.
There was a long video package about the rivalry between Randy Orton and Drew McIntyre. It was about their journeys over their careers while saying that no two journeys are ever the same. Very good video as usual by WWE's production team.
(Commercial)
They plugged Stephanie McMahon winning some award for being a powerful woman.
It was announced that Mandy Rose and Dana Brooke are both off of Team Raw at Survivor Series due to attacks earlier in the show.
Adam Pearce, the WWE Official, was interviewed by Charly Caruso. Pearce said that due to injury by Mandy and Dana, neither of those women can compete at Survivor Series. Pearce is replacing them with Lacey Evans and Peyton Royce.
Analysis: That's fine I guess. It gives Mandy a reason to go after Shayna Baszler and Dana Brooke will want revenge on Reckoning as well. Mandy apparently has a sore shoulder although I don't think it's that serious. They're just giving her a bit of a break.
Asuka was interviewed by Charly Caruso with Asuka saying she was so excited. Asuka said that she'll beat Sasha Banks while adding that nobody is ready for Asuka.
The announcers did a rundown of Survivor Series while mentioning that The Undertaker will be there to have his "Final Farewell" as well. I have all the matches listed at the bottom of this post.
Randy Orton was asked by Charly Caruso about his confidence level. Orton said that he's got a long list of distractions right now like The Miz, The Fiend, Roman Reigns at Survivor Series and Drew McIntyre up next. Randy told her that she didn't want to be on the long list of distractions and that was the end of the promo.
(Commercial)
This week on Raw Talk on WWE Network the guests include Sheamus, Asuka and The New Day's Kofi Kingston and Xavier Woods. It's hosted by Charly Caruso and R-Truth.
Angel Garza did a promo talking about how when he was a kid, he would notice roses in the garden. Garza said that he's like a thorn that protects a rose. Garza said that this rose goes to you.
Nia Jax and Shayna Baszler were shown talking backstage about their team issues. Nia complained about Shayna injuring Mandy while Shayna said that it was Reckoning that injured Dana to take her out. Lacey Evans and Peyton Royce showed up with Lacey saying she didn't want you two nasties pushing them around. Royce wondered if they wanted to strategize, Jax wasn't interested and Royce got Evans out there. Jax said that this was the worst idea since Quibi.
Drew McIntyre made his entrance with Phillips shouting that it was a main event worthy of WrestleMania. Drew was wearing a blue kilt that was likely in that crate that Sheamus brought for earlier in the show. Drew also had the giant sword in his hand. Drew put the sword on the top of the ramp where there was a slot and that led to a pyro display going off. Cool entrance there. Drew was fired up.
(Commercial)
Drew McIntyre was in the ring getting ready for Randy Orton's entrance as Mark Henry was shown watching on the ThunderDome screens.
Randy Orton made his slow walk with the WWE Championship on his shoulder. The winner of this match gets to face the Universal Champion Roman Reigns at Survivor Series. The wrestlers stood in the ring as announcer Mike Rome did the introductions.
WWE Championship: Randy Orton vs. Drew McIntyre
They started this with about 25 minutes left in the show, which told the viewer it's going to be a long match. Drew with a shoulder tackle followed by a headbutt to knock Orton down. Drew with another headbutt to the face, Orton off the ropes and Drew hit a spinebuster for a two count. Orton bailed to the floor, he grabbed the WWE Title and Orton went towards the ramp, but McIntyre stopped him with a clothesline to the back. Drew sent Orton into the barricade. Back in the ring, Drew went for a Brogue Kick, Orton moved and Orton left up the ramp with the WWE Title again. That led to WWE Official Adam Pearce saying this match will not end like this. Pearce said No Countouts, No Disqualifications, but there will be a winner by pinfall or submission and he told Randy that is official.
(Commercial)
The match returned as they exchanged punches, Drew with a clothesline and Orton hit a modified backbreaker. Orton brought a steel chair into the ring, which he used to jab Drew in the ribs followed by a chair shot to the back. Orton shoved the chair into the jaw of McIntyre, who was selling a broken jaw injury months ago during this feud. Orton with another chair to the back that got a two count. They left the ring with Orton hitting a belly to back suplex across the top of the barricade. Orton grabbed the top half of the steel chairs and hit Drew in the face with them. They were back in the ring with Orton doing the body stomping along with a leg drop for two. Orton sent Drew out of the ring by the announce table. Orton picked up Drew and slammed him back first onto the top of the announce table, which didn't break. Orton worked over Drew with repeated punches. Orton hit another belly to back suplex on Drew on the announce table. Drew came back with punches and Drew slammed Orton back first onto the announce table. Drew did it again to Randy with a bit more force to try to break the table I think, but the table didn't break. Orton went for a Claymore Kick on the floor, Orton moved and Drew hit the announce table. That led to a break.
(Commercial)
The match returned with Orton in control briefly, but then Drew came back with two belly to belly throws across the ring. Drew hit a jumping neckbreaker. Drew went for the DDT, Orton countered it. They were battling from a seated position on one of the big four PPVs. Orton connected with a superplex on Drew with Orton standing on the middle rope, so it wasn't the small mask for her. Drew went for a backslide for two and then a Future Shock DDT for two. Drew had Randy on the shoulders, Randy to the apron and there was a table on the floor that was set up earlier by Orton. Drew rocked Orton with a forearm followed by a punch that sent Orton off the apron through a table that was on the floor. Orton let out a swear word as he took that bump and went crashing through the table. Back in the ring, Drew went for a Claymore Kick, but Orton countered with a powerslam. Orton's back was cut likely by part of the table. They were out of the ring again with Orton hitting a DDT. Orton hit a draping DDT off the announce table to the floor. Orton went back in the ring and hit another draping DDT on Drew. Orton set up for the RKO, Drew backed off, Drew bounced off the apron and Drew hit a Claymore Kick for the pinfall win after 24 minutes. New champ!
Winner by pinfall AND NEW WWE Champion: Drew McIntyre
Analysis: ***3/4 This was an awesome match with the No Countout/No DQ stipulation allowing them to crank up the intensity by battling outside the ring more and using some weapons. I have reviewed all of their WWE Title matches this year. This was as good as any of them. I'm glad that Drew won even though it meant only a 22-day title run for Orton. I just think it's better to have the WWE Title on Drew, who has had a fantastic year just like Orton has. I really liked the story of Drew going for the Claymore Kick four times, Orton avoided the first three times and when Drew hit it on the fourth attempt, that led to Drew getting the win. I like that as a story because it builds up the anticipation. There are sometimes 20-minute matches that drag a lot, but I think the story for this match was so good going into it that it was hard to really pick a player or moment that stuck out. Fun match with the right result.
Post match, McIntyre held up the WWE Title. Drew looked into the camera telling Roman Reigns to set up another place at the dinner because Drew is coming over. As Drew celebrated, there were loud cheers for him. Drew held up the WWE Title, he smiled and said thanks to the fans at home. That was it.
The win by McIntyre puts an end to Randy Orton's title reign at just 22 days.
Analysis: Would I have done the Randy Orton title win? No. Probably not. Just done to give him his 14th title reign and maybe he gets to 16, but I'm not sure. I don't think Drew was hurt by the loss that much. Drew/Randy had a very good match on Raw tonight. It might have helped ratings too. I would be surprised if there wasn't a bit of a ratings boost because of it. In the end, I really don't think Drew McIntyre is hurt by being a two-time WWE Champion now instead of a one-time WWE Champion that was without the title for 3 weeks. He'll be fine. Drew has been booked very well this year and he's performed at a high level.
Here's a listing of days as champion for the last six WWE Champions before Randy Orton for 22 days:
Drew McIntyre – 202 (That's the recognized number for Drew and Brock since it was a taped match at WrestleMania.)
Brock Lesnar – 184
Kofi Kingston – 180
Daniel Bryan – 144
AJ Styles – 371
Jinder Mahal – 170
The guy before him was Randy Orton at 49 days. The WWE Title is back on Drew again.
Three Stars of the Show
Drew McIntyre
Randy Orton
The New Day
The Scoreboard
7 out of 10
Last week: 6
2020 Average: 6.21
Final Thoughts
Here's my WWE Raw Deal review for this week. I thought Raw was good mainly because of the quality of the two title matches. Drew McIntyre becoming the WWE Champion after a great main event like that was pretty cool to see. Should he have lost the title in the first place? Probably not, but I think WWE wanted to book a big title change on an episode of Raw to try to draw a bigger rating. Randy Orton put in a good effort, he even got cut in the back after a table bump and in the end, McIntyre looks like a dominant champion again. I think McIntyre vs. Reigns is a better match for Survivor Series too, so I'm all for the title change.
The New Day's match with Hurt Business was very good too. I think the first hour was slow after the opening promo, which I liked, but if you check the minutes of the matches then you'd see it was very short. I thought the Bray Wyatt/Alexa Bliss stuff was unique. Alexa is a talented actress while Wyatt certainly knows how to be that annoying kids show host as well. Retribution beating dysfunctional Team Raw was a good thing for them although I don't know if WWE will get behind Retribution long term.
I'm pretty tired as I write this, so I'll end it by saying Raw was easier to get through and more tolerable than most weeks, even with some bad segments.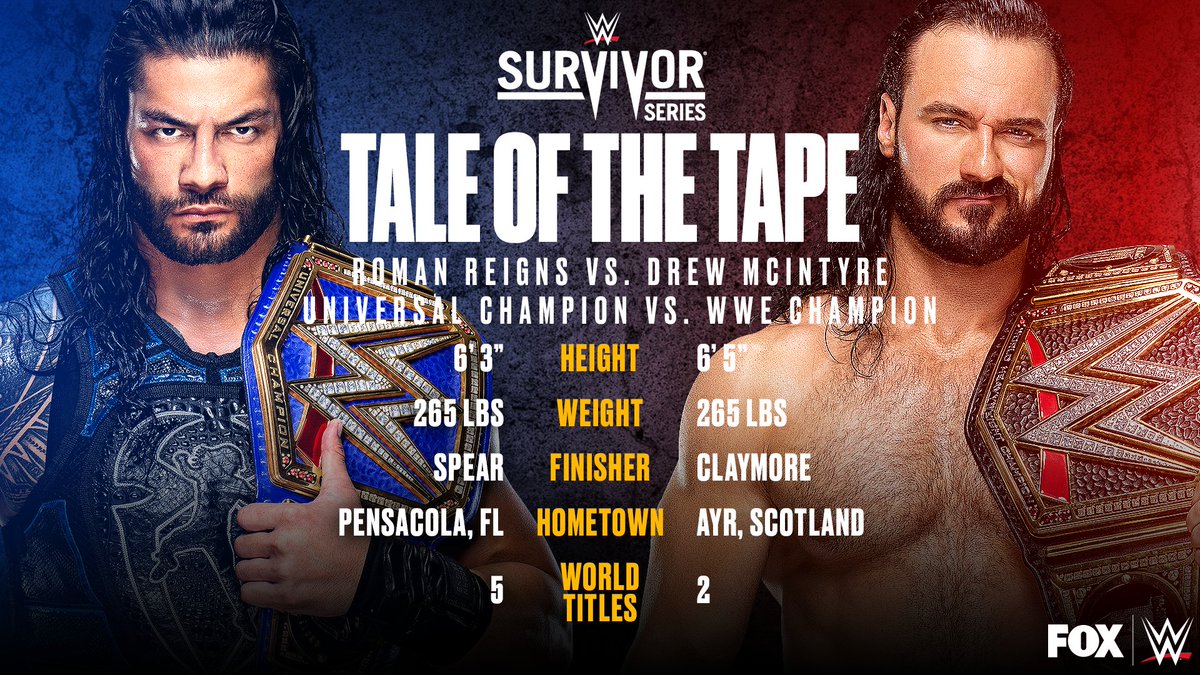 The next WWE pay-per-view is Survivor Series on Sunday, November 22 with a Raw vs. Smackdown theme to the show. Here's what we know so far.
WWE Universal Champion Roman Reigns vs. WWE Champion Drew McIntyre
Smackdown Women's Champion Sasha Banks vs. Raw Women's Champion Asuka
5-on-5 Men's Elimination Tag Team Match: Team Smackdown (Kevin Owens, Jey Uso, King Corbin, Seth Rollins and one more superstar) vs. Team Raw (AJ Styles, Keith Lee, Sheamus, Braun Strowman and Riddle)
Smackdown Tag Team Champions The Street Profits (Montez Ford and Angelo Dawkins) vs. Raw Tag Team Champions The New Day (Kofi Kingston and Xavier Woods)
Intercontinental Champion Sami Zayn vs. United States Champion Bobby Lashley
5-on-5 Women's Elimination Tag Team Match: Team Smackdown (Bianca Belair, Ruby Riott, Liv Morgan and two others) vs. Team Raw (Nia Jax, Shayna Baszler, Lana, Lacey Evans and Peyton Royce)
Plus, The Undertaker will make a "Final Farewell" special appearance.
—
You can contact me using any of the methods below. Go Los Angeles Rams. Be safe and smart out there.
Thanks for reading.
John Canton
Email: mrjohncanton@gmail.com
Twitter: @johnreport