The John Report: The WWE Raw Deal 11/09/20 Review
Welcome to the WWE Raw Deal review on TJRWrestling. We are on the road to Survivor Series on November 22 featuring Raw vs. Smackdown matches, plus The Undertaker's "Final Farewell" will be there.
As a reminder, we're always looking for writers on TJRWrestling. Even though it's not a paid gig, it is a good opportunity to write a pretty popular website. If you ever want to submit a column to TJRWrestling or write news posts for us (I really need people to help with news posts), there's info on how to do that on our Contact Us page right here. I usually reply to every sample, but it might take a few days as well.
From the WWE ThunderDome at the Amway Center in Orlando, Florida, this is the Raw Deal for episode #1433 of Monday Night Raw. Follow me on Twitter @johnreport. Please visit TJRWrestling.net daily for our regular updates on the wrestling business featuring WWE news coverage, insightful columns from our team along with reviews about wrestling's past and present. Let's roll.
The opening video package showed highlights from last week's Raw. The Raw intro video aired after that.
The WWE ThunderDome crowd was ready to go as the Raw announce team of Tom Phillips, Byron Saxton and Samoa Joe welcomed us to the show.
Miz TV
The Miz made his entrance with Tom calling him "The Face of the USA Network" since his reality show Miz & Mrs. is on USA Network. John Morrison joined Miz to host the talk show. Later on Raw, it's Randy Orton, Miz and Morrison vs. Drew McIntyre and New Day.
The Miz said there were big things happening this week including their six-man tag team match where anything can happen…teasing a Money in the Bank cash-in. Miz plugged Miz & Mrs. on USA Network on Thursday at 10:30pm ET, which is a terrible timeslot for a family reality show, but that's what they got. There's also a new Miz & Mrs. episode on after Raw. Miz was about to introduce his guest, but Randy Orton walked out with the WWE Title and he got into the ring.
Orton said he's in a six-man tag team match tonight that he agreed to because he gets to get his hand on McIntyre. Miz trashed Miz saying he hasn't done much in the last ten years since he cashed in on Orton and Orton said that Morrison left to go to the minor leagues. Orton dared Miz to attack him from behind to try to cash in the MITB contract. Morrison said that Orton is a legend that is the current WWE Champion. Miz said he can make it a big night for all of them and that's why they wanted New Day as a guest. Miz said that if they get the win later on Raw then he and Morrison could be in line for the Raw Tag Team Titles.
Xavier Woods and Kofi Kingston walked out as the Raw Tag Team Champions. Xavier said these men think they can defeat New Day for their titles and they laughed about it. Kofi said being that they are out there going toe to toe with verbal strong style (Woods said he missed Shinsuke at that point) and Kofi said they wanted to laugh at them in person. Kofi told them to entertain and Orton dropped Kofi with an RKO. The wrestlers cleared the ring as Drew McIntyre went out to the ring.
Drew got into a fight with Randy as they exchanged punches. Miz hit Drew in the back with the MITB briefcase two times. Miz and Morrison shoved Drew right into an RKO by Orton with the heel trio standing tall. Orton left followed by Miz and Morrison leaving after him. Orton stared at Miz to intimidate him with Randy walking away on his own.
Analysis: This was pretty good as an opening segment to set up the six-man tag team match later in the show. Orton made it known that he was aware of what Miz could do with Money in the Bank, he didn't overlook Miz and made his point well. The Orton/McIntyre feud keeps going with no end in sight, which is okay with me because they're good performers, but it has been three months now. New Day weren't really meant to have a big role here other than getting up by the heels to make fans want to see the match in the main event.
The triple threat Survivor Series qualifier was up next.
(Commercial)
It was mentioned that The Undertaker's "Final Farewell" will be at Survivor Series on November 22.
Analysis: When I made a post about it last week after getting the WWE press release, I immediately got questions about his next match, if he'll wrestle at WrestleMania and so on. In other words, a lot of fans probably don't think it's really the farewell of The Undertaker. I think he's done wrestling, but I can see there being more appearances.
The Raw men's Survivor Series team right now is AJ Styles, Keith Lee, Sheamus and Braun Strowman. The next match will determine the fifth and final member of the team.
Elias was in the ring doing his promo before his musical performance. Elias said that he needs this while noting that Jeff Hardy's latest addiction is smashing Elias with guitars. Ouch. Elias said he was going to sing a song right now, then he thought he would be interrupted and there was nobody interrupting. Elias started playing a bit more, but there was Jeff Hardy with his entrance.
Riddle made his entrance as the man with no more first name. Elias used to be Elias Samson, so two out of the three guys in this match have had their names shortened. All three of them lost Survivor Series qualifying matches, so this is a second chance…bro
Survivor Series Qualifying Match: Jeff Hardy vs. Elias vs. Riddle
Hardy got a rollup for two, Elias got a rollup for two and Riddle got a rollup for two. AJ Styles was shown watching on a TV screen with the big man Jordan by his side. Riddle and Hardy battled on the floor, Elias kicked them down and sent Jeff into the ring post. Elias whipped Riddle into the barricade followed by an Elias clothesline on Jeff on the floor.
(Commercial)
Elias was in control with a running back elbow on Riddle for a two count. Hardy with a jawbreaker. Jeff with atomic drops for both guys, back body drop on Riddle and a dropkick/leg drop on Elias. Jeff sent Riddle out of the ring. Elias hit the Drift Away neckbreaker for two as Riddle hit the broton splash to break up the pin. Riddle hit a brainbuster on Elias for two with Hardy hitting a dropkick for the save. Hardy kicked Riddle into Elias and then Hardy hit a Poetry in Motion dropkick on Elias against the turnbuckle. Riddle got a backslide pin on Jeff, who got out of it and they exchanged strikes. Elias got back into it with a knee to Jeff's face. Riddle caught Elias on his shoulders and hit the Bro Derek slam for the pinfall win after about 10 minutes.
Winner by pinfall: Riddle
Analysis: *** The match was pretty good with some nice nearfalls for each guy. I'm not surprised by the result with Riddle getting the win since he's the new guy in the trio and he did well in his match against Sheamus. Elias hasn't been booked strong since he returned to action, so of course he did the job here. Jeff Hardy is always going to be over to some degree no matter whether he wins or loses.
The win means Riddle will join Team Raw at Survivor Series with AJ Styles, Keith Lee, Sheamus and Braun Strowman. The Smackdown team has Kevin Owens, Jey Uso, King Corbin, Seth Rollins and one more spot that I'm guessing will go to Big E.
There was a backstage scene with AJ Styles shaking hands with WWE Official while Charly Caruso asked what was going on here. Styles said he was happy about Riddle's win. Sheamus showed up, he stared at Jordan and then complained about Riddle. Sheamus called Riddle an obnoxious punk and he'll kick his head off his shoulders if he steps out of line. Styles suggested a team meeting. Sheamus said that AJ is not his captain. Braun Strowman showed up to say that AJ is not his captain. That led to commercials.
Analysis: The story of who is the captain is so lame. It's a story WWE tries to push every year and it's just a way to kill time on TV. There's no creativity. Also, the fans don't care who the captain is either.
(Commercial)
Mustafa Ali was backstage with his Retribution friends. Ali called Ricochet a good, honorable man for turning down the Hurt Business, but he's still a damn fool. Ali said that Ricochet has to accept that one man can't change anything and said that when he realizes that, maybe they will accept him. Reckoning did a promo about people laughing at them. Ali said that they are the forgotten, he went over their names and said that they will not rest until they shut you (the wrestlers) down.
Drew Gulak, the 24/7 Champion, went up to the US Champion Bobby Lashley and his Hurt Business friends. Gulak suggested joining the Hurt Business. MVP said that on behalf of the CEO Lashley, they aren't accepting applications. Lashley grabbed the tie to reveal it was a clip-on tie. Drew said it was tactical since he had to run away from people. Hurt Business ended up stomping on Gulak to put him down on the floor. The group left. R-Truth went over to Gulak and covered him to win the 24/7 Title again. It was the 43rd time that R-Truth won that title.
Winner by pinfall AND NEW 24/7 Champion: R-Truth
Analysis: It's killing time. Raw is a long show. I would fast forward through all of that if I wasn't writing about it.
Lana made her entrance for a match. She was reluctant at first, but then she entered for her match. There were replays shown of Nia Jax giving Lana a Samoan Drop onto the announce table seven times. Lana faces Shayna Baszler after a break.
(Commercial)
There was a video package for Veteran's Day, which is on Wednesday, November 11. It's a day to honor the men and women that fought for our freedom. Here in Canada we call it Remembrance Day. Excellent video as usual by WWE. When the video ended, there were "USA" chants by the ThunderDome crowd, which means WWE likely piped in USA chants there.
A clip was shown of Nia Jax beating Lana last week and then Jax put Lana through the announce table for the seventh time.
Shayna Baszler (w/Nia Jax) vs. Lana
The lovely duo of Mandy Rose and Dana Brooke were guest announcers for this match. Baszler drove Lana into the turnbuckle along with punches. Lana tried to fight back with punches, but Baszler punched her in the ribs. Baszler stomped on the left arm of Lana as Rose and Brooke said that they had to get on the same page for Survivor Series. Baszler with a kick to the face, a gutwrench slam and a knee to the face with Baszler picking p Lana to keep the match going. Baszler slapped on the Kirifuda Clutch on Lana for the submission win after two minutes.
Winner by submission: Shayna Baszler
Analysis: 1/4* Another squash win match like offense Lana getting no offense. It was similar to last week with Jax beating Lana, but this it was Baszler's turn to kick ass.
Nia Jax wanted to put Lana through the announce table again, but Rose and Brooke stood up for Lana, so Baszler kept Jax back. No table bump for Lana yet.
Analysis: It was nice to see Rose and Brooke stand up for Lana since the story is supposed to turn Lana into a face, so if that's the plan then other faces should support her. It's still not a good storyline.
A team meeting called by AJ Styles is up next.
(Commercial)
There was a backstage scene with Lana thanking Mandy Rose and Dana Brooke for helping her. Mandy complained about how Lana cost them the Women's Tag Team Titles last week. Dana was frustrated. Mandy told Lana if you really want to help, maybe just get out of their way.
Let's Hear from AJ Styles for Raw's Team Meeting
AJ Styles made his entrance with the "gigantic associate" Jordan, who still doesn't have an official name. The "gigantic associate" phrase is what Phillips said. There were replays of the issues from Team Raw last week.
Styles welcomed us to the first official Raw Team Meeting with AJ calling himself the Phenomenal Captain. Styles said that with his leadership, they'll be a force to be reckoned with. Styles introduced Keith Lee first. Styles continued the introductions with Riddle next, then Sheamus and finally Braun Strowman. Everybody was in their ring gear too. The five wrestlers all had microphones as they stood in the ring together.
Styles said that last week got off to a rocky start and he said that's because they were missing a piece of the puzzle. Now they have the missing the piece in Matt Riddle – he said Matt even though the name was removed. Lee cut off AJ taking a cheap shot last week and he owed him a receipt. Sheamus mentioned Lee attacked Sheamus from behind last week to send him out of the ring. Lee said he did recall that and wanted Sheamus to remember that. Strowman said that he'll whoop both of their asses, starting with Sheamus. Strowman told Styles he's not the captain and told Sheamus to shut his mouth. Riddle told the "bros" to chill. Riddle said that he knows what he needs to do.
Riddle had code names with Styles as the Skipper, Strowman as the Mongoose, Lee as the Bro-Lee and Sheamus' team name is Fireface. Lee laughed about it. Sheamus wondered if it was a ginger joke with Riddle saying that when Sheamus gets angry, his face turns red just like right now. Sheamus asked Riddle if his name was Dopey and Riddle agreed with that. Styles didn't like the nicknames.
Styles said that they were up against the best athletes on Smackdown. Styles pointed out that Jey Uso has been tearing it on Smackdown and he said Rollins might Stomp Lee, Owens might hit a Stunner on Riddle and Strowman might have to bow down to King Corbin. Styles wanted them to work together as the best of the best. Everybody disagreed with Styles calling himself Team Captain again.
Styles said he had Plan B with WWE Official Adam Pearce sanctioning this match. Styles said that the match will be Sheamus and Braun Strowman vs. Riddle and Keith Lee with AJ Styles as the guest referee. The wrestlers complained about it and Styles said it will give them all respect.
Analysis: This kept going on and on. I like everybody involved, but I really don't care about the "captain" thing. It was annoying. If it were Smackdown the promo would have been one minute and they would have gone right to the match. Since it's Raw, they have to stretch it out and come up with lame nicknames for the wrestlers. Can't WWE book Survivor Series without putting wrestlers in tag team and singles matches? It's so repetitive. It's not that interesting either.
(Commercial)
Sheamus and Braun Strowman vs. Keith Lee and Riddle
AJ Styles was the referee. This was Riddle's second match within an hour.
Sheamus drove Riddle back first into the turnbuckle. Strowman tagged in with a running splash on Riddle. Strowman with a hard whip into the turnbuckle and Strowman stood on the left hand. Sheamus with a forearm to the chest and he choked Riddle on the middle rope. Riddle with forearms, Sheamus was tied up in the ropes and he hit a punch to the gut along with a forearm to the back. Sheamus told Styles he was not the captain, so AJ reminded him he was the referee. Riddle with a gutwrench suplex on Sheamus. AJ: "Good job, buddy." Styles was trying to be positive towards all four guys. Riddle hit a jumping knee when Sheamus moved, so Styles was unable to count. Riddle with a kick on Styles again when Sheamus moved. Riddle and Sheamus were each sent to the floor. Strowman and Lee each ran the ropes and they hit a running splash with Styles between them, so it was like a double splash on Styles. AJ's big man Jordan went into the ring, Styles stopped him and that led to a break.
(Commercial)
The match continued with Sheamus hitting a backbreaker on Riddle and Strowman hit a unique looking senton backsplash on Riddle. Strowman with a suplex into a slam that sent Riddle across the ring. Strowman charged, Riddle moved and Strowman hit the turnbuckle which is a bump Braun does in nearly every match. Lee was splashing Strowman and Sheamus. Lee tossed Sheamus into Strowman. Lee gave Riddle the Spirit Bomb onto Sheamus. Lee with a high clothesline on Strowman for two. Strowman hit a back body drop to break free as Sheamus tagged in. Sheamus with a rising knee and Brogue Kick on Lee, but Riddle tagged himself in with a German Suplex on Sheamus for two. Riddle with two running forearms on Sheamus, but then Strowman got a hold of Riddle. Sheamus with a clothesline on Riddle. Sheamus wanted a Brogue Kick, Strowman tagged himself in much to the dismay of Sheamus and Strowman hit a corner splash on Riddle two times. Strowman picked up Riddle, Sheamus tagged himself back in and when Braun was on the apron, Sheamus hit a Brogue Kick on Strowman to knock him off the apron. Riddle hit the ROLLUP OF DEATH~! on Sheamus for the pinfall win after 13 minutes.
Winners by pinfall: Keith Lee and Riddle
Analysis: *** That was chaotic at times, but I liked the match in terms of the work and the story they told. That sequence when Lee first tagged in was outstanding and the pace picked up from there. It wasn't a surprise that they opted to go with the "partners that don't get along" kind of finish. Riddle picked up his second win of the show, so clearly management is getting behind him by featuring him so much and giving him two wins on the same show.
Post match, Riddle and Lee celebrated the win. Sheamus and Strowman were yelling at eachother while Styles stood between them.
Alexa Bliss was backstage with flowers as she took the pedals off and Nikki Cross walked up to her. Bliss said it's been a while since she saw her with Cross saying she saw her last week. Cross wanted to talk about him, Bliss mentioned the Firefly Fun House and Bliss will invite Cross soon. Cross said if she was a better friend, The Fiend never would have been able to get his claws on her. Cross said she was sorry for not being for Bliss, but she's there now. Cross told her to make a choice and walk away while saying Cross or him. Bliss blew some flowers into Nikki's face and said that she chooses "him" as Bliss left. Cross was frustrated.
Analysis: That tag team was fine this year, but Bliss is moving on now. Bliss was advertised to have her talk show on this show, but it didn't happen.
The Hurt Business CEO Bobby Lashley was next as the US Champion with MVP joining him at ringside.
Charly Caruso was backstage saying that The Hurt Business found out that next week on Raw, Shelton Benjamin and Cedric Alexander will challenge The New Day for the Raw Tag Team titles. Lashley's in action next.
(Commercial)
Bobby Lashley was in the ring with MVP with US Champion Lashley set to face Intercontinental Champion Sami Zayn at Survivor Series. MVP said that it won't be New Day vs. Street Profits at Survivor Series because next week The Hurt Business (Benjamin and Alexander) will beat Woods and Kofi to become the Raw Tag Team Champions. MVP said that Lashley will turn Sami Zayn into a human ragdoll and show that they are nowhere near the same level. Lashley said there is no way in hell that he would let Zayn walk out of Survivor Series with a victory over him, so the only question is whether he lets Zayn walk out of Survivor Series or not.
Titus O'Neil showed up saying that a couple of weeks ago, he talked about the opportunity for him to join the most dominant group on Raw. Titus said he proposed this because he's a businessman and he was blatantly disrespected. MVP said he has respect for Titus because of his charitable work he does with children, so he'll give him an opportunity to walk away. Titus said he won't walk away. Titus asked Bobby what's the point of having that title if you don't defend it? Lashley said that unlike MVP, he has no respect for Titus. Lashley said if Titus wants a title shot, he's got it, but it will be his first and last. A referee ran out there to start the match.
United States Championship: Bobby Lashley (w/MVP) vs. Titus O'Neil
MVP took a shot saying the match would be above the ring, not beneath it. That's a Greatest Royal Rumble reference. Titus opened up with punches that rocked Lashley a bit along with shoulder tackles. Lashley avoided a clothesline, bounced off the ropes and hit a Spear. Lashley slapped on the Hurt Lock submission for the tapout win in under one minute.
Winner by submission: Bobby Lashley
Analysis: 1/4* A dominant win by Lashley. It wasn't a total squash because at least Titus got in some punches before Lashley hit the Spear for the finish. I don't remember the last time Titus won a match on Raw.
Drew McIntyre was shown backstage with Sheamus going up to him saying he wanted Drew on the Survivor Series team. Drew suggested maybe don't Brogue Kick your partner off the apron. Sheamus said he deserved it. Sheamus talked about despising the guys on his Survivor Series and Drew's partners New Day, so Drew did the New Day clap. Sheamus wasn't happy about that. Sheamus said he wishes they could team up again like the old days when they kicked ass all over. Drew said that they had a saying "Kicking Heads and Drinking Kegs." Sheamus told Drew good luck out there tonight. Sheamus suggested going out for a drink after. Drew talked about how if he gets a chance to win back the WWE Championship they'll have lots of pints and whiskey courtesy of the new champ. Sheamus laughed. Sheamus told him to kill it as Drew warmed up for his match.
Analysis: A face and heel that get along because they are legitimately best friends. It's probably going to lead to them teaming up at some point, Sheamus turning on Drew and then they can have the feud they have wanted to do for years in WWE.
Asuka made her entrance as the Raw Women's Championship. She's facing Smackdown Women's Champion Asuka at Survivor Series.
A commercial aired for Survivor Series promoting The Undertaker's "Final Farewell" on that night, November 22.
(Commercial)
Nia Jax was backstage with Shayna Baszler when Sarah Schreiber asked Nia why she asked for this match. Jax talked about who was running the women's division on Raw, Baszler said it was her and then claimed she was in charge. Jax said after she dominates at Survivor Series, she may beat Asuka again to become Raw Women's Champion.
The Survivor Series team members Mandy Rose, Dana Brooke and Lana were at ringside watching the match.
Asuka vs. Nia Jax (w/Shayna Baszler)
This is not for Asuka's Raw Women's Title. Asuka tried an arm takedown, but Jax punched her away. Asuka slapped on an armbar pulling back on the right arm. Asuka took Jax down, Nia fought out of it and they went to the floor. Jax sent Asuka hard into the barricade.
(Commercial)
The match returned with Jax grounding Asuka with a chinlock, Asuka with a jawbreaker and Jax countered a submission attempt into a slam for two. Jax hit a running splash on Asuka against the turnbuckle. Asuka countered a Powerbomb attempt into a rollup with Asuka sitting on top for two. Asuka with two spinning back fists and a running hip attack for two. Jax blocked and Asuka kick and hit a Powerbomb for two. Asuka slapped on an armbar on Jax, Baszler went on the apron with Lana with Baszler putting her in a choke. Asuka knocked them off the apron. Asuka got a rollup on Jax for a two count. Asuka went for the Asuka Lock submission and Baszler attacked Asuka for the DQ at around eight minutes.
Winner by disqualification: Asuka
Analysis: *1/4 It's a Nia Jax match. Even Asuka can't carry it. Go into it with low expectations and you'll be fine. Expecting more will lead to disappointment. I figured it would end in a DQ as soon as it was announced because WWE loves to protect Jax and Asuka losing would have been foolish, so they went for the predictable DQ.
Post match, Dana and Mandy went after Baszler, but Jax saved her partner. Brooke and Rose were sent out of the ring while poor Lana was left in the ring alone with Jax and Baszler. Jax cleared off the announce table, Baszler sent Lana out of the ring and Jax trash-talked her. Jax gave Lana a Samoan Drop through the announce table for the EIGHTH TIME. Yes, that's right. Eight times now. Jax told Lana she doesn't belong there and she'll drag them down, so she wanted Lana to just quit.
Analysis: This storyline sucks. I have commented in the past that I think what will happen at Survivor Series is Lana will be able to fight back against Jax somehow and maybe jump off the barricade to put Jax through the table. The payoff has to be something like that.
There was a recap of the opening segment to set up the six-man tag team main event.
R-Truth was interviewed by Sarah Schreiber, who told Truth he has to defend the 24/7 Title in a match with seven superstars. Truth thought it was a magazine shoot. Truth's music hit and he made his entrance.
(Commercial)
Angel Garza did a promo saying he fights with his heart on the sleeve. Garza said he was fighting for every woman in the world. Garza said that women deserve everything you have ever wanted, which is somebody like him. Garza had a rose in his hand saying this rose was for all of the women.
Analysis: This was lame. I like him as a talent, but I don't think this gimmick is going to work.
24/7 Championship: R-Truth vs. Lince Dorado vs. Gran Metalik vs. Akira Tozawa vs. Drew Gulak vs. Erik vs. Tucker
Tozawa with a spin kick on Truth for the pinfall win and he's the new champion. Erik with the ROLLUP OF DEATH~! Tozawa to become the new champion. Gulak with the ROLLUP OF DEATH~! on Erik to become the new champion. Tucker did an inside cradle to Gulak to win the title, then Gulak countered to win it, then Tucker cradled Gulak again to win the title back.
Truth with a jumping side kick on Tucker. Erick with a knee to Truth, Gulak with a clothesline to Erik, Tozawa with a kick to Gulak, Tucker with a Thesz Press on Tozawa, Dorado with a cross body block on Tucker and Metalik jumped off the top with an elbow drop on Tucker to pin him to win the title. Dorado did the ROLLUP OF DEATH~! on Metalik to win the title from his tag team partner. Truth shoved Dorado into Metalik and hit the Attitude Adjustment like "childhood hero" John Cena and Truth covered Dorado to win the title back. I'm not timing it. It is the 44th time that R-Truth has won the title.
Winner by pinfall AND NEW 24/7 Champion: R-Truth
Analysis: * Dumb. Time killer. A lot of title changes there and a lot of stuff that would lead to me hitting fast forward if I wasn't watching it live. I'm not sure who likes these segments or thinks it's a good use of time, but that's the 24/7 Title.
Mustafa Ali made his entrance with his Retribution allies.
(Commercial)
This week on Raw Talk on WWE Network the guests were Drew McIntyre, Keith Lee, Riddle and Nikki Cross.
Mustafa Ali (w/T-Bar, Mace, Slapjack and Reckoning) vs. Ricochet
Ricochet worked over Ali with some chops along with a running back elbow and a body slam. Ricochet asked Ali why he thinks this is the right way and the right message. Ali worked over Ricochet with chops along with a forearm against the turnbuckle. Ali with a clothesline for two and a suplex for two. Ali with chops, but Ricochet came back with a back body drop. Ricochet brought Ali to the apron where Ricochet did a headscissors takedown to the floor. Ricochet was surrounded by Retribution on the floor, so Ali took advantage with a neckbreaker as the show went to break.
(Commercial)
Ali with a running neckbreaker for a two count. Ali with a running dropkick to the back of the neck for two. Ricochet shoved Ali into the turnbuckle leading to a Dragon Suplex. That was great. Ricochet came back with kicks along with a clothesline. Ali avoided a kick, Ricochet countered a suplex and Ali went for a DDT off the turnbuckle, but Ricochet hit a Northern Lights suplex right into a brainbuster for two. That was a really cool sequence. They battled on the turnbuckle, Ali with an eye gouge and then he did a Backstabber off the top turnbuckle for a two count. Great spot. Ali told Ricochet that nothing will change until you are willing to change with Ali telling Ricochet he was trying to help him. Ricochet with a forearm to the face followed by a reverse rana that knocked Ali down. Ricochet went up top, he walked across the top and hit a twisting cross body block onto the guys on the floor. That was amazing! Back in the ring, Ricochet went for a Phoenix Splash off the top, Ali moved and Ali slapped on the Koji Clutch submission on the arm/shoulder and Ricochet passed out. Ali got the win after 14 minutes.
Winner by submission: Mustafa Ali
Analysis: ***1/2 Great match here. It was a much-needed win for Ali in a very good match between two of the best athletes in WWE. The first half was a bit slow, but the second part was awesome with so many cool moves from Ricochet and some creative counters by both guys. Raw needs this kind of match more often. There is a lot of talent on the roster. They just don't get the time to have these kinds of matches often enough or when they do, the match has a bad finish. Ali got the win because Ricochet went for the top rope move after the attack on the floor, so Ali capitalized on a mistake to get the win. The fans want to see athletes like Ricochet and Ali in meaningful matches like this. While I would like to see Ricochet get a push like he has had in the past, Ali winning was the right call because Retribution has lost too many matches, so it was nice to see Ali get the win.
Post match, Ali stood proudly with his Retribution buddies.
Randy Orton, the WWE Champion, was standing backstage with WWE Official Adam Pearce informing him that he has to defend the WWE Championship against Drew McIntyre. Orton grabbed Pearce against the wall with Pearce telling him he was the messenger. Orton told Pearce to tell the staff that they can go to hell. Pearce said he heard him.
Analysis: Huge news that Orton has to defend the WWE Title against Drew McIntyre next week. I don't expect a title change, but that's a huge match to do on Raw.
Orton made his entrance for the main event. Orton looked angry about the news that he had to defend the WWE Title next week.
(Commercial)
Next week on Raw:
* Randy Orton defends the WWE Championship vs. Drew McIntyre
* The New Day (Xavier Woods and Kofi Kingston) defends the Raw Tag Team Championships vs. The Hurt Business (Shelton Benjamin and Cedric Alexander)
Analysis: Two big matches. I expect Orton to retain in cheap fashion. I think The Hurt Business might win the titles there, but that's not an official prediction. I'm just saying it's possible.
The Miz and John Morrison entered as Orton's tag team partners with Miz bringing out the Money in the Bank briefcase/contract with him.
The babyfaces were up last with Raw Tag Team Champions, The New Day's Kofi Kingston and Xavier Woods. Drew McIntyre made his entrance with a big smile on his face since he gets a WWE Title shot next week.
Drew McIntyre, Kofi Kingston and Xavier Woods vs. Randy Orton, The Miz and John Morrison
McIntyre decked Morrison with a punch and hard chop. Woods with a hard chop on Morrison, who came back with a kick to the gut and a shoulder tackle. Woods with a forearm shot to Morrison leading to Miz tagging in. Kofi tagged in with a cross body block on Miz and a dropkick. Orton didn't want to tag in, Morrison got the tag and Kofi got a rollup for two. Kofi hit an impressive move with a leap off the top into a headscissors. Kofi with a double stomp to the chest. Woods with a back body drop on Miz out of the ring. Woods did a "1, 2, 3 we miss E" chant as Kofi hit a dive over the top on Morrison and Woods knocked down Miz. McIntyre wanted to fight Orton, who left the ring.
(Commercial)
The match returned with Woods hitting a dropkick on Miz for two with Phillips noting that Orton has refused to tag in. Woods with a jumping clothesline for two. Woods with a back elbow on Miz, Morrison with a choke on the ropes and then Morrison with a double stomp on Woods on the apron. Back in the ring, Morrison worked over Woods with forearms along with a chinlock. Morrison with a rolling Samoan Drop, Miz tagged in and kicked Woods, but Orton refused a tag. Morrison with a leaping elbow over the top onto Woods for two. Miz and Morrison with a double gutbuster on Woods. Woods came back with a running clothesline to knock Miz down. McIntyre got the hot tag against Morrison with Drew hitting a belly to belly suplex on both opponents. McIntyre with a double overhead suplex on Miz and Morrison at the same time. McIntyre with a neckbreaker on Morrison along with a long stare at Orton, who was on the floor. McIntyre with a Future Shock DDT on Morrison. McIntyre told Orton to tag in, he said don't be a bitch and said let's preview next week. Orton was about to tag in, but then he changed his mind and left with the WWE Title. Morrison went for a rollup with the feet on the ropes, but Woods made the save. Morrison hit a twisting dive over the top on Kingston. McIntyre with a spinebuster on Miz. Morrison went for a springboard attack, but McIntyre stopped him with a headbutt. McIntyre with the 3, 2, 1 countdown into the Claymore Kick on Morrison for the pinfall win after 13 minutes.
Winners by pinfall: Drew McIntyre, Kofi Kingston and Xavier Woods
Analysis: *** A good main event tag team match with six veterans that know what they are doing in a match like that although Orton wasn't in the ring at all, so it was more about the five guys in the match. The Orton story was that he didn't want to go in the match and risk injury since he had a WWE Title match next week. A lot of action in the match with Woods as the face in peril, some good work from Miz/Morrison working well as a team and then Drew cleaned house after the hot tag as you would expect. It sucks that Morrison has been booked like such a loser for months now, but somebody had to take the pin.
Post match, Orton stood at McIntyre from the aisle while Drew was in the ring and they had a staredown ahead of their WWE Title match next week.
Three Stars of the Show
Riddle
Mustafa Ali/Ricochet
Drew McIntyre
The Scoreboard
5.75 out of 10
Last week: 6
2020 Average: 6.19
Final Thoughts
This was another typical Raw episode with some things I really liked and other things that made me question how some of this stuff can make it onto the show. The quality of the matches saved this episode from really being bad because I liked Ali vs. Ricochet a lot, the main event tag team match was great and even the tag team match with the Survivor Series teammates were good. I don't think the women's matches/segments worked very well in terms of building up their match. They were awful segments. I also think the 24/7 Title match/segment was really bad and the kind of thing that makes me want to change the channel. Then there are all the "I'm the captain" promos that are so annoying. Most fans don't care about that, yet WWE keeps doing it over and over. It's annoying.
There was a segment where they advertised Alexa Bliss hosting her talk show with Drew McIntyre as the guest, but that never happened. I'm not sure why they would advertise it and not do it. I guess plans change, pal.
Next week's Raw has two big matches with the WWE Title (Orton vs. McIntyre) and Raw Tag Team Titles (New Day vs. Hurt Business) on the line.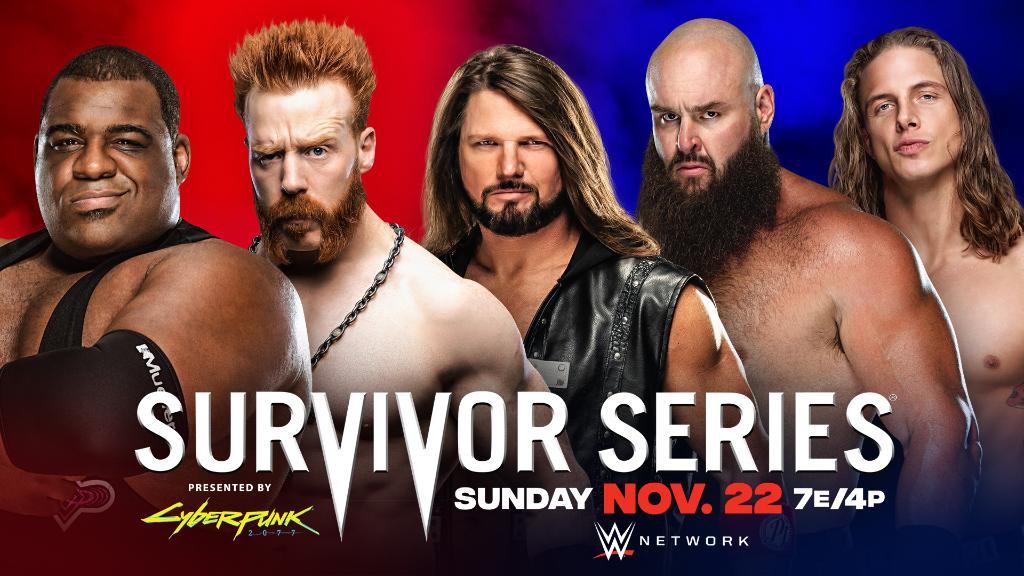 The next WWE pay-per-view is Survivor Series on Sunday, November 22 with a Raw vs. Smackdown theme to the show. Here's what we know so far.
WWE Universal Champion Roman Reigns vs. WWE Champion Randy Orton
Smackdown Women's Champion Sasha Banks vs. Raw Women's Champion Asuka
5-on-5 Men's Elimination Tag Team Match: Team Smackdown (Kevin Owens, Jey Uso, King Corbin, Seth Rollins and one more superstar) vs. Team Raw (AJ Styles, Keith Lee, Sheamus, Braun Strowman and Riddle)
Smackdown Tag Team Champions The Street Profits (Montez Ford and Angelo Dawkins) vs. Raw Tag Team Champions The New Day (Kofi Kingston and Xavier Woods)
Intercontinental Champion Sami Zayn vs. United States Champion Bobby Lashley
5-on-5 Women's Elimination Tag Team Match: Team Smackdown (Bianca Belair, Ruby Riott and three others) vs. Team Raw (Nia Jax, Shayna Baszler, Dana Brooke, Mandy Rose and Lana)
Plus, The Undertaker will make a "Final Farewell" special appearance.
—
You can contact me using any of the methods below. Go Los Angeles Rams. Be safe and smart out there.
Thanks for reading.
John Canton
Email: mrjohncanton@gmail.com
Twitter: @johnreport