The John Report: The WWE Raw Deal 10/25/21 Review
It's the "Season Premiere" for the WWE Raw brand this week. That's what they are calling this show featuring the new roster that was drafted earlier this month.
On last Friday's Smackdown, the main event was a title swap that saw Becky Lynch become the Raw Women's Champion since she was the Smackdown Women's Champion that was drafted to Raw. Charlotte Flair is now the Smackdown Women's Champion since she was drafted to Smackdown. Those two are going to meet in a match at Survivor Series as long as they are still champions by the time we get to that event on November 21.
This is the Raw Deal for episode #1482 of Monday Night Raw. It's taking place at the Toyota Center in Houston, Texas. Follow me on Twitter @johnreport. Let's get to it.
The Raw intro video aired featuring the superstars that are a part of the new Raw roster. Yes, even Veer made it.
There was an impressive pyro display to start the show and the Houston crowd looked like they were ready to go. Good luck to those Astros in the World Series. I know they are the heels to a lot of people, but I may have made a wager a few weeks ago so that's who I'm rooting for. Sorry Atlanta Braves fans.
Let's Hear from Big E
The WWE Champion Big E made his entrance to a good ovation from the crowd. The Raw announce team of Jimmy Smith, Corey Graves and Byron Saxton were shown at ringside.
Big E welcomed us to the Season Premiere of Monday Night Raw. Big E sucked up to the Houston crowd by mentioning some popular things in Houston, which led to a "Let's Go Astros" chant for the baseball team. Big E wished the Astros good luck. Big E also mentioned the brand new King of the Ring, his New Day brother and yours, Xavier Woods. Big E also said that Drew McIntyre pushed him, sharpened his iron and made Big E a better man today than he was a week ago. Big E beat Drew at Crown Jewel last Thursday. Big E wondered "who" might step up to face him.
Seth Rollins made his entrance in a ridiculous white and black jacket with white shoes. Rollins got in the ring saying that you know why Rollins is there. Big E said that Rollins lost to Edge, so Rollins said that Edge isn't there and he wants that WWE Title. Big E mentioned Rollins lost to Edge again, so he goes to the back of the line. Rollins said that the Universal Champion Roman Reigns didn't give him a chance, so he wondered if Big E was going to be a fighting champion that would face Rollins for the WWE Championship.
Rey Mysterio was the next man to show up for an interruption. Rey said that Rollins' vision might be impaired after Edge put his head into a chair. Rey said it's been a while since they have been "eye to eye" while referencing their feud last year and Rey said he deserves a WWE Championship opportunity. Rey spoke about his credentials in WWE including multiple reigns as World Champion and Rey said he's willing to do whatever it takes to win that championship one more time.
Finn Balor was next to join the promo party while he listed off his credentials as well. Balor got in Seth's face to point out that he was the first Universal Champion since he beat Seth to become the first man to hold that title.
Kevin Owens was the next man up with a promo speaking about his career highlights. Owens spoke about how he became Universal Champion in this building and the person he beat for that title was Cruella Deville, which is what he called Rollins. That led to a brawl with Rollins going after everyone, but Rollins left the ring before Owens could hit him with a Stunner.
The WWE Official Sonya Deville appeared on the stage for a promo. Deville put the four guys in a Fatal 4-Way match. Sonya suggested they up the ante and raise the stakes. Sonya said it would be a Fatal 4-Way Ladder Match. Rollins freaked out since he's a heel while the other three faces were happy about it. The fans liked it.
Analysis: The five guys in the ring for that opening segment were all on the Smackdown roster before Big E won the WWE Title. They were all drafted to Raw from Smackdown, so while it is fresh for Raw right now, they were all on the same show before. The weird thing is that Rollins and Balor lost at Crown Jewel while Rey and Owens haven't had any significant wins of late, but I guess it's like a restart on Raw. Anyway, doing a Fatal 4-Way Ladder Match is a big match for the main event and it should be an awesome match considering the talent of those four guys.
The Street Profits entered for tag team action in a triple threat match.
(Commercial)
The Ladder Match was official for later on Raw.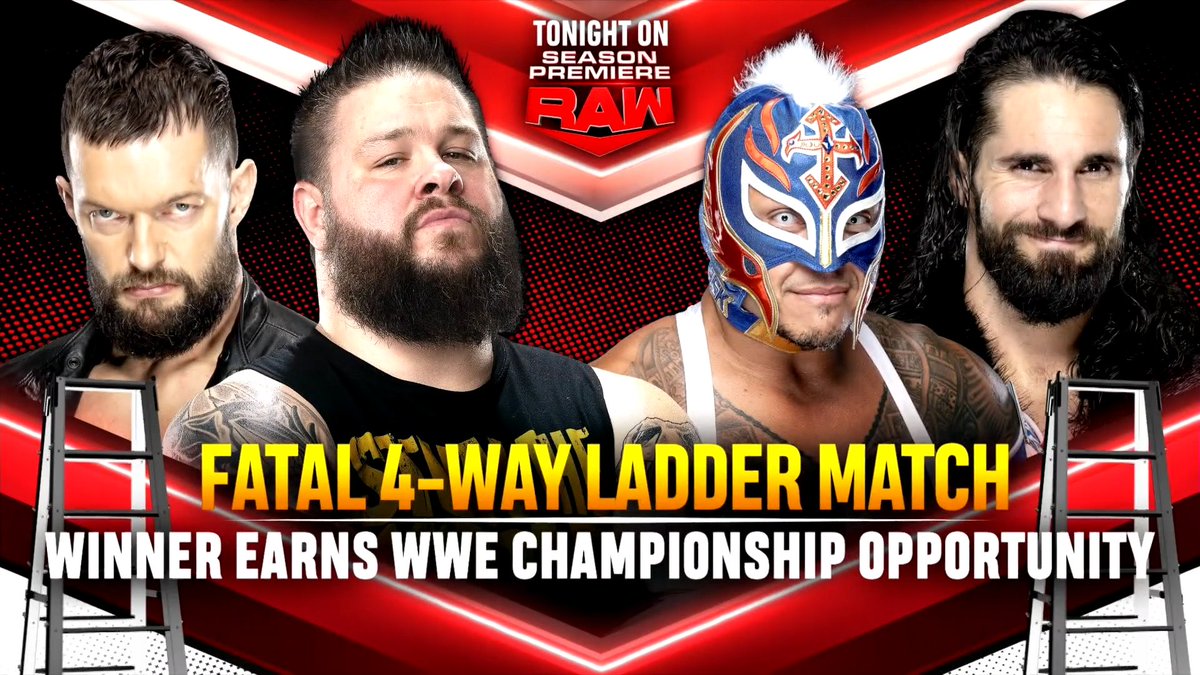 Dolph Ziggler and Robert Roode made their entrance followed by the Alpha Academy's Chad Gable and Otis.
Alpha Academy (Chad Gable & Otis) vs. The Street Profits (Montez Ford & Angelo Dawkins) vs. Dolph Ziggler & Robert Roode
The winners earn a Raw Tag Team Title match later on Raw. All three teams were on Smackdown before the WWE Draft. Two guys are in the ring while the other four guys are on the apron.
Gable was in control of Montez Ford with an armbar and then a front facelock. Ford broke free, impressive leapfrog, Ford with a backflip out of a suplex and a sweet dropkick. Dawkins tagged in with a shoulder tackle, then a slam on Roode and a flapjack on Ziggler onto Roode. The Profits hit a double dropkick on Otis to knock him out of the ring. Randy Orton & Riddle, the Raw Tag Team Champions, will face the winners later on Raw, so Orton & Riddle were shown watching the match.
(Commercial)
Ford was the face in peril as he kicked Ziggler and Roode down to break free out of their corner. Ziggler held Ford's foot to prevent a tag, Ziggler charged for a Fameasser, but Ford caught him and hit a Powerbomb. Otis tossed Ziggler into their corner, then Otis tagged in and Otis missed a corner splash when Ford moved. Gable tagged in, Ford kicked him off and Dawkins tagged in with a clothesline, then a jumping elbow, a flapjack and an overhead suplex on Ziggler. Dawkins hit a double underhook suplex for two as Roode made the save. Dawkins sent Roode out of the ring. Otis saved Gable, Otis tagged in and Otis hit a lefty clothesline into a Gable suplex, but Ford hit a Frog Splash to break it up! That was crazy. Ford with a jumping kick on Otis to knock him out of the ring. Ford hit a somersault dive onto Otis on the floor. Dawkins hit the spinebuster on Roode. Omos walked down to the ring, Otis jumped onto him and Omos threw Ford into the barricade. Omos punched Dawkins (no DQ in a triple threat match) and Roode hit a spinebuster into a Zig Zag by Ziggler for the pinfall win after 11 minutes.
Winners by pinfall: Dolph Ziggler & Robert Roode
Analysis: **3/4 A pretty good tag team match by three teams that know eachother well and can put on entertaining matches any time. I was a bit surprised that Otis wasn't booked stronger in the match. Otis had a few moments in control, but not that much really. Since the Street Profits were screwed out of the win by Omos, I guess we will see them against Styles/Omos soon. A heel team winning makes sense since Orton & Riddle are likely going to keep the titles for their showdown with The Usos at Survivor Series.
They showed some images of Zelina Vega beating Doudrop to win the Queen's Crown tournament at Crown Jewel.
Queen Zelina's Royal Coronation is up next.
(Commercial)
Queen Zelina's Royal Coronation
Queen Zelina made her entrance in her ring gear. Zelina had a cape and a scepter with her. Zelina called out ring announcer Mike Rome for not doing a better job of announcing her. Zelina said she's the first Queen's Crown tournament winner and wanted him to do it again. Rome did it again while calling her "your majesty" among other things. Vega put the crown on while sitting on a throne in the ring.
Vega said for too long she was underappreciated for her greatness, but not anymore. Vega claimed she was the only woman in WWE that was fit to be queen. Other women on Raw were shown watching on a TV. Vega said that the other girls in the locker room never had a chance. Vega said that we will bow down to the official queen. The fans booed her. Vega spoke with a fake English accent asking if she will be a generous, beautiful, cruel queen, or a queen to be feared. Vega said she will be all of those things. Doudrop was shown leaving the backstage area. Vega said that Doudrop is an example of what happens when you stand in the way. Vega said that we will talk about her reign for years to come and mentioned famous queens like Cleopatra while saying she'll be better than her.
Doudrop made her entrance to a mild reaction from the crowd. It's time for a Queen's Crown tournament final rematch.
Analysis: It was a solid speech. Zelina Vega has always been a great talker, so I have no doubt that she can definitely do cocky heel promos like that. In terms of her in-ring performance, she hasn't had many long matches or meaningful matches, so it will be interesting to see if she's given the chance to do that now as the "Queen of WWE."
(Commercial)
Doudrop vs. Queen Zelina Vega
Vega wanted Doudrop to kiss her feet while Vega held the scepter, so Doudrop hit her with a clothesline. Doudrop tossed Vega across the ring two times. Doudrop with a body slam followed by a senton splash. Vega with a forearm to the back, then she sent Doudrop into the turnbuckle and she stomped on Doudrop against the turnbuckle. Vega jumped off the middle ropes with double knees to the face for two. Vega took a turnbuckle pad off, the referee went to check on it and Vega hit Doudrop with the scepter while the referee wasn't looking. Vegan pinned Doudrop to win the match after three minutes.
Winner by pinfall: Queen Zelina Vega
Analysis: *1/4 Cheap win for the heel Queen Zelina using the scepter to her advantage. I don't mind that kind of finish because it's fitting for a heel with a weapon that she brought to ringside, so she might as well use it. Doudrop isn't really pushed that much anyway, so it's fine if she loses a match like that.
There was a Smackdown Breakdown video showing highlights from last Friday's Smackdown with Brock Lesnar trying to destroy Roman Reigns. Lesnar beat up some WWE people at ringside, so he was indefinitely suspended by WWE Official Adam Pearce. Lesnar didn't like that ruling, which led to Lesnar hitting Pearce with the F5 two times.
Analysis: It's a way to write Brock out of the show for a few months. He's expected back before the Royal Rumble or maybe at the Rumble itself. Perhaps Lesnar wins the Rumble to earn another Universal Title match.
Becky Lynch appeared as the Raw Women's Champion after she had a title exchange on Smackdown. She was in a black/white outfit, so she had similar colors to husband Seth Rollins from earlier in the show.
(Commercial)
Let's Hear from Becky Lynch
The Raw Women's Champion Becky Lynch was in the ring for some promo time. You might know her as Big Time Becks as well. Lynch said that The Man, the new Raw Women's Champion and the New Face of Raw has come back to Houston. Lynch said that she won that title at WrestleMania 35 and nobody has been able to beat her for it since. Lynch said she came back two months ago and has been making headlines ever since. Lynch said she overcame insurmountable odds to beat Sasha Banks and Bianca Belair. Lynch said as "The Man of the people" we don't want to see Bianca near the title. The fans booed that. Lynch mentioned other women on Raw with Lynch saying you want to see her beat Rhea Ripley or Liv Morgan. Lynch said that they will learn that you can't get what you want unless you are Becky because she always gets what she wants.
Bianca Belair showed up for the interruption. Belair tossed her earrings down as she walked down to the ring. Belair said she didn't have shame at Crown Jewel because Becky didn't pin Belair. Bianca said that ever since SummerSlam, Becky has slipped away from her, but now she can't get away from her. Belair talked about beating Sasha Banks at WrestleMania, Bayley at Hell in a Cell and Charlotte Flair last week (that was a disqualification win). Belair said she was the new face of WWE Raw.
Lynch showed an image of herself holding up the title at Crown Jewel and then they showed Belair's sad face at Crown Jewel. Lynch said that Belair had the face of a loser. Lynch claimed she was a hero to these people, which drew boos. Lynch said that Belair beat the best women in the company, but only because Lynch wasn't around to stop Belair in her tracks. Since then, it's been nothing but disappointment by Belair.
Bianca said she is disappointed for not slapping that goofy smile off Lynch's face. Belair said that Lynch was hiding her feelings. Belair noted that the fans were still rooting for her (Bianca) and that bothers Lynch. Belair said that behind the forced smile and big ego, Becky has nothing. Belair told Lynch that she is nothing without that title. Belair said the fans know she is still the EST of WWE without the title, but at the end of the day, Becky won't be the strongest, fastest, or smartest because Bianca sees through Becky. Belair wanted a shot at the Raw Women's Title tonight. Lynch: "Get to the back of the line, bitch."
Belair kicked Lynch into the turnbuckle and Belair hit a spinebuster in the ring. Belair tossed Lynch over the announce table. Lynch got a hold of a kendo stick, she went to attack on the floor, but Belair caught the kendo stick. Back in the ring, Belair hit Lynch with three kendo stick shots, Lynch with a kick and Lynch escaped a KOD while using the kendo stick to do a legsweep on Belair to put Bianca down. Lynch retreated while Belair was alone in the ring.
Lynch: "You want your match, you got it…just not tonight."
Analysis: A feud from Smackdown has carried over to Raw. I'm not surprised by that since Lynch is a heel champion while Belair is the next top woman on Raw. Some of the dialogue that they had to say was a bit weird, but they both got through it and Belair came across as likable as usual. Lynch is a cocky heel that gets cheered sometimes since the fans view her as a big star. Anyway, maybe there will be a title change when they have a match although I don't know if WWE will take the title off Lynch. I just think the story would make sense if Bianca got the title back.
Finn Balor was shown warming up backstage with Kevin Owens going up to him. Owens said that they have known eachother for a long time and there are very few people in WWE that he respects as much as Finn. Owens said he needs to win this and it's every man for himself. Balor said every man for himself is just how he likes it. Balor left.
Damian Priest made his entrance as the United States Champion. It looks like he got a new theme song and graphics. No more of the arrow thing that he was doing for a few years.
(Commercial)
There were graphics shown of media outlets covering the WrestleMania news about how it's a two-night WrestleMania 38 in Dallas in April 2022. I like it. I prefer two-night WrestleMania.
Damian Priest vs. T-Bar
This is not for Priest's US Title. Priest with a bellclap on the head, then T-Bar sent Priest into the turnbuckle and a running kick to the head. Priest got a hold of T-Bar, but T-Bar fought back leading to a Chokeslam backbreaker. T-Bar went up top, he went up top and jumped off with a moonsault for just a one count. Priest hit a running back elbow against the turnbuckle and a Broken Arrow slam. Priest with a clothesline over the top that sent T-Bar into the announce table. T-Bar tossed a leather chair at Priest for the DQ finish. It went about three minutes.
Winner by disqualification: Damian Priest
Analysis: *1/2 It was okay with a lame finish. I'm glad that T-Bar was able to show off his athleticism a bit by doing a moonsault because he's a big guy that can do a lot in the ring. They just need to give him a chance to show it. Tossing a chair for the DQ is different as an ending, but I think it's lame. I'd rather see Priest get the pinfall win.
Post match, Priest was freaking out about the chair being thrown at him, so he hit a clothesline. Priest threw the leather chair onto T-Bar at ringside. Priest whipped T-Bar into the barricade and Priest tossed T-Bar into the ring post. Priest sent T-Bar into the ring and hit The Reckoning neckbreaker. Priest had a crazed look on his face. Priest held up the US Title to end it.
Analysis: Priest was really over the top with the angry faces and things like that here, so I think he was probably instructed to bring more intensity. He brought it.
Carmella was backstage doing a promo about how beautiful she is while holding her mask. Carmella bragged bout how valuable she is. Carmella ripped Liv Morgan for following her to Raw from Smackdown. Carmella said that she always has a plan and with the mask protecting her moneymaker, no one will stop her as the most beautiful woman in WWE.
Carmella made her entrance with Corey Graves getting excited about it as usual.
Analysis: Carmella had her birthday on the weekend and Corey proposed to her, so they are engaged now. Congrats to the happy couple. They have been dating for a few years now.
(Commercial)
Carmella had some ladies at ringside put on the protective mask. Liv Morgan entered to wrestle Carmella for the 472nd time in the last three months. I'm kidding. It just feels like it has been that many times.
Carmella vs. Liv Morgan
Morgan had a Chucky themed outfit. Carmella worked over Morgan with punches followed by a corner splash. Morgan hit a back elbow in the corner, then she went for it again and Carmella got boots up to block it. Carmella screamed about how Morgan was jealous of her. Morgan came back with a kick to the head, Carmella with a boot to the face to counter a charging Morgan. Liv set up Carmella near the ropes and stomped on the ribs for a two count. They battled on the floor with Morgan sending Carmella face first into the hood of the announce table. Morgan trash talked or congratulated Graves about how he was engaged to Carmella. Back in the ring, Carmella was able to counter Morgan by jumping around hitting an X-Factor facebuster into the mat for the pinfall win. It went about four minutes.
Winner by pinfall: Carmella
Analysis: *1/2 It was like most of their matches. Every time they wrestle I would like to see Morgan win so she can get a bit of a push, but it never seems to happen. Carmella wins just like their last match on Smackdown. The mask spot isn't that interesting.
Carmella celebrated the win while Corey was shown on commentary saying he supported the mask.
Bearcat Lee made his entrance. The nameplate said Keith "Bearcat" Lee and that's how he was introduced to the audience.
(Commercial)
There was a video about Veer coming soon.
Keith "Bearcat" Lee vs. Cedric Alexander (w/Shelton Benjamin)
Lee launched Alexander across the ring, so Alexander bailed to the floor. Alexander back in with kicks, Lee shoved him down, Alexander with a kick to the head that was no sold and Lee shoved Alexander down. Lee with a punch to the ribs followed by a forearm to the face. Lee with a corner splash, then he missed a splash when Cedric moved and Cedrick hit a dropkick to the left knee. Lee bounced off the ropes leading to Lee running over Alexander. Lee with a clothesline. Lee with a slam off the shoulders into the pin that used to be called the Big Bang Catastrophe, but that's not the name anymore.
Winner by pinfall: Keith "Bearcat" Lee
Analysis: *1/4 A dominant ass kicking by Lee. I really hope this Bearcat thing leads to a significant push for Lee because that's a guy that deserves it especially after his health scare earlier this year. The crowd barely reacted to Lee, but that's maybe because they knew it would be a squash over Alexander.
Post match, Lee faced off with Shelton Benjamin. Shelton looked like he might strike, but then he backed away.
Analysis: I think we can pencil in a win for Lee over Benjamin next week on Raw.
A video was shown earlier in the night. Rey Mysterio was in the locker room with his son Dominik showing up to wish his dad good luck and Rey thanked his son for the support. Austin Theory showed up asking where the towels were. Austin called Rey his hero since he was a kid. Theory told Dominik to take the picture, Dominik said he's not a photographer and this isn't Theory's locker room. Theory challenged him to a match and Dominik said he's on. Dominik told his dad he'll take care of it.
Dominik Mysterio entered for singles action.
(Commercial)
Austin Theory vs. Dominik Mysterio
They are two of the youngest guys on the Raw roster since they are both 24 years old. Theory avoided Dominik by jumping over him and hitting a dropkick. Theory did an Eddie Guerrero-like shake to get some boos. Dominik with an armdrag, then a dropkick and his own shake. Dominik with a hurricanrana, then Dominik tried a bulldog style move and Theory hit a full nelson into a backbreaker for two. Dominik countered a suplex into an inside cradle. Dominik with a kick to the head, a running back elbow and a bulldog off the middle rope. Theory got a hold of Dominik, he sent Dominik's throat across the top rope and Theory hit the ATL spinning slam into the knee for a three count. They got about three minutes.
Winner by pinfall: Austin Theory
Analysis: *1/2 A short match just like the one before it. Theory is a guy that has a lot of potential as a heel that is very confident. Dominik is solid in the ring, but Theory is more experienced and more polished out there. Both guys have bright futures.
Post match, Theory took a selfie with Dominik and also a selfie with the referee that was yelling at him.
Riddle and Randy Orton were standing backstage before their Raw Tag Team Title defense. Riddle rambled on about wearing Halloween costumes and even asked Randy his dress size. Orton wanted Riddle to focus. Orton said that Dolph Ziggler and Robert Roode are here to prove something. Riddle said they'll clean the Dirty Dawgs up because they're dirty, Orton said nothing and that was it.
Randy Orton and Riddle entered for their Raw Tag Team Title defense. Good reaction for them with Riddle looking excited as usual while Orton was stoic as usual.
Analysis: Earlier in the day and over the weekend WWE announced Orton/Riddle vs. AJ Styles/Omos again, but then that changed during the show. Styles missed Raw this week. I'm not sure why.
(Commercial)
Robert Roode and Dolph Ziggler made their entrance as highlights were shown from the tag team match earlier.
Raw Tag Team Championships: Randy Orton & Riddle vs. Dolph Ziggler & Robert Roode
Riddle and Ziggler did some mat wrestling to start the match with each guy countering moves. Orton faced off with Roode with Roode hitting a back elbow. Roode with punches, Orton with an eye poke and a couple of forearms to the chest. Orton went for an RKO, but Roode shoved him off. Roode regrouped on the floor a bit, then back in with Orton getting offense and Riddle with a twisting splash for two. Riddle unleashed on Roode with some kicks. Roode blocked a kick on the floor and knocked down Riddle while on the ramp.
(Commercial)
The heels were in control as they isolated Riddle. Roode with a chop, then a corner whip, Riddle moved and Roode hit the turnbuckle. Orton got the hot tag leading to a powerslam, Ziggler with a distraction, Roode sent Orton throat first into the top rope and Roode tossed Orton into the barricade. Ziggler tagged in to bring Orton into the ring for a two count. Roode back in with punches to the ribs, then a headlock and Orton hit a belly to back suplex to create some space. Riddle tagged in, his upkick on Ziggler missed, then a knee on Ziggler, a knee on Roode and a forearm on Ziggler. Riddle with Exploder Suplexes on both guys. Riddle with senton splashes and Roode broke up the pin. Orton with an RKO on Roode, Ziggler with a superkick on Orton and Riddle/Ziggler each got two counts on rollups. Riddle got a cradle leading to him hooking the arms/legs of Ziggler and that was enough for the pinfall win after about 12 minutes.
Winners by pinfall: Randy Orton & Riddle
Analysis: ***1/4 A good match here with the champions retaining against a team that isn't pushed that match. They told the story they needed to with Ziggler/Roode working over the faces for most of the match, then a hot tag takes place and it goes off from there. I'm a bit surprised by Riddle winning over Ziggler with a cradle like that instead of a bigger move, but it shows Riddle can beat you in multiple ways. Orton got to hit the RKO before the finish so that popped the crowd as usual. As I noted earlier, doing Orton/Riddle vs. Usos at Survivor Series is likely and should be a great tag team matchup between champions.
Seth Rollins was interviewed by Kevin Patrick, who mentioned the Ladder Match coming up next. Rollins said he had a target on his back because he is without question the biggest threat to the WWE Champion. Rollins said he's in pain and he suffered insider Hell in a Cell. Rollins said he's the visionary, the revolutionary Seth "Freakin'" Rollins and said he would be the next WWE Champion.
(Commercial)
This week on Raw Talk the guests are Damian Priest, Big E & Queen Vega.
There were videos shown from Crown Jewel when Goldberg beat up inside the arena, around it and then Goldberg gave Lashley a Spear off the stage to win that Falls Count Anywhere match.
They showed a tweet from Lashley threatening people when talking about his comeback.
The introductions took place for the main event with Rey Mysterio up first, Kevin Owens was the second man introduced looking fired up. Finn Balor was up next.
(Commercial)
Next week on Raw in Providence: Becky Lynch defends the Raw Women's Title against Bianca Belair.
Seth Rollins was last as the lone heel in this match.
Ladder Match: Seth Rollins vs. Finn Balor vs. Kevin Owens vs. Rey Mysterio
There was a contract above the ring. The first person to grab that will earn a WWE Title match.
Balor worked over Rey with a low dropkick. Owens and Rollins were brawling on the floor with Rollins knocking Balor down. Owens took control for a bit using a ladder in his hands and knocking down Balor and Reigns separately. Rey jumped over the top with a move, but Owens held up the ladder to stop that. Big E was shown standing by watching at a ridiculous camera angle. Owens with a boot to the ribs of Balor and he hit a Powerbomb on the ladder. Rollins ran right into a superkick by Owens, so Owens placed Rollins on a ladder. KO went up top, he jumped off with a senton bomb, Rollins moved and KO went back first onto the ladder. Ouch.
(Commercial)
Rollins used a ladder to hit Rey in the head with it, Rollins hit Balor with a ladder and Rollins hit Owens with a ladder as well. Balor tripped up Rollins followed by a double foot stomp onto the ladder on Rollins. Balor gave Owens a back body drop onto a ladder on Rollins. Big E was shown watching on a TV again and this time he looked more serious. Balor climbed up, he got his hand on the contract above the ring and Rey stopped him. Owens knocked both guys down. Owens hit a spinning slam on Rey to put him down. Owens went up top, he got his hands on the contract and Rollins stopped him. Rollins gave Owens a Buckle Bomb into the turnbuckle leading to Owens hitting a superkick. Owens climbed up the ladder, he got a hold of the contract again, but Rey was back up to grab KO's left leg to bring him down. Owens whipped Rey into the ladder. Owens left the ring, tossed Rey into the barricade and Owens hit all three guys with ladder shots to their bodies. Owens grabbed a table from under the ring, so he set it up on the floor. Balor went after Owens, so Rollins hit a suicide dive to take care of those guys. Rollins and Rey battled in the ring with Rey hitting an impressive bulldog. When Rey ran the ropes, Rollins tripped him up. Rey sent Rollins out of the ring, Owens had a ladder on the floor and Rey hit a 619 kick into the ladder. Rey jumped on a ladder that went on top of Owens on the floor. Rey and Rollins were fighting on the floor, so Finn Balor came out of the sky with a somersault dive over the top onto Rey/Rollins on the floor. That was cool.
(Commercial)
Owens and Rollins were battling with Rollins hitting a DDT. Rey was near the top of the ladder, so Rollins shoved it over. Rollins charged at Balor, who hit a Slingblade. Owens with a superkick on Balor, then Balor with a dive on Rey and jump kick on Owens. Rey with a seated senton off the top, but when he tried to do a move, Owens caught him and hit a spinning slam. Rollins grabbed a huge ladder on the floor. Balor hit Rollins from behind and tossed Rollins into the announce table. Balor set up a ladder bridge from the apron to the announce table. Balor hit a Slingblade neckbreaker on Rollins on the floor. Balor got close to reaching the top, Owens brought him down and hit a Stunner. Rey with a headscissors sending Owens to the floor. Rey jumped off the apron, Owens caught him and gave Rey a Powerbomb through the table! Owens went climbing, Rollins got a hold of him and they fought by ropes. Rollins fought out of an Owens move and Rollins hit a back body drop over the top through a ladder! Holy shit, that was crazy. Balor went up the ladder, Rollins grabbed the legs to stop him and Rollins hit The Stomp on Balor to take him out. Rollins climbed the ladder, he reached up and obtained the contract to win the match! It went 23 minutes.
Winner by pinfall: Seth Rollins
Analysis: **** A great match by four of the best wrestlers on Raw. It was smart to do this match in a main event spot as well as making it a Ladder Match. As soon as the table was set up on the floor, we knew somebody was going through it, the same goes for the ladder bridge and that's fine because you need to set up spots like that. Owens took the hardest and craziest bumps in the match including that final Powerbomb on that ladder. That was brutal. Rollins deserved the win since he avoided the big bumps while beating up Kevin, Rey and Balor all in succession so that Rollins could come make that final climb for the win. THe match was very well structured. I didn't really notice any botches or mistakes. No surprise there considering the experience level of all four guys.
Rollins celebrated with the contract. Big E showed up with the WWE Championship. Big E had a staredown with Rollins, who wanted a handshake, but Big E did not give it to him. Rollins just laughed and went to the back.
There was a plug for Becky Lynch defending the Raw Women's Championship against Bianca Belair next week.
Rollins was interviewed in the backstage area. Rollins said he's back, he's the next WWE Champion because he's Seth Freakin' Rollins. Another highlight was shown of Rollins in the ring. That's it.
Three Stars of the Show
Seth Rollins
Kevin Owens
Rey Mysterio/Finn Balor
The Scoreboard
7 out of 10
Last week: 6.5
2021 Average: 6.08
Final Thoughts
A good Raw this week. The matches carried it for the most part although there were some decent promos. They needed to do that women's promo for next week's TV because it's a big title match.
In terms of matches, no question the Ladder Match was the standout match. I thought Rollins, Owens, Mysterio and Balor all did a great job in that match. Nothing else was really close to it, but I did like some of the other tags and the shorter wins didn't bother me at all because they're trying to build up people like Lee, Theory and Vega to name a few.
The next WWE PPV is Survivor Series on Sunday, November 21.
===
Check out the WWE PPV Review archive right here. You can contact me using any of the methods below. Go Los Angeles Rams, Toronto Raptors and Toronto Maple Leafs. Be safe and smart out there.
Thanks for reading.
John Canton
Email: mrjohncanton@gmail.com
Twitter: @johnreport