The John Report: The WWE Raw Deal 08/29/22 Review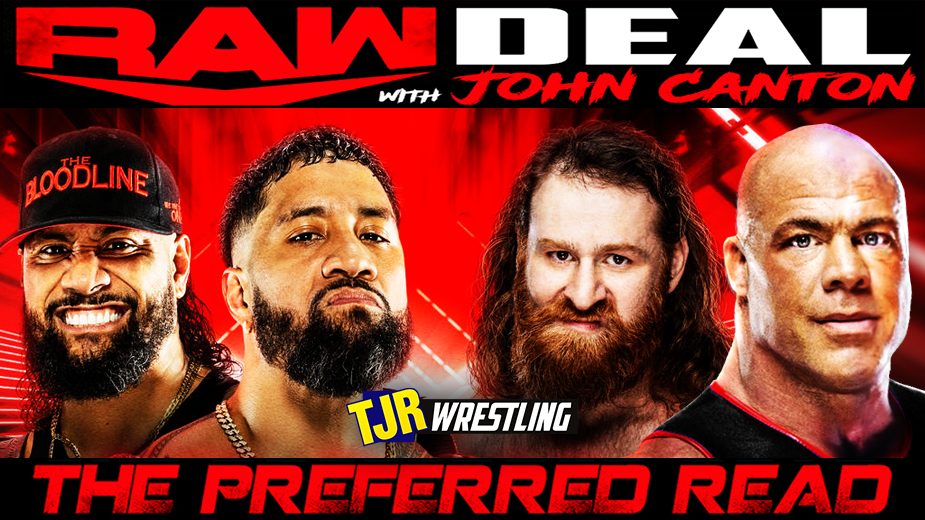 This week's WWE Raw featured IYO SKY & Dakota Kai facing Raquel Gonzalez & Aliyah to crown new Women's Tag Team Champions, Seth Rollins continued his rivalry with Riddle, The Usos & Sami Zayn made an appearance and Kurt Angle was back on Raw in his hometown of Pittsburgh.
It's the last Raw before WWE Clash at the Castle on Saturday in Cardiff, Wales. I'm excited for everybody going to the show. We'll have a preview up on TJRWrestling on Friday and then I'll do a live review on Saturday as well. I think WWE has a lot of momentum right now after I rated Raw a 9 out of 10 show last week, so let's hope the great shows continue.
This is the Raw Deal for episode #1527 of Monday Night Raw. It's taking place at the PPG Arena in Pittsburgh, Pennsylvania. Follow me on Twitter @johnreport. Let's get to it.
The Raw intro video aired. They do not do that every week.
It's a phenomenal start to Raw as AJ Styles made his entrance. The Raw commentary team of Jimmy Smith, Corey Graves and Byron Saxton welcomed us to the show welcome while doing a rundown of what's coming up. Dolph Ziggler entered as AJ's partner.
There was a video package of last week's Raw when Edge beat Damian Priest and The Judgment Day attacked Edge after the match, but Edge's wife Beth Phoenix was able to fend them off with a steel chair.
The Judgment Day trio of Damian Priest, Finn Balor and Rhea Ripley made their entrance all dressed in black/purple colors.
AJ Styles & Dolph Ziggler vs. The Judgment Day – Finn Balor & Damian Priest (w/Rhea Ripley)
Balor with a shoulder tackle on Ziggler, then Ziggler with a dropkick and each guy tagged out. Priest worked over Styles with punches/kicks in the corner. Styles jumped over Priest with a dropkick and a clothesline over the top to the floor. Styles with a slingshot over the top leading to a forearm on Priest on the floor.
(Commercial)
Balor was in control of Ziggler with a low dropkick after Ziggler tried a sunset flip. Balor picked up Ziggler for a move, but Ziggler countered it into a Fameasser sending Balor's head into the mat. Priest was back in against Styles, who unloaded with strikes along with a corner clothesline. Styles stopped himself from hitting Balor on the apron, so Priest knocked Styles into Balor, who bumped to the floor. Styles countered a Priest move into a pin attempt for two. Styles with the Ushigoroshi slam sending the back of Priest's neck onto AJ's knee. Styles applied the Calf Crusher submission leading to Balor pushing the ropes towards Priest, who got his hand on the rope. Ziggler knocked Balor down on the floor with a forearm to the back. Priest with a backbreaker, Styles with an enziguri kick and Ziggler was back in with a rollup on Priest, but the referee was looking at Styles. Ziggler with a superkick on Balor, who went into the ring. Priest caught Ziggler with the South of Heaven slam for the pinfall win. Priest usually wins with The Reckoning
Winners by pinfall: The Judgment Day – Finn Balor & Damian Priest
Analysis: ***1/4 A good tag team match that gave Priest some positive momentum after he lost to Edge last week. I think that's why Priest won instead of Balor although it didn't really matter who won from the team. Ziggler losing is consistent with how they have booked Ziggler for several weeks as a guy losing competitive matches. Balor kept trying to avoid Styles. At one point Balor did a Bullet Club-style hand gesture to taunt Styles since they were both part of the group at one point. Hopefully we get a proper Balor vs. Styles feud some day.
The Judgment Day was walking in the aisle, then they showed Edge driving up to the arena and The Judgment Day went back into the ring.
(Commercial)
Let's Hear from The Judgment Day
Rhea Ripley called out Edge out to the ring so she can smash what's left of his manhood. Finn Balor said he's so tired of these legends complaining about Edge and Rey Mysterio getting A&E documentaries, so Balor said he wants a documentary. Damian Priest said he had Edge beat last week and made excuses about losing. Priest said that Edge doesn't have Beth there to save him this week. Priest said that they'll finish Edge and he'll face his judgment day.
Edge made his entrance to a big ovation from the crowd. Edge said they made valid points and some ridiculous points. Edge said that he and Rey did not come back to steal Finn's glory, Edge wanted to teach Finn, but Finn's ego was too big, so it got in the way. Edge noted they weren't in his hometown (hey Toronto) since they are in Pittsburgh. Edge admits that Beth and himself both wear the pants in the family while telling Priest don't be a caveman because it's 2022 or you'll be single for the rest of your life. Edge said Beth is a badass while telling Ripley to keep her hands to herself or she'll find out why Beth is the Glamazon. Edge stood at ringside ripping on them looking emo since they couldn't get My Chemical Romance tour. Edge said what they didn't learn is they failed to pay attention because Edge didn't come here alone. Rey and Dominik Mysterio had kendo sticks that they used on Priest and Balor. Edge clotheslined Priest over the top to the floor. Ripley was alone with Dominik, who had a kendo stick, and she was taunting him. Dominik nearly swung the kendo stick, but then he let Ripley take it from him leading to boos. Edge and Rey went into the ring beside Dominik as Ripley dared them to try to hit her. Balor and Priest pulled Ripley out of the ring. Edge, Rey and Dominik stood united in the ring as Edge's music played to end it.
Analysis: It was an interesting promo segment with Edge delivering some good lines in reply to the trash talk from his former allies. It seems like they are building to a tag team match with Edge & Rey against Priest & Balor while I assume they would Dominik and Ripley on the floor. If Beth Phoenix decides to wrestle again then they could do a mixed tag at some point or have Beth take on Ripley in singles at some point as well. It was booked well with Rey & Dominik doing the attack from behind to show Edge could outsmart The Judgment Day fairly easily.
They showed photos of Dexter Lumis abducting The Miz on Raw in Toronto last week.
The Miz and Ciampa were shown walking down a hallway earlier today with Kevin Patrick asking Miz about what happened. Miz said Lumis is not a WWE superstar. Patrick said that Dexter was arrested at NXT last week. Miz said that he doesn't want to talk about it.
The trio of Bianca Belair, Asuka & Alexa Bliss were shown walking backstage for a match up next.
(Commercial)
Raquel Rodriguez & Aliyah did a promo from backstage talking about how they are going to be the new Women's Tag Team Champions. They hugged. An Aliyah match is going to main event Raw? That's not a prediction I would have made before the year.
The trio of Bianca Belair, Asuka and Alexa Bliss entered for a match against three local wrestlers.
Bianca Belair, Asuka & Alexa Bliss vs. Danny Mo, Kay Sparks & Katie Arquette
Belair was dominant early on and she hit a delayed suplex. Bliss with knees to the ribs followed by a splash to the ribs. Asuka tagged in, so Bliss sent the woman's head into Asuka's butt. Asuka hit a running shoulder tackle, then she missed a corner attack and Asuka worked over Mo with strikes along with a suplex. Asuka with a running kick, but Arquette broke up the pin and Bliss went into the ring with a DDT. Belair hit the KOD slam on one of the women that wasn't legal in the match. Asuka took down Mo with the Asuka Lock submission for the tapout win after about two minutes.
Winners by pinfall: Bianca Belair, Asuka & Alexa Bliss
Analysis: *1/2 A squash match to put over Belair, Asuka & Bliss. It's just a way to give them a win. That's fine.
Bianca Belair did a promo talking about how she's been running things since winning the Raw Women's Title at WrestleMania. Bliss said things are going to get really twisted because…Asuka ranted in Japanese. Asuka asked if we're ready for the three of them. Belair said that they are taking control at Clash at the Castle.
Analysis: I think they could win at Clash, but I don't think I'll pick them. Bayley getting the win to set up a title feud with Belair is certainly a possibility as well.
It's Belair, Bliss & Asuka against Bayley, IO SKY & Dakota Kai this Saturday at Clash at the Castle.
The Miz & Ciampa were in the dressing room with WWE Official Adam Pearce telling Miz that if he needs anything like counseling, they can help. Miz said that he didn't want to talk about it. Pearce said that Lumis was released from police custody because Miz didn't press charges or make any comments. Pearce claimed he was trying to help, Miz said if you were trying to help why did you book him against Bobby Lashley and Miz/Ciampa told Pearce to leave, so he did.
Kurt Angle, the WWE Hall of Famer, made his entrance wearing some Team Angle-style attire along with sneakers. Big pop while the fans chanted "you suck" in support of Angle. He looks like he's moving around well after getting double knee replacement surgery three months ago. Angle is from Pittsburgh, so the fans love him of course. Angle mentioned Clash at the Castle on Saturday.
Shoosh, please! Chad Gable and Otis of the Alpha Academy made their entrance. The show went to break.
A commercial aired about the A&E Biography episode about WrestleMania 1. That should be good. It's the last biography of this season. I've enjoyed the series and the Rivals show as well.
(Commercial)
Let's Hear from Kurt Angle and Alpha Academy
Chad Gable said that Angle was a personal hero to him while adding that Kurt's story motivated him while mentioning that Angle won an Olympic Gold Medal. Kurt mentioned that he won it with a "broken freakin' neck." Gable said that the Alpha Academy was looking for a new member, but there was not one shred of talent there as he insulted the crowd. The fans booed, so Gable told them to show some respect. Gable said that they are offering Angle 100% acceptance into the Alpha Academy for one night only. Otis had a jacket for Angle, who said he will pass and Angle tossed the jacket to the AA guys. Gable told him to say that's not true, then Angle said "it's true, it's damn…" and Gable did the "shoosh" to Angle. Gable did his "shoosh please, thank you" and Angle told him to shoosh. Gable said that he did the shoosh-ing here, so then they shouted "shoosh" at eachother. Gable wanted Otis to show what happens when you turn down an offer from The Academy. The Street Profits ran out to the ring to support Angle while wearing some black/gold style gear like Pittsburgh's sports teams the Steelers, Penguins and Pirates. Montez Ford spoke about how they messed up his boss on Smackdown, so tonight they are looking for a fight. Gable said they'll accept the challenge on one condition and said that after Alpha Academy wins, Angle has to join Alpha Academy while doing what Gable says as Gable coaches him to the next level. Ford set up Angle to say "it's true, it's damn true" so that match was up next.
Analysis: It would have been nice to hear a bit more from Angle, but I understand why they would want Gable to speak more since he's the heel that can get a lot of heat by doing his "shoosh" phrase that annoys people. The bit where Gable-Angle yelled "shoosh" at eachother was done for laughs and the reaction was okay, but it wasn't that loud. The fans did pop well for Angle as they should. Like I said it looks like Kurt's knee surgery was great for him because he looks better while standing compared to what he looked like before double knee surgery.
(Commercial)
They announced a new match for Clash at the Castle: Edge & Rey Mysterio vs. Finn Balor & Damian Priest. That was expected.
The Street Profits – Montez Ford & Angelo Dawkins vs. Alpha Academy – Chad Gable & Otis
Kurt Angle was seated at ringside watching the match while wearing his Olympic gold medal around his neck. Otis with a powerslam on Ford, Gable tagged in and Ford hit a dropkick. Dawkins with a shoulder tackle leading to a slam onto Gable. Dawkins with a shoulder tackle on Gable, then Gable did a roll through leading to Dawkins doing an impressive leap followed by two arm drags. Dawkins dropkicked Gable and Otis out of the ring. Dawkins hit a somersault dive over the top onto both AA guys on the floor. That's an impressive move by a big guy like Dawkins. Back in the ring, Gable wrenched on the left knee followed by Gable working over the knee some more. Otis stood on the back of Dawkins against the ropes. Gable back in, Dawkins broke free after jumping over Gable, Ford tagged in with a kick and Ford hit a cross body block off the top onto Gable. Ford with a lariat, belly-to-back suplex and a standing moonsault for two. Ford went up top, Otis grabbed the foot and Gable hit a belly-to-belly suplex across the ring. That's a move that Angle did many times in his career.
(Commercial)
The match returned with Gable going for a move on Ford, but Ford countered with what looked like a DDT. Dawkins tagged in against Otis with a leaping attack, but Otis hit a spinning back elbow. Otis ran over Ford as well. Otis with a front slam on Dawkins for a two count. Gable was back in with Dawkins hitting him with the double underhook sitout slam for two. Ford tagged in as Gable hit a German Suplex on Dawkins. Ford jumped off the top with a cross body block again as Gable rolled through into a pin attempt for two. Ford to the apron, he jumped and Gable countered into a Northern Lights Suplex for two. Gable and Ford always do that spot in their matches. It's not easy to do, but they make it look easy. Otis back in, Gable tried a sunset flip, Gable tagged in and Otis slammed Ford onto the mat. Gable tagged in with a headbutt off the top, but Dawkins broke up the pin. Otis and Dawkins ran the ropes leading to a double clothesline. Gable applied the Ankle Lock on Ford, who sold it well while the crowd really wasn't reacting much at all. Ford got out of it, landed on his feet and applied his own Ankle Lock with Angle looking happy about it. Gable was staring at Angle while Ford applied the heel hook on the mat, but Otis was back in with a splash on Ford to break it up. Otis got in Angle's face telling him he's joining the Academy, so Dawkins ran over Otis with a shoulder tackle over the commentary table. That was crazy. Ford got an inside cradle for two. Dawkins with a shoulder tackle on Gable into a German Suplex by Ford. That led to Ford getting the tag, he went up top and hit a Frog Splash on Gable for the pinfall win after 14 minutes.
Winners by pinfall: The Street Profits – Montez Ford & Angelo Dawkins
Analysis: ***1/2 A very good match that was competitive the whole way with plenty of non-finishes throughout the match. The Pittsburgh crowd wasn't that loud for it at times when they should have been, but they got more into it towards the end when Ford used the Ankle Lock that Angle used in his career. The announcers tried to push the story that Angle would have to join Alpha Academy if he lost, but I think we all knew it wasn't going to happen. Gable continues to get lengthy TV matches while Otis was impressive as well and the Profits are my second favorite team in WWE after The Usos. I saw these teams have a match at a live event two weeks ago and it was a lot of fun just like this was.
The Street Profits celebrated the win and gave Angle a red solo cup of his own, but Angle spit it out. Angle grabbed milk from ringside, so Angle & The Street Profits chugged some milk as Angle's music played. The crowd liked that. Milk-O-Mania is running wild! The milk bath in 2001 was incredible. Angle had a lot of milk at ringside so he tossed some of it to the crowd.
Analysis: That was fun. Kurt Angle went to a drug and alcohol rehab facility many years ago. Stick to the milk, Kurt. Good idea.
Seth Rollins and Riddle were shown on a split screen getting ready for an interview.
This Friday on Smackdown it's a celebration of the two-year championship reign of Roman Reigns. It was taped last week. I won't mention the spoilers.
(Commercial)
They showed members of the NFL's Pittsburgh Steelers at ringside. I noticed their great defensive lineman Cam Heyward as one of the guys there. Go LA Rams. Just saying.
They showed a clip of Riddle talking on the phone in the parking lot when Seth Rollins arrived. They were quickly broken up by WWE officials Jamie Noble & Petey Williams along with two referees.
Analysis: They filmed it like some fan or random person did it, but obviously it was a WWE thing to push the angle. They posted it on social media before the show.
Face To Face: Matt Riddle & Seth "Freakin" Rollins
They had Corey Graves conducting the interview. It said "Matt Riddle" on the screen instead of just Riddle, so Matt gets the first name back. Rollins bragged about how Riddle was not on his level. Rollins told Riddle that nobody likes him, so when Rollins finishes him, Rollins will do it for everybody. Riddle said if you want to get rid of him, it will take a lot more because Riddle will be there a long time. Rollins said that if he has to put him in the hospital like Cody Rhodes that's what he'll do and then Rollins will go after the Undisputed WWE Universal Title. Graves asked what we can expect for their Clash at the Castle. Rollins said he'll steal the show, stomp Riddle's head into the mat and show who the man really is. Riddle said that he'll prove to Seth that there's only one man in your marriage and "that's Becky, bro." That was it.
Analysis: It was okay to have them exchange words going into their match with the idea that if they are in the same room they might get into a brawl. The most newsworthy thing there is that the graphic said "Matt Riddle" instead of just Riddle, so we can start referring to him as his whole name again. That's a good thing.
The Miz and Ciampa were shown walking backstage. A security guy was standing there, Miz stopped himself and Miz was freaked out thinking maybe it was Dexter Lumis. Ciampa encouraged Miz to focus.
(Commercial)
There was a congratulations graphic for Bad Bunny winning the 2022 MTV VMA Artist of the Year. Good for him. Glad I grew up in the days when MTV (and MuchMusic here in Canada) actually showed music videos.
They showed more comments between Rollins and Riddle. Rollins spoke about how Riddle mentioned his family, then Seth said that Riddle's wife divorced him and took their kids so they don't want to see Riddle's "bitch ass" anymore. Riddle wanted to find Rollins to kick his ass, Riddle was screaming about how he was going to smash Seth's face in, Rollins got up to leave, so Riddle shouted at Seth to keep playing games and Riddle said he was going "f**k you up." The swear word got bleeped. Rollins left.
Analysis: That's a way to make it personal by mentioning Riddle's divorce, so it adds even more fuel to the fire. The swearing response is perfect too because it feels natural.
Bobby Lashley made his entrance as the United States Champion with the fans cheering him. The Miz entered with Ciampa, who does not have his name back.
Bobby Lashley vs. The Miz (w/Ciampa)
This is not for the US Title. Lashley knocked down a charging Miz easily followed by strikes while Miz was against the turnbuckle. Lashley hit Miz with an atomic drop followed by a delayed vertical suplex. Lashley clotheslined Miz out of the ring. Ciampa bumped into Miz on the floor and Miz nearly punched him because he's been freaking out. Lashley ran over Miz on the floor as the show went to break.
(Commercial)
Lashley continued to dominate with a spinning slam off the shoulders. Lashley picked up Miz going for a move where he sent Miz into the post, but Ciampa put his body against the post. Lashley stared at Ciampa on the floor, so Miz kicked Lashley into the commentary table. Miz sent Lashley into the steel steps while Miz was freaked out at ringside again. Miz with a boot to the face to knock down Lashley. Miz hit a corner clothesline while the fans chanted "tiny balls" so Miz informed the crowd that he had huge balls. Thanks for that. Miz jumped off the turnbuckle with nothing as Lashley caught him with a flatliner. Lashley with a clothesline, then a belly-to-belly suplex across the ring and a shoulder tackle. Miz charged right into a spinebuster from Lashley. Ciampa pulled Miz out of the ring to save his friend. Ciampa gave Miz the card necklace, the referee stopped Miz from using it and Ciampa hit a running knee on Lashley (the referee didn't see that). Miz hit a DDT for two. Miz tried for the Skull Crushing Finale, but then Lashley got up and Miz pointed out that Dexter Lumis was standing in the crowd at the top of the aisle. Miz was freaked out about it, then the spotlight was off Lumis (while Miz told Ciampa to look) and Lashley applied the Hurt Lock submission. Miz tapped out to give Lashley the win. It went about ten minutes.
Winner by submission: Bobby Lashley
Analysis: **1/2 A dominant win by Lashley that was more about The Miz's storyline where he's freaking about Lumis instead of focusing on the match. Miz got that one good nearfall after the cheap shot from Ciampa and Miz hitting the DDT. The spot with Lumis appearing drew a pop from the crowd while Miz was freaked out. Lashley winning was the obvious result.
After the match, Miz was yelling at Ciampa that Lumis was right there with the idea that Ciampa
Kurt Angle was in the locker room with Edge giving him a white cardboard with photos on it. Angle said he's not falling for this again (a backstage segment from 2002). The first picture didn't have anything on it, but the others did and they said the following: "Sorry Rey and I beat you for the tag team titles. Sorry I beat you for the US Title. Sorry I shaved your head bald. Sorry I started the You Suck chant…But…You Still Suck." Angle and Edge hugged saying they loved eachother.
Angle walked over to Rey and Dominik in the dressing room with Angle looking at the back of the cardboard realizing that Edge tricked him again.
Analysis: That was a nice bit of nostalgia there. Two funny guys. I enjoyed it.
Rey and Dominik had a talk with Rey saying Edge was like family to him and he needs Edge's experience by his side. Rey said he still wanted Dominik to be in his corner. Dominik said he'll do it.
Analysis: I think this is going to lead to Dominik turning on Rey & Edge because Dominik is mad that Rey chose Edge to team with him instead of Dominik. That will lead to Dominik joining The Judgment Day as well.
The Usos and Sami Zayn were shown walking backstage wearing their Bloodline shirts. They are up next.
(Commercial)
A video aired about WWE establishing Connor's Cure in honor of Connor Michalek in 2014. WWE started Connor's Cure to fight pediatric cancer. Stephanie McMahon narrated a video talking about how they have raised over $4.5 million and they showed some cancer survivors at ringside along with Titus O'Neil and Dana Warrior with the kids.
Let's Hear From The Usos & Sami Zayn
The Usos made their entrance as the Undisputed WWE Tag Team Champions along with Sami Zayn. The Usos had on a red Bloodline shirt while Zayn was wearing the black shirt. They showed Drew McIntyre beating Sami Zayn on Smackdown last week, but then Reigns, The Usos & Zayn worked together to beat up McIntyre after the match. Reigns put a chair over Drew's throat and sat on top of him while posing with the WWE & Universal Titles. They showed Drew's Twitter post showing the red scars on his back after taking multiple chair shots to the back.
Jey Uso said that The Bloodline is in your city. Jimmy mentioned 730 days for Roman Reigns as the (Universal) champion and it's a big two-year celebration on Smackdown for the Tribal Chief. Zayn said that Reigns has personally appointed him as the Master of Ceremony for the night. Jey started at Zayn, so Zayn said that The Usos were the most dominant team in WWE history and the Undisputed WWE Tag Team Champions. Jimmy said that they are running Raw and Smackdown. Jey said that Roman Reigns is going to beat Drew McIntyre at Clash at the Castle while saying that it was as simple as it gets.
Kevin Owens arrived with the interruption wearing the classic "KO" shirt. Owens said that The Bloodline doesn't run anything on Monday nights because Raw is still the Kevin Owens Show. Owens said he's glad that they are here because Owens claimed that Reigns still owes him one. Jey asked if Sami if Kevin was his boy. Zayn said that technically yeah he's my boy. Jey wanted Sami to get him before Jey does. Zayn told Owens that Roman Reigns doesn't owe Owens or anybody anything…ever, so that's how it is. Owens said he didn't think Sami could make himself look stupider than he did when he grew his hair out, but Sami looks stupid hanging out with these guys. Owens said that Sami has forgotten that he's one of the greatest in-ring performers of all-time and now he is The Bloodline's clown. Owens said that he thinks of Sami as more than a best friend because he thinks of him as a brother. Owens said Sami needs to look himself in the mirror. Zayn said that The Bloodline actually likes him and he said that Jimmy likes him while doing a handshake. Sami mentioned Jey, who doesn't like Sami and Sami said they are working on it. Sami said that Roman Reigns likes him, so that's why Reigns welcomed him to his dressing room and it's why the four of them together destroyed Drew McIntyre. Jey threatened Owens saying if he doesn't go to the back then they'll beat him up like what they did to Drew McIntyre.
Owens said he didn't care about what they did to Drew. Owens said he hasn't forgotten that Jey and Paul Heyman are the reason why KO didn't end Roman's title reign 18 months ago. Owens mocked Jey for having his head up his cousin's ass referring to Reigns. Zayn said that he didn't want to have a problem, but KO is begging for Jey to kick KO's ass. Owens got in Jey's face saying this is the part where they drop the microphones and just fight. A referee ran out there for the match to start after a break.
Analysis: That was excellent. It looks like KO is in babyface mode again this week. I liked when he complimented Sami as a great wrestler while Sami continues to try to suck up to The Bloodline guys. The slow build to the moment when The Usos and Roman beat up Sami leading to Owens saving Sami is going to be amazing. Then Owens/Zayn should be the team that beats The Usos for the titles. Slow burn. Looking forward to seeing it develop. Don't rush it. The more they build on it, the more it will mean when it happens.
(Commercial)
Kevin Owens vs. Jey Uso (w/Jimmy Uso & Sami Zayn)
Owens was aggressive early while also doing a crotch chop gesture. Jey to the floor, Owens followed him there and Jey sent Owens into the ring post. Jey whipped Owens into the steel steps at ringside. Back in the ring, Jey sent Owens with a hard whip into the corner. Jey whipped Owens across the ring into the other turnbuckle. Jey charged, Owens moved and Jey hit the turnbuckle. Owens hit a cannonball on Jey against the turnbuckle. Owens teased a Powerbomb on the apron, Jimmy got in the way and Jey hit a superkick on Owens. Jey gave Owens a Samoan Drop onto the bottom half of the steel steps. It's not a DQ because it's a part of the ringside area.
(Commercial)
The match returned with Owens getting a hold of Jey on the middle turnbuckle leading to Owens hitting a cradle superplex to the mat. Owens went up top, Jey punched him with an uppercut leading to a slugfest. Owens elbowed Jey to knock him down. Owens jumped off the top with a Swanton Bomb on Jey for a two count. Owens nailed him with that. Owens wanted a Stunner, Jey got out of it, Jey wanted a superkick, Owens caught hit and hit his own superkick. Jey avoided a Powerbomb and hit a superkick. Jey went up top, jumped off the top with an Uso Splash and that got a two count. Zayn complained to the referee about the count. Jey went up top, he went for a splash, Owens got the knees up and a cradle for two. Owens with a superkick on Jey and a superkick on Jimmy, who was on the apron. Owens went up top and hit a Frog Splash on Jey for two. Zayn was freaking out at ringside. Jey left the ring where Sami was, then Sami got in KO's face and KO shoved Sami. Zayn didn't touch KO, so there was no DQ for it. Jey hit a suicide dive onto Owens on the floor. Jey told Zayn to get a chair. Jimmy distracted the referee and Jey wanted Zayn to use the chair on Owens, but Zayn didn't do it. The fans were screaming about it. Jimmy yelled at Zayn telling him he was supposed to hit KO with the chair. Jey was distracted by all of that on the floor so Owens hit a Stunner on Jey for the pinfall win after 13 minutes.
Winner by pinfall: Kevin Owens
Analysis: ***1/2 This was a fun match with a brilliant story considering the story going into the match. The Usos wanted Zayn to use the chair on Owens, but Zayn was reluctant to hit his best friend Owens like that and it ended up costing Jey the win. It was the right finish to the match as Zayn continues to have awkward moments with The Bloodline. Owens was there to take advantage of it. Jey is an awesome singles wrestler just like he's so great in tag team matches too.
Owens left as the winner while The Usos were mad at Zayn for not using the chair.
Analysis: As I alluded to earlier, it sure seems like they are setting up for the moment when The Usos (and Reigns most likely) turn on Zayn. That will set up Owens teaming with Zayn to beat The Usos for the titles.
There was a backstage promo with Bayley, Dakota Kai & IYO SKY. They all talked about how they were going to leave Raw as the new Women's Tag Team Champions.
The Miz was shown getting into a truck in the parking lot and Ciampa was there trying to talk to him, but Miz said he was fine. Kevin Patrick walked up asking Miz what he saw during his match with Bobby Lashley. Miz said he didn't want to talk about it. Miz drove away while a light appeared that showed Dexter Lumis was in the back of the truck. Miz drove off.
Analysis: Clever way to continue the story of Lumis stalking Miz for some reason we don't know yet.
(Commercial)
A Pizza Hut replay showed Johnny Gargano's Raw return/debut last week that was interrupted by Theory. While Theory wanted a reunion from their NXT days, Gargano replied with a superkick to knock Theory on his ass.
There was an interview from earlier in the day with Gargano sitting in a seat in the arena while he was asked questions. Johnny talked about how he loved wrestling. Gargano said that Theory was like family to him, but he didn't hear from him for nine months and Theory didn't even call when Johnny's baby was born. Theory walked up with the Money in the Bank briefcase and sat there to talk with Gargano. Theory said that Gargano didn't call Theory while Gargano was a stay-at-home dad that was jealous. Theory said he got to compete at WrestleMania, he became Mr. Money in the Bank and said that it's lonely at the top. Theory wished Gargano good luck because Gargano is swimming with sharks now. Gargano just stared as Theory walked up the stairs.
Analysis: That was a creative way to continue the Gargano/Theory story without doing an in-ring promo or even a backstage interview. I liked the way they filmed it and had Theory get the last word. It should be a good match whenever it happens.
The announcers did a rundown of the Clash at the Castle card starting at 1pm ET/10 am PT because it's in Cardiff, Wales, so it's a 6pm local start for them.
* Undisputed WWE Universal Championship: Roman Reigns (c) vs. Drew McIntyre
* Matt Riddle vs. Seth "Freakin" Rollins
* Smackdown Women's Championship: Liv Morgan (c) vs. Shayna Baszler
* Edge & Rey Mysterio vs. The Judgment Day – Finn Balor & Damian Priest
* Intercontinental Championship: Gunther (c) vs. Sheamus
* Bianca Belair, Asuka & Alexa Bliss vs. Bayley, Dakota Kai & IYO SKY
That's all. Six official matches on the show.
A video aired showing highlights of the Women's Tag Team Title tournament with Corey Graves narrating the video.
The trio of Bayley, Dakota Kai & IYO SKY made their entrance for the main event match to crown the new Women's Tag Team Champions after the titles were vacant for the last three months.
(Commercial)
The Smackdown team of Raquel Rodriguez & Aliyah made their entrance. Ring announcer Mike Rome did the introductions.
Women's Tag Team Title Tournament Finals: IYO SKY & Dakota Kai (w/Bayley) vs. Raquel Rodriguez & Aliyah
Sky started with Aliyah going for pin attempts, Raquel tagged in and hit a boot to the face of Sky. After Sky got a kick to the gut, Kai tagged in and Sky hit a missile dropkick on Raquel. After Raquel knocked down Kai, Aliyah tagged in leading to Raquel tossing Aliyah onto Kai for a two count. Aliyah with a hiptoss leading to Kai leaving the ring. Aliyah went for an attack on the floor, Kai moved and Aliyah was sent into the steel steps. Raquel got involved on the floor, Kai kicked Raquel in the face and Sky hit double knees on Aliyah against the steps. Raquel rolled back in leading to a break.
(Commercial)
The heel team of Sky and Kai was in control with a Kai hitting a dropkick to the back of Raquel. Kai hit a headscissors into the mat. They showed what happened during the break when Sky sent Aliyah into the steel steps. Raquel managed a comeback on her own by tossing legal woman Sky onto Kai. Raquel fought back with a headbutt to the shoulder, then a back elbow on Kai and running splashes on both women. Raquel hit an elbow drop off the middle rope for two. Raquel tried a power move, but Sky countered it into a sunset flip bomb for a two count. That was sweet. Sky with some punches, but Raquel hit a clothesline leading to Sky taking an impressive bump to sell that. Kai distracted the referee, so Bayley grabbed Raquel to knock her off balance. Kai hit a running kick on Raquel and Sky went up top with the Over The Moonsault off the top onto Raquel for two. Bayley complained, so Bianca Belair, Asuka and Alexa Bliss chased Bayley into the crowd. Aliyah got the tag, Kai with a backbreaker and Sky got a crucifix driver on Sky. Aliyah was legal as she went into the ring and got the ROLLUP OF DEATH~! on Kai for the pinfall win after 12 minutes.
Winners by pinfall AND NEW Women's Tag Team Champions: Raquel Rodriguez & Aliyah
UPDATE: Dakota Kai wasn't the legal competitor in the match, so Aliyah pinned the wrong person. Dakota said it right after she got pinned: "I wasn't legal." Maybe that will be used in a storyline leading to a rematch with Kai & SKY winning. For now, I'll keep my analysis below, but I wanted to add that before I get people pointing this out. I rewatched it and Sky was definitely the legal wrestler for her team.
Analysis: *** That wasn't the result I expected, but I liked how it was booked with the blind tag leading to the win. Raquel worked about 80% of the match by selling a beating, then making the comeback and Aliyah getting the win was done to shock people. I'm not a huge fan of the ROLLUP OF DEATH~! being utilized although I get why did it since it was done in a way that Dakota was surprised that she was rolled up like that. Most people probably picked Kai & SKY to win the tournament, so to have them lose to this team of Raquel & Aliyah is a smart way to book a surprising finish. When you surprise the viewers like that, it lets them know that finishes aren't going to be obvious with this creative team running things.
The team of Raquel Rodriguez & Aliyah celebrated with the Tag Team Titles as some pyro went off. They were joined in the ring by Belair, Asuka & Bliss while the heels Bayley, SKY & Kai were on the floor.
There was another plug for Clash at the Castle with the announcers mentioning some of the top matches. They showed the new champions in the ring again and that was the end of Raw.
Analysis: There were rumors about Sasha Banks & Naomi returning tonight. Nope. Not yet. Hopefully they are back soon. If they do a rematch of this match that had the wrong woman pinned then I can see SKY & Kai winning, which can lead to the return of Banks/Naomi after that. Perhaps that is the plan for next week's Raw.
Three Stars of the Show
Kevin Owens, The Usos & Sami Zayn
Raquel Rodriguez & Aliyah
The Street Profits & Kurt Angle
I'm bad at picking just three people. It's okay. My review. I can break the rules that don't really exist.
The Scoreboard
8 out of 10
Last week: 9
Final Thoughts
It was yet another great episode of Raw. I was very entertained by it from start to finish. They started with an entertaining tag team match to put over The Judgment Day. There was a nice balance of promos from the likes of Edge-Judgment Day to set up their tag team match at Clash at the Castle. Congrats to Raquel Rodriguez & Aliyah as the new Raw Women's Tag Team Champions. I didn't see that coming because I thought Dakota Kai & IYO SKY were winning. It's good to surprise the viewers with a finish like that. The tag team match with Street Profits beating Alpha Academy was the best tag team match this week while I enjoyed the Chad Gable/Kurt Angle interaction as well.
The Kevin Owens stuff with The Usos/Sami Zayn was terrific. Owens complimented his best friend Zayn while telling Zayn to stop hanging around with The Bloodline. The match with Owens-Jey saw Zayn refuse to use a chair on Owens, which cost Jey the match moments later. Like I mentioned in the review, you can tell they are doing the slow build to The Usos (and probably Roman Reigns) beating up Zayn after Sami screws something up and Owens will be the one to save Zayn. It should lead to Owens/Zayn beating The Usos for the Tag Team Titles. Build to it slowly. It's going to work so well.
I was very entertained by the rest of the show. They furthered the Rollins/Riddle feud well with Riddle taking a shot at Rollins' family, so Seth fired back at Matt Riddle (he got the full name back) about his divorce and Riddle started swearing because of that. It felt real. It made me want to see their match even more. I like that they advanced the Gargano-Theory story too. Then there was Miz being afraid of Dexter Lumis again leading to Lumis hiding in Miz's car as Miz drove off. Just a lot of clever things throughout the show. Raw is fun these days.
The next WWE Premium Live Event is Clash at the Castle in Cardiff, Wales on Saturday, September 3rd. Here's what we know so far.
* Undisputed WWE Universal Championship: Roman Reigns (c) vs. Drew McIntyre
* Bianca Belair, Asuka & Alexa Bliss vs. Bayley, Dakota Kai & IYO SKY
* Matt Riddle vs. Seth "Freakin" Rollins
* Intercontinental Championship: Gunther (c) vs. Sheamus
* Edge & Rey Mysterio vs. Finn Balor & Damian Priest
* Smackdown Women's Championship: Liv Morgan (c) vs. Shayna Baszler
You can watch WWE Clash at the Castle, streaming live Saturday, September 3, at 1pm ET/10am PT on Peacock in the United States and on WWE Network everywhere else.
===
Check out the WWE PPV Review archive right here. You can contact me using any of the methods below. Go Toronto Blue Jays. Be safe and smart out there.
Thanks for reading.
John Canton
Email: mrjohncanton@gmail.com
Twitter: @johnreport