The John Report: WWE Smackdown 08/26/22 Review
This week's WWE Smackdown featured Drew McIntyre facing Sami Zayn while the tournament to crown the next Women's Tag Team Champions continued.
They also announced Happy Corbin vs. Ricochet and The New Day's Xavier Woods & Kofi Kingston were back after being injured by the Viking Raiders recently. They were taping two episodes this week because next Friday's show will be one day before Clash at the Castle, so it makes sense to tape it early so that the company and the wrestlers can get to Cardiff, Wales earlier in the week.
From the Little Caesars Arena in Detroit, Michigan this is Smackdown for episode #1201. Follow me on Twitter @johnreport. Let's get to it.
The show began with Ricochet making his entrance first followed by his opponent Happy Corbin. They showed a pre-tape promo from Corbin. The commentary team was Michael Cole and Pat McAfee.
Ricochet vs. Happy Corbin
Ricochet with a headscissors that sent Corbin out of the ring. Back in the ring, Corbin with a dropkick, kick to the knee and a standing Shooting Star Press for two. Ricochet went for a move, but Corbin stopped him with a punch. Corbin with forearms to the back. Ricochet came back with a handspring elbow off the ropes. Ricochet went to attack, Corbin sent him into the apron and Ricochet landed on the turnbuckle Ricochet did a twisting attack off the middle rope onto Corbin on the floor.
(Commercial)
The match returned with Corbin on the floor, Ricochet tried a kick, but Corbin caught him and Cole called it a World's Strongest Slam (like Mark Henry) onto the commentary table. That was what the slam was. The table did not break. Corbin sent Ricochet into the barricade and then back into the ring with a punch to the face. Corbin sent Ricochet face first into the turnbuckle for two. When Ricochet tried a handspring attack off the ropes, Corbin hit him with a forearm to the back and Ricochet was sent out of the ring. Ricochet got back into it with a counter move into a DDT. Ricochet with punches, then kicks to the body and a kick to the head sent Corbin into the corner. Ricochet with a shoulder tackle, Corbin got a hold of Ricochet, but Ricochet did a headscissors takedown. Corbin hit the Deep Six slam for a two count that is the usual result for that move. Ricochet with a kick that knocked Corbin down. Ricochet jumped off the top, Corbin moved and Corbin hit a boot to the face followed by a slam off the shoulders for two. Ricochet with a knee lift, then a superkick and a kick to the face. Ricochet went up top and hit a Shooting Star Press for the pinfall win after 12 minutes.
Winner by pinfall: Ricochet
Analysis: ***1/4 A pretty good match between two guys that have worked a bunch of times in the past. Ricochet was in control early, then Corbin was on offense for quite a bit of it, and Ricochet was able to hit a couple of moves leading to the SSP finish for the win. It's a quality for Ricochet although Corbin does lose often, so I don't know if beating him is really a big deal at this point.
After the match, they showed Corbin down in the ring as the announcers talked about Corbin's slide meaning he's been losing a lot of late. Pat even used a telestrator that made fun of Corbin.
They showed The Street Profits walking backstage with Hit Row walking up to them. They had a bit of a staredown, then they got along and walked off together.
A video about Drew McIntyre was up next.
(Commercial)
Drew McIntyre's Journey Home Video (Part 1)
There was a video package covering Drew McIntyre's career and long journey home to the UK for Clash at the Castle. Drew talked about his success in the UK, then he was the FCW Champion and had a fast rise to Smackdown. Drew said he was cocky, thought he deserved it and thought he'd have a Hall of Fame career, but it didn't work out that way. (He'll be in the Hall of Fame of course – just not based on his first WWE run.) Drew said he went off the deep end when his mother passed away, he went off the deep end and getting fired was the best thing for him. Drew said he knew one day he would return to WWE. There's more to come.
Analysis: It's a smart move to showcase Drew in a video like that to tell his story and have the fans relate to him even more as a superstar that they want to root for.
Karrion Kross and Scarlett were somewhere in the building with the lights off while the camera was on them. Kross congratulated Drew on a great story and said who knows, maybe right now really is Drew's time…or maybe not. Kross said that any given moment he can put his arm into the back of Drew's head and all of Drew's achievements will mean nothing. Kross said "tick tock" to end it. I was also distracted a bit by Scarlett. Just look at her.
The Last Chance Fatal 4-Way Tag Team Match was next. They were replacing the spot earned by Gigi Dolin & Jacy Jayne because Gigi got a concussion last week. Shotzi & Xia Li made their entrance as the show went to break.
(Commercial)
Last Chance Fatal 4-Way Tag Team Championship Tournament: Shotzi & Xia Li vs. Dana Brooke & Tamina vs. Natalya & Sonya Deville vs. Doudrop & Nikki A.S.H.
The first pinfall or submission wins. The winners face Raquel Rodriguez & Aliyah later in the show.
Pat said that this was "amazing." I don't know about that, but he's an excitable guy. Tamina superkicked Natalya off the apron and Tamina tried a pin on Deville, but Doudrop broke up the pin. Li was legal against Nikki with a lift into the top rope. Shotzi tagged in with a splash onto Nikki's back and Tamina broke up the pin. Brooke tagged in with a handspring elbow, Nikki with a neckbreaker on Brooke and then they took turns going into the ring doing moves. Lots of illegal action. Natalya hit a discus clothesline on Li and she tossed Shotzi out of the ring. Brooke was back in with a clothesline. Deville tagged Brooke to make herself legal and then Dana suplexed Nikki onto a pile of women on the floor. Deville was legal so she put Nikki into the ring and covered for the pinfall win. This went only three minutes.
Winners by pinfall: Natalya & Sonya Deville
Analysis: *1/2 A rushed match. They didn't get much time at all. That was chaotic and hard to follow with all the women going into the ring to do moves. I'm fine with the result. It was just a bit weird to see how they booked it that way with some women not even legally into the match. They did the big spot with the Brooke/Nikki suplex onto the pile of girls and Deville was smart enough to go for the pin right away.
It's Natalya/Deville vs. Raquel/Aliyah later in the show.
There was a Progressive Match Flo shown of Sheamus getting a big win last week to earn an Intercontinental Title shot at Gunther for the Clash at the Castle show.
Sheamus made his entrance with Ridge Holland and the wild man Butch.
(Commercial)
A video aired putting about Shayna Baszler. It was only about one minute. It's Baszler challenging Liv Morgan at the Clash at the Castle event on Saturday, September 3.
Let's Hear from Sheamus
Sheamus said that next week, the Brawling Brutes will be drinking pints when he becomes your new Intercontinental Champion. Sheamus said that he'll be the first ever Ultimate Grand Slam Champion when he beats Gunther.
The Intercontinental Champion Gunther interrupted with Ludwig Kaiser by his side and they went into the ring with Sheamus. Kaiser spoke, so Sheamus told him to stop because nobody knew what he was saying.
Sheamus said that his beef was with Gunther, who calls himself the "Ring General." Sheamus said you're looking at a real ring general right here. Sheamus talked about beating Drew McIntyre, Randy Orton, John Cena, Roman Reigns and even the King of Kings himself, Triple H. Sheamus said that nobody in this business has had banger after banger after banger (that means great matches) like him. Sheamus said that he sees a lot of himself in Gunther and it's been years since he's seen somebody possess the brutal qualities that Gunther has. Sheamus said that it reminds him of himself. Sheamus said that Gunther loves to go to war in this ring, so there are a lot of similarities. Sheamus said he wants that Intercontinental Championship. Sheamus promised Gunther that he'll take that title off his body and into the belly of the red dragon.
Gunther told Sheamus that he's a man to be respected and he'll give him that. Gunther said that he's the Intercontinental Champion, so to protect this title he'll teach Sheamus what violence really means. Gunther said not only will he retain the title, but he'll chop Sheamus' chest and he'll break the man that people feel cannot be broken. Gunther told Sheamus that he'll break him. Butch went after Kaiser leading to a brawl while Gunther continued to stare at Sheamus. Holland tripped up Kaiser on the floor, but Kaiser sent Holland over the barricade. Gunther and Butch got into a fight in the ring again while Gunther and Sheamus continued to stare at eachother. Gunther backed out of the ring with Kaiser to end it.
Analysis: A good promo between two heels that should beat the hell out of eachother at Clash and I can't wait to see it. It was strange to have the three guys brawling around Gunther & Sheamus, but I think that was done to show that the two wrestlers were focused on facing eachother. I think it's going to be an outstanding match with Sheamus winning as a strong possibility. They are going to hit really hard and it will be a lot of fun to watch.
Natalya & Sonya Deville were interviewed by Megan Morant while Doudrop and Nikki A.S.H. were arguing in the background. Natalya said they were starting to find their groove, so Aliyah and Raquel should be worried. Deville said if their opponents make one small mistake then Natalya & Sonya are going to the finals.
The trio of Bayley, IYO SKY and Dakota Kai made their entrance to watch the women's tag team match.
(Commercial)
They showed highlights of last week's Smackdown when Drew McIntyre got into a brawl with Roman Reigns. Sami Zayn ran out there to take a Claymore Kick for Reigns, which led to Reigns hitting a Superman Punch on Drew. However, Drew was back up to knock down Reigns with a Claymore Kick. Drew stood tall to end it.
Sami Zayn knocked on the locker room door of Roman Reigns, so The Usos walked out. Jimmy was nice to Sami while Jey commented that Sami lost last week. Roman Reigns was in the room and told them to let Sami in. Sami was so excited. Sami asked how Reigns was going with Sami claiming his jaw was sore from last week. Reigns mentioned that Zayn lost and Sami said that was true. Reigns said that sometimes we can redeem ourselves. Reigns said that he was alone last week, he needed somebody to help him out and he appreciated what Sami did last week. Reigns said that was something that family would do and Sami said that's what they should do while looking at Jey. That was great! Reigns wanted Sami to help them with Drew McIntyre, then Sami said he would distract him with his dance moves and he'll break him off. Sami said that this will be a piece of cake. Zayn suggested doing it together. Reigns said that tonight is about Zayn and Sami said he appreciates the opportunity to do this on his own. Reigns said that Sami has the opportunity to be the main event and Reigns wished him good luck. Jimmy wished Sami good luck while Jey just pointed to the door for Sami to leave. Sami left.
Analysis: It was the second straight week with Zayn talking to Reigns like that. Jey continues to be mean to Zayn while Jimmy is nice to him. I like how Sami has a lot of confidence against Drew even though the audience knows that Drew is going to kick his ass. Sami's whole character is that he's a bullshitter that acts like he's a bigger star than he is (in his own mind). I think it's all leading to something where The Usos & Reigns are going to blame Zayn if Reigns loses to Drew or at least do something leading to Zayn getting his ass kicked by all of them. It's probably the plan to turn Zayn into a babyface. That's what it feels like anyway.
Bayley was on commentary with IYO and Dakota behind her. Cole had his head in his hand because he doesn't like Bayley.
Women's Tag Team Championship Tournament Semifinals: Raquel Rodriguez & Aliyah vs. Natalya & Sonya Deville
The winners face IYO SKY & Dakota Kai on Monday's Raw to crown the new Women's Tag Team Champions in the finals.
Natalya started with Aliyah in a battle of Canadians as Aliya got a couple of nearfalls. Raquel tagged in with a shoulder tackle for two as Deville broke up the pin. Aliyah tossed Deville out of the ring. Aliyah jumped off the apron onto Deville. Natalya gave Aliyah a Michinoku Driver on the floor as Raquel checked on her partner. They went to break there.
(Commercial)
The match returned with Raquel hitting a double suplex on Natalya and Deville at the same time for a two count on Deville. Raquel with a fallaway slam across the ring. Natalya with a distraction, then Deville tripped up Raquel and took over from there. Natalya with a kick while Raquel was against the ropes. Deville with a kick to the chest for a two count. Deville with a chinlock, then Natalya charged and Raquel slammed both women down to the mat. Raquel with a headbutt on Deville, then a kick and corner splashes on both women. Raquel with a corkscrew elbow drop off the ropes for two on Deville. Natalya went in illegally to trip up Raquel, who kicked Natalya out of the ring and then Deville hit a running knee for two. Raquel picked up Deville for the Texana Bomb for the pinfall win after eight minutes.
Winners by pinfall: Raquel Rodriguez & Aliyah
Analysis: ** That was booked in a way to make Raquel look dominant getting the win by herself while Aliyah didn't do much as a teammate. The crowd didn't care about this much. Sonya had that one nearfall with the running knee, but it was easy to see who was going to win this match considering the finals in the tournament was against a heel team. It was fine for what it needed to be in terms of putting over Raquel's dominance.
After the match, Aliyah finally showed up and jumped on Raquel to celebrate.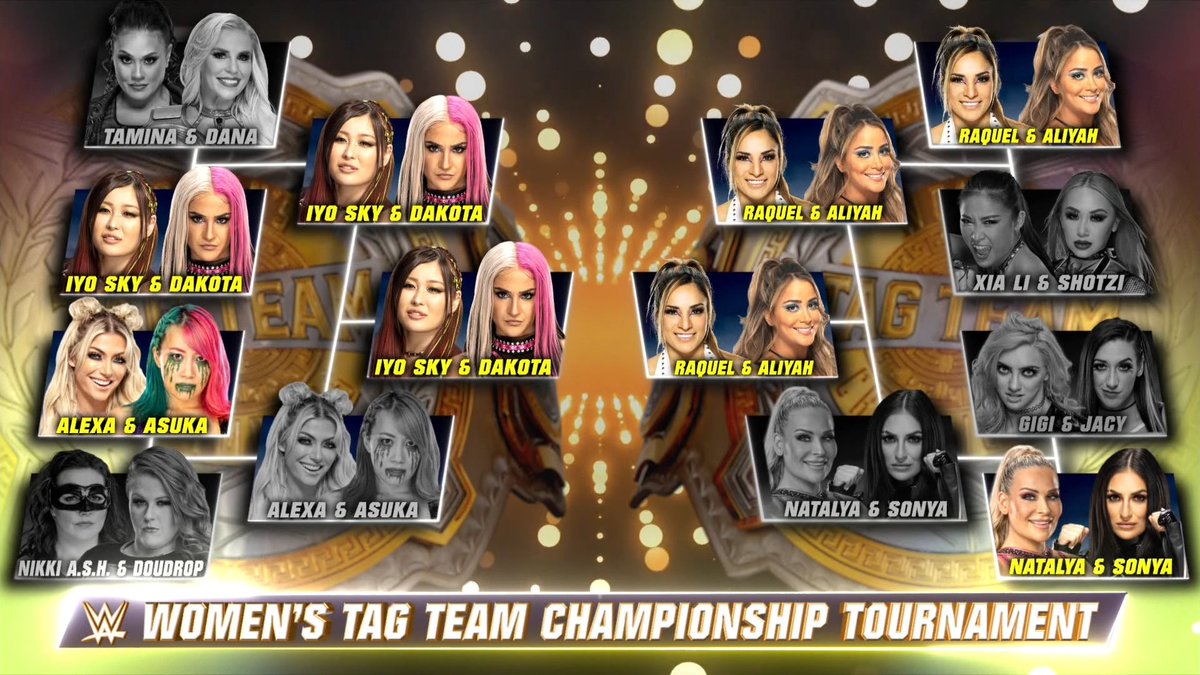 That means it will be Raquel Rodriguez & Aliyah vs. IYO SKY & Dakota Kai on Monday's Raw in Pittsburgh to crown the new Women's Tag Team Champions. The teams faced off in the ring.
Analysis: I think SKY & Kai should win and if they don't I'll be surprised.
The Maximum Male Models group of Max Dupri, Maxxine Dupri, Mace & Mansoor were backstage taking photos. There was a bus nearby that played Hit Row's music, so we have to assume that Hit Row was in it. Maxxine left saying she'll take care of this.
The New Day were up next.
(Commercial)
It was back in the parking lot with Los Lotharios with Maxxine and they had some paint primer in their hands asking Max what he thinks.
Let's Hear From The New Day
The New Day's Kofi Kingston & Xavier Woods were in the ring with Woods in a wheelchair along with a boot on his foot. Woods talked about how they made fun of the Viking Raiders and Kofi talked about how they got their asses kicked by the Viking Raiders. Woods said we saw the Viking funeral and burning boxes of Booty O's cereal. Woods mentioned that they burned New Day shirts, unicorn horns and burning their legacy. Kofi said that they got a chance to do a lot of great things as…and here come The Viking Raiders.
It was interrupted by The Viking Raiders with Erik said this was pathetic. Ivar said that instead of a send-off, they're out here sniveling. Erik claimed that vikings despise weakness, so it makes them sick to see New Day groveling like a wounded animal. Ivar said that sometimes the best thing to do to a wounded animal is put them down.
The Viking Raiders went into the ring, Kofi tried to get them to stop and then Woods was back up as The New Day beat up The Viking Raiders with kendo sticks. The Viking Raiders left the ring while Woods threw the wheelchair at them.
Analysis: It was an obvious case of the faces outsmarting the dumb heels. They will probably have a match soon to settle this rivalry. Later in the show, it was announced that the match will be next week.
Still to come: Drew McIntyre vs. Sami Zayn.
(Commercial)
It was back in the parking lot again with Maximum Male Models writing "Hit Row Sucks" on the bus. Hit Row challenged them to a match for next week and said that it was not their bus. The Street Profits walked off the bus, so the Maximum Male Models ran away.
Sami Zayn was shown getting ready in his Bloodline shirt. The Usos went up to him, Jimmy wished him good luck and Jey yelled at Sami to handle his business.
Drew McIntyre's Journey Home Video (Part 2)
Drew talked about his return to WWE saying that in his time away from the company, he found his confidence and found out the right path for Drew McIntyre. They showed Drew winning the WWE Title as the first UK wrestler to be the WWE Champion. Drew said that he always wanted to be the face of the industry he loves. Drew talked about how Reigns was so impressive, but Drew is going to take him down. Drew said that this is going back home to the UK and in front of 70,000 Brits along with the entire world, Drew's destiny will finally be fulfilled. Drew told Roman that he's coming to Drew's island and Drew is going to his head off his "f**king" body. Drew counted "one, two, three" to end it.
Analysis: Great video putting over Drew in a big way by telling his story as the challenger going into Clash at the Castle. It's the biggest match of Drew's career and I think he should win.
Drew McIntyre made his entrance to a good pop with the giant sword Angela in hand. He hasn't had the sword with him for a few weeks, but it's back with him now. That main event match was next.
This Sunday on A&E Biography it's all about the legendary Rey Mysterio. That should be great.
(Commercial)
Next week on Smackdown:
* Roman Reigns Celebrates 2 Years As (Universal) Champion.
* Ronda Rousey's final judgment.
* Karrion Kross in-ring debut (or return).
* Hit Row vs. Maximum Male Models.
* Butch vs. Ludwig Kaiser.
* Viking Rules Match (Falls Count Anywhere): The New Day vs. Viking Raiders.
Analysis: The show was taped after this week's episode, so you can read the spoilers on TJRWrestling right here.
Sami Zayn made his entrance to boos. Cole mentioned that Sami sent out a tweet wishing Jimmy Uso a birthday first and then to Jey after. It was The Usos birthday a few days ago.
Drew McIntyre vs. Sami Zayn
Zayn tried to get in some cheap shots, but Drew stopped him with a punch. Drew whipped Zayn into the turnbuckle. Sami ran away, Drew grabbed his foot and Sami sent him away. Drew fought back on the floor with a spinebuster onto the ring apron. Back in the ring, Sami kicked the rope to cause some pain to Drew's left leg. Zayn worked over Drew with forearms to the head. Drew tossed Zayn into the corner followed by punches and a tilt-a-whirl backbreaker. Drew wanted a superplex, Sami with an eye gouge leading to a sunset flip Powerbomb off the ropes. They went to break.
(Commercial)
The match continued with Zayn hitting a boot to the face followed by a Tornado DDT off the turnbuckle for a two count. Zayn tried a lift, Drew landed on his feet and hit a headbutt. Drew with two clotheslines, then a belly-to-belly suplex across the ring two times in a row. Drew with a neckbreaker leading to a kip-up back to his feet. Drew set up for a Claymore Kick, The Usos showed up to distract Drew and Sami hit a Blue Thunder Bomb for two. Zayn with punches, but Drew chopped him down and Drew knocked both Usos down leading to Zayn getting a rollup. Drew ran the ropes a few times leading to a Claymore Kick for the pinfall win after ten minutes.
Winner by pinfall: Drew McIntyre
Analysis: ***1/4 A solid match with Zayn getting more offense than usual against Drew, but the same result as usual. At least Zayn got a couple of nearfalls. Drew fighting off both Usos leading to the Claymore Kick was the right way to book this. Sami loses far too much for my liking. That's just how they book him. The good thing is he still gets a lot of TV time, so I like that.
Post match, Roman Reigns attacked Drew from behind and he knocked Drew down. Drew sent Roman into the ring post. The Usos got involved, so Drew sent them out of the ring and Reigns hit a Superman Punch to put Drew down. The Usos attacked Drew with repeated chair shots to the back and the body. The Usos sent Drew over the barricade at ringside. The Uso sent Drew into the barricade with LED boards. McIntyre was held against the barricade, so Zayn hit a Helluva Kick on Drew. The Usos hit Reigns with the steel steps three times to knock Drew down at ringside.
Reigns called for The Usos to bring Drew into the ring. Reigns told Drew that the top of the mountain is his and Drew can't have it until Reigns is done with it. Reigns applied a guillotine choke on Drew to make him pass out. Reigns put a steel chair on the upper body of Drew while Reigns sat in the chair and The Usos put Roman's titles on his two shoulders. Drew was selling it like he was knocked out. Reigns spoke to the camera saying he ran this whole business and he wanted somebody to try to take it from him. End show.
Analysis: This was well done in terms of putting over the numbers game advantage for The Bloodline group. I'm surprised they didn't put Drew threw the table, but what they did was dominant enough. It was Roman's time to look strong since Drew got to look strong last week. I expected that kind of ending as soon as Drew-Sami match was done. I liked how it was booked with Drew trying to fight back, even hurting Reigns a bit, but then The Usos and Zayn got their shots in so there was nothing Drew could do. I still say Drew should win at Clash at the Castle. I don't know if he will because business is strong right now with Reigns as the champion, so maybe WWE decides to keep the title on Roman. I'm interested in seeing what happens.
Three Stars of the Show
Drew McIntyre
Sami Zayn
Ricochet
The Scoreboard
7 out of 10
Last week: 7.25
Final Thoughts
It was a good show for the most part although I think it was weaker than the last couple of weeks. The way they pushed the McIntyre-Reigns feud was really well done and I'm glad that Zayn had a competitive match before Drew put him away. Ricochet beating Corbin was also fine as an opener that was the longest match on the show.
The two women's matches were disappointing just because the Fatal 4-Way only got three minutes. That led to the second match with Raquel Rodriguez easily beating Natalya & Sonya Deville with Aliyah doing nothing in the match. It certainly put over Raquel for her dominance.
I thought the Sheamus-Gunther promo segment was great. That was probably my favorite thing on the show since I'm excited about their match at Clash at the Castle. The two longer videos about Drew McIntyre were excellent in terms of telling his story. Solid build to Clash overall.
The next WWE Premium Live Event is Clash at the Castle from Cardiff, Wales on Saturday, September 3. Here's what we know so far.
* Undisputed WWE Universal Championship: Roman Reigns (c) vs. Drew McIntyre
* Bianca Belair, Asuka & Alexa Bliss vs. Bayley, Dakota Kai & IYO SKY
* Riddle vs. Seth "Freakin" Rollins
* Intercontinental Championship: Gunther (c) vs. Sheamus
* Smackdown Women's Championship: Liv Morgan (c) vs. Shayna Baszler
You can watch WWE Clash at the Castle, streaming live Saturday, September 3, at 1pm ET/10am PT on Peacock in the United States and on WWE Network everywhere else.
===
Thanks for reading. Please check out my reviews of every WWE PPV ever listed in order. Go Toronto Blue Jays. My contact info is below.
John Canton
Email mrjohncanton@gmail.com
Twitter @johnreport