The John Report: WWE Smackdown 08/19/22 Review (Episode #1200)
This week's WWE Smackdown featured Roman Reigns going face to face with Drew McIntyre, the Women's Tag Team Title tournament continued and a Fatal 5-Way match for a shot at the Intercontinental Title.
It's also episode #1200 of Smackdown as Triple H noted on Twitter and they put on the graphics for this show. This week's show in Montreal is WWE's first time doing a show in Canada in about three years due to COVID restrictions in the past couple of years. We handled it pretty well here in Canada, so I'm glad WWE is back. I'll be at a Raw live event in my city of London, Ontario on Sunday night (I plan on writing a review), then the Raw crew goes to Toronto for Raw. I won't be at Raw, but I'm looking forward to the live event.
From the Bell Centre in Montreal, Quebec, Canada this is Smackdown for episode #1200. Follow me on Twitter @johnreport. Let's get to it.
There was an impressive pyro display to welcome us to the show. We don't see that every week, but the big crowd deserves to have some fun. The commentary team of Michael Cole and Pat McAfee welcomed us to the 1200th episode. Pat said that he was 11 years old when Cole and Jim Cornette the first episode in 1999. Ronda Rousey walked into the ring.
Let's Hear from Ronda Rousey
Ronda Rousey, who is suspended, had a microphone in hand for a promo. Rousey said that last week she paid her fine and then some. Rousey said tonight she is not leaving until she is reinstated. Rousey called for (Adam) Pearce to lift her suspension. The fans chanted "Ronda Rousey" for her with Rousey saying she's not leaving until she gets what she wants.
WWE Official Adam Pearce entered with four security guys. Pearce was booed. Pearce said he can't lift her suspension just because she wants while claiming it's above his pay grade. Rousey asked who she has to talk to? Pearce said he was respectfully asking Rousey to leave the ring peacefully. The fans chanted "we want Ronda" as she said last week she left peacefully. Rousey told Pearce not to make her choose violence. Four security guys (indy wrestlers) went into the ring and Rousey beat up the two guys with kicks along with an arm drag. Rousey grabbed a guy in the ring while holding the left arm, Pearce tried to calm her down and Rousey applied an armbar. Pearce called for two police officers. The cops handcuffed Rousey and the fans booed. Rousey was shown walking to the back.
Analysis: There were reports of Rousey going heel after what happened SummerSlam, but last week and this week is only going to make her more of a face. She looks like she's still in face mode. I don't know if that's really going to change any time soon. The security guys looked weak, but that's why they use local indy guys that know how to bump.
They showed Rousey getting loaded into the police car and Rousey told Pearce he had a nice haircut (he's bald). Rousey was taken away.
A black Yukon truck was shown driving up to the arena, the fans chanted "Roman" and there he was exiting the truck, the Undisputed WWE Universal Champion Roman Reigns. The fans popped big for him.
(Commercial)
Natalya and Sonya Deville were shown finishing their entrance. Natalya is from Calgary, so the Montreal crowd should like her since Canadian fans usually support our fellow Canadians. They showed Bayley, Dakota Kai & IYO SKY walking through the crowd and they sat in the crowd behind the announcers.
The NXT duo of Gigi Dolin & Jacy Jayne aka Toxic Attraction made their entrance. They were replacing Zoey Stark & Nikkita Lyons as WWE announced earlier on Friday. A video was shown about Gigi and Jacy in NXT. The leader of their group, Mandy Rose, was not with them. That's a shame. She's great, but I do like Gigi and Jacy a lot. Gigi and Jacy are former two-time NXT Women's Tag Team Champions.
Women's Tag Team Title Tournament Quarterfinals: Natalya & Sonya Deville vs. Gigi Dolin & Jacy Jayne
They are both heel teams as Dolin got a head takedown on Natalya, who came back with a rollup. Deville tagged in with a shoulder tackle on Dolin followed by a double leg takedown for a two count. Dolin went for a headscissors, Deville caught her and they messed up what they were trying to do, so Dolin sent Deville into the corner. Jayne tagged in to knock down Deville, but then Deville sent Jayne into the turnbuckle a few times. Deville charged, Jayne moved and Deville hit the rung post while bumping to the floor. Jayne hit a somersault dive off the apron onto Deville on the floor. Natalya went after Jayne, so Dolin was there to send Natalya into the steel steps. They went to break with Toxic Attraction in control.
(Commercial)
Dolin was in control of Deville as Natalya stomped on the steps to try to get the crowd going for her partner. Jayne tagged in leading to Dolin and Deville getting some corner attacks including a cannonball on Deville. Sonya fought out of the corner with punches and kicks, but Jayne knocked Deville down with a back elbow. Bayley was yelling at the announcers a lot. Natalya got the tag to a pop in her home country leading to a side Russian legsweep on Jayne, then two suplexes, Jayne with a back elbow and Natalya came back with a German Suplex. Natalya went for the Sharpshooter, Jayne kicked her away and Jayne hit Natalya in the back after a distraction from Dolin. Jayne with a superkick, Dolin got the tag and she did an STO trip clothesline for a two count as Deville made the save. Dolin, Deville and Jayne were on the floor as Jayne sent Deville into the barricade right where Bayley was. Bayley was trash-talking Deville while Jayne kicked Deville to knock her down. Dolin tried a rollup on Natalya for two. Natalya came back with the discus clothesline. Jayne made the tag, Natalya didn't see it while the referee did and Natalya gave Dolin the Sharpshooter, so Jayne snuck up behind Natalya for the ROLLUP OF DEATH~! pinfall win after about 10 minutes.
Winners by pinfall: Gigi Dolin & Jacy Jayne
Analysis: **1/2 The match was okay. There were some sloppy moments between Sonya/Gigi when they were in there together, but I think Jacy did well and it was smart to build to a hot tag for Natalya. I thought Natalya & Deville would get the win, but I guess not. It's a big win for Jayne & Dolin as the ROLLUP OF DEATH~! strikes again.
The semifinals look like this: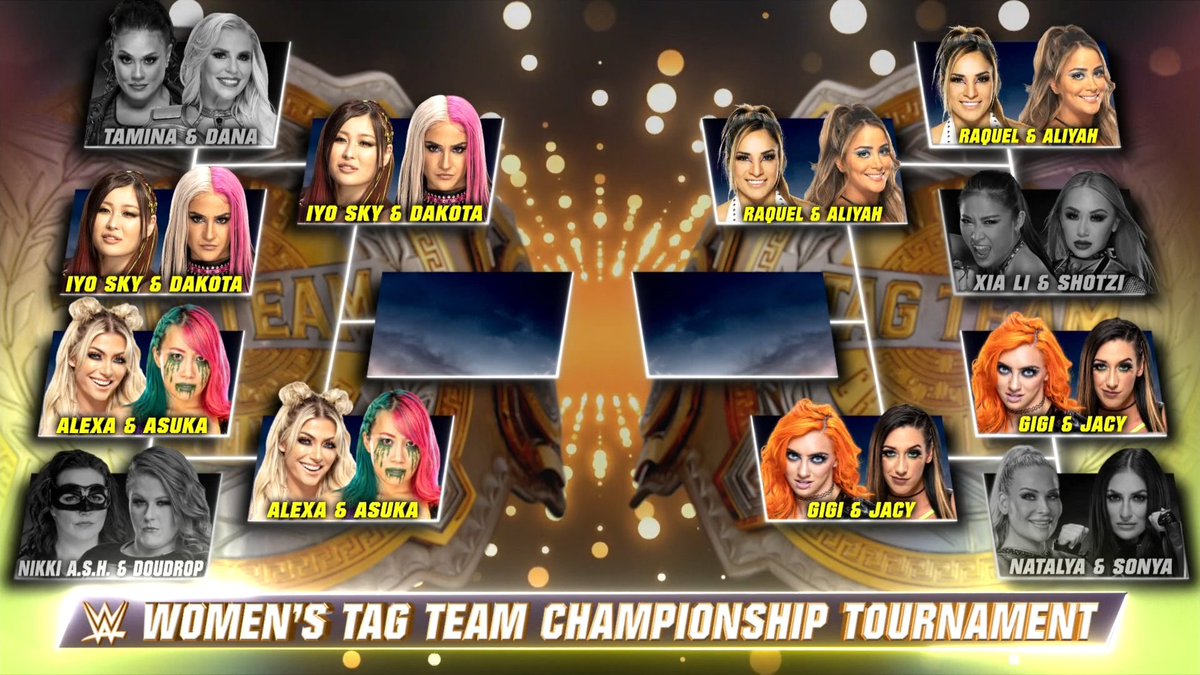 Analysis: I think the finals will be Kai & SKY beating Raquel Rodriguez & Aliyah to win the titles.
Sami Zayn was shown walking backstage. The fans gave him a big ovation when they saw him on screen. Zayn was shown backstage, a security guy was by the Roman Reigns door and Sami knocked on the door. Sami entered the room. The Usos were not there.
Roman Reigns talked to Sami asking how he's been doing with Sami saying he's been repping The Bloodline, but it's been dicey of late. Sami said that Jey Uso is getting on him a lot and yelling at Sami to level up. Sami spoke about how he took a Claymore Kick to the face for Jey last week and said he was ungrateful. Reigns told Zayn he was right. Reigns said that Jey doesn't appreciate anything. Zayn said you should have been talking to Jimmy and Roman. Reigns told him to stay right there as Roman left. Roman's phone was ringing, it showed that it was Jey and Roman told Sami to answer it. Sami was telling Jey to keep it down, don't scream and said he'll tell him. Reigns asked who it was, and Sami said that Jey was screaming. Sami said that Jey told him that there was trouble at the border, so The Usos won't be there. Sami said he's in a 5-Way Number One Contender's match for the Intercontinental Title. Reigns said that the IC Title would look good in The Bloodline. Sami said he'll take care of it, so he'll go warm up. Sami said they should do this more often and this is great. Reigns asked if Sami is still good with KO with Sami saying yeah but they don't talk that much. Reigns told Zayn to tell Owens that Reigns doesn't owe anybody anything…ever. Sami said he'll make sure Owens hears it. Reigns wished Sami good luck, so Sami left.
Analysis: That was a long talk backstage. We don't get to see that much interaction between Roman and Sami, but they play off eachother really well. The part that Reigns said about Owens is because of a line that Owens said. The likely reason The Usos aren't there is that they have had multiple DUI offenses between them, so it's tough sometimes for wrestlers to get into Canada when you have that on your record.
(Commercial)
This Monday on Raw in Toronto: Edge vs. Damian Priest, the Women's Tag Team Title tournament semifinals and Trish Stratus makes a special appearance.
They showed highlights of last week's Smackdown main event with Gunther beating Shinsuke Nakamura to retain the Intercontinental Title. I enjoyed the match.
Let's Hear from Maximum Male Models and Hit Row
Max Dupri along with "sister" Maxxine Dupri were in the ring with Mansoor and Mace. They were booed. They were interrupted by Hit Row's Top Dolla, Ashante "Thee" Adonis and B-Fab as Hit Row made their way down to the ring.
Max said that this was a scheduled appearance for Maximum Male Models. Max told Dolla he's not MMM material. Adonis and Dolla easily knocked Mansoor and Mace out of the ring.
The Hit Row trio were in the ring doing a rap song about how they are back. I give them a lot of credit for being skilled on the microphone. Maxxine was shown dancing a bit, so Max made her go backstage with him. This went on for a couple of minutes.
Analysis: It's good to see Hit Row getting some airtime. With that said, this wasn't that interesting. Perhaps some fans changed the channel since they didn't know what was going on with this segment. Hit Row is skilled on the microphone with Top Dolla and B-Fab doing the rap while Adonis spoke a bit at the end. I assume that Maximum Male Models will wrestle eventually, so this should build to a match at some point.
The Fatal 5-Way match was next.
(Commercial)
A commercial aired promoting Broken Skull Sessions hosted by "Stone Cold" Steve Austin with Charlotte Flair as the guest. It's on Peacock/WWE Network now. I haven't seen it yet, but I will watch it this weekend.
There was a video package featuring Karrion Kross and his wife Scarlett. Kross said that Drew McIntyre is a chosen one just like Reigns. Kross said that this is what you are. Kross said that where Drew failed, they chose somebody else and that person built the table. Kross yelled about how they chose you, but deep down inside you know they were wrong.
Analysis: Good video in terms of how it was produced. I assume the "they" that Kross was referencing refers to at the start was WWE bosses and then "they" became the fans saying that the fans chose Drew and support him, but Kross says they are wrong to do that.
It was time for the Fatal 5-Way match with Sheamus up first as Cole mentioned that Sheamus was trending most of the day since he's never been Intercontinental Champion while winning everything else in WWE. Sheamus was without Ridge Holland and Butch. Madcap Moss was up next to a decent reaction. Happy Corbin was booed as usual. They should probably change his name to "Baron Corbin" again some day soon. Ricochet got a nice ovation for his entrance. Sami Zayn was up last as the hometown hero from Montreal. There were loud "Sami" chants as Zayn posed for the crowd throughout his entrance. I'm so happy for Sami getting that reaction.
What a reception for the hometown kid, @SamiZayn! #SmackDownpic.twitter.com/lt9S7YEswr

— WWE (@WWE) August 20, 2022
Fatal 5-Way Match: Sheamus vs. Madcap Moss vs. Happy Corbin vs. Ricochet vs. Sami Zayn
The winner of this match gets a shot at the Intercontinental Champion Gunther at Clash at the Castle. That means the IC Title will be on the line at a Premium Live Event for the first time since WrestleMania 37 last year.
Ricochet sent Corbin out of the ring while Moss clotheslined Sheamus out of the ring. The fans did the "ole ole ole" chant for Zayn as Ricochet hit a headscissors to send Zayn out of the ring. Corbin back in with a Chokeslam on Corbin with the other wrestlers breaking it up. Zayn stomped away on Corbin as the show went to break.
(Commercial)
The match continued with Sheamus driving Ricochet back first into the barricade. Corbin sent Zayn into another part of the barricade. Back in the ring, Corbin sent Ricochet into the turnbuckle while Moss/Sheamus took turns sending eachother into a barricade. Moss with a back body drop on Sheamus over the barricade. Corbin knocked down Ricochet with a punch followed by Corbin whipping Moss into the turnbuckle. Corbin sent Ricochet sternum-first into the turnbuckle like the classic Bret Hart bump. The fans were chanting for Sami and "ole" again as Corbin knocked down Moss with a clothesline. Corbin knocked Sami off the apron to the floor. Ricochet went off the ropes leading to Corbin knocking him down with a shoulder. Corbin hit a belly-to-back suplex on Sheamus for just a one count. Ricochet with a dropkick on Corbin, then a springboard cross body on Moss, Zayn on the apron and Ricochet hit a springboard dropkick to knock Zayn down. Ricochet with a DDT on Corbin followed by a running Shooting Star Press for two. Sheamus had a big gash/bruise on his left leg. Moss ran over Ricochet with a running shoulder tackle leading to a big bump. Sheamus hit the Irish Curse backbreaker on Moss and Zayn was back in leading to Sheamus hitting an Irish Curse backbreaker on Zayn. Poor Sami couldn't get positive momentum going. Sheamus worked over Moss with ten forearms to the chest followed by Sheamus hitting Corbin with ten forearms to the chest. Sheamus sent Ricochet to the apron and Sheamus gave Ricochet ten forearms to the chest. Sheamus ended up giving Ricochet 17 beats to the chest with Pat summarizing saying it was 37 Beats of the Bowery. Zayn gave Sheamus a neckbreaker across the top rope. Corbin charged at Zayn, who ducked and Corbin bumped to the floor on Sheamus. Zayn hit a running somersault dive over the top on Corbin & Sheamus with the fan going wild for it! Loud "Sami" chants. Back in the ring, Zayn hit a Michinoku Driver on Ricochet for a two count. Really good nearfall there. Zayn charged, Moss caught him and Zayn gave Moss the Blue Thunder Bomb for just two. That's a move that usually gets a two count for Sami, but this crowd bought into this as a nearfall. Great spot. Zayn went up top, he punched Corbin off the apron to the floor and Zayn shoved Ricochet down. Sheamus gave Zayn the White noise slam off the middle rope leading to Zayn rolling out to the floor selling his left arm/shoulder. Ricochet was on fire on offense while Zayn was getting helped to the back by officials. The four guys in the ring all did moves to knock eachother down, so they were all down in the ring as the show went to break.
(Commercial)
The match continued around 18 minutes in with Moss hitting a fallaway slam off the turnbuckle. Ricochet hit a springboard moonsault on Moss. Corbin went for a clothesline, Ricochet flipped over onto his feet and knocked Corbin out of the ring. Ricochet with a springboard elbow, Corbin hit a boot to the face and Corbin hit a slam off the shoulders for two. Pat kept mentioning Corbin was shirtless (after starting the match in a t-shirt). Corbin battled Sheamus as they exchanged punches and Sheamus clotheslined Corbin out of the ring. Moss with a rollup on Sheamus for two. Sheamus came back with a running knee to Madcap's face for a two count. Sheamus went for a Brogue Kick, but Moss avoided it and slammed him down. Ricochet with the Recoil double knees on Moss to knock him out of the ring. Ricochet went up top and hit an impressive Shooting Star Press for two because Corbin broke up the pin. Ricochet sent a charging Corbin out of the ring. The crowd exploded in cheers because Zayn limped his way out to the ring due to a left arm/shoulder injury. Zayn caught Ricochet and gave him an Exploder Suplex into the turnbuckle. Zayn gave Ricochet the Helluva Kick for one…two…and no because Corbin pulled Zayn out of the ring. The fans booed loudly at that. Corbin sent Zayn shoulder-first into the ring post. The fans chanted "Asshole" at Corbin. Sheamus went back in and hit Corbin with a Brogue Kick for the pinfall win after 24 minutes.
Winner by pinfall: Sheamus
Analysis: ***3/4 I thought it was a great match. I liked the story with Zayn at the center of it all with the left arm/shoulder injury. When Zayn was out of the match for several minutes, the crowd was dead a bit because they really wanted to see Zayn win. The crowd came alive when Zayn came back and nearly got the win after the Helluva Kick on Ricochet, but then Corbin broke it up for the two count and a lot of heat! Sheamus got the win with a perfectly placed Brogue Kick. Ricochet was impressive in the match with a lot of big moves and he sold really well as usual. They didn't really give Moss that many moments to shine, but he's a talented athlete that keeps improving. I wanted Zayn to just like the crowd did although I certainly have no problem with Sheamus getting the win.
The win by Sheamus means he will challenge Gunther for the Intercontinental Title at Clash at the Castle on September 3.
Analysis: That's a great match for Clash. Two great European wrestlers competing for the IC Title in Wales. It will be a hard-hitting match. Sheamus goes for the IC Title – the only major title in WWE he hasn't won. There might be a title change, but I like Gunther holding the title as well.
They showed a video about Drew McIntyre while promoting his segment later in the show.
WrestleMania 39 tickets are on sale now. It's on April 1 and April 2 in Los Angeles.
(Commercial)
There was a video featuring The Viking Raiders having a "viking funeral" for The New Day since they have beaten them up repeatedly. Erik and Ivar were out in some field with their shields and torches. They said that they respected New Day as great worries, champions and heroes, but their time has passed. They said that they failed to heed their warnings, so that led them here. They said they were there to pay tribute and soon the sun will set upon The New Day. Erik & Ivar said: "And it will be the dawn of a New Viking Day." They showed highlights of Erik & Ivar beating Xavier Woods and Kofi Kingston in recent weeks while there was a fire going on.
Analysis: That was unique at least. I'm not huge into viking culture or anything like that, but at least they get to be different characters while doing something they seem to enjoy. It should lead to New Day coming back soon. I saw Kofi Kingston on Instagram earlier in the day with his kids, so he's enjoying some time off with his wife and three kids.
There was a Progressive Match Flo replay showing Smackdown Women's Champion Liv Morgan and challenger Shayna Baszler singing the contract for their match at WWE Clash at the Castle. Morgan fought back against Baszler with a bulldog through a table in the ring.
Liv Morgan was interviewed by Kayla Braxton, who mentioned Liv faces Shotzi in singles action. Liv said she can't sit on the sidelines while she's got an injury. Liv said that the entire locker room will do anything to take the tile while Liv will do anything to keep t and she said "watch me" to end it.
Analysis: Liv is very likable and came across as a fighting champion talking about her match.
The WWE Biography on A&E this Sunday is about Edge. That should be good although I know WWE Network/Peacock did a great one a few years ago too.
(Commercial)
Liv Morgan made her entrance as the Smackdown Women's Champion. She was cheered.
Shotzi was interviewed by Kayla Braxton behind the curtain. Shotzi threatened to beat on Liv by hurting her left arm. Shotzi said some more menacing things and then she made her entrance. No tank entrance for Shotzi, but maybe it'll come back in the future.
Liv Morgan vs. Shotzi
This was a non-title match. Morgan with punches, kicks, a knee to the ribs and a dropkick into the corner. Shotzi came back with a kick followed by a running splash on Morgan's back while Morgan was against the ropes. Morgan fought back with kicks leading to a dropkick off the middle ropes. Shotzi came back with a boot to the head while on the apron. Shotzi gave Morgan a DDT on the apron and the fans booed as Shotzi did some posing.
(Commercial)
The match returned with Shotzi delivering a forearm to the chest, then a kick to the body and Morgan was able to get a takedown into a pin attempt for two. Shotzi got a hold of Morgan against the ropes, Shotzi held her by the arms and hit a Tiger Suplex. The announcers didn't know the name of it. Shotzi with some trash talk, Morgan did a double knee attack and Morgan hit the Oblivion for the pinfall win after six minutes.
Winner by pinfall: Liv Morgan
Analysis: *1/2 It was just decent. We only got to see three minutes of the six-minute match due to the commercial. Morgan winning was the right move since she's defending the SD Women's Title at Clash while Shotzi has nothing going on, so it makes sense for Liv to win.
Post match, Shayna Baszler did the cheap attack to knock Morgan down in the ring. Baszler trash-talked Morgan saying that she wanted to wait until Clash at the Castle to break Liv's arm. Instead of stomping on Liv's arm, Baszler stomped on Liv's head. Baszler left to boos.
Analysis: It's an easy way to get cheap heat on Baszler by attacking Liv from behind. I think Morgan should keep her title at WWE Clash at the Castle on September 3.
It was mentioned by Michael Cole that Ronda Rousey was released from jail and Adam Pearce is not pressing charges.
They showed Roman Reigns getting ready with his WWE and Universal Titles.
They also showed Drew McIntyre who saw an hourglass in his dressing room, so it was a message from Karrion Kross…tick tock. That main event segment was next.
(Commercial)
Next week on Smackdown:
* Women's Tag Team Title Tournament Semifinals: Raquel Rodriguez & Aliyah vs. Gigi Dolin & Jacy Jayne.
* Ricochet vs. Happy Corbin.
Analysis: They are taping two episodes of Smackdown next Friday in Detroit because the second episode will air one day before Clash at the Castle while the WWE talent will likely fly over to Wales earlier in the week.
Face to Face: Roman Reigns and Drew McIntyre
Roman Reigns made his entrance as the Undisputed WWE Universal Champion with the Montreal crowd giving him a huge reaction. Reigns was all alone since The Usos were not there and Paul Heyman was absent since he was still selling when Brock Lesnar put him through a table at SummerSlam three weeks ago. Reigns did his slow walk to the ring as usual while Pat McAfee put him over as usual. Reigns put out his hand for somebody to hand him a microphone, so a WWE guy with a headset put a microphone in Roman's hand.
Reigns: "Montreal…acknowledge me." There was a loud reaction to that as usual with a mix of boos and cheers.
Reigns spoke about how he's not there every week so he has to clarify some things. Reigns said that if anybody says they are the face of the company and it's not him then they're lying. Reigns said that if they are the main event and it's not him then they're lying. Reigns said that there's only one man that carries this company on his back. Reigns said all of those things are him. Reigns said what he says has substance while adding that he doesn't have anything to say to Drew because Drew is beneath him.
Drew McIntyre interrupted the promo wearing a "Smackdown 1200 Montreal" t-shirt and Drew got in the ring.
Drew said that he doesn't think Roman represents those titles the way they deserve and Reigns doesn't deserve to be champion. Reigns questioned that. Drew said that Reigns doesn't deserve it. Drew said that Reigns has Heyman working for him politically, he's got The Usos working for him physically and he said when Roman is by himself he is just a man. Drew said that he sees fear, he sees concern and he should feel that way because there's not a man alive that Drew can't tear apart with his bare hands. Drew said he's going to take those titles from him at Clash at the Castle. Drew said he feels like a little fight right now.
Reigns punched Drew, then Drew fought back and Drew hit an overhead suplex sending Reigns across the ring. Drew set up for a Claymore Kick, but Sami Zayn ran out there to move Reigns out of the way, so Drew hit a Claymore Kick on Zayn! Reigns hit a Superman Punch on Drew. Reigns set up for a Spear, but Drew was back up and hit a Claymore Kick. Cole shouted about how Roman was vulnerable when The Bloodline wasn't around.
Drew McIntyre grabbed the Universal Title and the WWE Title in his hands. Drew posed with the titles while Reigns was down selling. That was the end of the show.
Analysis: It was pretty much what you would expect them to do in that kind of segment. Since Reigns is the champion, it makes sense for Drew to weaken him a bit and show that Drew has a legitimate shot to beat Reigns at Clash at the Castle. For the second week in a row, Zayn sacrificed himself to take a Claymore Kick since he pushed one of the Usos out of the way last week and Zayn was hit with a Claymore Kick just like what happened on this show. I still think Drew McIntyre should win at Clash at the Castle. I don't know if it's going to happen. That's why we watch.
Three Stars of the Show
Sami Zayn – I know he lost, but I'm a biased Canadian following my fellow Canadian that is an awesome performer.
Sheamus
Roman Reigns-Drew McIntyre
The Scoreboard
7.25 out of 10
Last week: 7.25
Final Thoughts
It was another good Smackdown. The Fatal 5-Way match for the IC Title shot was a lot of fun with the crowd strongly behind Sami Zayn while Sheamus got the big win. Looking forward Sheamus vs. Gunther. That was by far the longest match on the show as well, so when your best match goes long like that it helps the show. The women's tag team match was solid with Dolin/Jayne getting a big win over Natalya/Deville with the dreaded ROLLUP OF DEATH~! finish.
The Reigns-McIntyre main event segment was effective in terms of showing that Drew is capable of hitting the Claymore Kick on Reigns. Whether that leads to a title change at Clash at the Castle I don't know, but I think Drew should win.
I think there were some segments that weren't as interesting as some weeks (like Maximum Male Models-Hit Row) and the Morgan-Shotzi match fell flat, but I thought overall it was a fun show. Those segments were kept short, so even though they were weak, it was fine.
The next WWE Premium Live Event is Clash at the Castle from Cardiff, Wales on Saturday, September 3. Here's what we know so far.
* Undisputed WWE Universal Championship: Roman Reigns (c) vs. Drew McIntyre
* Riddle vs. Seth Rollins
* Bayley, IYO SKY & Dakota Kai vs. Bianca Belair, Alexa Bliss & Asuka
* Intercontinental Championship: Gunther (c) vs. Sheamus
* Smackdown Women's Championship: Liv Morgan (c) vs. Shayna Baszler
You can watch WWE Clash at the Castle, streaming live Saturday, September 3, at 1pm ET/10am PT on Peacock in the United States and on WWE Network everywhere else.
===
Thanks for reading. Please check out my reviews of every WWE PPV ever listed in order. Go Toronto Blue Jays. My contact info is below.
John Canton
Email mrjohncanton@gmail.com
Twitter @johnreport