The John Report: The WWE Raw Deal 08/22/22 Review
This week's WWE Raw featured Edge facing off against Damian Priest while the Women's Tag Team Title tournament semifinals took place with Asuka & Alexa Bliss taking on Dakota Kai & IO SKY. Also, Trish Stratus was there in her hometown of Toronto.
I had a fun Sunday night going to the WWE Live Event in my hometown of London, Ontario. I had a ringside seat, took a lot of photos and wrote a detailed review that I posted when I got home. It was a good time seeing the talented Raw wrestlers. I went with my good friend Steve Melo (who makes all the banners for my reviews) along with his two sons that had a blast. I was going to go to Raw two hours from home, but it didn't happen. I'm looking forward to watching it.
This is the Raw Deal for episode #1526 of Monday Night Raw. It's taking place at the Scotiabank Arena in Toronto, Ontario. Follow me on Twitter @johnreport. Let's get to it.
The Raw intro video aired. It was followed by some fireworks in the building while the announcers noted it was a sold out crowd in Toronto.
They went backstage where Riddle was brawling with Seth Rollins. They went brawling into the crowd, then by the ringside area and enough security/officials were there to break it up.
Analysis: That was a fast-paced way to start the show with a brawl as soon as they went on the air. Riddle vs. Rollins should be a great match at Clash at the Castle on September 3.
There was more pyro going off as the commentary team of Jimmy Smith, Corey Graves and Byron Saxton welcomed us to the show.
Let's Hear from Trish Stratus
Oh it's time to rock & roll because the WWE Hall of Famer Trish Stratus was there to start the show. She looked incredible as usual dressed in all black attire. Trish said it felt so good to be here and so good to be home, not just in Toronto, but in this ring and between these ropes. Trish said it will never not feel like home between these ropes. The fans chanted "one more match" for her. Trish said she's been doing a lot of thinking lately…and here comes Bayley along with IYO SKY & Dakota Sky. They went to break there.
Analysis: They interacted well with Trish at the live event I was at, so it should be good. The way Trish spoke there made it seem like she was thinking about wrestling again, but Bayley cut her off. Bayley's is apparently going to be named Damage CTRL, but it was not shown as a graphic for their entrance.
(Commercial)
The trio of Bayley, SKY & Kai were in the ring. Bayley did the fake nice thing saying she was so excited to be in the ring with Trish Stratus. SKY said she was a fan. Bayley asked what are you doing here? Trish mentioned fellow Torontonian Edge is back in the ring in Toronto after a decade and she was there to support him. Kai cut off Trish saying they didn't care what she had to say. SKY said: "I don't like you." Bayley laughed. Bayley complained about Trish riding their coattails in Kingston and London (yes!), so they were sick of her. Bayley said that they are the now, so who in the hell does Trish think she is? Bayley got in Trish's face, so here comes Bianca Belair.
Belair got a big pop as the Raw Women's Champion in some non-wrestling attire looking stylish as usual. Belair said that Bayley isn't even in the same stratosphere as Trish while saying that Trish walked so they could run. Belair said there would be no Bayley without Trish. Belair called Trish a trailblazer, a legend and this is Trish's city, so Bayley should stop being disrespectful. The fans chanted "EST" for Belair. Bianca said that Trish can defend herself. Trish said that she can go from saying "I am retired" to "I was retired" if Bayley doesn't stop running her mouth. Trish took off her jacket and so did Bayley while Bayley said there were three of us and just two of Trish & Bianca. Trish said that they make two, but that led to Asuka & Alexa Bliss. Stratus called Asuka & Bliss the future Women's Tag Team Champions saying that makes four of them. Bayley said she was generous, so she'll let them slide and Bayley will see the three idiots at Clash at the Castle. Trish said that's if they make it to Cardiff and Trish wished them good luck. Trish's music played to end it.
Analysis: I liked the promo exchange from Trish and Bayley. They play off eachother very well with Bayley as the rude heel while Trish could say just about anything and the Toronto crowd would cheer her. I think that could make for an interesting if Trish does decide to wrestle again. Using Belair to help put Trish over was smart as well because it shows that the babyfaces are respectful towards a legend like Trish. I really hope this leads to more Trish Stratus appearances. She is my favorite WWE woman of all time, not just because of the looks and talent, but she's a Canadian-Greek like me (we both use gimmick last names) so that's pretty cool too.
The Women's Tag Team Championship tournament brackets were shown ahead of this semifinal match. There's a change on the right side of the bracket, but we'll get to that later.
Women's Tag Team Championship Semifinals: Asuka & Alexa Bliss vs. Dakota Kai & IYO SKY
The first minute saw Kai bail to the floor, then she went to the apron and Asuka knocked her down with a hip attack. Bliss kicked Sky down as well so the faces stood tall as the show went to break.
(Commercial)
Bliss got a hiptoss on Sky leading to a two count. Bliss got an STO trip on Sky followed by Bliss doing the knees to the rips and a senton splash for a two count. Asuka tagged in to face off against Sky with Sky ducking a kick and getting a rollup. Asuka avoided a kick, so Sky kicked Asuka in the throat leading to Kai tagging in. Kai with a head slam into the mat followed by some low kicks to the body. Asuka hit a rising knee on Kai leading to Asuka's own low kicks of her own and a kick to the back. Bliss tagged in with a punch on Kai followed by a bulldog from Asuka for two. Bliss got three straight pin attempts for two counts. Bliss knocked both women out of the ring followed by Bliss diving off the apron on both women on the floor. Kai tripped up Bliss leading to a pump kick to the face while Bliss was by the apron. That led to a break.
(Commercial)
Kai pulled Bliss back into her corner so that Sky could tag in to continue to keep Bliss isolated. Bliss with a kick leading to Asuka tagging against Sky. Asuka ran over Sky with a shoulder tackle, a hip attack, a spinning back first along with other strikes and a German Suplex. Asuka with a running kick to the face for two. Kai with a necksnap on Asuka against the top rope when the referee wasn't looking, so Sky splashed Asuka with her knees on the back. Sky went up top with a dropkick on Asuka for two as Bliss made the save. Kai tossed Bliss out of the ring. Asuka got a backslide pin attempt on Kai, then Kai hit a Scorpion kick to the head and Kai bounced off the ropes with a running kick to the head for two. Asuka countered Sky with a back fist, then Bliss tagged in and hit a double DDT on both women. Asuka and Bliss hit a legsweep/neckbreaker combo followed by Asuka applying the Asuka Lock, but Sky made the save. That was the finish at the live event I was at without the save. Anyway, Bliss tagged back in, she went up top and Bliss went for her Twisted Bliss splash, but Kai got the knees up. Asuka was legal, Sky knocked Bliss out of the ring and Asuka kicked Sky out of the ring. Kai with a forearm on Asuka, then Kai went for her running kick, but Asuka moved. Sky tagged in. Asuka put the Asuka Lock on Kai, who wasn't legal and Kai tapped out, but Asuka was unaware. Sky snuck up behind Asuka, then she did a ROLLUP OF DEATH~! while using her legs to keep the arms down and that led to the pinfall win for Sky. It went about 18 minutes.
Winners by pinfall: Dakota Kai & IYO SKY
Analysis: ***1/2 A long match that was very good with a lot of action, nearfalls and a clever finish. I like that kind of ending where the legal wrestler in the ring doesn't know that there was a tag by the other team, which is what led to the finish. It's a clever way to end it with the heel duo of Kai & SKY outsmarting Asuka while Bliss was knocked out of the ring. These teams worked really well together. The right team won.
That win means the team of Kai & SKY are in the finals of the Women's Tag Team Title tournament.
Analysis: I think Kai & SKY will win the tournament. Maybe we'll see Sasha Banks & Naomi back in WWE after that.
Dolph Ziggler was interviewed by Kevin Patrick. Ziggler said he's been doing this for a long time with a lot of ups and downs. Finn Balor interrupted Ziggler's promo saying that Ziggler is the same as Edge and Rey Mysterio by attacking themselves to younger superstars to keep yourselves relevant. Balor said that Ziggler can't teach him nothing, kid. Ziggler said they're about the same age (Dolph is 42, Balor is 41 for the record) and Ziggler knocked Balor down with a slap to the face. Ziggler asked Balor if he'll sit there on his ass or see him in the ring? The match was advertised earlier.
Dolph Ziggler made his entrance as the babyface in the match.
(Commercial)
A video aired showing some Smackdown highlights from last week with Drew McIntyre going face to face with the Undisputed WWE Universal Champion Roman Reigns. Drew told Roman that he didn't deserve to be champion while telling Roman that he saw fear. Sami Zayn saved Reigns from a Claymore Kick leading to Reigns hitting a Superman Punch on Drew. When Roman charged, Drew was back up with a Claymore Kick as Drew stood tall. There's the Clash at the Castle main event.
Finn Balor entered with Rhea Ripley. New music for Balor and perhaps for the Judgment Day group.
Dolph Ziggler vs. Finn Balor (w/Rhea Ripley)
Balor sent Ziggler into the turnbuckle, Ziggler ran the ropes and hit a dropkick. Ziggler worked over Balor with punches, but then Balor tripped up Balor leading tohis own punches. Balor sent Ziggler into the turnbuckle three times in a row. Ziggler tried to fight back, but Balor got the momentum back with a hard whip into the corner leading to Ziggler bumping sternum-first into the turnbuckle.
(Commercial)
Balor was in control with a headlock, Ziggler with a jawbreaker, Balor with a kick to the gut and Ziggler avoided a suplex. Ziggler hit a running clothesline followed by corner punches, a neckbreaker and an elbow drop for two. Smith said the attendance was a sold out crowd of 16,638 people in Toronto. Balor with a reverse DDT with an elbow drop for two. Balor stomped on Ziggler's chest a few times. Ziggler countered a Balor move with a rollup. Ziggler wanted a Fameasser, but Balor caught him and hit a sitout Powerbomb for two. Balor charged, Ziggler was ready with a dropkick and a DDT for a two count. Balor went for a lifting move, Ziggler got out of it and Ziggler hit a Fameasser for two like he always gets for that move. Balor avoided a Zig Zag, then he hit a shotgun dropkick and went up top. Balor jumped off the top with the Coup de Grace, but Balor moved out of the way and Ziggler hit a Zig Zag two. That is Dolph's former finisher, but the fans bought it as a nearfall. They got into a slugfest, then Balor kicked Ziggler in the legs and Ziggler hit a headbutt. Ripley was on the apron while the referee looked at Balor, Ziggler was literally looking at her and Ripley punched Ziggler in the face. Balor hit the 1918 slam followed by the Coup de Grace off the top rope for the pinfall win after 15 minutes.
Winner by pinfall: Finn Balor
Analysis: ***1/2 A very good match by two talented veterans. The crowd wasn't into it that much early, but they liked all the nearfalls especially that Zig Zag for a two count. As I said, that isn't Ziggler's finisher anymore since he uses a superkick. However, when the fans saw that Zig Zag they thought that would be it. Balor continues his positive momentum while Ziggler has lost in consecutive weeks after losing to Theory last week as well.
Aliyah, who is from Smackdown (also from Toronto), was interviewed by Sarah Schreiber. They were quickly interrupted by Bayley, Dakota Kai & IYO SKY. Bayley asked if Aliyah was watching the Kai & SKY match since Aliyah was in the tournament. Bayley asked where Raquel was, Aliyah said that was none of their business and Bayley threatened Aliyah for coming there alone. Trish Stratus walked up to "interview" Bayley asking when she's going to return to the ring. That led to Aliyah challenging Bayley to a match and Bayley accepted. While the ladies were walking away, Pearce had a photo of Dexter Lumis in his hand while talking to security.
Analysis: Bayley returned to in-ring action this past weekend at the live events. She looked great and like she hasn't been out of action for a year since she was cleared a while ago. I'm glad she's back. Always nice to see Trish in more segments too!
Chad Gable & Otis entered for a match. Shoosh, please.
(Commercial)
Chad Gable did his "shoosh" bit to get booed by the crowd. Gable claimed they were accepting new students and he started the search right here in Canada. Gable said he's found toothless ex-hockey players hooked on Tim Hortons. Gable mocked the Maple Leafs losing an ice hockey game to a team from Tampa Bay while letting us know they don't have ice in Tampa Bay. Gable said he found no talent in Canada while the fans chanted "Go Leafs Go" at him. Gable said he keeps hearing about some geek named Auston Mathews, who Gable noted was an American (that's true) and he's not talented enough to was Otis' jock strap. Gable said that he was issuing an Open Challenge.
Analysis: The same cheap heat Toronto jokes they always do. I could have given him better material. Just saying.
Here comes Kevin Owens, who was cheered loudly by the crowd. Owens was wearing his classic KO tank top on his way to the ring. Even though Owens ahs been a heel this year, he was cheered loudly by the crowd sine he's a Canadian from Montreal.
Analysis: It was smart to book Owens in a spot where he was going to get cheered as a face. This crowd wasn't going to boo him.
Kevin Owens vs. Chad Gable (w/Otis)
Owens attacked Gable with punches leading to Gable bailing to the floor. Owens left the ring with Gable with KO hitting him with a forearm back into the ring. Gable grabbed a headlock, Owens ran the ropes and got a knockdown with an elbow to the chest. Owens with chops, Gable with a kick to the chest, but Owens came back with a clothesline along with a senton splash. Owens went for a cannonball attack in the corner, but Gable bailed to the floor. Owens left the ring leading to Gable giving Owens a T-Bone Suplex on the floor. Owens tripped up Gable on the apron. Gable gave Owens a back body drop on the apron and a German Suplex on the apron. Ouch. Owens bumped to the floor leading to a break.
(Commercial)
The match returned with Chad Gable hitting a German Suplex in the ring just like we saw before the break. Gable hit two more German Suplexes, but Owens blocked and hit his own German Suplex. Owens hit a cannonball splash on Owens in the corner. Owens with a cradle suplex into the knee. Owens went up top and jumped off with a Frog Splash. Gable avoided a Popup Powerbomb and a Stunner leading to Gable hitting another German Suplex for a bridging pin for two. Gable went up top and hit a headbutt for a two count. Gable went up top with Owens, that led to Owens knocking him down and Gable was back up, so Owens hit the spinning suplex off the middle rope. Owens loves to do that move. It looks so impressive and it popped the crowd leading to Owens getting a two count. Owens went for a Senton Bomb off the top, but Gable got the knees up. Gable jumped off the top with a moonsault, Owens moved and Owens sent Gable into the ropes leading to a Popup Powerbomb for the pinfall win after 12 minutes.
Winner by pinfall: Kevin Owens
Analysis: ***3/4 This was awesome. It wasn't as long as the two matches earlier in the show, but I liked it more because of how much action there was while both guys sold really well. Lots of big moves too. That's the first time Owens has won with a Popup Powerbomb in a while since he switched to the Stunner as his finish, but it's all about showing that Owens is back to being a dominant force like he used to be. I'm glad Gable got a lot of offense to show off how talented he is.
After the match, Owens was attacked by Otis. When Otis charged, Owens moved and Otis hit the ring post with his shoulder. Owens wanted to Powerbomb Gable on the apron, but Otis hit a clothesline. Owens took care of Otis in the ring with a Stunner and Owens gave Gable a Powerbomb on Otis. The fans were chanting "Sami" for Zayn while Owens was getting attacked, but no sign of Sami here.
Analysis: I would have loved to see Sami here as well because reuniting in front of a Canadian crowd is the perfect spot for Sami/KO together again, but it didn't happen. Owens looked strong by dominating a tag team by himself.
The Judgment Day trio were backstage for a promo with Rhea Ripley laughing about Finn Balor beating Dolph Ziggler. Balor said that he keeps Rey Mysterio in his pocket and he is 6-1-Mine. Priest said he knows the cheers will be huge for Edge since he's home in Toronto, but Priest is sending him back into retirement. Priest said that those cheers will lead to screams as Edge meets his Judgment Day. They laughed.
Aliyah made her entrance and they mentioned she was from Toronto, which got a decent pop.
(Commercial)
The announcers talked about how Gigi Dolin of Toxic Attraction was hurt, so her team with Jacy Jayne is out of the Women's Tag Team Title tournament. This Friday on Smackdown there's a Fatal 4-Way Tag Team "second chance" match with the teams that lost in the tournament already.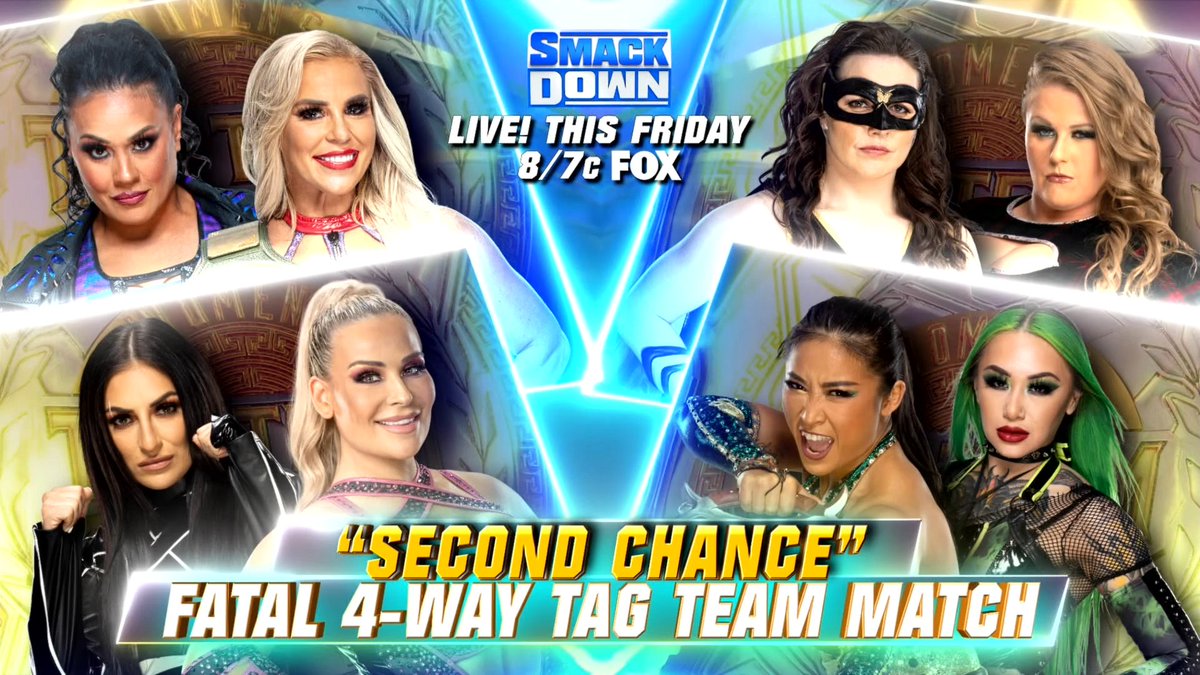 Bayley made her entrance for her first TV match since June last year.
Aliyah vs. Bayley
Aliyah sent Bayley into the corner leading to a running body attack in the corner. Aliyah got a headscissors takedown. Bayley grabbed the ear leading to some stomps on Aliyah in the corner. Bayley got a belly to back suplex for two. Bayley hit a suplex for two. Bayley hit a running clothesline on a seated Aliyah for a two count. Bayley grabbed a headlock while sending Aliyah into the turnbuckle. Aliyah with punches, then she tried a cross body block in the corner, but Bayley caught her and Bayley hit double knees to the ribs for two. Bayley did a Trish Stratus-like point to boos. Bayley teased going for a Stratus faction, but Aliyah sent Bayley out of the ring. Bayley caught Aliyah on the floor leading to Aliyah doing a counter into a bulldog on the floor. Back in the ring, Aliyah got a takedown leading to a single leg crab, but Bayley grabbed Aliyah's hair to break it. Bayley with a monkey flip across the ring followed by the Roseplant slamming Aliyah's head into the mat for the pinfall win after six minutes.
Winner by pinfall: Bayley
Analysis: ** A clean win for Bayley as you would expect from a match like this. Aliyah tried and got some offense, but it wasn't enough. The crowd wasn't into the match that much even though Aliyah is from Toronto because she has barely wrestled on TV compared to some of the people on this show.
AJ Styles and the US Champion Bobby Lashley were shown walking backstage. They showed some object backstage with some smoke coming out of it as another tease about Lumis.
The Miz and Ciampa entered for tag team action.
(Commercial)
The US Champion Bobby Lashley was up next along with AJ Styles. The fans were strongly behind them. Lashley beat Styles in a great match last week on Raw.
Bobby Lashley & AJ Styles vs. The Miz & Ciampa
Styles started with Ciampa as Styles connected with a dropkick. Lashley tagged in and Styles handed off Ciampa to Lashley for a delayed vertical suplex by Bobby. The Miz tagged in with kicks, Lashley tried a lift, then he hit a back elbow and Styles tagged in with some strikes followed by a clothesline. Styles hit a corner clothesline and the Ushigoroshi slam onto the knee. Ciampa in illegally, Lashley in illegally also and Lashley press slammed Ciampa over the top onto Miz on the floor.
(Commercial)
Ciampa and Miz were in control of Styles as Miz applied a chinlock. Graves called Miz "one of the most popular people on Earth" which is an example of a heel lying on commentary. Styles tried to fight out of the corner, he even went to the floor and Miz kicked him to knock him down. Ciampa launched Miz into the barricade. Ciampa/Miz did the Ciampa clap thing on the apron. Back in the ring, Ciampa wore down Styles with a headlock, then Miz back in and he hit some knee strikes to AJ's back while Miz slapped on his own headlock. Styles tried to tag out, but Miz hit a DDT and Ciampa tagged in. Styles fought out of a headlock with elbows along with a jawbreaker. Miz back in, so Styles greeted him with a Pele Kick. Lashley got the hot tag against Ciampa as Lashley hit two shoulder tackles, then a back elbow, a corner clothesline and Lashley hit a running shoulder tackle on Ciampa. Lashley hit a DDT/Flatliner combo on both guys. Ciampa bailed to the floor to avoid a Spear, so Lashley went after him. Lashley put Ciampa on the shoulders and sent him into the ring post. Miz pulled Ciampa out of the ring, so Lashley clotheslined Miz on the floor. Back in the ring, Ciampa hit the Willow's Bell DDT. Ciampa's daughter is named Willow, so he named it after her. Lashley got out of the Fairytale Ending and Lashley hit a Spear on Ciampa. For two as Miz made the save. Styles jumped over the top with a forearm on Miz on the floor. A fan grabbed Styles on the floor. Miz kicked Styles on the floor, so then Dexter Lumis was there to take off a helmet and Lumis grabbed Miz in a sleeper hold. Lumis dragged Miz backward so that they went into the crowd and into the concession area. The referee saw all of that, so it ended in a DQ or No Contest. It went about 13 minutes.
Winners by Disqualification: The Miz & Ciampa
Analysis: *** This was a solid tag team match even with the non-finish. The Lumis thing was set up well by having another guy get taken away by security first in order to give Lumis more room to take off the headgear leading to him choking Miz and taking him away. It did look a bit cheesy as they walked back into the crowd with nobody trying to stop it, but I get why they did that for effect. Anyway, the tag team match was fine with four talented veterans that know what they are doing.
Post match, Styles hit a Phenomenal Forearm on Ciampa and Lashley hit a Spear on Ciampa. Styles and Lashley celebrated.
When they replayed the Lumis thing, Graves said that Lumis doesn't work there. Yes, Lumis used to work in NXT, but then he got released and now they are trying to sell the idea that Lumis doesn't work there.
Analysis: The idea that Lumis still "doesn't work there" is silly since he's been on the show for several weeks now, but that's the angle for now.
A video package narrated by Corey Graves was shown about the history between Edge and Damian Priest leading to their main event match.
Damian Priest was shown warming up backstage.
This Sunday on A&E Biography is the biography of Rey Mysterio. That should be great. I'm behind on watching some of the others, but I'll get to them soon.
(Commercial)
The show returned as the familiar "Rebel Heart" song played and Johnny Gargano made his return to WWE. The fans gave him a good ovation. Johnny looked into the camera saying: "I've missed you guys." Gargano's WWE deal expired after last December and he hasn't been wrestling since then while him and his wife Candace LeRae welcomed a baby boy in the world.
Let's Hear from Johnny Gargano
The fans popped for Johnny in the ring with a "Johnny Wrestling" chant. Gargano said it's been nine months since he's been in a wrestling ring, so he has to remember how to do this. Gargano reminded us about his NXT accolades winning all the titles on that brand and Gargano mentioned he won those NXT Tag Team Titles in this building (I was there). Gargano said there were questions about when and where he was going to show up again. Gargano said he wondered if he even wanted to do this, but he remembers playing with his six-month old baby he named "Baby Wrestling" (the name is actually Quill) and the fans did a "Baby Wrestling" chant. Johnny said he had dreams of being the Intercontinental Champion, United States Champion, the WWE Champion and wrestling at WrestleMania. Johnny said that he wanted to teach his son that even the biggest, most impossible dream can come true. Johnny said if you work hard enough, you can get anything you want out of life. Johnny said you'll never fail if you bet on yourself and that's what he is doing in Toronto, he's betting on himself. Johnny said that he's incredibly proud to say that "Johnny Wrestling is back in WWE." Johnny said we're just getting started.
Theory interrupted the promo with the Money in the Bank briefcase in hand. They were part of "The Way" in NXT. Theory got into the ring saying it's been about nine months. They were allied in NXT. Johnny said that he's changed a lot of diapers, he mentioned some kids show and he's watched Theory do well. Theory said that he's become the youngest United States Champion and with this briefcase, he's on his way to becoming the Undisputed WWE Universal Champion. Theory said he's already done the things that Gargano has dreamed of. Theory said that in NXT, Johnny took Theory under his ring. Theory said like now it's almost like he's the veteran while Johnny is the rookie. Theory said that Johnny can carry Theory's bags and even carry the briefcase while handing it to Theory when he becomes the new Undisputed WWE Universal Champion. Theory said that he can show Johnny "The Way." Theory said if Johnny doesn't support him then Johnny can go away. Theory said that the yare untouchable together while Theory wanted a high five, Theory said "hit me" and Gargano hit Theory with a superkick to the face. Johnny did his own high five. The fans cheered.
Analysis: That was a good segment. I like seeing Gargano in WWE. I expected that to happen once Triple H took over as the Head of Creative. If it was still Vince McMahon I think maybe Gargano would have been in AEW, but Gargano was arguably the best performer in NXT during Triple H's run booking there, so they obviously have a lot of history and trust. While Gargano is not a big guy, he's an incredible in-ring talent that can have great matches with anybody. Theory and Gargano had a history in NXT as allies, so it was a good thing to pay into for Johnny's debut. I like what Johnny said, how he said it and how the crowd reacted to him. This could be a potential match at Clash at the Castle. I'm very happy to see Johnny on Raw and on WWE's main roster. He's a good man.
Believe in yourself.
Nobody will do it for you.

Welcome to #WWERaw, @JohnnyGargano! https://t.co/prY2obXNor

— Triple H (@TripleH) August 23, 2022
(Commercial)
They showed highlights of Riddle brawling with Seth "Freakin" Rollins earlier in the show.
Next week on Raw in Pittsburgh: Seth "Freakin" Rollins goes face to face with Riddle. Plus, they said that the Women's Tag Team Title tournament finals are next week. Kurt Angle will be on Raw next week in his hometown of Pittsburgh where he lives.
Analysis: It's always good to see Kurt. He had major knee surgery a few months back so I hope he's moving around well.
Damian Priest made his entrance first. His theme song is a remix of his old song. Apparently that's what Finn Balor's music was too. Thanks to friends on Twitter for informing me of this stuff that I don't notice sometimes.
Edge got a HUGE pop from the crowd. That song is still the best and the fans love the guy in his hometown. That was really cool to see.
(Commercial)
Edge was wearing white and red tights for Canada. Love to see that! Edge's wife Beth Phoenix, the WWE Hall of Famer, was at ringside supporting her husband. Priest did not have any Judgment Day members at ringside.
Edge vs. Damian Priest
Priest got the advantage first and then Edge tossed him out of the ring. Priest sent Edge into the ropes leading to a knee to the chest. Edge with a hair pull takedown, then a shove and Edge sent Priest out of the ring. Edge grabbed an armbar, Priest grabbed the ropes to break the hold, so Edge let go and Priest got in a stomp on the foot along with a punch. Edge left the ring, Priest went after him and Edge hit a clothesline on the floor. Edge gave Priest a Powerbomb onto the top of the barricade.
(Commercial)
Priest went for a move off the ropes, but Edge moved out of the way. They did a double boot to the face at the same time. Edge was sent into the corner, Present for an attack and Edge moved. Edge hit a neckbreaker near the ropes for a two count. Priest went to the floor, Edge went up top and Edge jumped onto him. Edge basically hit him with his upper body to knock Priest down. Priest got back up and he was in control as he picked up Edge with a Razor's Edge style Powerbomb toss onto the commentary table.
(Commercial)
I was told that some of the action was shown picture-in-picture, but we don't get that on Sportsnet in Canada. Edge hit a hurricanrana off the ropes. Priest got back into it with a kick to the head along with an Unprettier, which is Christian's finishing move. Nice touch there since Christian is Edge's best friend. They got into a slugfest as they exchanged punches, Edge with a boot tot the face, Priest with a forearm and Edge came back with an Impaler DDT for two. They each went for moves, but Priest caught him with The Reckoning neckbreaker. Priest didn't try a cover after he hit that move. Priest teased going for a Spear, but Edge got up with a South of Heaven (a sitout Chokeslam that Priest uses) for a two count. That was executed really well. Edge teased a Sharpshooter, but Priest kicked Edge into referee Charles Robinson, who bumped to the floor. Priest hit the South of Heaven slam and realized there was no referee there. Priest got two steel chairs, he put one of them under Edge's head and swung the chair, but Edge moved to avoid it. Edge tripped up Priest to knock him back onto the chair. Edge grabbed a piece of metal for a Crossface submission on Priest. Edge charged, but Priest hit Edge with a piece of metal and referee Robinson crawled back in for a two count with Edge getting his shoulder up. Priest wanted a Razor's Edge, but Edge hit a Canadian Destroyer! Edge hit a Spear for the pinfall win. It went 20 minutes.
Winner by pinfall: Edge
Analysis: **** I thought it was a great match. I've been reviewing Priest for many years now going back to his NXT days and I think that's one of his best singles matches, if not the best. I am so impressed by what Edge can physically do at 48 years old (49 in two months) considering his injury history, but he makes everything look easy. I liked seeing Priest do the Unprettier as a Christian tribute in Toronto, then Edge hit a South of Heaven slam and the spot with the referee worked well because it was a believable nearfall for Priest. Edge winning was the right call based on the story of him being kicked out of The Judgment Day and finally getting some payback by winning this match. They can also go to Edge vs. Balor to continue the feud with a fresh matchup there while Balor is a bigger star than Priest. Also, that Canadian Destroyer by Edge was amazing and he made it look so easy. I know that typically the older guy should lose to the younger guy, but in this case the right man won.
Post match, Edge wanted to do a Conchairto to Priest, but Rhea Ripley showed up for a low blow to Edge. Finn Balor jumped off the top onto Edge with a Coup de Grace double foot stomp. The Judgment Day wanted to do more, but Beth Phoenix jumped into the ring with a chair to save her husband Edge. Judgement Day slowly backed away. Phoenix checked on Edge and that was the end of the show.
Analysis: That was a cool way to end it. With Beth sitting right there, I figured they were going to use her somehow. Nice tease of a Beth vs. Ripley match at some point or they can do Balor/Ripley vs. Edge/Beth as well.
Three Stars of the Show
Edge
Johnny Gargano
Kevin Owens
A lot of others deserve praise too. It was fun.
The Scoreboard
9 out of 10
Last week: 8.25
Final Thoughts
Awesome show. I think it was as good as any Raw episode this year. I don't know of any episodes that I can think of that were better than this. Every match got plenty of time except one (Bayley beating Aliyah in six minutes, which is how that should go) and the main event with Edge winning over Damian Priest at home in Toronto in front of a hot crowd was the right way to end it. Plus, we got a nice of Beth Phoenix possibly wrestling Rhea Ripley or a mixed tag in the future.
I thought they started the show off the right way with Trish Stratus. I like how Bayley reacted to here. There's another match tease! Anyway, the women's tag team match that followed was great. Other matches on the show were very good like Balor-Ziggler, Owens-Gable and even the tag team match that saw Dexter Lumis choke out The Miz.
It was also great to see Johnny Gargano make a surprise appearance. I certainly didn't think it was coming tonight. I like that it wasn't leaked by any sources or stooges backage. I'm happy for Johnny because he's such a talented pro wrestler. The Toronto crowd loved seeing him. Yes, he's a short guy, but who cares? He's a great performer. The interaction with Theory was good and it should lead to a match soon. Welcome back Johnny and welcome to the main roster. Do I think he'd be there if Vince McMahon was booking? Nope. Thanks Triple H, pal.
The next WWE Premium Live Event is Clash at the Castle in Cardiff, Wales on Saturday, September 3rd. Here's what we know so far.
* Undisputed WWE Universal Championship: Roman Reigns (c) vs. Drew McIntyre
* Bianca Belair, Asuka & Alexa Bliss vs. Bayley, Dakota Kai & IYO SKY
* Riddle vs. Seth "Freakin" Rollins
* Intercontinental Championship: Gunther (c) vs. Sheamus
* Smackdown Women's Championship: Liv Morgan (c) vs. Shayna Baszler
===
Check out the WWE PPV Review archive right here. You can contact me using any of the methods below. Go Toronto Blue Jays. Be safe and smart out there.
Thanks for reading.
John Canton
Email: mrjohncanton@gmail.com
Twitter: @johnreport