The John Report: The WWE Raw Deal 06/13/16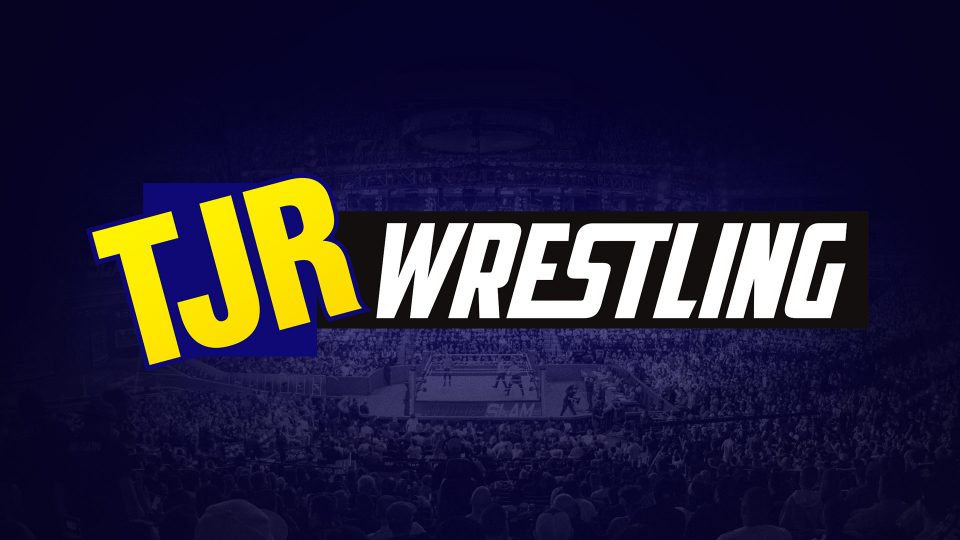 Live from New Orleans, Louisiana this is the Raw Deal for episode #1203. Follow me on Twitter @johnreport.
Raw begins with the standard Raw opening video.
The entire roster was on the stage for a moment of silent. They had a "Pray for Orlando" graphic on the Titantron in honor of the victims for what happened at the Pulse night club in Orlando on Saturday night.
The tag team champions The New Day made their entrance to a good ovation. They were talking about their title match at Money in the Bank, but then Big E and Xavier Woods made fun of Steph Curry's new shoes that have been mocked in the media in the last few days. At least they are good at making relevant pop culture references. They did their "New Day Rocks" bit.
Big Cass and Enzo Amore made their entrance. The New Day guys danced along with their song. Enzo and Cass did their usual intro to a good reaction from the crowd. Cass told them they are going to be all in and leave with the titles. Cass said they're cool with the unicorns and the "massagers for her pleasure" sticking out of their heads. Yes he is talking about the unicorn horns. Cass wondered if Kofi was serious with the Jerry Seinfeld like shoes. Kingston yelled "y'all gotta respect your veteran" that was funny. Cass wanted to talk about Franny aka Francesca 2 the trombone. Cass asked where his "girl" was last night. Cass said that last night she was with Enzo and "Enzo had his lips all over her." Enzo admitted that he was playing Franny like he was Louis Armstrong and he had her going all night long. Woods: "I'm the only one who blows my girl." Kingston said it was time for a verbal joust.
Here comes The Vaudevillains with microphones to interrupt the festivities. Simon Gotch called them troglodytes. Aiden English did some awesome singing saying they will be the next tag team champions in WWE – he held the "E" part very well. Dude can sing.
Luke Gallows and Karl Anderson also made their entrance. Anderson wondered if this was Camp WWE's talent show. Gallows said that only one team will be in the ring with the titles held in the air – he said it's going to be easier than scoring a touchdown on the New Orleans Saints. Cheap heat to piss off the crowd.
Cass said there's only one word to describe the other four guys: S-A-W-F-T. Time for an eight man tag match.
Analysis: That was really good. I legitimately laughed a few times during that promo exchange. They let the faces say some stupid shit and they all have the personalities to pull it off. There were some really funny lines in there with the sexual innuendo used by Cass, Enzo and Woods especially. The crowd popped for a lot of it. Most of the kids in the crowd likely had no idea what they were saying, but that's okay. Some adult humor once in a while is necessary in WWE even when they're a PG company. Also, it's nice to see talent starting a promo instead of Shane or Stephanie McMahon. Let the talent shine.
(Commercial)
Kofi Kingston, Big E, Enzo Amore & Big Cass (w/Xavier Woods) vs. Karl Anderson, Luke Gallows, Aiden English & Simon Gotch
The faces were in control early on. Cole mentioned London & Kendrick having the longest tag team reign in WWE history. It's actually Demolition with the record with over 400 days, but WWE chooses to ignore that I guess. Anyway, the New Day did their Unicorn Stampede move early on. English went in the ring, so Gotch hit him Enzo from behind. Enzo broke free after about two minutes of the heels working on him. Cass got the tag, he slammed English and Cass did a fallaway slam to English. Corner splash by Cass and he wanted more, but Gotch pulled English to the floor. Tag to Kingston, he jumped over the ring post with a somersault flip onto English and Gotch. Great spot by Kingston. Time for a break.
(Commercial)
Back from break, Big E had Gotch in an abdominal stretch as he did some "New Day rocks" slaps on him. Big E hit a back elbow to knock down Gotch. The heels distracted the ref, so Gallows nailed Big E with a clothesline. The heels made a bunch of quick tags as they worked over Big E in the corner. Gallows with a running corner splash and elbow drops on Big E, but then he missed an elbow. Hot tag to Kingston against Anderson with Kingston on fire with a dropkick and a leaping clothesline. Kingston with the Boom Drop. Kingston would double boots to the face and a cross body block off the top rope. Gotch broke it up. Time to knock people out of the ring with Enzo, Gotch, Cass getting sent outside the ring and Big E with a belly to belly suplex on English on the floor. Gallows booted Big E in the face. Gallows blind tag. He booted Kingston in the face. Gallows and Anderson with a double team Magic Killer on Kingston for the pinfall win after 14 minutes.
Winners by pinfall: Karl Anderson, Luke Gallows, Aiden English & Simon Gotch
Analysis: *** That was an entertaining match given a pretty good amount of time. They followed the tag team formula with the heels working over the faces. Kingston was great after the hot tag. Then they had everybody hitting moves on the floor to clear the ring. Nice job of making Luke and Karl look smart at the end too. I was thinking they might win on Sunday by pinning somebody other than a New Day guy, but I'm not sure.
A video aired of The Shield's debut at Survivor Series 2012. The match was CM Punk, John Cena and Ryback with The Shield putting Ryback through the announce table with a Powerbomb.
Analysis: At the time, most of us knew who Rollins and Ambrose were because they were the best prospects in developmental. Reigns wasn't known as well. CM Punk suggested his friend Chris Hero be in the group instead of Reigns, but WWE wanted Reigns because of his potential.
(Commercial)
There was a Darren Young/Bob Backlund split screen segment again. Backlund asked him how he's going to celebrate and Young did the "Millions of Dollars dance." Young wanted to do a moonwalk. Backlund told him to save money. Young asked him how to save money, so Backlund said it's his only pair of clothes. Young wondered if he had multiples and Backlund yelled: "You gotta want it." Then Backlund asked: "What do you think about the bowtie?"
Analysis: It aired on Smackdown last week as well.
Stephanie McMahon was backstage in the office. Her brother Shane showed up. They argued about things. Shane said that Stephanie can take Smackdown and he'll take Raw. She said no. Then he suggested he gets Smackdown and she gets Raw. Stephanie said no to that. She wants to run both shows. Shane said that didn't work before. Kane showed up in his suit without a mask. He said he was there to help. He had lines about setting things on fire. Kane handed Stephanie a resume and had a letter recommendation from…The Undertaker. Stephanie walked off to leave it to Shane to handle. Kane said he had ideas to run Smackdown.
The announce team of Michael Cole, John Bradshaw Layfield and Byron Saxton talked about people wanting to run Smackdown. JBL said maybe he should try to run. Byron Saxton wanted to be in his cabinet, but JBL said maybe he doesn't want to run for it now.
Analysis: They are pushing this idea that people are trying to get the General Manager job on Smackdown. I figured it would be Shane or Stephanie running it, but maybe they will keep them on Raw and then pick somebody to run Smackdown. We still have no answers about a lot of this stuff.
Zack Ryder was backstage talking to some guys about Sheamus being in the Teenage Mutant Ninja Turtles. Ryder was reminiscing about Apollo Crews punching Sheamus last week. Sheamus told Ryder after their match, he'll be laughing and Ryder will be the punch line. When Ryder said "Hey Apollo" it led to Sheamus turning his head and Ryder walked off.
Analysis: The idea is Sheamus is worried about Crews heading into their Money in the Bank match on Sunday. Their MITB match was confirmed earlier on Monday.
The next Shield video was from April 7, 2014 when they went into the ring to brawl with Evolution and Kane.
Analysis: That was actually in New Orleans (just like this week's Raw) on the Raw after WrestleMania, which I was at. It cemented them as faces, which only lasted for about two months.
(Commercial)
There was a promo from The Shining Stars (Primo & Epico) talking in front of an obvious green screen while talking about Puerto Rico.
Analysis: They did vignettes for over a month building to them, then they had one match, the crowd didn't care and they are back to doing vignettes. What a lame angle this is.
Titus O'Neil entered the arena. The US Champion Rusev attacked him on the ramp. Rusev beat on him. Then Rusev tossed him into the side of the ramp. Rusev nailed O'Neil with a standing side kick to the back of the head that looked really good. Rusev applied the Accolade submission hold on the ramp. Referees showed up to break it up.
Analysis: This feud needed some heat to it because they didn't have much of a storyline going into it other than O'Neil standing up to Rusev. After an attack like this, you can be a lot more sympathetic towards O'Neil while wanting to see him get revenge at Money in the Bank. The crowd will probably be quiet for this match on Sunday. They just haven't done much to build up O'Neil.
The next Shield video went to June 2, 2014. That was the night when Seth Rollins turned heel against Dean Ambrose and Roman Reigns.
Analysis: It was a shocking moment. Some people thought it was rushed, but I think in hindsight it was the right decision because they needed to create new singles stars. All three guys were ready.
The Ambrose Asylum segment with Rollins and Reigns is next.
Analysis: It's smart to do it at the top of hour two because typically that's when more people are watching. The main event spot has a smaller audience – the numbers show that. Plus the NBA game was about to start at this time, so they are trying to get this in before the game gets going.
A commercial aired for Swerved Season 2. All nine episodes are on WWE Network. I watched the first four episodes. It's been pretty good so far.
(Commercial)
There was a picture of Triple H's tweet congratulating the Pittsburgh Penguins of the NHL winning the Stanley Cup and WWE is sending them a replica title.
A replay of Rusev's attack on O'Neil aired. The announcers talked about it.
Ambrose Asylum with Seth Rollins and Roman Reigns
Dean Ambrose made his entrance on his Ambrose Asylum "set" that just says those words on cardboard and there's a carpet in the ring. He said they say WrestleMania is once a year, but Money in the Bank feels like another WrestleMania. He said the MITB match is the most loaded field (he's not just saying that because he's in it) and two matches that could headline WrestleMania. He wants to talk about Seth Rollins and Roman Reigns. Then he asks questions about John Cena, Charlotte, Chris Jericho, Roman and Seth. Ambrose introduced his first guest, the "scum of the Earth" Seth Rollins.
Rollins made his entrance in his ring gear along with his new shirt. The WWE Champion Reigns walked out with the title. He was in his usual gear. Sign in the crowd: "Here Comes Roman Reigns Start Crying Smarks." Another one: "Seth Rollins is the Power Ranger Weasel Jesus." Good signs!
Ambrose asked Rollins how is Seth's knee. Rollins asked Ambrose if he watched the special on WWE Network – no reply by Ambrose. Rollins said his knee is 100% ready to go. Ambrose asked if his face hurt, Rollins wondered what he meant and Ambrose said "because it's killing me!" Mildly funny joke. Reigns said things are pretty good – he had fun on Bourbon Street. Ambrose called Rollins a sourpuss and a party pooper. Ambrose said they used to have so much fun. He said party pooper again so some fans chanted "party pooper" but not a lot.
Rollins mentioned a couple of years ago in New Orleans at the Superdome they took out the New Age Outlaws and Kane at WrestleMania two years ago. Rollins mentioned when they flew into London on a helicopter. He talked about the sushi train in Japan. Rollins also remembered Ambrose unconscious by a dumpster – Reigns said it was Albuquerque. Rollins said the best times he ever had was with them. He spoke about how their six man tags were legendary while referencing the one against the Wyatt Family at Elimination Chamber (my 2014 match of the year!). Then Rollins brought up the two matches against Evolution. He said they sent Batista packing and he owes them a favor because he's a Hollywood star. Some fans chanted "Bootista" for that. Rollins said the best time he had with them was when he took a chair and put it in their backs. Then he said another great moment was when he cashed in Money in the Bank at WrestleMania last year to become the first Shield guy to be World Champion.
Analysis: That's what you would call a swerve within a promo where Rollins was talking about positive moments for all three of them and then mentioned when he turned on them. Well done.
Reigns said the "big dog walks in as champ and the big dog walks out as champ" when asked what will happen. Rollins asked Ambrose if Reigns beat him for the championship. Ambrose said he asks the questions. Then Reigns said if Rollins is the rightful champ then why is Roman holding this title? Crowd laughed when Ambrose asked the same question. Rollins ranted about how it's because his knee gave out when he was carrying the company for the better part of last year. Rollins said that when he was gone, Reigns earned it by beating Ambrose at Survivor Series, then RR took care of Sheamus and then beat Triple H at WrestleMania. Rollins said that Reigns earned it, but the one thing he hasn't done is beat Rollins. Rollins told Reigns that he can't beat him and it's because Rollins is two steps ahead of him. Rollins claimed that Reigns couldn't have won the title without Rollins helping him with The Shield. Rollins claimed that he did everything on his own. Rollins emphatically said he'll take the title on his own.
Ambrose got in Rollins' face while questioning the "on my own" bit and he brought up J&J Security, The Authority and Corporate Kane. Reigns said that Rollins did screw him at WrestleMania on his own and Rollins broke up The Shield on his own. Reigns told Rollins that he (Seth) ended their brotherhood and he (Roman) was mad about it. Reigns told Rollins that he's going to have the spotlight on Sunday, but after Money in the Bank they're going to call Roman "The Guy" not just because he is the champ, but because he beat Rollins. Long staredown.
Ambrose wondered who will be champion at Money in the Bank. He said Rollins, then he said Reigns and then he mentioned what if he wins Money in the Bank contract and he cashes in that same night to walk out WWE World Heavyweight Champion.
Rollins went to walk away, then he shoved Ambrose in the back and Reigns was knocked out of the ring. They brawled in the ring a bit going for big moves. Reigns nailed Rollins with a Superman Punch. Ambrose snuck up behind Reigns and Ambrose hit the Dirty Deeds on Reigns. Ambrose looked up at the Money in the Bank briefcase while the other two guys were down in the ring.
Analysis: That was a good segment. I noticed no "what" chants, so it showed the crowd was interested. I thought they hit on all the important points with Rollins saying the only reason Reigns is holding the title is because of Seth's injury, which makes sense for Seth's character to say. Reigns didn't have much to counter that, but he put the heat on Rollins for breaking up the Shield trio. Ambrose mentioning the MITB cash-in possibility was exactly what he should have done. That's why it was a good segment – all three guys had valid points about why they are going to leave with the title. Of course the whole dynamic of this situation is weird because Rollins could be very popular if he was booked as the face that had just come back from a knee injury, yet here he is trying to get booed. It worked a bit, but it's not like he's getting massive heel heat. It was nice to see them in the ring together. Smart to tease a Shield triple threat too.
John Cena was shown backstage talking to Shane McMahon. He's up later.
Charlotte vs. Paige up next.
(Commercial)
Ambrose was shown backstage. Stephanie McMahon walked up to him. She congratulated him on the return of his talk show that was re-instated by Shane. Stephanie put him in a match against Chris Jericho. Ambrose questioned her being mean. Stephanie said that hatred is a good thing – you just have to know how to use it.
Analysis: The main event on Smackdown was Jericho beating Ambrose clean. Why do it again? I know Smackdown ratings are bad, but it's lame to do the same main event again. Plus, they had multiple PPV matches. I hate how WWE repeats so much.
The announcers welcomed Natalya and Becky Lynch joining them on commentary. The wrestlers were already in the ring. No time for entrances is bad sign in terms of giving a match time. Announced for Money in the Bank is Natalya & Lynch is Charlotte & Dana Brooke as expected.
Analysis: We're 80 minutes into the show and it's time for the second match. Took a while.
Charlotte (w/Dana Brooke) vs. Paige
This is non-title. Charlotte went for the figure four, Paige got out of it and hit a running. Paige did her "this is my house" yell. Paige nailed a standing side kick leading to Charlotte doing a face first bump like her dad. Natalya said they'll have justice at Money in the Bank. Lynch celebrated tapping Brooke out on Smackdown. Paige with a forearm shot when Charlotte tried a figure four. Boot to the face by Charlotte. Paige kicked Charlotte out of the ring. Natalya and Lynch talked trash to Charlotte. Brooke tossed Charlotte back in, so Paige nailed another kick and a Rampaige DDT by Paige won the match after three minutes. At least it was a finisher instead of the ROLLUP OF DEATH~!
Winner by pinfall: Paige
Analysis: 1/2* A rushed match that shows WWE really doesn't care about their women's division as much as they want people to believe they do. The story idea is that Charlotte wasn't ready to go back in the ring when Brooke tossed her back in. I think Paige beat her non-title prior to Extreme Rules too, yet it was never followed up on. Perhaps Paige is the next title contender after MITB although I don't know for sure. The booking of the women has been really poor of late even though I think Charlotte is a good heel.
Cesaro was interviewed by Renee Young. Sami Zayn walked up to say she needs both of them there to talk. Cesaro was upset about it. He said it's typical Sami because he's acting like a child. Zayn said they've been friends a long time and they are equals even though Cesaro has been there longer. Cesaro dropped some facts on him: He's been there for four years, Zayn's been there for four months and once you come here you start all over again. Cesaro told Zayn he's got a lot to prove and he should start tonight.
Analysis: I liked that Cesaro "dropped facts" on Zayn – a nice reference to Cesaro's injured tag partner Tyson Kidd, who I miss a lot.
(Commercial)
Backstage, Charlotte asked Brooke about what happened out there. Brooke said she was trying to help. Charlotte ripped on her for failing with Emma, but that there is no room for failure at the top. Charlotte said that Brooke gets to be part of her legacy. Charlotte said they had some work to do prior to Money in the Bank. Brooke said okay.
Analysis: There was some bad acting there. They haven't been an on screen pairing for a month, yet WWE is already teasing dissension. That was quick. I assume they will win on Sunday to show they are a cohesive unit although the champ in a tag match does suggest they take the loss too.
Sheamus vs. Zack Ryder
They didn't show either entrance. Sheamus nailed Ryder with forearms. Ryder sent Sheamus to the floor and then Ryder connected with a dropkick off the apron. Back in the ring, Ryder hit the Broski Boot in the corner. He nailed another one against the ropes. Ryder nailed an elbow drop off the top for two. Crowd is barely reacting as Ryder set up for his finish. Sheamus sent Ryder into the turnbuckle and Sheamus hit the Brogue Kick for the pinfall win after two minutes.
Winner by pinfall: Sheamus
Analysis: 1/2* A very short match to put over Sheamus prior to Money in the Bank. The crowd made no noise, so WWE has successfully killed Ryder's popularity again. Sheamus faces Crews at Money in the Bank, which is why he got the win here.
Post match, Sheamus beat on Ryder with fists in the corner. Here comes Apollo Crews with the save. Crews tackled Sheamus, he nailed some punches and a forearm shot that sent Sheamus out of the ring. Crews jumped on Sheamus outside the ring, so Sheamus jumped over the barricade to get away. JBL did the heel announcer thing by saying that Sheamus wasn't running away because Sheamus just had a match with Ryder.
Analysis: Good job by Crews with the attack. I liked that when Sheamus went out of the ring, Crews jumped on him. Too often in WWE you see guys stopping when somebody is out of the ring. That's silly and unrealistic. I like it better when the guys are more intense like Crews was here.
A Money in the Bank flashback aired from 2010 showing Kane winning the briefcase (the one from Smackdown) and then cashing in on Rey Mysterio to win the World Title later that same night.
Analysis: It was a good angle. Kane's character was really good in 2010 in terms of his promos and had some decent matches too.
Cesaro vs. Zayn up next.
(Commercial)
PLUGS: Here are links to other things I've written in the last week: My most recent retro review was all about the awesome ECW One Night Stand 2005 event from 11 years ago…Smackdown last week saw Jericho vs. Ambrose in the main event just like this week's Raw…Listen to the weekly TJRWrestling Podcast with my pal Rey Rey (not Mysterio) and myself right here…Lastly, here's my featured look at NXT Champion Samoa Joe as well as what his future in WWE could be. Thanks for the support.
Corporate Kane was talking to Shane backstage with Kane saying he wanted to leave their past behind them. They had a big feud in 2003. Kevin Owens showed up asking if Stephanie was around, but Shane said no. Owens said he didn't want to cause trouble, but he claimed Alberto Del Rio only showed up 20 minutes ago and called ADR unprofessional. Owens said that Shane should take him out of the Money in the Bank ladder match. Del Rio showed up angry saying that airport security stopped him for five hours because of Owens. Del Rio told him he's putting him down on Sunday. Del Rio spoke Spanish, so Owens spoke French. Kane suggested they calm down. He said they need a team building exercise, so he came up with a tag match of Del Rio and Owens against the Lucha Dragons. He suggested if the Dragons win then they replace Del Rio and Owens in the Money in the Bank match. Shane said they'll go with it. Del Rio was mad, so was Owens. Shane thought the match was a great idea.
Analysis: Here's the problem with this segment. They have KO saying ADR showed up 20 minutes ago as we're nearly two hours deep into the show. If you saw the opening of the show, he was standing on the ramp with the other wrestlers for the moment of silence for Orlando – ADR was beside his girlfriend Paige. Do the writers give wrestlers dialogue without even watching the show? That's bad. They should be better. Kane sucking up to try to get an "office" job again is mildly interesting.
Sami Zayn vs. Cesaro
It was pretty even early on. Nice job by the announcers putting over the great Zayn/Cesaro matches in NXT two years ago. Zayn with a headscissors, but then Cesaro came back with a backbreaker. Cesaro nailed an uppercut to nock Zayn out of the ring. Commercial two minutes into the match.
(Commercial)
Zayn with a cross body block off the top gets a two count. Uppercut by Cesaro. Cesaro hit several uppercuts for the uppercut train spot. Double foot stomp by Cesaro when Zayn tried to fight out of the swing. Zayn came back with a Michinoku Driver for a two count. Cesaro nailed a dropkick while Zayn was on the top rope. Cesaro nailed an impressive superplex for a two count. They each went for big moves and Zayn got a backslide for two. They ran the ropes, Zayn did a sunset flip into a Powerbomb for the win after eight minutes.
Winner by pinfall: Sami Zayn
They replayed the finish multiple times. Both guys looked up at the Money in the Bank briefcase above the ring.
Analysis: *** It was really good for the time given, but I wish it was longer. They are two of the best workers in the company. Why are they getting less than ten minutes? It needs to be timed out better so that the great wrestlers get more time to show what they can do. Loved the finish. It's such an incredible spot that's not easy to do, but they are two of the best. The win gives Zayn momentum and I think it was necessary because he's lost a few times in the last month. I don't think Cesaro is hurt by the loss because all six of the MITB guys have traded wins in the last month anyway.
The Cena/Styles contract signing is up next.
(Commercial)
A video aired about WWE's production. They do good work, but can we spend that minute on action in the ring? Thanks.
Michael Cole was in the ring with a table set up to introduce the two men for the contract signing.
Contract Signing for John Cena vs. AJ Styles at Money in the Bank
John Cena made his entrance with the crowd singing "John Cena suuuuucks" to his song. A clip aired of Styles' heel turn two weeks ago.
Cena picked up a microphone to address the crowd. He said they had a rowdy audience. Not really, but he's good at sucking up. Cena spoke about the Money in the Bank briefcase on the line, a championship match with a champion against a former champion and a match that people thought they would never see. He said for 15 years people asked if AJ Styles could face John Cena. He said that for whatever reason, the decision makers of WWE would tell Styles that he does not belong here. Cena said that he has respect for Styles because he didn't stop. Cena mentioned PWG, Ring of Honor and New Japan (no TNA), the one name synonymous with excellence is AJ Styles. Samoa Joe is another too. Cena talked about his 15 World Championships while saying Styles has won more than that – well not world titles. Cena said finally Styles is here and they will go face to face for the first time Sunday at Money in the Bank. Cena said that he talked to Shane McMahon earlier, so he suggested Cole leave the ring because this might get physical. Cena called out Styles.
Analysis: It's pretty ridiculous to talk about Styles' history without mentioning his 12 years in TNA considering he was known for being the man in that company, but that's what WWE does. They just won't mention TNA.
Styles made his entrance. Some fans chanted "AJ Styles" for him.
Styles claimed that people were still talking about what Styles did to Cena two weeks ago. Styles told Cena he's going to run circles around him and he'll be the saying "you can't see me" because Cena can't beat me.
Cena said there are two contracts in front of him. One of them is Cena vs. Styles one on one while the other is Cena vs. Styles with The Club. Cena said Styles will win if The Club is there while Styles will secure his spot as "captain of the Bitch Club." That drew a big "ohhh" reaction. Cena told Styles that if he signs the other one they'll have the electricity they had the first time they were in the ring "Let's Go Cena/AJ Styles." Cena said if Styles signed that one they get a real answer to the "what if" question.
Styles realized that Cena thinks that Styles can't beat him. Styles talked about Cena's World Titles, two Royal Rumble wins and how he's the face that runs the place. Styles told Cena if Styles was there 15 years ago then Cena wouldn't have been a 15 time World Champion, he wouldn't have won the Royal Rumble twice, he wouldn't be on magazine covers and in crappy movies. Styles claimed that he would have been the face that runs the place.
Cena told him to shut up. Cena said that Styles' club isn't full of bullets, it's just full of bull. Cena said he gave Styles respect, but Styles whines and complains like other indy dudes that are entitled. Cena said that Styles has a chance to step up, knuckle up and do it now. Cena encouraged Styles to sign the contract while telling Styles if he signed the other one they'll send him back on a bullet train to Japan because apparently Styles left his balls over there. Styles signed the contract for the singles match without The Club at ringside.
Styles said that Cena will find out real quick that he's not like every other independent guy "with your K-Mart shopping ass." Styles told Cena that after it's over, his time is up and AJ's time is now. Styles left. Nothing physical.
Analysis: That was an outstanding exchange. Cena dropped a couple of Bullet Club references to get people like us riled up, but they focused on the main story of this feud. It's about Styles proving he's better Cena on his own. It was Cena's way of talking him into doing a regular singles match because based on that contract The Club isn't allowed at ringside. That doesn't mean they won't be there at all, though. I thought Cena was exceptional here. His promos are as good as anybody in WWE when he's there to sell a match. The promo before Styles came out did an excellent job of putting over Styles without making it about the hate that Cena has for him. If you talk about how good a guy is, that makes fans believe it and in Styles' case it is easy to believe. I'm leaning towards a Cena win on Sunday, but I think they will continue the feud and Styles will get a big win soon.
Backstage, Zayn was talking to Shane and they shook hands about something. We couldn't hear them.
Owens/Del Rio vs. Lucha Dragons is next.
(Commercial)
A flashback to the 2013 Money in the Bank contract match was shown with Randy Orton getting the win. He cashed in and won the WWE Title one month later at SummerSlam. The video didn't show Triple H hitting a Pedigree on Daniel Bryan.
Alberto Del Rio & Kevin Owens vs. Lucha Dragons
If Del Rio and Owens lose, they are out of Money in the Bank. If you think they are losing you are dumb.
Del Rio started with Kalisto. Then he slapped Owens to tag him in. Del Rio tagged himself back in. Owens teased leaving. Kalisto got a rollup, Del Rio hit a clothesline and the heels argued again. Double dropkick by the Dragons. Double suicide dives by the Dragons. Time for a break.
(Commercial)
Back from break, Del Rio with a clothesline on Kalisto. Owens with a senton splash. Del Rio tagged himself back in. More arguing. Kalisto dropkick on Del Rio sent Owens out of the ring. Kalisto hit the Salida del Sol on Del Rio, so ADR rolled to the floor. Sin Cara tagged in and hit a Swanton Bomb on Del Rio for two. Owens tagged himself in. Sin Cara cross body block on KO as well as a springboard back elbow. Moonsault by Sin Cara. Kalisto went for a dive on ADR, but Del Rio sent him into the barricade. Owens knocked Del Rio off the apron accidentally. Rollup by Sin Cara gets two. Owens comes back with the Popup Powerbomb for the win after eight minutes.
Winners by pinfall: Alberto Del Rio & Kevin Owens
Post match, Del Rio nailed a standing side kick to knock out Owens.
Analysis: **1/4 It was a decent match although the result was never in doubt. The bickering by Owens and Del Rio was fun.
The announcers plugged WWE Network.
The Miz sent a video from the set of The Marine 5. Basic skit where he told a guy on set that the coffee was too cold. Yawn.
Analysis: I miss seeing Maryse. That's all I have for this.
Jericho vs. Ambrose coming up next.
(Commercial)
Kevin Owens was backstage with Stephanie McMahon. He said it was a crappy night. He said he heard Zayn was on commentary for the main event, so he wanted to be on commentary. Del Rio showed up. She made him the timekeeper.
A recap of the Ambrose Asylum segment from earlier was shown.
Shane and Stephanie were in the office arguing. Stephanie complained about Shane bringing back the Ambrose Asylum. Then they argued about decisions they made. Shane said that Cesaro's the guest ring announcer for the main event. Stephanie told Shane that Kane is crazy. Shane said that he actually bonded with Corporate Kane. When Kane walked in, they told him that he wouldn't get a job because they need somebody more stable. Kane wondered if it was about the "whole car batteries to the testicles thing" which drew some laughs. Shane said it didn't help his case. Shane told her that Kane is unfit to run Smackdown, but so is she. Shane said that they can keep co-running Raw, but he will run Smackdown. Stephanie didn't seem happy.
Analysis: All of these segments hurt my head with the back and forth discussion about wanting to run Smackdown. There's still no word on specifics about the brand extension. Maybe next week after Money in the Bank.
Sami Zayn and Kevin Owens were on commentary on opposite sides of the announce table. Alberto Del Rio is the timekeeper and Cesaro's in the ring as announcer.
Cesaro's entrance for Jericho included him saying "from Winnipeg, Manitoba, Canada and now residing in Stupid Idiotville, Chris Jericho." They went to break with Jericho getting in the ring.
(Commercial)
Announced for Smackdown is a six man tag with the six Money in the Bank guys: Ambrose, Zayn & Cesaro vs. Jericho, Owens & Del Rio. They did the match two weeks ago on the May 30 episode of Raw as well as many other tag matches between them in the last month.
Cesaro said Ambrose was from Cincinnati, Ohio "looking like he just rolled out of bed." Jericho is on ESPN Tuesday night talking about Money in the Bank. Owens said that Jericho will call Coach a stupid idiot. Good spoiler alert.
Chris Jericho vs. Dean Ambrose
Ambrose with a cross body block and then a suplex. Owens said Cesaro's the worst ring announcer while adding that he looks like he is wearing his dad's suit that he is too big for. Ambrose with a forearm sent Jericho to the floor. Suicide dive by Ambrose sent Jericho into the announce table. Ambrose took the headset off Owens. Jericho attacked Ambrose from behind and sent him into the barricade. They went back in the ring. Jericho hit a springboard dropkick that sent Ambrose to the floor. That led to Owens, Zayn, Cesaro and Del Rio arguing on the floor. Commercial time.
(Commercial)
Jericho with a chinlock on Ambrose. Owens and Zayn were back on commentary. Ambrose with forearm shots to the face and then a running clothesline took down Jericho. Jericho came back with a clothesline of his own. Ambrose with a front suplex off the top rope. Jericho came back with the Walls of Jericho in the middle of the ring. Ambrose got to the ropes, so Jericho came back with a Lionsault for two. Ambrose with a clothesline took down Jericho again. Ambrose with a boot to the face and then a flying elbow smash for a two count. Ambrose with a slingshot sent Jericho over the top rope onto the apron. Ambrose blocked a Codebreaker and hit a Dirty Deeds DDT for the win after 13 minutes. Del Rio rang the bell and Cesaro announced the winner.
Winner by pinfall: Dean Ambrose
Analysis: **1/2 It was an okay match that didn't feel like a big deal because we've seen it so much. Plus, the guys outside the ring were getting a lot of attention. Jericho got the win on Smackdown, so Ambrose gets the win here. It's the usual 50/50 booking that dominates WWE programming so much that fans have become numb to the match results since they repeat the same things so often.
Owens went after Ambrose. Then Zayn went at Owens and Del Rio hit Zayn with a Backstabber. Cesaro with a springboard uppercut on Del Rio. Ambrose dropkicked a ladder into Owens. Four guys were brawling on the floor, so Zayn went to the top rope and hit a somersault dive to take them down.
Jericho was alone in the ring with a ladder while the others were down. Jericho set up the ladder, climbed up and he grabbed the Money in the Bank briefcase that was above the ring. He posed with the briefcase as his music played. Jericho sat on the ladder with the briefcase. That's how Raw ended.
Analysis: That's similar to how their interactions have been in the past where different people have climbed the ladder to get the briefcase as a way to tease what might happen. I don't see Jericho winning on Sunday. I'm not sure if I'm picking Kevin Owens or Dean Ambrose yet. I'll figure it out by the end of the week.
Three Stars of the Show
1. John Cena
2. AJ Styles
3. Dean Ambrose
The Scoreboard
6.5 out of 10
Last week: 5
2016 Average: 5.74
Last 5 Weeks: 5, 4.5, 7.5, 5, 6
2016 High: 9 (April 11)
2016 Low: 4 (Feb. 29/Mar. 21)
Final Thoughts
I'm giving it a 6.5 out of 10, which is slightly above the yearly average.
A promo heavy show highlighted by the Cena/Styles segment. They did a good job of putting over the importance of that match as well as Reigns/Rollins and the Money in the Bank match. It's definitely a three match show on Sunday carried by those matches.
I like that both Cena and Rollins haven't had a televised match since returning from injury. That makes Money in the Bank more compelling.
It's incredible that a show that runs so long can have several matches feel rushed, yet that's what happened.
Here's the Money in the Bank lineup.
WWE World Heavyweight Title Match: Roman Reigns vs. Seth Rollins
John Cena vs. AJ Styles
Money In the Bank Ladder Match: Dean Ambrose vs. Kevin Owens vs. Alberto Del Rio vs. Sami Zayn vs. Cesaro vs. Chris Jericho
Fatal 4 Way for the WWE Tag Team Titles: The New Day vs. Luke Gallows & Karl Anderson vs. The Vaudevillains vs. Enzo Amore & Big Cass
WWE United States Title: Rusev vs. Titus O'Neil
Charlotte & Dana Brooke vs. Natalya & Becky Lynch
Sheamus vs. Apollo Crews (Kickoff Match)
Baron Corbin vs. Dolph Ziggler (Kickoff Match)
Our PPV preview should be up on Friday afternoon.
—
Thanks for reading. Go Toronto Blue Jays.
John Canton – mrjohncanton@gmail.com
Twitter @johnreport