The John Report: The WWE Raw Deal 05/10/21 Review
Welcome to the WWE Raw Deal review for this week. It's the last Raw before Sunday's WrestleMania Backlash pay-per-view event on Peacock/WWE Network. We will have a preview of WrestleMania Backlash up on TJRWrestling on Saturday and then I'll review it on Sunday night. Most of the card is complete, but there will still be more matches added during the week. Most importantly, Eva Marie is back. That's what really matters.
This is the Raw Deal for episode #1459 of Monday Night Raw. It's taking place at the WWE ThunderDome at Yuengling Center in Tampa, Florida. Follow me on Twitter @johnreport. Please visit TJRWrestling.net daily for our regular updates on the wrestling business featuring WWE news coverage, insightful columns from our team along with reviews about wrestling's past (including my reviews of every WWE PPV ever listed in order) and present. Let's roll.
Raw began with a video package about last week's main event with Bobby Lashley beating Braun Strowman as Strowman was distracted by McIntyre. After the match, McIntyre hit Lashley and Strowman with Claymore Kicks to knock them both down. The Raw intro video aired after that.
The pyro went off in the Thunderdome with the fans on the screens all around the arena. The announce team of Adnan Virk, Corey Graves and Byron Saxton welcomed us to the show while promoting the McIntyre vs. Lashley main event match.
Charlotte Flair entered first for the six-woman tag team match that was already announced over the weekend. Shayna Baszler and Nia Jax entered with Reginald as the Women's Tag Team Champions. The babyfaces were next with Mandy Rose and Dana Brooke aka the Sexy Muscle Friends, but that's not an official name. Asuka was up last for that team.
Analysis: It's nice to see Raw start with a match instead of the usual promo. They need to do this more often.
Charlotte Flair, Shayna Baszler & Nia Jax (w/Reginald) vs. Asuka, Dana Brooke & Mandy Rose
Jax used her power to take control against Rose in the heel corner. Baszler tagged in, Rose drove Shayna to the corner and Asuka tagged in against Baszler with Asuka hitting a dropkick on Baszler while Asuka and Brooke also hit dropkicks. The heels got back into the ring as the six women bickered in the ring. The action stopped as Alexa Bliss appeared on the stage on her swing with Lilly the evil puppet. Bliss said that she was sorry, but Lilly is not and Lilly wanted to keep an eye on "someone" there. Bliss laughed as the show went to break.
(Commercial)
The match continued with Charlotte working over Rose with her legs around the throat and driving Rose's head into the mat. Bliss was shown talking to her puppet friend as Baszler tagged in with a neckbreaker. Jax was back in with a body slam. Rose avoided a Samoan Drop, Brooke tagged in, Baszler was back in and Brooke hit a clothesline on Baszler followed by a handspring elbow and a bulldog for two. Baszler with a backbreaker on Brooke. Baszler was unable to walk across the ring because she had a knee injury out of nowhere and Asuka tagged in with a Shining Wizard knee for the pinfall on Baszler. This went about nine minutes.
Winners by pinfall: Asuka, Dana Brooke & Mandy Rose
Analysis: * I think the evil puppet gimmick is dumb and now that it's affecting matches, that makes me less interested in the matches. It's hard for me to write positive things about a match where Baszler has to sell a knee injury because the puppet caused it? I guess that was the storyline. If this evil puppet went away I wouldn't complain, that's for sure. Anyway, the match meant nothing because of how shitty the finish was. I feel bad for the wrestlers in the match.
After the match, Charlotte hit Asuka with a boot to the face. Bliss and Lilly the evil puppet laughed after the match was over.
The New Day guys were standing backstage talking about their match with Riddle going up to them on his scooter. Riddle did his rambling stoner promo. Randy Orton showed up shortly after that. Kofi Kingston said he wasn't that upset about Orton getting hit by the tomatoes last week and Xavier Woods sarcastically said he would rather get hit with the tomatoes. Riddle said he thought it was funny that Orton was hit with the tomatoes. Orton said he finds it funny when he ends careers, killing legends, kicking people in the head and setting things on fire. Randy: "See you guys out there." Riddle said we'll "catch up" and then laughed saying ketchup because of the tomatoes. That tag match is later.
Analysis: I like the dynamic between Riddle and Orton. I'm glad it's going to continue instead of Randy turning on Riddle quickly.
(Commercial)
PLUG TIME: My most recent retro WWE PPV review is Judgment Day 2002. This was a very good show with a lot of star power. The main event with The Undertaker beating Hulk Hogan wasn't very good, but there were some excellent matches with Edge beating Kurt Angle in a hair match and I liked the Triple H/Chris Jericho Hell in a Cell match too. Eddie Guerrero and Rob Van Dam did a nice job in the opener too. Plus, Steve Austin vs. Ric Flair/Big Show too. Lots of star power. I plan on posting two or three more retro PPV reviews during the week because they're already done. You can find a listing of all my WWE PPV reviews listed in order from when they took place right here on TJRWrestling. Thanks for reading.
There were highlights shown from Elimination Chamber when Bobby Lashley beat up Drew McIntyre. That led to The Miz cashing in Money in the Bank on McIntyre to be WWE Champion. Lashley won the WWE Title from Miz eight days later.
MVP was shown walking down a hallway to Braun Strowman's locker room. MVP knocked on the door, then he let himself in and Braun Strowman was talking to a short guy (Ryan Ward from WWE's creative team). MVP said that Lashley didn't beat Strowman last week, McIntyre did. MVP claimed that Lashley says that Strowman is the strongest individual that Lashley has ever fought. MVP said that if Lashley were to lose the WWE Title, he'd rather lose it to Strowman since McIntyre has already had his shot at Lashley. MVP spoke about how if McIntyre were to get injured then it would be just Lashley vs. Strowman at WrestleMania Backlash. Strowman said he didn't like MVP, so MVP said a lot of people feel that way, but don't take it personally because it's just business.
Analysis: They are teasing the idea of Strowman possibly injuring McIntyre to set up Strowman vs. Lashley at WrestleMania Backlash. This isn't the first time MVP has wanted people to injure McIntyre, which puts over Drew as a threat.
New match at WrestleMania Backlash: Damian Priest vs. The Miz. Priest beat John Morrison last week.
Damian Priest was in the office of WWE Official Adam Pearce. John Morrison and The Miz showed up with Pearce saying he invited them all in there. They exchanged words. Priest said if Morrison can beat Priest then Miz can pick the stipulation for the WrestleMania Backlash match and if Priest beats Morrison then Priest gets to pick the stipulation. Miz was hesitant, but Morrison agreed to it. Miz wasn't happy about it, but it was done.
Jinder Mahal was shown staring into the camera. Jinder said he is happy to be excited to be back on Raw. Jinder had Veer and Shanky with him with Jinder saying he will remind us why he is a former WWE Champion. Mahal made his entrance with his new entourage by his side.
Analysis: Jinder has been out of action since last April. He has missed most of the last two years with major knee injuries. Mahal faced Jeff Hardy on Main Event last week and now they are doing that match on Raw.
(Commercial)
Jeff Hardy made his entrance as the opponent. The creative team has had nothing for Jeff to do for months now. That's disappointing considering his history in WWE.
Jinder Mahal (w/Veer & Shanky) vs. Jeff Hardy
Mahal has a shaved head now. Mahal with a knee lift that rocked Jeff followed by a boot to the face. Mahal with a vertical suplex and then a chinlock. After about a minute, Hardy hit a jawbreaker, then a spin kick to the gut and Jeff hit a running forearm. Hardy with two boots to the face followed by a double axehandle off the middle rope. Hardy wanted the Twist of Fate, Mahal shoved him off and Mahal hit a jumping knee to the face. Mahal hit The Khallas for the pinfall win after about three minutes.
Winner by pinfall: Jinder Mahal
Analysis: *1/4 A squash match with Jeff Hardy barely getting any offense. Jeff didn't even get to do some of his signature spots because the match was about putting over Mahal. Poor Jeff hasn't had anything to do for months and then is used for a spot like this. I know it makes Mahal look impressive, but they need to do more with Jeff. Anyway, Mahal should have a decent run on Raw with the two guys watching his back at ringside. A problem with Raw right now is the lack of babyfaces for fans to get behind. It always feels heel heavy and they don't seem to want to get behind faces.
Sonya Deville was in the WWE office talking to Charlotte Flair, who changed out of her wrestling gear and was in street clothes to have a conversation.
Elias and Jaxson Ryker had a bucket of tomatoes. AJ Styles and Omos, the Raw Tag Team Champions, wondered what they were doing. Styles didn't want to hear a song or hear about tomatoes. Styles noted he shaved off the beard, but he still has a goatee that makes him more aerodynamic. Styles tossed Omos a tomato, then Omos said it will be their opponents and Omos crushed the tomato.
Riddle made his entrance, he kicked off the flip flops and they replayed it as well. That led to a break.
(Commercial)
Randy Orton made his entrance as part of the face team. Yes, I guess Orton is an unofficial, reluctant babyface now. When Orton did his poses on the turnbuckle, Riddle was doing the poses in the ring too. Riddle was hilarious as he got excited to team with Orton again. The New Day's Xavier Woods and Kofi Kingston were up next for the team.
Analysis: Riddle getting excited about teaming with Orton makes me laugh a lot. It works.
Riddle, Randy Orton, Xavier Woods & Kofi Kingston vs. AJ Styles, Omos, Elias & Jaxson Ryker
It was a bit strange to see the heel team facing the hard camera because usually, the face team is there. Riddle went for the armbar submission on Elias, who crawled to the ropes to get out of there. Ryker faced off with Riddle, but then Omos decided to tag in. Omos grabbed Riddle and tossed him across the ring. Omos blocked a Riddle kick and flipped Riddle over. Woods and Kingston ran at Omos, so Omos knocked them down easily. Orton teased facing off with Omos, but then Omos bailed to the floor.
(Commercial)
The match continued with Elias stomping on Riddle repeatedly. Ryker tagged in with a belly to back suplex. Styles was in for his team, Riddle avoided a suplex and Woods tagged in with a sliding flatliner. Styles with a shot to the throat, Kingston tag and Woods set up Styles for Kofi hitting a cross body block for two. Styles and Woods made more tags as Kofi hit a backbreaker and then Woods hit a missile dropkick on Elias, who was in there illegally. Styles hit a spinebuster on Woods. Ryker was back with repeated stomps on Woods. Elias was back in with a spinebuster of his own for two. Woods tried to fight out of the heel corner with Elias hitting a spinebuster into a slam for two. Ryker with a chinlock, Woods countered with a jawbreaker and Ryker hit a spinebuster for two. This match has had a lot of spinebusters. Elias was back in with a twisting suplex for two. Woods got a sunset flip on Elias for two and then Riddle got the tag. Riddle with a knee for Elias, suplex on Ryker, Riddle knocked Styles off the apron and Riddle hit the Bro Derek on Elias for two with Omos making the save. Omos sent Riddle into the corner, Orton got the tag and Omos punched Riddle, who jumped towards him. New Day did a double team attack on Styles as they pulled on AJ's legs. Orton snuck into the ring and hit an RKO on Elias for the pinfall win after 12 minutes.
Winners by pinfall: Riddle, Randy Orton, Xavier Woods & Kofi Kingston
Analysis: **3/4 This was a good tag team match for the most part with Orton picking his spot. This was the first loss that Omos has suffered, but nobody seemed to mention it since he wasn't pinned and it's not a regular 2 on 2 tag team match. I think it was the right call to have RK-Bro continue their positive momentum with Orton beating Elias with one move. The team of Elias and Ryker lose most of their matches anyway.
After the match, New Day tried to celebrate with Orton. That led to Orton hitting an RKO on Woods and Orton hit an RKO on Kingston as well. Riddle wasn't happy about it since Riddle is friends with New Day. Orton left on his own. Riddle was confused by it all…bro.
Analysis: It showed that even though it might seem like Orton is a babyface now, it doesn't mean he has to be a good guy.
Sonya Deville was in the WWE Officials office. Rhea Ripley, the Raw Women's Champion, and Asuka into the office. Sonya said that she was presented an idea, so she's going to have Asuka face Ripley. That led to Rhea pointing out that Charlotte was in there earlier, Deville wouldn't confirm that Charlotte had the idea and Asuka said that she was ready for Rhea. Ripley spoke confidently about how she was going to win the match.
Analysis: That means they are doing Ripley vs. Asuka and Lashley vs. McIntyre on this show. Both matches are WrestleMania rematches.
Sheamus entered with the US Title around his waist. Sheamus is in action up next.
This Friday on Smackdown, Roman Reigns has to try to maintain order in the bloodline or Cesaro will try to cause some family chaos. They also have Jax/Baszler defending the Women's Tag Team Titles against Natalya/Tamina, but that wasn't mentioned.
(Commercial)
They kept on promoting McIntyre vs. Lashley throughout the show as the main event.
Bobby Lashley and MVP were interviewed in the locker room by Kevin Patrick. MVP said that at WrestleMania, Lashley proved he was the better man against McIntyre and tonight will be no different. MVP said it was like a sequel to a movie. Lashley said last week he pinned Braun and tonight he'll pin Drew again. Patrick brought up MVP wanting Lashley and Strowman to work together to take out McIntyre. MVP said that they don't comment on business negotiations and said that discussions are ongoing.
Sheamus did a promo talking about how last week he Brogue Kicked two men – Mansoor and Humberto Carrillo. Sheamus said it was suggested to him that he should defend the US Title like former US Title holders have done in the past. Sheamus said that the dopes would give anybody a shot at the title, even a guy like Virk who is out of his depth on commentary. Ouch. Sheamus said that these guys challenging him are great athletes, but they are not on his level. Sheamus said that Humberto will try to earn Sheamus' respect and he said all Humberto will get is a Brogue Kick upside the head.
Analysis: I like the heel promos of Sheamus. I'm not sure if Carrillo or Mansoor is the best choice for a rival, but at least it is giving a chance to some younger guys.
Sheamus vs. Humberto Carrillo
This is not for the US Title held by Sheamus. Carrillo sent Sheamus into the ropes, shoulder tackle by Sheamus and then Sheamus hit forearms to the back. Carrillo came back with an arm drag, then a dropkick to send Sheamus out of the ring and Carrillo this a springboard dropkick. Sheamus pulled Carrillo out of the ring and then Sheamus tossed Carrillo into the barricade at ringside.
(Commercial)
Sheamus was in control with an armbar. Carrillo came back with punches, but Sheamus stopped him with an elbow smash. Sheamus hammered Carrillo with repeated forearms to the chest. Sheamus pulled on Carrillo's mouth for the camera shot of Sheamus causing pain since Sheamus likes doing that. Carrillo with a jawbreaker, but Sheamus came back with an Alabama Slam for two. Sheamus lifted Carrillo on his shoulders on the middle rope, but Carrillo came back with a hurricanrana off the top. Sheamus was on the apron, punch to the ribs and Carrillo delivered several elbows followed by Carrillo jumping over the top with a Sunset Powerbomb on the floor. Sheamus landed on Carrillo's legs and the referee checked on both guys. The referee waved off the match. Carrillo landed hard on his leg/ass/hip area and suffered a legit injury. Sheamus had his hand raised as the winner. It went about 11 minutes.
Winner: Sheamus
Analysis: **1/2 It was good while it lasted, but a legitimate injury caused the match to end. I'm a bit surprised that Sheamus gave Carrillo as much offense as he did. It shows how willing Sheamus is to work with younger guys on the show. Sheamus is a talented veteran.
You can see the landing here sponsored by Army of the Dead: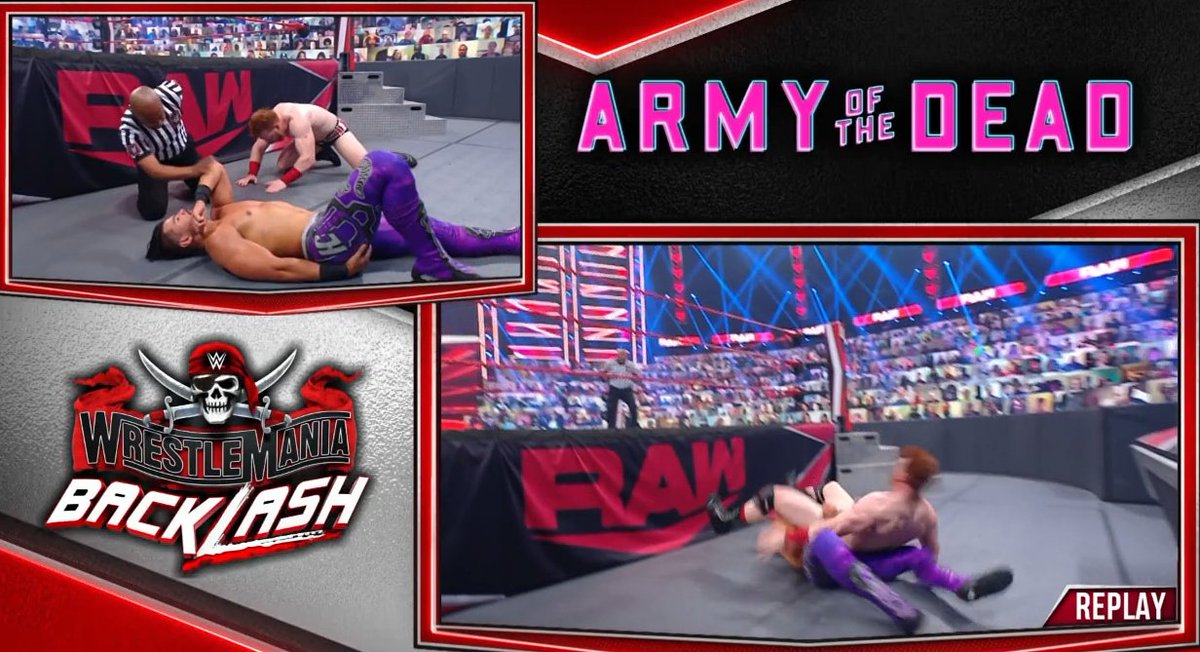 Analysis: The combination of Sheamus landing on Humberto's leg and Humberto's butt hitting the floor hard likely caused an injury. I hope Humberto is okay. (Tuesday morning update via PWInsider is that Carrillo is going to be okay. No major injury. Wrestling Observer's Dave Meltzer also said that on his radio show.)
They aired a video package about the Lucha House Party duo of Lince Dorado and Gran Metalik. Dorado talked about how they're a team that likes to have fun. They showed some highlights.
Cedric Alexander entered for a match against his former partner Shelton Benjamin.
(Commercial)
There was the same Eva Marie video package that aired last week. It was better than most things on this episode. It just said "coming soon" to end it. Graves had a good line saying he thought he was dreaming until he looked over and saw Saxton.
Shelton Benjamin entered to face Alexander. They were wearing similar colors on their ring gear as former partners.
Cedric Alexander vs. Shelton Benjamin
Alexander hit a dropkick. Benjamin went for Paydirt, but Alexander bailed to the floor. Alexander wrenched on the knee of Benjamin against the middle rope. Alexander applied a kneebar submission on the left leg of Benjamin. That led to Shelton standing up and turning it into a Sharpshooter, but Alexander got to the bottom rope to break the hold. Alexander with a dropkick to the left knee and then Alexander dropkicked Benjamin under the bottom rope to the floor. Alexander hit a suicide dive that sent Benjamin into the barricade. Alexander tried it again, but this time Benjamin hit a knee lift to the face. Benjamin went for Paydirt, Alexander avoided it and hit a dropkick again. Benjamin with a handspring into the ropes leading to a jumping Neuralizer kick to the face. Alexander did some trash-talking instead of going for a cover. Alexander yelled at Benjamin to get up, so Benjamin hit a quick T-Bone Suplex for the pinfall win after five minutes.
Winner by pinfall: Shelton Benjamin
Analysis: **3/4 It was good for the time given. This was one of those matches where Alexander was on offense for most of it, then he was too cocky to try to win the match because he would rather trash talk and the more experienced guy Benjamin got the win. Benjamin used to use that T-Bone Suplex as a finisher in his first WWE run in the 2000s. It's not a huge move, but with Benjamin pinning quickly, it does looks credible as a finisher.
Angel Garza was shown doing a photoshoot with a rose in his mouth. Drew Gulak walked over to him wondering if Garza had any respect for their profession. Gulak complained about how Garza embarrassed and humiliated him last week (Garza put a rose in Gulak's trunks and kicked him). Garza said maybe next time he'll shove that rose down Gulak's throat.
Asuka made her entrance for singles action after a break.
(Commercial)
Rhea Ripley entered as the Raw Women's Champion for this non-title match. The WrestleMania Backlash match will see Ripley defending her title vs. Asuka and Charlotte Flair in a triple threat match.
Asuka vs. Rhea Ripley
The match started with Asuka going after Ripley with Virk mentioning that Asuka already wrestled tonight, so he wondered about her health. What? Asuka was barely in the ring for that match. Anyway, Asuka hit a dropkick and a hair toss across the ring. Ripley tossed Asuka across the ring. Asuka tried a drop toe hold, but Ripley blocked that with some stomps to the body. Asuka went for the armbar on the right arm, Ripley got her foot on the bottom rope and Ripley bailed to the floor. Ripley avoided an Asuka attack followed by Ripley kicking Asuka onto the floor. Ripley tossed Asuka back into the ring. Charlotte Flair's music hit as "The Queen" made her entrance to watch the match in street clothes. Asuka nailed Ripley with a spinning back fist to the head. Charlotte told Asuka she was just there to watch as the show went to break.
(Commercial)
Ripley had Asuka grounded in the ring as Charlotte Flair joined the announcers for this match. Ripley with a dropkick on Asuka, Ripley with shoulder tackles and Charlotte said she just wanted to scout her competition. Ripley stomped on Asuka's back followed by a kick to the leg. Ripley kicked Asuka in the back of the leg. Ripley with two clotheslines, Asuka went for a double knee attack and then Ripley kicked Asuka in the head. I think they messed up something there. Ripley sent Asuka into the ring apron. Asuka kicked Ripley and Asuka hit a sliding knee on Ripley on the floor, which led to a two count in the ring. Asuka went for the Asuka Lock, but Ripley sent Asuka out of the ring. Asuka stared at Charlotte, so Ripley hit Asuka with a headbutt. Ripley tossed Asuka back into the ring. Ripley hit a Northern Lights Suplex for a two count. Asuka with double knees to the face for two. Ripley left the ring to talk to Charlotte, so Asuka jumped off the table and hit a hip attack on Ripley. Back in the ring, Asuka hit a missile dropkick on Ripley for a two count. Asuka went for the hip attack in the ring, Ripley with a kick to the side of the head and Ripley hit the Riptide slam for the pinfall win after about 13 minutes.
Winner by pinfall: Rhea Ripley
Analysis: *** It was a competitive match with a clean finish that surprised me a bit. I thought Charlotte was going to interfere to cost one of them the match, but Ripley ended up beating Asuka clean. There were a few moments where I think they messed up a spot or two although it wasn't that bad to where I would say it hurt the match a lot. Asuka losing clean again to Ripley shows that Ripley has figured her out. Considering Asuka held the title for nearly one year, it's okay for her to have some clean losses now.
Ripley celebrated the win while Charlotte Flair looked on from ringside. There was no post match attack.
Analysis: I think Ripley should keep her title at WrestleMania Backlash, but it wouldn't shock me if Charlotte wins the title.
There was another video of last week's main event of Raw. They already aired it at the beginning of the show.
Drew McIntyre was interviewed by shorty Kevin Patrick. Drew spoke about last week with two Claymore Kicks. Drew said that he can't worry about Strowman and Lashley working together to attack him. McIntyre said tonight he'll connect with that Claymore on Lashley and then on Sunday, Drew will be WWE Champion again.
The Miz made his entrance wearing his suit. John Morrison was up next for his match.
(Commercial)
Damian Priest made his entrance against the same guy he beat last week. There's a WWE Chronicle documentary about Priest on Peacock/WWE Network that's available on-demand now.
John Morrison (w/The Miz) vs. Damian Priest
Priest with a sidewalk slam. Morrison has "DRIP" on the side of his head since he's "Johnny Drip Drip" now. Morrison with a kick to the gut and then Morrison with a takedown leading to punches. Morrison did a cartwheel into a knee to the face for two. Priest sent Morrison into the turnbuckle, Morrison avoided a kick, then Morrison with two kicks and Morrison flipped off the ropes, but Priest caught him with a punch to the face. Morrison was under the bottom rope, so there was no pin. Miz faced off with Priest on the floor, which led to a break. That's a weird spot for a break, but that's what WWE does when a wrestler is on the floor.
(Commercial)
Priest hit a jumping back elbow. Morrison came back with a shot to the face and then a clothesline to the floor. Miz delivered a cheap kick to the head Morrison distracted the referee. Morrison hit a Russian legsweep for two. Morrison with a chinlock, Priest with the bell clap to the head and then a spin kick. Priest delivered body kicks, then a punch and a running back elbow. Priest hit the Broken Arrow slam for two. Priest went up top, Morrison with punches and Priest blocked a move. Priest tossed Morrison down with John doing a moonsault bump landing on his chest. Priest jumped off the top with a spin kick for two. Priest for a Chokeslam, but Morrison countered it into a pin attempt where he sat on top for two. Miz distracted the referee, Morrison had Priest pinned and then Priest kicked out. For the second week in a row, Miz accidentally cost Morrison. Priest with a running clothesline and Priest with the Hit the Lights neckbreaker for the pinfall win after 14 minutes.
Winner by pinfall: Damian Priest
Analysis: ***1/4 This was pretty good just like last week's match. It's a shame that Morrison is basically booked to be a comedy guy in skits because he's so talented in the ring. They did a similar spot here with Morrison getting a pin attempt that would have won the match, but Miz was distracting the referee. I wonder if that means the Miz/Morrison team is going to split up soon. Priest winning was obvious since he has picked up so many wins against these guys in the last few months.
The win by Priest means he gets to pick the stipulation of his WrestleMania Backlash match against The Miz.
Post match, Miz attacked Priest with punches and kicks. Priest went for a kick, but Miz ran away. Priest delivered the Hit The Lights neckbreaker on Morrison.
Drew McIntyre and Bobby Lashley were shown warming up separately. As Lashley was getting ready, Braun Strowman showed up for a staredown.
(Commercial)
There was an Eva Marie video where they showed her taking a part in a photoshoot. Eva said that some people see her as a supermodel, but she thinks she is a super role model. Eva said that life is not picture perfect, but anything is possible. "This is Eva-lution." Coming soon to Raw.
Analysis: Fine looking woman. That's all I have.
Adam Pearce, the WWE Official, was in his office. Damian Priest walked in saying he wanted a Lumberjack Match so that The Miz can't run away from him. Pearce was fine with that. Priest said that you can have guys from Raw and Smackdown surrounding the ring to prevent The Miz from leaving the ring.
Analysis: That's cool. Priest should win that match. Maybe we'll see problems between The Miz and Morrison as well.
The announcers did a rundown of the WrestleMania Backlash card in this order. The order doesn't matter in terms of how the matches will air on Sunday.
Raw Women's Championship: Rhea Ripley (c) vs. Asuka vs. Charlotte Flair

Smackdown Women's Championship: Bianca Belair (c) vs. Bayley

Smackdown Tag Team Championships: Dolph Ziggler & Robert Roode (c) vs. Rey & Dominik Mysterio

WWE Universal Championship: Roman Reigns (c) vs. Cesaro

Lumberjack Match: Damian Priest vs. The Miz

WWE Championship: Bobby Lashley (c) vs. Drew McIntyre vs. Braun Strowman
We will have a preview with predictions up on TJRWrestling this Saturday. I will review WrestleMania Backlash live on Sunday night as well.
Bobby Lashley, the WWE Champion, made his entrance. I love that video that airs about him before Lashley enters the arena. It's so cool. That main event match is after a break.
A promo aired from WWE NXT Champion Karrion Kross and Scarlett talking about how he's going to hit Austin Theory harder than life itself. Kross also called out Johnny Gargano, who is Theory's mentor of sorts.
Analysis: That's smart to do an NXT promo since it's on the same network and airs the next day. I think WWE needs to promote NXT on Raw more because they need to let their fans know NXT is a great show to watch.
(Commercial)
The guests on Raw Talk this week are Braun Strowman, Charlotte Flair and Jinder Mahal. Don't hinder Jinder.
Drew McIntyre vs. Bobby Lashley (w/MVP)
This is not for Lashley's WWE Title. Lashley with a tight side headlock, then McIntyre lifted Lashley to the apron and Lashley sent Drew throat first into the top rope. Lashley with a running shoulder tackle and a neckbreaker. McIntyre with punches, but then Lashley delivered punches of his own. Lashley charged right into a boot from McIntyre. They left the ring with McIntyre hitting an overhead belly to belly suplex on the floor. That led to a break.
(Commercial)
There were about eight minutes left in the show as the match returned. Lashley sent McIntyre into the turnbuckle, McIntyre with a back elbow, but then Lashley tripped up Drew on the middle rope. Lashley with a flatliner for two. Lashley with a chinlock, McIntyre broke free and they battled over a suplex with McIntyre hitting a delayed vertical suplex. McIntyre ran at Lashley, who got his feet up and knocked Drew down. MVP said that's why Bobby is the champ. Lashley put on McIntyre's throat while against the turnbuckle. Lashley ran the ropes and knocked McIntyre off the apron to the floor. Lashley hit a neckbreaker where he drove Drew's neck into the top rope. Lashley lifted Drew up on his shoulders and ran Drew into the ring post. The referee was clearly giving both guys time cues in the ring. Lashley charged with McIntyre delivering a hip toss into the turnbuckle. The two men exchanged punches and McIntyre launched Lashley across the ring with a belly to belly toss across the ring. McIntyre with a neckbreaker. McIntyre with a headbutt and a spinebuster for two. McIntyre charged, so Lashley ran at him and hit a cross body block. Lashley went for a Hurt Lock submission, McIntyre fought it and Lashley delivered a suplex across the ring. McIntyre hit a Claymore Kick on Lashley. Braun Strowman's music hit, so McIntyre looked at the stage and then Strowman ran over McIntyre in the ring for the DQ. It went about 13 minutes.
Winner by disqualification: Drew McIntyre (Bobby Lashley retains WWE Title)
Analysis: ***1/4 It was the usual competitive match between these guys that know eachother so well. They always have a good match together even though the finish was obvious. When I wrote a brief Raw preview on Sunday, I wrote: "My prediction is that there's a DQ finish perhaps with Braun Strowman causing the disqualification." It wasn't a difficult or bold prediction. They went with the obvious ending. Anyway, the story of the WrestleMania match was that Drew wasn't able to hit the Claymore Kick, but this time he did. The problem is that as soon as he did, that's when Braun interfered in the match.
Post match, Strowman delivered a Running Powerslam on McIntyre. Strowman went over to Lashley, who hugged Braun thinking Braun was working with Strowman. That led to Braun hitting a Running Powerslam on Lashley. Strowman hit another Running Powerslam on McIntyre. Strowman picked up Lashley and gave Lashley a Running Powerslam through the barricade at ringside.
Strowman went back into the ring, he told McIntyre "I'm The Monster" and Strowman hit a Running Powerslam on McIntyre for a third time. Strowman posed in the ring while McIntyre and Lashley were shown down in the ring and on the floor. Strowman stood tall to end the show.
Analysis: It's typical WWE booking. Last week's Raw ended with Drew McIntyre hitting his finishing move on both guys, so of course this week it's Braun Strowman getting his chance to do that. The Powerslam through the barricade looks and sounds impressive, so I like seeing it as a big spot to end the show. I'm probably picking Lashley to retain at WrestleMania Backlash with Braun likely as the one that gets pinned. I don't see there being a submission to end it.
Three Stars of the Show
Drew McIntyre
Bobby Lashley
Rhea Ripley/Asuka
The Scoreboard
5.5 out of 10
Last week: 5
2021 Average: 5.82
Final Thoughts
The first two hours of Raw was the usual frustrating show with weird booking, but then things picked up in the third hour. I liked the matches between Ripley/Asuka, Priest/Morrison and then McIntyre/Lashley in the main event. Those three matches were all rematches, which is also a problem with Raw since they love repeating matches. If Raw focused on in-ring action more and spent less time on puppets then it might be a more interesting show. Welcome back to Jinder Mahal, who came back after missing one year. Jeff Hardy looked like a jobber from when he was a teenage wrestler in the late 1990s, but I guess it's all about putting over Jinder strong.
There was a scary moment on Raw when Humberto Carrillo did a Sunset Flip Powerbomb on Sheamus on the floor. Sheamus landed on top of Carrillo's leg and Carrillo also landed hard on the floor, so there was some legit injury that caused the match to stop. Hopefully Humberto is okay after that nasty fall. It's also a reminder of why you don't try crazy spots like that because you can get hurt.
It was an average Raw overall. If you think I'm too nice saying that then that's okay because I thought the match quality was fine. There just aren't a lot of strong babyface characters to root for and get excited about.
The next WWE pay-per-view is WrestleMania Backlash this Sunday, May 16. Here's what we know so far.
WWE Universal Championship: Roman Reigns (c) vs. Cesaro
WWE Championship: Bobby Lashley (c) vs. Drew McIntyre vs. Braun Strowman
Smackdown Women's Championship: Bianca Belair (c) vs. Bayley
Raw Women's Championship: Rhea Ripley (c) vs. Asuka vs. Charlotte Flair
Smackdown Tag Team Championships: Dolph Ziggler & Robert Roode (c) vs. Rey & Dominik Mysterio
Lumberjack Match: Damian Priest vs. The Miz
—
You can contact me using any of the methods below. Go Toronto Blue Jays and Toronto Maple Leafs. Be safe and smart out there.
Thanks for reading.
John Canton
Email: mrjohncanton@gmail.com
Twitter: @johnreport