The John Report: The WWE Raw Deal 04/13/20 Review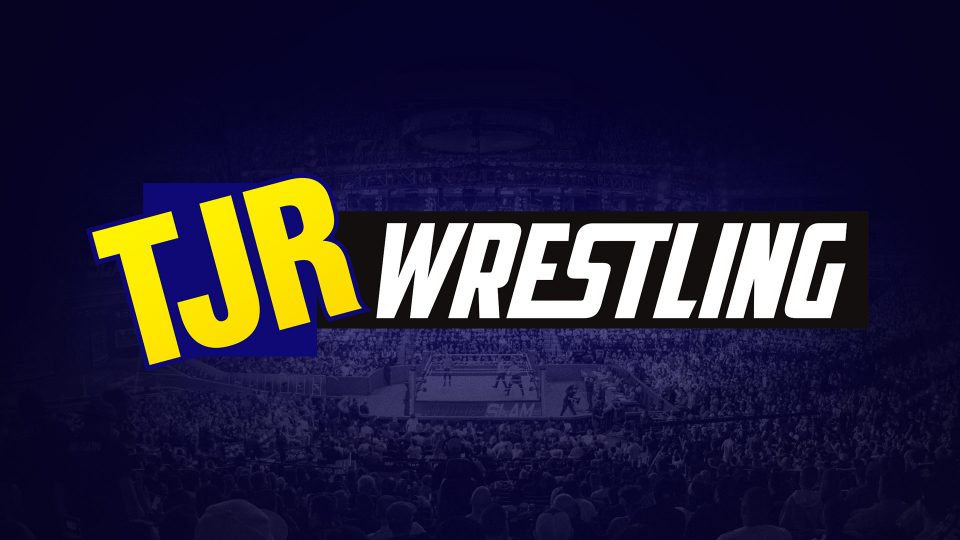 Welcome to the WWE Raw Deal review right here on TJRWrestling. Some people might call this the most essential Raw review there is. I don't know if I would, but "essential" seems to be a popular word. The reason I say that is because WWE was deemed an "essential business" in the state of Florida, which seems ridiculous, but that's what happened. The health crisis continues to be something the world is dealing with while WWE moves forward with live television shows at the Performance Center in Orlando. The next WWE PPV is Money in the Bank on May 10, which we assume is also at the WWE Performance Center as well.
Live from the WWE Performance Center in Orlando, Florida, this is the Raw Deal for episode #1403 of Monday Night Raw. Follow me on Twitter @johnreport. Please visit TJRWrestling.net daily for our regular updates on the wrestling business featuring WWE news coverage, insightful columns from our team along with reviews about wrestling's past and present. Let's roll.
The Raw introduction video aired to start the show. The WWE Performance Center in Orlando was shown with the Raw logo on the screen.
They showed highlights of Drew McIntyre beating Brock Lesnar for the WWE Title eight days ago at WrestleMania.
Let's Hear from Drew McIntyre
The WWE Champion Drew McIntyre made his entrance with the title around his waist and Drew was in his ring gear. The announce team of Tom Phillips, Byron Saxton and Jerry "The King" Lawler were there to call the show. It's not like they need to fly 70-year-old Lawler to this show, but there he is.
McIntyre spoke into the camera thanking us for allowing them to be in our homes and said it's an honor to be out there. McIntyre said that sometimes the internet can be pretty negative, but since he's won the title it has been positive and surreal. McIntyre said that it's surreal that he's the WWE Champion, that he beat Brock Lesnar and then 20 minutes later, this happened. They showed Drew beating Big Show to retain the WWE Title. McIntyre said that Show telegraphed his next move, so maybe Show shouldn't yell out really loudly before the KO Punch.
McIntyre said that beating Lesnar and Show back to back sets the tone for the kind of champion that he'll be going forward. Drew said he'll be a champion that shows up and defends his title. Drew said if you deserve a shot at the title then you get a shot at the title. Here comes Andrade.
The US Champion Andrade entered with manager Zelina Vega. Vega got in the Braveheart comment saying Drew sounded like that. Vega said congratulations on having two WrestleMania moments in the same night, but while Drew was having those moments, Andrade suffered an injury that robbed him of his moment. Vega said it would be a shame for somebody to injure Drew and take that title from him. McIntyre said he remembered the last time he fought NXT and Andrade was the new NXT Champion and McIntyre tore his biceps. McIntyre said if you want this champion vs. champion match, you've got it…tonight. Andrade said last time he took Drew's title and he took Drew out, so tonight it's "no more Senor Nice Guy." Andrade went to the back with Vega and McIntyre was ready to go.
Analysis: It was a basic show opening promo to set up a match for later in the night, which is fine because it's a fresh matchup. I liked that they mentioned their NXT history with Andrade beating Drew for the title. Drew's promo was good because it set the stage for him being a fighting babyface champion willing to take on all comers. It's also good to see Andrade is recovered from his rib injury.
Asuka was shown warming up backstage with Kairi Sane because Asuka is in action up next.
(Commercial)
The match is official for later on Raw: WWE Champion Drew McIntyre vs. United States Champion Andrade.
Asuka entered first for the first women's Money in the Bank qualifying match and Ruby Riott entered as the opponent. Asuka was dancing as Riott made her entrance because Asuka is great.
Money in the Bank Qualifying Match: Asuka vs. Ruby Riott
They are both heels. They ran the ropes with Riott knocking Asuka down, then Asuka wrenched on the arm and stomped on it as well with Riott getting to the ropes to break the hold. Asuka with a rising knee to the face for a two count. Riott went to the apron, she hit a forearm and then Asuka hit a running hip attack to knock Riott down. Asuka with a knee strike. Riott sent Asuka over the barricade (do they really need barricades there?) and then Asuka kicked Riott down leading to a break.
(Commercial)
Asuka remained in control with a hair whip to keep Riott down. Asuka charged, Riott moved and Riott kicked Asuka off the ropes to send Asuka to the floor. They went back into the ring with Riott getting a two count. Riott charged with a running forearm against the turnbuckle, but then Asuka came back with a running forearm of her own. Asuka and Riott exchanged punches, forearms, Riott got a kick and Riott charged in with a bulldog type move into a pin attempt for two. Riott went for her Riott Kick, but Asuka blocked it with an Ankle Lock followed by a release German Suplex. Asuka with a running Shining Wizard knee to the face for a two count. Riott came back with a running kick to the face followed by another kick. Riott hit a running clothesline to the back of Asuka's head for a two count. Riott went up top, Riott jumped off back first and Asuka moved leading to an Asuka Lock submission, but Riott countered to a pin for a two count. Asuka charged in, Riott caught her and hit a Flatliner into the mat. Riott slapped on a submission on the arms, kicks to the face, Asuka turned it into a pin, then Riott turned it into a pin and then Asuka slapped on the Asuka Lock for the submission win after 13 minutes.
Winner by submission: Asuka
Analysis: *** This was pretty good. The fact that it was heel vs. heel didn't matter that much with no fans in attendance. I figured Asuka would win because she's the bigger star here, but they booked this in a way that made Riott look very competitive. There were a few minutes where I thought that maybe Riott would go over until Asuka found a way to win. I think Asuka is definitely a favorite to win the women's Money in the Bank Ladder Match, but if they went with a woman that hasn't won a title before then that's fine too.
Post match, Charly Caruso tried to interview Asuka, who ranted in Japanese and then said, "nobody's ready for Asuka." Asuka looked very confident.
Aleister Black is up next.
This week on NXT the NXT Women's Champion Charlotte Flair is there plus a tournament to crown interim Cruiserweight Champion begins.
(Commercial)
There was a promo from Montel Vontavious Porter aka MVP backstage about three Money in the Bank qualifying matches for next week on Raw:
Rey Mysterio vs. Murphy
Aleister Black vs. Austin Theory
Apollo Crews vs. MVP
Analysis: Those matches should be wins for Mysterio, Black and Crews. Perhaps Murphy will win, but I think it will probably be Rey there. I guess MVP isn't officially retired yet.
Aleister Black entered for a match with Oney Lorcan in the ring as the opponent.
Aleister Black vs. Oney Lorcan
Lorcan is a skilled veteran that has been in NXT for a few years. Black took control with an armdrag, then Lorcan got up and Black got an armbar. Lorcan sent Black to the apron, then an uppercut and Black was back in the ring with a moonsault off the middle ropes. Black kicked Lorcan in between the top/middle ropes to send Lorcan out of the ring.
(Commercial)
The match returned as the two men exchanged forearms and then Lorcan hit a running back elbow for two. Phillips said Black has been dominating for months, but Black took about 25 minutes to beat Apollo Crews last week, so that was not dominant. Lorcan tried a half crab submission, Black kicked him away and Black slapped on a kneebar, but Lorcan got to the bottom rope. Black slapped an armbar on Lorcan, who managed to get to the bottom rope. Aleister Black with a forearm, back elbow, sweep kick and a running knee. Black missed a moonsault off the ropes and Lorcan got a two count out of it. Lorcan yelled at Black to bring it, then Black hit a rising knee and a Black Mass kick by Black got the pinfall win after 10 minutes.
Winner by pinfall: Aleister Black
Analysis: **3/4 It was a hard-hitting match that went a few more minutes than I would have expected just because Black often times wins in dominant fashion. That's not a knock on Lorcan, who I like from his work in NXT. I just figured Black would have a more decisive win.
Post match, Sarah Schreiber interviewed Black while asking what his game plan was in the Money in the Bank qualifying match. Black said his game plan was to win. That was simple.
Becky Lynch is up next at the top of hour two.
(Commercial)
The announce team of Phillips, Saxton and Lawler were shown on camera.
They showed a clip of Becky Lynch's win over Shayna Baszler at WrestleMania. It was not a dominant win for Lynch, but she found a way to retain her Raw Women's Title.
Let's Hear from Becky Lynch
Becky Lynch made her entrance with the Raw Women's Title in her hands. Lynch was in all black street clothes including a black leather jacket.
Lynch said it's only a couple of weeks since she was there for WrestleMania and she beat Shayna Baszler. Lynch said that she told Baszler that it would be a test of heart vs. skill, but it was a battle of the mind. Lynch said that a lot has been said about her being arrogant or maybe she lets you think that. Lynch said that somebody that was there to bully can't beat somebody that can survive everything like her. Lynch talked about Money in the Bank saying that the winner will find the champ waiting for you. Lynch said whoever wins and thinks that they can beat her, she will shock the world one more time. Lynch held up her title to end it.
Analysis: It was a quick promo that went only about three minutes. There's no obvious next opponent for Lynch, so there wasn't much to say there. It's kind of like WWE is telling you that she's on the show because she's on a top star, yet they don't really have anything for her to do.
Shayna Baszler faces Sarah Logan and Kairi Sane faces Nia Jax later on Raw.
Charly Caruso was backstage for an interview with Andrade and Zelina Vega as the guests. Vega mocked Caruso for her line of questioning. Vega talked about Andrade's dominant run as champion while noting that Andrade has defended his title month after month against the best that WWE has to offer. Vega reminded us that McIntyre lost his title to Andrade the last time they had a match. Andrade ended it talking about how he was going to win.
Analysis: Saying Andrade defended the title month after month is a lie since he was suspended for a month and really hasn't defended the title that often. Heels lie, my friends.
This Friday on Smackdown: The Miz vs. Big E vs. Jey Uso for the Smackdown Tag Team Titles (yes, it's in a singles match) and Mandy Rose goes face to face with Sonya Deville.
(Commercial)
A graphic was shown celebrating the fact that The Big Show Show starring Big Show is #3 on Netflix in its first week. Good for Show.
Sarah Logan entered for a Money in the Bank qualifying match. Shayna Baszler was standing backstage, Sarah Schreiber went up to ask if Baszler heard about Ronda Rousey's controversial comments ripping on the fans. Baszler said nothing. Shayna Baszler entered. The Money in the Bank briefcase was above the ring with ladders all around the ring.
Analysis: I thought that Ronda's comments were a work from the moment I saw them and the fact that it was brought up on Raw shows that they are likely a way to bring Rousey back in WWE. I don't know when or how, but it's probably coming this year at some point.
Money in the Bank Qualifying Match: Shayna Baszler vs. Sarah Logan
Baszler took down Logan and punched her while Logan was down on the mat. Logan stomped on the right elbow of Logan. The referee called for the bell, so Baszler won in about 30 seconds.
Winner: Shayna Baszler
Analysis: That was quick. It's a way to put over Baszler in a dominant way after her WrestleMania loss.
It was announced by ring announcer Mike Rome that Sarah Logan was the winner, but the announcers commented that it should be Baszler that was the winner. I don't know why he got that wrong. He should have been told it was wrong and did it again.
Post match, Baszler left and went straight to the back. Logan was crying as she held her right arm and a referee checked on her along with a doctor and Producer Adam Pearce. Good job of selling by Logan.
Seth Rollins was shown standing backstage. Rollins said that at WrestleMania he lost to Kevin Owens, so once again his career has been crucified. That led to a break.
(Commercial)
The show returned with the announcers clarifying that Baszler won the previous match.
Zelina Vega joined commentary for the next match.
Austin Theory vs. Akira Tozawa
Vega said that Theory is elite – I have heard that word a lot in another wrestling company. Tozawa hit a spinning kick to the head. Theory sent Tozawa face first into the top turnbuckle followed by Theory stomping on the ribs. Theory grabbed a chinlock, Theory with a chop and a hard whip into the turnbuckle. Theory blocked a kick and then hit a standing moonsault for two. Theory wrenched on the right arm on Tozawa. Theory decked Tozawa with a forearm followed by a suplex for two. Theory with a backbreaker. Tozawa finally got some offense by sending Theory out of the ring followed by a move where he ran off the apron and hit a dive off the steps onto Theory against the barricade. Back in the ring, Tozawa with a jumping kick to the head and a missile dropkick off the top rope for a two count. Tozawa with a submission attempt, but Theory powered out of it with a slam off the shoulders into a TKO-like move he calls the ATL aka the Austin Theory Launch. Theory pinned Tozawa to win. It went about seven minutes.
Winner by pinfall: Austin Theory
Analysis: **1/4 It was just a decent match with Theory getting plenty of offense, but he didn't really show off his athleticism much. Tozawa only got a bit of offense and he almost never wins on Raw, so it was a boring match in terms of the outcome. Theory getting the win gives him some positive moment going into his match against Aleister Black next week. Black is Vega's husband, so her client will lose to her husband.
Post match, Andrade and Angel Garza joined Theory in the ring leading to a triple team attack on Tozawa. Andrade hit a Hammerlock DDT on Tozawa off the ropes. The heels stood tall.
Analysis: It's a young trio of stars that are managed by Vega. I like that because WWE used to have managers that had multiple clients, but we haven't seen that kind of thing in a long time. I like it.
Still to come: Charlotte Flair is there.
(Commercial)
A Total Bellas commercial aired featuring bad acting. Poor Daniel Bryan.
They showed highlights of the WWE Chronicle documentary on WWE Network that was about Drew McIntyre. It was very good and I recommend it. WWE Network has had a lot of amazing non-wrestling content of late.
The three men's Money in the Bank qualifying matches were promoted again. Phillips shilled it by saying they were all happening for the first time.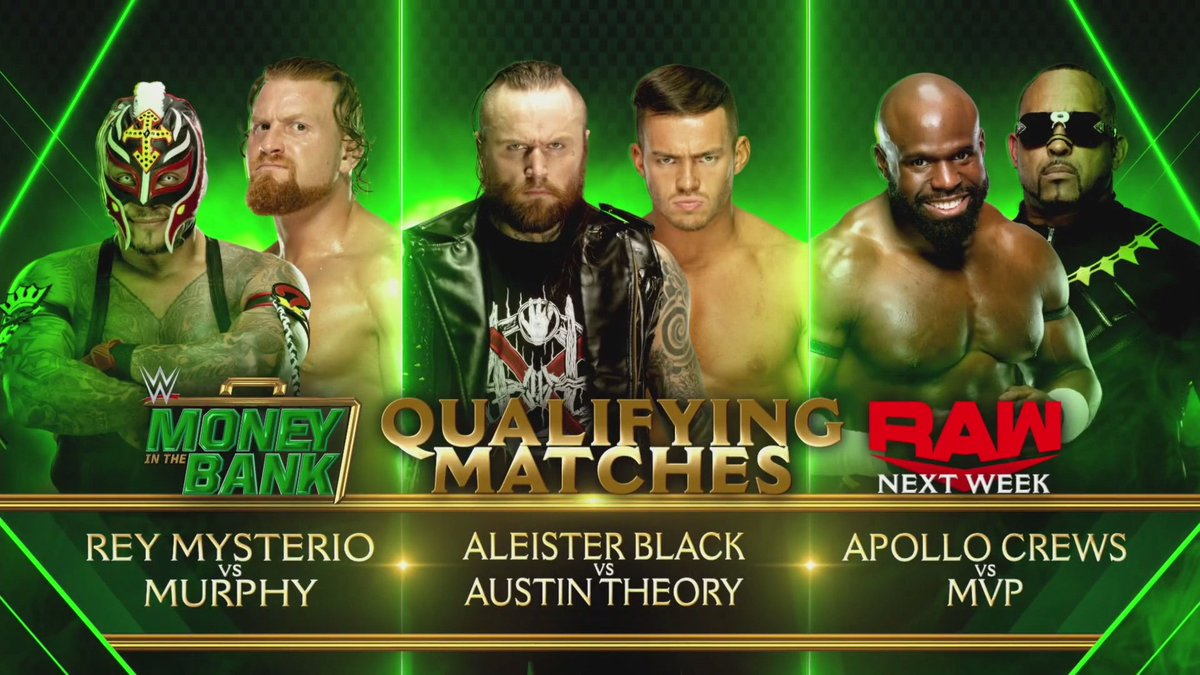 Rey Mysterio was interviewed backstage by Charly Caruso, who noted that Rey has done it all, but he hasn't won Money in the Bank. Mysterio said that in 2010 he won his second World Championship and two months after, he could barely stand after a successful win. That's when Kane showed up to cash in Money in the Bank and end Mysterio's title reign. Mysterio said that Murphy has a bright future, but he doesn't want it as bad as Rey does. Rey said that next week he'll put it all on the line and this year he'll be Mr. Money in the Bank and he'll cash in the contract. Rey left.
Analysis: I doubt Rey wins Money in the Bank because it's better if it is a younger guy that has more of a future. Rey has done it all and doesn't need it. Then again, Brock Lesnar didn't need it last year, so who knows? It's hard to predict until we know the whole field.
(Commercial)
Seth Rollins was backstage saying that everyone needs something to have faith in. Rollins looked into the camera to say that he is still here for you…your messiah has truly risen.
Angel Garza made his entrance for a match. Garza had a rose that he gave to a woman at ringside holding a camera. It might be his fiancée, but I have no idea. Tehuti Miles was in the ring for a match.
Angel Garza vs. Tehuti Miles
Miles ran the ropes, Garza bounced off and hit a dropkick to the ribs. Garza hit a knee to the face followed by Garza taking his pants off. Garza with a dropkick and then he spoke Spanish into the camera. Garza set up Miles on the top rope, he set him up in the Tree of Woe position and hit a running kick on Miles. Garza finished off Miles with the Wing Clipper for the pinfall win after three minutes.
Winner by pinfall: Angel Garza
Analysis: * An easy win for Garza over a guy that's not usually on Raw. It was fine, but nothing special.
Post match, Andrade and Theory walked out with Vega standing on the ramp. The three heels surrounded Miles. They set up Miles on the top rope and Andrade hit a Hammerlock DDT on Miles just like he did earlier in the show. The heels stood tall again.
The Kabuki Warriors team of Asuka and Kairi Sane were interviewed by Sarah Schreiber. There wasn't much to this other than some laughing from the wrestlers.
It's Sane vs. Jax up next.
(Commercial)
Drew McIntyre was standing backstage with Charly Caruso asking for comments about Andrade. McIntyre pointed at a scar on his left arm after Andrade tore his biceps in their NXT match, so he always thinks about him and Drew said that he didn't forgive or forget. McIntyre said that he promises he'll hurt Andrade, he'll Claymore Andrade and if he has to take six months off because of Drew, then so be it. That was it.
Kairi Sane made her entrance for the Money in the Bank qualifying match. Nia Jax entered as the opponent after she returned to action last week. Jax missed about one year of action after double knee surgery. She's not like most girls…it says it in the song.
Money in the Bank Qualifying Match: Nia Jax vs. Kairi Sane
Sane with two running dropkicks that had no effect on Jax, who tossed Sane out of the ring. They showed Asuka watching on a TV backstage with some random yelling by Asuka. Jax with a body slam followed by two clotheslines. Jax tossed Sane across the ring two times. Jax pressed Sane over her head into a Samoan Drop for the pinfall win after two minutes.
Winner by pinfall: Nia Jax
The win means Jax is the third woman to qualify for the women's Money in the Bank Ladder Match.
Analysis: 1/2* A squash win by Jax that made Sane look like a loser instead of a former tag team champion. It's not a surprise that Jax was made to look dominant like that.
Charlotte Flair is on Raw up next.
(Commercial)
Let's Hear from Charlotte Flair
Charlotte Flair made her entrance in street clothes with the NXT Women's Title on her shoulder. She gets to be on Raw and NXT since she's a regular Raw superstar. That is Flair's 12th overall championship in her WWE career including the NXT Title twice.
Flair talked about winning the Royal Rumble, so she had her choice of what champion to face while mentioning she's faced Becky Lynch and Bayley a bunch. Flair reminded us that we saw NXT Women's Champion Rhea Ripley make a challenge with Flair calling Ripley "the next big thing" even though that was Brock Lesnar's nickname. Flair said that was ballsy of Ripley. Flair said now she's the two-time NXT Women's Champion not because she beat Becky again or she beat Becky Lynch for the millionth time, but she beat the "next big thing" so that makes her the biggest thing.
Flair said that last year, Vince McMahon chose her to save the main event of WrestleMania. Flair said that Ripley wants to be like Flair, but Ripley lacks humility. Flair said that there are levels to this, there's always going to be someone faster, stronger and someone better because she's going to remind NXT of humility. Flair said next in line is Io Shirai and she had an amazing victory last week. Flair said she's there to teach lessons and lesson #1 is that everyone bows down to The Queen.
Analysis: It was a cocky heel promo from Flair, which is when she is at her best in terms of promos. It was very basic like Lynch's promo earlier in the night.
A clip aired from WrestleMania when Lana's advice cost "husband" Bobby Lashley his match against Aleister Black. Lashley was frustrated in an interview after the loss.
Bobby Lashley is in action up next.
(Commercial)
There was a plug for WWE Backstage on Fox Sports 1 with Edge as a guest joining hosts Booker T and Renee Young. CM Punk is also on, but they don't like mentioning him.
A replay was shown of Shayna Baszler stomping on Sarah Logan's right arm earlier in the night.
Bobby Lashley made his entrance with "wife" Lana. It's nice to see Lana doing something other than Tik Tok dancing videos. No Way Jose was in the ring as the opponent without his entrance because conga lines would be bad social distancing.
Bobby Lashley (w/Lana) vs. No Way Jose
Lashley with a clothesline followed by punches. Lana was yelling at Lashley, so Lashley left the ring and told her to shut the hell up. Lana didn't like that. Back in the ring, Jose with a punch, but then Lashley came back with a belly to belly suplex across the ring. Lana looked sad, so Lashley was distracted. Jose with the rollup for two. Lashley with a one-armed spinebuster. Lashley hit a Spear for the pinfall win after two minutes.
Winner by pinfall: Bobby Lashley
Analysis: 1/2* Another squash match on a show full of short matches. Jose is there to put people over. Lashley's spinebuster looks great.
Post match, Lana raised Lashley's hand as the winner of the match while they each had frustrated looks on their faces.
Analysis: They flew Lana in from California to be on this show to be on TV for a few minutes. That's all the analysis I have for it.
Seth Rollins was backstage again saying to all the non-believers, you have left him no alternative because tonight he will stomp out all doubt.
The Viking Raiders are in action up next.
(Commercial)
There was another plug for the three men's Money in the Bank matches next week.
The Viking Raiders made their entrance for a match. Erik doesn't look sad that his wife Sarah Logan was hurt earlier. Vikings no sell things, pal. Ricochet and Cedric Alexander entered as the opponents.
The Viking Raiders (Erik and Ivar) vs. Ricochet and Cedric Alexander
Ricochet tried to use his athleticism, but Erik nailed him with a shoulder tackle. Ivar tagged, Ricochet with a kick, Alexander sent Erik out of the ring and Alexander hit a dive on Erik on the floor. Ricochet with a moonsault on Ivar for a two count. Ivar sent Alexander into the turnbuckle, the smaller team moved out of the way and Ricochet hit a kick to Ivar's head followed by Alexander hitting a Tornado DDT for a two count. Erik made the tag for his team, Alexander with a forearm to the ribs and that got a two count. Alexander with a suplex on Erik followed by Ricochet hitting a splash on Erik for a two count. Alexander sent Erik out of the ring, Alexander tried a dive, Erik moved and Ivar tagged in. Erik tossed Ricochet over the top onto Alexander on the floor. Ivar hit a suicide dive to take out Ricochet and Alexander on the floor.
(Commercial)
The match returned with Ivar hitting a knee on Alexander and Erik with a rising knee that sounds really loud because Erik does leg slapping more than anybody in WWE. Erik with a running shoulder tackle on Alexander against the turnbuckle and then Ivar with a shoulder tackle. Ivar with a body slam on Alexander and then Erik slammed Ivar onto Alexander for a two count. Ivar tagged back in with a forearm to the back, Alexander with a rollup and then a dropkick on Ivar. Alexander with a springboard flatliner on Ivar. Ricochet got the tag with a jumping kick on Ivar and an enziguri on Erik. Ricochet with a kick to the back of Ivar, shoulder tackle on Erik and Ricochet off the top with a clothesline. Ricochet with a standing Shooting Star Press on Erik for a two count. Alexander tagged back in with a springboard kick, but Erik ducked it and Erik hit a knee to Ricochet's face. Ivar with a seated senton on Alexander, then a clothesline on Ricochet and a spinning slam on Alexander. Ivar with a running cross body block on Alexander and Erik kicked Alexander into the turnbuckle. Ivar splash on Alexander got a two count for Erik. Ivar hit a springboard clothesline as Erik held Alexander and that got a two count. Ivar with a spin kick on Ricochet. Erik tagged in, he launched Alexander into the air and Ivar hit a slam on Alexander, but it was not a powerslam like the Viking Experience slam that they usually do. It went about 13 minutes.
Winners by pinfall: The Viking Raiders (Erik and Ivar)
Analysis: ***1/4 It was a very good, competitive tag team match. There was no story going in and both teams are faces, but they had an entertaining match with the Alexander/Ricochet team finding a way to look impressive even though they didn't win the match. The finish was messed up with the bad looking powerslam to end it, but that's okay because it still looked like a safe move. The Viking Raiders winning will likely set them up for a title shot in the near future.
It's main event time after a break.
(Commercial)
The Street Profits team (aka the Raw Tag Team Champions) were interviewed by Charly Caruso and Montez Ford brought his wife Bianca Belair on the set with them. Ford said that hey had respect for the Viking Raiders and Angelo Dawkins said they had respect for all vikings while claiming they had excellent hygiene. Ford said that has been "The More You Know." That's an NBC thing from may years ago. Belair asked when they have beaten the Viking Raiders and said that they never have. Belair told them if they want to keep the titles, stop with the games and get that smoke.
Andrade made his entrance with the US Title and he was joined by manager Zelina Vega along with Austin Theory and Angel Garza. Drew McIntyre was up next as the WWE Champion with less than ten minutes left until the top of the hour.
Drew McIntyre vs. Andrade (w/Zelina Vega, Austin Theory and Angel Garza)
This is not a title match. Andrade with a hard chop that had no effect, so McIntyre hit him with a headbutt and some hard chops. McIntyre worked over Andrade with punches. McIntyre sent Andrade into the corner, Andrade jumped off and McIntyre with a rising kick. McIntyre sent Andrade ribs first into the top of the barricade. McIntyre with a hard chop against the ring post. McIntyre was distracted by Garza, so Andrade pulled McIntyre's left arm into the ring post multiple times. Andrade sent McIntyre's left arm into the ring post followed by an arm wrench. McIntyre sent Andrade to the apron, then Andrade slapped on the armbar against the ropes and pulled on it. Andrade jumped off the top, McIntyre caught him, clothesline and a boot to the face. McIntyre went up top with a clothesline followed by a kip up to get back to his feet. Andrade got back into it with a spinning back elbow, Theory grabbed Drew's foot, but McIntyre gave Andrade a back body drop over the top onto Theory and Garza. Back in the ring, McIntyre on the top rope, Vega with a distraction and Andrade tried a DDT off the ropes, but McIntyre hit a hard chop. McIntyre hit a reverse Alabama Slam sending Andrade front first to the mat. McIntyre hit the Claymore Kick for the pinfall win after about six minutes.
Winner by pinfall: Drew McIntyre
Analysis: **1/4 It was a dominant showing from McIntyre, who didn't win in a squash, but he looked strong and he managed to take care of the guys on the floor too. I liked how they teased the DDT off the top rope spot with Drew finding a way to fight it off and then he finished off Andrade shortly after that. McIntyre is likely going to be a champion that is booked to win non-title matches as well, which is good because it puts over Drew as a legit top guy.
Post match, Seth Rollins' music hit and Angel Garza hit a chop block to the back of Drew's knee. Rollins went into the ring and hit a superkick to the face of McIntyre. Rollins hit The Stomp on McIntyre. Rollins stared at the WWE Title in the ring and then Rollins hit The Stomp again. That was the end of Raw with Rollins standing tall.
Analysis: That attack by Rollins likely means he'll be McIntyre's first main challenger for the WWE Title, which will probably lead to a title match at Money in the Bank on May 10. That will probably lead to some complaints from fans since Rollins lost to Kevin Owens at WrestleMania, so maybe Owens will get involved to make it a triple threat. I don't know what the plan is right now. Anyway, I doubt McIntyre loses the title at the next PPV. McIntyre needs a few months as WWE Champion at least.
Three Stars of the Show
1. Drew McIntyre
2. Asuka
3. (tie) Viking Raiders
3. (tie) Ricochet/Alexander)
The Scoreboard
I'll go with a 5.75 out of 10 for this show.
2020 Average: 6.5
Final Thoughts
It was just an average show with Drew McIntyre pushed hard as the top guy in the opening promo segment and the main event. They set up a new rivalry for him against Seth Rollins. They also pushed Zelina Vega's stable of Andrade, Garza and Theory quite a bit with all the airtime that they got.
There were a lot of squash matches in order to build up some wrestlers in a big way, but a few matches stood out too. I thought the Viking Raiders match against Ricochet/Alexander was very good and Asuka vs. Riott was competitive as well.
It's hard to get really excited about any of the angles because they aren't doing anything that significant. You can tell there was a limited roster on hand since a lot of Raw regulars were not there. It's understandable why that is. Plus, at least it's better than getting depressed by watching the news. Now that's some essential positivity by me. You're welcome, pal.
The next WWE pay-per-view is Money in the Bank on May 10. Here's what we know so far: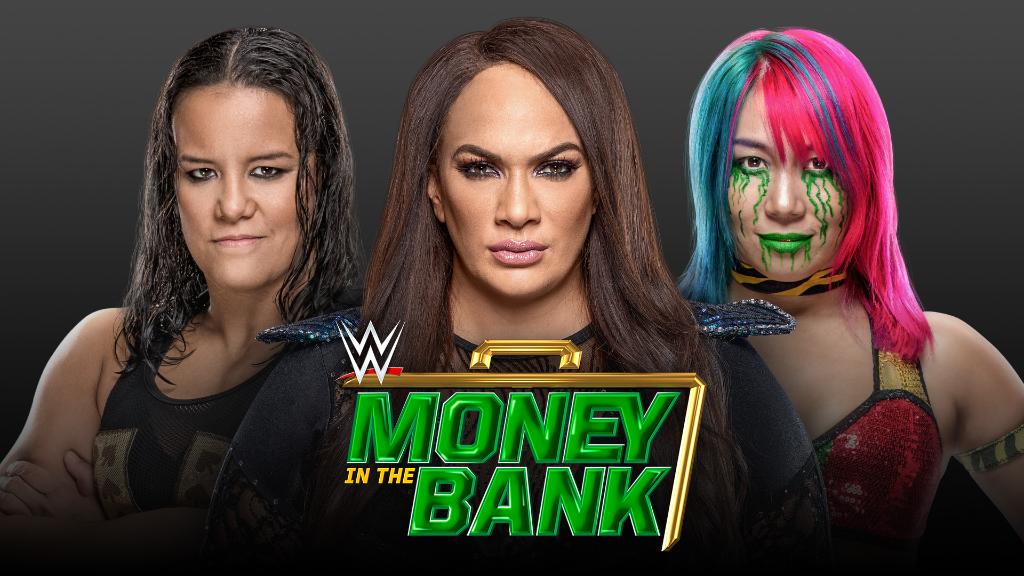 Women's Money in the Bank Ladder Match: Asuka vs. Shayna Baszler vs. Nia Jax and others.
—
You can contact me using any of the methods below. Be safe and smart out there.
Thanks for reading.
John Canton
Email: mrjohncanton@gmail.com
Twitter: @johnreport
Personal Facebook and TJRWrestling on Facebook