The John Report: The WWE Raw Deal 01/20/20 Review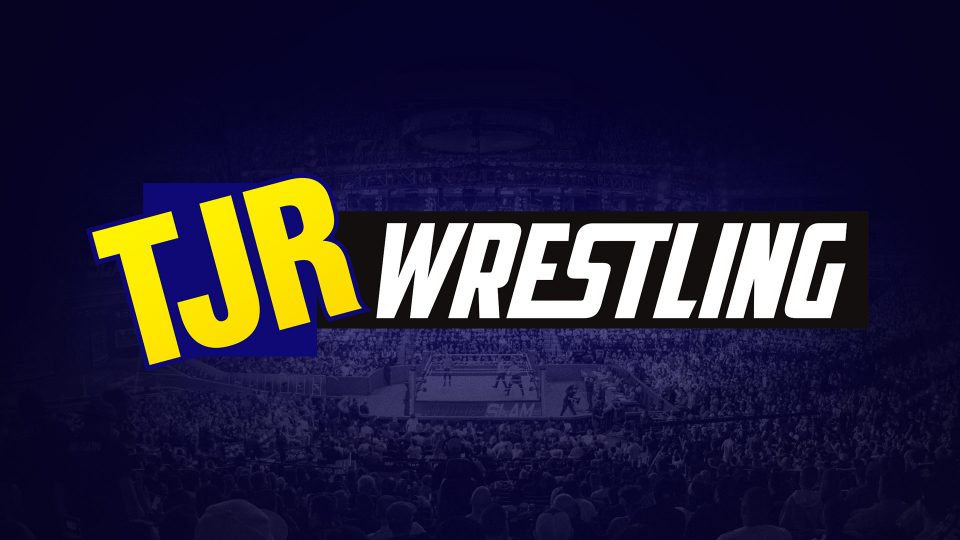 Welcome to another WWE Raw Deal review right here on TJRWrestling. This is the last episode of Raw before this year's Royal Rumble PPV event on Sunday, January 26th. It's a busy week of writing for me, but it's all good because I love Royal Rumble season.
The main matches advertised for this week's Raw are Andrade defending the US Title against Rey Mysterio in a Ladder Match, Rusev & Liv Morgan teaming up against Bobby Lashley & Lana, Randy Orton vs. Drew McIntyre and Becky Lynch vs. Kairi Sane. Let's get to it.
Live from Wichita, Kansas, this is the Raw Deal for episode #1391 of Monday Night Raw. Follow me on Twitter @johnreport. Please visit TJRWrestling.net daily for our regular updates on the wrestling business featuring WWE news coverage, insightful columns from our team along with reviews about wrestling's past and present. Thanks to Melo Man for the banner up top.
The show began with the heel group without a name led by the "Monday Night Messiah" Seth Rollins, who was joined by AOP's Akam and Rezar along with their new ally Buddy Murphy.
Let's Hear from Seth Rollins and Friends
Rollins tried doing a promo as the fans booed him. Rollins said that every single one of you out there has played a small part in making him the man that he is today. Without all of you, there is no Monday Night Messiah, so from the bottom of his heart, he just wants to say thank you for believing in him. Rollins thanked the fans for their support, for all of the faith that they have placed in him into the future as the premiere program in WWE. Rollins said for all of that, he is forever in our debt.
Rollins thanked Buddy Murphy for what he did last week and now he stands on the right side of history. A video aired from last week's Raw that showed when Murphy, who was sitting at ringside, helped Rollins beat Big Show in the six-man "Fist Fight" match on Raw. After the match, Rollins hugged Murphy and welcomed him to this heel group.
Rollins did a big introduction by saying that Murphy was the newest disciple of the Monday Night Messiah. That led to Rollins hugging Murphy. Rollins said this is fate and this is destiny. Rollins said that this is the time for all of us to decide what kind of people we want to be while saying that the battle lines have been drawn in the locker room. Rollins said "you're either with us or against us…" and that's when Kevin Owens showed up for the interruption.
Kevin Owens appeared on the stage and he was joined by his ally Samoa Joe. Owens said that Rollins talks too much. Owens said that he understands Rollins gloating about taking out Big Show and they're so happy for him. Owens said that Big Show will be back to deal with them eventually while adding that Rollins didn't get rid of them. Owens said that the people in Kansas probably agree we've heard enough of Seth's stupid voice. Owens said less talking and more fighting.
Rollins said we won't fight right now because we need to find a proper time and proper place. Joe said he thinks he sees a self-proclaimed Monday Night Messiah, but he hears a lawyered-up asshat as the fans chanted "Joe" for the big man. Rollins said he's a forgiving man, but AOP sees things differently. Rollins invited them to come on down and dance with destiny.
Joe said that one of the side effects of being an asshat like Seth means your hearing skills are not that good. Joe said that they're ready for a fight, but they are not the only ones. The Viking Raiders showed up to join Owens and Joe on the stage. Good pop for them.
That led to Joe, Owens and The Viking Raiders going to the ring for a fight with Seth and his buddies. Rollins quickly bailed while Owens hit a Stunner on Akam and Joe hit a uranage slam on Murphy. The heels retreated from there.
Analysis: It was a solid opening segment with the faces standing up to the heel group that was bragging about taking out Big Show last week. I think the addition of the Viking Raiders to the storyline makes sense as a team that can feud with AOP. It would have been better if the heels attacked Viking Raiders at some point to make Viking Raiders want revenge, but I guess it's okay to just throw them out there to begin this rivalry. They can obviously set up an 8-man tag team match out of this at some point, plus other matches. Rollins is doing great as a heel. He looks a lot more comfortable in this role.
A video package aired to set up Andrade vs. Mysterio for the US Title.
Rey Mysterio made his entrance for the Ladder Match for the US Title up next.
Analysis: I thought the US Title match might be the main event, but I don't mind seeing it earlier in the show. The crowd isn't as loud in the third hour, so going on early is a smart move.
(Commercial)
Seth Rollins and Buddy Murphy challenged the Viking Raiders to Raw Tag Team Title match tonight.
Andrade made his entrance with his business manager Zelina Vega. Andrade is the US Champion that won the match on December 26 from Mysterio at a live event at Madison Square Garden. They stood in the ring as ring announcer Mike Rome introduced both guys since it's a title match.
Ladder Match for the United States Championship: Andrade vs. Rey Mysterio
There were ladders surrounding the ring, Andrade grabbed a ladder and Mysterio dropkicked the ladder into his face. Mysterio went for an attack on Andrade on the floor, but Andrade swung him into the barricade. They did a spot where Andrade teased a superplex onto a ladder in the ring, Mysterio blocked that and gave Andrade a hurricanrana off the top where the top of Andrade's back hit the ladder in the ring. Vega had a shocked look on her face. They went to break two minutes into this.
(Commercial)
There was a ladder set up against the turnbuckle. Andrade went for a running knee, Mysterio ducked by the turnbuckle and Andrade went over the top to the floor. That's an impressive bump that he does. Mysterio went up top to the top of the ring post and hit a seated senton on Andrade on the floor. They went back into the ring with Mysterio hitting a seated senton off the top, then a headscissors into the ladder that was against the turnbuckle. It was noted by Joseph that there hasn't been a ladder match on Raw in 13 years. Mysterio dropkicked a ladder into Andrade while he was on the apron, so it knocked Andrade to the floor. Mysterio pulled out a giant ladder that nearly reached the US Title belt by itself. Mysterio climbed the ladder, Andrade grabbed his leg, Mysterio jumped off and Andrade hit the Three Amigos vertical suplexes with the third one suplexing Mysterio onto a ladder that was in the ring. Andrade bridged a ladder from a vertical ladder in the ring to the ropes. Mysterio with a jumping kick to the face, Andrade with a punch and they battled on the top rope. Mysterio wanted a hurricanrana off the top again, but Andrade caught him and gave Mysterio a Powerbomb off the top onto the ladder that was bridged to the ropes. Ouch.
(Commercial)
The match returned with Mysterio hitting a hurricanrana to send Andrade out of the ring. There were two ladders bridged to the turnbuckles off the one vertical ladder in the ring. Mysterio climbed up to go for the title again, Andrade stopped him with punches and he sent Mysterio into the top of the ladder. Andrade picked up Mysterio, Rey was on his back and Rey countered into a sunset flip powerbomb onto a ladder that was bridged to the turnbuckle. Rey was unable to hold on for all of it, but it was still a brutal back bump by Andrade on the ladder. Mysterio with a dropkick that sent Andrade into the ropes followed by the 619 kick that led to Andrade bumping to the floor. The crowd was really loud as Mysterio began his slow climb up the ladder. Mysterio held onto the bar that held the title instead of just grabbing the title, so Andrade moved the ladder out of the way and Mysterio went for a hurricanrana. That was not executed perfectly either, but again these are high risk moves. Mysterio with a back body drop that sent Andrade over the top to the floor. As Mysterio tried to climb up the ladder, Vega climbed up the other side and she sat on the ladder. Vega slapped Mysterio in the face to prevent him from getting the title. Andrade gave Mysterio the Hammerlock DDT through a bridged ladder and that led to "Holy Shit" chants from the crowd while Vega had another shocked look on her face. Andrade managed to recover from the broken ladder, he climbed up, Mysterio was down on the mat and Andrade reached up to retain the US Title. It went 19 minutes.
Winner: Andrade
Analysis: ***3/4 It was a very good ladder match, but it wasn't at the level of an all-time great ladder match. There were a few spots that were risky and there were rough landings for both guys, but everything ended up okay without any obvious injuries. I thought the sunset flip powerbomb spot was incredible although Rey losing his grip didn't make it look perfect, it still got the job done with Andrade taking the bump on the ladder. It wasn't a surprise that Vega played a factor in the finish because she's a manager that interferes and she was the reason why Andrade won since Andrade won the match shortly after she jumped into the ring. I expected Mysterio to put over Andrade in what was likely the final match in this series. They work well together. I'll never get sick of Andrade vs. Rey matches. It would have been nice if they timed the commercials so that there was only one commercial in 19 minutes instead of two. That way we'd see more of the match.
After the match, Zelina Vega pulled the mat off the floor and she wanted Andrade to attack Mysterio on the floor. That's when a guy in a mask showed up and it was Humberto Carrillo making his return after Andrade took him out last month. Carrillo punched Andrade a few times to send him to the back. Carrillo checked on his idol Mysterio.
Analysis: It was an obvious spot to bring back Carrillo. I hope he enjoyed the break he had. Carrillo got married last summer, so I guess that break was his honeymoon or something like that. It also sets up the obvious Andrade/Carrillo feud for the US Title as two young Latino stars since Rey Mysterio can't wrestle forever.
(Commercial)
PLUG TIME: I am reviewing every Royal Rumble all month long on TJRWrestling, so check it out in our Royal Rumble section. I'm up to 1997 and I don't plan on getting them all done before this year's Royal Rumble. Some of them will be posted in February. If I didn't have 25,000 words to write every week about current shows it would be done sooner. Sorry to those that want them up before this year's Rumble…I also wrote a review of the WWE Untold special called "Rey, Eddie & The Rumble" that covered Rey Mysterio's friendship with the late, great Eddie Guerrero and Rey's 2006 Royal Rumble win. It was fun to write about it while also listening to some cool stories about that time.
The announce team of Vic Joseph and Jerry Lawler were shown on screen.
That led to a video package about Martin Luther King Jr. because Monday was MLK Jr. day in the United States. They air a tribute video to him every year because Vince McMahon has called him his hero on many occasions. It ended with the message "Long Live The Dream" and the fans cheered.
Aleister Black made his entrance with his usual serious look on his face. Black is a part of the Royal Rumble match on Sunday. His opponent was already in the ring and they did not say his name.
Aleister Black vs. Some Local Competitor
The opponent ran right at Black, who hit the Black Mass kick and pinned the guy within five seconds.
Winner by pinfall: Aleister Black
Analysis: A quickie to put over Black as a threat to win the Royal Rumble. They like squash matches on this show.
The WWE Champion Brock Lesnar is up next at the top of hour two.
(Commercial)
Drew McIntyre was shown in the locker room getting ready for his match against Randy Orton later in the show.
It's official for later on Raw: The Viking Raiders defend the Raw Tag Team Titles against Seth Rollins and Buddy Murphy.
Let's Hear from Brock Lesnar (but really Paul Heyman)
The WWE Champion Brock Lesnar made his entrance at the top of hour two. It is Lesnar's third week in a row on Raw. Lesnar is number one in the Royal Rumble match and Paul Heyman joined Lesnar in the ring as usual. They showed the highlight of last week's Raw when R-Truth got in Lesnar's face for some comedy and Lesnar dropped Truth with the F5.
Paul Heyman did his usual introduction for Lesnar and himself while the fans chanted along with it. They also booed too. Lesnar was wearing one of his Suplex City shirts while Heyman was in a suit. Heyman said that he thinks the entire WWE Universe takes what Lesnar does for granted. Heyman said he delivers a spoiler, Lesnar delivers the impossible and then everybody says of course he did it because he's Brock Lesnar. Heyman said that Lesnar will enter the Royal Rumble first and he'll eliminate 29 pretenders to the throne and everybody says of course he will because he's Brock Lesnar. The fans booed, so Heyman said don't boo yourselves.
Heyman said he wanted us to understand about how unprecedented this situation is. Heyman said that the Royal Rumble match starts with Brock Lesnar and what happens after that, entrant #2 comes out, they exchange in physicality with Lesnar and whether Lesnar eliminates that person, then it's #3, #4 and #5 all the way up to #30. Heyman reminded us that you only get eliminated when you get sent over the top and both feet hit the floor. Heyman said that Lesnar has vowed that 29 other contracted challengers will be eliminated and only one beast stands victorious in this ring and his name is Brock Lesnar.
Heyman said that the winner of the Royal Rumble then gets to pick which champion he gets to face in the main event of WrestleMania. Heyman said that his client has deemed that there is not one person in that locker room that is worthy of main eventing WrestleMania, let alone any other pay-per-view against "The Conqueror" Brock Lesnar. The fans booed again, so Heyman asked the fans who they are to boo Lesnar. Heyman asked the fans if they think there is anyone in WWE or anywhere else that is worthy of stepping in the ring with Brock Lesnar. Some fans chanted "yes" and Heyman asked them to name one.
Ricochet made his entrance with a microphone in hand as he stood on the stage to talk to Lesnar and Heyman. Ricochet said that week after week, we hear Heyman talk a lot about what it means for Lesnar to be the first entrant in the Royal Rumble match. Ricochet said that some of the guys are even afraid to step in the ring with Lesnar, but just so you know every time Ricochet jumps off the top or takes the risk, the word afraid is not in his vocabulary. Heyman mocked him saying he must have got his education in Wichita. Heyman said Lesnar is a "hungry champion" while Ricochet is lunchmeat and told Ricochet to go back to the locker room before he gets hurt.
Ricochet said that the Royal Rumble may be his only ticket to WrestleMania and that may be something he wants to fight for. Ricochet said he's not afraid to step into the ring with Lesnar and that led to Ricochet walking into the ring with Lesnar while Heyman was on the apron and Lesnar was still in the ring.
Ricochet said that now he is in the ring, he's not afraid to challenge Lesnar to a fight right now. Lesnar laughed about it. Lesnar walked right past him and he left the ring. Ricochet: "What's the matter? Are you scared?" That stopped Lesnar from leaving, so Lesnar went into the ring. Lesnar kicked Ricochet in the groin. Lesnar grabbed the microphone: "Not scared." Lesnar left with Heyman by walking over to where the announcers were and walked down the steps to the backstage area.
Analysis: It was the usual promo from Heyman, which is good but it also feels repetitive. Ricochet showing up for the interruption was a bit of a surprise. I was hoping for something where he hit a dropkick and then ran away or something like that because then it would pop the crowd. Instead, Ricochet looked like a fool because he went into the ring to challenge Lesnar and easily got knocked down after a kick to the groin. I don't think this did much for Ricochet. With that said, this could be a preview of what's to come in the Rumble match because maybe Ricochet is the guy to eliminate Lesnar or maybe it's a future rivalry. I don't think this was done randomly without a purpose. It may not be a good look for Ricochet now, but long term maybe it's a sign of what's coming. If it ends up being nothing then that sucks. I'm just trying to be optimistic about it.
Randy Orton was interviewed backstage by Charly Caruso. Orton put over Drew McIntyre as a good wrestler, but he didn't think McIntyre was on par with him. Orton said it was impossible to be on par with a guy that can strike out of nowhere with the three most dangerous letters in sports entertainment…RKO.
Randy Orton made his entrance to a good pop from the crowd. Joseph said that Orton was going to try to win the Royal Rumble for the third time to tie Steve Austin as the only three-time winners. Austin's three wins were 1997, 1998 and 2001 while Orton's two wins were 2009 and 2017.
(Commercial)
Drew McIntyre made his entrance as the opponent. He recently turned face. Last week, McIntyre beat Randy Orton and AJ Styles in a triple threat match on Raw. Joseph noted Lawler picked McIntyre to win the Royal Rumble last week as Lawler reminded him he changes sides more than a windshield wiper. In other words, Lawler will have many picks and probably be shocked every time a big guy is eliminated.
Randy Orton vs. Drew McIntyre
McIntyre with a shoulder tackle leading to Orton bailing to the floor. When Orton got back into the ring, it led to more trash talk from them and McIntyre worked over Orton with a hard chop against the turnbuckle. Orton came back with a clothesline, McIntyre to the floor and Orton dropped McIntyre back first onto the top of the barricade two times. McIntyre fought back with a punch followed by a shove that sent Orton into the ring post. McIntyre knocked down Orton on the floor and went for a Claymore Kick, Orton moved and Drew knocked down a guy in a headset. It was likely a plant. The guy at ringside was down, which led to WWE Medical people to check on the guy. They went to break there.
(Commercial)
The match continued with McIntyre in control as he stood on the top rope, Orton got back to his feet and when McIntyre jumped off with nothing, Orton hit him with a dropkick. Orton followed up with forearms, punches and McIntyre connected with chops, so Orton just did an eye poke to stop that. McIntyre with a kick, Orton sent him to the apron and Orton hit the draping DDT off the ropes. Orton wanted a RKO, McIntyre shoved him off and hit a Glasgow Kiss headbutt to knock Randy down. McIntyre hit an overhead belly to belly toss for a two count followed by a suplex and a kip up. McIntyre did his 3…2…1 countdown for the Claymore Kick, but Orton countered with a powerslam for two. They went up top with Orton hitting a superplex like he has done many times in his career. Orton bumped out of the ring, which led to The OC trio to go into the ring to attack McIntyre. That led to the DQ finish after 12 minutes.
Winner by disqualification: Drew McIntyre
Analysis: **3/4 It was a solid match for the most part, but I had a feeling the DQ finish was coming. That made it hard to get into that match. The pacing was a bit slow at times although I liked when Drew was hitting those chops and Orton was selling them as being very painful likely because they are. They certainly will sting a little bit. I feel like they could have done a better job of setting up The OC attack. It was a weird spot for Orton to roll out of the ring.
The trio of AJ Styles, Luke Gallows and Karl Anderson stomped on McIntyre with Styles also hitting a chop block. Orton made the save with a steel chair and McIntyre hit a Claymore Kick on Anderson. Orton hit Gallows with a steel chair. The heels retreated while Orton and McIntyre stood together in the ring. Orton walked over to McIntyre, Orton called him a "tough son of a bitch" as the fans chanted "RKO" and Orton teased walking away, but then he hit the RKO on McIntyre much to the crowd's delight. Orton posed to end it.
Analysis: Good post match segment with Orton showing respect to McIntyre due to having a common enemy in Styles, but then Orton showed that you can't trust him. That's fitting for Orton's character.
Orton walked up the ramp as McIntyre grabbed a microphone at ringside and said "Randy Keith Orton" while asking for a microphone that works better. Orton turned around to look at Drew, who said that was on him because it was a RKO outta nowhere. McIntyre said that's not going to happen and they are not even. McIntyre said he prays to God they're in the Royal Rumble together, he's going to Claymore Kick Orton's head off and then after all this time, Drew McIntyre is going to headline WrestleMania. Then they played Orton's music to end it.
Analysis: I liked that speech from McIntyre. I would be thrilled to see him win the Royal Rumble and there's a part of me that thinks he might win it, but I'm not willing to go all the way with that prediction.
Charlotte Flair was interviewed by Charly Caruso to talk about the Royal Rumble. Caruso mentioned Flair eliminated the most women last year and finished second. Becky Lynch walked up to her and it was Lynch who won last year. Flair said last year Becky wasn't even supposed to be in the match. Flair said she was going to win this year.
Analysis: There wasn't much to this. It was as basic as it gets. They have barely mentioned the women's Royal Rumble in the last month.
Becky Lynch made her entrance with the Raw Women's Title because she's in a match up next.
(Commercial)
This week on WWE Backstage on FS1 is Becky Lynch. They said last week that CM Punk was on, but the graphic showed Renee Young, Paige and Christian. The WWE on Fox Twitter mentioned CM Punk, so it looks like Punk will be on too.
Becky Lynch was ready to do a promo, but she had to wait for a video from last week when Asuka sprayed the green mist in her eyes after their contract signing.
Lynch said that what Asuka did last week was make her see things clearly. Lynch said that Asuka beat her last year at the Royal Rumble, but who won in the end? Lynch said that she made history all around the world while Asuka went on Youtube to make soup. Lynch said she'll collect one last debt and she'll teach Asuka what she knows now…you can't beat Becky anymore.
Kairi Sane made her entrance with tag team partner Asuka joining her. They are the Women's Tag team Champions.
Becky Lynch vs. Kairi Sane (w/Asuka)
Sane did some taunting, so Lynch hit her with a punch to the throat followed by a sliding dropkick. Asuka distracted Lynch, so Sane chopped the back of the left leg. Asuka hit Lynch in the leg with the umbrella that Sane brings to the ring. Lynch was selling the knee injury as they went to break two minutes into it.
(Commercial)
The match returned with Sane grounding Lynch with a chinlock while Asuka was sitting on top of the ring post. Lynch broke free and connected with a jumping heel kick. Sane and Lynch exchanged forearms, Lynch with an uppercut, Sane with a punch and Lynch with two clotheslines followed by a jumping shoulder tackle. Sane was able to come back with a forearm off the top for a two count. Lynch with a kick to the ribs followed by a reverse DDT and a leg drop off the middle turnbuckle for two. Sane managed to get a bridging pin for two, but Lynch powered out of it. Lynch wanted a suplex and Sane countered that with a DDT for two. The fans were not into this very much. Sane with a slow charge across the ring, Lynch with a kick followed by a leaping kick that knocked Sane off the apron to the floor. Lynch with a forearm on Asuka on the floor and then she sent Sane into the ring. Lynch punched Asuka off the ring post to the floor. Lynch with a Bexploder Suplex on Sane, then a kick to the jaw and the Disarmher submission led to Sane tapping out. Lynch won after 10 minutes.
Winner by submission: Becky Lynch
Analysis: **3/4 This was a fine match to put over Lynch. It was easy to see that finish coming because Lynch wins nearly every singles match she has. Sane got in plenty of offense while reminding us of how good she can be when she gets a chance to show off what she can do.
After the match, Asuka hit a running knee on Lynch. Asuka slapped on the Asuka Lock to take Lynch down. Asuka followed up with a roundhouse kick to the face to put Lynch down. Asuka left with Sane with the advantage. The fans chanted for Becky to end it.
Analysis: That was predictable, but also the right thing to do in that situation. It gave Asuka the momentum going into Royal Rumble. I think Lynch will beat Asuka at the Royal Rumble and that's probably the biggest lock of the night. I would be very surprised if Asuka won.
The Viking Raiders were shown backstage with their Raw Tag Team Titles. Seth Rollins, Buddy Murphy and AOP were also shown backstage getting ready because the title match was next.
(Commercial)
The announcers talked about the death of Rocky Johnson last Wednesday. Lawler said he worked with Rocky back in 1976, he called him a great athlete and praised him for being a great dad for The Rock.
The video tribute aired for Rocky Johnson. It was the same video that they aired on Smackdown. It was really well done and a nice tribute to WWE Hall of Famer Rocky Johnson. The Rock noted on Instagram (watch it here) that Rocky died of a heart attack and the funeral is on Tuesday. Rest in peace, Rocky.
Asuka and Kairi Sane were shown backstage. Sarah Schreiber asked Asuka if this is what she wants to be known for. Asuka and Sane spoke in Japanese. Asuka spoke in English to say that at the Royal Rumble, Becky is not ready for Asuka.
Analysis: I think Asuka has done an awesome job in this feud. As I said, Lynch should win, but Asuka deserves a lot of credit for being a believable rival for Becky too. They work well together.
Seth Rollins and Buddy Murphy made their entrance for their first match as a team. The AOP team of Akam and Rezar got their full entrance in their wrestling gear as well.
The Viking Raiders entered with the Raw Tag Team Titles. They were joined by Samoa Joe and Kevin Owens at ringside.
Raw Tag Team Championships: Viking Raiders – Erik and Ivar (w/Kevin Owens and Samoa Joe) vs. Seth Rollins and Buddy Murphy (w/Akam and Rezar)
Murphy started for his team, Erik hit him with a couple of knees and Murphy bailed. AOP was on the apron, so Joe and Owens attacked them and those four guys went brawling into the crowd. That led to a break.
(Commercial)
The match reset with the announcers saying that Joe, Owens and AOP were ejected from ringside. The heels were working on Erik, who sent both Rollins and Murphy to the floor. Rollins and Murphy pulled Ivar off the apron, then Murphy went into the ring with a knee to Ivar and a brainbuster. Rollins tagged in with a Frog Splash off the top on Erik for a two count. Murphy back in, Erik avoided a strike and hit a knee to the face with a hard slap on the leg as he did it. Ivar got the hot tag, he knocked down both guys, splash on Murphy and a cartwheel into a clothesline. Ivar also sent Rollins out of the ring. Erik tagged back in, Rollins saved his partner from the double team finisher, but then the champs sent the heels out of the ring. Double suicide dives by Erik and Ivar on their opponents on the floor. Ivar hit the Viking Experience powerslam for two as Rollins made the save. Rollins with a kick on Erik, Ivar with a kick on Rollins and Ivar punched Murphy. Ivar wanted a superplex on Murphy, but Murphy flipped over, Rollins kicked Ivar and Murphy kicked Ivar in the head. Rollins and Murphy hit a double team Powerbomb on Ivar and Rollins covered for a two count. Murphy tagged back in, Ivar ran through a double clothesline attempt and a springboard back elbow. Erik tagged in with a Powerbomb on Murphy, Ivar up top and Rollins shoved Ivar onto the apron and onto the floor. Erik tried to punch Rollins, but he went to the floor. Murphy with a knee strike on Erik to send Erik to the ropes, Rollins with The Stomp on Erik on the ring apron and Murphy covered Erik for the pinfall win at 12 minutes. New champs!
Winners by pinfall AND NEW Raw Tag Team Champions: Seth Rollins and Buddy Murphy
Analysis: ***1/4 This was very good because they worked at a fast pace, there weren't many rest holds and it was all about the action. I thought the finish was booked really well with Rollins shoving Ivar off the top to prevent the big move, then the big knee by Murphy and Rollins capitalized with The Stomp to win. It's that classic ending where somebody lost a match due to trying a high risk move that failed miserably and that's why Rollins/Murphy won. You could make the case that AOP should have won the titles, but I think WWE wanted to give Murphy some momentum after three straight losses to Black. I'm sure AOP will get another run with the titles since they are former champions that are a full-time team.
After the match, Rollins and Murphy celebrated on the ramp with the titles. They were joined by their AOP buddies. That led to a break.
(Commercial)
There was a backstage scene with Rollins and Murphy holding their titles with AOP joining me. Rollins said it's a new beginning. Rollins said that last week Murphy was fighting Aleister Black, but now he's fighting the good fight and now Buddy's a champion. Rollins said this Sunday at the Royal Rumble, he's going to win the Royal Rumble for the second year in a row.
Analysis: I doubt that Rollins is going to win, but it's nice for him to declare that he's in the match along with Murphy.
The Street Profits duo of Angelo Dawkins and Montez Ford did their "Monday After Weekend Update" segment that was a Saturday Night Live parody they have done before. Ford made shrimp eating jokes about Heyman. Dawkins said he's sick of reboots, then he mentioned WWE has seven hours of content on USA Network and Fox, so he wants something new and they showed a graphic of John Morrison/The Miz, which feels like a reboot, so that was the joke. Dawkins then said he loves reboots. R-Truth was in front of a screen with a graphic of Houston's Minute Maid Park and Truth didn't make any sense. Dawkins said that Lesnar is entering the Rumble at 1, but Truth is 4/20 (marijuana reference). Truth said getting F5'd by Lesnar hurts or something like that. They talked about Otis and Mandy Rose followed by a slow-motion video of Otis gyrating to some Val Venis music. They ended it there.
Analysis: This was just okay. I thought it was just mildly funny. It's a way to get Street Profits on the show. Some of the jokes failed miserably. I hope Street Profits get a push to winning the Raw Tag Team Titles at WrestleMania. They can get over big as long as WWE truly gets behind them.
Matt Hardy made his entrance for a match.
Analysis: Matt's contract is up soon and since he is barely being used, the belief is that he's probably leaving the company. It's easy to see why he would do that since creative has had nothing for him to do for a long time.
(Commercial)
Erick Rowan entered for a match as he brought his cage down to the ring. It had the cloth on it.
Matt Hardy vs. Erick Rowan
Rowan was dominant as he sent Hardy to the apron and he kicked Hardy out of the ring. Joseph did the cliched announcer thing by wondering who could eliminate Rowan from the Royal Rumble. Rowan reached under the cloth, then put his hand in the cage and his hand was bloody again, so it looked like the "animal" bit him. Rowan slammed the cage into the steps repeatedly. Hardy came back with an attack to Rowan's back, but Rowan fought back with a running cross body block. Back in the ring, Rowan hit the Iron Claw Slam for the pinfall win after about three minutes.
Winner by pinfall: Erick Rowan
Analysis: 1/2* A squash win for Rowan like we see every week. It would have been interesting if whatever was in the cage bit Hardy and he became "broken" again, but WWE doesn't seem to want to do anything with Hardy at this point.
A video package aired to set up the main event mixed tag team match.
Analysis: Yes, they are main eventing with this mixed tag match. That is really happening.
(Commercial)
Kevin Owens and Samoa Joe were interviewed backstage by Sarah Schreiber, who asked what is next for them now that Rollins and Murphy are Raw Tag Team Champions and in the Royal Rumble match. Owens said he's got nothing in common with Rollins and Murphy, but he'll be in the Royal Rumble match. Owens said he'll win, then go on to WrestleMania and make sure Seth does not win. Samoa Joe said that if Owens is declaring he's in the Royal Rumble then Joe will be in the Rumble too. Joe said when it comes to Seth Rollins, he will always stand by KO's side but in the Rumble, he'll go right through him. Owens just nodded and left.
Analysis: Two more big names are officially set for the Royal Rumble match.
Mojo Rawley was interviewed by Charly Caruso and Rawley had the 24/7 Title around his waist. Rawley said that this title was carried by cowards, the Singh Brothers tried to attack, but Rawley slammed both of them into some crates that were backstage. Rawley walked away.
Analysis: At least it is something for Rawley to do that is different from the other people that have held the 24/7 Title in the past.
Bobby Lashley and Lana entered for the mixed tag team match main event. Lana told the fans to shut up when they were chanting "Rusev Day" at them. Lana said it's not their fault that the fans are low rent, bottom feeder, pathetic losers. Lana said that they have accepted the fact that the fans are all envious of their "love story of a millennium." Lana said that they accept that they have to suffer through the fans' ugliness and she complained about the fans being disrespectful while claiming they want a thank. Lana wanted fans to chant "Thank You Bobby" and "Thank You Lana" while nobody did it except Lawler. Lana said that Lashley will prove his dominance over Rusev again and she'll get her hands on Liv Morgan too. That match is next.
Analysis: This was boring like most Lana promos. She does get heat, but it's not that interesting to me.
(Commercial)
The announcers talked about the new additions announced for the men's Rumble match. They have barely mentioned the women's Rumble match as I have said before.
Rusev entered with his tag team partner Liv Morgan. Rusev used to get bigger reactions, but it wasn't much here.
Rusev and Liv Morgan vs. Bobby Lashley and Lana
Morgan chased after Lana, who ran away and then went into the ring with a double axehandle. Lana claimed she was the best wrestler in the world as Morgan hit clotheslines and a dropkick. Lashley distracted Morgan, so Lana kicked Morgan for a two count. Lana hit a suplex. The women slapped eachother and did a double clothesline. Rusev got the tag against Lashley with Rusev hitting a corner clothesline and an overhead belly to belly suplex. Lana hit Rusev with a weak forearm, Rusev sold him like a good (real) husband and Lashley hit a spinning slam on Rusev for two as Morgan made the save. Morgan sent Lana out of the ring. Morgan with an enziguri kick on Lashley, Rusev with a roundhouse kick on Lashley and Lana held Rusev's foot, so Lashley hit a Spear on Rusev for the pinfall win. The match went about four minutes.
Winners by pinfall: Bobby Lashley and Lana
Analysis: * This storyline has seen Rusev put over Lashley numerous, so I figured this would be a week where Rusev finally gets the win because Morgan would take out Lana to prevent her from interfering. Nope. Lashley won again thanks to Lana holding Rusev's foot and Lashley got the clean pin for his team. I'm surprised by that finish and the crowd hated it too.
The show ended with Lashley and Lana celebrating on the stage while Rusev and Morgan looked dejected at ringside. That's how Raw went off the air going into the Royal Rumble.
Analysis: This was a poor way to end the show. This felt like a segment for the middle of the show, not the main event. A weak ending to Raw this week.
Three Stars of the Show
1. Andrade
2. Rey Mysterio
3. (tie) Seth Rollins/Buddy Murphy
3. (tie) Viking Raiders
The Scoreboard
6.75 out of 10
Last week: 7
2020 Average: 6.67
Last 5 Weeks: 7, 6.25, 6.75, 6.25, 4.75
Final Thoughts
This week's Raw gets a 6.75 out of 10.
It was an episode of Raw that was a mixed bag, but I enjoyed most of it. There were some great moments on the show like the Andrade/Mysterio ladder match and the Tag Team Title change. Andrade and Rey took a lot of risks and pulled out a great match as usual for them. I didn't expect the title change, but it was booked well. I like the Orton/McIntyre stuff that will hopefully elevate Drew in the long run.
The Brock Lesnar segment wasn't that interesting unless there's a payoff with Ricochet getting revenge and I have my doubts about that. I thought Becky Lynch vs. Kairi Sane was good while Asuka got more heat after the match. The last hour had some boring parts including the mixed tag team main event match that felt like a midcard segment that was put in the wrong spot.
I'm genuinely surprised by how poorly WWE has promoted the Women's Royal Rumble match. Two years ago it was a big deal. Last year they built it up pretty well. This year they barely mentioned it at all and when Raw signed off, they only had four women listed on WWE.com as being in the match. Obviously other Raw and Smackdown women will be in it, but the match hasn't been discussed much at all. It's disappointing to see that.
The next WWE pay-per-view is the Royal Rumble on January 26th in Houston, Texas. Our preview will go up on Saturday morning and I'll have a live review only on TJRWrestling on Sunday night. Here's what we know so far.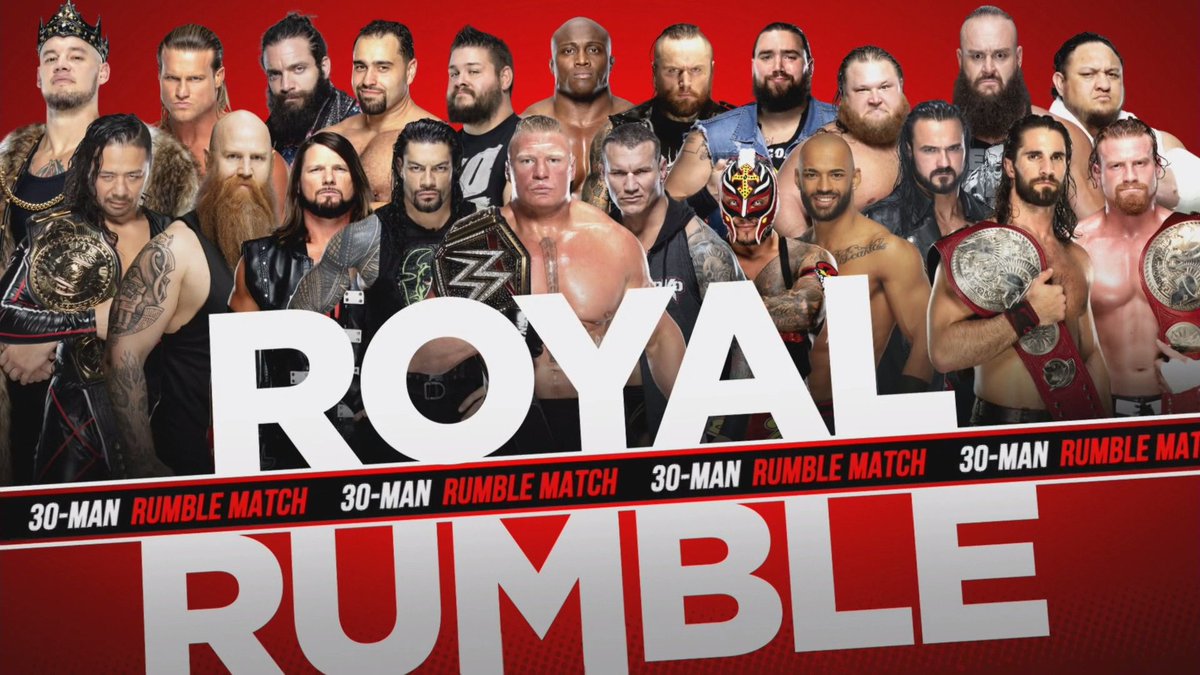 Men's Royal Rumble Match – Entrants include: WWE Champion Brock Lesnar (entered himself at No. 1), Roman Reigns, King Corbin, Dolph Ziggler, Intercontinental Champion Shinsuke Nakamura, Braun Strowman, Erick Rowan, AJ Styles, Randy Orton, Elias, Rey Mysterio, Ricochet, Drew McIntyre, Otis, Tucker, Rusev, Bobby Lashley, Seth Rollins, Kevin Owens, Samoa Joe, Aleister Black and Buddy Murphy. That's from the WWE.com list.
Women's Royal Rumble Match – Entrants include: Charlotte Flair, Alexa Bliss, Nikki Cross and Sarah Logan. They've only announced four names so far.
Strap Match for the Universal Championship: "The Fiend" Bray Wyatt (c) vs. Daniel Bryan
Raw Women's Championship: Becky Lynch (c) vs. Asuka
Falls Count Anywhere: Roman Reigns vs. King Corbin (They are both in the Men's Royal Rumble match as well.)
Smackdown Women's Championship: Bayley (c) vs. Lacey Evans
Sheamus vs. Shorty G
—
You can contact me using any of the methods below. Go reigning and defending NBA Champion Toronto Raptors and Toronto Maple Leafs.
Thanks for reading.
John Canton
Email: mrjohncanton@gmail.com
Twitter: @johnreport
Personal Facebook and TJRWrestling on Facebook