The John Report: The WWE Raw Deal 01/13/20 Review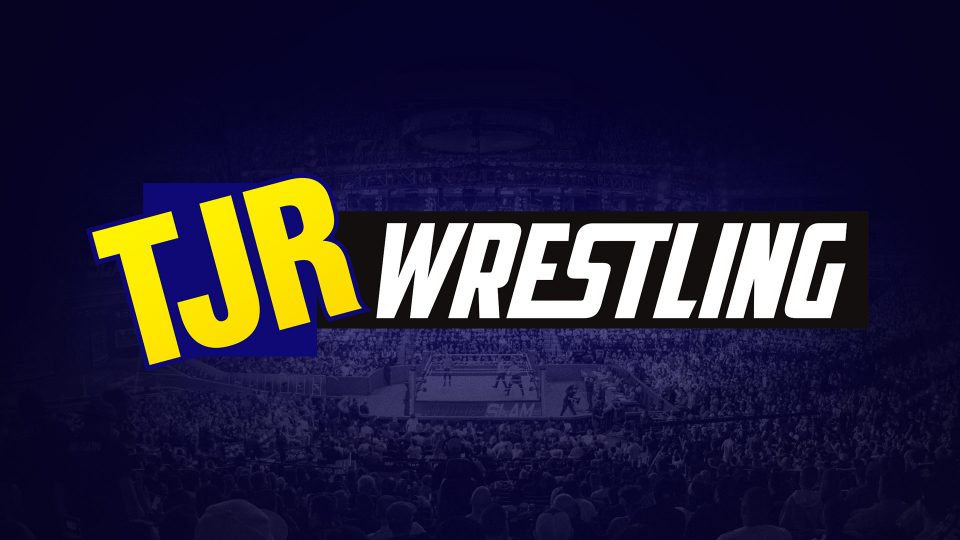 Welcome to another WWE Raw Deal review right here on TJRWrestling. There are less than two weeks to go until the Royal Rumble on January 26th, so let's see what WWE has in store for us this week.
Speaking of the Royal Rumble, I am reviewing every Royal Rumble all month long on TJRWrestling, so check it out in our Royal Rumble section. I did not get a chance to write a review of the NXT Takeover UK Blackpool II event, but I thought the Bate/Devlin match was outstanding and a legit match of the year contender already. Check that one out if you missed it. Let's get to Raw.
Live from Lexington, Kentucky, this is the Raw Deal for episode #1390 of Monday Night Raw. Follow me on Twitter @johnreport. Please visit TJRWrestling.net daily for our regular updates on the wrestling business featuring WWE news coverage, insightful columns from our team along with reviews about wrestling's past and present. Thanks to Melo Man for the banner up top.
The show began with the Raw intro video playing. There was a pyro display on the stage to start it. They said "University of Kentucky" instead of saying Lexington because it's not a big enough city for them to mention. I don't make the rules. I just report on this stuff.
Randy Orton made his entrance looking ready to go for his match against AJ Styles. The Raw announce team of Vic Joseph plugged what was coming later in the show.
Orton stood in the ring with a microphone in hand as the fans cheered him, so Orton did his pose on the ropes leading to more cheers. Orton said he was asked to "excitedly" welcome the fans to Raw and he admitted that excitedly isn't really his style. Orton said instead he would like to invite a specific WWE superstar to this ring right now: "AJ Styles, get your ass out here!" Orton said he'll show why he's a threat to win the Royal Rumble and he's got the three most dangerous letters in sports entertainment – RKO.
AJ Styles made his entrance for the match against Orton. It was surprising to see Styles enter without his OC buddies. Styles got in the ring to talk to Orton.
Styles asked Orton if he wanted to brag or pretend to have another knee injury. Orton laughed about it. Styles said he believed Orton was really hurt and how does he get repaid – with a RKO. Styles told Orton that he's not the favorite to win the Royal Rumble and Styles claimed he hit the sweetest RKO ever last week. Styles said that many people said it was probably the best RKO they've ever seen and most of them said that his RKO was phenomenal. Styles said maybe that's all he needs to throw 29 other men over the top rope to win the Royal Rumble and that includes Orton. Styles said that includes Brock Lesnar…but here's Drew McIntyre with an interruption.
Drew McIntyre said that includes him too. McIntyre said that he managed to overcome against the conga line and now he's looking for some bigger and better opponents. McIntyre talked about Styles and Orton are bragging about their RKO while saying his Claymore is bigger. McIntyre said we have two options where they talk all night (the fans booed that idea) and McIntyre suggested a triple threat match right now. The fans cheered that.
Analysis: This was advertised as Orton vs. Styles, but now it's a triple threat with McIntyre involved. McIntyre turned face last week on Raw, so it will be interesting to see how he continues to evolve in that role.
Randy Orton vs. Drew McIntyre vs. AJ Styles
Orton knocked McIntyre out of the ring, Styles to the top, Orton knocked him down and Luke Gallows saved Styles from a further attack. Karl Anderson went into the ring, Orton dropped him with a RKO and McIntyre hit Gallows with a Claymore Kick while they were on the floor. That led to a break.
(Commercial)
The match returned with McIntyre working over Styles on the top rope, Styles came back with punches, McIntyre was upside down against the turnbuckle and Orton stomped on him. Orton set up Styles with a superplex while McIntyre reached up with a suplex across the ring, so it was a Tower of Doom spot out of the corner where Drew showed off his power. The fans chanted "this is awesome" for them. Styles with a jumping kick to McIntyre, Orton with a clothesline to Styles and McIntyre hit headbutts on both guys. McIntyre hit the Future Shock DDT on Styles, which led to cheers as he popped back up to his feet. McIntyre led the crowd in a 3…2…1 chant, but Orton hit a dropkick to knock McIntyre out of the ring. McIntyre sent Orton into the barricade. Styles came back over the top with a forearm to the face of McIntyre. Styles shoved McIntyre into the ring post. Orton picked up the steel steps and hit Drew in the face, so the story was that McIntyre was taken out by both guys. It was back to Styles battling Orton with Styles getting in a kick followed by a draping DDT off the ropes like Orton loves to do. Styles teased a RKO similar to how Orton hit the mat repeatedly, but Orton blocked the RKO. Styles with a Pele Kick to the head, Orton blocked another RKO attempt and hit a kick to the gut. Orton teased the Styles Clash and then Orton actually hit the Styles Clash perfectly for a two count as Styles kicked out. That looked good by Orton as he transitioned right into the pin attempt after hitting the Styles Clash. The fans chanted "RKO" for Orton. Styles countered a RKO attempt with a rollup, but then Orton came back with a RKO on Styles. McIntyre went back into the ring and hit a Claymore Kick on Orton. McIntyre covered Styles to win the match after 11 minutes.
Winner by pinfall: Drew McIntyre
Analysis: ***1/4 It was a very good match with three veterans that know what they are doing out there. McIntyre needed the win the most of the three guys, so I'm glad he was put over in a big way. I think guys the caliber of Orton and Styles can lose every match they have, yet they're still going to get huge reactions due to their stature in the company. I like how McIntyre got the pin on Styles after he knocked out Orton with the Claymore Kick. They did a nice job of making it seem like McIntyre was taken out of the match, then we got that cool Styles Clash spot from Orton and that led right into the finish with McIntyre coming back in to win.
McIntyre posed in the ring to celebrate the win. The fans cheered for him a bit because they know he's a face now.
(Commercial)
There was a video from last week's Raw showing Big Show's return to action as he teamed up with Kevin Owens and Samoa Joe against Seth Rollins and AOP. It was a good video that showed a timeline in reverse of what happened.
Seth Rollins and AOP members Akam and Rezar were in the locker room getting ready. Rollins talked about how opportunities like tonight do not come along very often. Rollins said that this Fist Fight will be a demonstration and if you're not with them, you're against them. Rollins said this is fate, it is inevitable and no one can stop them. They all agreed that Kevin Owens, Samoa Joe and Big Show can't stop them because this is the destiny of Raw. Rollins said that he has sacrificed more than anyone will understand to ensure that destiny remains intact. Rollins said that tonight they must stand up, impose their will and show what happens when you don't embrace the vision of the Monday Night Messiah (Rollins).
Analysis: It was a decent promo to get over Seth's new heel persona as the Monday Night Messiah.
Ricochet made his entrance as the announcers noted he'll be in the Royal Rumble match. They were in Ricochet's home state of Kentucky.
(Commercial)
Mojo Rawley made his entrance as Ricochet's opponent. No more face painting from Rawley.
Ricochet vs. Mojo Rawley
Ricochet tried a waistlock takedown, but Mojo tossed him aside. Ricochet with a headscissors followed by a dropkick. Ricochet dumped Mojo over the top to the floor as a Royal Rumble preview and Ricochet hit a springboard dropkick. Ricochet with a somersault dive over the top onto Mojo on the floor. Back in the ring, Mojo avoided a top rope attack followed by a running shoulder tackle for a two count. Mojo with a gutwrench suplex followed by a running splash against the turnbuckle. Ricochet with a kick to the face, he tried a leaping attack, Mojo caught him, but Ricochet got out of that and hit a Recoil. Ricochet went up top and hit a 630 Splash on Mojo for the pinfall win after about four minutes.
Winner by pinfall: Ricochet
Analysis: *3/4 An easy win to put over Ricochet. Mojo got a bit of offense in the match, but this was about making Ricochet look good with a decisive victory. Ricochet has not had a meaningful feud on Raw in months. It would be nice if he was featured more.
The Street Profits duo of Montez Ford and Angelo Dawkins did one of their backstage promo segments. Ford hyped up the Fist Fight match while hyping their "We Want The Smoke" shirts. Dawkins wasn't paying attention because he was looking at some paper. Dawkins was working on his Oscar ballot, Ford said that was a pop culture reference, Ford talked about other stuff coming on the show, then said Charlotte Flair is next and Dawkins said to hit The Queen's music.
Charlotte Flair made her entrance for a match. Flair was the first woman to declare that she would be in the women's Royal Rumble match.
(Commercial)
Sarah Logan entered as Flair's opponent. Last week Logan and Flair had a brawl around ringside, so they showed a replay of that.
Charlotte Flair vs. Sarah Logan
Flair with a running boot to the face of Logan, who bailed to the floor so Flair went after her with chops and forearms. The women were brawling on the floor, the referee got to an eight count and they went back in. Flair sent Logan face first into the top turnbuckle. Flair slapped on the Figure Eight Leglock and Logan quickly tapped out to give Flair the win after two minutes.
Winner by submission: Charlotte Flair
Analysis: * A squash match win for Flair. It was the second straight match that was a short, decisive win for a bigger name wrestler over somebody that's barely on the show.
After the match, Flair made the referee put her robe back on her. Flair was about to leave, but then she threw Logan over the top to the floor to preview the Royal Rumble match. Flair left the ring, some fan wanted to give her a high five and Flair wouldn't do it.
Analysis: The deal is that WWE wants people to think Flair is a threat to win the Royal Rumble, which makes sense since he's a 10-time Women's Champion. I think Flair's a face, but she doesn't act like it. Just let her be a heel again. I also think WWE has done a poor job in promoting the women's Royal Rumble match.
(Commercial)
There was a commercial for Miz and Mrs. new season on January 29 after NXT on USA Network.
Kevin Owens and Samoa Joe were shown talking about their match with Joe hyping up Owens. Big Show said he didn't want them to stress about rules, Owens was concerned about it, then Big Show showed them his giant fist and said he needs to re-introduce the fist to Seth Rollins.
Let's Hear from Brock Lesnar with Paul Heyman
The WWE Champion Brock Lesnar made his entrance along with advocate Paul Heyman as we got to the end of the first hour. Heyman was rocking a suit as usual while Lesnar had the WWE Title around his waist along with a Suplex City shirt.
The fans greeted Lesnar and Heyman with boos while Heyman said, "y'all need to show some appreciation for the champion" with some southern drawl in his voice. Heyman said ladies, gentlemen and "things that live in Kentucky" that drew boos and then Heyman mocked the fans for doing his introduction after he mocked them. The fans chanted "you suck" at them, so Heyman and Lesnar left the ring. Heyman did his "ladies and gentlemen" routine again to tell the crowd that his client does not suck. They went back into the ring as Lesnar held up the WWE Title with the fans booing him.
Heyman did the intro for Lesnar and himself again. This is a long show. They have time to kill. The fans booed them loudly. Heyman said last week they had the biggest news of 2020 that Lesnar was entering the Royal Rumble as the WWE Champion and he was entering first in the Rumble match. Heyman claimed that Lesnar winning was not a prediction, it was a spoiler. Heyman talked about how he's got a spoiler streak while reminding us that Lesnar conquered The Undertaker's WrestleMania streak at WrestleMania 30 (six years ago). Heyman said that the new streak is about Lesnar matches and his spoilers all come to life because his spoilers are written by and executed by Brock Lesnar.
Heyman said that Lesnar is not going to eke by a Royal Rumble victory. Heyman claimed that Lesnar was going to dominate the Royal Rumble, he'll eviscerate 29 other capable men, he'll conquer the Royal Rumble and anybody that doubts his spoilers will realize that only the truth flows from his mouth…and that led to R-Truth.
R-Truth made his entrance with the 24/7 Title to interrupt Lesnar and Heyman. Truth went into the ring with them.
Truth said he was glad that Heyman called him out there. Truth said he saw something on TV about Royal Rumble and said you may be the most favorite to win the Royal Rumble, but his childhood hero John Cena (Truth is older than him) taught him to never give up. Truth said for the first time ever, your 24/7/, 48/7, 7/11, I-95 South and now Lexington, Kentucky, European TV Champion is officially declaring for the Royal Rumble. Truth said it's not the size of the dog in the fight, it's the size of the fight in the dog, the bigger they are, the harder they fall, and you may be a "big, big, big man" but I know you will go flying over the top rope…Paul Heyman. The fans laughed. Heyman had a shocked look while Lesnar was laughing his ass off. I've never seen Lesnar laugh in the ring like that.
Heyman told Truth he is not in the Royal Rumble match and said that if Truth is in the Royal Rumble match, he has to go face to face with Brock Lesnar, who was still laughing.
Truth said, "my bad" to his previous champion. Truth said that he is now officially undeclaring the Royal Rumble match and Lesnar was laughing. Truth said that he wasn't listening to Paul because he talks a lot and his mouth has a motor on it while joking that Heyman puts him to sleep. Truth also complained about how Heyman gives away spoilers and said Truth didn't like spoilers. Truth said he's not in the Royal Rumble and he didn't want Brock to take him to Sioux Falls City (instead of Suplex City). Heyman corrected that it's Suplex City, Heyman told him he's not funny and nobody likes him. The fans booed that statement.
Truth asked Brock: "What's Up?" Truth did the splits in front of Lesnar followed by leading the crowd in "What's Up" chants. Lesnar decked Truth with a clothesline followed by the F5 in the center of the ring. Lesnar grabbed the 24/7 Title and put it onto Truth. Lesnar picked up his WWE Title along with a microphone. Lesnar: "That's what's up!" Lesnar left with Heyman.
Analysis: This was comedy gold by R-Truth. I don't know how he delivers some of these lines with a straight face and doesn't get himself laughing, but he's so good at this. I've never seen Lesnar laugh so much in a segment. I'm not sure if Lesnar was supposed to laugh or if it was a natural reaction, but you could tell he thought it was hilarious. I thought it was hilarious too. It didn't accomplish much in terms of having Lesnar interact with other people in the Royal Rumble much, but I found it to be very entertaining. I enjoyed this thanks to R-Truth's antics.
(Commercial)
A replay aired of Lesnar dropping R-Truth with the F5 in the middle of the ring.
R-Truth was being helped to the back by referees while holding his 24/7 Title, but that's when Mojo Rawley showed up with a kick to the face. Rawley pinned Truth on the ramp to win the title.
Winner by pinfall and New 24/7 Champion: Mojo Rawley
Mojo Rawley held the title up in the air saying he's not running from anybody. He dared anybody to come try to take it form him.
Analysis: The coveted 24/7 Title changes hands again. Rawley is now a two-time 24/7 Champion.
The storyline married couple of Bobby Lashley and Lana were shown arriving to the arena earlier in the night with Charly Caruso showing up to interview them. They talked about how happy they were for their wedding while Lana complained about how everything was ruined. Lana still goes back to her action accent when saying "Rusev" by name. Lana said that they have accepted the fact that everybody is jealous of their success and love while adding that they will crush Rusev. They walked into the arena.
Bobby Lashley made his entrance with his "wife" Lana for another match against Rusev. When they wrestled at TLC one month ago, Lashley won the Tables Match thanks to Lana's help, so this is a rematch.
(Commercial)
This week on WWE Backstage the guests are The Usos. I believe Xavier Woods will be on too. CM Punk is not on this week. He is barely on the show.
Rusev made his entrance wearing an "I crush it every Rusev Day" shirt and was introduced as the Bulgarian Brute. It is WWE trying to tell us he is more serious now.
Rusev vs. Bobby Lashley (w/Lana)
Rusev with a running shoulder tackle, Lashley with a leapfrog and Rusev with a spinning heel kick. Lawler was doing his routine of bad marriage jokes that weren't very funny. Rusev worked over Lashley with repeated punches against the turnbuckle followed by a running clothesline. Rusev hit a running corner splash followed by a suplex and a hard kick to the back. Rusev with a suplex, Lana yelled at him and Rusev sent Lashley into the turnbuckle followed by a cannonball splash. Lana yelled at Bobby to get it together. Lashley with a thumb to the eye followed by a clothesline that sent Rusev over the top to the floor. Lashley left the ring and hit Rusev with a Spear while they were on the floor, which led to a break.
(Commercial)
Lashley was in control with a chinlock while they showed Lana at ringside in her rainbow-colored attire showing off the goods. Lashley with a body slam followed by an elbow to the back of the head. Lashley rammed Rusev's left knee into the ring post. Rusev fought back with a kick to the face, Lashley missed a corner charge and Rusev hit two clotheslines followed by a Samoan Drop. Rusev with a running splash against the turnbuckle followed by an overhead belly to belly suplex. Rusev wanted the Macha Kick, Lashley avoided it and hit a German Suplex that led to Rusev landing on his feet. Rusev with a Machka Kick to put Lashley down as the crowd was fired up. Rusev wanted the Accolade finisher, Lana with a distraction, Lashley with a forearm to the back of the leg and then Lashley/Rusev did a double clothesline spot. Liv Morgan made her way down to the ring looking angry as she walked around the ring over to where Lana was. The fans popped for the showdown between Lana and Morgan. Lana grabbed a drink from a fan, threw it in Morgan's eyes and whipped Morgan into the barricade. Lana yelled "never again" at Morgan. Back in the ring, Lashley hit a Spear on Rusev for the pinfall win after 14 minutes.
Winner by pinfall: Bobby Lashley
Analysis: **1/4 This was just an average match. I don't think they have very good chemistry together. I felt like Rusev was going to get the win here since Lashley won their last match, but instead Rusev looked like a fool again and Lashley got another win to keep the rivalry going. The finish came off as flat since they did a double knockdown spot for the guys, then they got right back up and did the finish. I think they could have set it up more. The Morgan/Lana stuff did pop the crowd at least.
The happy couple Lashley and Lana left up the ramp with smiles on their faces. The replay showed that Rusev was distracted by the women, which led to Lashley hitting the Spear for the win. Rusev looked frustrated inside the ring.
(Commercial)
Bobby Lashley and Lana showed up to talk to Charly Caruso in the backstage area. Lana complained about Liv Morgan being a troll, a stalker and she's obsessed with Lana while claiming that everybody is obsessed with her. Lana said she's so grateful that Lashley obviously won against Rusev. Lana said that next week she wants a match with Lashley and Lana against Rusev and Liv Morgan. Lashley wasn't thrilled about that while Lana claimed she's a celebrity, a supermodel, a fashionista, an influencer and no one is going to intimidate her.
Analysis: The challenge means that this feud will continue. Lana's over the top promos are annoying, but that's what it is supposed to be for a heel like her.
The Viking Raiders entered with the Raw Tag Team Titles for an open challenge match. Erik did a promo saying anybody who challenges them gets put down while saying they have proven their dominance throughout the entire Raw tag team division. Ivar said that they dare any team to try and stop them. "Let the raid begin." The Singh Brothers duo of Samir and Sunil Singh answered the challenge to no reaction.
Raw Tag Team Championships: The Viking Raiders (Erik and Ivar) vs. The Singh Brothers (Samir and Sunil Singh)
Erik and Ivar gave the Singh Brothers body slams where they threw the Singhs into eachother. Erik gave Ivar a body slam onto both Singh Brothers in the ring. They launched Sunil into the ring and hit the Viking Experience double team slam for the pinfall win in about one minute.
Winners by pinfall: The Viking Raiders
Analysis: 1/2* A squash match win for the champions, which is what we usually see from them. The Singhs act really isn't over at all, but maybe when Jinder Mahal is back soon they'll be paired with him again.
Rusev and Liv Morgan were shown standing by in the backstage area where they spoke into the camera. Rusev said if you want a fight, then he's going to fight them. Liv Morgan said that she doesn't make promises that she can't keep. Morgan said that she is the living embodiment of Lana's karma and said that karma isn't only a goddess, she's an honest to God bitch.
Analysis: Good line by Liv there. I guess that's where Rusev will get his win in a mixed tag team match next week. The faces have to get the win at some point.
This week on Smackdown. Roman Reigns will face Robert Roode in a Tables Match.
(Commercial)
Raw Women's Title Contract Signing Between Becky Lynch and Asuka
The contract signing was hosted by Jerry Lawler in the ring. There was a table and leather chairs in the ring. Lawler introduced Becky Lynch, who walked out with the Raw Women's Championship as Joseph mentioned that Lynch is the longest reigning Raw Women's Champion. Lynch defends the Raw Women's Title against Asuka at the Royal Rumble. Lynch sat down in a leather chair in the ring.
Asuka made her entrance with her tag team partner Kairi Sane. They are the Women's Tag Team Champions. Remember when WWE said that the women's tag team titles can be defended on any show any time? I think WWE has forgotten about that. I know Sane was banged up after TLC, but it would be nice if WWE remembered that there are women's tag team titles that could be featured more often.
Asuka did some ranting in Japanese while sane laughed about it and Asuka sat in a leather chair. Sane annoyed Lynch with her umbrella, so Lynch tossed the umbrella out of the ring while Sane left the ring.
Asuka signed the contract first. Lynch paused for a few moments and then she signed the contract as well to make the match official.
Lynch said, "may the best woman win" and Asuka spit the DREADED GREEN MIST~! in Lynch's face. Lynch freaked out about it and was helped at ringside by people that used towels to get the green mist out of her eyes. They also used water to help clean her eyes out. Asuka left with Sane.
Lynch asked for the microphone because she had something to say as the fans chanted "Becky" for her. Lynch said that when they give you money, praise, the awards and the acclaim it's all poison. Lynch said that Asuka is hungry and angry while talking about how Asuka is the most dangerous woman she has ever faced. Lynch spoke right into the camera saying that when somebody puts their hands on her, they bring a badness out of her. Lynch said that she didn't care if she was walking into a buzzsaw and if she goes down then she's going down swinging and she's taking Asuka with her. Lynch walked away with WWE Medical helping her to the back.
Analysis: That was a good promo by Lynch showing off her fighting spirit. It was nice to see a contract signing without the usual brawl. This was different with Asuka getting in the cheap shot with the green mist and that makes you want to see Lynch get revenge on her. I like the way this was done because it makes the babyface Lynch look a bit more vulnerable than usual, so now you want to see if she can come back stronger.
(Commercial)
It was announced that next week on Raw, Andrade will defend the US Title against Rey Mysterio in a Ladder Match. That will be great.
Andrade, the US Champion, and Zelina Vega were interviewed with Sarah Schreiber. Vega called Mysterio a disgraced legend while adding that Andrade was man enough to beat Mysterio to win the title as well as in their rematch. Vega also said Andrade was man enough to rip the mask off Mysterio last week and then the "low life criminal" Mysterio attacked them. Vega claimed they called authorities to file a report against Mysterio and she called Rey a disgrace to Latinos everywhere that is also a sad example for his son Dominick and all of his children. Andrade said next week in this Ladder Match he's going to…speak in Spanish…and I think it was something about winning the match.
Rey Mysterio was interviewed backstage by Charly Caruso. Mysterio thought it was ridiculous that he was being accused of being a criminal. Mysterio said that ever since Andrade attacked Humberto Carrillo, he thinks he can get away anything. Mysterio didn't like Vega questioning Mysterio as a father. Mysterio said he loved the idea of a ladder match, he'll sacrifice years of his career and life to this ladder match. Mysterio said he understood the dangers while adding that he accepts the consequences. Mysterio said he'll not only take back the US Title, more importantly he'll take the US Title back from Andrade.
Analysis: They were solid promos from both sides. I'll never get tired of Mysterio matches against Andrade. I assume Andrade will keep the title and then feud with Humberto Carrillo when he comes back soon.
There was a video package about the Aleister Black match with Buddy Murphy. They are two young superstars on the rise that have had two matches previously where Black won both times. Last week on Raw, Murphy attacked Black to set up this third match.
Aleister Black made his entrance for his match.
(Commercial)
Buddy Murphy was next for his match as he tries to get a win over Black for the first. Both of these men are in the men's Royal Rumble match.
Aleister Black vs. Buddy Murphy
Black with a spinning back elbow, Murphy with a whip into the ropes, Black with kicks to the chest and Murphy bailed to the floor. Black with a sliding dropkick to knock Murphy out of the ring. They battled on the floor with Black hitting a kick to the face, but then Murphy whipped Black by the back of the head onto the bottom of the ramp. Murphy broke the referee's count and went back out of the ring to send Black into the barricade. Murphy with a boot to the face, then Murphy stood on the barricade and Black kicked the shin to knock Murphy down. That was a clever spot. They battled in the ring with Black going for a corner attack, Murphy moved and dropkicked Black into the ring post. Ouch. Murphy gave Black a suplex off the side of the ring and onto the floor.
(Commercial)
The match continued with a battle on the floor where Black hit a double stomp to the chest. Black kicked Murphy into the barricade at ringside followed by a running kick that sent Black over the barricade because of how much momentum he had while delivering the move. Black with a kick to the side of the face as fans chanted "this is awesome" and Black hit a moonsault press onto a standing Murphy for a two count. Black teased the Black Mass kick, but Murphy blocked it and got a pin attempt grabbing the tights and the referee saw it, so he stopped the count. Murphy ran the ropes leading to Black hitting a rising knee to the face for two. Black sent Murphy into the turnbuckle and Murphy came back with a risking kick to the face. That looked rough. Murphy suplexed Black off the top, then Black got back up and kicked Murphy off the turnbuckle, which led to Murphy bumping into the barricade. That was a rough landing right there, but he sold it perfectly. Both guys were out of the ring, then they crawled back in at the same time and the fans applauded them for their effort. Black with strikes, then a standing side kick and Murphy blocked a moonsault with a kick to the ribs. Murphy hit the Murphy's Law slam, but Black got his left leg on the bottom rope to break up the pin at the two count. That was a great nearfall as fans chanted "this is awesome" for them. Murphy picked up Black using his fight (like Black does), but Murphy missed a kick and Black hit the Black Mass kick. Black covered, the referee counted and the referee claimed Murphy got his right shoulder up even though he did not. That was probably the finish. Black set up Murphy on his knees followed by another Black Mass kick to put Murphy down again. Black covered Murphy for the pinfall victory after 14 minutes.
Winner by pinfall: Aleister Black
Analysis: **** This was an excellent match. A four star match on Raw is rare. More of that, please. I think it was the best of their three matches although the referee likely made a mistake saying that Murphy kicked out of the first Black Mass kick. Nobody kicks out of Black Mass, so that's another reason why I think the referee made that mistake. I agree with Black getting the win because I wrote in the Raw preview that they need to book somebody to win every match to build him into a huge star. If people trade wins all the time, nobody gets to become a big deal. By having Black win again, he clearly won the feud, but it's not like Murphy is hurt that much from losing.
Black celebrated the win as the fans cheered for the effort of both guys while Murphy sat up against the barricade at ringside.
The Fist Fight main event tag team match is still to come.
(Commercial)
Next week on Raw: Brock Lesnar will be there again, Rusev/Liv Morgan vs. Bobby Lashley/Lana and Andrade defends the US Title against Rey Mysterio in a Ladder Match.
Erick Rowan made his entrance with his cage that was covered by a cloth. Buddy Murphy was still at ringside sitting against the barricade. Charly Caruso tried to interview him, but Buddy said not now.
Erick Rowan vs. Local Competitor
Rowan threw the guy out of the ring, teased showing him what was in the cage and then whipped him into the barricade. Rowan reached into the cage to grab what was in there, but then Rowan's hand was bleeding so the idea is that what is in the cage bit him. Back in the ring, Rowan hit the Iron Claw slam on the local competitor to beat him in under two minutes.
Winner by pinfall: Erick Rowan
Analysis: 1/2* It was the usual squash win for Rowan that he gets to do every week. By having Rowan get a bloody hand due to what's in the cage, at least there was some progress with that storyline.
Seth Rollins and AOP were shown walking backstage for their main event match up next.
(Commercial)
The Fist Fight match rules were announced by Mike Rome: No Holds Barred, No Disqualifications, No Countouts, No Pinfalls and No Submission. The only way the match can end is if the referee declares that one team can not continue.
The babyface team was up first with Big Show making his entrance, but he was attacked from behind by Seth Rollins and AOP. Samoa Joe and Kevin Owens were next. Joe and Owens attacked with kendo sticks that they used on the heels.
Fist Fight Match: Big Show, Kevin Owens and Samoa Joe vs. Seth Rollins and AOP (Akam and Rezar)
There were about ten minutes left in the show as the match began. Show began with two kendo stick shots to Rollins to knock him out of the ring. Show set up a table against the turnbuckle. Joe and Owens were brawling with the AOP guys by the stage area. Rezar knocked down Owens and then joined Akam brawling with Joe. Rollins shoved Show into the ring post. Owens ran across the side of the stage and jumped onto the AOP guys with a cannonball attack. That was impressive! Joe hit running senton off the stage that put Akam through a table. Show sent Rollins out of the ring where Murphy was sitting up against the barricade. Rollins told Murphy "help us" as Show brought Rollins back in the ring. Show gave Rollins a Chokeslam, but that's when Murphy went into the ring and hit show with a low blow punch to the groin. Rollins and Murphy whipped Show into the table that was against the turnbuckle. AOP worked over Joe on the announce table. AOP also went after Joe and AOP gave Owens a Spinebuster onto Joe that broke the table on the stage. That took out Joe and Owens. Back in the ring, Rollins went for The Stomp on Show, but Show avoided it and tossed Murphy in the corner while hitting a splash on Rollins. Show went to the turnbuckle, but AOP was back with a double Powerbomb on Show. The referee John Cone saw that Joe and Owens were down on the stage while Show was rolling around, so Rollins hit The Stomp on Show to put him down. The referee John Cone called for the bell. The match went about six minutes.
Winners: Seth Rollins, Akam and Rezar
Analysis: ***1/4 This was fun to watch with Rollins and AOP winning due to getting an assist from Murphy. When you do a six-man tag team match with no tags, it should be under ten minutes and if you are going to have a shorter match like that, make it all about the action. They did that well here. It was promoted as a fight and it came off like a fight. It wasn't a clean win for the heels, but that's okay because heels are supposed to cheat and that's what they did thanks to Murphy's help. There were some cool moments in the match like when Owens hit that dive off the stage and AOP hitting their power moves.
After the match, Rollins hugged Akam and Rezar. Rollins also extended his arms towards Murphy and Murphy hugged Rollins, which means Murphy is part of this group now.
The foursome of the "Monday Night Messiah" Rollins, AOP and Murphy held their arms up together. There were replays shown of the key spots in the match.
The group of Rollins, Akam, Rezar and Murphy continued their celebration. The announcers plugged what is coming next week. The heels celebrated some more to end the show.
Analysis: I think it's a good spot for Murphy to be in. If he was on his own, I doubt he would be able to stand out that much. Murphy's a good worker, but he doesn't have a big personality. By putting Murphy in a group with Rollins, it will allow him to be featured more. Plus, you can think about the long term effects that can lead to Murphy turning on Rollins in a year or whenever, which can elevate Murphy as well. It's a nice fit.
The group of Rollins, AOP and Murphy need a name. I don't know what the name should be, but the sooner they get one, the better it is.
Three Stars of the Show
Aleister Black
Buddy Murphy
R-Truth
The Scoreboard
7 out of 10
Last week: 6.25
2020 Average: 6.63
Last 5 Weeks: 6.25, 6.75, 6.25, 4.75, 7
Final Thoughts
This week's Raw gets a 7 out of 10.
I thought this was a pretty good show with a couple of memorable matches with Black/Murphy as the best of the night and McIntyre getting a big win over Styles and Orton. I also thought it was a nice ending with Buddy Murphy joining Seth Rollins' lead heel group. The Lynch/Asuka contract signing was basic, but it worked in terms of adding to the story.
I think they are doing a better job of advancing some midcard storylines of late. On the negative side, they have barely mentioned the women's Royal Rumble match, though, so that's a negative thing considering they have less than two weeks before the Rumble match takes place. A little effort would be nice.
There were also fun moments like R-Truth's comedy stylings in one of the funniest R-Truth promos I've ever seen. Lesnar was cracking up big time, which made it that much more enjoyable because you don't see Lesnar doing that very often.
The next WWE pay-per-view is the Royal Rumble on January 26th in Houston, Texas. Here's what we know so far.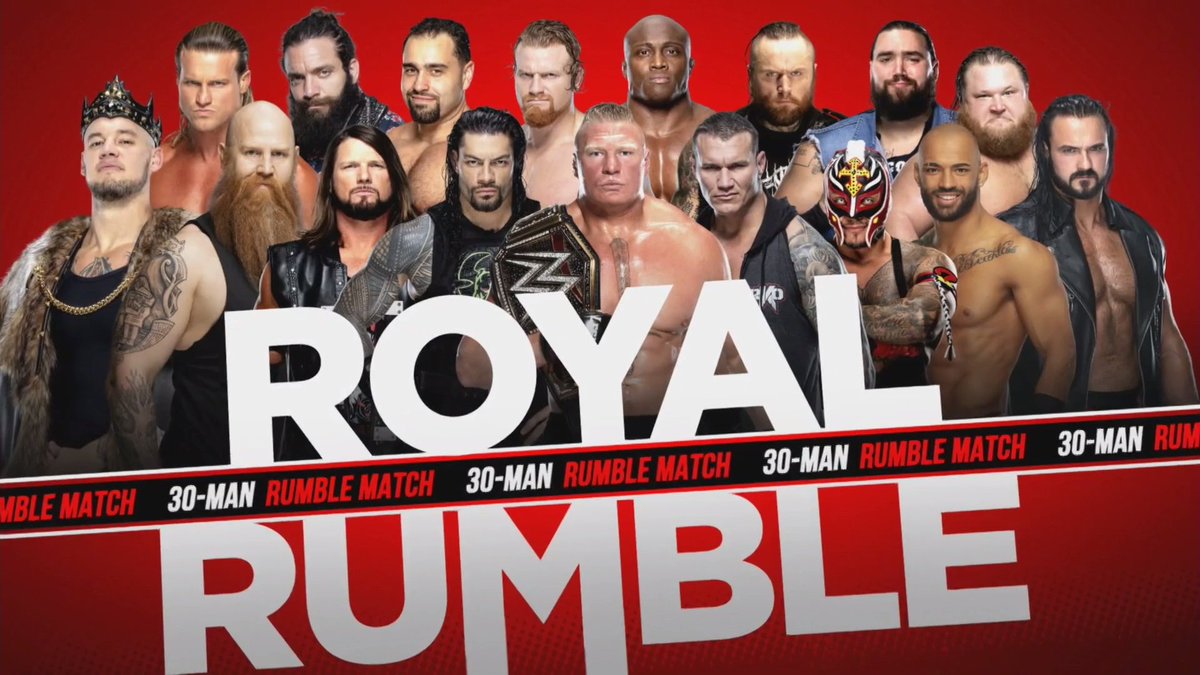 Men's Royal Rumble Match – Brock Lesnar is #1 in the match. The other confirmed names are: Roman Reigns, King Corbin, Dolph Ziggler, Erick Rowan, AJ Styles, Randy Orton, Elias, Rey Mysterio, Ricochet, Drew McIntyre, Otis, Tucker, Rusev, Bobby Lashley, Aleister Black and Buddy Murphy.
Women's Royal Rumble Match – The confirmed names are Charlotte Flair, Nikki Cross, Alexa Bliss and Sarah Logan. That's all for now.
Universal Championship: "The Fiend" Bray Wyatt (c) vs. Daniel Bryan
Raw Women's Championship: Becky Lynch (c) vs. Asuka
Roman Reigns vs. Baron Corbin – Both men are in the Royal Rumble match as well.
—
You can contact me using any of the methods below. Go reigning and defending NBA Champion Toronto Raptors and Toronto Maple Leafs.
Thanks for reading.
John Canton
Email: mrjohncanton@gmail.com
Twitter: @johnreport
Personal Facebook and TJRWrestling on Facebook