The John Report: The WWE Raw Deal 01/06/20 Review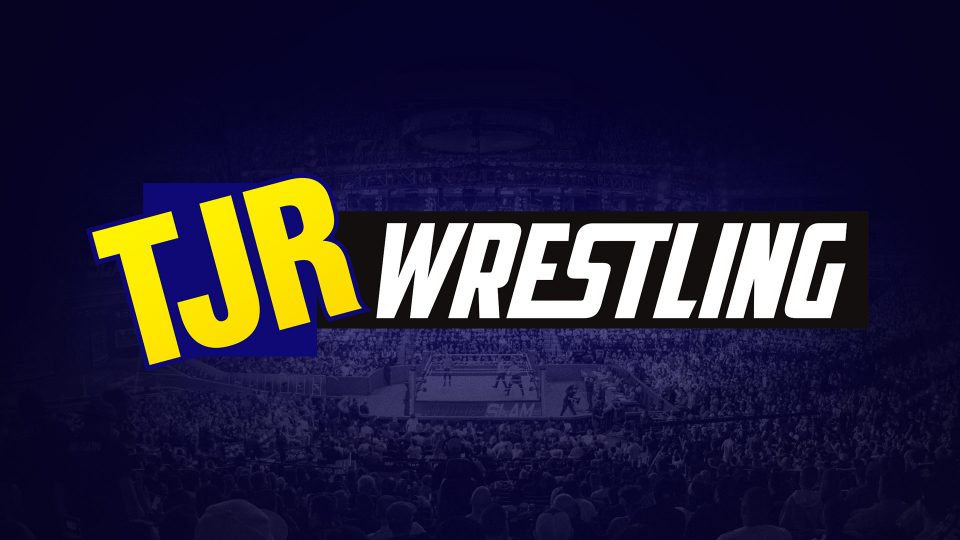 Welcome to the first WWE Raw Deal review of 2020 right here on TJRWrestling. There are less than three weeks until the Royal Rumble on January 26th, so it's time for WWE to focus on building up matches for that show. Speaking of the Royal Rumble, I am reviewing every Royal Rumble all month long on TJRWrestling, so check it out in our Royal Rumble section.
For this week's Raw, the three main things advertised are the return of WWE Champion Brock Lesnar (remember him?), Andrade will defend the US Title against Rey Mysterio and The Viking Raiders will defend the Raw Tag Team Titles against The OC's Karl Anderson and Luke Gallows as well as the Street Profits. Putting two title matches on the first Raw of the year does make it seem like a bigger show than usual, which is smart considering it's the first Raw of the year. Let's see what WWE has in store for us this week.
Live from Oklahoma City, Oklahoma, this is the Raw Deal for episode #1389 of Monday Night Raw. Follow me on Twitter @johnreport. Please visit TJRWrestling.net daily for our regular updates on the wrestling business featuring WWE news coverage, insightful columns from our team along with reviews about wrestling's past and present. Thanks to Melo Man for the banner up top.
The show began with a video package highlighting the disaster that was Lana's wedding with Bobby Lashley that involved appearances from former spouses, plus Liv Morgan and Rusev, who attacked Lashley. Morgan attacked Lana as well. It was chaos and typical of a WWE wedding. The Raw intro video aired after that.
There was pyro in the arena and the fans in OKC were ready to go. The announce team of Vic Joseph and Jerry "The King" Lawler welcomed us to the show. They plugged the matches coming up later.
Let's Hear from Brock Lesnar with Paul Heyman
Brock Lesnar made his entrance with the WWE Championship around his waist. This is Lesnar's first time on WWE TV since Survivor Series in late November. Lesnar had on a Suplex City shirt. Paul Heyman was in a blue suit as he joined Lesnar in the ring. They were booed, so Heyman said: "Happy New Year to you too, bitches." Heyman did his usual introduction.
Heyman talked about who might be the next man to step into the ring with Brock Lesnar at the Royal Rumble. Heyman said there is nobody worthy of sharing the spotlight with Lesnar, so the fans booed and Heyman told the fans not to boo Lesnar. Heyman said that Lesnar is about to do something unprecedented and they can legitimately advertise it as a first time ever. Heyman mentioned Lesnar like beating The Undertaker at WrestleMania (nearly six years ago) and then ran over the credentials of Lesnar in his career, which drew more boos from the crowd. Heyman asked the fans if they want to see Lesnar in a dream match.
Heyman said that the official announcement is that Lesnar is entering the Royal Rumble match at number one. Heyman said everybody that goes in the ring at the Royal Rumble, gets to face Lesnar and Heyman said that Lesnar will stand victorious in the ring last. Heyman said it's unprecedented, historic and brazen. Heyman said that Lesnar will win the Royal Rumble after entering first and that's not just a prediction, that is a spoiler.
Analysis: That was an interesting, unexpected announcement. They did not say the WWE Title was on the line. I doubt Lesnar is going to win the Royal Rumble. What I expect is for somebody to eliminate him and for that person to be the one that challenges Lesnar for the WWE Title at WrestleMania. That can be somebody like Kevin Owens or Samoa Joe or somebody else. Perhaps Cain Velasquez is an option, but there have been reports that there are not plans to do Lesnar/Cain at WM. I don't know who it might be right now and that's okay. It just makes a lot of sense for Lesnar to not win the match, get eliminated by somebody and set up a WrestleMania match that way. Lesnar as WWE Champion in the Royal Rumble is not a first time ever thing because Roman Reigns was forced to do it and defend the WWE Title in 2016. Triple H ended up winning the WWE Title. The difference here is Lesnar is willingly putting himself in the #1 spot whereas Reigns was forced to do it by the heel bosses at the time.
The announcers were shown on camera with Heyman telling them to talk nice since Lesnar beat up their former announcing partner Dio Maddin.
Rey Mysterio was shown in the Gorilla Position doing a promo speaking in Spanish. Sarah Schreiber asked Rey what the US Title match means to him. Mysterio said that at this point in his career, he only has days left in his career, not years and he thanked his son Dominick for telling him to keep wrestling. Mysterio said that Andrade does not deserve the title and that's why Rey is taking the title back.
Mysterio made his entrance for his match after the break.
(Commercial)
Andrade made his entrance with the US Title along with manager Zelina Vega looking good in red.
United States Title: Andrade (w/Zelina Vega) vs. Rey Mysterio
Mysterio sent Andrade out of the ring followed by an attack on the floor. Back in the ring, Mysterio sent Andrade to the apron, but Andrade held on, then Mysterio countered by sending Andrade face first into the steel steps. Vega had an over the top reaction to that bump. Back in the ring, Mysterio went for a springboard dropkick and Andrade hit a dropkick to counter, which led to a break.
(Commercial)
The match returned with Mysterio hitting a hurricanrana, a jumping kick, a seated senton and a Tornado DDT by Mysterio got a two count. That DDT was after a sweet counter. Andrade set up Mysterio upside down by the turnbuckle, he went for a double stomp, Mysterio moved and Andrade bumped to the floor. Mysterio tried a sunset flip powerbomb on the floor, but Andrade countered it into a double knee attack on the floor. Back in, Andrade with a senton over the top for a two count. Andrade with a suplex, Mysterio sent Andrade into the ropes, Mysterio wanted a 619 and Andrade countered into a spinning back elbow. Mysterio hit Canadian Destroyer flipping piledriver like move and he covered, but Vega put Andrade's foot on the bottom rope. The referee John Cone counted to three, then after the count, he saw the foot on the bottom rope and Cone told Rey he didn't get the win even though Rey was celebrating.
Analysis: That's a false finish tactic to keep the match going. It pisses off the fans while also generating more interest in the match moving forward.
(Commercial)
The match continued with Andrade missing a running knee against the turnbuckle. Andrade on the floor and Mysterio charged at him with a hurricanrana on the floor. Mysterio with a sunset flip Powerbomb for a two count. They battled on the apron with Mysterio kicking Andrade and doing another sunset flip this time sending Andrade back first into the ring post. The fans were chanting "this is awesome" for them. Mysterio with a springboard legdrop for two. Mysterio to the middle ropes, he jumped off, Andrade caught him and hit face first slam into the mat for two. Mysterio with a headscissors into the ropes followed by the 619 kick and Andrade got out of the ring on the side of the ring where Vega was. Mysterio jumped onto Andrade on the floor and Andrade tossed Mysterio over his head and that wiped out Vega on the floor. Mysterio showed some concern for Vega, then Andrade grabbed Mysterio and whipped him into the steel steps. Andrade tried to go for the Hammerlock DDT, but the referee stopped it, checked on Rey, then Rey checked on Vega. When Rey went back in, Andrade kicked him followed by the Hammerlock DDT for the win after 18 minutes.
Winner by pinfall: Andrade
Analysis: ***3/4 It was an awesome match as usual for these guys. Mysterio got a lot of offense, which is what happens often in WWE when a guy is going to lose a longer match like this. I think the finish was messed up because Andrade didn't wait long enough to let Rey show concern for Vega because Rey's a good guy, so that's why referee John Cone aggressively broke up the first DDT attempt, then Rey had to leave the ring, then Andrade could lock it in and win it. You could tell that Cone was being told what to do in his headset and then he was telling the wrestlers. He basically told Rey to go check on Vega, which is why it looked awkward. These guys have such great chemistry together. Everything looks so smooth. This was the second straight week with an excellent PPV-level match after last week's Black/Murphy match. Raw can give us these kinds of matches weekly as long as they let the superstars get the time to put on these amazing matches.
Post match, Andrade ripped off the mask of Mysterio and gave it to Vega. The face of Mysterio was covered by the referee immediately while another referee put a towel over Mysterio's head to prevent Rey's head from being shown. Andrade gave the mask to Vega.
Analysis: Mysterio's face has never been shown on WWE TV before. Of course if you watched WCW then you know he wrestled without a mask for years, so Google it kids if you're really curious about what he looks like. Andrade stealing the mask gets him some heel heat too, so I don't mind it at all.
There was a replay of last week on Raw when Kevin Owens and Samoa Joe got into a brawl with Seth Rollins and AOP.
Kevin Owens and Samoa Joe were interviewed by Charly Caruso. Owens admitted that he doesn't play well with others and Joe doesn't play with others ever, but circumstances brought them together. Owens pointed out that they need eachother. Joe suggested a match with Rollins and AOP against the three of them…Joe told Owens he's got a guy. Owens asked who the guy is, Joe said let them worry about it because they should be worried.
Analysis: That's a big tag team match for later in the show with a surprise partner as well. That keeps the viewers tuned in.
(Commercial)
Seth Rollins and AOP were shown walking down a hallway when Charly Caruso showed up asking about the challenge from Samoa Joe and Kevin Owens. Rollins did his egotistical promo style calling himself a visionary and messiah of Monday nights. Rollins said no one stands by Samoa Joe or Kevin Owens while this is a united front, and this is fate and this is inevitable. Rollins said that anybody that stands up to them, they'll take care of that.
Analysis: When Rollins did a promo on WWE's social media before the show, he said "United Front" as well. That could be the name of the group, but it's not official yet.
The Street Profits duo of Montez Ford and Angelo Dawkins made their entrance. They went into the crowd to do some dancing and slap the hands of some fans on their way to the ring.
The six-man tag team main event match is official for later: Seth Rollins and AOP vs. Kevin Owens, Samoa Joe and a mystery partner.
The Street Profits did a promo with Dawkins saying they aren't ringing it in, they are blinging it in. Ford said that The OC won't be clicking it in and they are going to pillage the vikings. They said "we want the smoke" to end it.
The introductions took place for The OC's Karl Anderson and Luke Gallows. AJ Styles was with them, but then he went to the back. The Viking Raiders entered last as the Raw Tag Team Champions. That led to a break at the end of the first hour.
(Commercial)
Raw Tag Team Championships: The Viking Raiders (Erik and Ivar) vs. The Street Profits (Montez Ford and Angelo Dawkins) vs. The OC (Luke Gallows and Karl Anderson)
There are two legal guys in the ring while the other four men are on the apron and have to tag in. The first fall wins the match.
There were plenty of quick tags early with different guys going in there. Dawkins hit a dropkick on Anderson, then Ford tagged in and hit an even more impressive dropkick on Anderson. Ford showed off his athleticism against Ivar, they avoided attacks with cartwheels and had a staredown. G&A broke that up, they whipped Ivar into the turnbuckle and Gallows with a kick to Ford to put him down. Gallows worked over Ford with punches. Anderson got some shots in on Ford with punches and knees, Gallows tagged in with a suplex and a chinlock. Anderson shoved Dawkins off the apron, which led to Ford hitting an enziguri kick on Anderson and Ford tagged in Erik against Gallows. Erik with an overhead slam on Gallows and on Dawkins as well. Erik with a knee to Anderson, double knees to Gallows and Ivar with a body slam on Dawkins. Erik with a body slam of Ivar onto Dawkins. Erik slammed Ivar into Gallows against the ropes. Ford tagged in and fell victim to the Viking Experience double team move, but G&A made the save. Ivar hit a suicide dive on one side of the ring. Erik tried a dive on Gallows, but he avoided it and sent Erik over the barricade and into the crowd. The match went to break with most of the guys out of the ring.
(Commercial)
The match returned with Gallows working over Erik with punches. Anderson tagged in for some punches, then Gallows back in with punches and Anderson slapped on a chinlock. Some fans chanted "we want the smoke" although it wasn't that loud of a chant. Erik broke free leading to Ivar getting the tag with a sidewalk slam on Anderson and a running splash. Ivar with a splash on Anderson and a clothesline on Gallows. Ivar missed a corner attack on Anderson, who moved and Dawkins tagged in against Erik. Dawkins with a punch, then a dropkick for Ivar and an overhead suplex. Dawkins with a corner spinning splash on Erik and a bulldog. Ford tagged back in, Dawkins with a spinebuster, Erik up top, Frog Splash on Erik, Anderson made a blind tag to steal the pin, but Ivar saved his partner during the pin attempt. They did a sequence of spots where several guys hit moves to clear the ring including Ford hitting a dive over the top on the floor. Erik with a powerbomb on Anderson. Ivar went up top and hit a Superfly Splash on Anderson for the pinfall win after 15 minutes.
Winners by pinfall: The Viking Raiders (Erik and Ivar)
Analysis: ***1/4 This was pretty good with the champs finding a way to retain. I like how it was booked in a way where all three teams appeared as though they could have won. The champs retaining was what I thought would happen although if either of the other teams won that would have been fine with me too. I think the Street Profits winning the titles at WrestleMania is a possibility, but it's hardly a lock. I'm just saying that would be a good spot for it.
Samoa Joe was standing around backstage when Charly Caruso was seeking more information about who his mystery partner was. Kevin Owens showed up asking questions too, so Joe said he'll show KO and they left with Caruso following them.
(Commercial)
The show returned with Samoa Joe and Kevin Owens walking while Charly Caruso followed behind. Joe took Owens to a room, Owens went into the room, smiled about who he saw in the room and left looking like he was happy about who Joe picked as their partner. Joe did not let Charly (or the camera) see who was in the room.
Analysis: Keep the mystery alive until the main event. It's a smart strategy to keep the fans tuned in for later.
Let's Hear from Becky Lynch
Becky Lynch walked out to the ring with the Raw Women's Title and she got a big pop as usual.
Lynch said that she is doubting her wisdom about challenging Asuka at the Royal Rumble. Lynch talked about how she had time during the holidays to think about all that she has done in the last year and wondered if she should face the woman she could not beat.
They showed highlights of the Royal Rumble PPV last year when Asuka beat Becky Lynch via submission. During a tag team match on Raw two months ago, Asuka beat Lynch with the dreaded ROLLUP OF DEATH~! At TLC last month, Asuka and Kairi Sane beat Lynch and Charlotte Flair, so that was three instances where Asuka beat Lynch in the last year.
Lynch said what she figured out in all of this…and here comes Asuka.
Asuka walked out into the arena with her Women's Tag Team Title around her waist. Asuka was speaking in Japanese, laughing a lot and looking cocky on her way down to the ring. Asuka got in the ring with Lynch. Asuka shouted something in Japanese, so Lynch punched her in the jaw and Asuka bumped to the mat. Lynch walked away looking confident while Asuka was angry in the ring.
Analysis: It was simple with a one punch knockdown. I thought they might do a little bit more there, but there wasn't much to this at all. It's fine because the match will be awesome and they really don't have to build it up that much more. This was a way to kill a few minutes rather than something that was meaningful.
(Commercial)
The show returned with Mojo Rawley going up to Erick Rowan and asking if he can see what was in his cage. Rowan said okay, but don't tell anybody. Rawley looked under the cloth into the cage, then freaked out screaming, yelling "what the hell?" and asking, "what's wrong with you?" Rawley walked away looking shocked. Rowan just left with a smile.
A replay was shown of Andrade's US Title match victory over Rey Mysterio earlier in the night.
Andrade and Zelina Vega were interviewed by Sarah Schreiber. Andrade had Rey's mask in his hands. Andrade spoke in Spanish, so Rey went up to him (without a mask on) and attacked Andrade with punches. Mysterio was able to get his mask back, so he put it back on his head. Referees showed up to break it up.
Analysis: If they want to do another Andrade/Rey match at Royal Rumble for the US Title then that's fine with me.
Erick Rowan vs. KJ Orso
Rowan grabbed Orso by the neck, asked if he wanted to see what was under the cloth, then Orso broke free and said he wanted to fight. Rowan decked Orso with a spin kick, a corner splash and the Iron Claw Slam for the pinfall win after about 20 seconds.
Winner by pinfall: Erick Rowan
Analysis: Another squash win for Rowan like he gets to do pretty much every week.
Post match, Rowan put Orso's head beside the cage and some red liquid was sprayed into Orso's face, so Orso went running up the ramp while screaming about what was on his face. Rowan laughed about it.
Seth Rollins and AOP were shown getting ready for their match coming up later.
(Commercial)
There was a commercial for NXT UK Takeover Blackpool on Sunday. I don't write about NXT UK regularly, but I will write about that show. It won't be live on Sunday afternoon my time. It will be later that evening most likely.
AJ Styles entered for a match against Akira Tozawa. They showed a video package about Randy Orton fooling AJ Styles last week into thinking he was hurt, but it was just a plan by Orton to hit Styles with a RKO out of nowhere. Next week on Raw: Randy Orton vs. AJ Styles.
Akira Tozawa vs. AJ Styles
Styles missed a corner charge, he hit the turnbuckle, then Styles with a forearm and he hit a Phenomenal Forearm. Styles covered for two, but then he pulled Tozawa back up to stop the count. Styles teased a Styles Clash, then sent Tozawa to the ropes and hit the draping DDT off the middle ropes like Orton has done many times in his career. Styles continued his Orton mockery by slapping the mat repeatedly and hitting a RKO in the center of the ring for the pinfall win after about three minutes.
Winner by pinfall: AJ Styles
Analysis: 1/2* A squash win for Styles to put him over ahead of another match against Orton next week. Styles doing some Orton moves was interesting to see.
Post match, Styles did Orton's arm pose as well to continue taunting Randy.
When Styles was walking away, there was some guy that went into the ring and two guys in suits tackled him in the ring. They went to commercial there. I don't know what happened there, but it was an awkward spot for a break.
Regarding what I wrote above, it was the minister of the Lana/Lashley wedding that went into the ring and was tackled by security. That's funny that happened.
Wait … why did the preacher guy roll into the ring after AJ Styles' match, before the Lana/Lashley segment was starting on #RAW?!?

Dude totally got chased by security, who seemingly thought he was an overzealous fan.

Wild 😂 pic.twitter.com/9kkX62z9rM

— Ryan Satin (@ryansatin) January 7, 2020
(Commercial)
There was a brief video about the wedding drama from last week.
Let's Hear from Bobby Lashley and Lana
Bobby Lashley walked out in a black suit while Lana had on a very short dress. The minister from last week is also in the ring this week. I noticed Lashley had a wedding ring on his hand this week while Lana continued to wear her ring.
Lana did a promo saying that they are going to get married right here, right now. The minister said now that we have heard enough objections, by the power vested in him, he now pronounces them husband and wife. Bobby was told he may now kiss his bride, so Bobby gave her a gentle kiss. That was it. Lana told the minister he was boring as he left.
Analysis: That means Lashley and Lana are now storyline married, so congrats to them.
Lana said she doesn't feel happy, she feels extremely sad and she realizes it has nothing to do with her. Lana bragged about having that ring on her finger and she showed off the giant wedding ring on her finger. Lana said that all of you are basic, pathetic civilians that should feel honored to be in her presence. Lana complained about their exes interrupting their wedding over and over again. Lana complained about the fans. Lashley said that Rusev ruined the greatest day of their lives so the fans could have a laugh? The fans chanted "Rusev Day" at them. Lashley said Rusev had to try to hide the fact that he couldn't keep his own wife.
Rusev was shown on the Titantron congratulating them for being Mr. and Mrs. Bob. Rusev was wearing a floral shirt with some beach images in the background. Rusev claimed he was at the beach even though he was just in front of a green screen with the graphics on it. Rusev said he put together a wedding album for them. That led to photos being shown of the chaos at the wedding last week.
Lana told Rusev that she hates him so much and she hates the fans. Lashley told her to shut up. Lashley said that Rusev used to be a man, but it appears that your ex-wife stripped you of your manhood. Lashley said if Rusev has any balls left, why doesn't he show up to Raw next week, so he can shove them down his damn throat. Rusev said that next week the Bulgarian Brute will return, he will brutalize every portion of Bobby's body and if there's anything left, it's all yours, Lana. Rusev's music played to end it.
Analysis: The fans sure do hate this angle, but the support for Rusev is strong. It set up a match for next week, which is okay because they have only had one big Rusev/Lashley match and Rusev hasn't won the feud yet. I assume Rusev will go over to put an end to this rivalry.
The Queen Charlotte Flair was shown walking backstage for a match because she's in action up next.
(Commercial)
It was announced that Rusev will face Bobby Lashley next week.
R-Truth was being interviewed by Charly Caruso with Truth holding the 24/7 Title on his shoulder. Charly mentioned Truth has had the most titles in WWE history because of the silly 24/7 Title reigns. I'm supposed to care about a comedy title? I don't know. Just as Caruso tried to talk to him some more, Liv Morgan said she'll be in Rusev's corner for his match against Bobby Lashley next week on Raw.
Charlotte Flair, who got engaged to Andrade last week, made her entrance in her red gear along with a robe. The announcers did not mention Flair's engagement.
Sarah Logan was announced as Flair's opponent. Logan attacked Flair before the bell could ring. Logan whipped Flair shoulder first into the turnbuckle. Flair was out on the floor and Logan hit her with a knee to the face. Flair fought back against her and they went over the barricade. Flair tossed Logan back over the barricade towards the ring. Logan shoved Flair into the ring post. The referee made Logan go into the ring. Logan went into the ring, slammed the robe of Flair around and stomped on it. Flair whipped Logan into the barricade and gave her a fallaway slam into the barricade. They continued the fight on the floor as Flair hit Logan with a boot to the ring. Flair told the referee to get the robe, so he did and Flair put the robe back on. Flair left.
Analysis: No match this week. It was just a fight perhaps to set up a match for them next week. Logan's offense looked good and Flair sold everything well, but it's no surprise that Flair got the upper hand. This wasn't very interesting. It would be better if they had a match that turned into a brawl leading to a DQ and another match next week. Instead, this felt like a random fight just to kill some time.
Drew McIntyre was shown walking backstage for a match up next.
(Commercial)
A graphic showed us some of the names in the Royal Rumble match so far: AJ Styles, Roman Reigns, Brock Lesnar, Randy Orton, Rey Mysterio, Ricochet and Erick Rowan.
No Way Jose was in the ring to lose a match. Drew McIntyre made his entrance. McIntyre knocked down some of the guys in the Conga Line that's with Jose at ringside.
Drew McIntyre vs. No Way Jose
McIntyre with a kick to the chest followed by a belly to belly suplex across the ring. McIntyre chased a guy from the conga line, chopped him and gave him a reverse Alabama Slam into the side of the ring. Jose got a rollup pin attempt, but Drew kicked out at one and Drew hit a Future Shock DDT. McIntyre hit the Claymore Kick for the pinfall win in under two minutes.
Winner by pinfall: Drew McIntyre
Analysis: 1/4* Another dominant showing for Drew.
Post match, McIntyre launched Jose over the top rope and onto guys in the conga line that were there to break the fall.
Drew asked who dares him to do one more Claymore Kick? Then he asked who double dares him to do it again? The fans cheered. McIntyre tossed Jose into the ring and hit another Claymore Kick on him.
McIntyre said he has never had one opportunity to fight for the World Title. McIntyre said since everybody is too scared to fight him then he's going to put himself in the Royal Rumble. McIntyre mentioned guys in the match including Roman Reigns and Brock Lesnar while saying it didn't matter because it was going to be him. The fans cheered.
Analysis: It looks like McIntyre is in the babyface role now. It's a big change for him because he has been a heel for most of his WWE career, but I think fans are going to get behind him because what he said about not getting a WWE Title shot in his career was true. It's easy to root for a guy that hasn't been pushed to the top that much. Plus, McIntyre has a good look, so he's believable in that spot. I hope it works out for him.
Aleister Black was shown walking backstage for a match up next.
(Commercial)
Aleister Black made his entrance with a serious look on his face as usual. Shelton Benjamin was in the ring as his opponent.
Shelton Benjamin vs. Aleister Black
Black avoided a Benjamin move followed by Black sitting in the ring for his taunt move. Black used his legs to take down Benjamin, then Benjamin powered out of it and slammed Black to the mat. Benjamin with a forearm to the jaw, Black went for a moonsault off the ropes, Benjamin avoided it and Black hit a spinning elbow to the face. Benjamin with a kick, Black with a jumping knee and Black lifted Benjamin up leading to the Black Mass spin kick for the pinfall win after two minutes.
Winner by pinfall: Aleister Black
Analysis: * It was fun while it lasted. That Black Mass kick is protected as one of the best finishers in WWE. It's very popular and as long as nobody kicks out of it, the fans are going to think of it as a big deal.
As soon as the match was over, Buddy Murphy went into the ring for a cheap attack on Black. Murphy whipped Black into the side of the turnbuckle and into the barricade at ringside. Murphy whipped Black into the barricade at ringside. Murphy hitting a running knee to the jaw to knock Black out. Murphy put a chair against the throat of Black and gave him a rising knee into the chair to Black's face. Murphy sat on the barricade on top of Black as referees checked on Black at ringside.
Analysis: It was a good way to further their rivalry. Murphy looked like a badass during that attack. Black beat Murphy twice, Murphy is mad about that, so he attacked and I'm all for seeing the match again.
The trio of Seth Rollins and AOP were shown walking backstage for their match up next.
(Commercial)
The AOP duo of Akam and Rezar made their entrance. They were wearing AOP tank tops along with MMA gloves. Seth Rollins was introduced as "The Monday Night Messiah" and he's wrestling with a black glove on because he's been dealing with a hand injury.
Rollins did a promo saying he has been chosen to lead Raw to the promised land and he said he was chosen by the fans. Rollins said he gave you Monday Night Rollins and that wasn't good enough for you while claiming that he knows what is best for the fans. Rollins said what is best for all of us is to eliminate people who impede progress – that is Kevin Owens, Samoa Joe and whoever joins them. Rollins told them to face his team while referring to himself as the Monday Night Messiah again.
Kevin Owens was up first for the babyface team and he was joined by Samoa Joe. Their partner is…WELL IT'S A BIG SHOW. A solid pop for Big Show, who turns heel and face a lot.
Analysis: Welcome back to Big Show, who has had a long layoff due to many injuries and just being old. They teased a surprise for nearly three hours to set up a nearly 50 years old guy. At least he's respected by the fans. They could have picked somebody a lot worse.
Seth Rollins, Akam and Rezar vs. Kevin Owens, Samoa Joe and Big Show
Big Show started the match, he knocked AOP out of the ring and hit Rollins with a chop, which led to Seth bailing to the floor. That led to a break.
(Commercial)
There were six minutes left in the show as Owens hit a cannonball on Rollins. Owens with a tilt-a-whirl backbreaker. The AOP guys were shirtless now and Rezar knocked Owens off the turnbuckle to the floor. Rezar tagged in, sent Owens into the barricade and fans chanted "we want Big Show" as Rezar worked over Owens with punches. Rezar held Owens as Akam jumped off the ropes with his foot stomping on Owens leading to a two count. Akam with punches, Rollins tagged in and hit a springboard knee to the face of Owens for a two count. Akam tried to wear down Owens with a bearhug, but Owens got out of it. Owens with a superkick to Rezar and a forearm to the face. Big Show tagged in against Rollins with two clotheslines by Show, then a running shoulder tackle and Rollins bailed to the floor. AOP whipped Joe into the steel steps. Rollins jumped off the top, Show grabbed him by the throat, AOP went after Show, who grabbed them by the throat and Rollins hit Show in the back with a steel chair for the DQ finish after 10 minutes.
Winners by disqualification: Kevin Owens, Samoa Joe and Big Show
Analysis: ** It was just an average match to further the story and try to make Show part of the angle by having him look dominant until Rollins got intentionally disqualified.
Post match, Joe went after the AOP guys, so they went brawling out to the floor. Rollins wanted to hit The Stomp on Show, but Owens grabbed Seth's foot and that allowed Show to recover and Show hit Rollins with the KO Punch to knock him out. The crowd popped big for that. AOP helped Rollins up the ramp.
Analysis: Way to put over the old guy. It worked pretty well, so no complaints here. I like how Owens prevented Rollins from hitting his move, which led to Show hitting his finisher and the fans loved that.
The announcers plugged what is advertised for next week week on Raw:
*Randy Orton vs. AJ Styles
* Aleister Black vs. Buddy Murphy
* Brock Lesnar is on Raw next week again
* Rusev vs. Bobby Lashley
* Kevin Owens, Samoa Joe and Big Show vs. Seth Rollins and AOP again in a "Fist Fight" match.
The show signed off with the heels on the ramp while the faces were in the ring for the staredown.
Analysis: Those are a lot of big matches for next week because Raw is against the College Football finals on ESPN between LSU and Clemson. I'll be watching that live. The football game will probably get 20+ million viewers in the US and WWE knows that, so they tried to load up next week's show to try to keep some fans tuned in.
Three Stars of the Show
Rey Mysterio
Andrade
Viking Raiders
The Scoreboard
6.25 out of 10
Last week: 6.75
Last 5 Weeks: 6.75, 6.25, 4.75, 7, 5.75
Final Thoughts
This week's Raw gets a 6.25 out of 10.
I thought the first 70 minutes or so until the end of the Raw Tag Team Title match was great. The two title matches were the highlights, so putting them back to back may have been a mistake because it hurt the rest of the show. There were some boring parts although it wasn't that bad. I don't think having Big Show as the surprise partner is what every fan wanted because I'm sure people wanted somebody from NXT or somebody a lot younger. They also set up several matches for next week (to combat college football finals), so I like that there's some better storytelling on the Raw brand of late. Also, the news of Brock Lesnar being in the Royal Rumble match is interesting because of what happens if he loses or how it can set up a WrestleMania match if he loses.
Overall, this week's Raw was a slightly above average effort, but once again I find myself saying there's nothing "must-see" on Raw nearly every week. It's hard to get that excited when watching this show week after week.
The next WWE pay-per-view is the Royal Rumble on January 26th in Houston, Texas. Here's what we know so far.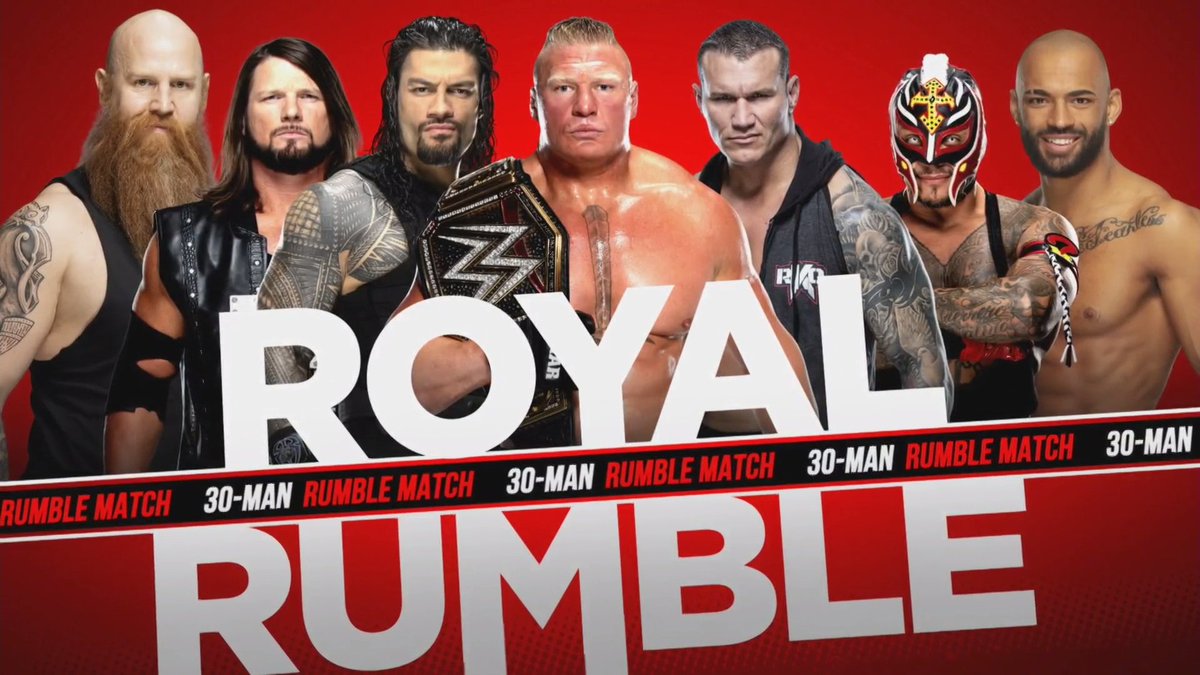 Men's Royal Rumble Match – Brock Lesnar is #1 in the match
Women's Royal Rumble Match
Universal Championship: "The Fiend" Bray Wyatt (c) vs. Daniel Bryan
Raw Women's Championship: Becky Lynch (c) vs. Asuka
—
You can contact me using any of the methods below. Go reigning and defending NBA Champion Toronto Raptors and Toronto Maple Leafs.
Thanks for reading.
John Canton
Email: mrjohncanton@gmail.com
Twitter: @johnreport
Personal Facebook and TJRWrestling on Facebook