The John Report: AEW Dynamite 06/10/20 Review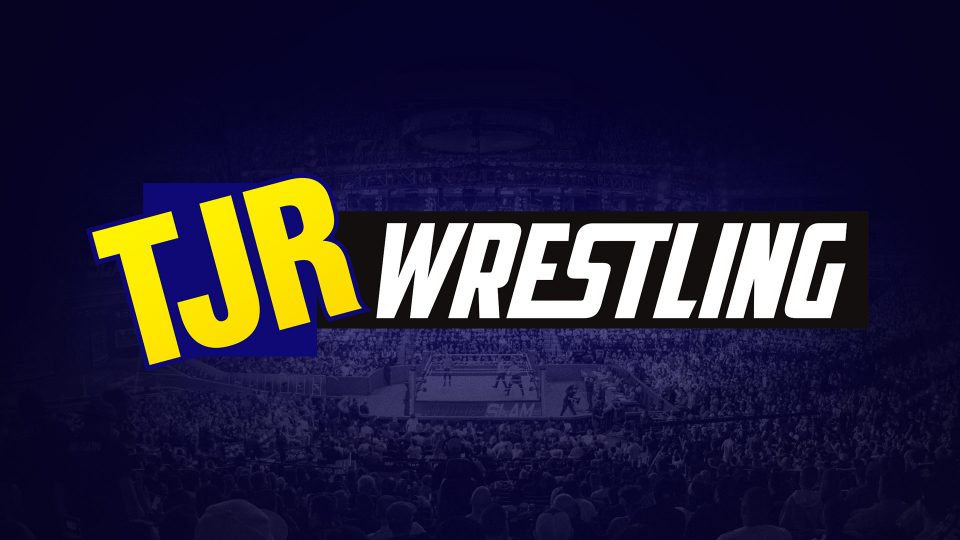 Welcome to the AEW Dynamite review on TJRWrestling. This is episode #37 of AEW Dynamite from Daily's Place in Jacksonville, FL. Follow me on Twitter @johnreport. Thanks to Melo Man for the banner up top. Here's my AEW Dynamite TV review archive.
This is going to be a condensed review without play by play of all the matches. I like to do it this way sometimes because I'm exhausted from writing of late. I'll give you the results of the matches and some other notes, but not the full play by play.
The announce team was Jim Ross, Tony Schiavone and Excalibur. They were joined by the great Chris Jericho with baseball bat "Floyd" and he ripped on Excalibur for milking cows.
FTR (Dax Harwood and Cash Wheeler) vs. The Butcher and The Blade
This was FTR's first match in AEW. It appeared as though they are faces for now while the barely used Butcher and Blade team are heels too. This was a solid match with FTR working over The Blade for some of the match. The crowd full of wrestlers were chanting "FTR" for some of the match, so maybe they are faces for now. It's not like it matters that much in AEW. Anyway, Harwood (formerly Scott Dawson) got the hot tag and was on fire with big moves including a brainbuster on The Blade. FTR hit a double draping DDT on The Butcher to take him out. They did a Power & Glory spot as Harwood hit a superplex into a top rope splash by Wheeler. The splash didn't look great. The announcers overreacted to nearfalls for Butcher and Blade. Jericho said he enjoyed this style of match. FTR hit the Shatter Machine now called the Goodnight Express on Butcher. Harwood and Wheeler hit a double team spiked piledriver called the Mindbreaker by Excalibur and Wheeler pinned Blade to win for their team. They went about 11 minutes.
Winners by pinfall: FTR
Match Rating: ***1/2 It was a great match that was very competitive with a strong finish. I prefer to see FTR working as heel and not getting cheered by the crowd, but maybe AEW wants to make them more like faces. It was also nice to see Tully and Arn watching in the crowd. The finish was something you don't see in American wrestling usually, so it felt like a big move to end the match. Double team piledrivers just aren't a thing anymore. That will make FTR stand out more than usual.
There was a post match interview of FTR by Tony Schiavone where FTR was happy about the win and that's when The Young Bucks interrupted the interview. Matt Jackson joked about how FTR forgot to introduce themselves and then they formally introduced themselves. Matt said that "have been carrying tag team wrestling solely on their backs for the last decade and a half." Matt told them they're the Young Bucks. The Butcher attacked the Young Bucks, then FTR went after Butcher and a lot of other AEW tag teams went out to the ring. The AEW Tag Team Champions Kenny Omega and Adam Page were in the ring with The Young Bucks and FTR.
Analysis: I don't agree with the "carrying tag team wrestling" thing at all because some teams like The New Day and The Usos have been outstanding as well along with other steams in Japan as well. The Young Bucks are very good, though, so they should have a lot of confidence. It's a way to tell the story that these are two of the best teams and they are building to a big match. I assume the showdown with the three teams will lead to a triple threat AEW Tag Team Title match.
There was a backstage interview with Dustin Rhodes and QT Marshall where they were told they get a AEW Tag Team Title match next week. Dustin and Brandi didn't like QT giving Allie a jacket because she is his girl according to QT.
Analysis: I don't even remember the last time Dustin and QT won a big match to earn a title shot, but that's what is happening. Allie is married to The Blade in real life. The story here is that she's likely using QT, who is too dumb to realize it.
Nyla Rose and Penelope Ford (w/Kip Sabian) vs. Hikaru Shida and Kris Statlander
It feels like they do a women's tag team match every week where they just change the people around. The announcers always make jokes about Statlander's dumb alien gimmick, which makes it hard to take her serious. Jericho: "She looks so weird and alien like." At least Jericho ripped on Pineapple Pete again, which always makes me laugh. Anyway, it was a basic tag team match with Statlander doing a nice job making the babyface comeback to bring in Shida. Britt Baker was at ringside on her chair along with Rebel aka Reba. Shida was on fire with a missile dropkick and a delayed suplex. Shida with a knee to the head and Statlander with a standing moonsault. Ford managed to hit a DDT for a two count. Ford hit a Stunner on Ford, Shida went into the ring without a tag because it's AEW where they hate tag team rules. Statlander hit an Axe Kick on Rose for two. Rose did a spot where she put both women on the top rope and hit a diving knee on both of them. That looks too realistic, but also impressive at the same time. Ford kicked out a Falcon Arrow from Shida. The referee saw Sabian cheat for Ford, did nothing about it and Ford hit Shida in the head with the Women's Title after Rose tossed the title to Ford. That led to Ford hitting a Fisherman's Suplex (Perfectplex) to win. It went about 10 minutes.
Winners by pinfall: Nyla Rose and Penelope Ford
Analysis: **1/2 The match was just average. It's hard to really get into the AEW women's division sometimes although I like Shida a lot as the champion. Ford picking up the win here will likely get her a title shot soon, perhaps at Fyter Fest. AEW doesn't book champions to get pinned that much in non-title or tag team matches that often. That's different from WWE booking.
There was a video with Darby Allin and skateboarding legend Tony Hawk with Darby saying he wasn't medically cleared to wrestle and Tony told him to have fun skating. Allin tried to use the skateboard off a ladder, he fell a few times and then he made it happen.
Analysis: Is this supposed to inspire me to never give up? I guess so. I like Darby's matches, but he needs to take less crazy bumps.
There was a video of the injured Dr. Britt Baker doing her over the top heel thing talking about the fans and roster needing a role (or roll) model.
Jake Hager, Santana and Ortiz vs. Best Friends (Chuck Taylor, Trent and Orange Cassidy)
There was some good action in the match with both sides working together well. Jericho put over his Inner Circle buddies Hager, Santana and Ortiz a lot. Most of the match was the heels working over Taylor and Trent. There was a nice swinging DDT by Trent out of the corner and Ortiz sold it in a ridiculous way by bouncing up to his feet before stumbling down. They finally got Cassidy in the match doing his comedy kicks against Hager and then Cassidy sent Hager out of the ring. Cassidy even hit a double hurricanrana on Santana/Ortiz, then a suicide dive on Hager and a cross body block off the top on Ortiz. Cassidy hit an amazing spinning DDT about two minutes after the previous spinning DDT by Trent. Jericho complained about Best Friends not following the rules and Hager hit a clothesline to send Trent to the floor. Santana hit an impressive cannonball on Cassidy in the corner. Taylor shoved Santana off the top and Cassidy was able to hook the arms/legs of Ortiz and get the pinfall win. They went about 10 minutes.
Winners by pinfall: Jake Hager, Santana and Ortiz
Analysis: *** This was a pretty good tag team match with the action really picking up after Cassidy tagged in. The finish was a creative wrestling move by Cassidy. I would rather see Hager get the win in a match like that, but AEW's bosses know that Cassidy is liked, so they want to put him over sometimes. I actually don't mind Cassidy matches as much as I used to. He can go in the ring when he's given the chance.
After the match, Jericho went into the ring with Floyd the baseball bat and attacked Taylor, Trent and Cassidy with belt shots. Ortiz and Santana were hitting moves, but the camera focused on Jericho, so we never saw it. That's some poor directing. Jericho grabbed a big bag of oranges into the ring with Tony guessing it was 20 pounds of blood oranges. Cassidy did a blade job because Jericho hit him in the head with the bat. Jericho hit Cassidy in the head with the bag of oranges. Jericho hit Cassidy with the orange. "THOSE ORANGES HAD A FAMILY!" JR didn't say that, but I thought it. Jericho: "Blood Orange Cassidy has just been juiced." The Inner Circle squeezed some juice onto Cassidy.
Analysis: It seems like they are building to Jericho vs. Cassidy, who is very popular and they can have a bit of a comedy match that turns into a serious battle as well.
MJF interrupted Tony attempting to interview Billy of the Gunn Club. MJF complained about how Jungle Boy got a title shot before him and complained about the favoritism in the company. MJF said that all the boys know that you hit a ceiling and he is that ceiling. Billy cut him off and MJF ripped on Billy trying to get his scumbag talentless sons a job in this company. Wardlow stepped up to Billy and then the guys were separated.
Analysis: They really need to feature MJF more in terms of matches. He is such a great talent and they aren't using him enough in matches on television.
There was video shown of the Dark Order trying to recruit Colt Cabana.
Sammy Guevara vs. Colt Cabana
Sammy still had his walker thing to help him get to the ring even though he was healthy enough to have a match. I missed Jericho on commentary at this point, but I get why he wasn't used after the angle before the break. Sammy hit a nice dive onto Cabana out of the ring. Cabana made the comeback with the Flying Apple splash in the corner and a splash got a two count. Cabana got a nearfall with a moonsault off the top. Cabana slammed Colt off the shoulders into a knee to the face called the GTH instead of the GTS and that was enough for Sammy to win by pinfall. They got about eight minutes for this match with three minutes of it happening while in picture-in-picture.
Winner by pinfall: Sammy Guevara
Analysis: **1/4 This was just an average match. Sammy's the young guy on the rise while Cabana is the older guy that's there to put people over most of the time when he's on Dynamite. Sammy needed the win, so it was nice of him to get that.
After the match, Brodie Lee of the Dark Order and other Dark Order guys looked at Cabana on the apron. Lee lifted up Cabana to help him back up to his feet. Evil Uno and Grayson of the Dark Order were back. They're Canadians like me and were able to get to Florida because some of the travel restrictions were lifted for people in entertainment.
Matt Hardy showed up to confront Sammy to tell Sammy he respects him and Matt said Sammy is like a young Matt Hardy. Matt advised Sammy to get away from Chris Jericho and Sammy complained about Matt because Matt tried to kill him with a golf cart. Matt turned into Version 1 of Hardy and Broken Matt as well. Sammy left as Matt yelled "Delete" at him.
Analysis: This Hardy transformation was okay, but nothing that interesting here. It sets up a future match between them most likely.
There was a video of Joey Janela wondering what happened because he wrestled Jon Moxley in a main event and he has faded into the darkness. Janela was in a bar drinking. Janela said that in the last six months or so, he's kinda lost his direction and then Sonny Kiss drove up to hi, so Joey left with Sonny. That's "to be continued" apparently.
Analysis: There hasn't been much for Janela or Kiss in AEW. At least it looks like they will get some storyline.
Colt Cabana was shown backstage with Sasha Gonzalez trying to interview him. Colt went up to Mr. Brodie Lee's dressing room, knocked on the door and went into the room.
The announcers did a rundown of next week's Dynamite:
* MJF (w/Wardlow) vs. Billy (w/Austin Gunn) – They can't say Gunn for Billy Gunn since it's a WWE name.
* Kenny Omega and Adam Page defend the AEW Tag Team Titles vs. Dustin Rhodes and QT Marshall aka the Natural Nightmares.
* There will be a TNT Championship match. Participants not announced yet.
* Chris Jericho and Sammy Guevara vs. Best Friends (Trent and Chuck Taylor). Apparently if Jericho and Sammy win then they get a AEW Tag Team Title match at Fyter Fest instead of Best Friends.
* The Young Bucks (Matt and Nick Jackson) vs. Superbad Death Squad (Kip Sabian and Jimmy Havoc)
Analysis: It's a solid lineup, but also predictable. The winners of those matches will probably be MJF, Omega/Page, Cody retaining against whoever the opponent is and Young Bucks. Jericho/Sammy might win, but they might put Best Friends over.
Jon Moxley was interviewed outside the building by Alex Marvez. Moxley had the AEW World Title in his hands. Moxley said he was in a bad mood because Taz has been telling everyone that Brian Cage is going to beat Moxley at Fyter Fest. Moxley said he cannot wait for Fyter Fest so he can pop Cage's head like a pimple and shut up Taz. Moxley said what separates him is that he's a miserable son of a bitch. Taz got in Moxley's face saying he heard Moxley chirping and then Cage attacked Moxley from behind. Cage whipped Moxley into a barricade that was there. They went by a car, Moxley got a crowbar, Cage moved and Moxley hit the car window. Cage gave Moxley a spinebuster on the hood of a car. When Cage teased an attack on the cement, Taz told Cage to stop. Cage picked up Moxley and gave him a body slam onto the back windshield of a red car that was there. The car had an AEW license plate on it.
Analysis: That was a nice segment to build up the title match next month. Good thing the boss is rich and can fix the car. I don't expect Cage to beat Moxley for the title.
There was a video of Cody talking about wanting to defend the TNT Title every week and Marq Quen is the opponent.
During Marq Quen's entrance, he was joined by Private Party tag team partner Isaiah Kassidy and their mentor Matt Hardy was with them.
Analysis: I like Private Party a lot, but they haven't been pushed that much in AEW. There's the open concept storyline for the TV Title so anybody can get a title shot. It just doesn't seem like a big deal. I also think this is a weak main event of Dynamite. I know it's a title match and the idea is to build up the title. It's just not a big match to the average fan at home.
TNT Championship: Cody (w/Arn Anderson) vs. Marq Quen
They waited in the ring for ring announcer Justin Roberts to do the introductions while the wrestlers waited in the ring. Good to see Justin back after a few months off. Quen had a BLM armband on his left arm to support Black Live Matters, which is good to see.
The story of the match was Cody working over the left knee/ankle of Quen, who had sold a left leg injury in the past. JR said he wanted to see Tony with Marq's haircut, which was funny. Quen hit a cool move when he countered a neckbreaker like move into a DDT. Quen hit a dive over the top and remembered the sell the leg injury again, but then he did another running somersault dive over the top onto Cody. Quen kept going for high-risk moves including going to the top rope, Cody left the ring to the ramp and Quen hit a 450 Splash off the top and onto Cody on the ramp. Quen went up top again, he jumped off with a Shooting Star Press and Cody caught him in an Ankle Lock. Cody slapped on a leg lock submission using his own legs and Quen tapped out to give Cody the win after about 12 minutes.
Winner by submission:
Analysis: **3/4 It was a competitive match that you want to see when a a title is on the line. Quen got a lot of offense and the announcers tried hard to make it seem like he might win, but I doubt anybody at home thought he had a chance. As the match progressed, it seemed like Quen forgot about selling the leg injury and did a poor job of selling it while he was doing offensive moves. If you are going to sell an injury the whole match then sell it when you're on offense too. I think Cody was very realistic in terms of his selling as well as working over the leg to get the advantage when he needed to.
There were a few minutes left in the show as Cody helped up Quen and gave him a big hug. Cody talked to Quen as well likely to tell him he did well in their match.
Jake Hager went into the ring with Cody. Hager gently pushed Arn to the corner and then he tossed Cody across the ring. Hager picked up Cody into a spinning slam. Private Party and Matt Hardy showed up. Quen and Kassidy each hit Hager with two chairshots while Hardy hit a clothesline on Hager to knock him out of the ring.
Hager was joined by Santana, Ortiz and Guevara on the stage. That led to the eight men brawling in the ring. The referees went out to the ring to try to break it up. Cody hit Hager out of the ring with a steel chair. Hardy hit a Twist of Fate on Sammy, who sells it by landing on his head. The four faces managed to clear the ring of the Inner Circle.
Cody asked Jake Hager if he wants a TNT Title match at Fyter Fest and Cody said "you got it." Hager looked happy about it. Cody held the title up in the air and stared at Hager to end the show.
Analysis: It's typical AEW to end with a brawl. Nice job of having Cody mention the title match for Fyter Fest instead of promoting it after the show. Do it during the show. That's the right way to do it.
Three Stars of the Show
FTR
Cody
Best Friends (Trent, Chuck Taylor and Orange Cassidy)
The Scoreboard
This week: 6. 5 (out of 10)
Last week: 7
2020 Average: 7.11
Final Thoughts
This show was a bit better than average, but it didn't really have a standout match or moment that AEW has sometimes. The match between Cody and Quen felt just average to me and one of the weaker main events they have done. It didn't come across as something that felt like a big deal even though the TNT Title was on the line. Some of the non-wrestling segments were okay with Moxley getting into a brawl with Cage including some bumps onto a car.
They need to cut back on the number of tag team matches on one show. It gets repetitive. I liked the FTR tag team match the best of any match on the show even though there was no doubt about the outcome of that match. It ended in their typical way with some brawling at the end. They really love ending the show in that manner.
—
You can contact me using any of the methods below.
Thanks for reading.
John Canton
Email: mrjohncanton@gmail.com
Twitter: @johnreport