The John Report: WWE Smackdown Live Review 12/05/17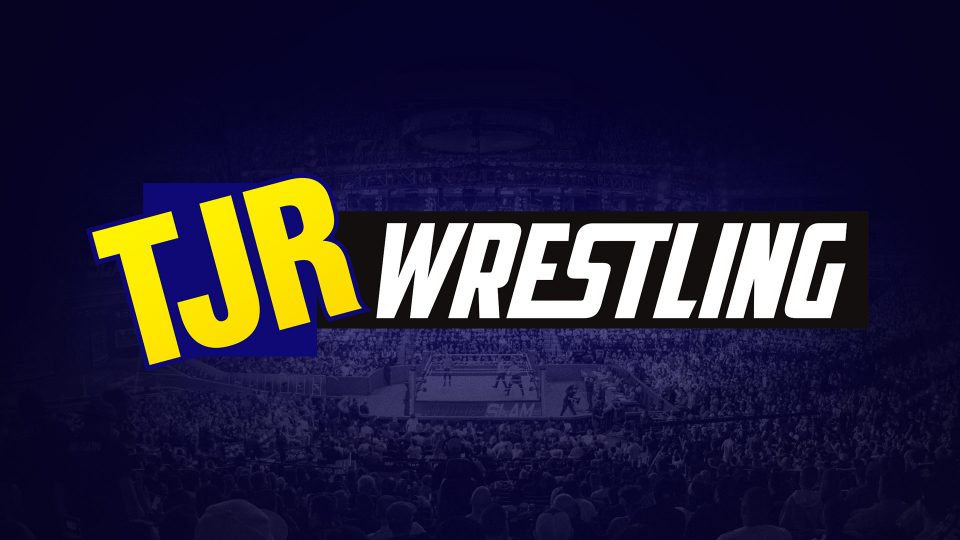 It's time for WWE Smackdown Live. The blue brand has two more shows before the last PPV of the year, which is Clash of Champions on December 17.
Live from San Diego, California this is Smackdown Live for episode #954. Follow me on Twitter @johnreport. Thanks Melo Man for the banner up top.
The Smackdown intro video started the show off.
Let's Hear From Kevin Owens and Sami Zayn
The duo of Kevin Owens and Sami Zayn made their entrance to start the show. Highlights aired from last week when Shane McMahon said that Owens vs. Randy Orton would be No Disqualification with Zayn barred from ringside. Then we saw a clip of Zayn attacking Orton with a chair and helping Owens beat Orton.
Owens: "Welcome to the Sami and Kevin Show." Zayn said it's the Kevin and Sami Show. Owens said that when you are as great an athlete as they are, you never stop learning. Owens has learned that when you're the victim of a McMahon family vendetta they will stop at nothing to get their pound of flesh. Owens told Zayn to ask Daniel Bryan. Zayn suggested they ask Bret Hart and Owens said you can ask Steve Austin. Zayn said better yet, you can ask them. Owens said that they are better than any of the guys they just mentioned and Zayn said "combined" to agree. Owens said that is why they are the objects of the latest McMahon family wrath.
Owens said last week Shane tried to end his career by having Randy Orton do it. Zayn pointed out how Stephanie McMahon used to use Orton to do things for her. Owens claimed that he and Sami had to scratch for everything on SD Live while things were handed to Orton. Owens pointed out that Shane can't get things done, so he's trying to get Orton to do it for him. Owens noted that last week he knew he had to beat Orton so bad that he can no longer be an option for Shane McMahon. Owens said it's not that hard to outsmart a man that is blinded by his shortcomings like Shane.
Zayn offered up an explanation. Zayn said that he is currently in the ring. Zayn rolled to the floor to point out that he is outside the ring, which is called ringside. At ringside you might see a terrible announce team, the ring announcer and bellman ("I don't know your name, is it Steve perhaps?"), the WWE Universe noting that it's not a pleasant site and then when you cross the line on the ramp it becomes something different altogether. Zayn pointed out that's where he laid waste to Orton last week and Zayn mentioned that it didn't happen ringside. Zayn said that they worked within the system and they still won. With Owens alone in the ring, Orton snuck up from behind and dropped him with a RKO out of nowhere. Crowd was going wild.
Shane McMahon's music started as the Smackdown Commissioner showed up on the ramp with Orton in the ring and Sami in between them. Shane thanked Sami for the "what is ringside and what is not" tutorial. Shane said he doesn't have a personal vendetta against Sami and Kevin. Shane said in two weeks time, Zayn will team up with Kevin Owens at Clash of Champions against Randy Orton and a partner of his choosing. Shane said that he can tell Zayn is full of energy, so they should do something about that tonight. Shane told Zayn he's going to go one on one with…Randy Orton. Shane announced Owens would be handcuffed to the ring rope. Owens was still knocked out on the floor outside the ring as the segment ended.
Analysis: Nice work by Owens and Zayn as usual. Zayn did a great job of explaining what happened last week when most of the audience wondered why Shane would ban a guy from ringside in a No DQ match, but I like how they had Orton sneak up behind Owens with the RKO. That was planned well and the crowd was into it. I'd prefer Owens and Zayn in singles matches at Clash of Champions, but a tag is fine against Orton and whoever (likely Nakamura). They always have good matches together.
Coming up: Corbin vs. Roode and New Day vs. Rusev and Aiden English is up next.
(Commercial)
There was a plug for John Cena's appearance Wednesday on the Tonight Show and the Today Show on Thursday.
Replays aired of the ending of the opening segment.
There was a shot of Zayn and Owens backstage with Owens selling the RKO. Orton was grabbing his neck. Owens asked what happened out there. Zayn informed him of what Shane ordered and Owens complained about being handcuffed in front of all these idiots. Owens said he's going to fix this and talk to Daniel Bryan.
Happy Rusev Day because Rusev and Aiden English were in the ring. English said every day is Rusev Day and the fans chanted "Rusev Day." English sang the "12 Days of Rusev" saying on the first day of Rusev his partner gave to him a tag team victory, the second day is two Rusev shirts (brand new shirts now available) and New Day interrupted before we could get to the third day.
Analysis: I love that the Rusev Day stuff is so over because it's ridiculous and over the top, which is perfect for heels like these two. They are getting over with it, so that's what matters.
The New Day trio had giant pancakes that they gave to fans at ringside. That was just awkward. At Clash of Champions it's The Usos vs. New Day vs. Gable/Benjamin.
Rusev & Aiden English vs. The New Day's Big E & Kofi Kingston (w/Xavier Woods)
Running kick by Kingston on English. Double boot to the face by Kingston followed by a cross body block off the middle ropes for two. Kingston with a leaping clothesline on English, so Rusev pulled English out of the ring to save his partner. Kingston teased a dive to the floor and then stayed in the ring. The show went to break there.
(Commercial)
Back from break, English was working over Kingston. There was a jawbreaker from Kingston, but then English drove Kingston into the turnbuckle. Rusev slapped on a bearhug on Kingston in the middle of the ring. Kingston hit headbutts to break free, but Rusev came back with a spin kick to the head for a two count. Kingston countered a Rusev charge by doing a running double foot stomp to the chest of Rusev to take him down. Big E got the hot tag against English with two belly to belly suplexes, a side belly to belly and the running splash by Big E. Big E lifted English up, English raked the eyes and Rusev tagged back in. Rusev ran right into a uranage slam by Big E on Rusev for a two count. Kingston tagged in, Rusev went to the floor and pulled Big E out of the ring. Rusev sent Big E into the steel steps. Kingston hit a dive over the top to take out Rusev. Kingston sent Rusev back in the ring while English distracted on the apron. Kingston went for a dive off the top, Rusev knocked him off the ropes and Rusev with a kick to the back of the head of Kingston for the pin. It went about ten minutes.
Winners by pinfall: Rusev and Aiden English
Analysis: **3/4 Good match with a finish that could be considered an upset since Rusev and English are not an established team like The New Day. I thought it was booked well with Rusev taking out Big E, tossing him into the steps, Kingston hit a sweet dive, but English distracted and Rusev was able to finish off Kingston shortly after that. New Day is fine after losing a match because they have credibility. Building up Rusev and English is a smart move. Congrats on the Rusev Day victory!
The announce team of Tom Phillips, Byron Saxton and Corey Graves set up the breakup of the Hype Bros last week.
Mojo Rawley was interviewed backstage by Renee Young. Rawley said people were asking him about what he did to Zack Ryder last week, even his friend Rob Gronkowski. Rawley said that when Ryder was hurt, he won the Andre the Giant battle royal at WrestleMania, so when things started going his way, Ryder came back to drag him down because he's dead weight. Rawley said he is nobody's tag team partner because he is a superstar. Rawley said if there's anybody anywhere that has a problem with what he did to Ryder, they can shove it.
Analysis: It was nice to hear him do a promo without acting like a freak that talks about getting hyped all the time.
Orton vs. Zayn later.
(Commercial)
Daniel Bryan, the Smackdown GM, was in his office. Carmella was in there along with Tamina and Lana. They complained about how they wanted a title shot. Bryan told them Charlotte is defending Natalya at Clash of Champions. The trio of Ruby Riott, Liv Morgan and Sarah Logan were there. Riott asked why she's not in the title match after she pinned Charlotte Flair. Riott thinks Bryan doesn't like her tattoos, Morgan thinks Bryan doesn't like blondes and Logan thinks Bryan didn't appreciate women from the south. The six women were yelling. Bryan yelled: "Stop it." Bryan said that they can all be part of Clash of Champions because Charlotte Flair vs. Natalya will be a Lumberjack Match.
Analysis: A women's Lumberjack Match is different from the norm. It can also set up a future angle. I think Charlotte will retain and then Ruby Riott is likely to step up as the next contender. By the way, WWE does these "all the women stand in the same women and argue" segments too much.
Bobby Roode was in the locker room with US Champion Baron Corbin walked into the room. Corbin asked what he thinks about Dolph Ziggler being in the match. Roode said he can beat Corbin and Ziggler being there hurts his chances of winning. Corbin said he's the only one that matters in this equation. Ziggler showed up to remind them he's a 2-time World Champion, five time IC Champion, he's even won the US Title and he cashed in the Money in the Bank contract successfully (nice stare at Corbin) and Ziggler told them their odds dropped to zero.
Analysis: Good promo from Ziggler especially. The line about cashing in Money in the Bank successfully and staring at Corbin was really well done.
The Bludgeon Brothers were in the forest using their sledgehammers and they are up next.
(Commercial)
The Bludgeon Brothers duo of Harper and Rowan made their entrance. The theme song is starting to become catchy.
The Bludgeon Brothers (Harper & Rowan) vs. Adam James & Josh Carr
Clothesline on first dude in the ring. The other guy left the ring and Harper hit a clothesline on him on the floor. Rowan hit a spinning slam on dude in the ring. Rowan slammed Harper on the guy in the ring. Double team lifting slam by Rowan and Harper led to the pinfall victory. It went one minute.
Winners by pinfall: The Bludgeon Brothers
Analysis: 1/2* Dominant win like usual for them. That will probably continue for a few months before they get a meaningful feud.
They aired behind the scenes clips of Charlotte Flair on "Psych The Movie" that is on USA Network this Thursday. Same clip that was on Raw.
Zayn was shown in the locker room. Owens showed up to talk to him. Zayn wondered if Owens talked to Bryan like he said he would. Owens said that Bryan would think about it. Zayn hugged Owens. Zayn asked if that's a good thing or bad thing and Owens said guess they'll have to find out.
Roode vs. Corbin is next.
(Commercial)
The song "Champion" by The Roots is the theme for Clash of Champions. That is a fitting song.
Baron Corbin, the US Champion entered first at the top of hour two. A clip aired of Corbin and Roode brawling during the lumberjack match two weeks ago.
Dolph Ziggler joined the announce team with him claiming he's part of the Clash of Champion US Title match because he's so good at what he does.
Bobby Roode made his Glorious entrance to a nice ovation like usual with the crowd singing along. Ziggler said he's there to make money, not friends. Ziggler hates that Roode embraces the WWE Universe and you should focus on winning matches.
Baron Corbin vs. Bobby Roode
This is not for Corbin's US Title.
Corbin with a shoulder tackle. Roode nailed a running dropkick on Corbin followed by a dropkick that sent Corbin out of the ring. Roode with a running forearm that knocked Corbin off the apron. Corbin nailed a punch that gave him control. Running clothesline by Corbin against the turnbuckle. Ziggler talked about how he knows what it means to be champion and to prove yourself. Roode chopped away on Corbin. Running corner attack from Corbin, but Roode booted him in the face. They did a double clothesline. Ziggler said he needs to get a better look at this. Ziggler went into the ring with both guys down in the ring. When Roode got up, Ziggler hit the Zig Zag on Roode, so ref called for the bell for the disqualification. It went four minutes.
Winner by disqualification: Bobby Roode
Ziggler hit the Zig Zag on Corbin after the match. Ziggler stood over both guys with a serious look on his face. Ziggler's music played to end it.
Analysis: *1/2 A quick match with a predictable finish to try to boost Ziggler as a threat by giving him a cheap attack spot. I didn't expect a clean finish here. There weren't any believable nearfall spots either. It was mostly just about putting Ziggler over, which is fine. He needs it after losing his feud to Roode. I hope they have a good match at Clash of Champions, but it's not that interesting.
Natalya talked to Carmella, Lana and Tamina backstage. Natalya sucked up to them having her back at Clash of Champions. Natalya told the women to defend themselves in the Lumberjack Match. Natalya needs to know that those three have her back. Natalya reminded them they were the Welcoming Committee that was the heart of the women's division. The Riott Squad trio showed up. Natalya said she wanted to thank them for taking out Becky Lynch two weeks ago and Naomi last week. Natalya said Charlotte is the type of person that will sucker punch them. Natalya sucked up to them saying they were the most powerful women in WWE and Natalya left.
Analysis: That segment went on for too long. It pushed the story of Natalya trying to make friends with these women to try to help her win the title back.
Video about Styles vs. Mahal is next.
(Commercial)
A video package aired about AJ Styles vs. Jinder Mahal at Clash of Champions. The video focused on Mahal's WWE Title reign that lasted nearly six months earlier this year. Styles won the title from Mahal last month in a match on Smackdown and I am so glad he did. The video took about three minutes.
Analysis: Neither man appeared on Smackdown, but they did have a dark match after the show (after 205 Live) with Styles winning of course.
Charlotte Flair vs. Tamina (w/Lana, Natalya & Carmella)
This is not for Charlotte's SD Women's Title.
Charlotte slapped on an armbar. Tamina pulled Charlotte down by grabbing her hair. Charlotte hit a running back elbow followed by a kick for two. Tamina drove Charlotte into the turnbuckle and hit her in the ribs with shoulder tackles. Tamina drove Charlotte into the turnbuckle back first as the show went to break.
(Commercial)
Charlotte made her comeback with chops with the crowd chanting "woo" for it. Rollup by Charlotte, but Tamina got out of it. Tamina wanted the Samoan Drop. Charlotte fought out of it and hit a big boot to the face. Charlotte slapped on the Figure Eight submission and Tamina tapped out. It went five minutes.
Winner by submission: Charlotte Flair
Analysis: * Easy win for Charlotte as it should have been. They only showed about two minutes with the commercial break in the middle of it. In the US fans got to see the action during the break, but not me in Canada. Tamina is not really known for having entertaining singles matches.
Post match, Natalya did a promo on the apron saying at Clash of Champions she's going to take back her title. Natalya told Charlotte to look around the ring for a taste of what a Lumberjack match is.
The Riott Squad trio of Ruby Riott, Sarah Logan and Liv Morgan showed up with microphones in their hands. Riott said here's a preview of the Lumberjack Match. Logan said the women look nervous. Morgan added that they know that no one is safe when a riot is about to break out. Tamina decked Logan with a punch. The other women were there to break it up with Lana and Carmella pulling back Tamina while Riott and Morgan grabbed Logan. Charlotte left up the ramp alone.
Analysis: There wasn't much to that other than a tease of a big brawl possibly happening when they do the Lumberjack Match at Clash of Champions.
Owens and Zayn were shown walking backstage. They went up to Daniel Bryan, who said he thought about the appeal. Bryan said he agrees with Commissioner Shane McMahon in wanting no interference in the Zayn/Owens match, so Owens will still be handcuffed. Security was there with one of them holding the handcuffs, so Owens and Zayn were mad about it.
Orton vs. Zayn up next.
(Commercial)
A commercial aired for WWE Week on USA Network next week that has Raw, Smackdown, NXT (first time on USA Network) and Tribute to the Troops for four straight nights.
The show returned with Sami Zayn and Kevin Owens arguing with Bryan at ringside. Bryan told Owens if he doesn't do this he will be suspended because they keep interfering in matches. The "security" cuffed Owens' left hand to the bottom rope. Bryan gave the key to referee Mike Chioda.
The announce team went over all the matches at Clash of Champions on December 17. I've got the full lineup at the bottom of this review in case you don't know the lineup.
Randy Orton entered for the main event. The match is after a break.
(Commercial)
The bell rang after the break.
Randy Orton vs. Sami Zayn
Kevin Owens is handcuffed to the bottom rope. Orton attacked Zayn quickly at the start of the match. Orton sent Zayn out of the ring. Orton tossed Zayn over the announce table. Orton with a backbreaker on the top of the barricade. Zayn avoided an attack on the announce table. Back in the ring, Orton with an uppercut and they left the ring again with Orton sending Zayn into the barricade. Zayn with chops that had no effect and Orton with an uppercut. Orton sent Zayn back first onto the announce table. Zayn's back hit one of the monitors. Ouch. Zayn came back by hitting a dropkick that sent Orton into the barricade. Zayn sent Orton shoulder first into the barricade. Zayn had a big red mark on his back from hitting a monitor. Zayn worked over Orton with forearms. Zayn dumped Orton to the floor as the show went to break.
(Commercial)
Back from break, Zayn trash talked Orton and Orton hit a clothesline. Zayn draped Orton's neck across the top rope to stun him. Zayn grabbed bolt cutters from under the ring to try to free Owens, but Orton prevented that and Orton sent Owens face first into the steel ring post. The ref put the bolt cutters right in the corner by where Owens was standing. Zayn went up top, but Orton was there to trip him up and Zayn was crotched on the top rope. Orton nailed a huge superplex on Orton with a lot of elevation on it. That was sweet. Crowd chanted "this is awesome" for it. Owens got his hands on the bolt cutters (like I said they were right there) and Owens cut the cuffs, so he was free. Orton hit a clothesline on Owens on the apron. Orton hit his draping DDT off the ropes on Zayn. Orton with a kick to Owens on the apron. Zayn got a rollup for two. Running kick by Zayn in the corner missed because Orton moved and Orton got the ROLLUP OF DEATH~! for the pinfall win after 12 minutes.
Winner by pinfall: Randy Orton
Analysis: ***1/4 Good match that felt like a fight from the moment it started because of Orton wanting to get revenge against Zayn. The bolt cutters thing was smart because it made it seem like Orton was going to lose again, but he was able to outsmart them. I'm not a huge fan of the rollup finish, but in this case it was done more because Orton had to win with a quick move to try to prevent Owens from interfering again. It also protects Zayn a bit because while he did lose the match, he didn't lose to Orton's finish.
Post match, Owens and Zayn did a double team attack on Orton. Shinsuke Nakamura ran out for the save. Nakamura destroyed both heels with a Kinshasa knee attack on Owens. Orton got back up and Orton dropped Zayn with a RKO in the middle of the ring.
Orton shook hands with Nakamura in the ring. The announcers wondered if that meant Nakamura would be Orton's partner and I would say yes that's likely.
A replay aired of Nakamura coming to the aid of Orton as they took care of Owens and Zayn easily.
Nakamura picked up Owens and Orton hit a RKO on Owens. Orton picked up Zayn and Nakamura hit Zayn with the Kinshasa knee strike. Nakamura's music played. Orton and Nakamura posed on opposite turnbuckles. It felt like they were stalling a bit because they had a few minutes of show time left.
Shane McMahon and Daniel Bryan were in the office watching on TV. Shane said that it was one of the most satisfying finishes in their history of running Smackdown. Shane said that at Clash of Champions, he's going to be referee of Owens/Zayn vs. Orton/Nakamura and if Owens/Zayn lose then they are fired from Smackdown and WWE. Bryan just gave him a blank stare while Shane left.
The announcers talked about the news with Graves complaining about how it's not fair. Back to Orton and Nakamura posing as Smackdown went off the air.
Analysis: It felt like the timing was off a bit there and they stalled to fill time, but that's what happens on live TV sometimes.
As for the Shane is ref thing, I think it's very possible that Daniel Bryan does something to turn heel to help Owens and Zayn win. It's also a possibility that Shane turns, but that seems more unlikely since Shane has had a physical rivalry with Owens and Zayn. In the case of Bryan, the story can be that he felt bad for them because Shane was so hard on them. Will the fans boo Bryan? Maybe not, but like I said having Bryan turn would be a shocking twist that would surprise a lot of people. If it's Shane that goes heel that's fine too. I think one of them is definitely going to turn to help Owens and Zayn win at Clash of Champions.
Three Stars of the Show
Sami Zayn
Randy Orton
Kevin Owens
The Scoreboard
5.5 out of 10
Last week: 6
2017 Average: 6.68
Average Post Brand Split (July 26, 2016): 6.60 – Raw is at 5.87
Last 5 Weeks: 6, 5.5, 7.5, 6.5, 8, 7
2017 High: 8.5 (April 11, August 1)
2017 Low: 4 (August 29)
Final Thoughts
It gets a 5.5 out of 10.
It was an average show with a good main event match between two great performers. I like how much screen time Owens and Zayn are getting because they are featured as the top heels on this show. It would have been nice if Orton did a quick promo about wanting revenge on Zayn to put that over a bit more.
The women's segments weren't that good this week. It was better the last two weeks.
Ziggler reminding people that he can be great was nice to see. He shouldn't be forgotten in the midcard.
Nice to see Rusev/English pick up a meaningful win over a credible team like New Day. Good booking and finish to that match.
AJ Styles was missed this week. It's understandable because they wanted to try to further some other feuds involving others in the midcard, but he's the best guy on the show and he is missed when he is not out there. The same can be said for The Usos, who did not appear this week either.
#WWEChampion@AJStylesOrg defends his title against @JinderMahal in a huge rematch at #WWEClash on Dec. 17, streaming LIVE on @WWENetwork! #SDLivepic.twitter.com/hsX7KhtKUu

— WWE Network (@WWENetwork) December 6, 2017
The next Smackdown PPV is Clash of Champions is December 17. Here's what we know.
WWE Championship: AJ Styles vs. Jinder Mahal
Sami Zayn & Kevin Owens vs. Randy Orton & Shinsuke Nakamura (Shane McMahon is referee. If Zayn and Owens lose, they are fired.)
Fatal 4-Way Smackdown Tag Team Championships: The Usos vs. The New Day vs. Chad Gable & Shelton Benjamin vs. Rusev & Aiden English
Smackdown Women's Championship Lumberjack Match: Charlotte Flair vs. Natalya
United States Championship: Baron Corbin vs. Bobby Roode vs. Dolph Ziggler
There will probably be another one or two matches added.
—
That's all for now. Go Los Angeles Rams, Toronto Raptors and Toronto Maple Leafs.
My contact info is below. Thanks for reading.
John Canton
Email mrjohncanton@gmail.com
Twitter @johnreport