The John Report: WWE Smackdown Live Review 08/29/17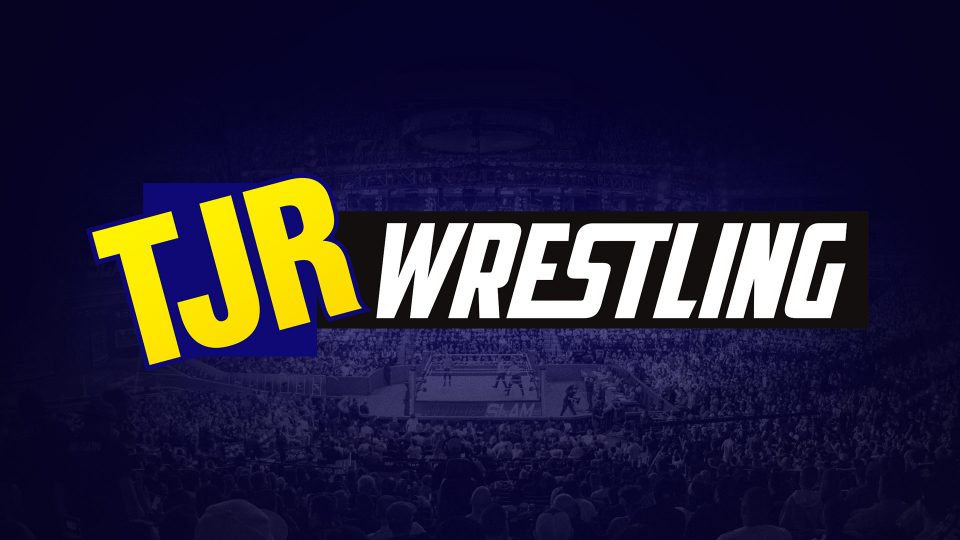 Live from Little Rock, Arkansas this is Smackdown Live for episode #940. Follow me on Twitter @johnreport. Thanks Melo Man for the banner up top.
The show began with a graphic telling us that Shinsuke Nakamura and Randy Orton will team up against Jinder Mahal and Rusev. You mean you announced a tag match before the show rather than set it up during the show? Shocking twist!
Let's Hear From Jinder Mahal
Jinder Mahal, the WWE Champion, made his entrance after getting the introduction from the Singh Brothers. Mahal was in his ring gear. The announce team is Tom Phillips, John Bradshaw Layfield and Byron Saxton as usual.
Mahal did a promo talking about the main event later in the night. Mahal mentioned that he's shown nothing but disrespect as the fans chanted "USA" at him. Mahal said that he should be revered (he pronounced it wrong) as your WWE Champion. Saxton said that he's disrespected because he's a jerk, that's why. Mahal talked about the jingoistic naysayers that laugh at him with Mahal claiming that he is not a fool because he is the WWE Champion.
Samir Singh spoke up and said that they failed Jinder, so they want to publicly apologize to everybody in the continent of Asia and the 1.3 billion people in India. Samir wants to apologize to their family in Punjab and specifically to Jinder the Maharajah. Sunil said last week they embarrassed Jinder through their ignorance and their lack of skill. Sunil said that they vow Nakamura will never touch Jinder again. Sunil said "right here in the great nation of India" and then corrected himself "on behalf of the great nation of India" leading to "USA" chants. Sunil said that on behalf of India, they went to kiss Jinder's royal feet.
The Singh brothers went down on their knees in front of Mahal. They were about to kiss Jinder's feet when Shinsuke Nakamura's hit as the lights went out in the arena and Nakamura made his entrance. Big ovation for Nakamura as usual.
Nakamura went into the ring. He walked between the Singh Brothers and got into a slug fest with Mahal. The Singhs held Nakamura's legs, so Mahal nailed Nakamura with a kick to the head. Mahal stomped away on Nakamura. Randy Orton's music hit and he ran down to the ring to clear the ring. Rusev went into the ring with a jumping kick to the head of Orton. Rusev kicked Orton out of the ring. Mahal hit The Khallas on Nakamura. The heels posed to end it.
Analysis: It was a typical opening segment for Smackdown where they used the time to build to a match later. The only difference between this and what they usually do is this week they advertised the main event tag match before the guys entered the ring. Normally they just do it by having them set up an impromptu tag. Good way to get some heat on the heels, which should mean a win for the faces later.
AJ Styles up later. Chad Gable and Shelton Benjamin are up in a tag match up next.
(Commercial)
It was announced that next week on Smackdown, Randy Orton faces Shinsuke Nakamura with the winner getting a future WWE Title match.
The Ascension were in the ring to lose…err…have a tag match.
Chad Gable and Shelton Benjamin made their entrance to a new tag team theme song. This is Benjamin's first match in WWE since he was released seven years ago.
The Ascension (Konnor & Viktor) vs. Chad Gable & Shelton Benjamin
Gable hit a running knee to the gut. Benjamin got a nice ovation for his in-ring return to WWE. Fans chanted "Let's Go Shelton" as he hit a butterfly suplex on Konnor. Overhead belly to belly suplex by Gable on Viktor. There was a whip into the ropes, Konnor pulled the ropes down and Gable went over the top to the floor with a hard landing as the show went to break.
(Commercial)
Back from break, Konnor hit a spinebuster on Gable as the heels isolated the smaller man. Viktor worked over Gable with some chops. Gable nearly tagged out, but Konnor stopped him. Konnor missed a corner charge, hit the ring post and Gable tagged in Benjamin. Shelton was on fire against Viktor with a clothesline, back body drop, spin kick on Konnor and a leaping kick to the head of Viktor. Benjamin jumped off the top with a clothesline on Viktor for a two count. Gable shoved Viktor into Benjamin, who brought down Viktor with a finishing move he used to call Paydirt (the announcers didn't say it) for the pinfall win after eight minutes.
Winners by pinfall: Chad Gable & Shelton Benjamin
Analysis: **1/2 Solid tag match to put over the new tag team as expected. Smart way to book the match with Gable isolated for most of it, hot tag to Benjamin and it put over Benjamin big time by having him get the win. The crowd loved all of it. Good to see another quality tag team on Smackdown, which was needed. Gable and Benjamin are both likable guys that should do well as a team.
New Day and Usos pick a stipulation later. AJ Styles US Open Challenge is up next.
Baron Corbin was shown walking backstage. Renee Young showed up to interview him asking about his failed Money in the Bank cash in from two weeks ago. Corbin blamed Cena for it and said that Cena has run away from him by going to Raw. Corbin said he's going to cash in on the opportunity to get a US Title shot in the open challenge.
A video aired with WWE superstars telling viewers to help out Hurricane Harvey victims in Houston and the rest of Texas. You can go to http://GHCF.org/hurricane-relief to donate to help those in need.
(Commercial)
A commercial aired for Total Bellas. This is where I say "poor Daniel Bryan" all the time.
AJ Styles, the best in the world and the US Champion, made his entrance to a big ovation.
Styles said that he is going to open the US Title Open Challenge to the rest of the roster and it starts right now. Styles handed the title to the referee and he was ready to go for a match.
Tye Dillinger made his entrance to a good reaction. Baron Corbin went up to him on the ramp. Corbin shoved him, so Dillinger shoved him back. Dillinger turned his back like a dummy, so Corbin hit him with a forearm to the back. Corbin was on the apron, so Dillinger went into the ring, punched Corbin and knocked him off the apron. Dillinger told the ref to ring the bell.
United States Championship: AJ Styles vs. Tye Dillinger
Dillinger opened up with punches to Styles. That didn't last long as Styles got control. Styles went for the Phenomenal Forearm, Dillinger caught him, went for the Tyebreaker and Styles slapped on the Calf Crusher submission. Dillinger tapped out to the lose the match in about one minute.
Winner by submission: AJ Styles
Analysis: 1/2* A rushed match that didn't get any time to develop and made Dillinger look like a loser. I'm not a fan of doing angles like that.
Post match, Corbin grabbed Dillinger and sent him into the barricade outside the ring. Corbin went in the ring where he was met with a forearm by Styles. Corbin left looking angry about what happened.
Analysis: It should lead to Styles vs. Corbin at some point since they lack heels for Styles to face.
Rusev was in the locker room with Jinder Mahal as Mahal said it was great to see their countries unite. Rusev said tonight is about revenge. Mahal called him his friend, so Rusev said he is not his friend and Rusev said that he came to Smackdown Live to be WWE Champion. Rusev told Jinder that after tonight's win, he is coming after the WWE Championship.
Bobby Roode is up next.
(Commercial)
The show returned with Mike and Maria Kanellis kissing in the ring. Mike is there to lose…err…have a match. Second time I did that in the first hour.
Bobby Roode made his "glorious" entrance that drew a big reaction like usual. Roode is a face on Smackdown while he was a face on NXT. That song is so popular that it's tough for fans to boo the guy.
Bobby Roode vs. Mike Kanellis (w/Maria)
They did some mat wrestling early with Roode getting the advantage and did the "Glorious" pose to a big ovation. Kanellis stomped away to get control briefly. Good looking punch for Kanellis, but Roode came back with an elbow followed by a forearm and a corner clothesline. Roode with boots to the face followed by the blockbuster off the middle ropes. Back elbow by Kanellis in the corner. Spinebuster by Roode. Glorious DDT connected for Roode leading to the pinfall win after three minutes.
Winner by pinfall: Bobby Roode
Analysis: * Easy win for Roode as expected. Roode's one of the most talented guys on the show and is a great addition. I'm looking forward to seeing him in an actual feud because three-minute squash wins every week can get boring fast.
Kevin Owens was shown walking backstage for something up next.
(Commercial)
Aiden English was in the ring doing one of his songs. Kevin Owens interrupted him.
Owens went into the ring and told English with all due respect, none of the Arkansas hillbillies have the mental capabilities to appreciate his talent. Owens suggested English leave the ring so he can conduct some business. English left graciously.
Owens talked about how last week, Shane McMahon and him came to an agreement about the referee in last week's US Title match, yet this happened. A replay aired of what happened last week where Corbin left as referee and Shane took over after Shane stopped Corbin from being too biased.
Owens said one year ago today, the greatest moment in the history of WWE happened when he was crowned Universal Champion. Owens said he stands there one year later he's not holding a title because Shane McMahon screwed him out of it, not once but twice. Owens mentioned that this would have never happened on the good old days on Raw because Stephanie McMahon wouldn't abuse her power as Commissioner like Shane. Owens said that this place is Shane's personal playground and that egomaniac…here comes Shane.
Shane McMahon, the Commissioner of Smackdown, made his entrance to a good ovation. Owens said there is right on cue to take the spotlight from the actual talent and make it about himself. Fans chanted "Shane O Mac" for Shane leading to Shane mentioning the city name for a cheap pop. Shane said he's not there to help Owens. Shane told Owens it was him who picked his special guest referee with Baron Corbin being extremely biased and Corbin left because he didn't finish the matchup. Shane said people are tired of KO's complaining. Shane asked Owens to please leave the ring and told English to go back in the ring because he has a matchup with this gentleman, it's Sami Zayn.
Analysis: Whining Owens continued the storyline he has been doing with Shane McMahon over the last month. Owens does a great job of being that kind of heel and the fans hate him for it even though some of them find him to be very entertaining as well. I thought both Owens and Shane made their points well. It's easy to see both sides of the story when they lay it out as well as they did.
Owens joined the commentary team for this match.
Aiden English vs. Sami Zayn
English stomped away on Zayn in the corner. Owens said he can't put into words how angry he is, so he's useless like Byron is on commentary. Suplex by English. Zayn hit a clothesline that sent English over the top to the floor. Zayn hit a somersault dive over the top to take out English on the floor. Back in the ring, Zayn got a two count. Owens complained about the referee not doing his job right. Owens went into the ring and grabbed the referee's shirt. The shirt looked big on ref Ryan Tran to begin with. Tran had on a tank top underneath it. Owens put the shirt on and told the ref to leave the ring. Zayn yelled at Owens about it. English hit Zayn in the back with a forearm. Owens hit a Popup Powerbomb on Sami Zayn. Owens told English to cover and Owens did a fast count as English won after about three minutes.
Winner by pinfall: Aiden English
Analysis: * A rare win for English as Owens' anger took over the match and screwed his long time rival Zayn.
Post match, Owens raised English's hand as the victor. Owens threw the ref shirt back to the referee. Owens left look angry.
Analysis: All of this should lead to Owens vs. Shane possibly at Hell in a Cell in October or maybe it leads to something at Survivor Series. Slow burn is good. This segment was okay.
The Usos vs. New Day up next to pick a stipulation for a title rematch.
(Commercial)
Back from break, replays aired of KO's actions before the break.
Shane McMahon was interviewed by Renee Young about what Owens did. Shane said he was very upset about it, the match doesn't count and that match is stricken from the record. Shane said that he was told that Owens just left, he's in the parking lot and took off. Shane said that's what he is going to do too, so he left. Way to stick around for the show, boss.
Dolph Ziggler was interviewed by Dasha Fuentes backstage. Ziggler said they're in Little Rock, so you can expect nothing. She asked him his desire for change. Ziggler spoke about how he's the best athlete in sports entertainment for ten years and doing what he does in the ring better than anything else and getting nothing in return. Ziggler said he's taken for granted. Ziggler added that he's a star while fans get distracted by sequins on a jacket and complained about Cena's "you can't see me" hand gesture meaning nothing. Ziggler pointed out there's a guy that comes out with a special mic playing guitar (Elias), so he wondered if that's what he had to do to get noticed. Ziggler said he can jump on a four wheeler like Stone Cold would. Ziggler said you can douse him in paint like Finn Balor because he's a charisma vacuum or get a beautiful lady to escort him to the ring because that'll distract you. Ziggler joked that he could be a superhero, Zigman. Ziggler said all the years, dedication and sacrifice have meant nothing, so that's what you're going to get…next week. He left.
Analysis: I liked the promo. It's easy to see why a heel like him is frustrated with where he is at in his career, so having him bitch about others in the company makes a lot of sense. I hope there's some good payoff to this story. It will probably just be Ziggler doing this same promo week after week, saying "next week" and not really doing it.
The Usos, Smackdown's Tag Team Champions, made their entrance. Highlights aired from their awesome SummerSlam Kickoff show match. One of the best tag matches of the year in WWE.
The New Day trio made their entrance with Big E and Kofi Kingston carrying cereal. Xavier woods had a sign that said "it's sore" around his neck while he had a brace on his left knee. He hurt the knee at a live event on Monday. It's a MCL sprain, so he should be out of action for about one month. The announcers didn't mention Woods' injury at all.
(Commercial)
The New Day's Kofi Kingston and Big E (w/Xavier Woods) vs. The Usos (Jimmy & Jey)
This match is not for the Smackdown Tag Team Titles. The winners get to pick the stipulation for their title rematch.
The match started during the break on the US broadcast, but not here in Canada. Big E nailed a uranage slam on Jimmy and brought in Kingston. Boom Drop by Kingston on Jey. Kick to the gut by Jey. Kingston came back with a cross body block off the top for two with Jimmy making the save and Jimmy nailed a superkick on Big E. Jey went for a Samoan Drop, but Kingston took him down with a Dragon Sleeper submission. Blind tag by Jimmy on Kingston, he did the ROLLUP OF DEATH~! while grabbing the tights and that was good for the pinfall win for The Usos. I only got to see about three minutes of it.
Winners by pinfall: The Usos
The win means The Usos can pick the stipulation when they have their title rematch.
Analysis: *1/2 It was fine for the time given, but it was a rushed match that lacked the excitement of most of their matches. The dreaded ROLLUP OF DEATH~! hasn't been used as often in the last month, so of course that's what they went with for the cheap heel finish to give the champs the win.
James Ellsworth was backstage and he took the microphone from Dasha Fuentes. Carmella complained about how Ellsworth screwed up her plan the other week. Ellsworth mentioned sending her flowers and she said they said "With Sympathies" on them while asking him if he stole flowers from a funeral. Natalya, the Smackdown Women's Champion, showed up in her new cat shirt. Natalya said that if Carmella tries to cash in on her, she is going to make her the Baron Corbin of the women's division. Ouch. As far as the double cross last week, Natalya will make Carmella pay next week when they have a match. Carmella told Natalya she made a mistake and to keep that title shining for her. Carmella left with Ellsworth. Naomi walked into the picture. Naomi told Natalya she's got Carmella next week and in two weeks, Naomi told her that they are having a rematch for that title on Smackdown Live.
Analysis: The Corbin line was great. It drew a big reaction because fans now know Corbin as a loser that failed the MITB cash in. I like how they set up two matches for Natalya in the next two weeks. Smackdown does a good job of building to matches in the coming weeks. Raw is okay at it, but Smackdown is better at it.
Still to come: Orton and Nakamura vs. Mahal and Rusev. Fashion Files season two is up.
(Commercial)
Lana was wearing a tight dress as she introduced the future Smackdown Women's Champion, Tamina. That led to Tamina making her entrance to no reaction.
Tamina (w/Lana) vs. Tina Stock
There was a faint "let's go jobber" chant. Lana told Tamina to crush her opponent. Tamina hit a clothesline followed by headbutts. Tamina tossed her across the ring. Superkick by Tamina wins the match in about 45 seconds.
Winner by pinfall: Tamina
Post match, Lana raised Tamina's hand in the air while two photographers went into the ring to take pictures of them as the announcers tried to say that's what you get when working with Lana.
Analysis: Another squash win on a show that was full of them. I don't know if this is going to lead to Tamina ever getting a reaction, but they are trying.
The announcers thanked the fans in Africa joining them on Supersport.
Fashion Files – Season Two
These segments looked like they were ending two weeks ago, but no. We get a season two. They got a cheesy introduction for it like a 1980s TV show.
The wall had "Two B" on it with pics of people like Brie Bella and Blake Beverly (of the Beverly Brothers) on it. Fandango and Tyler Breeze were in their office. Breeze had headphones saying they are long distance high frequency listening device. There was also a blacklight and a belt. Fandango held up the belt saying "this is a title" and Fandango said "no, that's a belt." That was funny. Breeze said they just hold your pants up. Breeze had friendship bracelets, so they put them on. They turned the lights off, put the light on and there were arrows pointing to something. The wall said "Two B or Not To B" so tried to figure it out. They think it's a Shakespeare bit, so they mentioned Aiden English. Fandango was wearing sunglasses and he put another pair of sunglasses on his shirt. That ended the skit.
Analysis: I'm not going to try to make sense of it. I think WWE just wants to keep having these guys doing nonsense to get them on the show with no point to any of it. The first "season" didn't lead to anything. The funniest part was the belt bit. That's what WWE has trained the talent to say because they banned the word "belt" and told them to only say title or championship.
Main event tag is next.
(Commercial)
The show returned with Nakamura finishing his entrance while the heels were already in the ring. Randy Orton made his entrance. Orton faces Nakamura next week with the winner getting a WWE Championship match.
Randy Orton and Shinsuke Nakamura vs. Jinder Mahal and Rusev (w/Samir & Sunil Singh)
The faces were on fire early as they cleared the ring. The show went to break one minute into it.
(Commercial)
Back from break, the heels were working on Nakamura for a bit as the crowd chanted "Randy" for Orton. Nakamura hit a jawbreaker on Mahal and brought in Orton. Orton nailed some clotheslines and punches. Orton went for a RKO, but Mahal bailed to the floor. Orton hit a clothesline on Mahal on the floor followed by a spine first suplex into the top of the barricade. Back in the ring, Orton hit a fallaway slam. The Singhs distracted the ref, so Rusev sent Orton into the ring post. Saxton asked how many times the Singh Brothers cost Orton. The answer is three and nothing was ever really done to prevent it, which is representative of lazy booking as well as poorly booked authority figures. Rusev stomped away on Orton as Saxton made up the story that Rusev built a statue of himself in his home. The announcers point out how Rusev could be a WWE Champion one day. Yeah maybe, but not with the way WWE has booked him this year. Mahal got in there, missed a corner charge on Orton, so he hit the ring post and Orton tagged in Nakamura while Rusev also tagged in.
Nakamura was on fire after the hot tag with a leaping kick to the head. Nakamura hit Rusev with kicks to the chest and another kick to the back. Running knee in the corner from Nakamura followed by the knee lift for a two count. Nakamura went for a suplex, Rusev fought out of it and Nakamura hit an armbar. Mahal in the ring, Orton went after him, they messed up the DDT off the ropes spot and Orton did a regular DDT instead. Oops. Orton with a boot to Rusev. Nakamura knee off the middle rope. Nakamura hit the running Kinshasa knee strike to the face for the pinfall victory after 11 minutes.
Winners by pinfall: Shinsuke Nakamura and Randy Orton
Analysis: ** The match was one of the most predictable TV main events you're going to see this year. They were going through the motions. I'm not saying they need to do extra stuff during television matches, but this didn't feel special in an any way. Mahal messing up the DDT spot with Orton was not a good thing, so they improved with a regular DDT. Before the match started I could have told you Nakamura would pin Rusev and that's exactly what happened.
Replays aired of the match.
Nakamura did his poses in the ring while Orton stared at him as a graphic was shown about their #1 Contender's match next week. They both smiled looking like they were going to do their poses, so Orton hit a RKO out of nowhere on him. JBL: "Vintage Randy Orton." A replay aired right away. Nakamura sold that well. It looked nasty.
Orton posed to end the show with JBL saying that Orton did it because he's the damn Viper. Orton's music played to end the night as he did his poses on the turnbuckle.
Analysis: Good angle to end the show with Orton hitting the RKO out of nowhere like he has done so many times to so many people. Does it mean Orton is a heel now? I doubt it. That was just done to give people something to talk about heading into Nakamura vs. Orton next week. I hope that the show is planned better next week and that the main event gets more time.
I expect Nakamura to beat Orton next week to give Nakamura another WWE Title shot at Mahal, likely at October's Hell in a Cell event.
Three Stars of the Show
1. Shinsuke Nakamura
2. Randy Orton
3. Kevin Owens
The Scoreboard
4 out of 10
Last week: 6.5
2017 Average: 6.83
Average Post Brand Split (July 26, 2016): 6.67 – Raw is at 5.88
Last 5 Weeks: 6.5, 5, 5, 8.5, 8
2017 High: 8.5 (April 11, August 1)
2017 Low: 4 (August 29)
Final Thoughts
It gets a 4 out of 10.
That's the lowest score of the year. Worst Smackdown of 2017 because there just wasn't enough interesting moments this week. It was like the creative team took the week off.
Did we really need that many squash matches in the same show? It left me wanting to turn the show off by the midway point because nothing was happening.
The main event was very average. The only interesting thing that happened was the RKO by Orton after the match because it adds a story to next week's Nakamura vs. Orton match.
In WWE's defense, they have over a month to go until Hell in a Cell on October 8, so this show was also about slowly building their storylines without rushing it. I just think the action could have been a lot better.
—
That's all for now. Thanks for reading.
John Canton
Email mrjohncanton@gmail.com
Twitter @johnreport
Personal Facebook and TJRWrestling on Facebook