The John Report: WWE Smackdown Live Review 01/10/17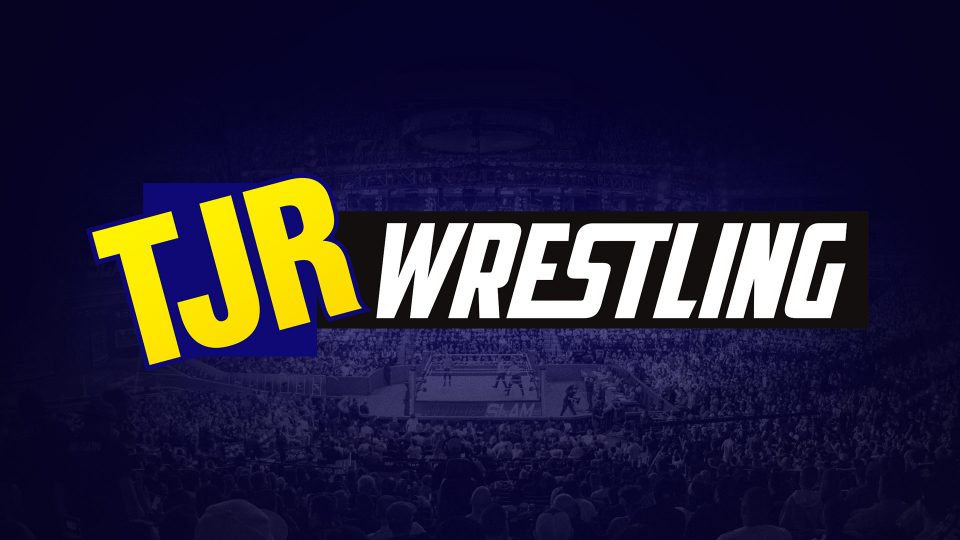 The blue brand rolls on with three advertised matches heading into the show: John Cena vs. Baron Corbin, American Alpha defending the Tag Team Titles vs. The Wyatt Family and Natalya vs. Nikki Bella.
Live from Baton Rouge, Louisiana this is Smackdown Live for episode #908.
The opening video package focused on Dean Ambrose's rivalry with The Miz over the last three weeks leading to Ambrose winning the Intercontinental Title on Smackdown last week.
Ambrose Asylum
Dean Ambrose made his entrance with the IC Title in hand for the Ambrose Asylum talk show. The announce team of Mauro Ranallo, John Bradshaw Layfield, David Otunga and Tom "no talking during matches" Phillips welcomed us to the show.
Ambrose said that he's the first champion on Smackdown Live to officially enter the Royal Rumble match. He sucked up to the crowd by mentioning the city name. There was an alligator head on a stool in the ring because Ambrose wasn't able to bring on a live alligator. Ambrose named the alligator head Maryse (or maybe it was Maurice). Ambrose went to bring out his guest, but the music played…it's The Miz.
The Miz walked out with his lovely wife Maryse. Both of them are wearing black.
The Miz announced that he will be in the Royal Rumble. Miz complained about how Ambrose coerced the referee to continue to the match even though it should have been thrown out due to outside interference. Miz told Ambrose he wanted him to hand over the title before Miz takes him to court and turns this into a legal battle. Ambrose was confused by what Miz wanted, but said he'll give it back to him. Miz congratulated him on doing the right thing. Ambrose gave Miz a "Miz Participation Award" and the crowd cheered. Miz gave Ambrose that a few weeks ago to start this rivalry.
Miz threw the award at Ambrose and then Miz attacked him with punches. Miz held Ambrose up, Maryse went for a slap, Dean moved and Maryse accidentally slapped Miz in the face. Ambrose dropped Miz with Dirty Deeds. Ambrose handed the participation award to Maryse, gave her a thumbs up and left.
Analysis: It was okay. Basic stuff to put over Ambrose as the new IC Champ that has some momentum after winning the title from Miz. I liked the Participation Award thing because that's what Miz gave Ambrose to begin their rivalry over the last month. It's no surprise that either man is in the Royal Rumble. I doubt either guy is going to win, but they are both worthy of being in that match.
Still to come: Cena vs. Corbin, American Alpha vs. Wyatt Family for the Tag Team Titles and Natalya vs. Nikki Bella is coming up soon.
A video aired about Natalya's match with Nikki Bella. There was the clip from Survivor Series with Nikki getting attacked backstage. It took about one month, but Natalya admitted to attacking her. They exchanged some good promos to make it fee like a personal rivalry.
Nikki was shown walking backstage for the match. Natalya attacked her from behind. Natalya whipped her into some garage door. Nikki was down. Natalya told her that she'll see her out there.
Analysis: Good heel attack by Natalya. It was cheap and fits her character's new direction.
(Commercial)
Natalya entered first looking proud of herself. Nikki Bella slowly made her way down to the ring selling an injury to her left side.
Nikki went into the ring and tackled her. Natalya left the ring, so Nikki tackled her outside the ring as well. They brawled outside the ring. Natalya drove Nikki into the barricade at ringside. Natalya rolled her into the ring. Boot to the face by Natalya. They brawled some more. Natalya tried to leave the ringside area, but Nikki pulled her down. They went back into the ring for more punches. No match. The crowd chanted "let them fight" which shows that the fans were into it and wanted to see a match.
There were other referees that went into the ring to break it up. Natalya hit a chop block on the left leg of Nikki. Natalya slapped on the Sharpshooter on Nikki outside the ring. She held it for about 15 seconds and let go. The refs tended to the fallen Nikki while Natalya left looking proud of herself.
Analysis: Good job by both women in showing intensity. I thought we would get the match here, but it looks like they might save it for a future event like the Royal Rumble. It's a four hour PPV, so there's time for it there. Natalya has done a great job in the last few weeks of being a devious heel. Nikki's popular and the crowd hates Natalya for the cheap attacks. It's a simple way to progress the feud.
Dolph Ziggler was interviewed backstage by Dasha Fuentes, who was pretty awkward like usual. A clip aired of Ziggler attacking Kalisto last week with a superkick. When the replay stopped, she asked Ziggler to comment. He said nothing and walked away.
Analysis: When people turn heel, fans want an explanation. Ziggler didn't give it to them. I guess that makes him more of a heel.
(Commercial)
Kalisto vs. Dolph Ziggler
Kalisto attacked Ziggler with punches and a headscissors takedown. Ziggler tied up Kalisto on the mat with some mat wrestling. Ziggler hit a knee lift followed by a neckbreaker. Kalisto got a backslide for two. Ziggler slowed him down with a back elbow. Kalisto went for a springboard attack, but Ziggler stopped the attack by sending him neck first into the top rope and Kalisto went crashing to the mat. The show went to break about four minutes into the match.
(Commercial)
Back from break, Ziggler had Kalisto grounded with a chinlock. Kalisto with a jawbreaker to break free. Kalisto came back with a kick to the face and a headscissors. Rollup by Kalisto earned a two count. Ziggler dropkick earned a two count. Kalisto with a rolling crucifix pin for the victory after about nine minutes.
Winner by pinfall: Kalisto
Analysis: **1/2 It was a solid match for the time given. I would have preferred no commercial since it was under ten minutes. Kalisto took a beating, kept going for different kinds of pinfalls and finally got the win by hooking the arms of Ziggler and keeping him down with the crucifix pin. It was done in a way that almost made it look like a fluke, but it was more about putting over a face for being crafty. I expected Ziggler to win and I'm sure most people did, so the result was surprising a bit.
After the match, Kalisto celebrated and when he turned around, Ziggler drilled him with a clothesline. Ziggler was visibly upset about the loss. The ref tended to Kalisto while Ziggler left the ring. Ziggler grabbed a chair from ringside and hit Kalisto in the back with it. Ziggler with another chair shot to the back. There were shots of kids in the crowd looking shocked. Ziggler left while some fans chanted "yes" for him.
Apollo Crews ran out to meet Ziggler in the aisle. Crews rolled Ziggler into the ring, but Ziggler kicked him in the face. Ziggler with a chair jab to the gut and a chair shot to the back of Crews. Ziggler hit Crews in the back again. Kalisto tried to get back up, so Ziggler hit him in the back with a chair once again. Ziggler went up the ramp while both faces were in the ring selling pain.
Analysis: That was great. Ziggler lost quite a bit as a face in the last few months, which set up the heel turn. He lost this match, but that's okay because it will further his story development. He did well to show no emotion on his face during the attack on Kalisto and Crews. Ziggler lost the match, but he won the war at least for this week.
Jason Jordan and Chad Gable were interviewed in the locker room by Dasha Feuntes. Jordan talked about how they are the only alphas in the tag team division because they are the tag team champions. Gable said they know the Wyatts are dangerous and diabolical, but they are ready to go to war. Jordan said it doesn't matter if you're a God, a serpent or whatever Luke Harper is – Gable added that you can't hang with them and you can't take the titles from them.
Analysis: Solid promo from the champs showing confidence heading into the title match.
We will hear from John Cena up next.
(Commercial)
John Cena was interviewed by Renee Young by the interview set. Cena said he's the one that needs to make a statement, but last week AJ Styles called him two words he had never heard before and Corbin agreed with him – has been. Cena said that it "has been" a long time since Cena has had to prove himself. He said that the bad news tonight is that Cena has been fired up and that's not good for Corbin. Cena told Styles he'll get a taste of what's in store for him at the Royal Rumble and we should recognize that he's John Cena – his time is now.
Analysis: Fired up Cena is the best type of Cena. He's ready for the main event tonight and I doubt he's going to lose on his way to the WWE Title match at the Royal Rumble.
Bray Wyatt and the Wyatt Family did a promo in the darkness. Wyatt told American Alpha that the devil is at their doorstep. Orton: "We're here." Back to the arena for the match.
The Wyatt Family trio of Bray Wyatt, Randy Orton and Luke Harper made their entrance.
American Alpha, the tag team champions, entered to a good ovation from the crowd. A replay aired of the title change from two weeks ago. The match starts after a break.
Analysis: It's been a solid SDLive so far. If there's a complaint it's that there was only about 9 minutes of in-ring action in the first 55 minutes.
(Commercial)
The bell rang as the show returned from break.
Smackdown Tag Team Championships: American Alpha (Jason Jordan & Chad Gable) vs. Bray Wyatt & Randy Orton (w/Luke Harper)
Wyatt started with Gable with Wyatt hitting a headbutt. Jordan tagged in and hit a dropkick on Wyatt. Orton tagged in to work on Wyatt as the crowd chanted "Randy" for him. Back elbow by Orton, Gable tagged in and took down Orton. Wyatt tagged back in to work on Gable. It led to Gable applying the armbar over the top rope to weaken the arm of Wyatt. Gable got a rollup to counter Sister Abigail. Gable jumped off the apron and took down Wyatt outside the ring. They went back into the ring with Wyatt hitting a running cross body block to knock down Gable. Orton tagged in and dumped Gable out of the ring. Orton drove Gable back first suplex style onto the barricade two times in a row. Back in the ring, the heels worked over Gable in their corner. Wyatt hit a gutbuster type move to the ribs of Gable for a two count. Orton tagged in with a slingshot suplex on Gable for two. Gable with a jawbreaker on Wyatt and Jordan got the hot tag. Jordan with a belly to belly suplex on Wyatt and a back suplex on Orton. Shoulder tackles by Jordan to both guys leading to a two count on Wyatt. Jordan went up top, Harper distracted and Wyatt hit Jordan in the back with a clothesline. Orton sent Jordan stomach first onto the top rope. Jordan went crashing to the floor as the show went to break.
(Commercial)
The heels had Jordan isolated in the ring with Orton driving his knee into the face of Jordan. Wyatt crushed Jordan with a running splash in the corner followed by a running senton by Wyatt for a two count. Jordan got back to his feet and nailed a running clothesline to knock down Wyatt. Gable tagged in against Orton. Gable with a cross body block off the top on Orton followed by a Northern Lights Suplex by Gable. Gable took down Wyatt with a cross body block. German suplex by Gable on Orton. Jordan went for the save, but Wyatt sent Jordan out of the ring. Gable sent Wyatt out of the ring. Gable up top and he hit a diving clothesline to knock down Orton. Harper went on the apron, so Orton did an eye poke to Gable. Orton put Gable on the apron, which knocked down Harper and Orton nailed the dreaded draping DDT on Gable. Long pause by Orton as he set up the RKO. Harper was on the apron again. Gable shoved Orton into Harper and Gable did an O'Connor Roll into a rollup pin for the victory after 14 minutes.
Winners by pinfall: American Alpha
Analysis: ***1/4 Good tag match. The heels dominated much of it, Gable was on fire after the hot tag and it had a predictable ending with Orton having issues with Harper just like two weeks ago. I would have liked a more impressive finish to the match instead of an O'Connor Roll, but at least it's better than the ROLLUP OF DEATH~! It's notable that Orton got pinned in both tag title matches against American Alpha. That probably because Orton will be a face soon, so people are going to forget about these losses. I expected American Alpha to get the win. Now they need some new opponents. It will probably be The Usos because I'm not sure who else Smackdown can really put in that spot on the heel side.
After the match was over, Orton and Harper argued about what happened. Wyatt broke it up. Harper delivered a kick, Orton moved and the kick hit Wyatt. All three men had a staredown in the ring with the crowd chanting "Randy" for Orton. Wyatt left. More staring. Orton was last to leave.
Analysis: There's a slow burn for this inevitable breakup. It's probably going to lead to some big Orton vs. Wyatt match potentially at WrestleMania. The crowd clearly wants to cheer for Orton again even though he's been with the Wyatt Family.
There was a brief video package about Baron Corbin telling John Cena that his time is up and it's the end of days for Cena.
Corbin vs. Cena is coming up later.
(Commercial)
PLUG TIME: I joined my friends Rob and Paul for the Hooked On Podcast, which is put on by guys that hold Hooked on Wrestling PPV watch parties all over England. We had a great talk as we discussed some Royal Rumble history, some theories about this year's Rumble and a look ahead to WrestleMania. Please give it a listen, if you have the time.
There were video highlights of the press conference from earlier on Tuesday in New Orleans with WWE's announcement that WrestleMania 34 will be headed to the Superdome in 2018.
Becky Lynch was watching the clip of last week on Smackdown Live with GM Daniel Bryan. They wondered who was under the La Luchadora mask. Alexa Bliss, the SD Women's Champ, showed up to tell Bryan that if Becky is trying to get a title shot don't give in to her. The women argued. Bryan noted that last week, Bliss tapped out to Becky and next week Bliss will defend the SD Women's Title against Lynch. Bryan added that it will be a steel cage match. Bliss left angrily while Lynch was happy.
Analysis: A steel cage match is supposed to prevent interference. It doesn't mean it will happen.
Carmella (w/James Ellsworth) vs. CJ Lunde
The woman Carmella is facing is old. Carmella shoved her down and Ellsworth applauded. Carmella stomped away on this older woman. JBL kept on making old jokes about the woman against Bliss. The woman hit a back elbow on Carmella with the crowd chanting "let's go jobber" for her. Ellsworth grabbed the leg of the woman and the ref saw it, but the ref did nothing. Carmella hit a forearm shot for a two count. Carmella to the floor, the old lady followed her. Ellsworth grabbed her leg. The old lady was slow getting in the ring. They messed up a flatliner spot. Carmella applied the Code of Silence leg submission leading to the finish after three minutes.
Winner by submission: Carmella
Analysis: 1/4* That was bad. They messed up the spot at the end. I'm not sure why they decided to get an older woman to be the opponent, but JBL had fun in making fun of her the whole time. Ellsworth interfering to help Carmella is cheesy, but it works.
There was a clip from Raw with The Undertaker saying that he will be entering the Royal Rumble.
Corbin vs. Cena still to come.
(Commercial)
Carmella was backstage with Ellsworth. She said she had something special for him. He put some spray in his mouth saying he's been waiting for this for 32 years. He thought it was a kiss, but she said good things come to those who wait. She told him that next week she's going to take him on a shopping spree.
Analysis: A wardrobe change for Ellsworth is coming. What a shame. His t-shirt with his face on it along with wrestling trunks and those awful boots was a stylish look.
Baron Corbin was interviewed in the locker room by Dasha Fuentes. Corbin said that it will be the end of days for Cena. AJ Styles showed up to say that tonight is Corbin's night and told him to beat up John Cena like Styles does.
The WWE Champion AJ Styles walked out to join commentary for the main event. Styles will be interviewed on ESPN Sportscenter on Thursday at 9pmET. Styles sat down with the commentary team.
Corbin vs. Cena up next.
(Commercial)
Baron Corbin made his entrance. He doesn't get much of a reaction. Next week's Smackdown takes place in Memphis.
John Cena entered at around 9:47pmET to a mixed reaction as always although it was more cheers than boos. It won't be a very long match since they end right at 10pmET every week.
Baron Corbin vs. John Cena
As mentioned earlier, AJ Styles is on commentary for this match. He defends the WWE Title against John Cena at the Royal Rumble.
The wrestlers paused as they soaked up the "Let's Go Cena/Cena Sucks" chants. Cena started with a punch, but Corbin slowed him down with a boot to the face. Knee to the gut by Corbin. Cena whipped Corbin into the turnbuckle. Corbin dumped Cena out of the ring and the show went to break two minutes into it.
(Commercial)
The match returned with Corbin nailing Cena with forearms to the face. Corbin left the ring to yell at Styles. Cena followed him out there. Corbin drilled Cena with forearms to the head again. They went back in the ring with Cena ducking and Corbin went over the top to the floor. Cena went out to the floor, Corbin charged, Cena moved and Corbin went crashing into the steel steps at ringside. Corbin was slow to recover, went back in the ring, caught Cena and dropped him forward with a slam similar to a Mark Henry World's Strongest Slam. That earned a two count for Corbin. Another two count for Corbin after his Deep Six Slam although the announcers argued about whether he hit it right. Bearhug by Corbin. Cena slipped out of it, got a boot to the face and Cena hit a Tornado DDT. There were shots of kids chanting for Cena. Spinning slam by Cena followed by the Five Knuckle Shuffle. Corbin to his feet, Cena picked him up and hit the Attitude Adjustment for the win after 11 minutes.
Winner by pinfall: John Cena
Analysis: **1/2 It was an average match. Corbin was on offense for much of it – about 90% of it. Cena just hit his usual moves that he always does and it was enough to win it. I was hoping for some exciting nearfalls, but there was no time left in the show. It would have helped the match if they set up the finish better with Cena having a tough time to put him away, but they had to go home so that's why it ended in such a basic way. The loss doesn't hurt Corbin that much since it's against a top guy like Cena. It was obvious Cena was going to win to give him the momentum going into the Royal Rumble title match.
Post match, Styles stood on the announce table with the WWE Title and Cena stared at him. That's how Smackdown came to a close right at 10pmET.
Three Stars of the Show
1. American Alpha
2. Wyatt/Orton
3. Dolph Ziggler
The Scoreboard
6 out of 10
Last week: 8
2017 Average: 7
Average Post Brand Split (July 26, 2016): 6.48 – Raw is at 5.8
Last 5 Weeks: 8, 9, 7.5, 7, 6
2016 High: 8 (Jan. 3)
2016 Low: 6 (Jan. 10)
Final Thoughts
It gets a 6 out of 10.
I thought it was a good show for the most part, but a step back after two great episodes of Smackdown. The in-ring action just wasn't that compelling this week. Promos were okay for the most part although there weren't any memorable ones like last week.
There's still a nice flow to the show and I'm rarely bored by what they are doing. It just didn't have the same feel as the last two weeks.
The main event was a bit disappointing. I think it was a time issue more than anything because they really didn't go into the nearfall spots that make the finish more exciting. It felt almost like a house show ending with Cena winning easily like that.
I liked seeing Ziggler and Natalya as aggressive heels. Both of them had such long runs as faces that they feel fresh again in the heel role.
Some of the story developments were good such as Orton and Harper continuing to have problems.
—
That's all for now. Go Toronto Raptors. Go Toronto Maple Leafs
John Canton – mrjohncanton@gmail.com
Twitter @johnreport