The John Report: The WWE Raw Deal 08/14/17 Review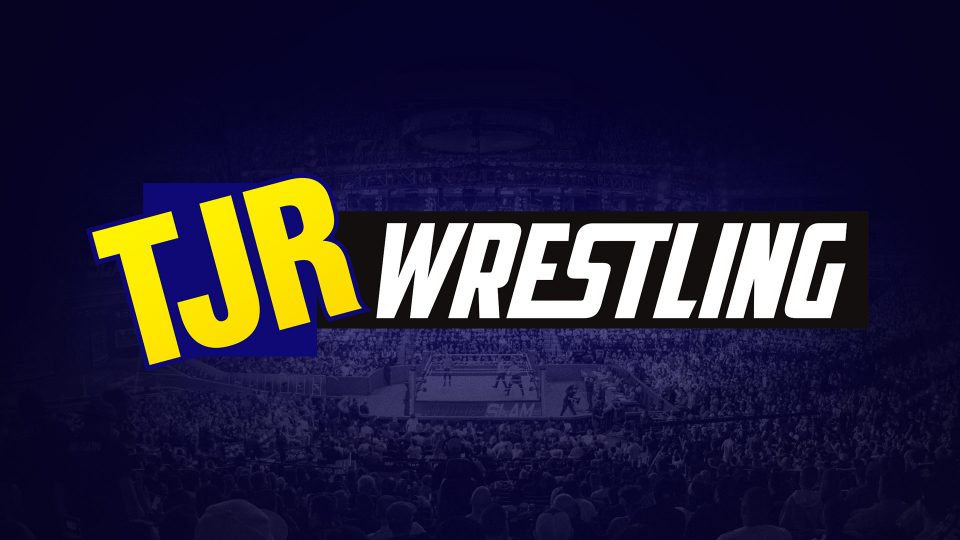 It's the last edition of WWE Monday Night Raw before SummerSlam. Please let out a "Woo" and keep Ric Flair in your thoughts. I'm sure it won't be easy for the WWE crew considering his situation. Flair has been in the hospital for a few days and underwent surgery earlier on Monday. It's a serious situation. We're all hoping that he'll get through it.
Live from Boston, Massachusetts this is the Raw Deal for episode #1262. Follow me on Twitter @johnreport. Thanks Melo Man for the creative banner up top with the reverse angle of that chair toss from last week.
The opening video showed highlights from the last few weeks about the story of Seth Rollins and Dean Ambrose working together against Sheamus and Cesaro, but they still have trust issues. It was a four minute video.
There was a live shot of the arena as Michael Cole welcomed us to the show and Dean Ambrose made his entrance.
Dean and Seth Have Things to Say
Ambrose entered to a nice reaction from the crowd. He was dressed in a suit. Just kidding. Ambrose shirt and jeans. Ambrose said people are wondering what's going on with Ambrose and Seth Rollins, which is what he's wondering too, so he called out Rollins.
Rollins, with the new "burn it down" phrase in song, made his entrance. He's got the "burn it down" shirt too. Rollins entered the ring with Dean.
Rollins said that if they teamed up again they would "run this place." Rollins said if Ambrose is willing to put the past in the past then he's done playing games. Rollins put his fist out for the Shield salute. Crowd chanted "yes" for it. Ambrose turned his back to Rollins. Ambrose: "You have got to be kidding me!" Crowd booed. Ambrose said after last week he did that fist pose to Rollins and Rollins left. Ambrose thought maybe he can trust Rollins, but maybe he can't and Rollins said sometimes he can't even trust himself. Rollins said that maybe this isn't going to work and that maybe this was a stupid idea. Then Rollins said maybe it's not.
Rollins said maybe their differences are why they work so well together. Rollins said when they fight with eachother there is nobody that can touch them. Rollins said that maybe too much has happened and he's done playing games. Seth was going to leave, but Dean turned him around.
Ambrose stuck out his right fist. Rollins stared at it. The crowd cheered and chanted "yes" for it. Rollins went to leave. Rollins shoved him back. Ambrose took down Rollins and they started punching eachother. Ambrose got off Rollins and asked what his problem was. Rollins punched him back. They went tumbling out of the ring like a couple of drunk college kids going down a hill when they were on a bender. I miss college.
Analysis: That's not how I expected it to go, but it is merely delaying the inevitable.
Sheamus and Cesaro walked out with the Raw Tag Team Titles. They dumped Ambrose over the barricade into the crowd. The champs sent Rollins into the barricade. The champs sent Rollins into the ring and stomped away on him. Ambrose went back into the ring and went after the champs. Cesaro and Sheamus beat down Ambrose. Rollins got back into it with a cross body block off the top on Sheamus. All four guys started brawling. Double clothesline by Ambrose and Rollins sent Sheamus out of the ring. Kick by Rollins to Cesaro and Ambrose with a dropkick. Double clothesline by Rollins and Ambrose sent Cesaro out of the ring.
Ambrose stuck his fist out. Rollins stuck his fist out. They did it at the same time and the crowd cheered loudly for it. It was a huge ovation for it. Cesaro and Sheamus were in the aisle and Kurt Angle's music hit.
Analysis: Really well done. That moment has been building for several weeks. They could have done it earlier in the segment, but they waited for the heels to come out to set it up the obvious way. I thought it was well done because Dean and Seth still have trust issues, but they are uniting for a common cause because the tag champs are jerks. Easy story to understand.
Kurt Angle, the Raw GM, said that at SummerSlam it will be Sheamus & Cesaro vs. Rollins & Ambrose for the Raw Tag Team Titles. That's no surprise because that direction was set up over the last month.
Analysis: It should be a great match if they get in the 15-minute range. Cesaro and Rollins are really close friends that train at gyms together on the road, so I'm sure they are they are thrilled about it. Looking forward to a fresh tag team match.
It was announced that Brock Lesnar, Samoa Joe, Braun Strowman & Roman Reigns will be in the ring later tonight.
Banks vs. Jax is up next.
(Commercial)
The announce team of Michael Cole, Corey Graves and Booker T were shown on camera. Cole talked about how Ric Flair had surgery earlier in the day and that he's not out of the woods yet. All three guys sent their best wishes to him with Booker saying Flair was there for him when he first won the World Title in WCW in 2000 to pass him the torch and Booker can't wait to pass the torch back to him.
Nia Jax entered first. Sasha Banks was out next and she got a louder than usual pop because it's in her hometown of Boston.
There was a chair in the aisle that was like a high chair for a lifeguard. Alexa Bliss entered to a nice reaction. Bliss went up the chair and sat there to watch the match with Graves saying it was the goddess sitting on her throne.
Sasha Banks vs. Nia Jax
Winner faces Bliss for Raw Women's Title at SummerSlam.
Jax hit Banks with a running body attack to knock her down right away and they went to break immediately.
(Commercial)
Back from break, Jax hit a headbutt that knocked down Banks on the apron. Banks went for a jumping attack off the apron, but Jax sent Banks into the barricade at ringside. Back in the ring, Jax slapped on a bearhug. Jax tossed Banks across the ring twice followed by a running body attack again. Jax with the leg drop earned a two count. Jax did her double chicken wing move lifting Banks up and Banks got a rollup for two. Banks was on Jax's shoulders and she pulled back on her neck. Jax turned it into a Samoan Drop for a two count as Banks got her left hand on the bottom rope. Jax hit a second Samoan Drop, so Banks rolled out of the ring to avoid being pinned. Jax rolled Banks back in the ring. Banks got a rollup for a two count. Jax missed a lefty elbow drop. Both women were down as the show went to break.
(Commercial)
Back from break, they battled by the turnbuckle with Banks hitting a kick to the back of the leg and a double knee attack for a two count. Banks with more knees, but Jax slowed her down with a boot to the face. Banks took down Jax with a Bank Statement submission in the middle ring. Jax crawled to the bottom rope, so Banks went to the other arm to apply the hold. When Jax tried to fight out, Banks hit a DDT. Banks applied the Bank Statement again and Jax tapped out at 15 minutes.
Winner by submission: Sasha Banks
Analysis: *** Good job by the women in a long match that had an obvious outcome. I thought Banks was outstanding in terms of selling and with the believable comeback. Jax was in control for about 80% of it and Banks made the predictable comeback. The finish was set up really well with Banks having to apply the Bank Statement a few times in order to get Jax to tap out. I like that it wasn't easy and took more effort to finish off Jax. I'm not a fan of Jax ever tapping out, but she's done it a few times to Banks now.
Post match, Banks stared at Bliss in the chair and they had a staredown while Bliss was polishing off her women's title.
Kurt Angle was in the Raw office watching the match saying that SummerSlam is going to be amazing. The Hardy Boyz were there as Angle told them that Scott Dawson had a biceps injury. Matt got to work in the word "delightful" in his brief promo. The Miz showed up with Maryse, Bo Dallas & Curtis Axel. Miz asked Angle what they he's going to do about Brock Lesnar attacking them last week. Angle said nothing. Angle said Curtis Axel is going to take on Jason Jordan. Miz said Axel won't face Jordan because he (Miz) will. Angle said that's great and Jordan will like that. A referee showed up to tell Angle that something happened with Finn Balor and Bray Wyatt, so the show went to break while Miz was mad that Kurt left.
Analysis: It seems too soon to do Miz vs. Jordan and if it's non-title that would likely mean a Jordan win. I would have rather seen Jordan beat Axel or Dallas before getting to Miz.
A commercial aired for the Mae Young Classic that debuts on WWE Network on August 28 on demand.
(Commercial)
The show returned from break with Finn Balor and Bray Wyatt brawling backstage. They were broken up by agents and officials. Angle told them to wait for SummerSlam. The guys kept fighting, so Angle said they can have the match tonight.
Elias was in the ring doing his singing routine where he ripped on the local crowd.
R-Truth interrupted the music performance and he did his rap on the way to the ring. Elias attacked Truth before he could get into the ring. Elias hit a snap Fisherman's Suplex that sent Truth landing hard on his head. It's called the Drift Away. It's different from what he used to do as a finisher. Elias got his guitar and left.
Analysis: It looks like a mini-feud for Elias to give him a veteran in Truth to beat.
The shark cage was lowered from above the ring. Big Cass is up next.
(Commercial)
PLUG TIME: I wrote a feature column on Brock Lesnar for The Comeback looking at his past in WWE, his return in 2012, his run in UFC and some thoughts on why his presence makes SummerSlam feel like a big deal.
Big Cass made his entrance. The shark cage was in the ring because Enzo Amore will be in a shark cage at SummerSlam. Clips aired of Big Show knocking out Big Cass during the last two weeks of Raw.
Analysis: It's the third match with a shark cage in the last year if you count NXT. I'm not sure why WWE is suddenly in love with the shark cage concept, but they are.
Big Cass started his promo talking about SummerSlam as the crowd booed him before he could get going. He started and stopped a few times with the crowd booing so loudly he couldn't get going. Cass said this Sunday at SummerSlam it will be Big Show vs. Big Cass in the Big Apple. Cass said he'll talk over them even when they're booing. Cass said that you can believe Big Show will bring Enzo Amore to SummerSlam. Cass said that Enzo needs Big Show because Enzo knows he is nothing without somebody there to watch his back and go to bat for him backstage when he pisses somebody off every single day. Cass said that Show needs Enzo to stay relevant. Cass said you never understand Enzo's lines, but people laugh anyway because they think Enzo is funny. Crowd was booing all of this. Cass said that Big Show needs Enzo because there's a new seven-footer and his name is Big Cass. That led to Cass talking about Enzo being suspended high above the ring in the shark cage and he can't get involved as Big Cass dismantles the Big Show. Cass said he'll prove to Big Show, to the locker room and everybody around the world that he is the best big man in the game today. Cass said all Enzo can do is sit there and watch…so here comes Enzo.
Analysis: Cass did well to get through the promo even with the very vocal crowd booing him to try to throw him off. I'm surprised they didn't do "what" chants.
Enzo Amore walked out to his music. It looked like he was wearing pajamas. Enzo did his usual promo with the crowd chanting along. Enzo mocked the Cass promo where he stopped and started a bunch. Enzo talked about how Cass was rambling like a man that was knocked out two weeks in a row because he did get knocked out two weeks in a row. Cass told Enzo he always runs his mouth and told him to come to the ring to say it to his face. Enzo asked Cass if he's still seeing stars and Enzo said Cass is looking at him, so clearly he's looking at a star. Enzo introduced Big Show.
Big Show entered the ring. Luke Gallows and Karl Anderson went out there as well. The three heels worked together on Show with Big Cass hitting a boot to the face. Gallows had a belt that he put on Show's wrist as they dragged Show's arm against the shark cage door. Enzo on the apron, so Cass knocked him down with a big boot. Cass slammed the cage door on Show's right arm. Cass stomped away on the right hand of Show. After several stomps on the hand, several referees went down to the ring to get Cass, Gallows and Anderson off Show.
Analysis: That was a good heel attack. It makes sense for the story of Big Show vs. Big Cass because Show knocked out Cass two weeks in a row and this week we saw Cass injure the right hand of Show. It makes sense from a psychological point of view. I think Cass is going to win at SummerSlam and if he doesn't that would be a big mistake to have him lose to an older guy like Show.
A video aired from last week's Raw showing Braun Strowman beating Roman Reigns in Last Man Standing after Samoa Joe choked out Reigns.
Later on Raw is Lesnar, Strowman, Reigns and Joe in the same ring at the same time for the first time. That's the main event of SummerSlam for the Universal Title.
Balor vs. Wyatt coming on Raw for first time ever.
Akira Tozawa challenges Neville for the Cruiserweight Title up next on Raw.
A commercial aired for NXT Takeover Brooklyn this Saturday. Should be great.
(Commercial)
Akira Tozawa made his entrance with Titus O'Neil.
Neville entered with the Cruiserweight Title. The announcers tried to put over the idea that having a title match is better than SummerSlam even though fans know that getting a title shot at a major PPV is much more prestigious.
Analysis: It's as if the creative team realized "holy shit we have too many matches for SummerSlam" and moved the cruiserweights. Tough news for the short guys. (Turns out they are still on SummerSlam.)
Cruiserweight Championship: Neville vs. Akira Tozawa (w/Titus O'Neil)
The match started and it was evenly matched for a couple of minutes. Hard chops to the chest by Tozawa. Dropkick by Tozawa while Neville was on the apron. Tozawa got a forearm for a two count as the show went to break two minutes into it.
(Commercial)
Back from break, Neville hit a dropkick off the top for a two count. Neville slapped on an armbar, so Tozawa hit a back suplex to break free a bit. Tozawa with a kick to the stomach and a belly to back suplex. Tozawa hit a suicide dive to take out Neville on the floor. Tozawa ran the ropes and hit another suicide dive that saw him land on Neville face first on the floor. Back in the ring, that got a two count for Tozawa. Standing senton by Tozawa. Tozawa went up top, Neville back to his feet and he punched Tozawa. They battled on the turnbuckle with the fans chanting for Tozawa. Neville hit a superplex that put both men down for a bit. Neville nailed some kicks to the gut and Tozawa came back with a dropkick followed by a spinning kick to the head. Tozawa went up top and Neville got back to his feet. Tozawa charged, Neville used the ref to avoid an attack and Neville slapped on the Rings of Saturn. Tozawa turned it into a cover for a two count. Neville sent Tozawa face first into the turnbuckle. Neville up top and he went for the Red Arrow splash, but Tozawa rolled out of the way. Tozawa went up top and he hit the Senton Bomb. Looked great. Tozawa covered for the pinfall win and he won the championship. It went about 11 minutes.
Winner by pinfall and New Cruiserweight Champion: Akira Tozawa
Analysis: ***1/4 That was really good. I liked the way they built up the Senton Bomb by Tozawa being such a big move because he went for it two times, Neville got out of the way each time and then when Tozawa finally hit it he won the title with it. That's how you put over a finisher as being a big deal. I wrote a couple of weeks ago that I thought Tozawa might be the one to take the title at SummerSlam. They moved it up by six days, but that's what happened. Neville was a great Cruiserweight Champion. I hope he's still in the title picture in the months ahead. If they wanted to move him to the IC Title level or something else that would be good too because he's earned the right to do more.
Post match, Tozawa got a good ovation from the crowd. O'Neil put Tozawa on his shoulders and Apollo Crews of Titus Worldwide was out there with them to celebrate. The crowd was celebrating.
The announcers hyped up SummerSlam weekend. They confirmed that SummerSlam's Kickoff Show will start at 5pmET and the PPV starts at 7pmET.
Analysis: It's going to be six hours of content and they could run past 11pmET as well. Going to be a long night of writing for me.
Balor vs. Wyatt is up next.
(Commercial)
There were replays of Big Cass attacking Big Show earlier in the night.
Big Show was getting looked at by doctors with Enzo Amore there. The doctor told Show he had a broken hand. Enzo spoke up, so Show said he's not going to miss SummerSlam.
The announcers talked about what happened with Big Show.
There was a shot of Mickie James in the locker room looking at her phone. Emma walked in looking at her phone as well. Emma complained about Sasha Banks getting all the attention and mentioned #GiveEmmaAChance while claiming that she (Emma) started the Women's Revolution. Mickie mocked her hashtag and said that while it's cute to re-write history like that, every woman in WWE history played a part in it. Mickie suggests that Emma take on a 6-time Women's Champion in a match. Emma said she's on.
Analysis: I'm cool with that. You know I always want to see Mickie doing more. Emma also should have a bigger role. I think fans just want to see more women on Raw getting on television the way they do on Smackdown, so it's a good sign.
Bray Wyatt made his entrance for the match against Finn Balor and they cut to break. Cole said it was the "first time ever" for their match. I saw it at a live event two weeks ago, but it is first time on television.
(Commercial)
Finn Balor made his entrance to a big ovation.
Finn Balor vs. Bray Wyatt
Fast pace early. Balor went for a springboard attack and Bray decked him with an uppercut punch to slow him down. Balor sent Wyatt out of the ring followed by a dropkick and the running kick on the apron by Balor knocked Wyatt down on the floor. Break two minutes into it.
(Commercial)
Back from break, Wyatt slapped on a headlock. Wyatt swung Balor around and drove Balor's ribs into Wyatt's knee. Wyatt with a running clothesline for a two count. Balor got some momentum on his side after Wyatt hit a forearm and Balor with an overhead kick to the head. Balor with boots to the face, forearm and a dropkick. Wyatt tried to slow him down and was on the turnbuckle, but Wyatt nailed a leaping kick to knock him down again. They ran the ropes and Wyatt nailed a running body attack for a two count. Balor hit the Slingblade neckbreaker, but Wyatt avoided a dropkick and Wyatt hit a senton splash for two. Wyatt went for Sister Abigail, Balor got out of it and hit a double foot stomp to the chest. Wyatt bailed to the floor, so Balor ran at him with a running dropkick. Balor sent Wyatt back into the ring. Balor went up top, Wyatt tripped him up and Wyatt hit Sister Abigail for the pinfall win after 11 minutes.
Winner by pinfall: Bray Wyatt
Analysis: **3/4 The match was okay. I thought they could have done a better job in terms of building up some nearfalls and the excitement towards the finish. When Wyatt hit his finisher it didn't really feel like a big deal. It was more like "that's it?" and left me wondering why it ended in such a sudden way. The loss didn't make Balor look good in defeat at all.
Post match, Wyatt picked up Balor and hit Sister Abigail again. Wyatt posed over Balor and said "Follow the Buzzards" like he usually does.
The Wyatt Family logo appeared and the lights went out. Wyatt had a bucket in his hand while Balor was up against the turnbuckle. Wyatt: "This is what happens when you send a boy into the devil's world." Wyatt poured some red liquid all over him. Balor was freaking out about it and rolling all over the ring to make it full of the red, blood-like liquid. Wyatt was laughing about it as the show went to break.
Analysis: That was unique. Since Wyatt referenced the devil, this could be the story that leads to Balor bringing back the "Demon Balor" character he's done in the past. He might need to be Demon Balor in the future to beat Wyatt. At least that's what I think the story will be.
(Commercial)
There was a replay of what happened before the break with Wyatt throwing some red liquid on Balor. Cole said it was some acidic liquid to try to tell people it wasn't blood. Obviously, it's not blood, but that's what it symbolized.
There was a replay of Rollins and Ambrose vs. Cesaro and Sheamus setting up their SummerSlam Tag Team title match. I'm probably going with Rollins and Ambrose for the win.
Mickie James' music played as she finished her entrance and Emma was already in the ring.
Emma vs. Mickie James
James nailed a standing side kick for a two count early on. James hit a flapjack with Graves saying Mickie is a six time Women's Champion while Emma has a hashtag. Mickie went up top and Emma hit a forearm to knock her down to the floor. Emma sent James back into the ring for a two count. Emma slapped on a full nelson to keep Mickie grounded. Mickie rolled through wit ha forward roll for two and Emma hit a clothesline for two. The crowd wasn't into it that much as Emma stood on the hair of Mickie and pulled on her arms. Emma hit a double underhook suplex for a two count. Hard kick to the face by Mickie sounded great. Emma pulled Mickie off the middle ropes and got a two count with it. Emma went for a move, Mickie slipped out and Mickie hit a spin kick Mick Kick for the win after about five minutes.
Winner by pinfall: Mickie James
Analysis: *1/4 Nice effort by both women although the crowd wasn't into it that much because neither woman is featured on television enough. If they get regular TV time then that's going to help in the weeks ahead. The story for Emma seems to be that she can't win and she always complains, so she has to prove she's good enough.
There was a commercial for a movie with Ryan Reynolds and Samuel Jackson as an odd couple duo. It's called The Hitman's Bodyguard.
(Commercial)
Finn Balor was interviewed by Charly Caruso outside of Kurt Angle's office. Balor said that he spoke with Angle so their SummerSlam match is on. Balor said that Wyatt has his demons and Balor has his demons too. The crowd cheered. Graves hinted at what it might mean, but didn't say exactly.
Analysis: That means Demon Balor time at SummerSlam. The crowd knew it too because they popped big for it.
The Miz (w/Maryse, Curtis Axel & Bo Dallas) vs. Jason Jordan
This is not for the Intercontinental Title held by Miz.
Jordan hit a dropkick to send Miz out of the ring. Back in the ring, Jordan hit a shoulder tackle in the corner. Jordan went for his finisher and was attacked by Axel and Dallas of the DQ two minutes into it.
Winner by disqualification: Jason Jordan
Analysis: 1/2* Very quick match to build to the post match angle. They'll have a longer match at a later date most likely.
The heels were attacking Jordan, so the Hardy Boyz music hit and the Hardys ran down to the ring for the save. The Hardys cleared the ring of Axel and Dallas with fans chanting "delete" for the Hardys. Jeff and Matt attacked Miz with the Poetry in Motion in the corner and Jordan hit a belly to belly suplex on Miz. Show went to break there.
Analysis: It looks like they set up a six man tag with that. I thought it would be SummerSlam, but I was wrong on that because look what's after the break.
(Commercial)
Jason Jordan, Matt Hardy & Jeff Hardy vs. The Miz, Curtis Axel & Bo Dallas (w/Maryse)
Jordan started for his team as he nailed Axel with a dropkick. Matt tagged in against Dallas, Jeff tagged in and they hit a double team splash on Dallas with Jeff getting a two count. Jeff nailed a clothesline on Dallas. Jordan slapped on an armbar. Jordan dumped Dallas to the floor, Miz tagged in and Jordan gave Miz a hip toss. Jordan went for a shoulder attack in the corner, but Axel pulled Miz out of the way and Jordan hit the turnbuckle. That led to the show going to break four minutes into it.
(Commercial)
Back from break, the heels were in control of Jordan. Axel missed a double axe attack off the middle rope because Jordan moved. Matt got the tag against Axel with a corner clothesline and running bulldog for two. Neckbreaker by Matt hit a two count. Matt was distracted by the heels on the corner leading to Axel getting a cheap shot. Miz tagged in with stomps. Dallas hit a knee on Matt to knock him down. Matt took out Axel with a clip of the back of the leg. Miz tagged in to prevent a hot tag and punched Jordan off the apron. Lots of stalling from Miz, so Matt hit a clothesline and hot tag to Jeff against Dallas. Jeff tagged in with a forearm smash to the head, double leg drop and a low dropkick by Jeff. Dallas slipped out of a Twist of Fate attempt and Jeff hit the Whisper in the Wind for a two count. Jeff was distracted by the other heels. Dallas hit a swinging neckbreaker off the ropes for two and Jordan made the save. Jordan suplexed Axel into Miz and knocked Axel out with a clothesline. Back to Jeff and Dallas with Jeff hitting Twist of Fate for two. Axel sent out of the ring. Jordan hit his lifting neckbreaker on Miz. Belly to belly by Jordan on Miz. Matt hit the Twist of Fate and Jeff hit the Swanton Bomb on Dallas for the win at 14 minutes.
Winners by pinfall: Jason Jordan, Matt Hardy & Jeff Hardy
Analysis: *** Good action from bell to bell with the predictable ending because I figured Dallas or Axel would get pinned and they went with Dallas for it. I would have had Jordan get the win because WWE should focus on making him get some shine more. With that said, Jordan still got to do a lot of offense as he suplexed everybody on the heel side several times, so he was still featured. I think WWE has to be listening to the reaction Jeff Hardy got in that match because he's the most over guy in that match and maybe on the whole show. At some point soon they need to push Jeff as a singles wrestler again.
The Hardys got the biggest pop of the year and they aren't in a match at SummerSlam at this point. That's pretty ridiculous and bad by WWE's creative team.
It was advertised that "The Demon" Finn Balor will face Bray Wyatt at SummerSlam, so they are promoting Balor in the Demon outfit.
Four men in SummerSlam main event up next in main event.
(Commercial)
Akira Tozawa will celebrate his title win on 205 Live and it was announced Tozawa vs. Neville is still on for SummerSlam.
Fatal 4-Way Face Off
Kurt Angle was in the ring. Angle said that he had security at ringside to make sure nothing crazy happened.
Brock Lesnar, the Universal Champion, walked out with Paul Heyman. They stared at Angle, who was sitting at ringside in a chair. Heyman did a promo saying when you have the four men involved in the Universal Title match all hell is going to break loose. The crowd cheered that. Heyman said that just because Lesnar listens to ideas that don't involve WWE, Angle has put Lesnar in a match with three top contenders that ensures you a new champion. Heyman says when the three guys try to get rid of Brock Lesnar, anybody in that trio can eek out a win and escape with the championship. Heyman said the concept of the four way match sucks. Heyman talked about how when somebody beats Brock Lesnar and stands over The Beast that person might have people say that the new champion is the man. Heyman said it won't be Samoa Joe as he talked about him a bit, Heyman said it won't be Braun Strowman because beast slays the monster among men. When Heyman mentioned Roman Reigns the crowd booed and talked about how Reigns says that this is his yard. Heyman said that his yard is in Brock Lesnar's house and rent is due on Sunday at SummerSlam.
Heyman said he never makes predictions, he only delivers spoilers. Heyman spoke about how one of two things will happen: 1) They rip the title off Lesnar and that leads to Lesnar and Heyman leaving WWE. Heyman said if that is the case you might as well lock up this beast in a cage…hint, hint. That's the UFC reference. 2) Lesnar beats Joe, Strowman and Reigns as Heyman said that for 15 years he's been underselling this once in a generation athlete for how great he is. Heyman said he's our humble advocate and this is our reigning, defending, undisputed Universal Champion.
Analysis: Amazing promo from Heyman like usual. There's nobody better in WWE at selling a major match the way Heyman does. John Cena is probably the closest at doing it because when there's a big match he can really crank up the intensity. Heyman's lines about how the WWE fans are going to view the guy that beats Lesnar is exactly how Vince McMahon probably wants the fans to view Roman Reigns, so that's why Heyman said it. Also liked the cage reference hinting at Lesnar's UFC aspirations.
Samoa Joe walked out to mostly boos as well as some "Joe" chants. Joe said that at SummerSlam he's going to rip that Universal Championship from Lesnar's hands after he puts him to sleep.
Braun Strowman walked out in his Monster Among Men shirt looking like the badass that he is. Strowman said that in case you didn't know, he's always the Last Man Standing and to ask Roman Reigns. Joe cut him off saying that as he remembered it, Reigns stomped Strowman around the building until Joe arrived. Joe told Strowman he's a man who barely stood up while Joe put Roman Reigns down.
Roman Reigns was the last man out to huge boos from the crowd.
Reigns entered the ring and hit Joe with a Spear. Strowman nailed Reigns with a Running Powerslam. That led to Joe and Reigns going to the floor. The security guys went into the ring to prevent Joe and Strowman from brawling. Both guys were ready to fight, but the Raw locker room emptied out to separate them.
The crowd was chanting "let them fight" as Brock and Braun were on opposite sides of the ring. Brock broke free and got in a punch in on Braun. That led to Braun breaking free to get a punch in himself and both guys were separated again. The show ended like that at 11:12pmET.
Analysis: I thought it was pretty good. I'm sure there are people mad that they didn't have some wild brawl with everybody hitting finishers, but I think that's fine. What this did was make me more excited about what's going to happen at SummerSlam because they didn't give a lot away here. If I want to see Lesnar hit the F5 on one of those guys I need to watch SummerSlam and I like that way of thinking. Why do it on free TV? If Lesnar does a German Suplex or F5 to Strowman on Sunday it's going to feel like a big deal because they haven't done it on television yet. That's how you build a big match. Don't give too much away and the people will care more.
The "locker room emptying" spot has been done a few too many times this year for my liking. I get why they do it to put over the idea that the guys need to be contained by strong wrestlers rather than wimpy security guys. I just think if you do it three times over a few months span it can feel repetitive and less special. It's a minor complaint, but just something that was in my head when I saw this.
I was going to pick Samoa Joe in the match, but the "Lesnar and Heyman will leave if Brock loses" story made me change my mind. I'm probably going with Lesnar now. I could change my mind before the preview comes out on Friday, but for now that's the pick.
Three Stars of the Show
1. Sasha Banks
2. Paul Heyman
3. Akira Tozawa
The Scoreboard
7.5 out of 10
Last week: 6.5
2017 Average: 5.89
Average since brand split starting July 25/16: 5.88 (Smackdown is 6.75)
Last 5 Weeks: 6.5, 4.5, 6, 6.5, 5.5
2017 High: 8 (April 3)
2017 Low: 4 (Jan. 9, Feb. 27 & June 12)
Final Thoughts
I give it a 7.5 out of 10.
I enjoyed it. There were good matches all night long and plenty of them were given a lot of time too. There were four matches over ten minutes, which doesn't happen often enough on Raw. Let the wrestlers do what they can in the ring and that's going to help carry the show. It was a more eventful episode of Raw because there was more of a focus on in-ring action.
The promos to open the show and end the show were well done too because they got me more excited for those matches at SummerSlam. I didn't love the Big Cass/Enzo promo segment that much, but it accomplished something with the Big Show hand injury angle.
The Boston crowd did a good job all night too. They were into most of the show. That always helps.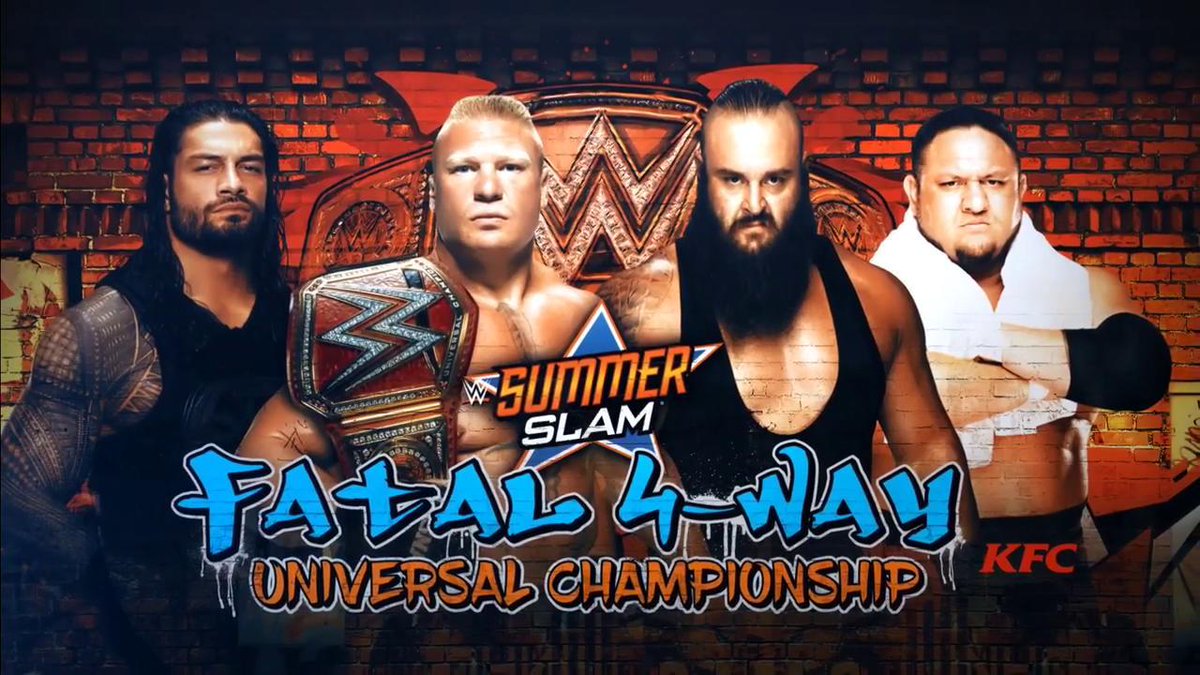 The next pay-per-view is SummerSlam this Sunday, August 20. Here's what we know for it.
WWE Universal Championship: Brock Lesnar vs. Roman Reigns vs. Samoa Joe vs. Braun Strowman
WWE Championship: Jinder Mahal vs. Shinsuke Nakamura
United States Championship: AJ Styles vs. Kevin Owens (Shane McMahon is the referee)
John Cena vs. Baron Corbin
"The Demon" Finn Balor vs. Bray Wyatt
Randy Orton vs. Rusev
Raw Tag Team Championships: Sheamus & Cesaro vs. Dean Ambrose & Seth Rollins
Big Show vs. Big Cass (Enzo Amore is in a shark cage above the ring)
Raw Women's Championship: Alexa Bliss vs.Sasha Banks
Smackdown Tag Team Championships: The New Day vs. The Usos
Smackdown Women's Championship: Naomi vs. Natalya
Cruiserweight Championship: Akira Tozawa vs. Neville
That's it for official matches with 12 scheduled and at this point nothing announced for the Kickoff Show.
—
That's all for now. See ya next time for the Smackdown review.
You can contact me using any of the methods below. Thanks for reading.
John Canton
Email: mrjohncanton@gmail.com
Twitter: @johnreport