The John Report: The WWE Raw Deal 08/07/17 Review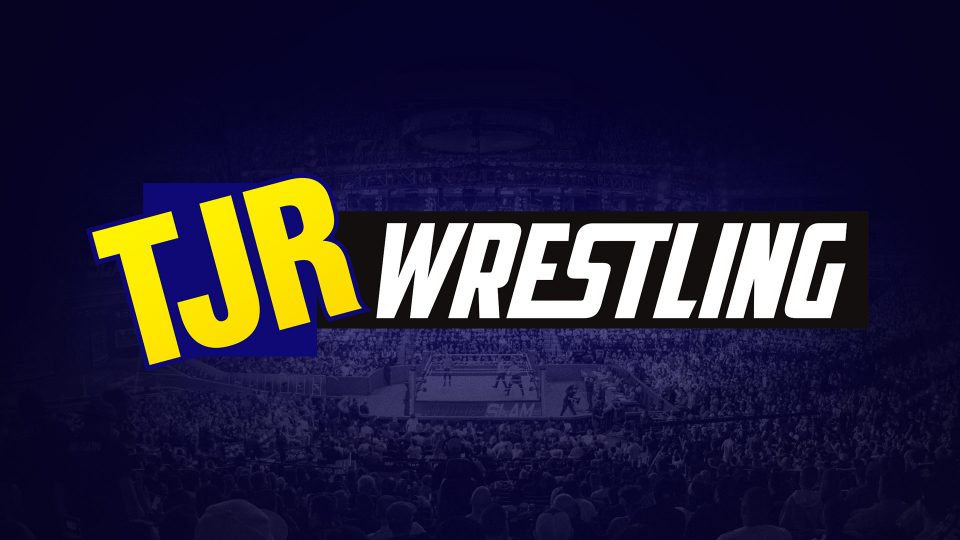 I was at Raw in Toronto last night. It was a good time for the most part even though thinking about the show afterwards made it feel like a pretty average edition of Raw. Since I was there and I'm going to Smackdown tonight, I don't want to sit here for three hours writing about it. I'm just going to write summaries of the matches with some ratings, so it will be an abbreviated version (about 1/3 of content) of my normal review.
Live from Toronto, ONT this is the Raw Deal for episode #1261. Follow me on Twitter @johnreport. Thanks Melo Man for the creative banner up top.
Miz TV was crashed by Brock Lesnar and Paul Heyman
I thought The Miz was great here. He wanted Jason Jordan to come out there, but Jordan's "dad" GM Kurt Angle said no and brought out Brock Lesnar with Paul Heyman. The pop for Lesnar was massive and I love the blue/white Suplex City shirt because it matched the colors of the Toronto Blue Jays and Maple Leafs. Heyman suggested some role play, so Lesnar cleaned house on Miz, Bo Dallas and Curtis Axel with suplexes and F5s for all. Good way to start the show with the Universal Champion Lesnar.
It would have been nice to see Lesnar again in the main event because it would have helped the SummerSlam main event to have him get involved with the other three guys.
Sheamus defeated Seth Rollins
They got about nine minutes with Cesaro providing a distraction at ringside. The crowd was solidly behind Rollins, but it wasn't like a massive reaction or anything like that. Rollins has lost some steam in the past few months. Sheamus got the win with a rollup after a distraction from Cesaro. Weak finish. (Match rating: **1/2 out of five)
Post match, Sheamus and Cesaro double teamed Rollins. No save from Ambrose even though everybody wanted to see him there to save Rollins.
Backstage, Ambrose told Rollins that he wasn't going to do it again by saving Rollins. The crowd hated that.
Curtis Axel was too beat up to face Jordan as scheduled, so Kurt Angle told a guy named Jean Pierre Goulet he has a match.
Jason Jordan defeated Jean Pierre Goulet
Quick match with Jordan winning in about two minutes. Jordan was booed for the most part, which I don't agree with. Goulet got some "Let's Go Jobber" chants, which is funny. I'm not sure why they would book Jordan against a Canadian guy because we were going to cheer for the Canadian and it made Jordan look like a heel rather than a face. (Match Rating: 1/2*)
Bayley talked about her injury
Bayley had a sling on her injured right shoulder. There's no specific diagnosis or length of time that they said she's going to be out, so we don't know if it will be a month or several months. Anyway, Bayley talked about fan support and the crowd booed her. That seemed to throw her off a bit, but she got through it. I think fans are just sick of the way her character has been booked. Anyway, Bayley put over her buddy Sasha, who got a nice pop when she entered.
Sasha Banks defeated Emma and Alicia Fox
Easy win for Banks in about five minutes. The crowd was firmly behind Emma for most of it because we wanted to see her used in more of a featured role. I didn't expect her to win. (Match Rating: *)
Luke Gallows & Karl Anderson defeated Enzo Amore & Big Show
There was promo from Enzo and Show before the match leading to Gallows and Anderson challenging them to a match. Big Cass showed up on the ramp to confront the faces. This drunk guy near me kept talking about how big Cass was. Yes dude, we know. Heels won by beating Enzo because Enzo is always the one that gets beat in his tag matches. (Match Rating: *1/4)
Post match, Cass got in another altercation with Enzo and Show. It looked like Cass would stand tall this week, but just like last week it ended with Show hitting a KO Punch on Cass to end it. It drew a good reaction although I don't care about this rivalry at all.
Finn Balor did a promo talking about Bray Wyatt, so the lights went off and Wyatt was in the ring, except this time Balor was ready for him. They had a physical altercation won by Balor. The lights went out and Wyatt was gone. When they came back on, Wyatt was on the video screen doing some promo. It was just done to set up their SummerSlam match. Boring segment and this feud isn't helping either guy.
Dean Ambrose defeated Cesaro
I thought it was a really good match that the crowd wasn't into the whole time, but really got into it by the end when we realized they were going around 20 minutes. There were "Let's Go Ambrose/Ambrose Sucks" chants during the match too, which was a bit of a surprise. It didn't seem to rattle Ambrose. They got in a lot of cool spots like that superplex battle on the top rope. Cesaro stood on top of the ring post for it too, which looked great. Sheamus tried to interfere, but Ambrose fended him off and got the ROLLUP OF DEATH~! pin to win. I enjoyed it a lot although hate that overused finish. (Match Rating: ***1/4)
Post match, Rollins made the save from a heel attack. Ambrose finally looked like he was going to trust Rollins as he stuck out his fist wanting to do The Shield pose. The crowd was going wild for it. I certainly was. We all expected Rollins to touch his fist, but instead Rollins left the ring because he was mad Ambrose didn't help him earlier.
I like the slow pace of the story. Next week should be the big moment where Dean and Seth officially reunite leading to the Tag Title match in less than two weeks at SummerSlam. It wouldn't shock me if Dean and Seth won the titles either.
Akira Tozawa defeated Ariya Daivari
Easy win for Tozawa as expected. The crowd was dead for this match aside from some of the Tozawa yelling and the Senton finish. The cruiserweight division is not really connecting right now. I think that's fair to say. You can really tell when you're there in person. I'm sure seeing 205 Live tonight will show it even more. (Match Rating: *1/2)
Nia Jax defeated Mickie James and Dana Brooke
Dominant win by Jax as expected. I would have preferred a Mickie win because she would have had a much better match against Banks. Raw just can't seem to focus on the other women and would rather just keep the spotlight on the same four with Bliss, Banks, Bayley and Jax. Changing things up would be good. Smackdown is much better than that. Anyway, most noteworthy part of the match was Jax nailing Brooke with a clothesline that was very stuff. Ref checked on Brooke right away. Jax won with a leg drop on Brooke because has a power of Hulkamania or something. It only went three minutes (Match Rating: *)
Goldust did a promo about how he's going to have a hero, villain or starlet. Sounds like he's going to mentor somebody. The Velveteen Dream of NXT would be perfect for that, but he may not be ready for main roster yet.
Big Cass backstage segment with Kurt Angle set up Big Cass vs. Big Show for SummerSlam. Cass wanted no Enzo, so they came up with Enzo in a shark cage above the ring. Third time in less than a year WWE has done that shark cage gimmick with Paul Ellering doing it in NXT and Chris Jericho doing it for a Kevin Owens match too.
Braun Strowman defeated Roman Reigns in a Last Man Standing Match
It was a very good match as usual from them and I got to be involved with it too. I'll get to that shortly. Strowman was cheered mostly. Reigns got the loudest reaction of the night other than Lesnar and it was strong boos of course. They had a very physical match where they used weapons all around the ring. We've seen them in so many different match types over the last six months that it's nothing really knew, but it was still fun. One of the coolest spots of the match was when Strowman tossed one of the leather chairs at Reigns. That drew a huge ovation. I guess it's softer than a steel chair.
The finish didn't surprise me at all with Samoa Joe getting involved. He wasn't on the show at all, so when he ran out there (he went right by me) to apply a Coquina Clutch choke on Reigns it was expected. Crowd was hot for Joe chanting his name the entire time. The problem with the finish is that Reigns hit Strowman with a Spear, the ref was about to count and then he stopped when Joe attacked. Strowman laid on the ground for about 30 seconds before the ref started counting again, so Strowman should have been counted out if they did it right. Instead, the ref John Cone counted both guys down, Reigns stayed down and Strowman got up at eight to win. It went 23 minutes. (Match Rating: ***1/2)
It was a cheap loss for Reigns after he got the win in the triple threat match last week. Having Reigns lose cheap is frustrating for a lot of viewers, but that's just how Vince McMahon always books people he perceives as the top face. Joe and Strowman get more cheers, yet Roman is the one booked like the face. It's such a weird time for WWE.
After the show was over, Strowman did a quick promo about how he's going to win at SummerSlam and that was it. He was cheered. No dark match.
Here's my story of how they brought the fight to my section.
I was seated in the fifth row on the right side of the ramp. I was in the last seat in my row (seat 14) and I was near the crane camera that spins around to film the announcers and other parts of the ring. The announce table was about 15 feet from me. Prior to this match, the security guys were clearing the area. They kept telling us to stay in our seats so that we didn't step into the aisle when the guys came by. They didn't tell us the guys were coming there, but I've been to enough shows that I know that's what they were setting up. Anyway, near the end of the match they made their way down our aisle, Strowman punched Reigns and Reigns was right there in front of us. As Strowman walked by, the camera was right on me so I acted shocked at first and pointed to the Raw Deal shirt I was wearing. Gotta promote the brand!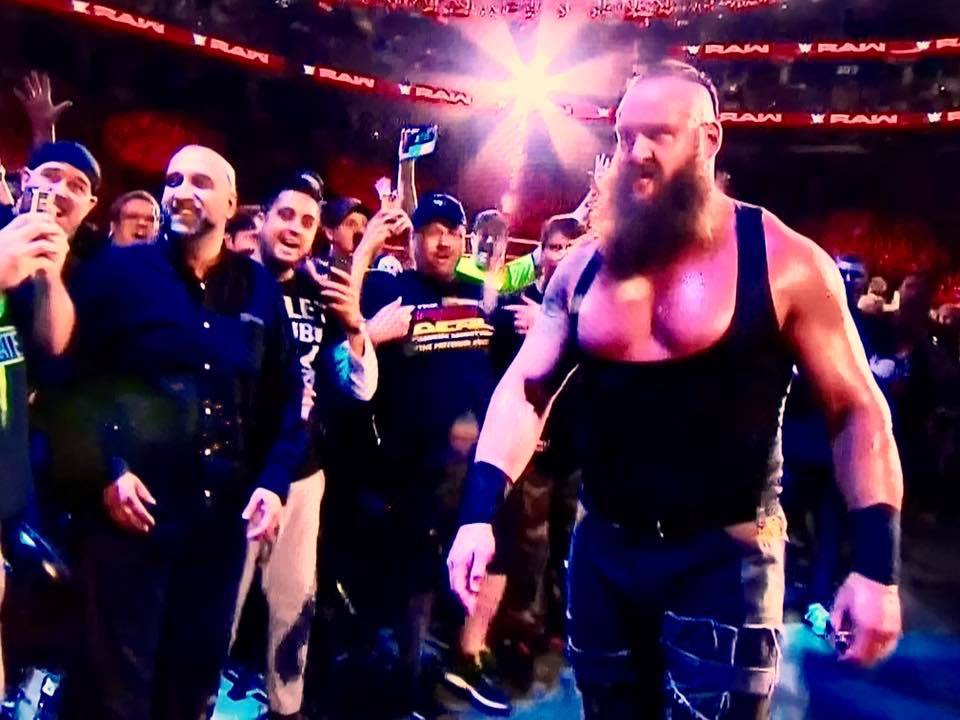 The quality of that screen cap isn't that great, but it's there. On the WWE Youtube video of the show they didn't include that part. I'm sure I can find a better screen cap if I seek it out. Anyway, it was cool to have that little moment that only happened because it was Last Man Standing. If they had a regular match there's no way I would have been on.
Thanks for all the messages about it. I had a lot of people contact me about it, which is cool.
Three Stars of the Show
1. Braun Strowman
2. Roman Reigns
3. (tie) Dean Ambrose
3. (tie) Cesaro
The Scoreboard
6.5 out of 10
Last week: 4.5
2017 Average: 5.84
Average since brand split starting July 25/16: 5.85 (Smackdown is 6.75)
Last 5 Weeks: 4.5, 6, 6.5, 5.5, 6.5
2017 High: 8 (April 3)
2017 Low: 4 (Jan. 9, Feb. 27 & June 12)
Final Thoughts
I give it a 6.5 out of 10.
It was a fun night for the most part. I didn't have time to watch any of the broadcast, so I'm just going off being there live. Maybe if I watched it on TV the score would be lower. A 6.5 is slightly above the yearly average. That feels right to me.
At @SummerSlam, @BrockLesnar defends the #UniversalTitle in a #Fatal4Way match against @SamoaJoe@WWERomanReigns & @BraunStrowman! #RAWpic.twitter.com/Uf4macWTEa

— WWE (@WWE) August 1, 2017
The next pay-per-view is SummerSlam on August 20. Here's what we know so far.
WWE Universal Championship: Brock Lesnar vs. Roman Reigns vs. Samoa Joe vs. Roman Reigns
WWE Championship: Jinder Mahal vs. Shinsuke Nakamura
United States Championship: AJ Styles vs. Kevin Owens (Shane McMahon is the referee)
Finn Balor vs. Bray Wyatt
Randy Orton vs. Rusev
Big Show vs. Big Cass (Enzo Amore is in a shark cage above the ring)
Raw Women's Championship: Alexa Bliss vs. Nia Jax or Sasha Banks (It should be Banks)
Smackdown Tag Team Championships: The New Day vs. The Usos
Smackdown Women's Championship: Naomi vs. Natalya
Cruiserweight Championship: Neville vs. Akira Tozawa
That's it for official matches. Other likely matches are John Cena vs. Baron Corbin, The Miz vs. Jason Jordan for the IC Title, Sheamus/Cesaro vs. Rollins/Ambrose for the Raw Tag Team Titles and more.
—
That's all for now for this condensed Raw Deal that was about 2200 words instead of the usual 6200 words. Back to normal next week. See ya next time for the Smackdown review.
You can contact me using any of the methods below. Thanks for reading.
John Canton
Email: mrjohncanton@gmail.com
Twitter: @johnreport
Personal Facebook and TJRWrestling on Facebook