Impact Wrestling Review – September 1, 2022
This week's edition of Impact Wrestling featured the highly-anticipated Impact World Tag Team Championship match between the Good Brothers and Honor No More's Matt Taven and Mike Bennett. Will this be the first taste of gold for the newly formed heel faction or will the Good Brothers dominance of the Impact tag team scene continue?
Also this week we will find out who is the next challenger to Jordynne Grace's Knockouts championship, as Deonna Purrazzo goes one-on-one with Masha Slamovich with a shot at Bound for Glory on the line. Can the Virtuosa topple the undefeated Slamovich or will Masha continue her winning streak this week? Mickie James returns to the Impact Zone on tonight's episode. They have been teasing a retirement angle over the last few weeks but I'm sure that this legendary Knockout will be out to once again prove that she has plenty of fight left in the tank.
Last week on Impact, Time Machine won a 6-man grudge match against Violent by Design. With Eric Young back in the fold, surely there will be consequences for yet another loss by the heel trio. Josh Alexander fired the first shot in the war between himself and Eddie Edwards, as Alexander pinned Edwards' stable mate Vincent in singles action. Edwards has been trying to persuade Alexander to be his ally, but the champ is having none of the Honor No More Leader's mind games. What lengths will Edwards go to to get into the head of the Impact World Champion? Also last week the build to the Impact Plus special Victory Road began, with the announcement of a Triple Threat Barbed Wire Massacre between Moose, Sami Callihan and Steve Maclin. What violence will they have in store this week?
Impact Wrestling 1/9/22 from The Factory: Dallas, Texas
The opening video focused on the story of Mickie James' losses throughout 2022 and heel turn by Chelsea Green, as well as hyping up the Impact World Tag Team Championship match for the evening. The show will kick off with the title match right now!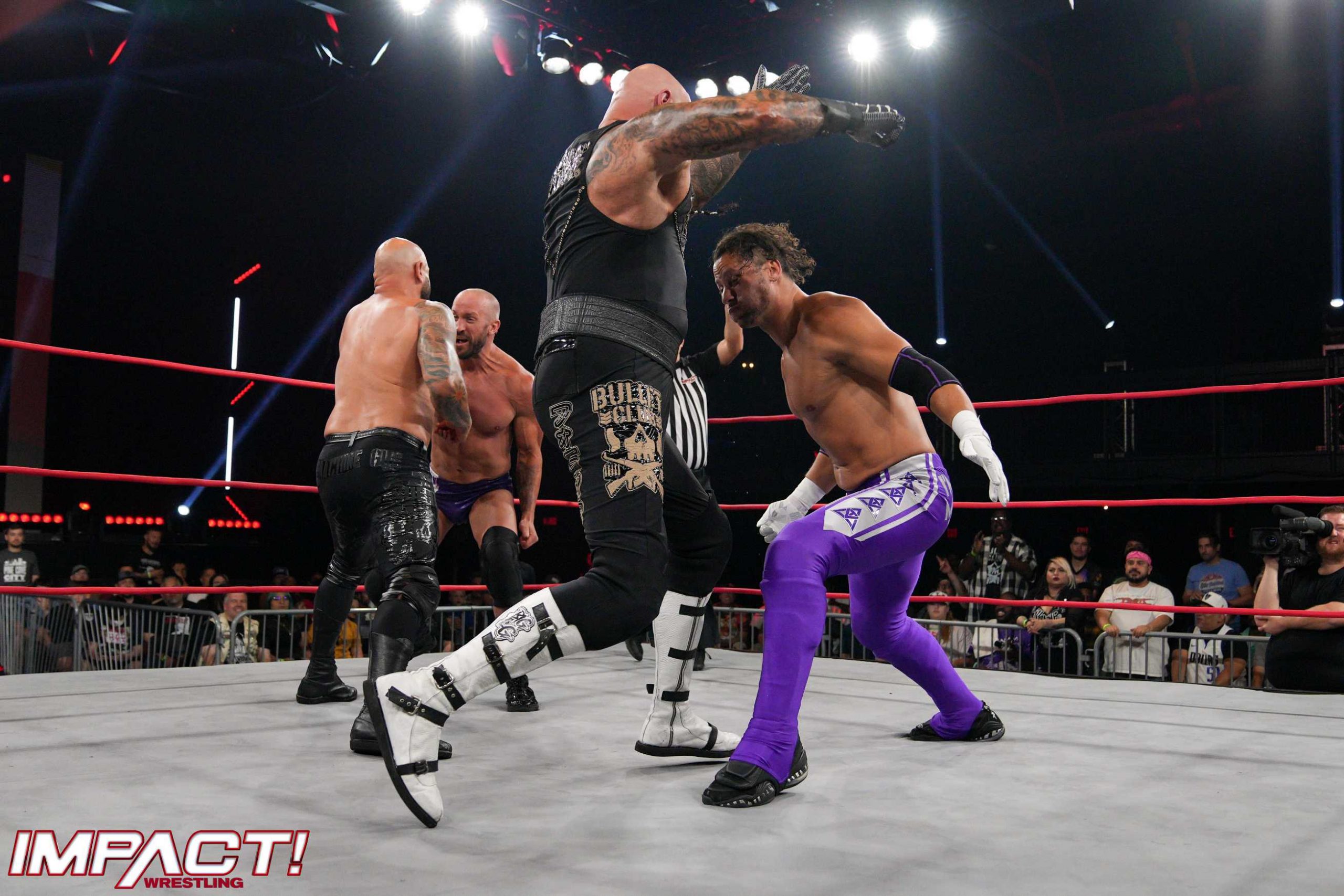 Match #1: Impact World Tag Team Championships: The Good Brothers (Karl Anderson & Doc Gallows) (c) vs Honor No More (Mike Bennett & Matt Taven)
Maria is banned from ringside due to Anderson defeating Bennett last week. Honor No More are out first, followed by the champions. This is Honor No More's first championship match since debuting almost 8 months ago. It's Bennett and Anderson starting off and they're straight into a fist fight, then Gallows and Taven join the fray as this one is out of control early. Gallows takes down both members of HNM with a double clothesline then takes Taven over the top rope before retreating to his corner. Anderson tags in Gallows who starts to go to work on Bennett in the corner. He chops Bennett hard down to the mat and works over the mid-section with hard strikes. Anderson tags back in and the champions are dominating early, however Bennett is able to escape a double team attempt and tag in Taven. Taven goes straight at Gallows in the corner then hits a rolling neckbreaker on Anderson for a 2 count, the first of the match. Anderson runs the ropes but heads straight into a dropkick from Taven. Taven drags Anderson over to his corner and tags in Bennett who takes out Gallows on the apron. Gallows tries to enter the ring but the referee stops him, so HNM stomp away at Anderson in the corner. Bennett whips Anderson hard into the turnbuckle and scores a 2 count. Taven tags back in and Bennett hits a superkick after a number of double-team moves for a 2 count, despite not being the legal man. It seems that they did double team moves for so long there that they forgot who was legal. Taven tags back in, even though he was already the legal man and chokes Anderson out in the corner with his foot. Another quick tag out to Bennett, who tries a headlock but Anderson is able to fight out before taking a hard forearm and Taven tags back in. Taven tries a springboard moonsault but Anderson gets his knees up. Anderson rolls to his corner but Bennett takes out Gallows before he can make the tag. Anderson eventually gets the tag, as does Bennett. Gallows takes down Taven with a clothesline then Bennett with a big boot. Gallows with a running neckbreaker on Taven, followed by a modified Pumphandle slam for a 2 count. In comes Anderson again and the Good Brothers are calling for the finish. They go for the Magic Killer but Bennett is back in with a superkick on Anderson to break that up. Gallows takes him down then Taven hits a nice springboard kick on Gallows. Anderson with a huge spinebuster on Taven then takes Bennett out of the action on the ring apron. Taven is alone in the ring with the champions now. The Good Brothers hit a double team neckbreaker on Taven for 2, with Bennett breaking up the pin. Bennett and Gallows brawl on the outside. Gallows runs at Bennett but he moves and Gallows goes crashing into the ring steps. Back in the ring, Anderson climbs to the top turnbuckle but Bennett is quickly up to take his legs out. Bennett lifts Anderson into the backpack stunner position and Honor No More deliver the Proton Pack to win the titles after 9 minutes!
Winners and NEW Impact World Tag Team Champions: Honor No More
Analysis: ***1/2 Really good action here to kick off the show. I was hoping that they would get 15-20 minutes as the main event of the show but they decided to kick off with a hot match to get the crowd hyped up. There was probably less double-teaming than we are used to seeing as of late, which I think is a good thing and this helped the flow of the match. I have been critical of the constant tagging during matches on Impact but tonight seemed a lot smoother. Honor No More get the win after the illegal tag team move, but there was no outside interference so they can say they won the titles all by themselves. A good book decision here to crown new champions.
Post-match Maria came down to celebrate with her husband and his tag team partner.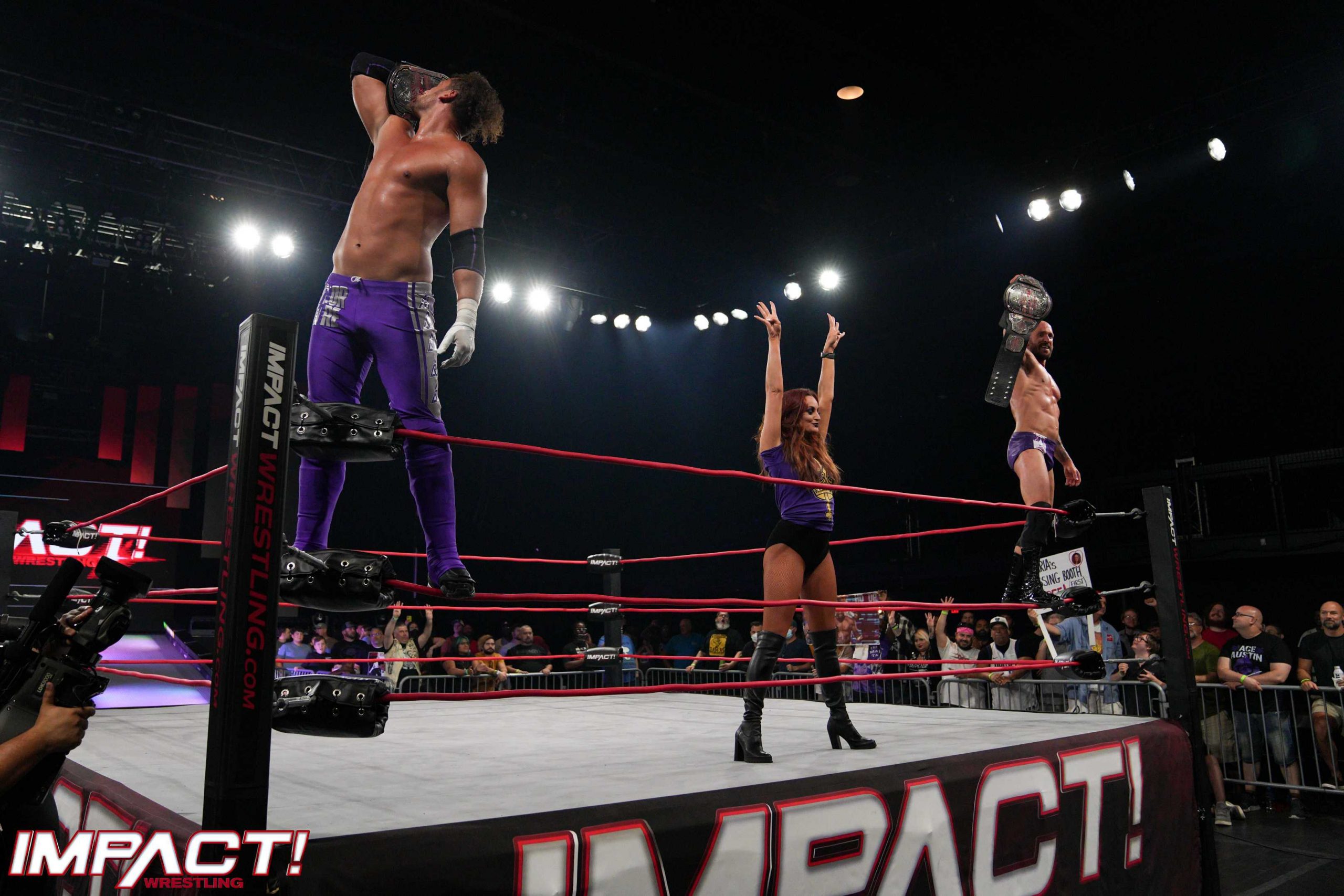 There was a quick video to put over Killer Kelly's dominance since she returned and the start of her feud with Tasha Steelz. This was followed up by a promo for Victory Road and a recap of Honor No More winning the Tag Team Championships a few moments ago.
Bennett and Taven were met by their Honor No More team mates backstage. Eddie Edwards praised them for choosing the right side. Edwards then turned his attention to PCO and again highlighting his failures in the group. Vincent stepped in to defend PCO. Kenny King said he would bring the X-Division title to Honor No More later in the evening.
Analysis: It's King vs Mike Bailey later tonight for the X-Division Championship. That will be great! The slow turn of PCO continues.
The commentators Tom Hannifan and Matt Rehwoldt previewed Bound for Glory, with the main event being Josh Alexander defending the Impact World Championship against Honor No More's Eddie Edwards. They also ran down some of the other matches on the show.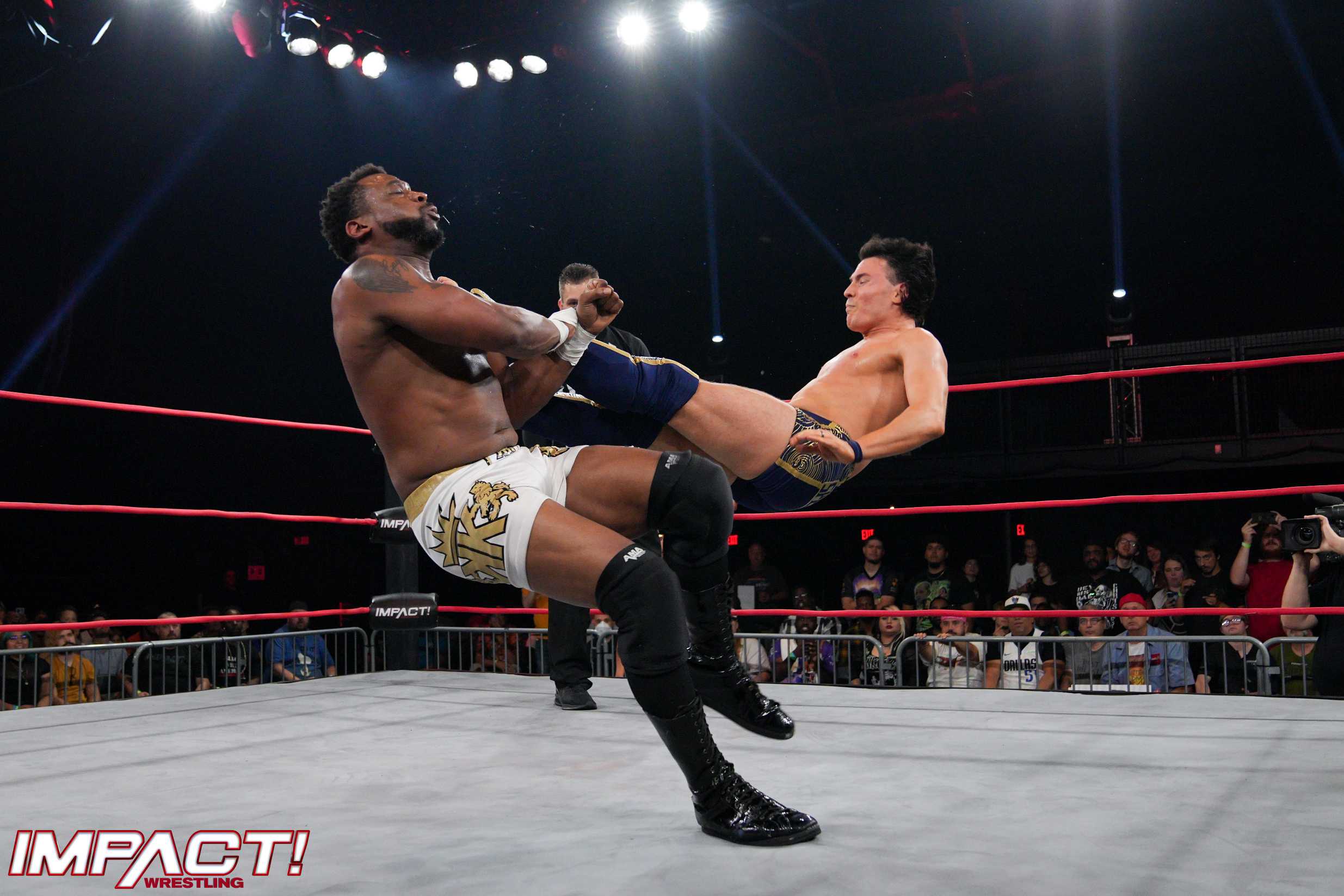 Match #2: X Division Championship: Mike Bailey (c) vs Kenny King w/ Maria
It's the second championship match of the evening as Kenny King looks to bring another championship the way of Honor No More. He's out first looking confident, followed by the champion Bailey. They lock up and King takes advantage early with a knee to the ribs of Bailey. King backs Bailey into the corner with right hands and a big clothesline. They exchange strikes before King hits a powerslam for a 2 count. King lights up Bailey with chops in the corner before Bailey comes back with a running Hurricanrana off the ropes. Bailey with an impressive handspring flip to avoid the attack of King, before taking him to the outside with a knee lift. The action spills outside and King rakes the eyes of Bailey to take the upper hand. King tries to whip Bailey into the guard rail but Bailey stops himself and hits a kick to the face of King. Bailey hits his combination kicks to send King to the ground. Bailey tries to roll King back into the ring but King swings off the apron and delivers a hard forearm to the face. Bailey runs at King who hits him with an exploder suplex into the ring apron!
(Commercial)
Back from the break and King has Bailey up against the ropes. King connects with a kick and follows up with a big spinebuster off the ropes for a 2 count. King lifts Bailey to the top turnbuckle. He goes for a Superplex but Bailey throws him down and hits a dropkick. King sweeps the leg of Bailey and hits a hard knee to the face. Bailey avoids a King kick and nails a few of his own, followed by a running Shooting Star Press for a 2 count. King ducks a few kicks but Bailey eventually lands one. Bailey goes for his running kick in the corner but King pulls the referee in front as a shield. King goes for a spinning heel kick but Bailey ducks and King nails the referee! King runs at Bailey but is met with a knee to the face. Bailey climbs to the top and wants Ultima Weapon but King hits a low blow! King covers but the referee is out of the ring. King nails a huge kick to the head of Bailey and another referee runs down to the ring but Bailey kicks out at 2! King is complaining to the referee about the slow count so Bailey nails him with a superkick. Bailey goes back to the top rope but King cuts him off. Bailey hits a kick from the apron and tries a Sunset Flip but King holds onto the ropes and then Maria assists as King gets the 3 count! New champ!
Winner and NEW X-Division Champion: Kenny King (almost!)
Honor No More run down to the ring to congratulate King straight after the match but the original referee is back inside the ring and explaining what has happened to the referee who counted the fall. They speak to ring announcer Dave Penzer who announces that the decision has been overturned. The match will restart and Honor No More are barred from ringside!
Match #2, Part 2: X Division Championship: Mike Bailey (c) vs Kenny King
Eddie Edwards is going crazy at the referees and King is trying to calm him down so that he can get back to the match. Edwards and friends eventually retreat up the ramp and as King is distracted, Bailey runs to the top rope and hits a diving moonsault to the outside! Bailey rolls King back in and hits his running kick in the corner. Bailey goes for Ultima Weapon but King blocks it with a knee. King goes for the Royal Flush but Bailey reverses it into pin for the 3 count! All up the match went 12 minutes.
Winner and STILL X-Division Champion: Mike Bailey
Analysis: ***3/4 It was a bit silly and overbooked towards the end but the entertainment value was high and it was a great, athletic contest from two of the division's best. I thought Bailey would retain because there's no point putting all the titles on Honor No More in one night (build them up!) and he's been a champion that has consistently very good matches. King can claim he is owed a rematch because the referee did count the pin (even though he cheated) and it will give Honor No More fuel to complain to Scott D'Amore about the bias in Impact Wrestling against them. That's two very good matches to kick off the show.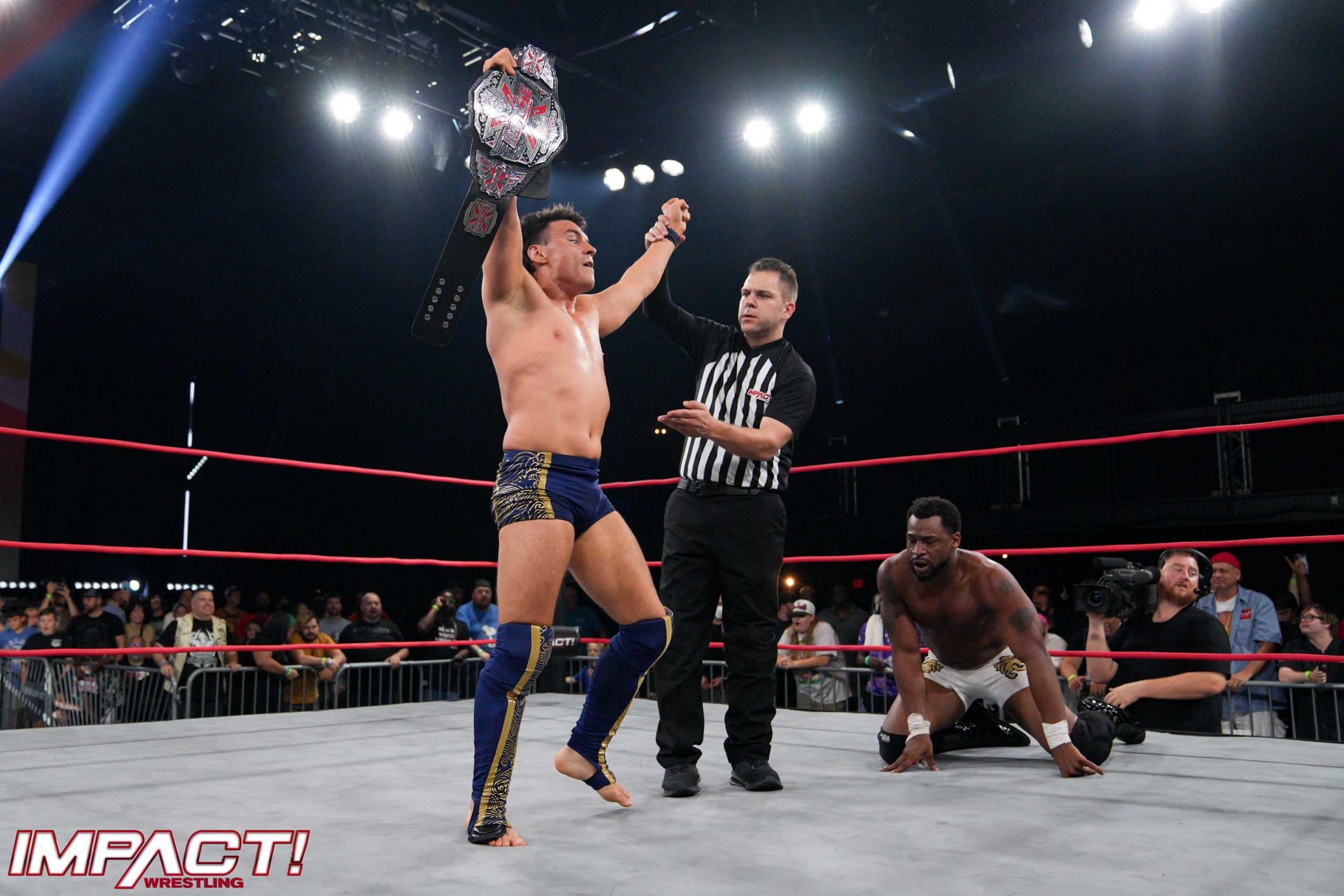 Backstage, Digital Media Champion Brian Myers is complaining to Scott D'Amore about Bhupinder Gujjar taking his title last week. All of a sudden Myers is turns around and is knocked out by Gujjar. Gujjar hands the title back to Myers.
Analysis: I'm sure this will lead to a match at Victory Road or Bound for Glory which is fine.
Jessicka is celebrating her win last week with Taya Valkyrie and Rosemary. Jessicka says that she's good to go and it's time to get their Knockouts Tag Titles back. Rosemary says that Jessicka has only won one match and that she's more of a distraction than help at present. Taya offers Jessicka a chance to join her at ringside in her match against Chelsea Green next week.
Analysis: At least that gets Taya back in the ring which is always good.
The Impact Flashback of the week is Sami Callihan beating Brian Cage for the World Championship inside a steel cage back in 2019.
Gia Miller is backstage interviewing my compatriots Aussie Open (Kyle Fletcher and Mark Davis). They are the NJPW Strong Tag Team Champions and appearing on Impact for the first time. They have been on AEW over the last couple of months with the excellent Will Ospreay. Fletcher says they are there for world domination and this starts next week against Bullet Club's Ace Austin and Chris Bey.
Analysis: Aussie Open have been on AEW wrestling in matches at least half a dozen times over the last few months and the audience has just been expected to know who they are. Here in Impact they are given a mic straight away to introduce themselves. It's not rocket science but good stuff here by Impact in getting the simple things done well.
Miller directs the camera around the corner and Moose and Steve Maclin are arguing whether to fight each other or team up at Victory Road in the Barbed Wire Massacre. Miller wants some answers but Moose just walks away.
Analysis: Tension has been brewing here and we are left guessing whether they are teammates or opponents. It's been a compelling storyline when given the TV time.
Eric Young is talking to his Violent by Design stable mates and he says it's time for a change. Young says Doering has his own path to follow and wishes him good luck. Young says he has his own path to travel. Deaner asks if Young is leaving him but Young says he is indeed leaving, but whether he chooses to follow or not is up to him.
Analysis: It looks like the stable as we knew it will cease for now and maybe bring in a new member or two. It makes sense as they weren't getting the job done as they were.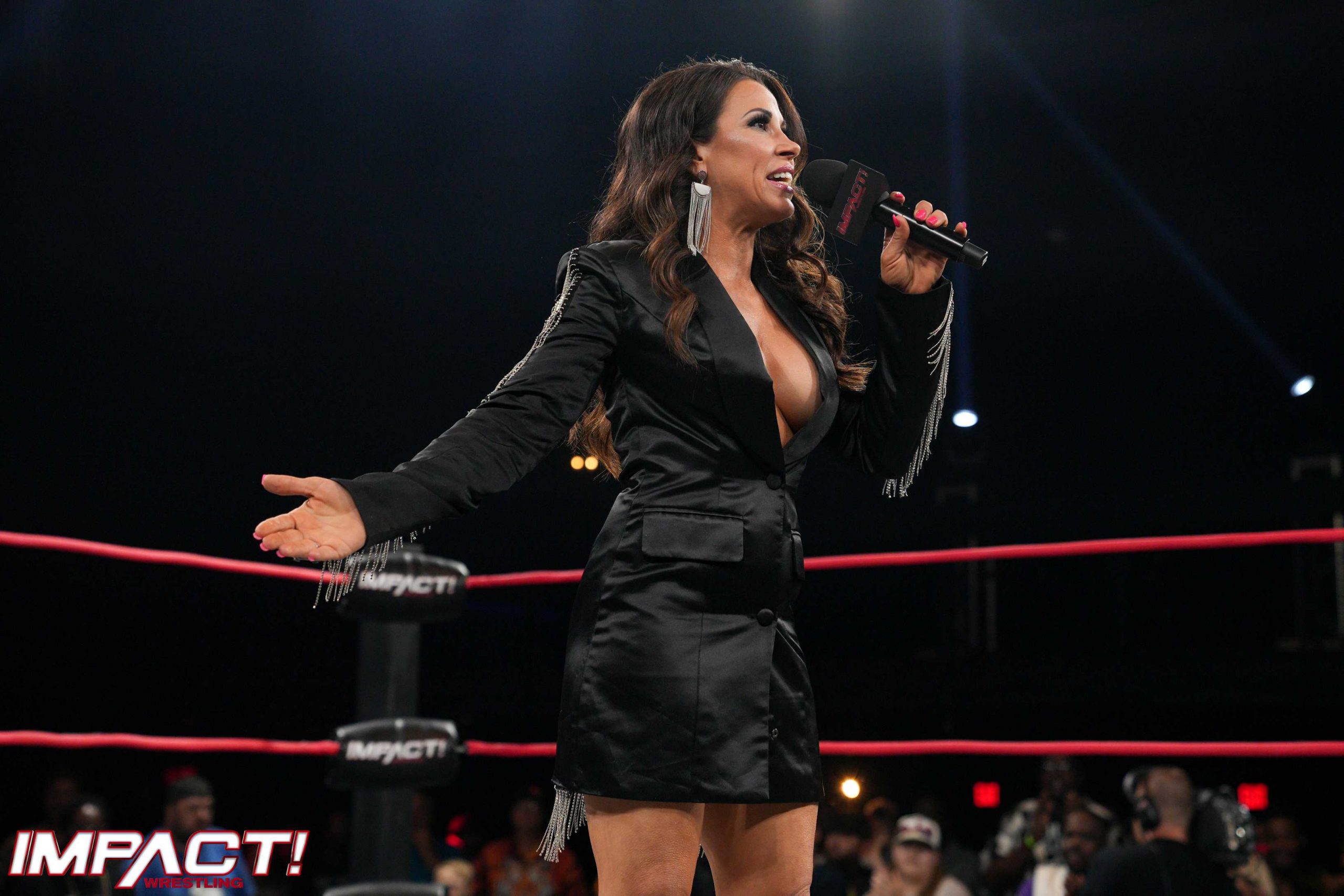 Mickie James returns
James makes her way to the ring to a big response from the crowd. James shows her appreciation to the fans and grabs a microphone as they chant her name. Mickie says she loves the crowd and can't promise that she won't get emotional tonight. She thanks the fans for being here tonight and thanks to Impact for given her the time to talk tonight. James says November will be 24 years since she stepped in a wrestling ring. She has bled and fought for over half her life and the last few years have been a whirlwind for her, recapping the treatment WWE gave her where they put her locker belongings in a trash bag when they released her. She says the whispers of being "a little old" or "a little fat" or "washed up" started to play on her mind over the last few months. Mickie says that the fans reminded her who she was and that helped her so much during her last run where she became Knockouts Champion for the fourth time. But then, it went downhill for her when she lost the title to Tasha Steelz and her best friend Chelsea Green turned on her, beating her twice. Mickie then doubted that she could hang with this new crop of women and needed a break. She says she needed to do some soul searching at home with her family and asked what she wanted out of this business anymore. Mickie says what she wants is opportunities for this locker room, which she says is the best in the business. She also admits that when she can't hang with the best anymore, then she will give it away, because the fans deserve the best. Mickie doubted if she could do that anymore. But she has to find out! She's not retiring but she is going to earn back a shot at the Knockouts Championship. Mickie says that she is going to have an open challenge on the journey to the Knockouts title but if she loses along the way, that's it, she will quit. Mickie says this will end either with her as Knockouts World Champion or her going home for good.
Analysis: Great to see Mickie back and that was a heartfelt, passionate and effective promo to explain her absence and her plans for the future. It has been set up similarly to Ric Flair's (first) retirement in 2007/08 where he said as soon as he lost his next match, that's the end, which culminated with the match with Shawn Michaels at WrestleMania 24. I hope this journey ends for Mickie becoming Knockouts Champion again because she proved in 2021 and 2022 back in Impact that she can deliver high-quality matches and her program with Deonna Purrazzo is worth going back to watch if you haven't seen those matches yet.
Gia Miller is backstage with Impact World Champion, Josh Alexander. Gia asks what Alexander's reaction to Mickie James' announcement is. Alexander puts Mickie over as one of the greatest Knockouts of all time and thinks she will win the title again. Miller asks Alexander's thoughts on his new challenger, Eddie Edwards. Alexander says that he's never had a singles match against him, so this is a match-up Alexander has been wanting for a long time. Alexander puts over Edwards but says the best man will win at Bound for Glory. Miller asks what Alexander makes of Honor No More inviting him to join them. Alexander doesn't like Honor No More's methods and has Impact Wrestling to thank for everything in this wrestling business. Eddie Edwards takes a seat next to Alexander. Edwards says he respects how loyal Alexander is to Impact Wrestling. Last week Heath cut Alexander off before he could give his answer to Honor No More, so Edwards wants an answer now. Heath comes flying in from off screen and takes down Edwards with a tackle. Heath pounds away at Edwards as Impact officials break up the fight. Heath screams into the camera that he's coming for all of Honor No More.
(Commercial)
Tommy Dreamer is trying to calm Heath down, as Scott D'Amore comes in to address the situation. Next week it's Heath vs Eddie Edwards one-on-one. Heath apologises to Josh Alexander for interrupting him last week. Alexander didn't appreciate that and walked off.
Analysis: There's the main event for next week. I expect Edwards to win as he builds momentum towards Bound for Glory.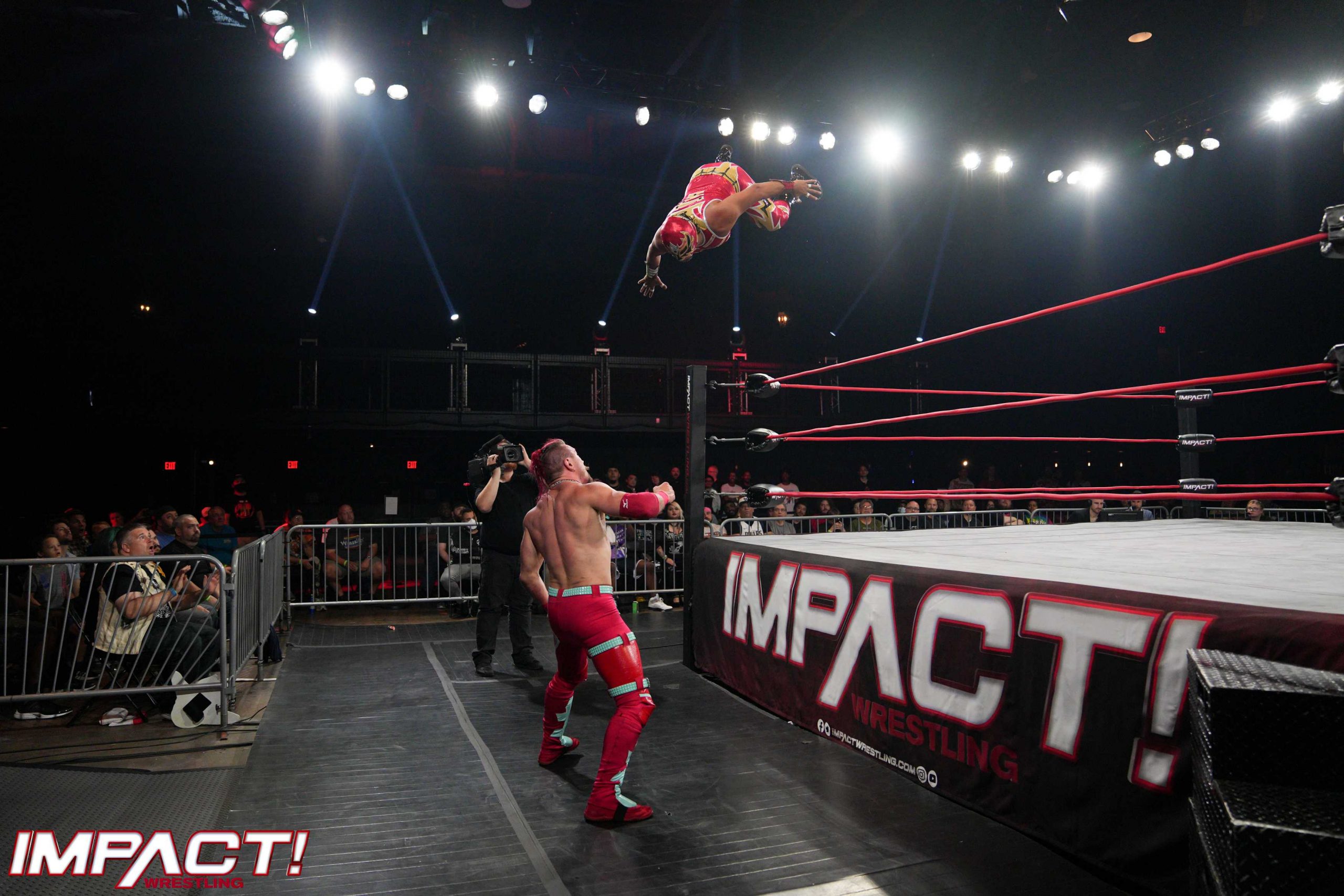 Match #3: #1 Contenders Match for the X-Division Championship: Alex Zayne vs Mascara Dorada
X-Division action here as the rarely-seen Zayne takes on the debuting Mascara Dorada, who was Gran Metalik in WWE. There are a lot of flips and counters early in the match that lead to a stare off that the fans appreciated. Dorada hits a Hurricanrana to the outside for the first real offensive move of the match up. Zayne takes advantage on the outside with some chops, as the referee starts to count. Zayne rolls inside to stall the count and as he comes back out is met by a big chop from Dorada. Zayne chops him back then hits a back suplex on the ring apron. The referee gets to 7 and Zayne rolls back in to stall the count. Zayne sets Dorada up on the ring apron and drops a big elbow. Zayne hits an impressive rolling legdrop on Dorada who was hung up in the middle rope. 90% of the action has been on the outside so far. Zayne flies to the outside with a springboard moonsault that connects to Dorada.
(Commercial)
Zayne has Dorada up on the top turnbuckle as the action returns. Dorada blocks a Superplex attempt and walks the tightrope before delivering a big crossbody off the top rope. Dorada hits a series of clotheslines and sends Zayne out to the floor. Dorada climbs to the top and hits a flying senton that takes Zayne out. Dorada chops Zayne on the chest and sends him back in the ring. Dorada hits a huge flying senton for a close 2 count. Dorada is looking for the Dorada Driver but Zayne fights out and nails an elbow in the corner. They fight on the top and Zayne connects with a running hurricanrana from the top. Zayne hits a running knee strike then a Baja Blast for a 2 count. Zayne connects with an enziguiri and climbs to the top rope. He looks for the Cinnamon Twist but Dorada moves, so he rolls through. Dorada athletically spins Zayne into a Tornado DDT and then the Dorada Driver for the win on debut after 8 minutes.
Winner and #1 Contender for the X-Division Championship: Mascara Dorada
Analysis: ***3/4That was a terrific match and a great way to show off the debuting Mascara Dorada, whilst reminding the audience of what Alex Zayne is capable of. He should be wrestling in Impact a lot more than he is, for whatever reason. I actually liked how they utilised the outside of the ring for the majority of the first half of the match. You don't see that in an X-Division match, which is usually all about the flips and high-flying moves. Dorada's move-set was very smooth and complimented Zayne's style well, who can mix it up between an athletic style and hard-hitting strikes. Great stuff here and that's 3 matches this week that have been in the very good range.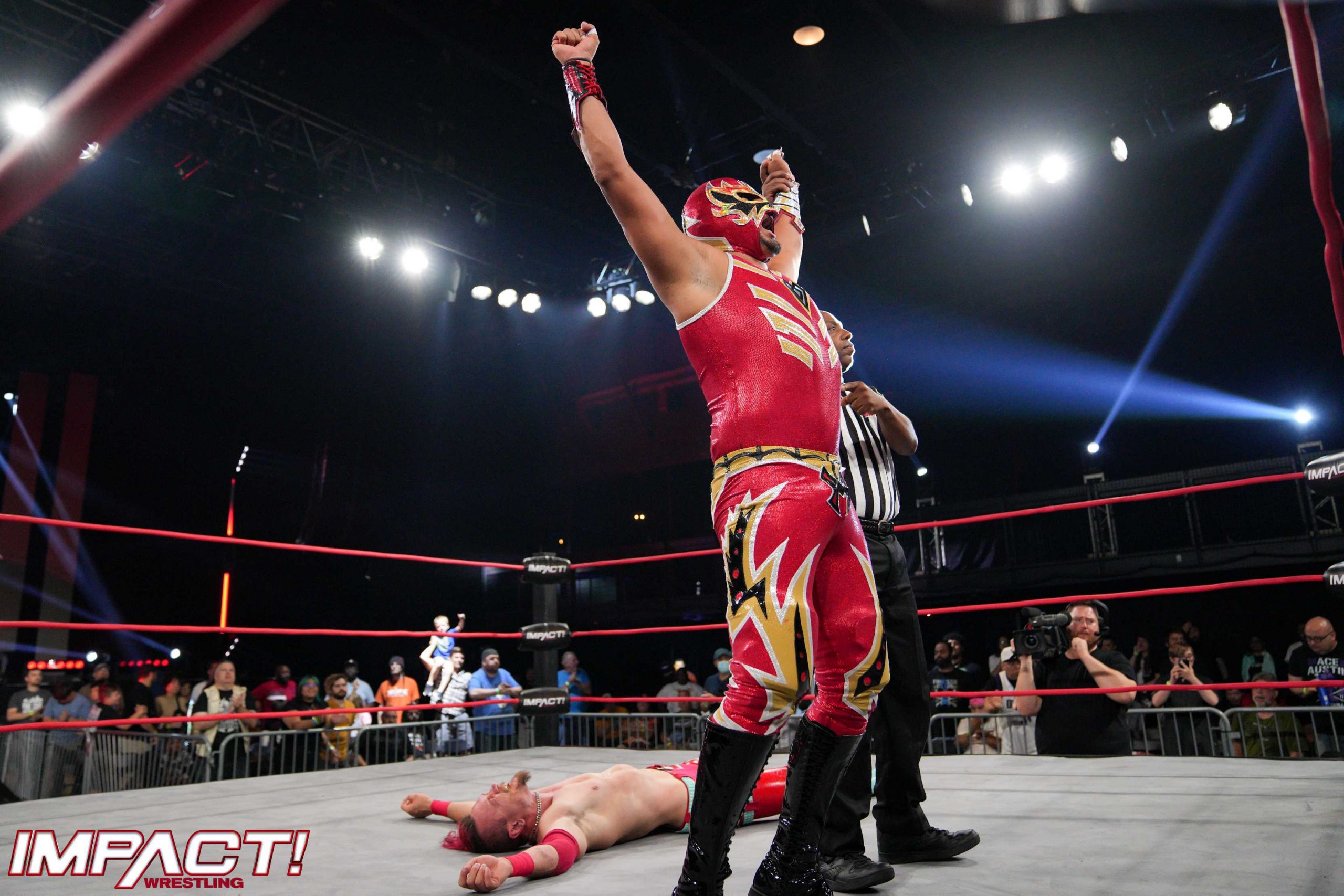 Mickie James is backstage with Jordynne Grace. Grace said she was worried that Mickie was about to retire but she's glad that's not happening right now. Grace said she would defend her title against Mickie at the first chance, but she knows that Mickie wants to work her way up to challenging for the championship. Grace says that right now she needs to focus on Bound for Glory, but she will be waiting.
Analysis: A simple way to continue the focus on Mickie James and relate it to the current Knockouts Champion.
There was a highlights package for Yuya Uemura who debuts next week. That's not a name that's familiar to me and I'm already dreading typing his last name correctly.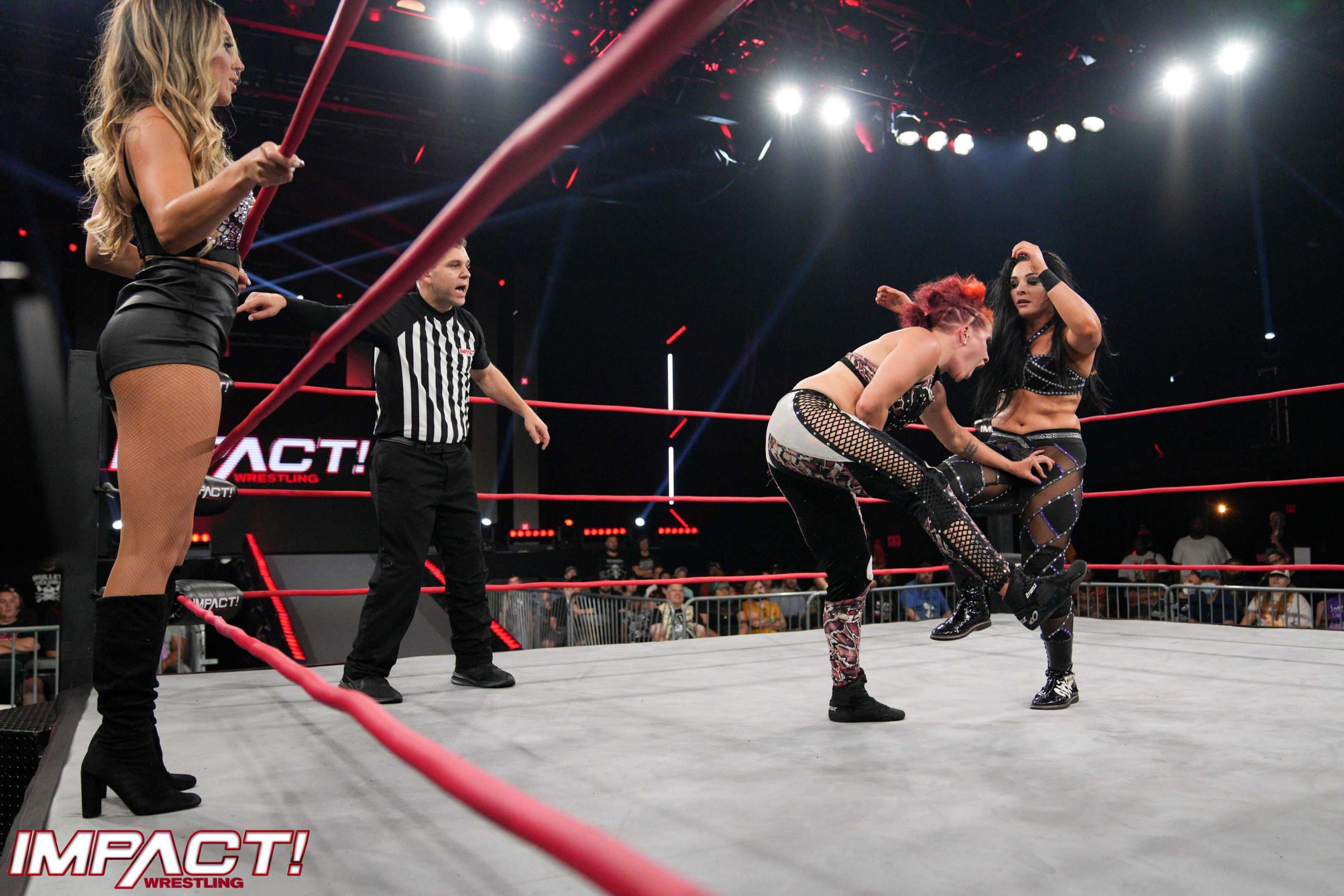 Match #4: #1 Contender Match for the Knockouts World Championship: Deonna Purrazzo w/ Chelsea Green vs Masha Slamovich
The winner of this match faces Jordynne Grace for the Knockouts Championship at Bound for Glory. Purrazzo is out with her tag team partner Chelsea Green first. The undefeated Slamovich is out last and is 14-0 so I am expecting her to win here tonight, even though Purrazzo vs Grace is the match I'd prefer to see. The two ladies lock up and Purrazzo gets in Slamovich's face so Masha backs her into the corner. Purrazzo takes advantage with some chops and a running hurricanrana. Purrazzo misses a corner attack and Slamovich kicks her in the back. Slamovich hits a trio of snapmares using the hair and she gets a 1 count. Slamovich sets up for the Snowplow but Purrazzo rolls out of the ring. Slamovich throws her back in the ring and Purrazzo distracts the referee so Green can hold onto Slamovich's leg. This allows Purrazzo to hit a big running knee on Slamovich in the ropes.
(Commercial)
Back to the action and Purrazzo is stomping away at Slamovich in the corner. Purrazzo follows up with a short-arm clothesline for a 2 count. Purrazzo slaps on a headlock and turns it into a side headlock as Slamovich tries to fight out. The crowd is more behind the heel Purrazzo than Slamovich here. They exchange pin attempts before Purrazzo hits a big kick to the face followed by a standing moonsault for a 2 count. Slamovich blocks a suplex attempt and backs Purrazzo into the corner. Purrazzo blocks a corner attack abut Slamovich drops her with a big kick. Slamovich hits a running knee in the corner and a big boot. She hits a running spinning heel kick for a close 2 count. Both ladies are on their knees and exchanging stiff strikes. Slamovich then goes crazy with the head-butts to Purrazzo. Slamovich sets up for the Snowplow again but Purrazzo drops to a knee and hits a Russian Legsweep. Purrazzo locks in the arm bar and Slamovich fights her way to the ropes, despite Green holding them back. Slamovich starts choking Purrazzo in the ropes until the referee breaks the hold. Slamovich whips Purrazzo into the ropes but misses a big boot. Purrazzo sends Slamovich shoulder first into the ring post and hits a German suplex for a 2 count. Purrazzo holds on for another 2 Germans and calls for the Package Piledriver. Slamovich blocks it and hits an Air Raid Crash into the bottom turnbuckle. That was nasty! Slamovich gets a close 2 count. Green gets up on the ring apron to distract the referee and this allows Purrazzo to hit the Queen's Gambit for another close 2 count. Slamovich gets up laughing and Purrazzo tries to lock in the arm-bar but Slamovich is able to hit a spinning back fist. Slamovich destroys Green with a kick after she gets up on the apron again. Slamovich hits the Snowplow and punches her ticket to Bound for Glory, winning after 10 minutes.
Winner by pinfall and #1 Contender for the Knockouts Championship: Masha Slamovich
Analysis: ***1/4 It started off slow and a bit sloppy as Slamovich was finding her way in the match but the second half of the match was really hard-hitting and fun to watch. Purrazzo is always performing at a high-level and Slamovich did well in her longest match in Impact so far. I enjoyed the counter-wrestling and the way Slamovich was able to power out of Purrazzo's offense and overcome the 2-on-1 odds in order to win. The crowd was firmly in Purrazzo's corner for most of the match, but appreciated what Slamovich brought to the match towards the finish. Impact have been booking her as a face but I wonder if this reaction will change their minds. Purrazzo is a heel but very popular so gets cheered all the time anyway, so they might not worry. Rehwoldt's commentary during any Purrazzo match is always entertaining.
After the match, the Knockouts Champion Jordynne Grace comes down to the ring and has a face-off with Slamovich. Grace hands Masha a photo of herself with a red X, which is what Masha has done to opponents in the past to get under their skin.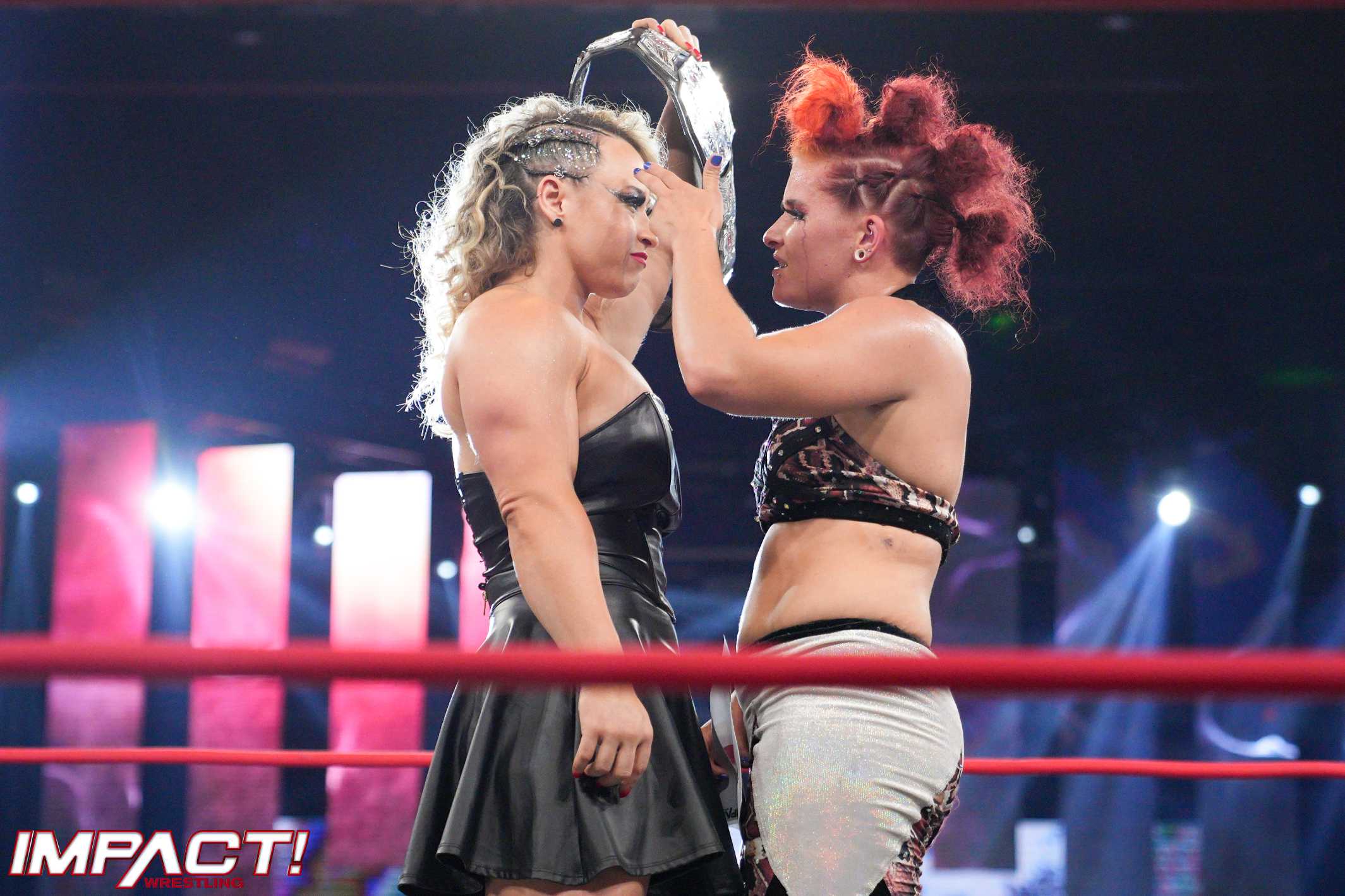 Analysis: A simple but effective way to have a confrontation and build to the match. It will be another hard-hitting match up and we will see if it's a face vs face dynamic or if they turn Slamovich fully heel.
Final Rating: 8.5/10
That was easily the best Impact weekly show I have covered whilst writing on TJR. There were only 4 matches, but they were all of importance and high quality. There were two terrific title matches and two matches to determine number 1 contenders. Combine that with effective backstage segments that set up matches for next week or build to the PPV, and a great promo in the ring from Knockouts legend Mickie James, and it all adds up to a great night for Impact Wrestling. You wouldn't watch many 4-match weekly shows and come away thinking you've watched a great episode, but that's what tonight was for me. Good story-telling, important matches with decent time lengths and meaningful non-wrestling segments.
Next week is shaping up to be decent too as we have the debut of Yuya Uemura (I copied and pasted his name from above- see I'm already cheating!), Chelsea Green vs Taya Valkyrie, Heath vs. Eddie Edwards and Aussie Open vs Bullet Club.
Any feedback or comments are welcome. My email address is kristian.l.thompson@gmail.com in case anybody wants to get in touch with me and Twitter is @thomok6 as well. Thanks for reading!