Impact Wrestling Review – August 25, 2022
This week's edition of Impact Wrestling featured a 6-man tag team grudge match between Violent by Design and Kushida & the Motor City Machine Guns. Impact World Champion, Josh Alexander, is back in action as he takes on Honor No More's Vincent.
Will Honor No More use this to soften up Alexander, before his Bound for Glory title defence against new number 1 contender Eddie Edwards? Also on the show, Deonna Purrazzo and Chelsea Green defend their newly-won Knockouts Tag Team Championships against Knockouts Champion Jordynne Grace and Mia Yim. This feud has been brewing for a while but will it end in the champions being dethroned?
Last week on Impact, Eddie Edwards won a 6-man elimination match to become the number 1 contender to Josh Alexander's Impact World Championship. The match is locked in for the Bound for Glory PPV in October. The numbers game will be in Josh Alexander's head but he may have an ally in Heath, who continues to be a thorn in Honor No More's side, as he defeated Kenny King last week. Heath has vowed to take out all of Honor No More, so it will be intriguing to see what his next move is. Mike Bailey had another successful title defence, this time over Bullet Club's Chris Bey. With Bound for Glory on the horizon, will we see a new challenger step up to challenge for the championship?
Impact Wrestling 25/8/22 from Cicero Stadium Chicago, Illinois.
The opening video focused on the Impact World Championship #1 contender match from last week's main event. Eddie Edwards outlasted Rich Swann to earn a title match at Bound for Glory.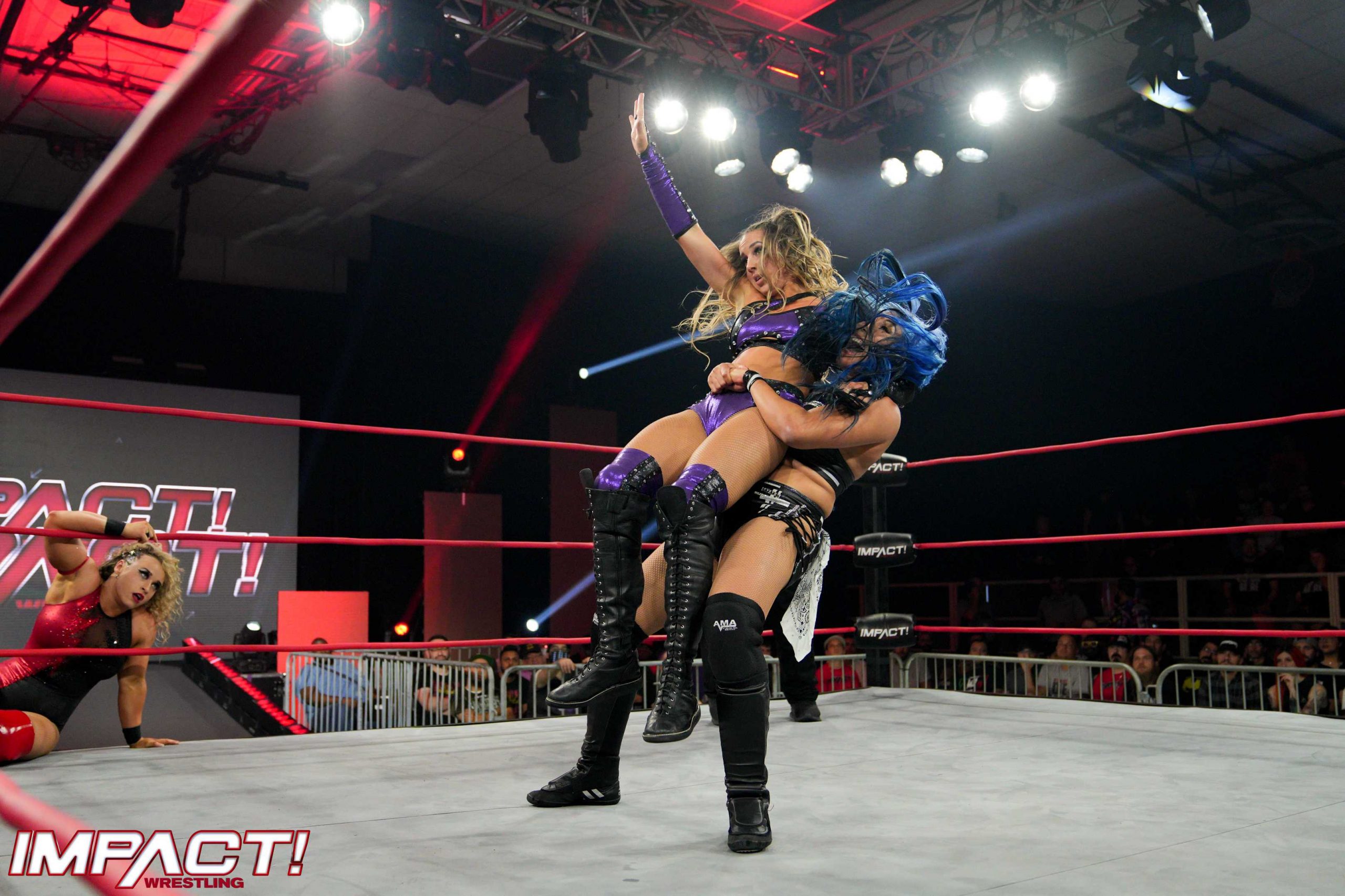 Match #1: Knockouts Tag Team Championships: VXT (Deonna Purrazzo and Chelsea Green) vs Impact World Champion Jordynne Grace and Mia Yim
We are opening the show with a big tag title match. The face allies are out first, followed by the heel champions. Tom Hannifan and Matthew Rehwoldt welcomed us to the show and wondered how focused Jordynne Grace would be knowing that Masha Slamovich is lurking in the background. Green and Grace kick things off with Grace taking the advantage early with a trio of side-headlock takedowns. Green makes it to the corner and tags in Purrazzo who gets an early slap from Grace. She slaps her so hard that Purrazzo flies into her corner to make the tag back to Green. Green tries for a suplex but as Grace tries to reverse in, Green tags Purrazzo as she is being lifted into the air. Purrazzo takes out the knee of Grace who cannot complete the suplex. Purrazzo chops Grace hard into the corner and tags Green in again. Grace easily fights her off and tags in Mia Yim who is on fire early. Yim takes Green down with a dropkick in the corner followed by a cannonball for 2. Purrazzo comes in illegally and takes down Yim with a clothesline to help her tag team partner. Purrazzo then tags in legally and begins to target the right knee of Yim. Green tags back in and slams Yim face first into the mat with a stomp. Another quick tag to Purrazzo who drops Yim with a short-arm clothesline for 2. Purrazzo ties Yim in a sleeper but Yim flips her over into the corner and Green tags in again. Another quick tag in to Purrazzo but Yim fights both opponents off in the corner and makes the tag to Grace. Grace takes down Purrazzo with a series of clotheslines and a spinebuster, but Green breaks up the pin. Green rolls out of the ring which allows Purrazzo to take advantage and drag Grace to the corner so she can make the tag. Grace quickly rolls across to the other side of the ring to tag in Yim. Yim hits Green with a German suplex with a bridge for a 2 count. There's another tag back in to Grace who chops away at Green who is tied up in the ropes. Green reverses the Irish Whip and Purrazzo tags back in. She climbs to the top rope and goes for a crossbody but slips and connects but it wasn't clean. Yim comes in and hits Purrazzo with a dropkick. Green dives off the top rope and nails Yim with a blockbuster. Grace is back up off the canvas and connects with a gut-wrench powerbomb on Green. Yim and Grace run the ropes and Grace hits a suicide dive on Purrazzo but Green stops Yim's attempt with a hard right hand. Grace rolls Purrazzo back into the ring and as the referee is checking on Purrazzo, Green steps up onto the apron and pulls Grace's hair allowing for a double-team they're calling the Due Collector for the win after 7:30.
Winners by pinfall AND STILL Impact Knockouts Tag Team Champions: VXT
Analysis: **1/2 I was a bit underwhelmed at this match. The star power was there but the flow of the match, with multiple tags every minute at some point, really hurt the quality of the match. It felt like quick tag in, hit a spot and then another quick tag in on repeat for 7 minutes. VXT winning is the right call and I am glad they're champions as the division needed it, but the match was nowhere near what I expected from these 4.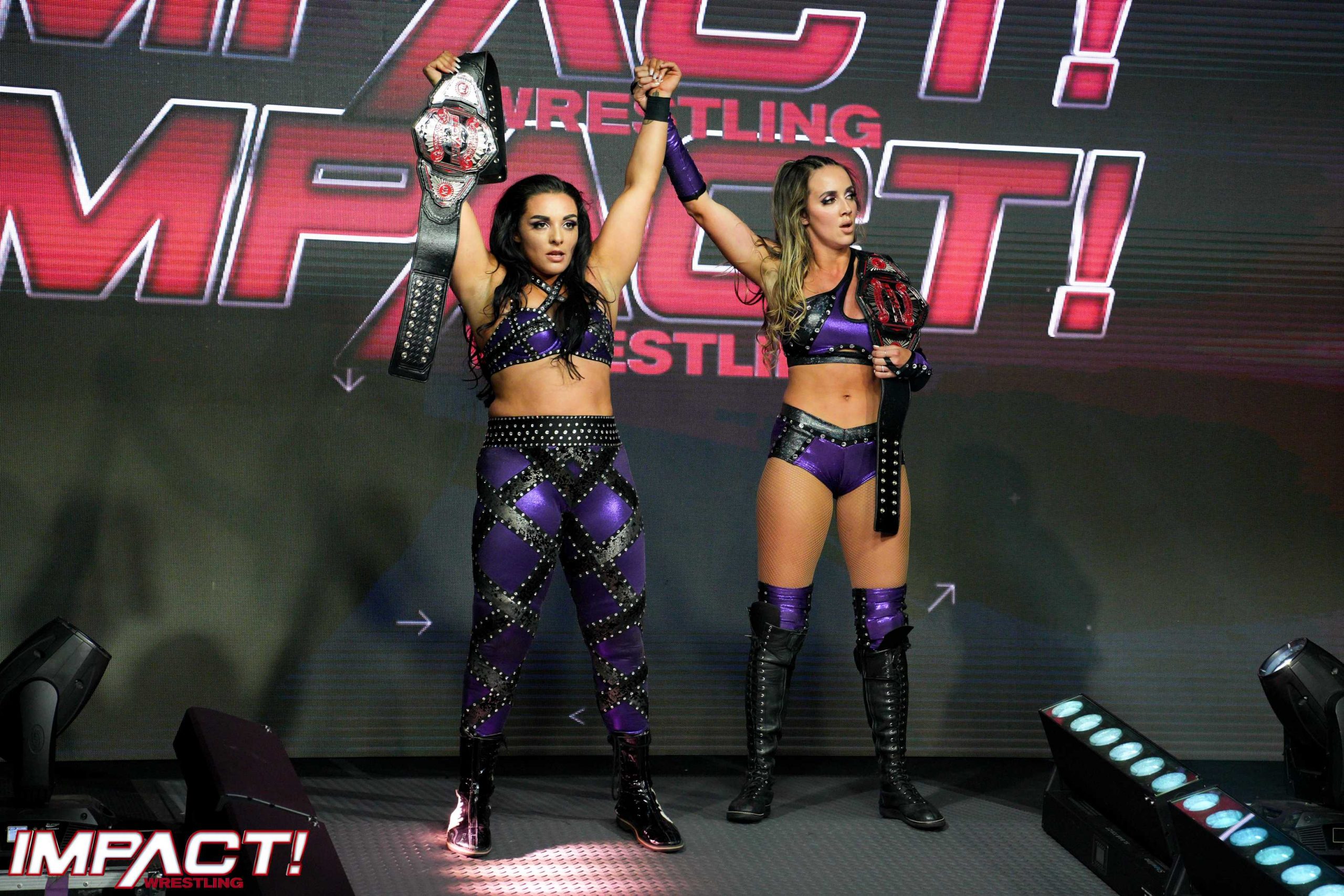 After the match, the commentators put over the importance of Purrazzo pinning the Knockouts World Champion and discussed what that might mean about a future title shot for her.
Violent by Design were shown delivering a pre-recorded promo. Eric Young said that VBD were back and united. Young said that their win at Emergence was important and that Time Machine's (Kushida, Shelley, Sabin) time was up tonight.
Analysis: I'm looking forward to the 6-man tag team main event.
There was a promo video for the Bound for Glory PPV which comes from Albany, New York, on Friday, October 7th.
Josh Alexander was in his locker room lacing his boots when Honor No More's Vincent came in to interrupt him. Vincent said that Alexander should be making friends with Honor No More, not fighting them. Alexander said he doesn't appreciate HNM's mind games and walked off.
Analysis: A simple exchange to show that Alexander has his work cut out against the number of Honor No More.
The commentators plugged Alexander vs Vincent and the main event 6-man tag team match.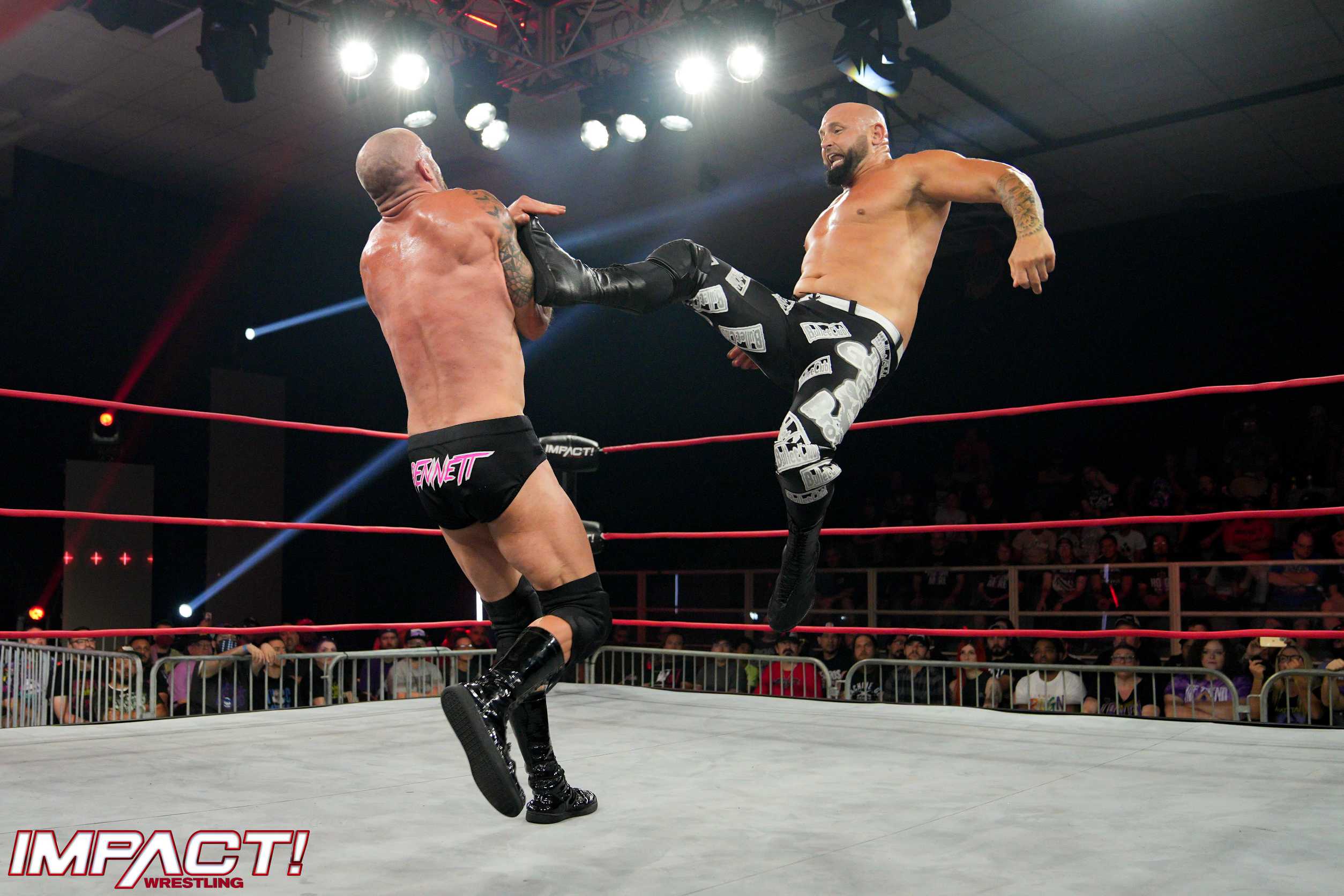 Match #2: Karl Anderson vs Mike Bennett w/Maria Kanellis
Bennett is out first, followed by Anderson who is without the injured Doc Gallows. If Anderson wins, Maria is banned from ringside for the future Tag Team Championship match between the Good Brothers and Taven & Bennett. Anderson takes advantage early as he sends Bennett into the turnbuckle and then stomps away in the corner. Bennett fights back with a chop and a hard forearm strike. Bennett wrenches at Anderson's left arm and unsuccessfully goes for an attack in the corner. Anderson is back on the offense with an uppercut in the corner, followed by a back elbow off the ropes. Anderson clotheslines Bennett over the top rope and he goes crashing into the ringside guard rail.
(Commercial)
Back from the break and Bennett has Anderson in a seated submission hold. Anderson fights off Bennett to get to his feet but Bennett hits a dropkick to the knee for a 2 count. Bennett goes back to the knee with a kick and then a hard Irish Whip into the corner turnbuckle. Bennett taunts the crowd who are all over him. Bennett runs the ropes multiple times and lines up Anderson with a kick, then at the last minute pokes him in the eye to the disgust of the fans. Bennett tries for a modified sleeper but Anderson gets to his feet and fights back with some chops. Bennett whips him into the corner but Anderson counters with an uppercut. Anderson hits a series of clotheslines and a one-legged dropkick as he builds some momentum. Anderson chops Bennett into the corner, Bennett fights back and connects with a superkick for a close 2 count. Bennett runs at Anderson in the corner but misses and hits the middle turnbuckle face-first, allowing Anderson to hit a big spinebuster for 2. Anderson is looking for the finish but Maria gets up on the apron to distract the referee. Matt Taven runs down to the ring and grabs Anderson by the leg and then kicks him in the head. This leads to Doc Gallows returning as he confronts Taven with a big right hand. Gallows chokeslams Taven on the apron. Back in the ring and Bennett rolls up Anderson for 2. Anderson avoids a running clothesline from Bennett and nails the Gun Stun for the pinfall win after 6:30.
Winner by pinfall: Karl Anderson
Analysis: **1/2 It was just an average match until the last few minutes where the interference from the tag team partners and Maria meant that the action picked up. Both men are solid singles competitors but it was just a simple match to employ the stipulation that now Maria is banned from ringside for the Tag Team Championship match. I think Bennett and Taven will win the titles soon. Good to see Gallows back after two weeks off.
After the match, the Good Brothers celebrated in the ring whilst Maria looked annoyed. They walked backstage and Scott D'Amore congratulated Anderson on the win. D'Amore said Gallows looked like he had recovered so the Tag Title match will happen next week. Gallows said just like always it will be a Magic Killer and a 1-2-3 win for the Good Brothers.
Analysis: There's the title match for next week. It's a bit earlier than I expected but it's a big match for the weekly show and that's fine with me.
They showed highlights of Killer Kelly beating Savannah Evans last week in a hard-fought match up. Evans was getting checked out by the doctor backstage, who said they needed to run some more tests on her neck. Tasha Steelz was confronted by Gia Miller who wanted an update. Steelz wasn't happy that Evans was taken out last week. Steelz started running down Kelly who crept up behind her and put her in a sleeper hold but released her quickly. Kelly said that she won't attack Steelz from behind, but she will see it coming.
Analysis: They are building this feud nicely as Kelly's first meaningful rivalry. It's good to see Steelz involved as she hasn't done much since dropping the Knockouts Title in June at Slammiversary.
https://impactwrestling.com/wp-content/uploads/2020/09/IMPACT2234_JasonHotch_vs_BhupinderGujjar-WM-11-300×200.jpg
Match #3: Bhupinder Gujjar vs Jason Hotch
The Digital Media Champion, Brian Myers, made his way to the commentary table for this match. Jason Hotch was out first and he is the winner of the Gut Check competition for 2022 and has received a contract with the company. I remember when they ran Gut Check on the weekly show about 10 years ago, which led to the fans being introduced to wrestlers such as Samuel Shaw, Joey Ryan and even Adam Pearce was a contestant in 2013! Now it is a competition held at the Arnold Classic where 100 wrestlers tried out and Hotch was the winner. Gujjar is out next to not much of a reaction. He's on top early with a dropkick and running clothesline in the corner. Gujjar hits a knee drop and a hard kick to the head. Hotch has to hold the ropes to break the pinfall attempt. Gujjar goes for a powerslam but Hotch rakes the eyes. Hotch throws Gujjar into the corner and chops away. Hotch dives from the top but Gujjar catches him with a spinebuster. Gujjar takes out Hotch with a spear from the middle rope for the 3 count after 2 ½ minutes.
Winner by pinfall: Bhupinder Gujjar
Analysis: *3/4 Just a quick match to put over Gujjar as a contender to Myers' championship. Hotch didn't get much offense in, which is not a great way to make your debut, but hey at least he got on TV! Post-match, Myers got in the ring and told Gujjar he's not sure when he will be able to give him a shot…but maybe now, and he hit Gujjar with a cheap shot and an Impaler DDT. Myers wanted referee Scott Armstrong to count the mock pin then got in Armstrong's face. Myers turned around and Gujjar nailed him with a middle-rope diving spear. Gujjar mocked Myers by pinning him and Armstrong fast-counted the 3. He held up the championship and instead of handing it back, started walking to the back with it!
Gail Kim was backstage when VXT interrupted her. They boasted about being unstoppable after beating Mia Yim and Jordynne Grace earlier tonight. Purrazzo said Kim should make her number 1 contender after pinning Grace tonight. Kim said Purrazzo is in contention but so is Masha Slamovich, so next week it's Purrazzo vs Slamovich with the winner taking on Grace for the title at Bound for Glory.
Analysis: I'd prefer a win for Purrazzo but they're heading in the Masha direction as she remains undefeated.
Backstage referee Scott Armstrong congratulated Bhupinder Gujjar on his victory and admonished the actions of Brian Myers. Armstrong told him that it wasn't a legitimate pinfall so he's going to have to take the championship back. Gujjar said that if Myers wants his title back, he can come and get it.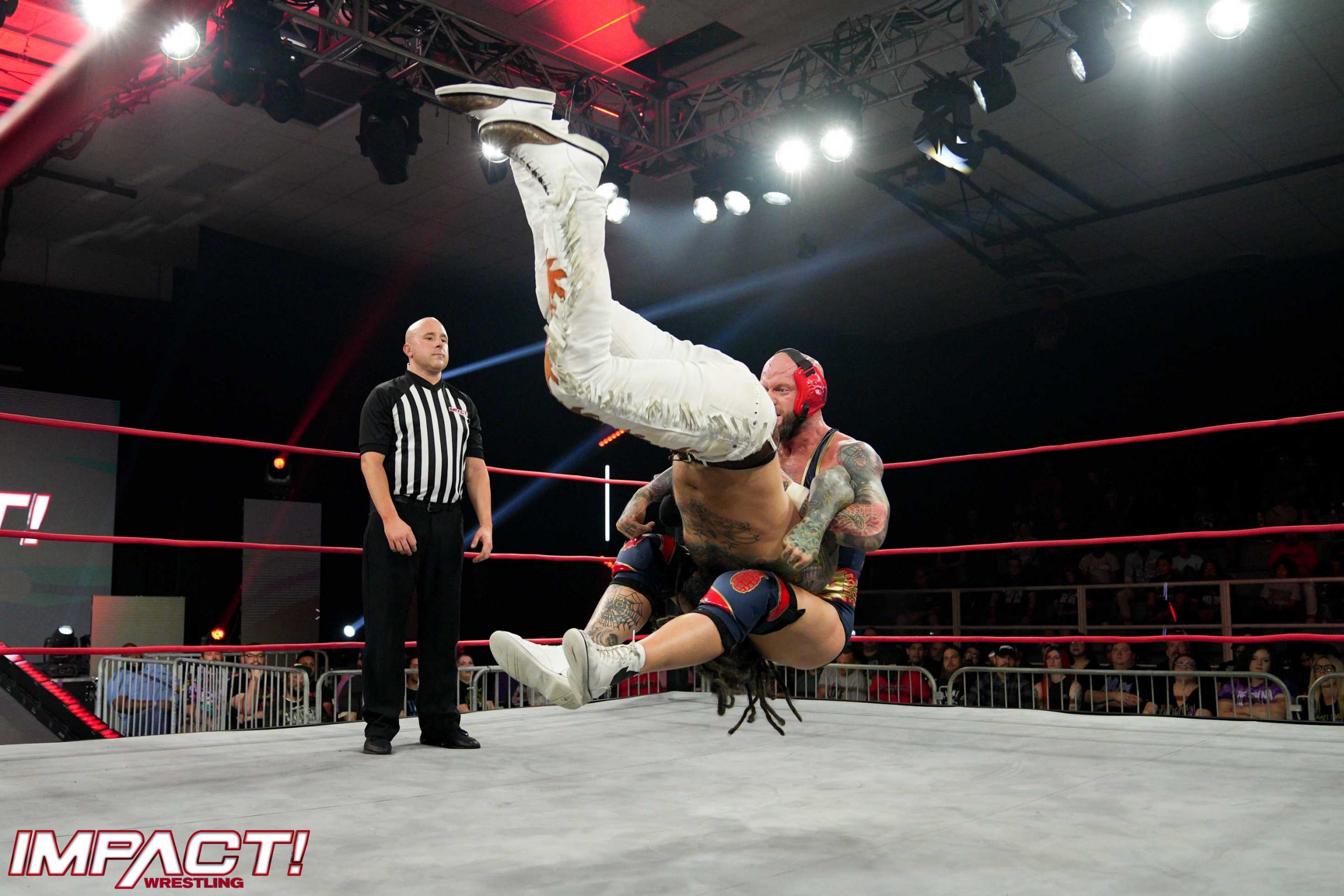 Match #4: Non-Title Match: Josh Alexander vs Vincent
Vincent is out first, by himself, followed by the Impact World Champion Alexander. Alexander takes the advantage early with an overhead belly-to-belly throw which sends Vincent to the outside. He rolls back in and connects with a side Russian Legsweep. Vincent climbs to the top rope and connects with a Swanton Bomb for a 2 count. Vincent chops Alexander to no effect. He grabs Alexander's headgear and slams him to the ground. Vincent stomps at Alexander in the corner as the crowd gets behind the champion. Vincent misses a kick in the corner and Alexander nails a German suplex followed by a hard back elbow. Alexander hip tosses Vincent across the ring. He looks for the C4 Spike but Vincent rolls out straight into the anklelock. He manages to get to the ropes. Vincent locks in a guillotine in the centre of the ring but Alexander reverses it into a Falcon Arrow. Alexander with the C4 Spike for the quick win after 4 minutes.
Winner by pinfall: Josh Alexander
Analysis: ** A short match to put over the champ. Vincent is a good worker and a few more minutes would've been great because the action was solid but this was about showing off the offense of Alexander. No Honor No More members at ringside was interesting.
After the match, Eddie Edwards walks out with a microphone. Edwards congratulates Alexander on yet another win. Edwards puts over the Bound for Glory main event. Edwards says that just because they are opponents, doesn't mean that they have to be enemies. He tells Alexander that he should join Honor No More. The crowd is really booing him hard at this point and Edwards is rattled, telling them to shut up. Edwards tells Alexander that the fans will drag him down too at some point. He asks Alexander which side he will choose. Alexander is looking mystified at this point as the crowd continues to chant his name. Edwards finally gets in the ring and tells Alexander that if they aren't going to be allies then there will be consequences for him, but Heath sneaks in the ring and nails Edwards with a Wake Up Call and the crowd love it. Heath celebrates with the crowd as Alexander laughs at Edwards then walks up the ramp.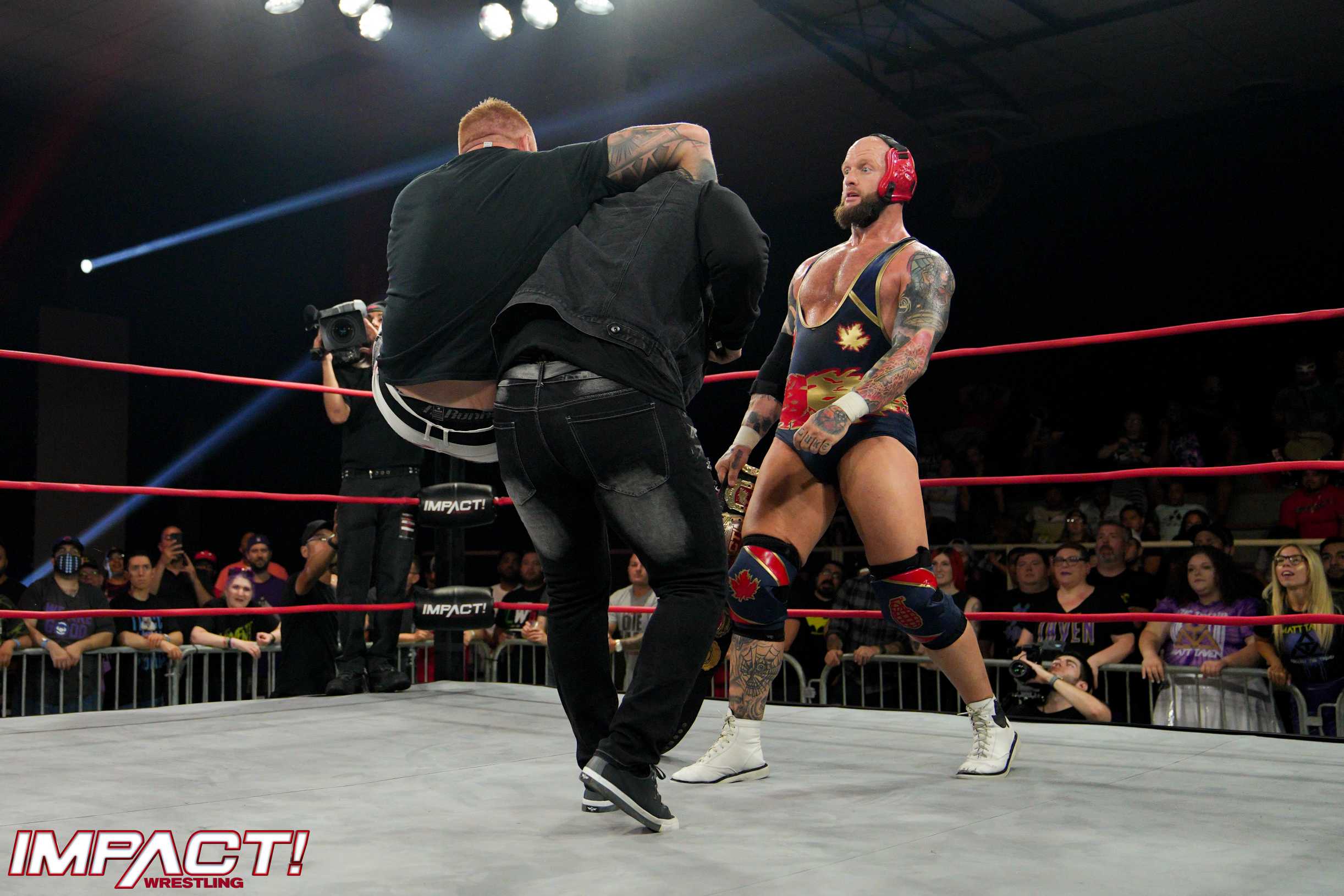 Analysis: Good promo work from Edwards who is a really talented heel and I think better suited to that role. He continued the theme of trying to convince Alexander to join him or there will be consequences. Heath showing up is not surprising and certainly pops the crowd.
There's a backstage promo with Raj Singh and Shera who are rarely used. Singh vows revenge on Josh Alexander for injuring Shera. The camera pans away from them onto Moose and Steve Maclin arguing about the elimination match last week. Sami Callihan attacks them both with a trash can and the action spills out into the car park. Maclin is busted open already and puts a chokehold on Callihan as Moose beats him down with right hands to the mid-section. The heels take the barbed wire off the fence and Maclin puts the wire in Callihan's mouth and wrenches back. Maclin wraps Callihan in barbed wire and kicks him on the ground as blood pours from his forehead. Moose and Maclin walk off.
Analysis: Well that was certainly violent and out of the blue. This feud is heating up and we might see a Barbed Wire match by the looks of it which would be fitting.
There's a video showing Masha Slamovich's dominance over the recent months.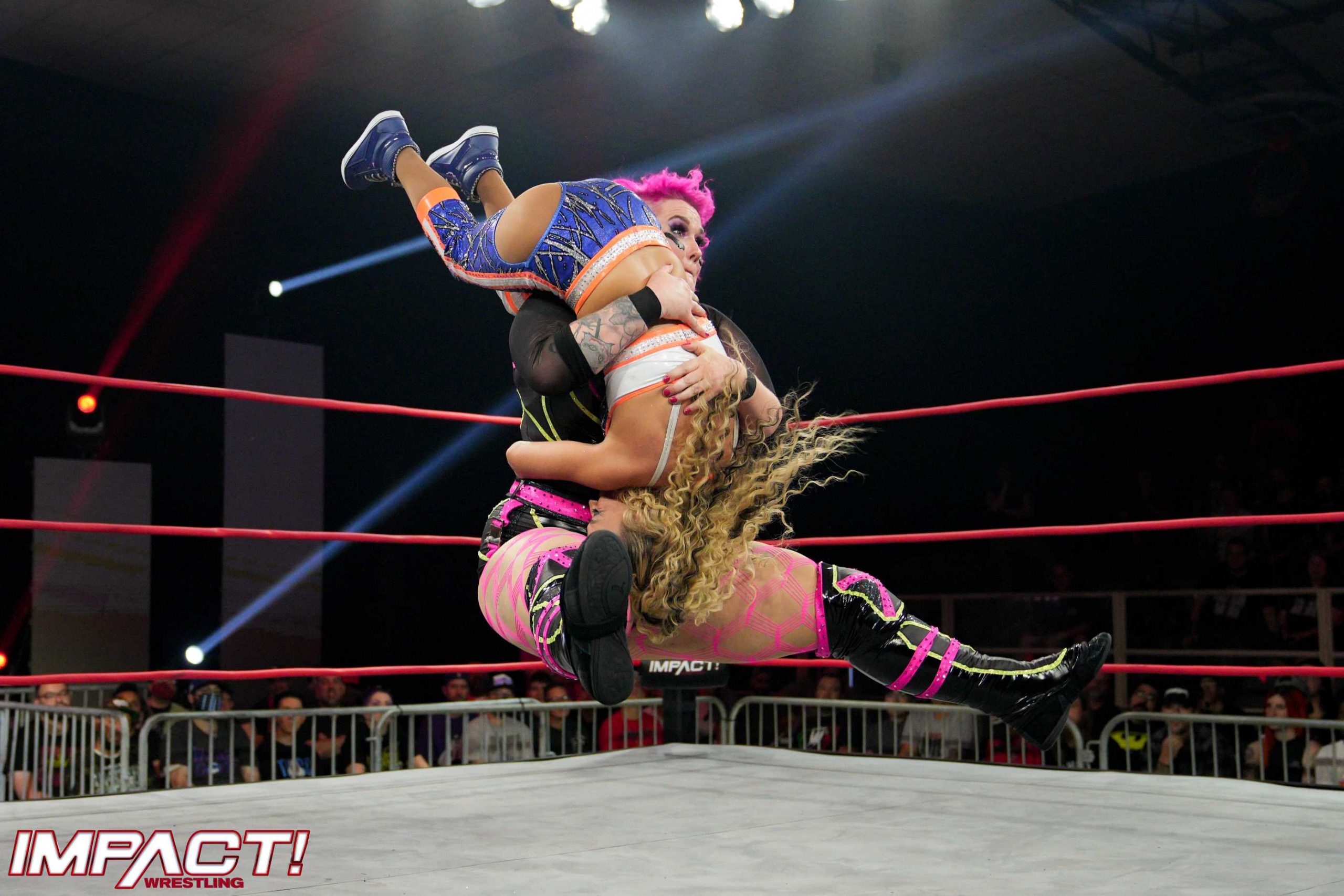 Match #5: Alisha vs Jessicka w/ Rosemary
It's the (re)debut of Jessicka (formerly Havok) taking on the wife of Eddie Edwards who apparently doesn't have any issue with him being in Honor No More despite being in the same building as him this evening. Odd. Jessicka is out in bright pink attire, which is not fitting the Decay moniker at all, but this is the new version of her it seems. Jessicka and Alisha lock up and Alisha connects with a trio of forearm shots. They don't really effect Jessicka who fights back with a Bionic Elbow. Jessicka hits a scoop slam then a running crossbody. She tries another running in the corner but Alisha blocks it with a kick. Alisha tries for a crossbody off the top but Jessicka catches her and hits the Sit Out Piledriver for the win after 2 minutes.
Winner by pinfall: Jessicka
Analysis: *1/2 Just a squash match to remind the fans about Jessicka. The finisher looked impressive and as safe as a Piledriver can be, whilst still looking devastating. Piledrivers are pretty popular in Impact and, despite being professionals, always worry me a little bit!
There was footage of Time Machine warming up before the main event.
There was a highlights package of all of Mickie James' losses over the last few months. The commentators wondered what was next for her. Mickie James returns next week.
Analysis: They are building this up as a retirement angle, but I think it will lead to a match against Chelsea Green at Bound for Glory.
The commentators run through the matches for next week and announce that the Tag Team Championship match will kick off the show. Also it's Deonna Purrazzo vs Masha Slamovich, with the winner facing Knockouts Champion Jordynne Grace for the title at Bound for Glory.
It was time for the main event but Sami Callihan stumbled to ringside, bloodied and still covered in barbed wire. Callihan grabbed a microphone and asked Moose and Maclin if they think wrapping him in barbed wire was something special. He calls that a normal Friday. Callihan challenged them to a Barbed Wire Massacre at Victory Road. The crowd cheered for that.
Analysis: That's the match I thought was coming but it will be at the Impact Plus special on September 23rd, not Bound for Glory. That's a big match for that event.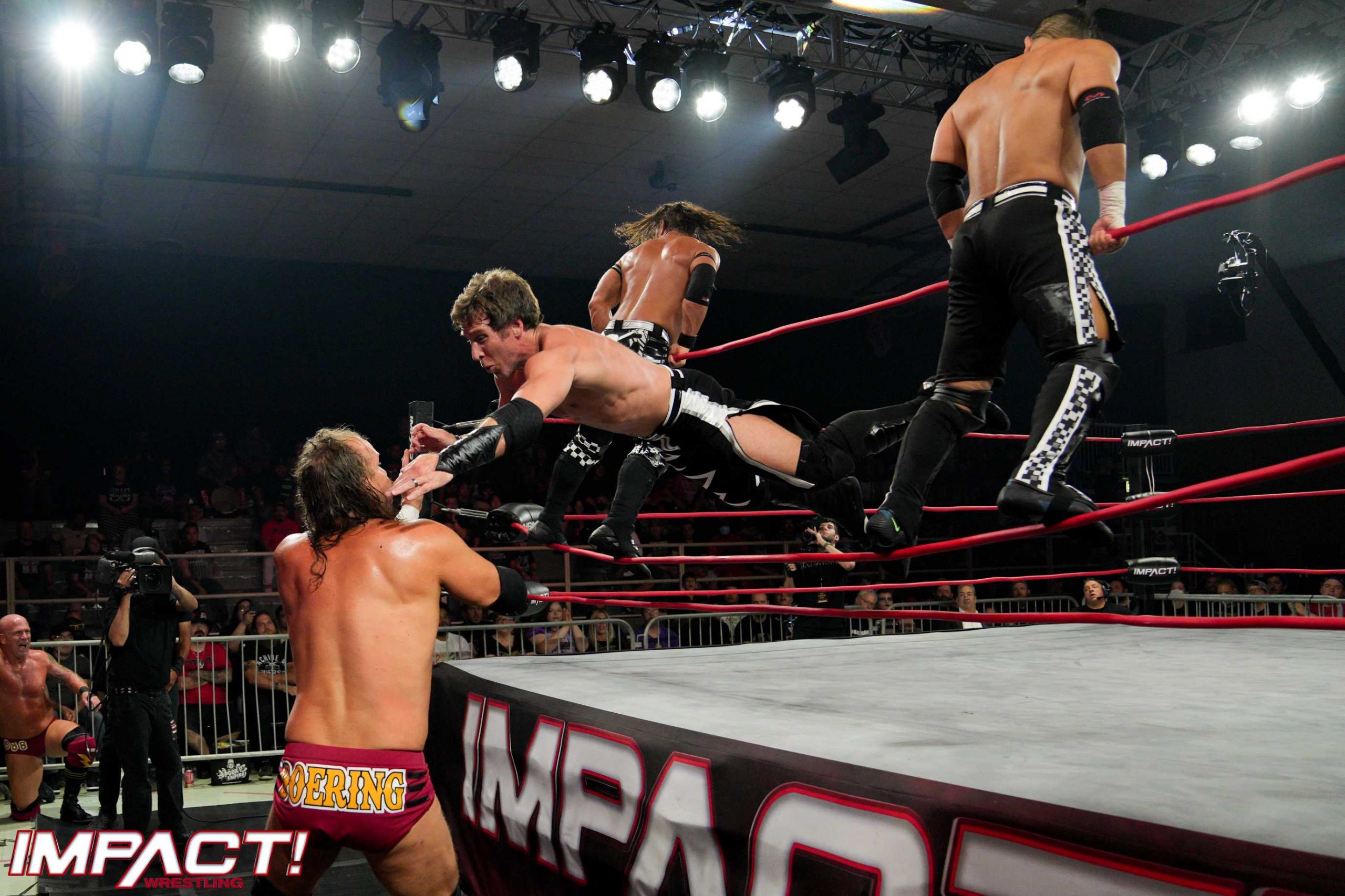 Match #6: Violent by Design vs Time Machine
The heel trio of Joe Doering, Eric Young and Deaner are out together first. Someone had a Joe Doering face sign in the crowd which is something I wouldn't have expected to ever see. The popular trio of Kushida, Alex Shelley and Chris Sabin were out next to the Motor City Machine Gun theme. Hannifan announced that Sabin and Shelley team up with Jay Lethal to face Wardlow and FTR at the next AEW PPV: All Out. I haven't watched Dynamite this week so that's news to me but that should be a tremendous match.
(Commercial break)
This is Time Machine's first time teaming as a three-man outfit. It's Kushida and Doering starting out and Doering runs through Kushida with a shoulder block. Doering tags Young in and Kushida makes it to the corner to tag in Shelley. Young hits a backbreaker then tags in Deaner. Shelley tags in Sabin and they double team Deaner with a dropkick from Sabin as Shelley puts him in a leg lock. Kushida is in now for a dropkick then Sabin hits another one. The referee is showing some leniency here. Young has had enough so he comes in and cleans house. Kushida and Shelley hold Young down in the corner whilst Sabin hits a huge dropkick. Sabin runs at Deaner who throws him into the top turnbuckle followed by hard knees to the mid-section. Deaner tags in Doering who catches Sabin as he runs off the ropes. Doering hits a power slam followed by an elbow.
(Commercial break)
Deaner is taking Sabin apart in the corner as we come back from the ad break. Young tags in and hits a neckbreaker on Sabin for the first 2 count of the match. Young drags Sabin back to the corner and tags in Doering who quickly tags in Deaner. Deaner connects with a side Russian Legsweep and Doering hits another elbow drop. Deaner rakes the eyes of Sabin and the crowd boos loudly. Deaner holds Sabin in the ropes and tags in Young. Another tag in to Doering who taunts the crowd. Doering stomps away at Sabin then tags in Young again. Young with a back suplex for a 2 count. Young stomps away at Sabin who tries to roll under the ropes. Another tag in to Doering who kicks Sabin hard in the corner. Deaner then tags in and he chokes Sabin against the bottom turnbuckle. Young tags in now and he continues the choke in the corner. Young tags in Deaner and they double team Sabin in the corner. They whip Sabin across the ring to the opposite turnbuckle but Sabin avoids the contact, rolls across to his side and tags in Kushida who is on fire. Kushida with a handspring elbow to Young. Kushida misses a big kick but Young ducks and hits a huge right hand. Deaner tags in and misses a clothesline, allowing Kushida to tag in Shelley. Drop toe hold on Deaner and Kushida follows up with a big kick to the left arm of Deaner. Shelley targets the arm and hits a series of clotheslines. Sabin tags and runs to the opposite corner to take out Young with a dropkick. Deaner charges in but Sabin avoids the attack. Sabin drags Deaner over to his corner and tags in Kushida. Time Machine take turns at hitting Deaner with running strikes in the corner. Shelley takes Deaner down face first into the middle turnbuckle. Sabin lifts Deaner up for the Cradle Shock but Young breaks it up with a knee lift to Sabin. Young stomps away at Shelley and takes down Kushida with a right hand. Young and Deaner charge at Shelley and Kushida but miss and fly out of the ring. Doering misses a clothesline and he slowly falls out of the ring, allowing Kushida and Shelley to hold the middle rope open as Sabin hits a running dive to the outside. Sabin throws Deaner back into the ring and connects with a crossbody but Deaner rolls through for a close 2 count. Shelley runs in and hits a cutter on Deaner. Sabin lifts up Deaner for the Cradle Shock but Deaner rakes the eyes and tags in Young. Young hits a Death Valley Driver but Kushida breaks up the pin. Doering runs in and nails Kushida and Sabin with a running crossbody. Young rams Sabin's head against the top turnbuckle and tags in Doering. Doering tags Young then hits a running power slam on Sabin. Deaner follows up with a diving headbutt then Young with a diving elbow drop for a 2 count. Young can't believe it and he sets up Sabin for the Piledriver. Sabin fights out of it and flips Young over. Deaner tags in and takes out Shelley and Kushida before Sabin can make the tag. Deaner runs at Sabin but Kushida puts his body in the way and absorbs the attack to the spine. Shelley runs in with an Atomic Drop to Deaner followed by a dropkick. Then they follow that with the same on Young. Doering wants the Revolution Bomb but is taken out by double enziguiris from Sabin and Kushida. It's breaking down in the ring now as Doering is taken off his feet. Deaner comes back in the ring and is met with a big running kick in the corner. Sabin hits the Cradle Shock on Deaner for the pinfall victory after 15 minutes.
Winners by pinfall: Time Machine
Analysis: *** It was a decent main event that had an excellent final few minutes but the pace was slow before that with frequent tags in the heel corner really stopping any flow of the match, similar to the Knockouts Tag Team title match earlier in the night. Violent by Design seem to lose every time they build any kind of momentum so this is another example of that. Kushida is a great addition to Impact and I hope he continues to have meaningful matches for a long time to come. I'm not sure what his Impact deal is, but the more shows he is on the better.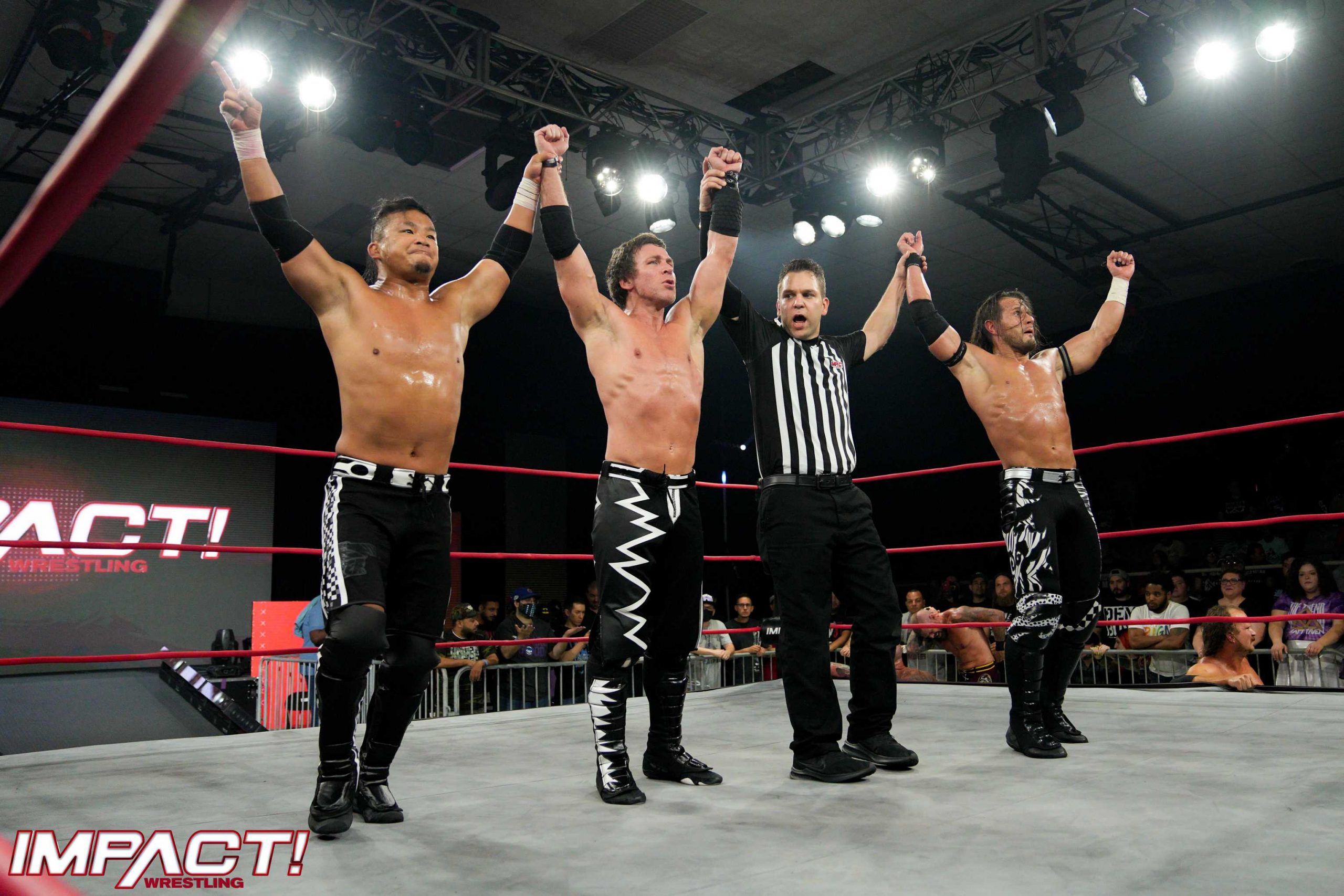 The trio of Time Machine celebrated their victory as the show ended.
Final Rating: 5.5/10
It was an underwhelming episode of Impact Wrestling this week. It had a strong card going in, but the matches didn't lead up to the hype or were structured in ways that suited the heel teams which affected the flow of the matches. I understand the 'face-in-peril' dynamic of tag team wrestling, but to do in-out tags for minutes on end frustrates not only me as a writer, but as a fan too because you focus on the tagging rather than the action that is taking place. The only match that I really enjoyed was the main event but even that was a touch disappointing. Karl Anderson and Mike Bennett, and then Josh Alexander and Vincent had short but decent matches, the Knockouts Tag Team Championship match was not at the quality I expected for the 4 featured combatants and the other two matches were squashes which is fine as they made sense. I enjoyed most of the promo work and backstage segments as usual. Eddie Edwards' promo fit his heel persona perfectly. I enjoyed the carnage of the segment between Sami Callihan, Moose and Steve Maclin. Whenever those 3 are given time, they produce quality TV. I'm not sure why they aren't featured as much, but they definitely should be.
At this stage, there are some feuds that are building nicely for either Victory Road or Bound for Glory, with only the main event for the Pay Per View on October 7th set: Josh Alexander defending the Impact World Championship against Eddie Edwards. Next week's episode featuring the Tag Team Championship match and #1 Contendership for the Knockouts Championship already looks better on paper than tonight's show.
Any feedback or comments are welcome. My email address is kristian.l.thompson@gmail.com in case anybody wants to get in touch with me and Twitter is @thomok6 as well. Thanks for reading!