Impact Wrestling Review – August 18, 2022
This week's edition of Impact Wrestling featured a 6-man elimination match to determine Josh Alexander's challenger for the Impact World Championship at October's Bound for Glory. X-Division Champion Mike Bailey was in action, defending his championship for the third time in 8 days. How will he fare against Bullet Club's Chris Bey? Also on the show, Heath looks to continue his recent dominance over Honor No More, as he takes on Kenny King in singles action. The road to Bound for Glory begins tonight!
Last Friday night on Impact's Emergence special, Josh Alexander successfully defended his championship against Impact veteran Alex Shelley. Shelley tried everything in his arsenal to win the championship in his very first title match, but ultimately came up short. Knockouts Champion Jordynne Grace was also successful in her championship defence, outlasting Mia Yim in a terrific contest. Afterward, Grace was confronted by the undefeated Masha Slamovich. Will Masha establish herself as the new challenger to Grace's title on tonight's show. Also at Emergence, Honor No More defeated Bullet Club in a 10-man tag match, earning a shot at the Good Brothers' World Tag Team Championships. What mind games will the Impact intruders look to play after cementing a chance at championship gold?
Impact has taped a few weeks of shows after being in Chicago over the weekend. I hope to avoid spoilers as the weeks go on! The next Impact Plus special is Victory Road on September 18th, followed by a big Pay Per View in Bound for Glory on October 7th. Over the next few weeks, I am sure we will see build-up to both of these shows, with some major matches established for the PPV.
Impact Wrestling 18/8/22 from Cicero Stadium Chicago, Illinois
The opening video focused on the Impact World Championship match at Emergence between Josh Alexander and Alex Shelley. It was a hard-hitting and even match up, that I would put in my top 10 matches of the year so far. We are straight into the action for the evening, with an X-Division Fatal 4 Way.
Match #1: Fatal 4 Way match: Black Taurus w/ Crazzy Steve vs Rey Horus vs Laredo Kid vs Trey Miguel
Miguel is the only mask less man in this contest so let's hope I have my mask knowledge up-to-date. All 4 men start off in the ring and Black Taurus is quickly targeted as the largest man in the contest. A triple dropkick takes him to the outside of the ring. Laredo Kid hits an early suicide dive to Taurus. Miguel and Horus square off in the ring now. Miguel gets hung up on the ropes and Horus takes him to the outside with a twisting arm drag. In comes Laredo Kid now and he hits a pair of tilt awhirl backbreakers on Horus. It's a frenetic pace as Taurus re-enters the ring but Kid takes him down with a hurricanrana. Taurus comes back with a reverse Slingblade and a Crucifix Bomb. Miguel is back in now and takes it Taurus with a series of kicks that don't seem to faze Taurus. He hits a huge backbreaker on Miguel then a pop-up Samoan Drop on Kid. The crowd is firmly behind Taurus as he goes to work on Horus. He charges at Horus but flies over the ropes. They battle on the outside and Taurus takes down Horus with a big headbutt. Miguel flies through the air and dives over the top rope to connect with a hurricanrana on Kid, who is slung into Taurus also taking him out. All 4 men take a bit of a breather on the outside of the ring. Kid and Miguel slowly roll back into the ring and exchange forearms. Kid gets the upper hand until Miguel levels him with a kick and a Brainbuster for the first 2 count of the match. Horus sneaks in and Taurus turns him inside out with a clothesline. Kid is back in now and he connects with a reverse hurricanrana on Taurus for a 2 count. That was impressive. Taurus throws Kid into the corner but misses a flying attack and goes sailing to the outside. Miguel runs the ropes and hits Taurus with a diving Senton over the top rope. Now it's Horus' turn to run the ropes and he hits a twisting moonsault on both Miguel and Taurus. Finally, Kid lands on all 3 men with a moonsault of his own. He then throws Taurus face-first into the ring post. These two are first back into the ring. Kid runs the ropes and Taurus has him up in a Torture Rack, but Kid reverses it into a perfect Crucifix Bomb. Taurus is wobbly now and Horus nails him with a spinning DDT. Miguel is back in and catches Horus with Cross Rhodes. Miguel is then wiped out by a jumping DDT from Laredo Kid. Kid is starting to get fired up but Taurus catches him from behind and nails him with Powerbull for the 3 count after 8 minutes.
Winner by pinfall: Black Taurus
Analysis: ***3/4 A fantastic opening match that had about as much action as you could possibly pack into 8 minutes. The crowd were firmly behind Taurus, which isn't that surprising, but I was expecting more support for Trey Miguel as he's usually one of the most popular members of the roster. It's a good sign that Taurus is getting over. It's a smart way to open the show, to set the tone for the rest of the night with the audience, as the X-Division always sets a high bar and brings great energy. One thing that annoys me though is the contrived spots on the outside where one competitor is standing and waiting to be hit with a moonsault or similar move, then it's two waiting for the third one to hit a move and so on. It's not just Impact but most multi-man matches that happen in companies. It's probably not that hard to be a bit more inconspicuous with your spots, is what I'm hinting at.
THIS is how you kick off a pro wrestling show – @Taurusoriginal wins a FANTASTIC four way. #IMPACTonAXSTV@TheTreyMiguel@Laredokidpro1@rey_horuspic.twitter.com/MdEiMpCKDs

— IMPACT (@IMPACTWRESTLING) August 19, 2022
There was a video package putting over the dominant debut of Killer Kelly. Some of the Impact jobbers, including Ziggy Dice and Johnny Swinger were watching backstage acting impressed, when Savannah Evans and Tasha Steelz barged in, with Steelz saying that they mustn't have seen any Tasha Steelz matches. Steelz listed her achievements when Killer Kelly walked in. Kelly said not to take anything personally and that she's keeping her eye on her. Evans walked in front of Steelz to protect her. Kelly said if she's going to get in the way then she can remove Evans now or in the ring later.
Analysis: A simple way to set up a match and get more people on TV. It's interesting that the first time we have heard from Kelly is during a short backstage segment.
Josh Alexander and Rich Swann are chatting backstage. Swann says this 6-man elimination match is his opportunity to get the World Championship match. Alexander said he would love that match. Vincent from Honor No More interrupted. Vincent said Alexander is Impact's workhorse and that they're going to keep him running around and around until he collapses. He said that Eddie Edwards will be #1 contender after tonight.
Analysis: The cockiness of Honor No More is coming to the fore as they have a Tag Title shot and could possibly have a World Title shot for Edwards after tonight.
The commentary team of Matthew Rehwoldt and Tom Hannifan hype up the main event as well as Savannah Evans vs Killer Kelly for later in the night and Mike Bailey defending his X-Division Championship against Bullet Club's Chris Bey.
Match #2: Kenny King w/ Vincent vs Heath
This match has been brewing for a number of weeks, as Heath continues to hunt down Honor No More members. Last Friday at Emergence, Kenny King removed himself from the 10-man tag match in order to watch out for a Heath attack, but again fell victim to the Wake Up Call. The match starts off with both men throwing a flurry of right hands. Heath went for a Wake Up Call early but King held the ropes for safety. King rolled out to the floor to get some distance. Heath had enough of the stalling so went after King on the outside. Vincent tries an attack but Heath avoids it and rolls King into the ring. He stalks Vincent which allows King to fly over the top and take out Heath as we go to a break.
(Commercial Break)
Back to the action and King has Heath in a modified headlock. Heath tries to wriggle out but King hits a scoop slam. King backs Heath into the corner and nails him with a right hand and a suplex. King misses a springboard legdrop and Heath takes advantage with right hands of his own. Heath hits a rising knee lift and a superkick, followed by a neckbreaker for a close 2 count. Vincent tried to distract Heath on the ring apron and King went for a running splash in the corner. Heath avoided it and hit the Wake Up Call for the 3 count after 3:30.
Winner by pinfall: Heath
Analysis: **1/2 A short match to put over Heath, who is a popular babyface on a good run as a rebellious character. I thought it would be a longer match as they've been building Heath up to face Honor No More members but they put him over clean and quickly here.
.@HEATHXXII strikes another blow to Honor No More. #IMPACTonAXSTV@KennyKingPb2pic.twitter.com/db7A6Htlow

— IMPACT (@IMPACTWRESTLING) August 19, 2022
Post-match, the rest of the Honor No More members surrounded Heath at ringside. Heath tried to fight them off but the numbers game was too great. They all took their shots at Heath until Edwards stopped Bennett and instructed PCO to take out Heath. PCO was a bit conflicted which allowed Heath to hit the Wake Up Call on Bennett and sneak out through the crowd.
Analysis: Dumb stuff from Honor No More who can't even beat up a man 6 on 1, but it puts over the tension in the group between Edwards and PCO.
Kushida, Alex Shelley and Chris Sabin are backstage reflecting on their losses at Emergence. Kushida and Sabin lost to Violent by Design in a tag team match. Sabin says they lost because it was really 3 on 2. Sabin said that next week it will be 3 on 3: VBD vs Kushida, Sabin and Shelley.
Analysis: That will be great and hopefully is the main event for next week. The Impact Wrestling EVP Scott D'Amore is excited too.
I've waited a long time to see this it's been a dream of mine to have these 3 men team together in an @IMPACTWRESTLING ring.#IMPACTonAXSTVhttps://t.co/g2Lufs5AeX

— Scott D'Amore (@ScottDAmore) August 19, 2022
Honor No More were backstage arguing about what just happened in the ring. Matt Taven and Mike Bennett went to see Scott D'Amore. They sucked up to him in order to get their tag team title match. D'Amore informed them that Doc Gallows is injured and will be out for a few weeks. Maria said it was just an excuse to avoid Bennett and Taven, and that D'Amore should make the match a handicap match. D'Amore said since they're ready for action, it will be Karl Anderson vs Bennett next week. If Anderson wins, then Maria is banned from ringside for their tag team title match.
Analysis: That will be a decent match up with another stipulation. They've done well to book matches meaningfully lately.
Match #3: Savannah Evans w/ Tasha Steelz vs Killer Kelly
Evans entered first, followed by Kelly with her unique entrance. Kelly put her mouthguard in as she received a positive ovation from the Impact Zone. Kelly jumps on Evans' back and tries for a sleeper hold early on. Evans throws her off and grabs Kelly by the throat. She flings Kelly into the corner and misses a big boot. Kelly fights back with right hands. Evans goes for a right but Kelly grabs her arm, then she tries a left and Kelly restricts that arm too so she can nail a big headbutt. Evans backs into the corner and Kelly hits a running dropkick for a 2 count. Kelly can't lift Evans up for a Tiger Driver so Evans gets the upper hand with a German suplex. Evans tries for the Full Nelson but Kelly rolls through for a 2 count. Kelly locks in the Killer Clutch and Evans taps out after 4 minutes.
Winner by submission: Killer Kelly
Analysis: **1/2 The result was obvious, even though Evans is a more powerful athlete. Kelly was able to use her ring smarts to overcome her bigger opponent and pick up the win. Evans got in a good amount of offense, which looked impressive, but they're building up Kelly to face Steelz so giving her the win early in her push is the right call. Kelly is over with the crowd early on in her return to Impact.
.@Kelly_WP looks @RealTSteelz right in the eyes as she scores a submission victory over @SavannahEvansNV. #IMPACTonAXSTVpic.twitter.com/N0CXTBYKYo

— IMPACT (@IMPACTWRESTLING) August 19, 2022
Backstage the trio of Rosemary, Jessica and Taya Valkyrie were discussing Jessica's 'first' match. Rosemary was acting frazzled after they lost the tag titles and also Rosemary lost against Gisele Shaw on Before the Impact.
Analysis: There was a bit of tension teased there, but that's been there with Jessica acting heelish for a little while.
They showed a recap of Jordynne Grace's win over Mia Yim at Emergence. Jordynne was interviewed backstage by Gia Miller. Grace discussed being confronted by Masha Slamovich after the match. She said that being the champion means you face everyone on the list, and Masha is at the top of the list right now. Grace put over Mia Yim until Deonna Purrazzo and Chelsea Green (VXT) interrupted. The heel tag team championships teased Grace for having the shortest tag title reign ever. Grace said she would fight them both by herself if need be. Mia Yim came into the picture and said that her and Grace would take on VXT for the tag titles. VXT stormed off and Mia shook Grace's hand which she didn't get the chance to do at Emergence.
Analysis: There are a lot of interruptions to backstage segments tonight. That will be a great Knockouts match down the line.
Match #4: X-Division Championship: Mike Bailey (c) vs Chris Bey
Another week, another random opponent for Bailey. He's a great fighting champion but I'd like him to be in an ongoing feud soon, if he wins this match. Hannifan listed the impressive names that Bailey has knocked off since he became champion: Trey Miguel, Alan Angels, Deaner, Rocky Romero and Jack Evans. They lock up and Bailey takes the early advantage with an arm drag. Bailey with a shoulder tackle but Bey kips up and hits one of his own. Bailey takes Bey to the outside with a dropkick. Bey is frustrated and begins to walk away, but eventually hops back up on the apron and hangs Bailey up in the ropes. Bey tries to throw Bailey into the ring post but Bailey reverses it and Bey jumps onto the steel steps to avoid the contact. They face off on the ring apron and Bailey steps back inside. Bey blocks a right hand and springs back in over the top rope to hit a DDT for a 2 count. Bey locks Bailey in a head scissors in the centre of the ring. Bailey arches his back to turn it into a pinfall for a 2 count. Bailey hits a single-leg dropkick as he starts to build momentum. He nails Bey with a flurry of kicks but misses his running senton splash. Bey hits an uppercut in the corner but misses a flying attack. Bailey connects with a kick to the head of Bey and a running punt to the chest. He misses another kick and Bey rolls through for a 2 count. Bey hits a Flatliner and Bailey rolls outside the ring to avoid a pinfall. Bey runs the ropes and leaps through to the outside but Bailey rolls back in and hits a springboard moonsault. Bey is tossed back in but he quickly recovers and hits a diving suicida, but he leapt so far that he barely grazed Bailey. Back in the ring and Bey hangs Bailey on the ropes in a very uncomfortable position. Bey climbs to the top and hits a double stomp as Bailey is lying on top of the ropes. Bey tries for a frog splash but Bailey moves, then Bailey attempts his running kick in the corner but Bey is ready for it. Bey rolls through and hits an enziguiri and a sitout powerbomb for 2. "This is awesome" chants from the crowd. They lock up in the middle of the ring and Bey hits a back elbow then runs the ropes. Bailey follows him and sweeps his legs, causing Bey to get hung up in the top rope. Bailey hits a superkick but Bey kips straight up! Bailey backs into the corner but blocks a Bey attack with double knees. Bailey hits Ultima Weapon for the pinfall win after 8:30.
Winner by pinfall AND STILL X-Division Champion: Mike Bailey
Analysis: ***1/2 A great match up here between two athletic wrestlers. The start was a bit odd with Bey backing out but I think they were putting over his frustration that Bailey was on top early. It was probably too early in the match to do a spot like that. This was another impressive title defence for Bailey who is really shining this year.
AND STILL X-Division Champion – @SpeedballBailey! #IMPACTonAXSTVpic.twitter.com/baV1dodziw

— IMPACT (@IMPACTWRESTLING) August 19, 2022
The Impact Plus Flashback Moment of the Week was from Victory Road last year where Christian Cage (with AEW) successfully defended the Impact World Championship against Ace Austin.
Analysis: This was after Rich Swann lost the World Title to Kenny Omega and Impact was without a champion for a few months. I was not a fan of that storyline, as Don Callis and Tony Khan continually (kayfabe) buried Impact in their promos.
Backstage Bhupinder Gujjar confronted Digital Media Champion Brian Myers. Myers told him to get to the back of the line but Gujjar grabbed him and said Myers pissed him off and he wants another chance.
Analysis: A simple exchange to continue the feud.
Match #5: 6-Man Elimination Match for the #1 Contendership to the Impact World Championship: Eddie Edwards vs Moose vs Steve Maclin vs Sami Callihan vs Bandido vs Rich Swann
I am watching this as I type without spoilers so I am going to predict that Edwards wins here. It makes the most sense storyline wise; Honor No More can challenge for the World Championship as Alexander looks to defend Impact Wrestling. Steve Maclin, Sami Callihan and Moose are in their own feud, Bandido is just randomly there and Swann has no real momentum and his time as top contender has passed.
Only two men are allowed in the ring at the same time and anyone can tag in at any time. It's Bandido and Swann starting off, as they shake hands. They exchange some athletic counter moves, including hurricanranas which they both counter into very impressive handstands.
Bandido backs into the corner and Edwards tags in and Swann tags in Callihan. Callihan and Edwards exchange right hands and Callihan takes Edwards down with a clothesline. Callihan takes Swann back in and hits a Death Valley Driver on Edwards. Swann flies through the air and takes out Edwards and Maclin on the outside.
(Commercial)
It's still Swann and Edwards the legal men. Swann runs the ropes but Moose grabs him by the hair and throws him down to the mat. Moose tags out Edwards and Moose goes to work on Swann, choking him out against the middle rope. Moose tags Maclin in and they chop away at Swann in the corner. Maclin hits a backbreaker on Swann for a 2 count. Maclin stomps away at Swann in the corner. Swann is fighting off both Moose and Maclin, and makes the tag to Callihan. Callihan storms in and clotheslines Maclin before Moose charges at him in the corner. Callihan dodges out of the way and Moose takes out Maclin! Callihan chops away at Moose then takes him down with a clothesline. Callihan measures Maclin for the Cactus Driver 97 but Maclin hits a thumb to the eyes and takes Moose back in. Maclin and Moose try the double team but Callihan fights them off with elbows. Maclin rakes the eyes of Callihan, allowing Moose to hit the spear to eliminate him.
Sami Callihan has been eliminated
Maclin sneaks up behind Moose and rolls him up for the 3 straight away!
Moose has been eliminated
Moose is furious at Maclin but Callihan drags him out of the ring and continues the brawl. Bandido and Maclin are now legal. Eddie Edwards hits an enziguiri on Maclin, allowing Bandido to run the ropes and hit the 21plex to eliminate Maclin.
Steve Maclin has been eliminated
(Commercial break)
Swann and Bandido are the legal competitors now. They exchange kicks before Bandido hits a stiff forearm. Swann is rocked and falls into the corner, allowing Edwards to tag in. Edwards drops his knee right into Bandido's neck. Edwards chops down Bandido and then follows up with a headbutt. Edwards whips Bandido into the corner but Bandido avoids a running attack. Bandido climbs to the top and nails and twisting crossbody. Edwards tags Swann in by slapping him in the face. Swann and Bandido exchange forearms. Bandido runs the ropes and hits a huge Spanish Fly for a 2 count. Bandido nails Swann with a pop up cutter for 2. Swann fights back with a handspring cutter of his own for a close 2 count. Bandido is slow to sit up so Swann kicks him hard in the side of the head. Swann climbs to the top and hits a perfect Phoenix Splash but Edwards runs in and throws Swann into the ring post. Edwards hits the Boston Knee Party on Bandido to eliminate him.
Bandido has been eliminated
The crowd is not happy with that elimination! So it's down to Swann vs Edwards as the final 2. Swann is down in the corner after Edwards put him shoulder first into the steel post. Edwards is targeting the left shoulder of Swann and he nails him with a hard clothesline for a 2 count. Edwards takes down Swann with a back elbow for another 2 count. Edwards punishes Swann with stiff forearms across the forehead. Edwards launches Swann sternum first against the top turnbuckle. Edwards starts taunting the crowd and this gives Swann the opportunity to hit a hurricanrana. He follows up with a superkick and a neckbreaker. Swann runs at Edwards and connects with a step-up kick to the head. Edwards wisely rolls to the outside and grabs a kendo stick from under the ring. Swann leans through the ropes to grab Edwards and the official holds him back, so Edwards nails Swann in the head with the kendo stick but Swann kicks out. The referee must have his ear plugs in. Swann avoids the Boston Knee Party so Edwards tries a Tiger Driver but Swann reverses it into a hurricanrana with a pin for a very close 2 count. Edwards runs at Swann but Swann rocks him with a kick to the head. Swann runs the ropes but Edwards catches him with the Blue Thunder Bomb. Edwards hits the Boston Knee Party but Swann kicks out again! Edwards hits the Die Hard Driver for the 3 count after 19 minutes.
Rich Swann has been eliminated
Winner by pinfall and #1 Contender for the Impact World Championship: Eddie Edwards
Analysis: ***3/4 I'm a sucker for a good ol' elimination match! They are tough to rate as it's like a lot of mini-matches within the one big match. This one was lots of fun and followed the 2022 formula of elimination matches where there's a decent opening, a flurry of eliminations and a lengthy singles bout at the end. The first three eliminations of Callihan, Maclin and Moose all made sense as they're involved in the same feud. I'm pleased that Rich Swann made the final 2 as it seems he might be back to being booked more effectively. Bandido got a great reception and all of his work is very crisp. I'm not sure what his deal with Impact is but he's popular from the few showings he has had in the company. Although I am not thrilled with an Eddie Edwards win and possible championship reign, it makes perfect sense and they could really make some decent television with the interactions between HNM and Josh Alexander. At the moment there are no other top-level heels that aren't already involved in feuds, so going with Edwards is a safe bet as he's a talented performer and in his new heel role is good at getting heat. I think he and Alexander will have a terrific match at Bound for Glory.
.@TheEddieEdwards is Bound For Glory. #IMPACTonAXSTVpic.twitter.com/LvHDM3pfBJ

— IMPACT (@IMPACTWRESTLING) August 19, 2022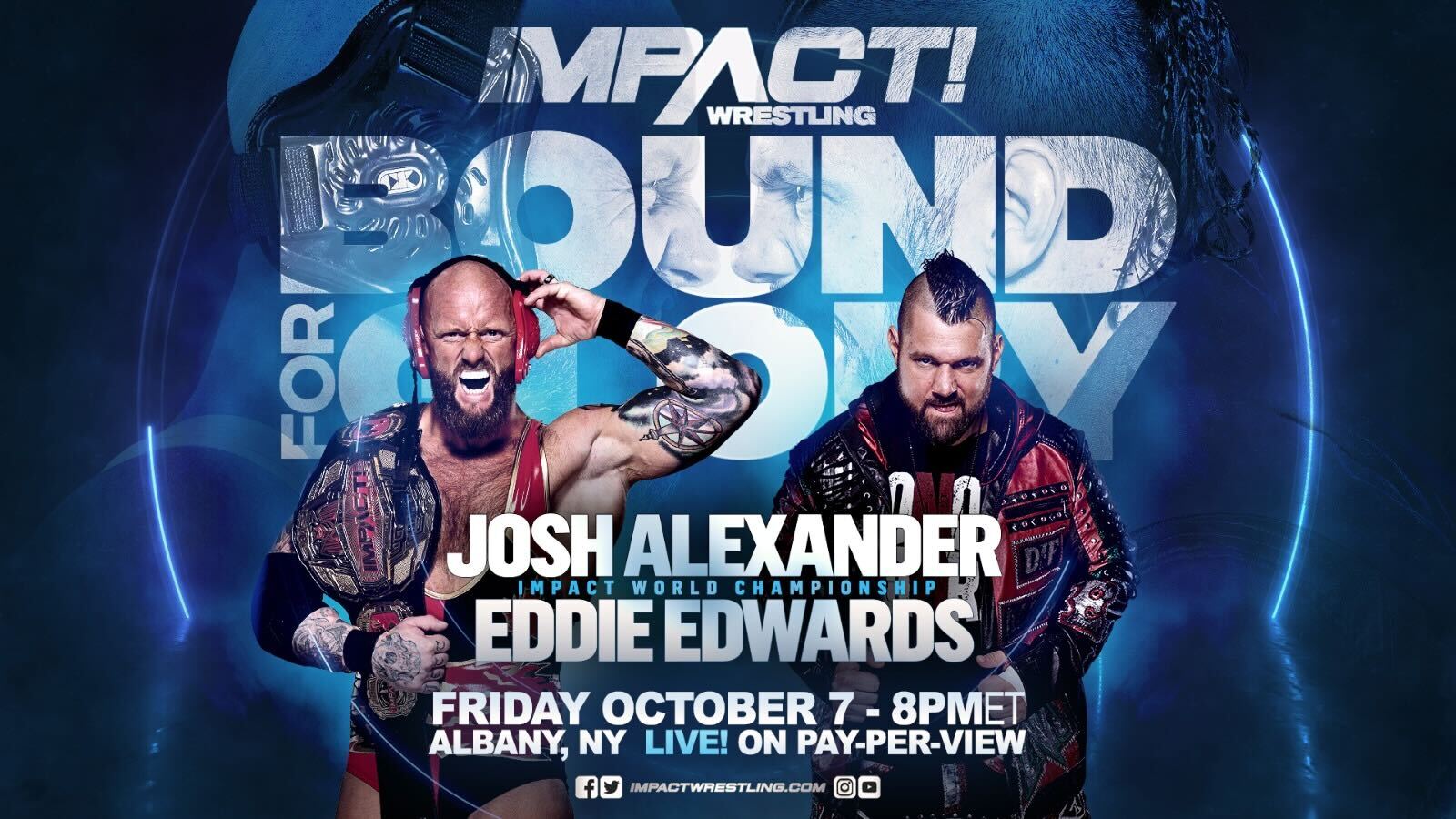 Final Rating: 7/10
It was another pretty good episode of Impact. About halfway through I was thinking that we were in for a mediocre edition this week but the terrific X-Division Championship match between Bailey and Bey, and then the main event, really brought the show home and finished it off in a strong manner. The opening contest between the 4 X-Division competitors was an exciting way to kick off the show, but it felt a little flat with a fair few backstage segments that weren't all that interesting this week. There was only one, short Knockouts match, with Killer Kelly looking impressive over Savannah Evans. We did, however, see some follow up between Jordynne Grace and Mia Yim, as it seems they're gunning for VXT's newly-won tag team championships. With the Bound for Glory main event set, I look forward to the rest of the card building up, as we are about 6 weeks away from the show.
Any feedback or comments are welcome. My email address is kristian.l.thompson@gmail.com in case anybody wants to get in touch with me and Twitter is @thomok6 as well. Thanks for reading!