TJRWrestling WWE WrestleMania 32 Preview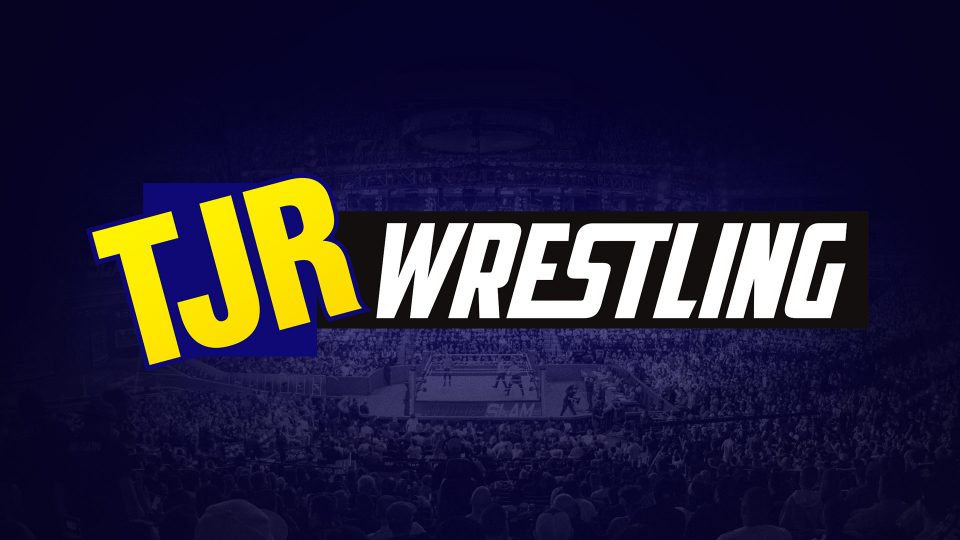 John: Welcome to the TJRWrestling WrestleMania 32 Preview. I'm currently sitting in a hotel room in downtown Dallas, Texas, which is where WrestleMania is taking place. Actually it's going on at AT&T Stadium in Arlington, Texas, but it's close enough.
There's a lot going on here in town and I haven't written a lot this week because it's kind of a vacation for me although there is work to do too. The crew is back together again to set up the over five hour-long show (counting the Kickoff Show) just as we do for every WWE pay-per-view event. My parts are going to be really short because I need to explore Dallas some more, but I'll make my choices clear like usual.
Joining me for the preview are Christian Michael, Matty J. Douglas and Heather Hickey.
Kickoff Match for the United States Title: Kalisto vs. Ryback
Christian: It's official that the United States Championship means nothing again. That aside, there are two questions that need to be asked here, and the one WWE deems more important will determine the winner. Does Ryback need a title to cement himself as a newly turned heel? And, are they serious about putting over Kalisto as the new Rey Mysterio? A case can be made for both.
Winner: Kalisto retains the United States Championship.
Heather: The only time I've ever had any use for Ryback was during his run with Curtis Axel and they spent most of their time just enjoying the hell out of being with each other. Telling road stories and smiling like a couple of lovable idiots. That's it. This is not the hand that Kalisto should have been dealt, as he is super talented and exciting, and all of that is going to be sucked into the Ryback vacuum. The only way to redeem this would be for Kalisto to flip, flop, and fly around The Big Guy until Ryback gets dizzy and collapses for the 3-count without getting a single move in. I know I already asked for Lana in the suit, but I'm also asking for a Kalisto victory. It must be so.
Winner: Kalisto. Then hit the reset button on what you're doing with him and give him some worthy opponents! This is worse than hot garbage. It's the juice from the hot garbage.
Matty: If there was going to be a multi-man ladder match for a singles title on this show, this should have been it. Does anybody really care about this match? I'm including the competitors when I ask this question, because nothing they've done for the last several weeks makes me believe that either of them gives a crap about this match or their rivalry.
Ryback has been Sheamus-level boring for the last month or so, and Kalisto has lost a lot of steam since his surprising win to capture the United States Championship. In all honesty, who wins this match is of very little concern to me.
Winner: Kalisto (because I can't handle boring Ryback as champion getting TV time)
John: This doesn't feel like a very exciting match because there's really not much to the story other than Ryback being a bully by saying a big guy like him is better than a little guy like Kalisto. It also may be a poor choice for an opener because the crowd is likely to be apathetic towards a Ryback match opening a long card. As for the winner, I sense a title change, with Ryback leaving with the US Title because WWE seems intent on trying to push him as a heel. Might as well do it with a title around his waist.
Winner and New US Champion: Ryback
Kickoff Match: The Usos vs. The Dudley Boyz
Christian: If you look through the history of WrestleMania, there have been very few two-on-two tag team matches booked and most of those were for the Tag Team Championships. I certainly appreciate WWE trying to build a feud between two teams that doesn't involve the titles.
This should really be a Tables Match, given how much they've been involved in the build up to WrestleMania. This could really go either way, and since The Dudleys have a DVD coming out shortly after WrestleMania I'll take them.
Winners: The Dudley Boyz
Heather: On paper, I like this matchup a lot. A young, high-flying team against a seasoned hard-hitting team – the operative word being TEAM. There's nothing quite as special as a true tag match in which the participants have patented moves that depend upon teamwork. When the partners know each other well and have a deep reserve of offense to thrill the fans. These teams have that! But will they use it? This match should be the legit highlight of the pre-show, and I hope the Usos and Dudleys realize that they're the anchors meant to entice viewers for the main program. It's a big deal. Let do this, boys!
Winners: The Dudley Boyz don't need the win but I'd like to see them get it, as a nod to their 20th anniversary as a team.
Matty: A huge part of me was wishing that they would get both these teams onto the main Wrestlemania card. I really wanted them to have a triple threat ladder match for the Tag Team Titles with The New Day. The New Day are kind of the new Edge and Christian, The Usos are the new Hardy Boyz and The Dudleyz could brag about they're the only one of the there original TLC teams to survive and still be thriving.
As kickoff matches go this could be fun and compelling, especially because of Bubba's expert trash talk during matches these days. Win or lose, I expect the Dudleyz to go through a table.
Winners: The Dudley Boyz (because I think they're gearing up for one last run with the tag titles)
John: It's nice to see a tag match on the card featuring teams not in the title picture because it's a good sign for WWE's tag division in terms of adding depth to the roster. The story calls for a win for The Usos since the Dudleys turned heel by attacking them. That likely means there's payback coming in the form of an Usos win. Will the crowd care about this one a lot? Probably not.
Winners: The Usos
Kickoff Match: Natalya, Paige, Alicia Fox, Brie Bella and Eva Marie vs. Lana, Tamina Snuka, Naomi, Emma and Summer Rae
Christian: This match should probably be Lana vs. Brie Bella in a singles match, since most of the build to this has been between these two. No one knows if Lana is any good in the ring, hence the ten Diva Tag Match. I have no problem with getting as many people as possible on WrestleMania, so this match doesn't bother me. It'll likely be a quick cluster anyway.
Winners: Team Total Divas
Heather: This match shouldn't be as much of a stinker as it is – the majority of the women involved are truly talented, but are tainted by the stench of a couple crappy wrestlers who've been added to the mix. This is the WrestleMania way, so I'm not going to get too worked up about it. At least there are no "celebrities" in the match, and these are all women who work hard year-round. Everyone will get her turn to showcase her signature move, and I hope that includes Lana's only move, that crazy high kick (also, could she please wrestle in one of her original Ravishing Russian suits? I don't ask for much). No matter who wins (and I'm really not sure who we're supposed to want to win), this will end with some kind of dissention, finger pointing, and hair pulling.
Winners: The team with the Bellaon it.
Matty: This match makes zero sense. People who have been feuding for much of the last year are teaming in this match. Eva was brought in as a hero to even the odds and got booed out of the building. This match looks to be nothing but hot garbage, and we'll all be dumber for having watched it on Sunday night.
Winners: Brie Bella's team (because she's reportedly retiring the next night… but really, nobody wins with this match)
John: Here's one of those matches where WWE wants to get ten women in a match because they're not in the title picture. There's nothing wrong with it. I just wish they did more for the story other than women suddenly becoming allies one or two weeks before the show. Anyway, this is Lana's first official match and she may not bump much except to take the fall when Brie hits her finisher to get the win. We're supposed to care, but many won't.
Winners: The Team With the Soon Retiring Brie Bella
Third Annual Andre the Giant Memorial Battle Royal
Christian: It's hard to predict who the favorite is in this match because it's basically Kane, The Big Show and anyone else WWE could scrounge up. I'm leaning toward Mark Henry since this should be his last WrestleMania and this could be some sort of career achievement victory for a guy who has been with WWE for 20 years.
Winner: Mark Henry
Heather: Just this morning, my friend Charlie sent me excerpts from a John Cena interview, in which Cena criticizes wrestlers who complain about their spot on the card. He says that if he was "stuck" on the pre-show, he'd be proud to go out and give it his all on that damn pre-show. We can throw stones and say it's easy for Cena to look down from his main event status and say he'd be happy with a spot on the pre-show. I suspect his opinion is also informed by being injured, and missing a WrestleMania. But from everything I've ever seen of John Cena, he really would just roll up his brightly-colored sleeves and get the job done, with a smile, no matter where on the card. I choose to believe him. And because my heart goes out to him for missing a Mania, I'm going to be the kind of fan who will respect every guy stuck in this match (which was supposed to be on the Kickoff). They need to roll up their sleeves and get the job done. I hope there are some opportunities to let their personalities shine, because Battle Royales are supposed to be fun.
Winner: I'd like the winner to be someone who could benefit from the accolade, not an old timer. Tyler Breeze has the skills to pull it off and get some heat, and the spotlight, even though I'm sure this won't be what happens.
Matty: This is the easily going to be the worst of the three Annual Andre The Giant Memorial Battle Royals to date. There are no big names announced for it, and no semblance of prestige surrounding the winner or the goofy trophy they receive.
One can only hope there is an infusion of NXT talent into this match, or that old timers are trotted out to the ring for some nostalgic pops. Otherwise, there is nothing here to capture any fans imagination or attention.
Winner: Mark Henry (because it'd be nice to give him a win here in what will likely be his last Wrestlemania)
John: They should use this match to put over somebody young or somebody that people might consider new, which is why Braun Strowman immediately comes to mind. If they want him to be the next giant type wrestler in WWE they need to put him over in a match like this. Maybe Bray Wyatt can win if he's in the match, but I think Strowman is the better pick. Another option could be Cesaro if he's back from his injury because it would give him a lot of momentum. I'm going with Strowman, though.
Winner: Braun Strowman
Handicap Match: Sheamus, Rusev, King Barrett and Alberto Del Rio vs. Big E, Kofi Kingston and Xavier Woods
Christian: Personally, I would've done something unique and fun here and had all three members of The New Day defend the Tag Team Championships in a Six Man Tag against three members of The League of Nations. Handicap matches with nothing on the line don't interest me much. The New Day has already beat two different combinations of The League in title matches so does The League get some revenge against the champs when they have a man advantage? I'd hope so since it would be really bad for them to lose a handicap match at WrestleMania.
Winners: The League of Nations
Heather: AWWWWWW DALLAS! DON'T YOU DARE BE SOUR!! I'm not going to complain about how or whether The New Day has been changing in terms of heel/face. I'm just going to bask in the loveliness that is Kofi (Kofi! Whose career was going nowhere!) and Big E (whose spectacular charisma was squandered until now) and Xavier Woods (who frankly I'd never seen before, and is a delight) having their WrestleMania moment together. I hope they sell 100,000 unicorn horns. Conversely, we've got the League of Nations, who seem to be good at taking novelty photos together but have no chemistry whatsoever inside the ring. It's no surprise, given their commonality being "from different countries", obviously a time-tested formula for great teams. This is going to be a novelty match, but I'm hoping for one of those frantic climaxes in which everyone gets involved and there is a wild chain of well-timed moves and a complete sensory overload that ends with a New Day win.
Winners: The New Day will not fall prey to the "damn numbers game".
Matty: Why is this match happening? The New Day has bested The League Of Nations at essentially every turn for the last month. There really isn't much to say about this. The match should be fine, but The New Day's entrance will more than likely steal the match's thunder. I guess we can hope that this will be the end of The League Of Nations, because really, have any of them benefited from this gathering of talent?
New Day's entrance will rock, their promo will rock, their dancing will rock, maybe they'll interact with The Rock! That's what there is to look forward to here. The match is of very little consequence.
Winners: New Day (because The League Of Nations, especially Sheamus, are truly booty)
John: Since The New Day beat the League of Nations in two title matches within the last month, there are not titles on the line here. Plus it's 3 on 4. I'm fine with no titles being on the line because they shouldn't be in a match like this. It could be a way to put the League of Nations over in order to re-establish them as title contenders. I'd prefer a New Day win. I just think they've won too often going into the match, which usually means the other side gets the win at the PPV. Yes New Day you rock, but I'm going with the League of Nations.
Winners: League of Nations
Ladder Match for the Intercontinental Title: Kevin Owens vs. The Miz vs. Dolph Ziggler vs. Sami Zayn vs. Stardust vs. Zack Ryder vs. Sin Cara
Christian: Adding Zack Ryder, Stardust and Sin Cara to this match is just so random. Nothing against those guys but they really belong in the Andre the Giant Battle Royal since they've barely done anything on WWE TV in a long time. I know people are clamoring for Sami Zayn vs. Kevin Owens but I wouldn't have minded a Fatal 4Way with Dolph Ziggler and The Miz added. If you want Sami Zayn to get over in a big way have him win here and then go on and feud with Owens over the next couple of months. If Zayn is just another guy in this match it does nothing for him going forward as a guy that could possibly be a main event talent.
Winner and New Intercontinental Champion: Sami Zayn
Heather: I haven't watched NXT's TakeOver yet, but I heard Zayn's match was the business, and I'm so happy for him. What a way to tip his flat cap to NXT, and what an honor to be showcased on both cards this weekend. Proper thing. Now a ladder match is usually meant to thrill and maim, rather than demonstrate anyone's wrestling chops, so this isn't going to be a clinic as much as several trips to the clinic for Sin Cara. Owens, Zayn, and Ziggler are going to be the superstars in this one. They've got the audacity and the skills to get it done in a ladder match setting. On top of that, we have the super-compelling story of Zayn and Owens being in the same ring at a WrestleMania. I haven't even witnessed their history, but as a fellow Canadian it gives me the shivers. In the words of Shawn Michaels, "It's going to be violent." Be careful, boys, and have a great time.
Winner and New Intercontinental Champion: Dolph Zigglerfinally gets his due here, because Owens can easily move on to a high-profile feud with Zayn, without the belt.
Matty: They really dropped the ball for half the competitors in this match. The night this bout was announced, the WWE seemed to go out of their way to present Stardust, Zack Ryder and Sin Cara as jokes. Kevin Owens picked them because he didn't take them seriously, the announcers chastised him for his picks, evidently because they suck, and they eventually started having their match in the background of an argument between the real contenders (meaning Zayn, Ziggler and Miz) and Kevin Owens.
This match might have more emotional investment from fans if you actually presented Stardust, Ryder and Sin Cara as viable contenders, each with their own personal motivation to win. This could have been an interesting match with a lot of moving parts and intriguing narratives, but instead it's a cluster of mid card talent that had nothing else to do. Man I wish this was just Zayn and Owens.
Winner and New Intercontinental Champion: Sami Zayn (because it would be huge for his career and I want him feuding with Owens for the next 12 months!)
John: This should be a fun match although the "six or more guys in a Ladder Match" concept has been done way too many times in the last 11 years since the first Money in the Bank ladder match. Now they've done it so much that it's hard to really surprise us. With that said, I still expect some cool spots from everybody in the match. It won't be a match of the night, but it will be better than the average match at least.
I think Owens will retain and then have a feud with Sami Zayn for the IC Title, leading to two or three PPV matches. Perhaps they will do Owens vs. Styles instead. I just think it makes a lot of sense for Owens to keep the gold for now.
Winner: Kevin Owens
Divas Title: Charlotte vs. Sasha Banks vs. Becky Lynch
Christian: All I'm going to say regarding this match is this: Give these three exceptional WRESTLERS 15 minutes and let them steal the show and bring the magic of the NXT Women's Division to WrestleMania.
Winner and New Divas Champion: Sasha Banks
Heather: Jumpy claps!! Not sure I'll be sitting at all for this one; it will just be a matter of keeping my damn self from blocking everyone else's view of the TV. THIS is a classic WrestleMania match, with the type of build that doesn't dazzle as much as it simply makes sense. Three wrestlers who want that title, as proof of having the most skill. So pure. Then you add their shared history, real history that goes beyond a script. And the fact that all three are tremendous in the ring, and have developed deep emotional connections with the fans. How many of us actually don't care who wins, because we just want to see Sasha, Becky, and Charlotte in a three-way dance at the Showcase of the Immortals??? And the cherry on top is the spoiler circulating that they'll retire the Diva's belt the next night on RAW, in favour of a Women's Championship belt. Is your heart pounding a little faster? I thought so.
Winner and New Divas Champion: Sasha Banks. Because it makes less sense to me that they do a belt reveal for a retaining champ, and Charlotte has had a good run for now. Though each of these women have wrestling in their blood and deserve the moment, how awesome will it be to see Sasha retiring that butterfly belt? (Becky's time will come.)
Matty: They've done just about everything right in building this match up over the last few weeks. They've kept it simple and relied mainly on the fact that these three came up to the main roster together and that they trained together on NXT. They've done a good job of making this match feel inevitable without it feeling predictable, which is a fine line to walk.
There really isn't a bad outcome in this bout. Either the heel continues her reign of terror, the plucky underdog gets a HUGE win, or the brash tweener gets the spotlight that most have been begging for her to get for months.
Winner and New Divas Champion: Sasha Banks (because with cousin Snoop in attendance to take out Flair, this outcome is best for biz)
John: I'm really excited about this match just because it feels like the right time to give the WWE divas 15-20 minutes at a WrestleMania and watch them have an outstanding match that is truly special. These are the right women to do it since they have a long history in the last few years going back to their work in NXT.
Banks is probably going to get the win because the crowd is behind her quite a bit although Lynch has a lot of support as well. It just feels like the better story to put Banks over with her cousin Snoop Dogg going in the Hall of Fame as well. If it's Lynch I'm cool with that. I just think Banks is more likely.
(As an aside, if it's true that the Divas Championship will be the Women's Championship as soon as Raw then I'm happy about it. I can't say it's because the name bothers me. I just think the Divas Title is the worst looking title in the history of WWE.)
Winner and New Divas Champion: Sasha Banks
Chris Jericho vs. AJ Styles
Christian: I don't want to complain about having an AJ Styles vs. Chris Jericho match at WrestleMania but there is no reason to have a fourth match in this feud. There shouldn't have been any TV matches between the two just the match at Fastlane. Things could have still ended up the same with Jericho wanting to see what all the hype was about leading to a match with Styles at Fastlane and then after Y2J lost they could've still been the Tag Team Championship loss and heel turn where Jericho became jealous that the fans were chanted for Styles after Jericho had been in WWE since 1999 and Styles is the flavor of the month.
This match is lacking the special feel it could have had if this would've been their second match as opposed to their fourth. That said if they get enough time they could put on a classic and I'm very much looking forward to this bout.
Winner: AJ Styles
Heather: I've never been so happy to eat my words after criticizing Jericho's most recent return – though I'll stand by my opinion that he was bringing down The New Day, whereas AJ Styles needs Jericho from a promo standpoint, and pursed-lip full-heel Jericho is the only Jericho we should ever have. I don't think Styles and Jericho already having several matches hurts the prospects of this one. They're both smart enough to figure out a fresh way to get it done. As others have mentioned on this site, the story behind this match works because of its simplicity and its sense. Styles isn't a young upstart who needs Jericho to make his name; he's a legitimate threat, and that scares Jericho from an ego standpoint more than anything. And it's finally sparked the fire in Chris Jericho that's got him back on top of his game. I know I'm picking a lot of happy endings here at Mania, but I feel like a Styles win is the only way to go, given the length of their feud already, Jericho's part-time schedule, and Styles needing WWE credibility.
Winner: AJ Styles
Matty: These guys have had so many matches with each other since January, either teaming or competing. This will be the first match that they have where one is a heel, which should lend itself to this being their best match.
Jericho's heel turn was perfect, albeit predictable. The Y2AJ shirts were an ingenious touch. His heel character since, clinging to the spotlight of his youth has been wonderful to watch. As much as I don't like how dumb they've made AJ look during the last few weeks, I'm still pretty damned excited to watch this match because AJ is one of the best wrestlers in the World and Y2J has a knack for pulling out all stops come Wrestlemania season. This match will be great, without question and I'm certainly looking forward to watching them perform on Sunday, despite the outcome being rather obvious.
Winner: AJ Styles
John: I'm really happy for AJ Styles getting in the ring at a WrestleMania for the first time. He's been a favorite of mine for the last 15 years and deserves to get this kind of attention. This feud with Chris Jericho has been pretty good although I think Jericho should have turned heel after the first loss, then won by cheating the second time and then they shouldn't have done the Fastlane match. This should have been the third match instead of the fourth match with Styles up 2-1 on him.
As for the result, it's the most predictable match on the card. Styles has to go over. He's making the WrestleMania debut, he may feud with Owens soon after and there's really no reason for Jericho to get the win. I hope they get 15-20 minutes. It could be an awesome match if they do.
Winner: AJ Styles
No Holds Barred Street Fight: Dean Ambrose vs. Brock Lesnar
Christian: One of my predictions in the 2016 TJR Staff Predictions was that this match would take place at some point in 2016. I didn't think it would happen at WrestleMania but I'm damn happy it is. Heading into WrestleMania, this is what I expect to be the Match of the Night and a Match of the Year contender.
Outside of one low blow, at no point on the Road to WrestleMania has Dean Ambrose had the upper hand on Brock Lesnar. That leads me to believe that WrestleMania the Lunatic Fringe will beat The Beast in what will be a career defining night for Ambrose. Ambrose is clearly the guy who should be the top babyface in WWE and needs this win way more than Brock Lesnar. Every time Ambrose steps up in class, he loses. He really needs this. Lesnar will be Lesnar, win, lose or draw. I hope Ambrose brings the red wagon of weapons to WrestleMania.
This should be brutal and one hell of a match.
Winner: Dean Ambrose
Heather: Please don't bring the wagon down the glorious WrestleMania ramp, Dean. Don't sully the ramp. Or your reputation! A street fight rarely stays confined to the ring, which isn't great in such a huge stadium. It makes it difficult for the fans to react, and the wrestlers are already struggling to get that feedback to inform what they do in the match. That said, I'm looking forward to this, and will likely watch from between my fingers covering my eyes. Be the son that Terry Funk always wanted, Dean! For his part, Brock Lesnar is in the unique position of being in a FIGHT, after mostly suplexing people for the last year. We can point to his UFC career, but MMA ain't the street, baby. Will Brock show up in jeans with the requisite knee pads on top? Will he refuse to go down, taking everything Dean throws at him with a terrifying smile on his face? These guys have a lot in the tank, so we could be in for a long ride (and I hope the opposite is true for the Cell match). No one but Triple H has beaten Brock Lesnar, right? So I think "Brock beats everyone" logic applies here, but not without making a hero out of Dean Ambrose.
Winner: Brock Lesnar
Matty: I had initially looked at this match as a great way for Ambrose to showcase himself in defeat. When it was announced I thought thee was no way they'd give Dean this big win over Brock at Wrestlemania. Now with the Wyatts hovering around the periphery of this match, I could see them giving Ambrose the single biggest win of his entire career on Sunday.
Now I would hold off on that. I'd have Lesnar win Sunday, book them in an Iron Man Match, where Dean outsmarts and outlasts Brock, goading himself into digging a hole for himself by getting DQ'd, and beating him by a single fall by withstanding a Kimora Lock as time expires. That'd be a cool way to give Dean a big win over Brock, and have Brock respect his toughness at the end.
That likely won't happen, and the Wyatts will likely cost Brock the match, setting up their rivalry for much of this year. It's a fine story to tell, it could just be better is all. Anyway this match should be hard hitting as their styles mesh well. Brock is a great ass kicker, and Dean's greatest attribute is his ability to get his ass kicked but keep fighting back. It's a match made in heaven.
Winner: Dean Ambrose (because They Wyatts are coming)
John: This is my favorite match on the show. Ambrose has been the best performer in WWE since Seth Rollins suffered the knee injury five months ago. He's the one that has really upped his game so to speak because his matches have improved and he's as popular as he's ever been. The story of Ambrose putting his body on the line all the time fits really well against the "Beast Incarnate" Lesnar, who causes more pain for his opponents than anybody.
It's either going to be a clean win for Lesnar where he ends up shaking Ambrose's hand after the match as a sign of respect or Ambrose wins due to Wyatt Family interference. There are rumors of Lesnar facing members of the Wyatt Family later in the year. I think they should save that attack for Raw because if they do it at WrestleMania it'll hurt the match too much. Just let these guys have a true match without any kind of run-in. Lesnar's my pick because it's rare to see him lose in a one on one match against anybody and I don't think WWE is high enough on Ambrose to really put him over.
I think it's the match of the night and potentially a Match of the Year contender as well. Right now Nakamura/Zayn is the leader in that category. That's for damn sure.
Winner: Brock Lesnar
Hell In a Cell: Shane McMahon vs. The Undertaker
If Shane wins, he controls Raw and Undertaker wrestles at his last WrestleMania
Christian: The fact that they did the big flying elbow through the table spot on RAW this week means someone is going to do something balls out insane that may make us forget about Mankind at King of the Ring in 1998.
I haven't been in love with the story leading into the match because there have been so many changes and plot holes but this should be a spectacle we won't forget anytime soon.
Whether it's going to be The Rock, Steve Austin or even the debut of The Balor Club I think there will be some sort of outside interference leading to the finish of this match. There just has to be, how else can we realistically expect Shane McMahon to win? Even though I don't think The Undertaker should ever lose at WrestleMania I can't see how he wins considering what's on the line in this match.
WWE needs to freshen things up and that may mean Shane McMahon taking over RAW and having Stephanie transition to leading SmackDown and the return of the Brand Extension, which is something I've been waiting for to return for a long time now. I think that's best for WWE with all the talent they have.
Then again, this is The Undertaker at WrestleMania and how do bet against him when he isn't facing The Beast? The unpredictable nature of this match is the best thing it has going for it. I'm definitely intrigued to see how it all plays out.
Winner: Shane McMahon
Heather: I could say that they wouldn't have brought Shane back unless they were planning for him to shock the world and take over RAW, but I'm not sure that level of forethought went into it. They needed Shane O'Mac, stat, and let's not worry about the details such as who are we supposed to want to win and why on earth is The Undertaker just rolling with this. But they've got me, I do want to see what happens, I just don't want it to take very long, for everyone's sake. There are going to be shenanigans, but let's hope it doesn't turn into Hart/McMahon from WrestleMania 26. The Authority storyline needs a refresh, and Shane seemed genuinely moved by the reception upon his return. He didn't wow the business world when he left WWE, but his absence sure made our hearts grow fonder. A man could get used to a reaction like that. And because they've already fooled around with The Streak, I say The Undertaker takes a dirty loss. It would be great if it launches him into his final program, culminating at Summerslam.
Winner: Shane McMahon
Matty: I've been pretty impressed by Shane over the last few weeks. He looks to be in the best shape of his life, he's consistently getting big pops, and this past Monday, he demonstrated that he still has the goods when it comes to his crazy death defying leaps of faith. This match without a question has the most at stake.
It's also the hardest match to predict because of that. There really is no great outcome for fans, if you take the stipulations at face value. If Shane wins, no more Undertaker at Wrestlemania (which to be honest isn't the worst news for a guy who has never been a huge Taker fan). If Taker wins, probably no more Shane, and more Authority (yawn).
Despite the wonkiness of the stipulations (because couldn't Shane reverse Vince's order if he wins?) and the no-win situation the WWE is putting their audience in, I expect this match to be a shenanigan-filled spectacle. I just really can't predict with any confidence who wins.
Winner: Shane McMahon(because I flipped a coin and it landed on heads)
John: I expect a lot of big spots in this match and some interference too, but I'm not sure who it's going to be, who they may be helping and what it might be exactly. I know the Hell in a Cell structure is designed to keep people away from the ring. That doesn't mean it's going to happen. Since Shane has talked about having new stars shine, maybe they interfere for him. It doesn't really fit because he's a heel, but this is WWE. They'll find a way to try to explain even if it doesn't make sense to us normal people.
I'm going with Shane McMahon simply because WWE needs to change things up in terms of who is in charge of the storylines on screen. They must have added that "Shane gets control of Raw" stipulation because they know how stale The Authority angle is. I'm not saying he's going to win clean or anything clear like that. It just makes more sense for him to be the one with his hand raised. As for The Undertaker "wrestling in his last WrestleMania if he loses" – well this is WWE and we know stipulations don't last. He'll be there next year.
The match should be a lot of fun because of the big spots they are likely going to do. I'm excited to see what may or may not happen. By the way, I think it's going on last. I don't mind if it does because for a lot of people this is the biggest match of the show.
Winner: Shane McMahon
WWE World Heavyweight Title: Triple H vs. Roman Reigns
Christian: Roman Reigns was has been booked like the angry ass-kicker looking for revenge since he returned from his nasal surgery. The segments where he's been destroying Triple H actually have been really good but the problem is that no one cares now. The WWE World Heavyweight Championship should be the main event at WrestleMania but you can make the argument that this is the third biggest match behind Lesnar vs. Ambrose and Shane vs. The Undertaker.
I'm sure Triple H and Roman will work really hard to put on a good match but I'm afraid the crowd won't care especially if they go last and the crowd is already drained from Lesnar/Ambrose and Shane/Undertaker.
This is supposed to be Roman Reigns' coronation as the top guy in the WWE and it can still be that but as the top heel. There's really no one for him to face on the heel side but as a heel he'll have plenty of guys to feud with. He can run with the title without having the pressure of having to get cheered and then in a year you can turn him back and hope it works like it did for The Rock in the late 90s.
Winner and New WWE World Heavyweight Champion: Roman Reigns
Heather: I don't have a lot to say about this match itself. My devotion to Roman Reigns has been tested beyond its limits, and that's not necessarily all on the hands of WWE Creative. Meanwhile, Triple H is Shawn Michaels-ing into the unexpected prime of his career. Who agrees with me? He looks GREAT, his matches have been GREAT, his promos have come off as perfectly intense and true. I've never been a Triple H fan per se, but every time I've seen him wrestle in person (as I did at Roadblock in Toronto), I have seen the definition of a ring general. The guy is dedicated and smart. I'm into it. I don't know if they're going to give Roman the title, as we've all seen coming, or if there could possibly be a swerve. I can almost guarantee you that it hasn't all been decided yet, and people are nervous as hell. And so I guess I am interested to see how it plays out.
Winner: Hmmm. I've got to pick one, so I'll say Roman Reigns.
Matty: Anything but a Roman Reigns heel turn here, with Triple H revealing the last few months to be a clever plot to draw Roman to the dark side, is a failure in storytelling by the WWE. They have actively sabotaged Roman's ability to get over, first by having him win a boring Tourney to crown a new champion when Seth went down, second by having him feud with the charisma anchor Sheamus, third by having him take a halftime break during the Royal Rumble while everybody else competed fairly, and finally by having him take weeks off during the road to Wrestlemania and having his buddy Ambrose fill in for a while, and garnering a better response from audiences than Reigns ever did (all the while looking tougher than Roman has in recent months)
Either all of this was a clever bit of storytelling that will lead to Roman turning heel, or the WWE simply doesn't understand how their audience perceives the things they are doing with Roman Reigns. He has been relegated to a background character in his own quest to reclaim the championship. It feels like Triple H has wrestled more matches than him since Fastlane.
If Roman Reigns doesn't turn heel on Sunday, it brings into question every decision the WWE has made regarding him for the last year. Why make Triple H return in the Rumble like a conquering hero? Why make Roman look weak or like a coward so often? Why let him be dragged down by Sheamus? I'm hoping there was a purpose to all of this.
The match will more than likely be good given how great Triple H looked against Ziggler and Dean, but the question is, how will the crowd react? You'd hope they're at least pro-Triple H. I fear they'll sit on their hands and make this one of the lamest Wrestlemania main events ever.
Winner and New WWE World Heavyweight Champion: Roman Reigns (because Triple H has finally turned him to the dark side)
John: The only reason Triple H won the WWE Title at Royal Rumble (when Reigns was already the champion) was so that he can put him over the grandest stage of them all this Sunday night. There's really no reason to deviate from the plan. Stay the course because Triple H as WWE Champion is just a short-term thing.
It should be a really good match just because they're going to get a lot of time, kick out of some big spots and Roman has done well in big matches while obviously Triple H knows what he's doing in that environment.
The big question is, does Roman turn heel? I say no. Maybe on Raw they do it. I just think for this match they will keep him as he is, see how the reaction goes and then react to it after that. Roman wins a 25-minute battle to begin his third WWE Title reign that will be much longer than the first two.
Winner and New WWE Champion: Roman Reigns
Final Thoughts
John: That's all for us. I'm going to be at WrestleMania and my flight home is early Monday morning, so I will have no time to write about the show until Tuesday at the earliest. While I don't think it'll be the best WrestleMania ever or anything at that level, I think it will be above average and may surprise those people that are too negative about everything.
If there's an issue for me it's the length of the show. A six hour broadcast is too much. I hope the crowd isn't dead for some of it, but realistically they will be. That's just how it is.
Try to enjoy the spectacle of it and the action in the ring. The performers will be busting their asses to entertain us like they always do. Let's show them the respect they deserve for doing it.