TJRWrestling WWE Battleground 2015 Preview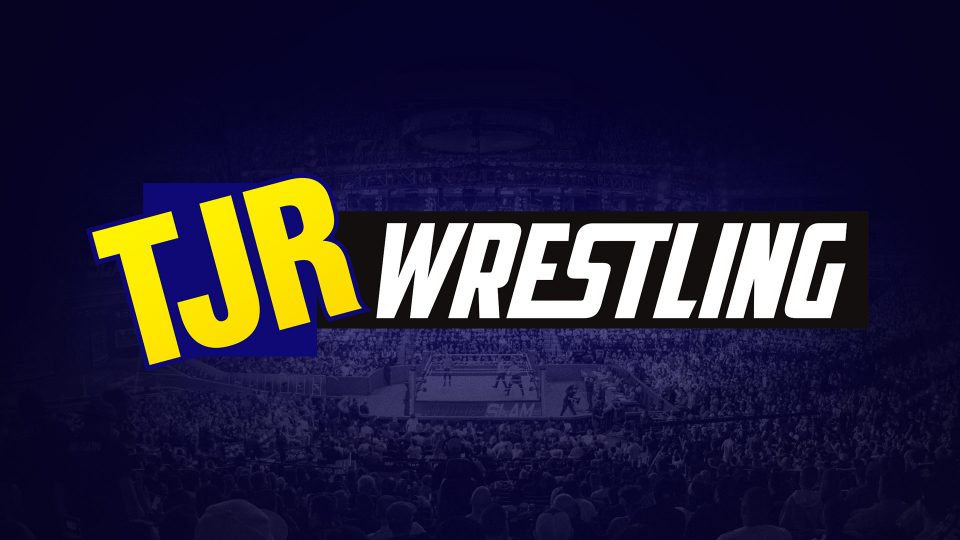 John: This Sunday night in St. Louis is WWE's Battleground pay-per-view event. The good news about this show is that WWE has had five weeks to build up to it, which is a refreshing change after the period in May/June where there were three PPV-like events within a 28 day period.
There's no Intercontinental Match on the card even though it has been advertised for the past month. Since IC Champ Ryback is out with a staph infection, the match was removed and we don't know when he will be back, but it won't be at this show.
The expectation is that WWE will add a new match or two to the card, but as of this writing on Friday evening they haven't announced anything new yet.
Joining me for the preview are Matty J. Douglas and Heather Hickey with Christian Michael sitting this one out because he's on vacation. As always, the match order isn't the order that we necessarily think will happen on the show. It's just a format to use for this preview.
(Note: All graphics are from WWE.com. The banner is courtesy of our friend Steve Melo.)
Kickoff Match: King Barrett vs. R-Truth
Matt: UGGHHHH! When I said I wanted a seven match series, I did not mean this. Instead of talking about this match, can I ask everyone on a scale of 1 to 10, how awful has King Barrett been? Is that terribly rushed King Of The Ring Tournament and it's winner the biggest flop of the year? I guess we should just be glad none of our favourites won it right?
Seriously though, there were so many fun things they could have done with that King Of The Ring. They could have made it mean something, or at least given someone a fun new gimmick. I mean Celestial Emperor Stardust would have been AMAZING! He wasn't in the tourney, but I would have dug His Highness Jimmy Uso as a Samoan Warrior King the likes of King Kamehameha! Why aren't we allowed to have fun?
Winner: King Barrett (because when it comes to King Of The Ring, the least fun thing will always happen)
Heather: In the words of Byron Saxton, "Who cares? Have some fun with it." Yes, he was referring to R-Truth wielding a toilet plunger as a royal scepter, but that's the only way you'll enjoy this pre-show match. Gone are the days of pre-show battles between hot acts that didn't quite make the last-minute cut. They don't need to entice you to order the Pay-Per-View. It's yet another way to fill the time, a match to promote during the infinite hours of weekly programming. Wade Barrett's fate seems to be that of a worker bee who could'a been a contender. And R-Truth has inherited Santino Marella's tin foil crown.
Winner: Wade Barrett. This is more wishful thinking than anything. I really want Barrett to have an aggressive, decisive win. No reason why they can't have some fun with it.
John: I rarely say something like this, but I pray to the Wrestling Gods that this is the last match these two have because I'm so sick of seeing it. I've reviewed it so many times and I don't even remember anything about the matches except for how stupid it is to have Barrett lose as much as he does. Just let Barrett get the win to end this awful feud that is one of the worst of the year.
Winner: King Barrett
Tag Team Titles: The Prime Time Players vs. The New Day
Matt: I really like The Prime Time Players. Titus is an entertaining Powerhouse, and Darren Young's energy never fails to get me interested in what they are doing in the ring. The WWE Tag Titles look good on the pair, and I'm happy that they've had this run, but now it's time for the Tag Team Titles to go back home.
I'm incredibly biased, but The New Day are the best things in the tag team division right now and those titles need to make their way back around their waists, pronto. I say this both selfishly and practically. If we project into the future, and look at who The Prime Time Players can feud with after New Day, there is only one heel tag team, The Ascension (I presume they were gearing up for them to feud with Harper and Rowan) and nobody wants to see PTP vs Ascension. If The New Day win, they can feud with PTP, Lucha Dragons, a returning Usos, The Mega Powers, Los Matadores, etc. Just way more variety with them. Once Rowan and Harper are healthy, tradition titles to a babyface team. In the meantime… "New Tag Champs! New Tag Champs!"
Winners and New WWE Tag Team Champions: The New Day!
Heather: Here is an example of the whole being greater than the sum of its parts. These five men together will put on more of a show than any of them could ever do in a singles situation. I couldn't be happier for them, finally being showcased in a way that CLICKS. I really didn't want New Day to lose the titles, but apparently they're just as pleasing in the hunt. This is what happens when you let people's personalities shine through. They're clearly having a good time, and the fans are responding to it. And as much as I despised the original version of New Day, kudos to WWE for pivoting just enough to make it work, before it was too late. All that said, I seriously couldn't care less who wins, because the belts themselves mean nothing.
Winners:Prime Time Players, so they can do the Millions of Dollars dance.
John: The feud has been okay, but at no point has it felt great. I get why they put the titles on PTP because Titus O'Neil recently won that "father of the year" award and WWE loves all the publicity they can get. Yes, Darren Young is an openly gay superstar as well although it's not like WWE ever mentions it. I think they won the gold just because it elevates them as a team and that's good for WWE with other teams injured right now.
I hope The New Day wins because they're so entertaining as the tag champs. The way they act in an over the top way and celebrate every little thing makes them a team worth watching at all times. It was fun seeing the PTPers get a run, but it's time to put on the best team in the company. Plus, if New Day hold the titles they can feud with Lucha Dragon as well as the Usos in a few months once Jey comes back from injury. If the PTPers hold them for much longer, there aren't as many challengers. Do we really want to see PTP vs. Ascension for the tag titles? No thanks.
I'm going with the title change. I think the third man outside the ring (often times it's Xavier Woods) will cause the distraction leading to his team getting the win.
Winners and New Tag Team Champions: The New Day

Randy Orton vs. Sheamus
Matt: I truly can't believe they're doing this match on a PPV. There isn't a single match in the last few years that WWE fans have been more apathetic towards. They don't care about these guys fighting when Randy is the heel and Sheamus is the babyface, and they don't care about it the other way around either.
Truth be told, these guys have very little chemistry. They are also both poster children for "I'm not sure what there is to do with you right now" which is strange. Seriously, I think they're feuding with each other because creative has no plans for either of them in the immediate future. What would Orton be doing if not having this rivalry? Same goes for Sheamus? Neither is really set up for anything in the short term, and both of their next moves will come completely out of left field. Long story short, I don't care about this match or either of these guys at the moment.
Winner: Randy Orton (because Mr. MITB loses like crazy before he cashes in)
Heather: I see it going something like this.
Sheamus: Hey fella!
Randy Orton: [looks up in a sullen manner]
Sheamus: Looks like yer just arsin' around these days!
Randy Orton: [cocks eyebrow]
Sheamus: Well WOT a COINCIDENCE. As Oi've got nothin' to do either.
Randy Orton: [inspects cuticles]
Sheamus: You don't want anyone to forget about ya, do ye? Next thing ya know, they're "repackaging ya" with manky shite on yer face!"
Randy Orton: I'm not into manky shite.
Sheamus: Wot's say we have a match? It's even in yer home town, fella!
Randy Orton: [shrug]
Winner: Sheamus. An acute fear of manky shite will motivate Orton to lobby for a re-match at Summerslam.
John: I'm not that interested in this feud. I assume WWE likes it because they're two former main event guys and even though they've wrestled dozens of times, WWE probably likes their chemistry. The fans usually aren't into it, though.
I'd rather see Dean Ambrose in this spot instead of Orton because at least an Ambrose/Sheamus feud would be fresh and probably produce better matches. That's not even a major knock on Orton. It's just that this match has been done so many times that we can call the spots before they happen.
As for the winner, if Sheamus wins it's because WWE realizes they need more top heels and if Orton wins then it's similar to his feud with Rollins earlier in the year when he beat him while Rollins was Money in the Bank holder. Of course, this feud could lead to another match at SummerSlam too. I think they'll get about 15 minutes and Sheamus will win after some cheap move (like a low blow without the ref seeing it) leading to a Brogue Kick win.
Winner: Sheamus
Roman Reigns vs. Bray Wyatt
Matt: I want to be more interested in this, but I'm not. Bray's working his ass off to make me more interested in this, but I'm lukewarm at best. I get the whole "Anyone But You" concept, and I find that cool enough, but at a certain point I tuned out because it's the same shit every week. Roman has a match, Bray interferes or distracts, no finish. "Eat, Sleep, Interfere, Repeat" every show, every week, and it got boring for me.
Their match should be fun (at least I hope). Hard hitting at the absolute worst. At the end of the day, I'd say Bray needs the win at this show more. He needs to show that he's a serious threat, because to this point, he seems like a harmless homeless street preacher. Sure what he says is kinda creepy, and he looks scary, but at the end of the day, his threats and his presence is empty. He packs no real punch and presents no real danger. He needs to be a real threat.
Winner: Bray Wyatt (because he needs a victory to hang his hat on)
Heather: Bray has barely evolved in the 2 years since his much-heralded main roster debut. And Reigns was thrown into the deep end of the pool like a smoldering Samoan anvil. Rather than a fresh start, I'd argue that this uninspired storyline is EXACTLY what they both need. It's a step back from the main event spotlight, where they can regroup under far less scrutiny. Look at how CONFIDENT Reigns is right now. This is his opportunity to develop as a solo act, and build trust with the fans (and within himself) that he could one day even be The One. This match will have nothing to do with stealing the show. This match is all about accentuating the positives. They will be well served to keep it under 10 minutes, jam-packed with zippy, hard-hitting action.
In conventional terms, the heel wins first and the babyface ties it up for a rubber match. But I prefer the idea of Bray Wyatt being so unsettled by a Reigns win that he pursues the golden boy for a follow up. It makes for a far more interesting feud, even as uninspired a feud as this one.
Winner: Roman Reigns
John: The feud started off on a different path with Wyatt holding up a picture of Roman with his daughter, but there wasn't that much more after that. The "anyone but you" line that Wyatt keeps saying is mysterious in a lot of ways. Reigns surely could have been a lot angrier about a guy carrying around a picture of his daughter.
I'm really not sure who is going to win. It's tough to pick against Reigns just because he's in that Cena spot where WWE is always going to protect him and keep him looking strong. I just think in order for the feud to really continue, Wyatt should win this match leading to the rematch at SummerSlam. By extending this feud another month, it keeps Reigns out of the WWE Title picture, which I assume is the plan so that he can get back into it in early 2016.
I actually saw this match at a live event last summer and it was pretty good up close. I'm going with Reigns even though I think it makes more sense for Wyatt to get the win. They can keep the heat on the feud if they have Wyatt attack after the loss or do something on Raw, so that's why I think it will be Reigns in the end.
Winner: Roman Reigns
US Title: John Cena vs. Kevin Owens
Matt: This match will be very good. In fact this match in all likelihood will be amazing. There really isn't much more to say. These guys have amazing chemistry and always tear the house down. Expect no different here.
I will say that the outcome of this match does have interesting implications. I mean I assume that Owens wins, but even if he doesn't, you still have Cesaro hovering around the U.S. Title with his own intentions of obtaining it. Regardless the outcome, I wouldn't be surprised to see his involvement in this feud increase, to the point where we have a triple threat at Summerslam for the United States Championship. Or at the very least feuding with the winner of Cena/Owens at Summerslam. I'm not against either of those scenarios.
Winner and New United States Champions: Kevin Owens (because it keeps the rivalry going into Summerslam)
Heather: EVERYONE has benefited from Cena holding that U.S. Title: every single one of his opponents, the fans, and John Cena himself. I have such a love-hate relationship with the Cena character, and I will admit that he has turned me right back round again. Monday felt like Cena's swan song as the champ. He sat in that announcer's chair with his ridiculous super-erect posture, witnessing the culmination of his efforts. Cesaro, Rusev, and Owens, all U.S. open challengers, put on a jaw-dropping display of pro wrestling prowess. They did it for the chance to face Cena one more time, while Cena praised them all and paid an eloquent homage to his U.S. Title.
Likewise, it also feels like Kevin Owens' turn. And when he hoists that title on Sunday, there are ready-made feuds waiting for him: Rusev, Cesaro, and yes, even John Cena, the well-spoken purveyor of hustle.
Winner: Kevin Owens
John: I'm excited for this because they've had two match of the year contenders already and they might top it this time. They usually get 20 minutes or more too, so I have little doubt that it's going to be a classic again. Owens brings out the best in Cena and Owens is an incredible that wants to keep proving himself to his bosses. Considering it took Owens over a decade to get to WWE, he always has the proverbial chip on his shoulder wanting to prove himself and that makes him great. It's a rivalry that's working really well right now.
I think Cena will win by disqualification. At SummerSlam they can do another match between them with a stipulation (hasn't happened with a stipulation) or make it a triple threat with Cesaro, which is when Cena will drop the US Title perhaps to Cesaro. Then you can do a Cesaro/Owens feud while Cena goes back to contending for the WWE Title. I just don't think this is the end of the story.
Winner: John Cena by disqualification
WWE World Heavyweight Title: Seth Rollins vs. Brock Lesnar
Matt: Now it's time for the main event, pitting The Beast against The Architect. Has Seth concocted a plan to trap and defeat Brock? Or will The Beast tear away the WWE World Heavyweight Championship like he tore down the fortress The Architect built around himself and the title? I'm excited about this match, and the promos they've been cutting to hype it up. That being said, I just think the build was missing something. Not missing a lot, just something.
I'd have kept Dean Ambrose hovering around this feud, still wanting to get his hands on Rollins. I'd have had Dean and Brock work side by side fighting off The Authority's goons, and then against one another trying to get their hands on Seth. It injects a little more uncertainty about where this story is heading from week to week, and is certainly more creative, interesting and cost effective than destroying a car for the zillionth time.
With that being said, the WWE has managed to inject some uncertainty here, with the rumours about The Undertaker and Sting appearing this Sunday, likely in this match somehow. I'm not sure what sense it'll make, as that isn't the WWE's strong suit, but I'm sure the rumours have gotten more people interested and clouded what they believe will happen in this match.
The bottom line for me is that Seth Rollins needs to escape with the Title. He can get dismantled, suplexed, beaten and broken, but he needs to remain the WWE World Heavyweight Champion. What will happen this Sunday…that's anybody's guess with the rumours swirling around.
Winner and Still WWE World Heavyweight Champion: Seth Rollins (because we don't need another absentee Championship run)
Heather: Brock Lesnar is in his sweet spot right now. Go back and look at his face during the go-home Raw: he looks near giddy. And why wouldn't he? He's the special attraction, and a worthy one at that. He's well rested. He's having fun. And he gets to do it all with his endlessly entertaining sidekick. A happy Brock Lesnar is a playful Brock Lesnar, and that could make for a very memorable match. Rollins is so good at taking punishment, and Lesnar will relish being in the ring with such an impressive young foe.
But how is it all going to go down? One by one, Lesnar has stripped Rollins of his protective crew (which begs me to share this choice moment, when Kane announced that there would be a contract signing on Raw).
I do not believe that Seth will lose the title, but NO WAY he'll pin Lesnar clean. Rumors suggest that Triple H could get involved, which could explain how Seth will win (and who Lesnar may face at Summerslam? Hope not.). All I ask is that they keep the match to 20 minutes or less, because after 3-4 hours of PPV, the fatigue has more than set in for viewers and it becomes difficult to appreciate an epic-length main event.
Winner: Seth Rollins via shenanigans.
John: I'm really not sure how this is going to go. In terms of the build to the match I think it's been handled pretty well although I'm really sick of contract signings no matter who is in them.
The match should be outstanding and a potential match of the year contender just like their Royal Rumble triple threat with Cena. Rollins is the perfect kind of opponent for Lesnar because he's a cocky heel that will bump his ass off making Lesnar look like a huge star.
What's interesting to me is that there's no stipulation in the match. Often times in Lesnar matches they do that to allow him to use weapons or brawl around the ring. It's not happening here, which makes me think there's going to be a disqualification or something to keep the feud going until SummerSlam.
I think there's a possibility that Paul Heyman is going to turn on Lesnar too. I know that Heyman has said they're tied together and it wouldn't feel right for them to be apart, but he's also a master storyteller. Heyman is a great manager (or advocate) because he leads the bad guys, not the good guys. For Rollins to retain, some kind of major surprise has to happen and I think Heyman costing Lesnar the win would definitely count as a major surprise.
I'm going with Rollins retaining the WWE Title because of help from somewhere – I just don't know how it's going to happen. I don't know if this is where The Undertaker will show up during the match or after it's over. A face vs. face feud with Lesnar doesn't make a lot of sense to me, so maybe Undertaker ends up feuding with Lesnar. Like I said I really don't know how things are going to go and that's fine with me because I want to be surprised as much as anybody.
Winner: Seth Rollins
I don't think Sheamus will cash in Money in the Bank and neither do my colleagues here, but that would certainly be something to shake things up.
Final Thoughts
John: I'm pretty excited about Lesnar/Rollins because we've never seen it before and also for Cena/Owens because it's been amazing the last two times they did it. If both of those matches get 20+ minutes then it's going to be an above average show. The midcard stuff could be better especially after five weeks between PPVs, but at least they got the top two matches right.
Hopefully there are some memorable moments whether it's a Money in the Bank cash-in or that rumored appearance by The Undertaker. Just do something to get people talking about the show in a positive way after it's over.
I'll have live coverage of Battleground on TJRWrestling.net during the show and will post the review on other sites on Monday.
Follow us on Twitter at the following places.
Matt – @MJDP_GSE
Heather – @kickyhick
John – @johnreport
If you want to send an email, send it to me at mrjohncanton@gmail.com as well. Thanks for reading.