TJR: WWE Draft 2021 Reaction – Smackdown
The 2021 WWE Draft concluded this past Monday with WWE deciding to "shake things up again" by drafting their superstars to Raw or Smackdown. A lot of people stayed where they were, others switched brands and some superstars even got called up from NXT. I covered the Raw roster yesterday right here. Now it's time to look at Smackdown.
As for Smackdown, there are 29 male wrestlers and 10 female superstars for a total of 39 (Raw had 51 total in case you're wondering). That doesn't count undrafted free agents, who I will mention here as well.
Like I mentioned in the Raw column, I'm probably going to use words like "hope, hopefully, potential" a lot because I hope the best for everybody and there's a lot of potential for good things on the WWE roster…if everybody is used right. One thing I can predict is everybody will not be used right. That's just how it goes.
As a reminder, the new rosters don't take effect until Friday, October 22, which is one day after WWE Crown Jewel. Until then, these wrestlers can appear on the show they used to be on and in some cases, both brands.
SMACKDOWN MALE ROSTER
* Angel Garza
I was pleased to see WWE put Garza and Carrillo into a tag team recently since they are legitimately cousins that have a lot of chemistry together. They are a heel duo that brags about how handsome they are, so it's not like it is some revolutionary gimmick or anything. It can work, though.
* Ashante "Thee" Adonis
Adonis is the usual tag team partner of Top Dolla with Adonis as the smaller, more athletic guy that takes a beating most of the match until Top Dolla gets the hot tag. Adonis can go in the ring too. If they make "Swerve" Scott the regular partner of Dolla then maybe Adonis will be featured less, so that would hurt him, but he's a talented young guy that can do well. Did Hit Row get called up to Smackdown too soon? Maybe, but I think they'll surprise some of the doubters.
* Cesaro
Cesaro is one of my favorite wrestlers in WWE and the fact that he headlined WrestleMania Backlash against Roman Reigns earlier this year was pretty cool. Cesaro signed a contract extension with WWE earlier in the year, so that's partly why he got a push. Cesaro also beat Seth Rollins at WrestleMania, but then he lost to Rollins after that. It seems like Cesaro has gotten lost in the shuffle a bit, which is a shame. Cesaro can fill any role whether he's in a face, heel or tag team. I hope the new rosters mean a renewed push for him although I don't know if that's going to happen.
* Drew Gulak
I like Drew as a skilled technical wrestler that can have good matches with anybody. The problem is he doesn't stand out as a personality and as a smaller guy, I don't think WWE is going to ever push him that hard. Maybe finding a tag team partner or ally of some kind would be best for him.
* Drew McIntyre
It's fair to assume that we can pencil in the Roman Reigns-Drew McIntyre in the future. They had a great match at Survivor Series last year, which was a lot better than their WrestleMania 35 match in 2019. I know my buddy Joel McIntyre wrote about Drew as a possible candidate to take the Universal Championship from Reigns and I like that idea, but it's hard to predict Reigns losing the title at this point. Anyway, I get the sense that we'll have two or three PPV matches out of the Reigns/McIntyre feud whenever it begins. I don't know what either guy will do after that, but that rivalry is coming. I'm all for it because Drew was the 2020 WWE Superstar of the Year and Reigns has that spot this year. They're awesome.
* Erik
I like the Viking Raiders team a lot. They're natural babyfaces, but I guess they could do well as heels too. It makes a lot of sense to put them on the show with The Usos because that would be a fresh rivalry whenever it happens. The New Day are also going to be a force in the tag team division, so those three teams will likely be the main teams.
* Happy (Baron) Corbin
It's fair to assume that most fans don't like Happy Corbin as much as WWE's bosses do, but I do understand why they like the guy. He is tall, a pretty good talker and certainly passable in the ring. Is he ever going to have an amazing match? I don't think so. With the right opponent, he can do pretty well. I think has "go away heat" sometimes though, which means fans really have no interest in seeing him and they give him lame stuff to do. Now he's paired with Madcap Moss, so maybe they'll be a tag team occasionally.
* Humberto Carrillo
What I wrote about Angel Garza above applies to him as well. I think Garza is probably the better worker and performer of the two guys, but Carrillo is more confident every time I see him. They should do well as long as they get TV team.
* Isaiah "Swerve" Scott (WWE NXT North American Champion)
Swerve is the leader of the Hit Row group. I assume he will lose the NXT North American Title to Santos Escobar next Tuesday on NXT TV. After that, I hope he finds a consistent role on Smackdown whether he's teaming with guys in his group or getting a chance to show what he can do in singles action. What's interesting about Hit Row is they started out as a heel group, the heel tactics are what won Swerve that title and then they turned face. It would be awesome to see Swerve getting a push as a face because he's such a talented wrestler.
* Ivar
What I wrote about Erik applies to him. I just hope WWE uses the Viking Raiders better on Smackdown compared to what they did on Raw when they were barely on the show.
* Jeff Hardy
I have this feeling that Jeff Hardy is going to get a big push again. They have been featuring him a bit more and what's very telling is that the fans still absolutely love this guy. At 44 years old, there aren't going to be that many chances for Jeff to be pushed to that main event level. If you look at this roster, there aren't many top babyfaces and that's why I think Jeff might get a decent run on Smackdown. Plus, he's probably paid very well, so they need to use him better. Having Jeff challenge Roman Reigns at future PPV could be possible as they build up with wins.
* Jey Uso (SmackDown Tag Team Champion)
* Jimmy Uso (SmackDown Tag Team Champion)
I'll write about both Usos together. They are an awesome team that is incapable of having a bad match. I enjoy their matches so much. I'm glad that Jimmy has his wife Naomi on the same show as well and certainly Jimmy isn't driving after drinking ever again. Some of the other teams on Smackdown are familiar rivals to The Usos (like The New Day) while some of the others like Viking Raiders and Mansoor/Ali would be fresh. There's absolutely no reason to break up The Usos any time soon although I think they'd have great matches together if it ever happens.
* Jinder Mahal
Don't Hinder Jinder! The former WWE Champion Mahal had a mild push on Raw recently after costing Drew McIntyre at Money in the Bank, which led to Drew beating Jinder easily at SummerSlam. I don't think Jinder will be getting any kind of main event push moving forward, but I can certainly see him going after a midcard title or even tag team gold with Shanky by his side.
* King Shinsuke Nakamura (WWE Intercontinental Champion)
It has been fun to see Nakamura get a bit of a push as an energetic babyface that beat Baron Corbin for the "King" crown and also became Intercontinental Champion while partnering with Rick Boogs to form an entertaining duo. I assume the king's title will go away soon since WWE is doing a King of the Ring tournament. Maybe after Nakamura loses the IC Title, he could be pushed into the Universal Title picture as a potential rival of Roman Reigns. Once again, he's another option.
* Kofi Kingston
I'm interested to see if WWE puts The New Day in the tag team ranks again like they've been for the past six years or maybe we'll see more singles action for Kingston and Woods. I think Smackdown has enough teams that they could probably be fine without New Day in a tag team, but obviously, they can team once in a while too. I just want to see both guys in singles action more action just for something different.
* MACE
Between Mace and T-Bar, I am more excited about T-Bar as a singles wrestler. With that said, I'm sure Mace (former Dio Maddin) has a chip on his shoulder and feels like he has a lot of prove, so he'll get a chance to show what he can do now that he's on his own.
* Madcap Moss
Riddick Moss has always been touted as a very good athlete that has been part of the WWE system for several years now. He just hasn't had a chance to breakout in part because of injuries and also due to creative having nothing for him. While I'm not thrilled about the "Madcap Moss" name or the laughing gimmick, this could be the start of something good for him as a heel with Happy Corbin. Maybe they will team up, but if not, at least Moss can have consistent screen time in this role.
* Mansoor
* Mustafa Ali
I'll put Mansoor and Ali together since they are a tag team that are also back to back in terms of alphabetical order. Mansoor does a nice job as the energetic babyface that's easy to like and root for. Ali remains a bit of a heel that doesn't like all the smiling Mansoor does while trying to influence Mansoor on the "right way" to do things. At some point this duo needs to win a big match and considering the Crown Jewel show is October 21 with Mansoor as the first Saudi Arabian superstar in WWE, I hope they are on the card in a tag team match so they can get a big one. Maybe do a number one contender's tag team match where they win to earn a title shot. That would work.
* Rick Boogs
The enthusiastic Rick Boogs has been a positive addition to the presentation of Shinsuke Nakamura, who has always had a cool entrance song, but it's even better with Boogs playing the electric guitar as Nakamura makes his way down to the ring. In the ring, Boogs has been booked strongly with several wins in singles and tag team matches, so it's possible WWE gives him a decent push. I hope his team with Nakamura doesn't end soon.
* Ricochet
Please use Ricochet better! I don't understand WWE's reluctance to put this guy on TV more often considering he is one of the best high fliers in the world, he always has good matches and he's a genuine babyface that is easy to like. I assume the old guy in charge "doesn't see it" in Ricochet, but any time he's put in a position to have a long, meaningful match you know it's going to be good and he gets reactions from the crowd. Whether things go better for him on Smackdown compared to Raw, I don't know, but I sure hope he gets a shot.
* Ridge Holland
It's a bit of a surprise that WWE would draft Ridge Holland to Smackdown instead of Pete Dunne, who is the better and more experienced wrestler. Holland is the bigger of the two, though, so that's part of it. It's not like Holland is that big, though. Anyway, he's a bit of a raw talent with a lot of room to grow. I'm not sure if he will be pushed heavily or if they take their time with him, but I think they'll be slow with his push if he gets one at all.
* Roman Reigns (WWE Universal Champion)
The Tribal Chief is the WWE 2021 Superstar of the Year. That's a WWE Johnny Award spoiler right there, over two months early. I'm a huge fan of what Roman has done as a heel on the Smackdown brand and clearly, he's the MVP of the WWE roster right now. If something happened to him like an injury, the brand would be hurting big time and I don't even want to think about what it would look like. Reigns has had many great matches this year (several over four stars), he knows how to get heat and gets the biggest reactions of anybody on either show. It's hard not to like what he's doing with The Usos and Paul Heyman. As I have said throughout this column, there might be a lack of challengers for him after Drew McIntyre, but I'm hoping some other people can step up.
* Sami Zayn
Sami is one of my favorites. He is staying where he was on Smackdown. As I look over the roster, I think he's in a good spot as one of the top heel singles wrestlers after Roman Reigns. The other main singles heels are Sheamus, Happy Corbin and maybe Jinder Mahal if he gets pushed again. I think that's a positive for Zayn, who hopefully can thrive on Smackdown. There are questions about his future since his contract is reportedly expiring in a few months, so maybe he won't be in WWE much longer.
* Shanky
Tall and really green. That's what Shanky is. They will keep him with Jinder Mahal as a big guy that can stand outside the ring and interfere once in a while, but I doubt he wrestles that much.
* Sheamus
When Sheamus got drafted, he tweeted this:
..ultimately, the hunter becomes the hunted #SmackDownpic.twitter.com/Sij9glfT1x

— Sheamus (@WWESheamus) October 5, 2021
It's the Intercontinental Title. That's the only title (that matters) in WWE that he hasn't won. Sheamus has posted photos of a display case in his house. He's won the WWE Title, the World Heavyweight Title, the United States Title, the Raw & Smackdown Tag Team Titles and he's just missing that Intercontinental Title. Now that Sheamus is on the show with the IC Title, I think he'll get it at some point in the next twelve months. Sheamus should have a solid, consistent role on Smackdown as one of midcard-upper midcard heels that will probably feud with some younger guys occasionally too. Since he's also on the same show with Cesaro, maybe they can reunite as a team (if one of them turns) or have matches against eachother too.
* Top Dolla (AJ Francis)
The big man in the popular Hit Row group is a great talker that is improving in the ring. Standing at about 6'6" and 300 plus pounds makes him stand out too. In the NXT days, he mostly teamed up with Ashante Adonis. Some WWE fans will also know him from the A&E show that was on earlier in this year where he helped find some hidden treasures. I think he has a bright future.
* Xavier Woods
As I mentioned with Kofi Kingston, I would love to see Xavier Woods featured more as a singles wrestler on Smackdown. Yes, they should continue to team occasionally, but I'd love to see a promo between them saying that maybe they should each focus on singles goals. I know Woods has been very vocal about wanting to be King of the Ring too, so I'd love to see him do well in that tournament. If Woods and Kingston team as The New Day regularly that's cool too. I just think at this point in his career, a singles run for Woods would be fun to see.
SMACKDOWN FEMALE ROSTER
* Aliyah
I liked Aliyah when she was on NXT although I think she was miscast as a heel in the Robert Stone Brand. To me, she looks more like more a smaller underdog wrestler and she is somebody that would do better in that kind of role. She signed with WWE in 2015 before she even turned 20 and now at 25 she's still really young with a bright future. I think they'll take their time with her rather than do a big push.
* B-Fab
B-Fab is Briana Brandy and she's part of the Hit Row group. I haven't seen much of her in the ring other than two matches on NXT 2.0 recently. I know her recent match against Elektra Lopez was criticized by some people, but it wasn't that bad to me. I like her charisma and her look. My guess is WWE will keep training her until she improves in the ring more before they start putting her in matches regularly.
* Charlotte Flair (RAW Women's Champion)
Clearly the biggest star among the Smackdown ladies along with Sasha Banks. I don't know if she's going to drop the Raw Women's Title to somebody that's on Raw now or if they do the title swap with her and Becky Lynch. There are a lot of ways it can go before October 22. While I think Charlotte is a tremendous all-around performer, I think some of her feuds are boring because she has been doing the same heel promos for most of the last six years when she's been a heel. She is at a point now where she has to use her skills to help make others better. I don't know if you can say Rhea Ripley or Nikki A.S.H. benefited from feuding with her. Charlotte has to be a leader and elevate some talent instead of always looking strong in the end.
* Naomi
The door seems wide open for a big Naomi babyface push. She is currently feuding with WWE Official Sonya Deville, who is being mean to her and it should lead to a match between them. After that, I can see Naomi getting into the title picture. When looking at this women's roster, there just aren't many other potential top babyface women unless they want to pull the trigger on somebody perhaps before they are ready for it. Naomi has been underutilized for a long time. Maybe now she'll get the chance she deserves.
* Natalya
The most veteran wrestler of the group, Natalya is a leader and somebody that always makes people around her better. When she was teaming with Tamina, it led to Tamina winning gold for the first time in a decade-plus long WWE career. If they pair Natalya up with another wrestler then it would benefit that person too. Face or heel doesn't matter with her because she can do it successfully and has done it many times before.
* Sasha Banks
Whether she's a face or heel, Sasha is one of the best women's superstars in WWE. When I look up her info to see she's only 29 years old (she turns 30 in January), it's amazing because she has been so great since I first took notice of her in NXT in around 2014. Since then, she has had a lot of successful rivalries with the likes of Charlotte, Bayley, and Bianca to name a few. With Charlotte as a heel on Smackdown, it makes me think we'll get a Charlotte/Sasha rivalry again although maybe they will be a dominant heel duo for a while. We'll see how that goes if it happens. Anyway, Sasha missed four months post-WrestleMania this year, then she missed a month after SummerSlam. I hope she's more active moving forward. I'm a big fan.
* Shayna Baszler
It's good to see that WWE has been booking Baszler as a dominant heel in the last few weeks on Raw. I hope it continues on Smackdown too. Baszler has always been in the heel role during her WWE run starting in NXT, then on Raw and now heading to Smackdown. It's the more natural, obvious role for her. They could make her a babyface that kicks ass without changing her character much, but I think staying as a heel is the right move.
* Shotzi Blackheart
The energetic Shotzi was part of the tag team with Tegan Nox. They got moved to Smackdown months ago, got some non-title tag team wins and then never got a title shot. Now the team is broken up? Huh. That's strange to me. When she was in NXT, she really impressed me over the last couple of years because I didn't notice her that much and as she got more chances to have long matches, she started to show how good he is. If she gets a chance, I think she'll do well.
* Toni Storm
Here's a woman that they really should be using more. I mentioned with Naomi that the door is open for a babyface to step up and I think Toni Storm is another one to keep an eye on. Toni has been in the heel role plenty in her carer too, but I think she's more natural as a face. The fans could totally get behind her if she was feuding with one of the heels like Charlotte, Sasha (if she stays heel) or Shayna. You could even make Toni a babyface ally of Natalya or something like that because I think that would work as a pairing.
* Xia Li
I was a bit surprised by Xia Li getting the call up to Smackdown from NXT, but she's certainly somebody that deserves it. The reason I was surprised was just because they didn't use her that well in NXT. She was in these mysterious training videos for months, she comes back as a killer that wins short matches, loses a title match to Raquel Gonzalez and then that was it. I don't really see the point of it. Anyway, she is a good striker, she sells well and she's capable. Once again, if she gets a chance, she should do okay.
The full listing of the Smackdown roster that WWE posted is below.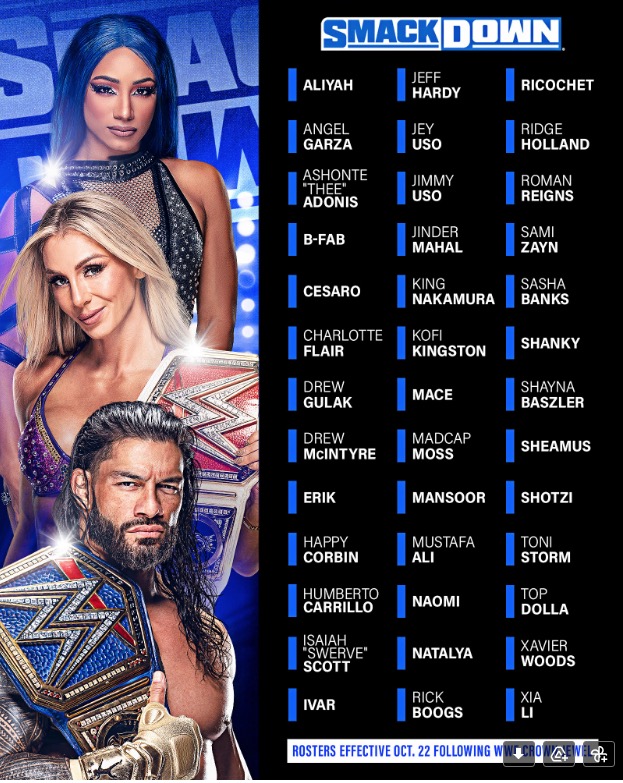 FREE AGENTS
Here is a list of names of people that went undrafted due to injury or WWE simply choosing not to pick them.
* Asuka
The great Asuka is dealing with an arm injury, which you can see in this picture she posted last week with her left arm in a sling. I don't know how long she's out, but whenever she's back she can do well on Raw or Smackdown whether she's a heel or face, which is her more common role.
* Bayley
Another awesome women's wrestler that we miss is Bayley. She tore her ACL back in July, so that's about 8-10 months until she can come back. That puts her return maybe at the Royal Rumble at best, but probably another month or two after. She could be ready by WrestleMania. I think bringing her back as a face would be fun even though she was a heel when she got hurt. I miss her on the shows.
* Brock Lesnar
The Beast let us know on Smackdown last week that he's a free agent…thanks to Paul Heyman. Lesnar added that last part to infuriate Roman Reigns. I like babyface Brock and glad he's around again. He faces Roman Reigns for the Universal Title at Crown Jewel on October 21.
* Elias
There were videos about the end of the Elias guitar playing gimmick and then we heard nothing from him. I don't know when he'll be back. It's probably a creative decision to give him a break until they have something for him.
* Eva Marie
The "Eva-lution" star was recently injured by Shayna Baszler, who stepped on her arm. I think when she comes back it'll be on Raw and they should pair her with another woman because she's not as interesting on her own.
* Gran Metalik
The high-flier "King of the Ropes" just never seemed to fit in WWE despite being an awesome in-ring performer. Metalik apparently asked for his release recently and it was expected that WWE would grant that request, but it hasn't been reported yet.
* John Cena
Cena is busy filming movies, TV shows, commercials and whatever else he can do. His days as a full-time wrestler are done. I would assume we see him around WrestleMania season.
* Lacey Evans
Lacey is pregnant with her second child. Since she announced the pregnancy earlier in the year, I assume she's close to giving birth. She already has a daughter with her husband, so congrats to them for having another baby.
* Lince Dorado
The partner of Metalik may have also asked for a release. It's not really known right now.
* Shane McMahon
Vince's son has been off TV since the boring WrestleMania feud with Braun Strowman, who got fired a few months after that storyline ended.
* Slapjack (Shane Thorne)
I saw a video of him recently doing an Australian outback gimmick as a tryout for a new character. I have no idea if it will work.
* Titus O'Neil
The great Titus is one of the best ambassadors that WWE has ever had. Titus is known for his incredible charity work and won WWE's Warrior Award for all of the incredible work he has done. I don't know if he's retired as a wrestler, but he's basically kept out of the ring at this point. He is part of the company still as far as I know.
===
Final Thoughts
Since I know I'll be asked, I don't know how who "won" the draft right now. I think Smackdown has been the better show over the last year, but Raw improved a lot in September. Maybe WWE has figured out how to book Raw better. I think Raw has more talent because they have more people, but Smackdown has a lot of outstanding wrestlers too. There's a lot to like on both shows.
I think it's a solid roster although they lost a lot of key guys. I don't know if they did a good job of coming up with babyface wrestlers to challenge Roman Reigns in the coming months, but maybe they'll rely on some older faces and maybe even some new ones too. Some of Roman's Universal Title challengers this year were drafted to Raw (Kevin Owens, Edge, Finn Balor) while another left the company (Daniel Bryan), so there aren't going to be a lot of rematches in that regard other than Brock Lesnar and maybe if Cesaro gets a push again.
The men's tag team division is pretty strong on Smackdown, which is why I mentioned that maybe Kofi Kingston and Xavier Woods should try to go the route of singles wrestlers. At least they have a few teams they could go with.
The women's division isn't that deep on Smackdown. It also seems heel heavy, so we could see babyface Sasha Banks again and maybe Naomi will get a bigger push too. I'd like to see Toni Storm get an opportunity as well.
Thanks for reading.
Email mrjohncanton@gmail.com
Twitter @johnreport
Personal Facebook and TJRWrestling on Facebook