5 Superstars That Could Dethrone Roman Reigns As WWE Universal Champion
Roman Reigns has reached the 400-day mark as WWE Universal Champion. It has truly been a great run as Champion that has been highlighted by great matches with Jey Uso, Kevin Owens, Edge, John Cena, Daniel Bryan, and Cesaro. I know technically Brock Lesnar had a longer reign at 500+ days, but there is a very strong argument that this is the best Universal Title reign in its short five year history. It feels like THE main title instead of the WWE Championship and that is because of the man holding it and the amount of title defenses he has made on regular television over the last year. The question everybody keeps wondering is who? Who will be the one to dethrone Roman Reigns? He has not been pinned or submitted since December of 2019 so when it happens, it needs to be big.
I know my buddy John Canton thought John Cena might be the one to do it. It is easy to see why. John Cena is currently set at 16 World Championship reigns. Every time John Cena is put in a World Title match, there's always that chance. Plus, they had just released Ric Flair so some thought they might give John Cena number Seventeen out of "spite" and to "erase" Ric Flair from the record books. I never subscribed to that theory and I doubt John did either. He just believed it might be time. John could've lost it back at Extreme Rules or the Madison Square Garden Smackdown that he was advertised to be at just a few weeks later. As we know, it didn't happen.
I have five people in mind that I think are realistic possibilities to dethrone The Tribal Chief of his Universal Championship. Of course, some of these guys may get drafted to Raw tonight which would put a damper on their chances, but I'm going to list them anyway. They could always take the Royal Rumble or Money in the Bank route to get to Reigns after all. First, I want to discuss the elephant in the room of a guy that is on a collision course with the Head of the Table, but I do not think will be the one to dethrone him.
The Great One, The People's Champion, Dwayne "The Rock" Johnson. The Rock and Roman Reigns clash has been a rumor ever since Roman returned as a heel at Summerslam in 2020. There are rumors that The Rock could appear at Survivor Series at Barclays Center. It will be 25 years since The Great One debuted at that very event, which was also held in New York. It would be a fitting tribute to one of the biggest stars to ever lace up a pair of boots. It also could be a jumping-off point for The Rock vs Roman Reigns at Wrestlemania 38 in Dallas. I don't think that necessarily needs the title but I do think The Universal Championship will be on the line. Would I love The Rock to win the title? Of course. He was my favorite of The Attitude Era. Do I think he is the one to dethrone Reigns? Not a chance. Mostly because I think he is one and done. I believe the match with Roman Reigns will be his last match. It will be a "passing of the torch" moment at Wrestlemania, against his family. That is another reason I do not think it needs the title but I don't believe, whether for the title or not, there is any scenario where The Rock beats Roman Reigns. There are five people who I think could beat Roman Reigns.
#1: Drew McIntyre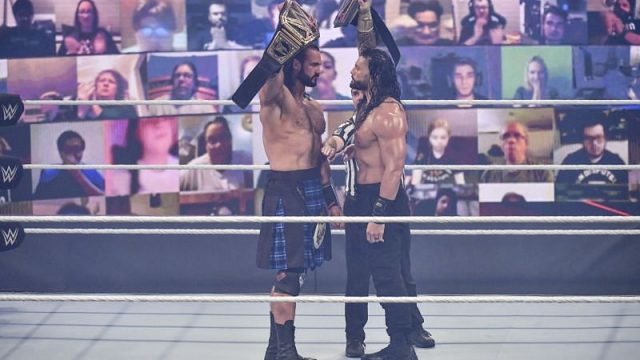 Drew McIntyre was drafted to Smackdown last Friday night so regardless of what happens on Raw, he is an eligible challenger and of the full-time talent, I think he has the best shot. He hasn't had a World Title shot since losing to WWE Champion Bobby Lashley back at Hell in a Cell in June. Per the stipulation, Drew McIntyre could never challenge for the WWE Championship again as long as Lashley was the WWE Champion. Lashley is no longer the WWE Champion, but Drew is on Smackdown. I suppose they could run with Drew McIntyre vs. Big E at Crown Jewel for the WWE Title since Goldberg vs. Lashley seems to be the plan but let's be honest, Drew is not winning the title and taking it to Smackdown.
Drew has unfinished business with Roman Reigns. They've faced each other one time in their current Face and Heel roles and that was at Survivor Series 2020 in the Champion versus Champion match. Of course, Roman Reigns won that match, but I feel like it might be different this time. I would consider this a solid Plan B replacement if The Rock can't make it to Wrestlemania due to his movie schedule. If I was booking, I'd have Roman Reigns lose the title and win it back a few months later and then hold the title all the way until the rumored UK Pay Per View in the summer or fall of next year. Then, you have Drew Mcintyre win the belt there. If you know how instrumental Drew is in getting the UK PPV to happen, you'd understand why it would be a perfect scenario.
#2: Brock Lesnar
You can't talk about potential new champions without talking about "The Beast" Brock Lesnar. Unlike John Cena, who only returned to work the Summerslam program with Reigns, Brock Lesnar is signed for at least a year and a half and between eight to twelve matches. Match number one is at Crown Jewel against Roman Reigns for the Universal Championship. I think there is a distinct possibility that Brock will be the one to dethrone Roman. You have to figure they'd want Brock Lesnar on the card at Survivor Series if they have him and if it is the same brand supremacy nonsense then you can expect Brock Lesnar to face the WWE Champion. They're not throwing Brock on a 5 on 5 Survivor Series match. At the same time, I can't see them just wasting Roman Reigns in a Survivor Series elimination match either. I know he's been in one before, but not this Roman. It just wouldn't fit. Universal Champion Brock Lesnar versus WWE Champion Big E does intrigue me quite a bit. Roman could get the title back at the Royal Rumble. I'm not sure. Anyone can win and I think that is the first time I have said that since Roman Reigns became Universal Champion and that's a good thing. I like not knowing.
#3: United States Champion Damian Priest
I know he hasn't been drafted yet, but assuming he is drafted to Smackdown, I think he is a prime candidate to take the belt off Reigns. Other than Reigns, you can argue that Priest has been the most protected guy on the roster in 2021. He has yet to be pinned in singles action on the main roster. He is the United States Champion. I think a match pitting Damian Priest versus Roman Reigns would be a hell of a 2022 program. They match up well and I firmly believe Damian Priest will be a World Champion, whether Universal or WWE, before 2022 is over.
#4: AJ Styles
This is a darkhorse pick, but I believe AJ Styles is done on Raw. I think he gets drafted to Smackdown tonight. He's done all he can on Raw and I think a move back to Friday nights might be just what he needs. You can even move Omos with him and turn them face. Having Omos out there to fend off both Usos as they try to get involved will surely pop the crowd. The last time Reigns/Styles feuded was 2016 when Styles first joined WWE and turned heel against the babyface Roman Reigns. Having the roles reversed here could make for an interesting match-up. Plus, I think it is time to put Styles back in the main event picture. The Universal Championship is the one main title he has yet to hold.
#5: Bobby Lashley
This is another darkhorse pick. As much as I would dread having Lashley and McIntyre on the same show, I think you need a new set of challengers for Roman Reigns. He has run through everybody else. Draft the Hurt Business to Smackdown, turn them babyface, and feud them with the Bloodline. It would give Universal Champion Roman Reigns AND Smackdown Tag Team Champions The Usos some fresh challengers. The promo battles between Paul Heyman and MVP would be worth the price of admission alone. The Hurt Business vs. The Bloodline could be a nice way to close 2021, maybe even with a babyface Lashley as the Universal Champion. Let's be honest. What would Bobby Lashley have to do differently? He looks for a fight, never backs down from a challenge, and wins more than he loses. That sounds like a babyface to me.
Those are five guys who I think could realistically dethrone Roman Reigns for the Universal Championship. I understand that three of those names haven't been drafted yet so they could all return to Raw and make that null and void. However, I think at least one, possibly two of those three names will head to Friday nights. I guess we'll see. One thing is for sure, this is one of the best World (or Universal) Title reigns in a long time and when somebody does pin Roman's shoulders to the mat, it is going to be huge for that wrestler. I just hope it is built up the right way.
Thanks for reading. I'm on Twitter @GiftedMoney talking about wrestling among other things, so feel free to message me on there with any thoughts or comments.