The WWE Smackdown Reaction for 3/18/22
Welcome to the WWE Smackdown Reaction, where I offer my take on this week's show in Charlotte, NC.
As always, you can check out John's full in-depth report here.
We kick off the show with Promo Time with The Bloodline. There wasn't anything of real value added in the promo as usual. Heyman said he had a text from Brock Lesnar that his flight was delayed in Saskatchewan. Reigns brushed off Lesnar's excuse before Heyman started freaking out about the plane just landed. Everybody bails from the ring to hop in to their SUV when Lesnar attacked with a forklift, of all things, to throw us to a commercial break. This was just genius Lesnar's part. I remember "Stone Cold" Steve Austin doing this kind of thing in the past.
Back from the break and conveniently the cameras kept filming during the commercial break with Lesnar flipping the SUV over before ripping the door off of another truck that the Bloodline escaped in. Lesnar came out to the ring, still carrying the door like a trophy or something. Lesnar cut a quick promo that he's ready for blood at WrestleMania. It was very well done and something that hasn't been seen on WWE TV for a while. It did a great job building up the WrestleMania match.
The opening contest was a tag team match between the team of Shinsuke Nakamura and Rick Boogs and Los Lotharios. This was just a standard tag team match to build up momentum for Nakamura and Boogs for their WrestleMania tag team title match. Boogs got the win for the team.
Six-Man Tag action is next as we get the match we were supposed to have last week with Drew McIntyre teaming up with the Viking Raiders to take on Happy Corbin, Jinder Mahal, and Shanky. This was yet another standard tag match designed to give McIntyre momentum towards WrestleMania. We all know that Corbin has no chance at WrestleMania, so who are we kidding? Even Madcap Moss told a joke calling Happy Talk Nappy Talk. He gets it now.
Sami Zayn did a pretape to challenge Johnny Knoxville to make their match "Anything Goes". Knoxville would do a cell phone video later to accept the challenge.
More tag team action is next with Sasha Banks and Naomi taking on Raw's Liv Morgan and Rhea Ripley. This was the longest tag match so far and it was really good. The WWE Women's Tag Team Champions Queen Zelina and Carmella were at ringside for this one. After we get the impressive Tower of Doom spot, Natalya and Shayna Baszler run in for the no contest. Natalya and Baszler wreck everybody in the ring and would get added to the tag title match shortly thereafter by Sonya Deville.
Pat McAfee had been summoned to Mr. McMahon's office and he returned to the ring. He cuts an epic promo that runs circles around 2/3 of the roster on Austin Theory. Theory comes out so McAfee can apologize to him. McAfee apologizes for beating Theory up and that Theory's parents raised a douchebag before Theory left.
We get a replay next from last week's accident with Big E getting his neck broken when Ridge Holland's belly-to-belly suplex went awry. They shared some messages from Big E as well. Get well soon, big man.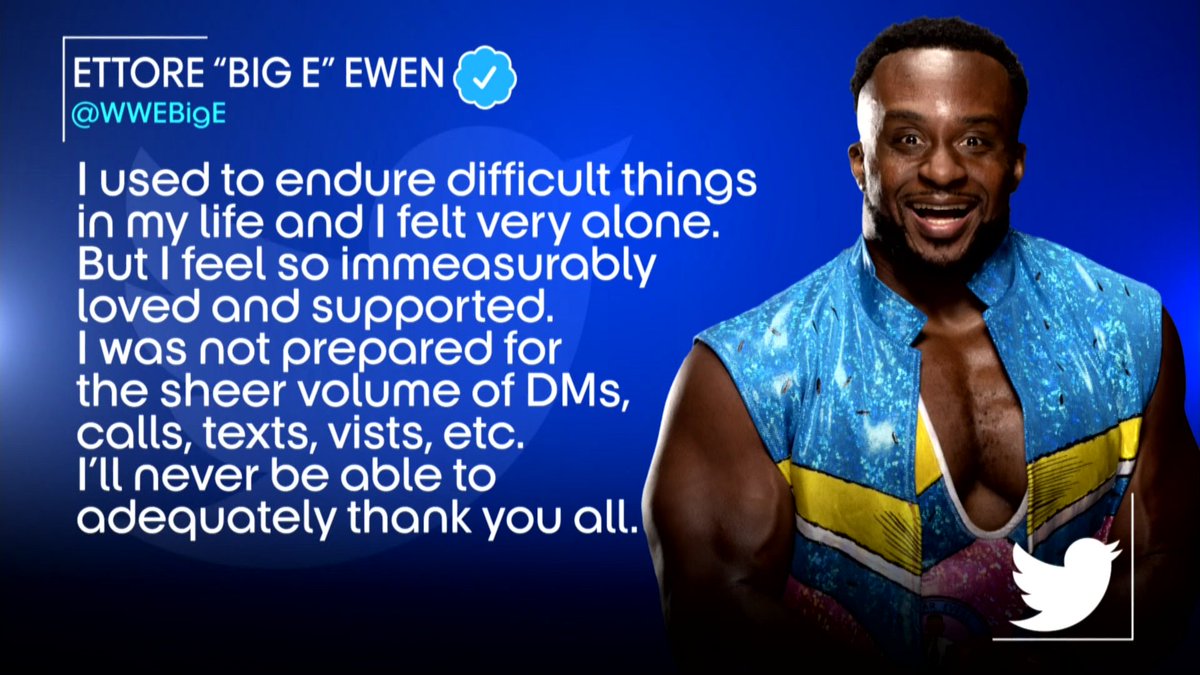 Kofi Kingston comes out to avenge Big E by taking on Ridge Holland. It was noted on commentary that Holland had apologized directly to Big E. The match was pretty solid with Kingston outnumbered three to one. Sheamus and Butch get tossed from ringside, but Butch tries to interfere again allowing Holland to pick up the win. That's not quite the outcome I would have gone with. I would have had Kingston pick up the win here since the extras outside got the boot. Otherwise, why do that spot?
We conclude the night with Promo Time with Charlotte Flair. Flair's promo is the usual drivel that she says in all of her feuds. I don't think Flair realizes that Rousey is the bigger star in this feud. Anyway, Ronda Rousey comes out and the fight is on. The brawl was passable with Flair getting the upper hand again by putting giving Rousey a Powerbomb to break the commentary table. That was the end of the show.
Let's look at tonight's highs and lows.
The Highs
It was another great night for tag team action. All three tag matches had solid action in them and moved the WrestleMania storylines attached to them along.
Lesnar going all "Stone Cold" Steve Austin on the Bloodline was great. It was a nice little plug for Austin's appearance at WrestleMania if you understood the reference. It was a really good next step in the feud and just keeps building up to Lesnar's revenge at WrestleMania. I think I'm going to pick Lesnar to win that match. I think Lesnar gets his hands on maybe an Uso next week.
The Lows
I'm not quite sure of the booking decision to have Kingston lose to Holland after Sheamus and Butch got booted from ringside. It would have made more sense for Kingston to avenge Big E's injury here and have Holland pick up the win in a rematch next week.
==
You can reach me on Facebook and Twitter (@ciscowebwiz76) with any feedback or discussion.
That's all I've got, until next time.