WWE NXT UK TakeOver: Blackpool 01/12/19 Review by Max Grieve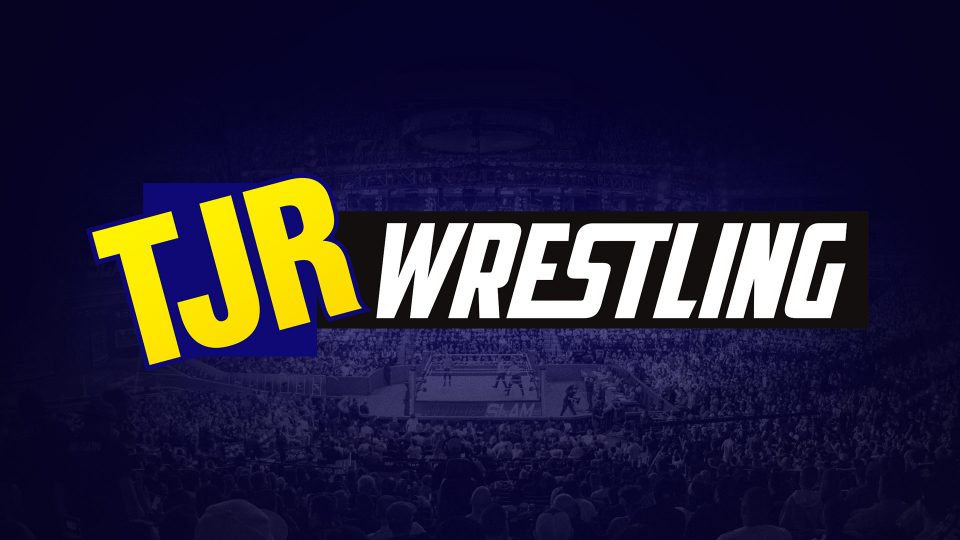 Welcome to a recap of the new NXT UK brand's first TakeOver event, which aired live from the Empress Ballroom in Blackpool. This was the venue for the first UK special, which aired on the WWE Network in January 2017 (and in recent years is more commonly known on British television as the Mecca of ballroom dancing on 'Strictly Come Dancing' – that's 'Dancing with the Stars' to our North American cousins).
Though WWE's UK brand has had further specials and other exposure since, this is their first big card since the launch of the weekly NXT UK programming on the WWE Network, where there are television storylines to be paid off. It promises to be a good show.
NXT UK TakeOver: Blackpool
The commentary team of Vic Joseph and Nigel McGuinness welcomed everyone to the show as the camera panned round the audience in the Empress Ballroom. A guy in the front row was holding a 'CAREFUL NOW' sign which, as anyone who knows their regional comedy will confirm, sets an impossibly high bar for the best sign of the night.
The first match was to crown the first NXT UK Tag Team Champions, and Moustache Mountain – wearing gear in tribute to The British Bulldogs – came out first to a big pop. Zack Gibson and James Drake came out second to strong heel heat which, given Gibson's Liverpool is only an hour's drive away and Drake is actually from Blackpool, is a sign of how well these guys' characters have been pitched on the brand so far. The show's authority figure pairing, Johnny Saint and Sid Scala, were in the ring with the championship belts for the introductions.
NXT UK Tag Team Championships: Moustache Mountain vs James Drake & Zack Gibson
Moustache Mountain's Tyler Bate started the match against Gibson. The crowd were rowdy to start the match with chants and the Gibson-specific removal-of-shoes protest. Bate and Gibson traded holds before Bate showed his strength to power out. Gibson made it to Drake for the tag, but Bate slipped away and tagged in Trent Seven. Seven dominated Drake with chops and double-teamed him with Bate in the corner. Bate evaded Drake and hit a hurricanrana on Gibson before Seven came back in.
Drake and Gibson exchanged tags, but Seven fought them off. Seven with a suicide dive to Drake, but Gibson caught Seven with a throat chop outside the ring. Gibson and Drake worked over and wore down Seven, with Drake busting Seven open with a stiff forearm to the back of the head. Seven was making innovative escape attempts to no avail, but finally reached over Gibson to make the hot tag to Bate.
Bate hit strikes on both men and set Drake up for an airplane spin. When Gibson interrupted, Bate stacked Drake on top of him and spun both men together. Bate is freakishly strong. From the apron, Bate hit an exploder suplex on Drake that sent him into Gibson, then a running shooting star press onto both men. Bate and Seven hit The British Bulldogs' powerslam/diving headbutt combination on Gibson for a two count. Seven then hit Gibson with a burning hammer, but Drake broke up the pin. First 'this is awesome' chant of the night from the crowd.
Bate and Drake tagged back in and exchanged pinfall attempts and strikes. Moustache Mountain went for their rebound clothesline/full nelson suplex double-team, but Gibson interrupted Bate with the Ticket to Ride lungblower. Gibson then hit Seven with his corkscrew brainbuster and Drake followed with a picture-perfect 450 splash, but Seven kicked out at two. Fantastic nearfall.
Seven tried to fight off both men, but got caught in the Shankly Gates by Gibson. Bate tried to make the save, but Drake cut him off and also applied the Shankly Gates. Bate lifted Drake into a fireman's carry and used him to break up Gibson's hold on Seven. Bate took down both men and Moustache Mountain finally hit their rebound clothesline and full nelson suplex, but Drake kicked out. Another great nearfall, which the crowd totally bought as the finish. Bate got pulled off the apron and wiped out by an electric chair/suicide dive combo by the heels. Trent Seven went for a suicide dive of his own but Drake caught him with a dropkick. Back in the ring, Drake and Gibson hit Seven with their Ticket to Mayhem double-team and Drake covered for the win. The crowd hated it.
Winners: James Drake & Zack Gibson
Max's Take: The match went about 24 minutes. Good news: NXT UK's tag title matches are clearly based around the same principles as NXT's tag title matches. This was an outstanding opener and, in anyone's money, an upset with Drake and Gibson beating the heavy favorites to be crowned the brand's first-ever tag champions. It instantly legitimizes another team on the brand asides from Moustache Mountain though, which is good.
Before Travis Banks vs Jordan Devlin, an 'earlier today' video aired that showed the heel Devlin attacking Banks on his arrival at the venue, injuring his knee. Banks made his entry for the scheduled match. When Devlin came out, Banks hit him with a suicide dive before he'd made it to the ring. Devlin turned the tables and stomped the knee of Banks against the ring steps. Referees came out to break up the brawl. The bell never rang.
Banks was helped out of the arena as it became clear the match wouldn't take place, while Devlin got on the microphone to milk the moment. Just after he boasted about being "the greatest Irish wrestler alive" – see if you can spot where this one's going – Johnny Saint and Sid Scala hit the stage to inform him they'd made a backup plan after Devlin's attack earlier in the day.
The lights went out and Finn Balor's music hit to an almighty pop; probably one of the loudest you'll hear in WWE this year (and only slightly kneecapped by Vic Joseph's lukewarm, off-the-shelf "Balor Club has come to Blackpool" call). A shame for Travis Banks, but that angle will likely continue to play out on weekly programming. Balor originally trained Devlin in their shared hometown – there are some aesthetic similarities between them too – so as far as impromptu matches go, this is far from the worst.
Finn Balor vs Jordan Devlin
Devlin slapped Balor in the face. Balor responded with strikes and a slingblade, but Devlin rolled out of the ring as Balor looked for the Coup de Grace. Balor dominated Devlin outside the ring, until Devlin crotched him on the middle rope, then drove him into the barricade and apron to take control.
Devlin hit a double stomp and mocked Balor's trademark pose. Balor regained control with a basement dropkick and enzuigiri, went for the Coup de Grace again but Devlin dropkicked him to the floor. Balor made it back into the ring at a count of nine. Both men exchanged hard chops around the ring. Devlin with another slap to the face, side slam and standing moonsault for two.
Abdominal stretch by Devlin was escaped by a hiptoss by Balor, who then applied an abdominal stretch himself before an exchange of strikes knocked both men down. Balor rallied and ended up hitting the inverted version of his 1916 (Bloody Sunday) for two. Looking for his big corner dropkick, Balor got caught by a superkick and headbutt by Devlin, who then dragged him by the arm into a nice back suplex for a close two count.
Devlin was trash talking Balor until Balor sent him out of the ring and hit a big kick on the apron. Balor went up for the Coup de Grace again, but Devlin crotched him on the top rope. Devlin rolled up Balor with his feet on the ropes for assistance but Balor kicked out at two. Balor then got his knees up on a pretty Devlin moonsault, then hit the 1916, corner dropkick and – finally – the Coup de Grace for the win.
Winner: Finn Balor
Max's Take: The match went about 12 minutes, which is probably the absolute maximum an NXT guy with limited on-screen development should be lasting against a main roster guy on Finn Balor's level. The commentary team did a smart job of noting how Devlin's knowledge of Balor meant he had the Coup de Grace scouted, therefore keeping him in the contest longer. A solid match, with Balor giving his former student a pretty nice rub.
Luke Menzies, a former Rugby League player in England who's appeared a couple of times as enhancement talent on main NXT programming, was shown in the crowd. The UK brand looks a good fit for him to progress his WWE career. A video for Eddie Dennis vs 'Bomber' Dave Mastiff aired. Both men are bigger guys, with Mastiff the face here and Dennis the heel.
Eddie Dennis vs Dave Mastiff (No Disqualification)
The match started out with both men throwing strikes, before Mastiff hit a crossbody. Mastiff sent Dennis into the ring steps on the outside. Mastiff brought the steps into the ring, but Dennis hit him with a kendo stick (which Vic Joseph was referring to as a Singapore cane). Dennis pulled up the floor covering on the outside to reveal the ballroom floor. Dancing with the Superstars, anyone?
Back in the ring, Dennis dominated with the kendo stick and hit an assisted side Russian legsweep. Mastiff eventually snatched the kendo stick after a big headbutt, then gave Dennis his receipt with the stick. Mastiff hit a powerbomb and looked for something onto the ring steps, but Dennis reversed into a short tilt-a-whirl sideslam that was pretty impressive on the big man Mastiff. Dennis grabbed the timekeeper's steel chair but Mastiff dodged an attack.
Dennis cut Mastiff off on the top rope and hit a crucifix powerbomb he calls the Severn Bridge. That was a surreal feat of strength. Dennis propped a table up in the corner to the delight of the crowd. They teased Mastiff hitting a German suplex from the apron to the exposed floor. Mastiff hit a couple of sentons to Dennis on the exposed floor instead.
Back in the ring, Mastiff missed with a slingshot moonsault and Dennis hit a lifting inverted DDT for a close two. Impressive from both men. Dennis with a chair shot to Mastiff's back. He looked for the Severn Bridge through the table, but Mastiff slipped out, hit a nasty high-angle release German suplex and a big cannonball that put Dennis through the table. That was enough for three.
Winner: Dave Mastiff
Max's Take: The match went a little short of 11 minutes and was good value for it. The stipulation offered the crutch of some weapon spots for these guys to lean on, but in truth they barely needed them as the most memorable spots in the match were the feats of strength by Dennis and the feats of agility by Mastiff. Enjoyable stuff from these guys.
Before the NXT UK Women's Championship match, Kay Lee Ray and Jazzy Gabert were shown in the crowd. It looks like we can expect both to be added to the division imminently, which is good news as it's been in need of a little more depth.
The video package aired for Rhea Ripley vs Toni Storm. Both women have very big upsides; Ripley is 22, Storm is 23 and both already look like huge stars when they come through the curtain. Storm is arguably the more complete package right now, but once Ripley – the inaugural champion – fully finds her promo voice she'll be a formidable heel. The main roster should be in both women's futures.
NXT UK Women's Championship: Rhea Ripley (c) vs Toni Storm
Storm eventually got the better of a strike exchange before Ripley bailed to the outside. After a chase around and through the ring, Storm connected with a suicide dive. From back on the apron, Ripley sent storm back-first into the barricade to take control. The announce team were putting over the back injury Storm suffered previously. Ripley applied a bodyscissors in the middle of the ring.
Storm attempted to fight out but Ripley snared her into a delayed vertical suplex, two bodyslams, a dropkick and two legdrops. Storm was kicking out of pinfall attempts at every turn and Ripley was getting frustrated. Storm finally halted Ripley with a big headbutt that floored both women.
After a long striking exchange, Storm hit two German suplexes. Both women looked for their finishers, before Ripley locked in an inverted Texas Cloverleaf. Storm reversed into an ankle lock. Ripley made it to the corner, but Storm hit a hip attack and another German suplex for a two count. Ripley finally managed to hit Riptide but Storm kicked out.
Ripley hit two short-arm clotheslines, but Storm countered the third with a headbutt before hitting her Storm Zero powerbomb for a near fall the crowd totally bought. Ripley went for Riptide again but Storm slipped out and hit Storm Zero again for the pinfall victory.
Winner: Toni Storm
Max's Take: The match went 15 minutes. A big reaction from the crowd for the title change and a great moment for Toni Storm, who celebrated her win on the barricade with the fans. A good title match that went down well with the live audience.
There was a shot of Charlotte Flair in the crowd before we headed into the main event. Pete Dunne has held the United Kingdom Championship for 601 days – put over in the video package here (and by the announce team subsequently) – and the question of who he eventually drops the title to is an interesting one. Joe Coffey has the backing of his brother Mark and Wolfgang (a heel faction named 'Gallus', for those who haven't been watching), which makes him a different kind of challenger from Dunne's previous defenses.
Joe Coffey was out first with his Gallus associates, though Mark and Wolfgang returned to the back and didn't accompany him to the ring. Dunne came out to a hero's welcome and 'Bruiserweight' chants before the in-ring introductions.
WWE United Kingdom Championship: Pete Dunne (c) vs Joe Coffey
This started just shy of two hours into the show, so it was clear this would go a decent length. I'll summarize a bit. Dunne got the better of the opening exchanges, looking to manipulate the limbs, before locking Coffey into a Regal Stretch variant and double wristlock. Coffey escaped with a butterfly suplex. Dunne spilled to the outside, but when Coffey went out after him Dunne caught him with an enzuigiri off the steps. Coffey then hit a powerslam on the entrance ramp.
When Dunne rolled back into the ring, Coffey worked over his back with whips into the turnbuckles, a backbreaker and sidewalk slam. Coffey applied a bearhug, then hit a belly-to-belly suplex. Dunne got back on terms with strikes and an enzuigiri in the corner, then hit a big moonsault to Coffey on the floor.
Dunne hit an X-Plex back in the ring for two. After another exchange, Coffey hit a springboard crossbody and a powerbomb for a close two count. Coffey locked in a Boston crab. Dunne looked like he might pass out but reached the bottom rope. Both men made it to their feet and traded big headbutts in the middle of the ring. Dunne hit a snap German suplex and applied a Koji Clutch followed by an ankle lock. Coffey eventually escaped but Dunne caught him with a knee to the face and a forearm as Coffey came off the turnbuckles. Dunne hit the Bitter End but Coffey kicked out at two. That's rare.
Out to the apron, Coffey pushed Dunne into the ringpost and hit a big powerbomb on the apron. Both men rolled back in to beat the referee's count at nine. Coffey and Dunne traded stomps and strikes, before Coffey finally hit his big clothesline for two. The Empress Ballroom crowd were on their feet, then shushed themselves as Dunne looked to snap Coffey's fingers. Coffey lifted Dunne to the turnbuckle, then turned to drop him into the ring with a powerbomb.
Both men got to their feet in opposite corners to thunderous applause. A striking exchange led to Dunne landing some big punches. Coffey recovered and hit an electric chair into a German suplex. The crowd started a very loud 'are you watching, Vince McMahon' chant. Coffey looked for Dunne's Bitter End, but Dunne countered into a DDT. Dunne managed to hit the Bitter End again but was slow to cover, so Coffey was able to roll to the apron. Coffey hit his discus clothesline but also couldn't cover.
Both men went up the top turnbuckle. It looked like Coffey was setting up for something big into the ring but he took a tumble out to the floor which definitely looked unplanned. Coffey recovered to hit the discus clothesline on the floor and a slam for two back in the ring. Both men went up to the top rope again, seemingly looking for the same move, and this time both took a spill outside with Dunne going into the barricade. Both rolled back into the ring, Dunne hit a discus clothesline of his own and a third Bitter End. Coffey kicked out. Dunne rolled over into a triangle hold, then snapped and twisted Coffey's fingers. Coffey tapped out.
Winner: Pete Dunne
Max's Take: The match went 34 minutes, which roughly breaks down into a textbook-quality first 30 minutes and a very strange last four. Taking what appeared to be two unplanned spills from the top rope, just as the match was building to a climax, was pretty terrible luck. The two men covered for it as well as they could, before Coffey then kicked out of Dunne's third Bitter End – which felt like it might've been enough – only to tap out to joint manipulation almost instantly. I dunno, maybe it's just me who found the finish a bit flat; let me know in the comments. Otherwise it was a very good main event and another fine addition to Pete Dunne's scrapbook of title defenses.
Dunne soaked up the applause of the crowd, before the 4th movement of Dvořák's Symphony No. 9 started up – because it's much easier to keep your indie entrance music if it's out of copyright – and recent WWE signee WALTER walked out to a big crowd reaction. WALTER entered the ring, hit Coffey with a big boot and had a staredown with Dunne. WALTER eventually left the ring and walked up the ramp, and the show went off the air after 2 hours and 39 minutes.
Yes, I watched #NXTUKTakeOver.
Yes, it was awesome. pic.twitter.com/bk9uQ2ObGh

— Vince McMahon (@VinceMcMahon) January 12, 2019
Final Thoughts
It was a good show; a very good show. Perhaps it didn't quite reach the heights of some TakeOvers on the main NXT brand, but it certainly matched the quality of where those shows were when that brand was starting out. The opening and closing matches (save for an odd last few minutes) were both excellent, while the three shorter matches in between all delivered. It's hard to point to anything in particular that could've been done better. The Blackpool crowd was hot pretty much the whole night; there's an anarchic humor to the UK audience, probably still closer to Full Sail than the likes of ECW, but it gives the brand a fresh identity from other WWE shows and adds to the product.
The NXT TakeOver template of five matches, all with time and playing to the performers' strengths, works so well. It looks like these NXT UK shows will probably become essential viewing in the future too, especially with the new talent that we saw being added to the roster here. I'm interested to see where the weekly shows go next.
I'll be back on Monday with the Week In Preview. Until then, drop down into the comments below and let us know what you thought of the show.
(Note from John Canton: I do not plan to write a review of this show. I asked Max to do it and he did a great job wit hit. Thank you Max!)