The John Report: WWE Smackdown Live Review 11/29/16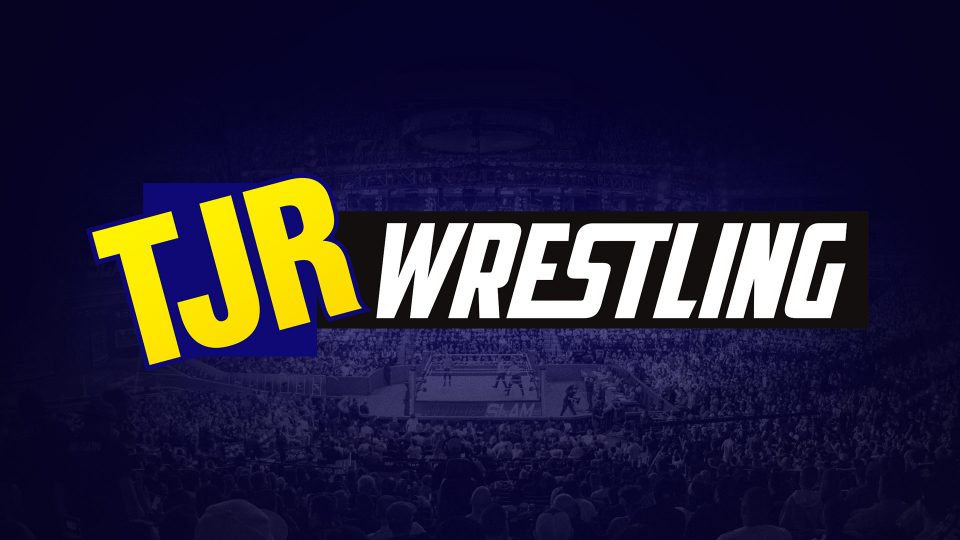 It's time for the last edition of Smackdown Live before the blue brand's last PPV of the year, which is TLC coming to us this Sunday night on WWE Network. Announced for Smackdown is Randy Orton and Bray Wyatt teaming up to face American Alpha with the winners of that match going on to face Smackdown Tag Team Champions Heath Slater and Rhyno for the titles at TLC.
If you missed my last WWE Raw Deal review you can click here for that. It was an enjoyable show this week, so let's see if Smackdown can top it.
Live from Columbia, South Carolina this is Smackdown Live for episode #902.
The show started with the Smackdown intro video and the notable thing about that is that James Ellsworth is a part of it now that he's a contracted wrestler.
Contract Signing For Smackdown Women's Title
There was a table in the ring set up for a contract signing with Renee Young moderating. Alexa Bliss made her entrance. The Smackdown Women's Champion Becky Lynch made her entrance. Bliss told Renee to leave unless they needed advice on bad fashion.
Bliss said that Lynch escaped their last title match due to blind luck and the WWE Universe agrees with her. The fans booed her. Lynch told her that she reminds her of a cousin of hers that cries and moans whenever they don't get their way, but her cousin is four years old, so what is Alexa's excuse. Bliss pointed out that her foot was on the ropes. Lynch said it's true. Lynch signed the contract first.
Bliss wondered what it would be like to be a part of the Lynch fantasy world that everything happens for you if you play nice. Lynch said that being nice didn't get her where she is – she got those things because she's relentless. Lynch said all Bliss has accomplished is some good soundbites on Talking Smack and some other things I missed. Bliss faked being sick while saying that every time she hears Lynch speak she feels like she's going to vomit. Bliss told Lynch there's always somebody better and she's standing right in front of Lynch. Bliss mocked Lynch by mentioning some Irish stereotypes while noting she'll pour some water on Lynch's "straight fire." Bliss told her not to call her Lexie – it's Alexa. Bliss signed the contract.
Lynch threw the first punch to stun Bliss. Bliss tried to fight her off, but Lynch hit the Bexploder suplex. The crowd was cheering a lot as Lynch stomped away on Bliss in the corner. Lynch took the cover off the table and the crowd knew what was coming. Lynch set up Bliss on the top rope. Bliss fought her off and shoved Lynch backwards so Lynch went butt/back first through the table. Bliss walked away looking proud of herself while Lynch was down in a heap after the table bump.
Analysis: They did a good job of making points about why they don't like eachother. The physical part was no surprise although I'm a little surprised that the face Lynch started it instead of the heel Bliss. I guess they did it that way because Bliss is the one that got the advantage at the end of the segment as she put Lynch through the table. That probably means they'll have a Tables Match at TLC. I expect Lynch to retain the title there.
Later on Smackdown: The Ambrose Asylum with James Ellsworth as the guest. Also, Ziggler and Kalisto team up against The Miz and Baron Corbin up next.
(Commercial)
Dolph Ziggler made his entrance. He's facing The Miz for the IC Title in a Ladder Match at TLC on Sunday. Kalisto made his entrance and he's against Baron Corbin at TLC on Sunday in a Chairs Match. There are tables, ladders and chairs all around the arena to hype up Sunday's show. The heels followed with their entrances.
The announce team was shown on camera. It's Mauro Ranallo, John Bradshaw Layfield, David Otunga and the host Tom Phillips, who doesn't talk during matches. It is JBL's 50th birthday, so happy birthday to him.
Dolph Ziggler & Kalisto vs. The Miz & Baron Corbin (w/Maryse)
Corbin crushed Ziggler with a forearm shot followed by some punches and they went to break one minute into it.
(Commercial)
Back from break, Corbin lost Kalisto off the apron and Corbin dumped Ziggler out of the ring. Miz tagged in against Ziggler. Miz put a ladder against the ring post. Ziggler came back with a DDT on Miz on the floor. Ziggler hit a superkick on Corbin on the floor. Miz and Ziggler crawled back in the ring before a ten count. Hot tag to Kalisto against Miz with Kalisto hitting a springboard dropkick and a corkscrew plancha. Snap hurricanrana by Kalisto gets a two count. Miz nailed a boot to the face to slow him down. Miz hit a dropkick on Ziggler on the floor and tossed him into the barricade. Kalisto was the legal man so he hit Corbin with a suicide dive. Ziggler with a superkick on Miz. Maryse shoved the ladder onto Ziggler on the floor. Back in the ring, Kalisto hit the Salida del Sol on Miz for a pinfall attempt, but Corbin hit Kalisto in the back with a chair to end the match at the six minute mark.
Winners by disqualification: Kalisto & Dolph Ziggler
Analysis: ** It was fine for the time given, but putting a commercial break on during a six minute match definitely hurts the quality of what we're watching. Corbin doesn't care about winning a tag match like this, so it fits his character to attack Kalisto with a chair to end the match. It also promotes his Chairs Match with Kalisto because it shows how much damage he can do with a chair in his hands.
More hype for things to come. The third commercial break took place at the 30 minute mark.
(Commercial)
The American Alpha duo of Chad Gable and Jason Jordan were backstage getting interviewed by Dasha Fuentes. Gable said they won the turmoil match last week. Jordan said they think they have a lot of things in common because they can levitate when Jordan suplexes. Jordan said once Gable gets rolling he'll make their lights go out like that. Gable said all they care about is having the tag team titles in their hands. Jordan told the Wyatt Family to run.
Analysis: Solid promo by the faces. It's not their strength, but it's important to build up main events by hearing from both parties, so I'm glad they got a chance to talk.
The Wyatt Family was back in their smoky lair. Bray Wyatt was there with Randy Orton and Luke Harper. Orton told Bray he used to be like American Alpha, but now he sees everything because he finally feels as if he truly belongs. Orton said they proved at Survivor Series they are the best. Orton wondered if Harper will do what needs to be done against Kane. Harper just stared. Wyatt told Harper to go send Kane back to hell.
Analysis: Orton is doing a good job in this role. It's not going to last forever, but they'll probably win the Tag Team Titles before a split in January or February leading to Orton as a face against Wyatt at WrestleMania. That would make sense to me anyway.
The lovely Carmella was shown walking backstage. She's up next.
(Commercial)
Carmella made her entrance as we were reminded that she faces Nikki Bell in a No Disqualification Match at TLC.
Carmella said she had a special message for Nikki's boyfriend John Cena. The fans asked Carmella "how you doin'" and she said she'll do better when she gets out of there. Good comeback. She publicly apologized to John for what she's going to do to her girlfriend. Carmella said she's going to grab a chair and hit Nikki so hard in her chest that her own "Bella Twins" are going to be popping out of her back. Carmella said she will hit Nikki so hard she won't think about a wedding. Carmella said she doesn't know what E Network will do when they cancel season two of Total Divas.
Nikki Bella ran down to the ring. She attacked Carmella in the corner. The ref held Nikki, so Carmella knocked her down with a slap. Carmella was able to escape the beating and went up the ramp.
Analysis: I guess there was no match for Carmella after all. Funny how that works out. Anyway, I thought her promo was pretty good as she ripped on Nikki, made it personal by bringing up Cena and referencing to Nikki's boobs as her "Bella Twins." That's a creative name for them. Way to go WWE Creative team. Be proud. I think Carmella wins on Sunday thanks to Natalya interfering because it will be revealed that Natalya attacked Nikki at Survivor Series, unless they have already forgotten that.
A video package aired showing James Ellsworth's win against AJ Styles in a Ladder Match from last week thanks to Dean Ambrose helping Ellsworth. It means Ellsworth earned a Smackdown contract and a future WWE Title match.
Dean Ambrose was shown walking backstage.
Analysis: It is 50 minutes into the show with only one match taking place and there was only about four minutes of action shown. Since next segment is a talking segment that means four minutes of televised in-ring action in hour one. That may be a new record.
(Commercial)
Dean Ambrose made his entrance to a good ovation for his Ambrose Asylum segment. He is challenging AJ Styles in a TLC Match for the WWE World Championship at TLC.
Ambrose Asylum with James Ellsworth
Ambrose was in the ring with his elaborate "set" that included a rug, table, ladder and chair. He introduced his buddy James Ellsworth, who was wearing his own t-shirt with his face on it. There was an "Ellsworth" chant from the crowd.
Ambrose asked Ellsworth how old are those boots. Ambrose said he needs boots that don't look like they are spraypainted on. Ambrose asked if Ellsworth if he ever thought he'd be a full-time superstar on Smackdown. Ellsworth said he knew that if he kept fighting he could achieve anything and he thanked Ambrose. Ambrose told him to thank God for blessing him with…but he didn't know to compliment him since he's awkward looking. Ambrose said he didn't owe him a thing, but then he told Ellsworth to wash his car, maybe do his laundry and get him a six pack.
Ambrose noted that Ellsworth gets a future shot at the WWE World Championship, so he wondered who Ellsworth was rooting for. Styles said he'd be honored to face Ambrose and noted he has beaten Styles three times, so maybe he can do it again.
AJ Styles showed up to interrupt the proceedings. Styles wondered if this is what you call quality entertainment. He has a point. Styles stood on top of the announce table to insult Ellsworth by calling him a dummy while noting Ellsworth has no chin. Ambrose said that Styles admitted to losing to a dummy three times. Styles said he's tired of Ambrose making him look like a joke. He said he's going to beat some respect out of Styles this Sunday at TLC. Styles said at TLC he's going to bend chairs around Ambrose's back and put him through every table he can find. Styles told Ambrose that after he's done beating him, he's going to beat up the "superstar" Ellsworth as well.
Ambrose told Styles that he has all the physical talent in the world, but they say championships are won up here – the brain. Ambrose said that Styles is too easy to outsmart. Fans chanted "AJ Styles" while Ambrose just kept on talking. Ambrose told Styles to get his head on straight because this Sunday the fun and games are over. Ambrose told him when the bell rings things will get serious. Ambrose said he's going to climb that ladder to pull down what is his – the WWE World Championship.
Styles shoved Ellsworth into Ambrose, which sent Ambrose into a ladder that was in the ring. Styles knocked Ellsworth down. Styles sent Ambrose into the steel steps and then tossed the top half of the steps onto Ambrose. Styles knocked Ellsworth down with a double axehandle and then slammed a ladder onto Ellsworth. JBL: "Goodbye turtle." Styles dumped Ellsworth out of the ring so that Ellsworth was upside down against the ropes. Styles hit Ellsworth in the back with a chair shot. He teased a Styles Clash on the floor and then he went over to the ring steps. Styles jumped off the ring steps with Ellsworth and hit a Styles Clash on Ellsworth on the floor. Ouch. Nasty bump. Referees checked on Ellsworth. Replays aired of what happened.
Styles left. Ambrose got back to his feet. EMTs were at ringside and placed Ellsworth on a stretcher as the show went to break.
Analysis: Solid promo by Styles and Ambrose as usual. Ellsworth barely spoke, but he did fine for what he had to do. I liked the attack by Styles with him being all aggressive against both guys. The aggressiveness paid off because he dropped Ellsworth with a vicious attack leading to major stretcher job. Since Styles has been forced to put over Ellsworth multiple times, it made sense to have him show that kind of aggressiveness and get his revenge. Good segment.
"@AJStylesOrg has just delivered the MOTHER OF ALL #StylesClashes to @RealEllsworth!" – @MauroRanallo#SDLive#WWETLCpic.twitter.com/KKihIY7zO4

— WWE (@WWE) November 30, 2016
(Commercial)
Back from break, replays aired of Styles attack on Ellsworth.
There was a shot of Ellsworth getting put on a stretcher by some EMTs. Ambrose was right there with him and he left the building in the ambulance with Ellsworth.
Kane vs. Luke Harper
They did some taunting early on with Harper mock shooting an arrow at Kane, which led to Kane doing the throat slash. Kane nailed a big boot to the face followed by a clothesline that sent Harper over the top to the floor. Two minutes into the match and it's time for a break.
(Commercial)
Back from break, Harper worked over Kane with a boot to the face. Harper tossed him into the ropes, ducked his head and Kane hit a DDT. Kane nailed clotheslines followed by a sidewalk slam for two. Kane with some corner splashes that were pretty soft. Harper came back with a dropkick and two running back elbows in the corner. Harper went for corner punches, so Kane picked him up with a Powerbomb out of the corner, which is a move The Undertaker did so many times. Harper came back with a sidewalk slam for two. Harper with a headlock. Kane got back to his feet with a back suplex. Kane went to the top rope, missed a top rope clothesline as Harper moved and Harper nailed a superkick for a two count. Good nearfall. Harper went up top where he was met with a punch by Kane. Kane hit a superplex with him standing on the middle ropes while Harper was on the top. That's impressive for two big guys. Kane sat up while Harper was groggy. Harper nailed some punches, Kane blocked them and Kane hit a Chokeslam for the pinfall victory after ten minutes.
Winner by pinfall: Kane
Analysis: **1/4 It was a good match with some solid nearfalls. I'm not a huge fan of Kane winning clean over a talented midcard heel like Harper. What's the point? Kane is nearly 50 years old, is the oldest regular wrestler on the show and he shouldn't be winning clean matches over people. I get that he's a big man that is always booked strong, but do we really need Kane victories on this show? I don't see the point of it. Perhaps there's a story with Harper losing matches, which pisses off Wyatt and then Harper has to prove himself to Wyatt again or something like that. I'm not sure what the plan is. I just don't think putting Kane over in matches is a productive way to book matches in 2016.
The announce team plugged WWE Network content including the 205 Live cruiserweight show that airs after Smackdown. I'm not going to review that show, but I'm sure I'll watch it.
Up next is the tag match main event featuring Orton & Wyatt against American Alpha.
(Commercial)
There was a recap of Becky Lynch's segment with Alexa Bliss earlier in the night with Bliss shoving Lynch through a table.
Lynch was shown by the trainer's room as Renee Young interviewed her. Lynch said the doctor told her that she had a spine bruise. Young informed Lynch that Bliss has challenged Lynch to a Tables Match at TLC. Lynch said she didn't care what match it was, but promised that she'll get her revenge on "that little bitch."
Analysis: Good intensity shown by the Women's Champion. There's the Tables Match stipulation I mentioned, so it sounds like it's official with Lynch accepting the challenge.
Bray Wyatt and Randy Orton made their entrance for the main event as they walked out doing the Wyatt Family entrance.
American Alpha made their entrance. Good reaction for them, but not great. Of course there's a commercial.
(Commercial)
There was a plug for Talking Smack airing after 205 Live on WWE Network. Renee is joined by The Miz as the c0-host, so likely no Daniel Bryan or Shane McMahon at the show this week. Neither was on this show.
American Alpha (Jason Jordan & Chad Gable) vs. Randy Orton & Bray Wyatt
The winners of this match face Heath Slater & Rhyno for the Smackdown Tag Team Titles at TLC on Sunday.
Jordan took down Orton with an arm drag. Slater and Rhyno were shown watching backstage on a monitor with Rhyno snacking on some food. Wyatt aged in against Jordan. The AA dudes hit a double dropkick on Wyatt, so Wyatt went to the floor to take a break. Back in the ring, Jordan missed a cross body block, Wyatt ducked and Jordan went crashing into the ropes. Orton tagged in with a kick on Jordan. Slingshot suplex by Orton gets two as JBL talked about how great Orton and Wyatt are as a team. Gable tagged in, Orton didn't see it and Gable nailed a cross body block off the top rope to take down Orton. Orton countered a monkey flip attempt, but Gable fought out of an attack with an armbar using the ropes for leverage. The ref checked on Orton, so Wyatt shoved Gable to the floor as the show went to break.
(Commercial)
Back from break, Wyatt hit a running splash on Gable in the corner. Wyatt nailed Gable with a DDT on the ring apron for a two count. Orton slapped on a headlock on Gable as Otunga made a point about how well Orton and Wyatt were working together. Orton nailed a powerslam for a two count as JBL tried to talk about how people forgot about the things Orton has done in his career. People didn't forget because the announcers say the same things in every match. How could we forget? Anyway, Wyatt tagged in and Gable nailed him with a dropkick. Wyatt knocked Gable down to prevent a tag. Wyatt splash onto the back of Gable in the corner and then a uranage slam gets two by Wyatt on Gable. Orton nailed a superplex on Gable, which he does in nearly every match as a tribute to his dad Bob Orton Jr., who did it in every match.
Jordan got the hot tag against Wyatt, which was weird because Gable just took a superplex. Jordan nailed a belly to belly suplex on Wyatt followed by a Saito suplex by Jordan on Wyatt. Jordan sent Orton out of the ring. Gable hit a dive on Orton outside of the ring. Wyatt came back with a running cross body block that knocked out Jordan. Jordan came back with a German Suplex. The Wyatt Family logo appeared on the screen and when the lights came back on, Luke Harper showed up at ringside. Gable with a dropkick. AA wanted Grand Amplitude on Wyatt, but Orton dropped Gable with a RKO. Jordan shoulder tackle on Orton. Jordan went for a shoulder tackle on Wyatt in the corner, but Harper pulled Wyatt out of the way. Wyatt nailed the Sister Abigail for the win after 15 minutes.
Winners by pinfall: Bray Wyatt & Randy Orton
The win means that Bray Wyatt and Randy Orton will challenge Heath Slater and Rhyno for the Tag Team Titles at TLC on Sunday.
Analysis: ***1/2 That was a really good tag match. I liked the pacing of the match with Wyatt and Orton working slowly as they were on offense. Once Gable got the hot tag to Jordan the pace really picked up. I didn't think American Alpha was going to win, but they built it up well by giving them a chance near the end of the match. I liked the way they set up the finish with AA going for Grand Amplitude, Orton preventing that from happening and Wyatt getting the win for his team. It's another example of good teamwork from Randy and Bray just like at Survivor Series.
The scene ended with Wyatt, Orton and Harper posing together in the ring over the fallen bodies of their opponents.
Heath Slate rand Rhyno were interviewed by Dasha Fuentes backstage. AJ Styles showed up. Styles told those guys to shut up and hit the bricks because nobody cares about the tag team titles. Ambrose showed up in the room. He attacked Styles with punches on a couch and a table. More punches from Ambrose. The show went off the air with Ambrose throwing punches while Rhyno and Slater cheered Ambrose on.
Analysis: Good job of ending the show on a high note with a brawl featuring the guys battling in the WWE World Title match at Sunday's TLC show.
Three Stars of the Show
1. Bray Wyatt
2. Randy Orton
3. American Alpha
The Scoreboard
6 out of 10
Last week: 6.5
2016 Average: 6.07
2016 Average Post Brand Split (July 26): 6.29 – Raw is at 5.92
Last 5 Weeks: 6.5, 7, 6, 6.5, 7
2016 High: 8 (August 23/September 27)
2016 Low: 4 (January 21)
Final Thoughts
It gets a 6 out of 10.
An average show. It was a tough show to rate because it was so promo heavy as I mentioned several times. The quality main event match certainly helped the show.
There was a serious lack of wrestling in the first hour of the show. It was about four minutes of televised action in the first 75 minutes. That may be a new record in terms of not having matches. I know that a lot of fans view Smackdown as the "wrestling show" but it's really a mix of in-ring action with promos and this week there was a lot less in terms of matches.
The main event was an entertaining tag match with a predictable outcome.
Here's the TLC lineup for the show that takes place this Sunday, December 4.
WWE World Championship TLC Match: AJ Styles vs. Dean Ambrose
Smackdown Women's Championship Tables Match: Becky Lynch vs. Alexa Bliss (It was confirmed on Talking Smack.)
Smackdown Tag Team Titles: Heath Slater & Rhyno vs. Randy Orton & Bray Wyatt
Intercontinental Championship Ladder Match: The Miz vs. Dolph Ziggler
No Disqualification: Nikki Bella vs. Carmella
Chairs Match: Kalisto vs. Baron Corbin
There might be more matches added to the show in the coming days.
—
PLUG TIME: We do a TJRWrestling Podcast every week that you can listen to right here on Podbean or use iTunes by searching "TJRWrestling" or "John Canton" to get it. Please check it out! Thanks!
That's all for now. Go Toronto Raptors. Go Los Angeles Rams.
John Canton – mrjohncanton@gmail.com
Twitter @johnreport
Personal Facebook and TJRWrestling on Facebook