The John Report: WWE Smackdown Live 08/14/18 Review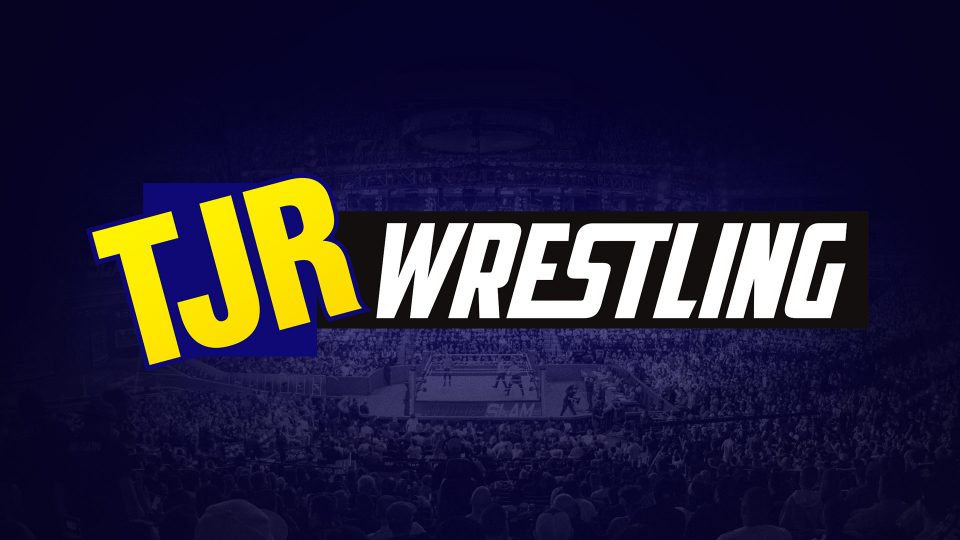 Live from Greenville, South Carolina, this is Smackdown Live for episode #990. Follow me on Twitter @johnreport. Thanks to Melo Man for the banner up top.
There was a shot of the crowd in Greenville with announcer Tom Phillips welcoming us to the show.
Let's Hear From the Women of Smackdown
Charlotte Flair, The Queen, made her entrance to a big ovation. Graphics were shown of what's to come in the show. The Carolinas are Flair country, so of course she is loved even more there. Becky Lynch also got a nice reaction for her entrance. They were both in their ring gear.
The announce team of Tom Phillips, Corey Graves and Byron Saxton were shown on camera welcoming us to the show.
Carmella, the Smackdown Women's Champion, made her fabulous entrance. She was not in her ring gear like the other two women.
Carmella said it's absurd that she has to defend the title against both of them at SummerSlam and Paige forcing her to come out there for a face to face to face is also absurd. Carmella said she's tired of their faces and she's tired of being punished for being an amazing champion, but being the champ means life is good.
Carmella said, "poor Becky Lynch" saying that she doesn't stand a chance now that Charlotte is in the match. Carmella mentioned that Becky used to be a clown, so maybe she should do that again because at least she can do that better than Charlotte Flair. Lynch admitted that any match Charlotte is in decreases the odds of anybody else. Lynch thought about dismantling Carmella at SummerSlam, but now the new dream is beating Carmella and whooping Charlotte. Carmella just laughed about it. Carmella mentioned she beat Charlotte Flair twice, but she's fabulous. Carmella talked about how Charlotte won every women's title possible, she ended Asuka's streak, she won the first ever women's Hell in a Cell and Carmella said that Lynch was the first Smackdown Women's Champion only because Charlotte was on Raw.
Charlotte told Carmella that it all ends at SummerSlam because Carmella knows she can't hang with the other women in the division, which is why Carmella must pull out all the stops to try to hang on to that title. Charlotte said to beat Asuka, Carmella had to dig up James Ellsworth. Charlotte said that the WWE Universe doesn't respect her because she's a diva leaving in a women's era. Carmella said she is a diva and she's damn proud of it. Carmella said if you compare her beauty, body and charisma to theirs and she's the champ, but they are not. The crowd booed Carmella heavily.
Analysis: It was the typical promo where the women on this show bicker about the same things. Charlotte's line about Carmella being a diva was done to take a shot at Carmella as if the word "diva" is bad now. This company threw that word around for 15 words, but now they are trying to tell people it's something evil. I think Carmella bragging about her looks fits her character while Charlotte and Becky talking to her like she's a fluke champion is also how it should have went, so it was a good promo.
Paige, the Smackdown GM, made her entrance on the stage. Paige said that Charlotte got her opportunity because she beat Carmella, so Paige led a "Thank You Mella" chant. Paige said she knows all three of them will steal the show at SummerSlam. Paige said that some might say what Carmella does is commentary while Charlotte and Becky will be in a tag team match right now against Mandy Rose and Sonya Deville.
Analysis: The opening segment leading to a tag team match after a break is right out of the Teddy Long "holla holla holla playa" playbook. I wonder if Vince McMahon gets sick of starting the show the same way and booking the same things, in the same way, hundreds of times in his life. It gets very repetitive. This also meant that Raw and Smackdown both started with women's promos followed by a match this week.
(Commercial)
Carmella was on commentary for this match that started after the break.
Charlotte Flair and Becky Lynch vs. Mandy Rose and Sonya Deville
Flair started with Deville while Carmella complained about Paige had something against her. Flair did her strut leading to the "WOO" chants. Lynch tagged in for a double team monkey flip, elbow drop and leg drop. When Saxton spoke, Carmella ignored him as if he wasn't talking. Rose tagged in and hit a dropkick on Lynch, but Lynch came back with a dropkick of her own. Double team arm drag by Lynch and Flair. Rose did a hair pull on Flair to take her down. Deville back in, Rose did an awesome sequence avoiding an attack with the splits and an overhead suplex. Lynch back in and she jumped off the apron with a punch on Deville to knock her down. Flair back in, she got a rollup, but Deville came back with a kick to the leg. When Saxton kept pushing, Carmella responded to him and then said she was done with his comments. Rose hit a knee on Flair as the show went to break.
(Commercial)
When the match returned, Lynch was the face in peril. Lynch tried to fight back with a Bexploder, but Rose managed to overpower her with a body slam. Deville took down Lynch with a headlock. Lynch came back with an enziguri kick to the head. Rose tagged in, Flair avoided a punch, Lynch with two clotheslines and a leg lariat. Lynch hit the Bexploder on Rose. Forearm smash by Lynch and a kick to Deville to send her out of the ring. Rose with n inside cradle. Lynch slapped on the Disarmer submission on Rose and Rose tapped out for the submission win after about 11 minutes.
Winners by submission: Charlotte Flair and Becky Lynch
Analysis: **1/2 Easy win for the Flair and Lynch since they are a big part of SummerSlam while Rose and Deville are not part of the show. There were a few good moments for Rose and Deville in the match, but they were not treated like threats to win the match at all. It was a bit surprising that Lynch was the face in peril and got the win without a hot tag sequence. The announcers didn't even mention that Lynch won the match without tagging Charlotte back in although I'm sure the viewers noticed that. It was Lynch wanting to prove she could do it.
Carmella stood on the announce table while Charlotte and Becky trash talked her. The camera shot from behind Carmella is a good visual. Just saying.
The Miz and Maryse did a promo talking about their show Miz and Mrs. on USA Network. Miz said they had huge news that USA Network has picked up another season of Miz and Mrs. They called it the fastest pickup in the history of pickups. They ended it saying it's awesome.
Analysis: Congrats to them. Since Smackdown is moving to Fox in October next year, I would assume Miz gets moved back to Raw in the next Superstar Shake-up next year since that's on USA Network and will remain there. They could air all of season two before the SD move to Fox, though. We don't get the show in Canada, but I have watched the show because it's an easy watch at only 30 minutes or about 22 minutes without commercials. If it's not in your country, do a search for "watchwrestling" and that site will post it if you want to check it out.
A video about The Miz vs. Daniel Bryan is up after a break.
(Commercial)
Charlotte Flair and Becky Lynch were backstage drinking water and Charlotte called her "dude" as a friendly term. Charlotte said that Becky didn't have to do it all by herself. Becky said she got carried away because it was the last chance to get ready before SummerSlam. Charlotte said "dude, good luck." Lynch said she didn't need luck and neither did Charlotte. Flair said "may the best woman win" and Lynch said, "she will." They did their tea hand gesture to end it.
Analysis: I think the finish at SummerSlam will be something where Carmella escapes with the title while Charlotte and Becky have problems. Everything has been good between Charlotte and Becky going into the match, but after they fail to win the title, that should lead to issues between them. With the women's Evolution PPV in late October, Charlotte vs. Becky with a two month storyline is a great idea. If one of them is a heel by the time we get to that show then that's even better.
Three indy guys called "The Triple Threat" were introduced for a handicapped match. Graves had a good line about how he can call himself Giancarlo Stanton, but that doesn't mean he can hit home runs.
The Bludgeon Brothers made their entrance. They defend the Smackdown Tag Team Titles against The New Day at SummerSlam.
The Bludgeon Brothers (Harper and Rowan) vs. The Triple Threat
Harper and Rowan ran over two of the guys in the triple threat. Harper and Rowan hit a double team Crucifix Bomb on a guy in the ring. They left the ring with Rowan splashing both guys on the floor. Harper slammed a guy on the floor and Rowan slammed one of the guys on the other. Rowan slammed Harper onto both guys on the floor. They slammed one of the dudes face first onto the ring apron. Rowan picked up a guy in the ring while Harper jumped off the middle ropes with a clothesline. This whole thing lasted about three minutes.
Match Result: Ass Kicking
Analysis: It was not actually a match because referee Mike Chioda left the ring early on when the Bludgeon Brothers attacked. I've never written "Ass Kicking" as a match result, but I think it was fitting in this instance. This was done to remind people of how dominant the Bludgeon Brothers were after they did not wrestle much in the last month.
The announcers plugged the October 16 episode of Smackdown that is the Smackdown 1000 episode.
Part 1 of Daniel Bryan vs. The Miz
A video aired with Bryan saying it felt like they've been doing this forever. Miz said eight years is how long he's been dealing with Bryan's ego. A clip aired of the original NXT where eight "rookies" had pros with Bryan having The Miz as his mentor. Bryan complained about how Miz was so arrogant and he had this stigma of being a reality star. Bryan said that Miz thought he knew better than everybody else and he still feels that way. Clips aired of Miz trash talking Miz during the NXT days. Miz said all Bryan needed to do was shut up and listen to him. Bryan said it was destined to fail. The clip aired of Bryan being eliminated from NXT with Miz saying that Bryan didn't win a single match. Miz said for all this talk of how great of a wrestler Bryan is, he just didn't have talent. Bryan said that he lost every match on NXT, but when he was on his own he got better and they showed a clip of Bryan beating Miz on Raw in May 2010. Bryan's first victory in WWE was thanks to The Miz since Bryan beat him. Bryan said he realized he didn't need The Miz, but maybe The Miz needed him.
Analysis: That was well done. I remember that 2010 NXT show with people being pissed about how Bryan was booked. I was upset about it too, but I figured all the losing for Bryan was done for a reason and that was to show that he would be better without The Miz. That's how the story went. It made for a better story to tell because Bryan ended up having a lot of success when he was away from The Miz.
The Sanity trio of Eric Young, Killian Dain and Alexander Wolfe made their entrance for a six man tag team match against The New Day.
(Commercial)
The New Day trio of Big E, Kofi Kingston and Xavier Woods made their entrance for the tag match. They are challenging the Bludgeon Brothers at SummerSlam on Sunday. Kingston had a "Birthday Boy" sign around his neck because it was his birthday. Happy birthday Kofi. He's a good dude.
The New Day (Xavier Woods, Big E and Kofi Kingston) vs. Sanity (Eric Young, Killian Dain and Alexander Wolfe)
Big E hit a belly to belly suplex on Young. Kingston tagged in and jumped over Big E leading to a splash on Young. Kingston was whipped into the ropes, Wolfe pulled down the top rope and Kingston went over the top to the floor. Wolfe took over for his team with an armbar. Dain tagged in for the split screen SummerSlam commercial, so Dain slapped on a chinlock. Dain hit a running dropkick on Kingston that looked impressive for a 300 pound man. Dain with an awkward looking suplex on Kingston. Wolfe tagged in with a neckbreaker off the top for two as the match went to break.
(Commercial)
Kingston was still isolated in the Sanity corner, but Sanity managed to hit a DDT on Dain. Woods got a tag, he unleashed on Wolfe with kicks and a dropkick to the back. Woods with a DDT off the ropes for a pinfall attempt, but Young broke it up with an elbow drop off the top on Woods. Young tagged in with a slam onto the knees of Wolfe for a two count. Dain back in with a slam attempt, but Woods broke free with chops. Dain hit the Divide running cross body block. Big E with the save. Big E with the overhead suplex on Young. Wolfe with the pump kick on Big E, Kingston with Trouble in Paradise on Wolfe and Dain tossed Kingston to the apron. Kingston up top for his trust fall dive onto Young and Wolfe on the floor. Woods with a boot to Dain, Big E tag, Big E picked up Dain and Woods jumped off the top with the Midnight Hour – the announcers called it "Up Up Down Down" after Woods' video game channel, so maybe that's the new name. The match went about 11 minutes.
Winners by pinfall: The New Day
Analysis: ***1/4 Good stuff as expected from a New Day tag match that gets over ten minutes. Sanity is very good at working with them too, so it was an exciting tag match with New Day getting the predictable win since they're in a SummerSlam match while Sanity is not. I liked the way they utilized all six guys, they all had their positive moments in the match and in the end it was Kingston taking out the guys on the floor leading to Big E and Woods finishing off Dain for the win. It was well booked.
Part 2 of Daniel Bryan vs. The Miz Story
It was on to part two of Bryan's story with Miz. There were clips of both men becoming WWE Champions in their careers. A clip aired of Daniel Bryan's retirement speech on February 8, 2016. I'll never forget that because my dad died the next day. Bryan said his retirement speech was one of the hardest thing he ever had to do. Bryan said he was nowhere near ready to retire. Miz said of course Bryan had to retire and said Bryan had to wrestle smarter and not take as many risks. Bryan talked about being GM of Smackdown Live in July 2016 and he thought he did a good job as GM. Miz said Bryan was the worst GM ever while Miz said that he was barely on television as the IC Champion. That led to August 23, 2016 on Talking Smack when Bryan said that Miz was a coward. It set off The Miz for an epic promo talking about how he's never been injured, then he told Bryan to quit and go to the bingo halls. Miz said he expected to be knocked out, but Bryan walked away from him. Bryan said he had no choice but to leave the studio. Miz said he's not a coward because he was in the ring day in and day out. Bryan said he promised Vince McMahon he would finish out his contract, so that's why he walked out of the studio that day. Miz said Bryan will probably spin it into something noble. Miz asked: "Do you think Bryan would be fired for something for being a man?" Good point. Bryan said it only got worse when Miz started stealing his moves. Bryan said he regretted that he chose to be silent, but that regret turned into desire. Miz claimed that he knows Bryan's moves better than Bryan and he knows Bryan's fears better than him. Miz said the truth is that not only was Miz the pro for Bryan, but he's superior to Daniel Bryan.
Analysis: That was great. The Talking Smack moment was huge, and I thought it was the best promo of the year two years ago. The reason it was the best promo was helped because it wasn't scripted and just came from The Miz getting fired up about his position. These interviews were in character of course, but there was some truth to it as well and that's why it works so well. Everything Bryan and Miz said made a lot of sense.
The Miz and Maryse were announced as being on the Today Show on Wednesday morning.
A promise from AJ Styles was advertised for later. Jeff Hardy's back in action later as well.
(Commercial)
Samoa Joe's locker room was shown. Paige knocked on the door. Joe claimed he was too shy to go into the ring with Styles later. Heels lie. Paige said she didn't want Joe to ruin her main event at SummerSlam and she needs Joe to be professional. Joe said when she wanted him to take on AJ Styles at SummerSlam, she liked his killer instinct and unpredictability. Joe said how can he be unpredictable if she told her he's everything he's going to do. Joe said he'll do what he wants when he wants to do it. Joe said the WWE Universe can wait and deal with the consequences. Joe said or he can relax and enjoy her hard work. Joe said she should enjoy her night because he'll enjoy his night.
Analysis: I like how Joe has been booked on Smackdown as something of a silent assassin where you don't know when he might strike.
Aiden English was in the ring for a match. A clip aired from last week showing the problems in the last few weeks with English accidentally costing Rusev and Lana victories "by accident" each time.
English did a song about how he will make amends for when he let down his friends. Rusev and Lana were shown watching on a TV backstage. English said he'll make Andrade pay because tonight he fights for…Rusev Day. The fans cheered the end of it.
Andrade "Cien" Almas entered with the lovely business manager, Zelina Vega. They face Rusev and Lana in a mixed tag match on the SummerSlam kickoff show.
(Commercial)
Aiden English vs. Andrade "Cien" Almas (w/Zelina Vega)
Almas had English in an armbar. English got an inside cradle for two. Almas with a hip toss that sent English into the turnbuckle. Almas charged, but English came back with a running clothesline. English went up top and he hit a splash off the top rope. That was a nice tribute to his wife's father the late great Eddie Guerrero. Almas came back with a spinning back elbow followed by the double knee attack in the corner. Almas hit the Hammerlock DDT for the pinfall win after about two minutes.
Winner by pinfall: Andrade "Cien" Almas
Analysis: * Easy win for Almas. English got some brief offense in there, but it was clear he wasn't going to get the win.
Post match, Zelina Vega said if you guys like catchphrases and silly holidays then mark your calendars because SummerSlam will be the end of Rusev Day and Lana Day. Vega said she'll show that Lana is dead weight that is dragging down her husband. Rusev's music interrupted.
There was a nice ovation for Rusev and Lana as they stood on the stage with their shirts celebrating their "days." Rusev said they were acting like they just won the Powerball. Rusev did a promo saying that Almas' luck will run out on Sunday and Zelina will find out why Lana is the best, Lana number one. Lana said that together they will crush them. Lana said that this year SummerSlam falls on what day…Rusev Day. Of course it does. They had a staredown.
Analysis: It could be a win for Rusev and Lana after they lost all month, but I think English screwing up again makes sense followed by English really turning on Rusev. That could happen on the next Smackdown, though.
Paige was in her office looking at her phone when AJ Styles showed up. Paige said that she needs Styles and Joe to stay professional. Styles asked if she talked to Joe about this and she said she did, but it didn't go well. Paige said people look up to Styles as the champion. Styles said he made his wife a promise and he intends to keep it.
There was a shot of Jeff Hardy's face with his face paint backstage.
Up next is the third chapter of the Daniel Bryan vs. The Miz story.
(Commercial)
A clip aired of a July 4, 2016 food fight from Raw to promote Boneless Wings. It ended with somebody throwing a pie in Kevin Owens face.
The announcers were back with Graves saying they never found out who threw the pie in KO's face. What a mystery.
Part 3 of the Daniel Bryan vs. The Miz Story
It focused on March 20, 2018 on Smackdown when Bryan announced to the world that he was cleared to wrestle again. That led to Bryan teaming with Shane McMahon to beat Sami Zayn and Kevin Owens at WrestleMania. The Miz said that he didn't care about Bryan unretiring. Miz didn't give a damn what Bryan was doing on Smackdown Live. Bryan said he was stepping down as GM, but he had one final move as the clip aired about Miz getting moved to Smackdown. Bryan said that he knew he could allow Miz to compete on Raw, but Bryan said he still has something to prove to The Miz. Miz said he had nothing to prove to Bryan while adding that he has done nothing since returning. Miz said that Bryan has embarrassed himself over and over again. Miz noted that after SummerSlam, his nightmare of carrying Bryan for eight years is over. Bryan said that Miz has his own TV show, he's got a huge home and celebrity friends, but Bryan asked if that's why he came back. Bryan said he fought to come back because he loves wrestling and he had to find a way to get back to this. Bryan said after all this talk with The Miz for years, there's only one thing left to do and that's get in the ring one on one at SummerSlam to finally shut Miz up.
Analysis: Another great video. I know I'm repeating myself when I say that. I'm so ready for this match at SummerSlam. It's the one I care about the most. I liked the promos from both guys because they made sense from the perspective of each character. I included all three videos because I want people to check them out if you missed the show. I'm glad WWE posted them on their Youtube channel.
Shelton Benjamin was in the ring for his match. Jeff Hardy made his entrance and he got a loud ovation as usual. Hardy challenges Shinsuke Nakamura for the US Title at SummerSlam.
(Commercial)
The match started during the break.
Jeff Hardy vs. Shelton Benjamin
Benjamin was in control with a headlock. They showed a clip from during the break when Benjamin hit a superkick to knock Hardy out of the ring. Benjamin with a knee lift followed by a cradle pin attempt for two. Benjamin slapped on another headlock. A split screen commercial aired for SummerSlam previewing Rousey vs. Bliss. Hardy hit a jawbreaker to break free. Benjamin missed a corner splash, Hardy moved and Benjamin hit the turnbuckle. Hardy with a Whisper in the Wind attack off the top for a two count. Running forearm to the head by Hardy, atomic drop, double leg drop and a low dropkick for two. Benjamin caught Hardy on his shoulders, but Hardy hit a neckbreaker to counter. Hardy went up top, Benjamin back up with a knee to the face and Benjamin hit a superplex off the middle ropes for a two count. Hardy came back with a Slingblade style move. Hardy wit ha Twist of Fate followed by a weak splash for the pinfall win. It went about five minutes.
Winner by pinfall: Jeff Hardy
Analysis: **1/2 The match was okay. It was weird to see Hardy win a match without using the Swanton Bomb although the Twist of Fate is fine as a big move. Benjamin put up a good fight, but it was obvious he was just there to do the job.
Shinsuke Nakamura made his entrance. Benjamin was on the apron, so Hardy knocked him down. That led to Nakamura going into the ring and hitting a knee to the back of the head. Hardy avoided the Kinshasa and hit a Twist of Fate. Hardy up top and hit a Swanton Bomb on Nakamura.
There was a shot of Randy Orton looking from behind the curtain at Jeff Hardy. The camera was on Orton as he stared out towards the ring. Hardy celebrated and the scene ended.
Analysis: It was the first time in a while where Hardy was booked to look strong after getting his ass kicked routinely in the last few months. Orton lurking in the shadows was creepy, which also fits his current heel persona.
The announcers went over the SummerSlam card, which is 13 matches. I have the full lineup at the bottom of the post. We'll have our preview ready for Friday.
AJ Styles, the WWE Champion, made his entrance for a main event promo.
(Commercial)
Let's Hear From AJ Styles
The main event promo started with about seven minutes left in the show.
Styles said for almost 20 years…but he was interrupted by the fans chanting "AJ Styles" for him. He soaked it up. Styles said he is blessed for almost 20 years he's been able to challenge the world and compete against the best talent that sports entertainment has had to offer. Styles said he's learned a lot, but nothing more important than the lesson after he won the WWE Championship. He added there's a reason that the championship is so hard to hold because of the pressure that exists. Styles said Joe has been messing with him and it started when Joe attacked him in the ring from behind. A clip aired of Joe's attack from behind three weeks ago.
Styles said that right when he thinks he knows Joe, he stabs him in the back and then Joe stabs him in the heart. A clip aired from two weeks ago with Joe saying that Styles was a failure as a father because of how much he's on the road while adding that AJ's family will be cheering for Joe.
Styles talked about how Joe got him to lose his cool and he got Styles to talk about something private and personal. Styled said he felt as a man, father and husband and when he did, he got emotional. Styles said that Joe got him to go to a dark place where he wanted to rip Joe's head off. Styles said he got home, he hugged his kids and his wife told him he can't lose his cool like that. She told Styles to remain focused.
Samoa Joe made the predictable interruption with Joe walking out in a dress shirt, pants and a jacket. Joe stood on the ramp.
Joe took out a paper from his jacket and he had a microphone in hand. Joe said what Styles was saying wasn't true. Joe talked about how he had a letter from a member of the WWE Universe and he thought that AJ should hear it. Joe read the letter saying that what Joe said was disgusting and ill, but not because it was false, it's because it was true. Joe read the letter saying maybe AJ didn't want children or a wife while adding that maybe AJ is a great WWE Champion because he likes being away from his family. Joe read the part in the letter where the author said "I" lost him and he ended it with "Sincerely, Wendy Styles."
Joe left with a smile on his face while Styles was upset and that was the end of Smackdown.
Analysis: It was an interesting promo in the sense that it was Joe continuing to mess with AJ's mind with a fake letter from AJ's wife. But is that really a main event worthy segment where they spent two hours hyping it up? No. I don't really think so. I was expecting something more and maybe a fight between them. Instead, it just felt like a segment that could have been anywhere in the show. The good thing is by not having them interact much in terms of physicality, that makes their match fresh on Sunday. I just don't think this was the best way to end Smackdown this week.
I'm leaning towards picking Joe to win the WWE Title at SummerSlam. It's not a lock and I may change my mind when I think about it more later in the week when I write the preview. It just feels like the right time for a title change.
The above clip is from after Smackdown showing Styles going after Joe. They should have ended the show with that instead of what they did.
Three Stars of the Show
Daniel Bryan
The Miz
The New Day
I know Bryan and Miz weren't even in the arena, but they were the highlight of the show.
The Scoreboard
6 out of 10
Last week: 8.5
2018 Average: 6.5
Last 5 Weeks: 7.5, 8.5, 6, 7.5, 7
2018 High: 8.5 (July 31)
2018 Low: 4.5 (January 2, January 9)
Final Thoughts
Smackdown gets a 6 out of 10 this week.
The highlight of this week's Smackdown were the three videos about the Daniel Bryan vs. The Miz match at SummerSlam. I also really liked The New Day vs. Sanity as well because it was a fun match that got a good amount and had a hot finish too. They did a solid job of promoting the Smackdown matches at SummerSlam. Some of it was boring and I didn't think the main event was that thrilling in terms of ending on a high note. I would have had a Joe/Styles brawl to make the personal feud end with some physicality.
8 years in the making. #SDLive#SummerSlam@mikethemiz@WWEDanielBryanpic.twitter.com/zZ2OxtsMGl

— WWE SummerSlam (@SummerSlam) August 8, 2018
The next WWE PPV is SummerSlam on August 19 in Brooklyn, NY. Here's the lineup.
Universal Championship: Brock Lesnar (c) vs. Roman Reigns
WWE Championship: AJ Styles (c) vs. Samoa Joe
Raw Women's Championship: Alexa Bliss (c) vs. Ronda Rousey
Daniel Bryan vs. The Miz
For the Money in the Bank Contract: Braun Strowman vs. Kevin Owens
Intercontinental Championship: Dolph Ziggler (c) vs. Seth Rollins
United States Championship: Shinsuke Nakamura (c) vs. Jeff Hardy
Smackdown Women's Championship: Carmella (c) vs. Becky Lynch vs. Charlotte Flair
Smackdown Tag Team Championships: The Bludgeon Brothers (c) vs. The New Day
Baron Corbin vs. Finn Balor
Raw Tag Team Championships: The B Team (c) vs. The Revival (Kickoff Show)
Cruiserweight Championship: Cedric Alexander (c) vs. Drew Gulak (Kickoff Show)
Rusev and Lana vs. Andrade "Cien" Almas and Zelina Vega (Kickoff Show)
That's probably the whole card. They also announced an Elias segment, so Lashley will probably beat him up again.
—
Thanks for reading. My contact info is below. Go Los Angeles Rams.
John Canton
Email mrjohncanton@gmail.com
Twitter @johnreport
Personal Facebook and TJRWrestling on Facebook