The John Report: WWE Smackdown Live 04/23/19 Review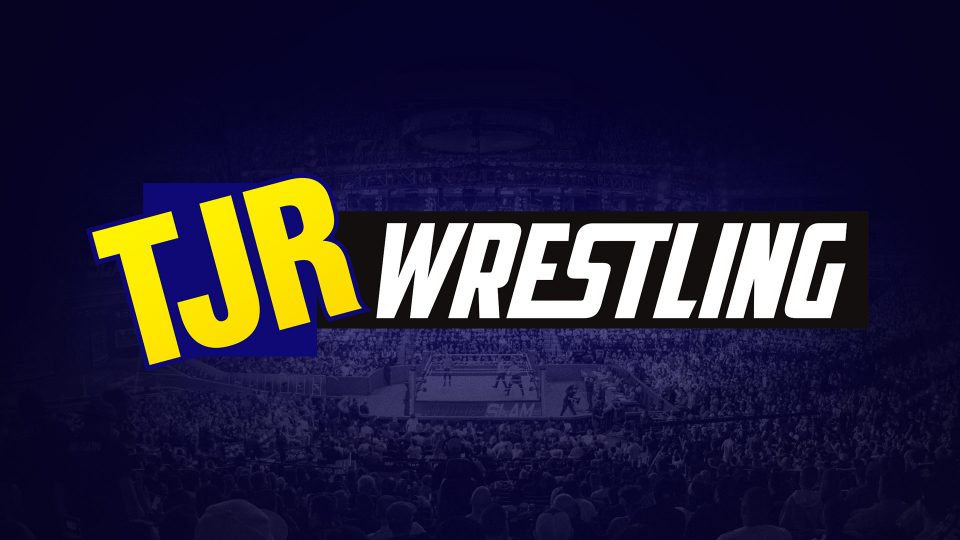 Live from Lincoln, Nebraska, this is Smackdown Live for episode #1027. Follow me on Twitter @johnreport. Thanks to Melo Man for the banner up top.
There was a shot of the live crowd cheering and here comes Shane McMahon. The graphic said the "University of Nebraska" instead of Lincoln.
Let's Hear from Shane McMahon
Shane O Mac entered to boos from the crowd as he did his dancing routine that looks weird for a 49-year-old man. Shane made ring announcer Greg Hamilton do the special intro, so Greg did the "best in the world" introduction for Shane. That drew boos from the crowd while Corey Graves said it was magnificent.
Shane said that they aren't there to talk about him, they are there to talk about Roman Reigns and specifically what Roman did to Vince McMahon last week. A clip aired from last week when Roman Reigns gave Vinny Mac and Elias the dreaded Superman Punch.
Shane wondered what kind of man hits another man's father like that. Some fans shouted "you" because Shane did it to George Mizanin, so that was a good line from him. Shane said that his dad is one of the greatest men that ever lived, Vince is like a national treasure and hitting Vince was like disgracing the American flag…defacing Rount Mushmore…huh? He meant to say Mount Rushmore, but he got it wrong. That was awkward. Shane took a deep breath to keep going.
Shane said that Roman Reigns didn't just strike down his father, but he hit a Chairman and a CEO of a billion dollar company. Most importantly, Roman hit Shane's father Vincent Kennedy McMahon. Shane wondered if he should levy a major fine against Roman, should he suspend Roman or should Roman be terminated? Shane said they are going to settle it right here, right now in this ring. Shane called Roman to bring his butt out there, it's not a request because Roman works for his family and it's an order that Roman comes out there right now.
Roman Reigns made his entrance to a pretty good pop from the crowd. Reigns took his time getting in the ring with a microphone in his hand as he stood across the ring from Shane.
Reigns tossed the microphone instead of saying a word, so Shane tossed his microphone as well. That led to Elias running to the ring and Reigns punched Elias to the floor. Shane got in some cheap shot knees and Reigns came back with punches on him. Elias went back in the ring, he stomped away on Reigns and Shane punched Reigns as well. Elias kicked Reigns while Shane held Reigns. When Reigns tried a comeback, he couldn't do it because he was double teamed. Elias grabbed Reigns and hit the Drift Away neckbreaker on Reigns. The fans booed as Elias and Shane left.
Analysis: It was okay as a heat building segment. I'm not a huge fan of Elias in terms of his matches, but I think it's a smart move to have him working with Shane against Reigns because it will get Elias more heel heat. Reigns feuding with Elias doesn't interest me that much, but they needed to find somebody for Reigns to have as a rival on Smackdown. It's not a surprise that WWE management likes Elias because he is pretty muscular, which is what Vinny Mac loves.
The announce team of Tom Phillips, Corey Graves and Byron Saxton went over what's still to come. Finn Balor is up next against Andrade.
(Commercial)
Replays aired of the Elias and Shane attack on Reigns from the opening segment.
Elias and Shane were shown backstage with Shane saying his dad would have been proud. Elias said there are more lessons to come.
There were clips shown from last week's Smackdown when Kevin Owens was an honorary member of The New Day as "Big O" joining WWE Champion Kofi Kingston and Xavier Woods. The trio won a six-man tag in the main event last week in Montreal, which was KO's hometown.
Kofi Kingston, the WWE Champion, was interviewed by Kayla Braxton. She is really short because Kofi looked tall beside her and he's not that tall. I know it's a WWE hiring practice to only hire short women to make the superstars look bigger. Anyway, Kingston said that the magic that the WWE Universe gave him is in his heart and all is right in the world. Xavier Woods showed up to tell Kingston to say it again. Kingston repeated he is the WWE World Heavyweight Champion. Kingston said that Big E is out recuperating, but he'll be back soon enough. Kingston brought in the honorary member of New Day, Kevin Owens aka Big O. Owens said tonight is a big night since it's Kofi vs. Nakamura. Owens said he knows Kofi will win because New Day Rocks leading to "New Day Rocks" chants.
Analysis: That was a fun promo from the "New" New Day, especially knowing what was to come. Kingston saying "all is right in the world" were the ominous words in that promo.
Finn Balor made his entrance with the Intercontinental Title around his waist. A clip aired of Andrade beating Balor on Raw eight days earlier. Graves mentioned "Mount Mushmore" so there's a slight dig at Shane messing up his promo earlier.
Andrade and Zelina Vega were shown backstage in the Gorilla Position ready to go out for the match. Zelina claimed that Balor tried to run away from them in the Superstar Shake-up, but there's no escaping Andrade. That led to Andrade saying that he wanted the Intercontinental Title and he wants to destroy the myth of Finn Balor.
Analysis: I guess that was an attempt at an explanation. Last week in the Superstar Shake-up, Andrade was moved to Raw, then WWE remembered he was dating Charlotte Flair and moved him back to Smackdown this week. That meant Zelina Vega and husband Aleister Black had to be moved to Smackdown too since Vega is Andrade's manager. The reason for the move is because of Andrade dating Charlotte, which is good for them, but it's an example of how poorly WWE organized the Superstar Shake-up this year. Get better, creative team. It's your job. Do it better.
Finn Balor vs. Andrade (w/Zelina Vega)
This is not for Balor's Intercontinental Title. After Balor was distracted by Vega, Andrade sent him out of the ring and Andrade hit a corkscrew cross body block on Balor on the floor leading to a break.
(Commercial)
Andrade was in control with an armbar. Andrade picked up Balor for a slam, but Balor countered into a DDT. That was sweet. Both guys were down selling. Andrade charged, Balor kicked him in the head and Balor went up top where Andrade tripped him up to crotch him on the top. Balor with a sunset flip into a two count. Balor sent Andrade over the top with a back body drop to the floor. Balor with a somersault dive over the top on Andrade on the floor. Back in the ring, Andrade with a back elbow leading to the double knee attack in the corner for a two count. Balor with the elbow drop to the chest to put down Andrade. Vega went up top, she jumped off, missed Balor and she jumped into Andrade's arms. Andrade put Vega down and Balor hit the dropkick on Andrade that sent him into the turnbuckle. Balor up top and he hit the Coup de Grace double foot stomp on Andrade for the pinfall win after about eight minutes.
Winner by pinfall: Finn Balor
Analysis: ***1/4 That was a fun match for the time given and made me want to see a match that gets more time. Balor got the win, so 50-50 booking strikes again. The positive thing about that result was that a champion Balor didn't lose non-title like most champions do. It would be a good idea to make this an Intercontinental Title match at Money in the Bank next month, but perhaps they are going to go in another direction with Balor's first title feud on Smackdown. It's possible that Andrade will be in the Money in the Bank match too. Give them more time next time, please.
Elias was shown backstage singing with his guitar. Elias sang a song about a proposition for Roman Reigns. He challenged Reigns to a match at Money in the Bank. Shane McMahon showed up saying that was an awesome idea, let's get out of there and they left in a car together.
Analysis: That was obvious based on the last two weeks on Smackdown.
Kairi Sane made her entrance with tag team partner Asuka and manager Paige. Sane is against Peyton Royce after a break.
(Commercial)
A clip aired from earlier today when Mandy Rose and Sonya Deville trash talking Paige about how they aren't going to reunite Absolution. Saxton said that Rose and Deville were jealous of Paige's new team.
The IIconics duo of Peyton Royce and Billie Kay entered with the Women's Tag Team Titles. Kay and Royce made Avengers jokes saying instead of superheroes, Paige has super-lame-o's. Kay and Royce botched saying Kairi Sane's name on purpose (not a Shane McMahon style botch). Royce said she's ready to give Kairi her first loss on Smackdown Live. They said they are the future and the future is iconic.
Analysis: I like their promos even though I know some people hate them. They are supposed to be annoying, so it works in that sense. Sometimes I think the dialogue is bad and this was one of those times.
Kairi Sane (w/Asuka and Paige) vs. Peyton Royce (w/Billie Kay)
Royce stomped away on Sane to start the match. Sane with a dragon screw leg whip, kick to the back and a running neckbreaker. Sane with a running headbutt to the ribs. Sane with a sliding forearm to the gut. Sane went up top and hit the impressive Insane Elbow for the pinfall win in a match that went just over one minute.
Winner by pinfall: Kairi Sane
Analysis: 1/2* Easy win for Sane, who has one of my favorite finishers in WWE. Royce barely got any offense in the match. Typical WWE booking to have a tag team champion lose a singles match to build up future tag title contenders.
While Sane, Asuka and Paige celebrated the win, Mandy Rose's music hit. The lovely Mandy Rose showed up on the stage along with Sonya Deville for some mock applause. They had a staredown with Asuka, Sane and Paige.
Analysis: It was a tease for a future women's tag team feud.
Jinder Mahal made his entrance with the Singh Brothers, so he was also moved back to Smackdown one week after the Superstar Shake-up.
(Commercial)
Aleister Black was shown in a darkened room saying we know who he is. He said that he can't begin to explain the complexity of his tragic character, but like all good things, give it time and he's sure the world that we grew up in will have him condemned. He stared into the camera.
Analysis: It looks like they are trying to develop his character as a singles act on Smackdown. That was needed for him, so I don't mind it at all.
Chad Gable made his entrance. He looked like he was just in a tub full of baby oil because he had too much of it on to shine his muscles. As Gable approached the ring, Lars Sullivan attacked Gable from behind.
Sullivan picked up Gable and drove him back first into the ring post. Sullivan went into the ring to face off with Mahal, Sunil Singh and Samir Singh. Mahal bailed. Sullivan picked up Samir and gave him the Freak Accident slam. Sullivan picked up Sunil and gave him a running Powerbomb. I guess Sullivan has stopped doing the top rope headbutt, which is smart.
R-Truth ran out to the ring to battle Sullivan. When Truth went for a jumping kick, Sullivan caught him and slammed Truth hard into the mat. Sullivan gave Truth a Running Powerbomb followed by some laughing and staring from Sullivan as usual.
Analysis: There's the weekly dominant performance from Sullivan where he beat up four guys easily. It will get old quickly, but I expect WWE to book Sullivan this way for several months and I don't see him suffering a loss any time soon.
Still to come: Kofi Kingston vs. Shinsuke Nakamura. Becky Lynch and Charlotte Flair go face to face up next.
(Commercial)
A clip aired from earlier in the night that showed Elias and Shane McMahon beating up Roman Reigns.
Reigns was interviewed in the locker room by the miniature Kayla Braxton. Reigns said Elias got his licks in and he hopes they were worth it. Reigns said that at Money in the Bank he's going to break his jaw, so he's never going to sing again. Reigns said he accepted the Elias challenge.
Let's Hear from Charlotte Flair
Charlotte Flair entered for a promo in her full ring gear including the peacock robe, so that means she is going to be put into a match. Flair was booed although there was a lot of "woo" yelling as well.
Flair said that at WrestleMania 35, in the main event, in a Winner Take All match, three of the very best in this business went head to head (to head). Flair said you've got Ronda Rousey as the baddest woman on the planet, there was Becky Lynch "The Man" and The Queen referring to herself. Flair mentioned that Lynch pinned Rousey and she won the Raw and Smackdown Live Women's Championships. Flair said that she did not tap out or get pinned, so what that means is Rousey lost her championship. Flair stated that Lynch didn't beat her for the Smackdown Women's Championship. Flair wants "Becky Two Belts" to explain why she is the champion when she did not beat Charlotte.
Becky Lynch (aka Becky Two Belts aka The Man) made her entrance to a big pop with the Raw and Smackdown Titles in her possession. Lynch posed in the ring with her two titles.
Lynch started by pointing out that Flair said it's a Winner Takes All match and she asked if Flair knew what that meant. Lynch said that she didn't beat Flair, but Lynch beat Ronda Rousey, who nobody else could beat. Lynch said that she has beaten Flair so many times, so she wanted to beat Rousey because she already knew she could beat Charlotte Flair. Lynch said when it was over, she walked out with both of their titles and there wasn't a damn thing they could do about it.
Flair said that the only injustice is that Lynch holds that SD Women's Title that she never beat Flair for. Flair said that every time Lacey Evans is knocking out Becky on Raw, all Becky sees is Charlotte Flair and it's all over her Twitter and every promo Becky does. Lynch responded to Flair saying that she has beaten and owned Flair countless times. Lynch claimed that Flair was on her "worst winning streak" with Flair saying that Lynch is right about that. Flair said that she thinks Lynch is scared because her days are numbered. Flair said that Lynch has everything to lose and Flair has nothing to lose, so after Lynch faces Lacey Evans, she is next in line and she's taking that title back.
Lynch wondered how Charlotte Flair was next in line. Lynch told her to shut her face, "you stupid dope." Lynch said that what she wants is for Flair to clear the way for Bayley (cool), Mickie James (my favorite), Ember Moon (that would be nice) because Becky wants new challenges and new opponents. Lynch called Flair she is the web that management won't untangle Lynch from. Lynch said that after she runs right through Lacey Evans, if Flair wants to work her way from the bottom to the top, Becky is still Becky Two Belts. Flair said that she's done it eight times and she'll do it nine. Bayley's music hit as she made her way down to the ring looking ready for a match.
Bayley said that the Superstar Shake-up is supposed to be about fresh starts, but all she sees is a rerun. Bayley went into the ring thanking Becky for the shoutout, mentioned Becky beating Charlotte and reminded Becky of the number of times she has beaten Bayley: Zero. Flair told Becky not to listen to Bayley and told her to get to the back of the line because this is Flair's show. Bayley said that Flair needs to stop thinking she is owed a title shot, so let's see who deserves one. Flair didn't like that, but Bayley slapped the microphone out of her hands and the women were ready to have a match.
Analysis: It was a decent promo exchange. Flair recapped everything too much, which is what WWE wants their heels to do, but it just makes the promo feel repetitive. Flair was there to get heat for complaining about the rules of the WrestleMania match that she agreed to, which set up Lynch to shut her up, which the crowd loved. Lynch got in some good lines as usual. Bayley did well in terms of interjecting herself in the mix and it set up a match. I want to see Bayley do well as a singles wrestler again.
(Commercial)
There was a plug for WWE's work with Make A Wish and you can help out at wish.org/WWE now.
The match was made during the break by the McMahon Family, according to Phillips. What a shock.
Bayley vs. Charlotte Flair
Bayley shoved Flair down after Flair tried to intimidate her. Flair was on the apron, went for a shoulder tackle and Bayley hit a neckbreaker off the ropes. Bayley with a sliding dropkick that knocked Flair down on the floor. Bayley charged with a running cross body block, elbow to the back and a clothesline. Flair hit a neckbreaker followed by a head whip to Bayley. Flair sent Bayley into the turnbuckle two times, they exchanged slaps and Flair hit her with a strike to the head. Bayley got a rollup on Flair for two followed by a cross body block off the turnbuckle for two. Bayley with a shoulder tackle against the turnbuckle, kick to the head, Flair with an elbow and Flair drove her knee to the back of Bayley's left leg. Flair worked over Bayley's left leg with her knee some more, which led to a break.
(Commercial)
Flair was still in control working over the knee, but Bayley escaped a rollup and hit a knee to the head of Flair. Bayley with a clothesline for a two count. Flair avoided a belly to back slam and followed up with a boot to the face for two. Flair was angry that it was only a two count. Flair set up Bayley by the turnbuckle, Flair jumped off with a moonsault, Bayley rolled out of the way, it looked like Flair's knee buckled a bit as she landed, but she worked through it. Bayley hit a belly to back suplex for a two count. Bayley countered an attack on the knee by sending Flair into the ropes. Bayley with a sunset flip that sent Flair's head into the turnbuckle for a two count. Cool spot. Bayley went up top, Flair took out the left knee to knock her down and Bayley got an inside cradle for two. Great nearfall. Flair back up and she hit a Spear on Bayley for the pinfall win after around 11 minutes.
Winner by pinfall: Charlotte Flair
Analysis: *** It was a very competitive match with each woman having a few moments where it looked like they could get the win. Flair doesn't win with the Spear usually, but using it as a secondary finisher is fine because she delivers it well. She uses the Natural Selection as a pinfall finish at times although it didn't happen here. This felt like Bayley's best singles match in a very long time because she has always had good chemistry with Charlotte. The outcome is going to upset people because they might be tired of Charlotte getting pushed, but I don't have a problem with it because Charlotte's awesome in the ring. She continues to impress. Bayley had a good showing here too, so I hope there are more opportunities coming her way as well.
Flair celebrated the win with the announcers noting that she gets a future Smackdown Women's Title shot against Lynch.
Becky Lynch was shown watching on a TV backstage when Kayla Braxton showed up for an interview. Lynch said that holding these championships means doing double duty. Lynch said she'll beat Lacey Evans before she can take her gloves off and everybody knows she can beat Charlotte Flair. Braxton pointed out Lynch hasn't faced Evans while Flair is a former 8-time Women's Champion. Lynch said she's betting on herself and she said she'll defend both titles at Money in the Bank while adding that at the end of the night, she'll still be Becky Two Belts.
Analysis: It's certainly possible that Lynch will keep both titles after Money in the Bank, but I think she'll drop the Smackdown Women's Title to Charlotte Flair. They can book it where Lynch beats Evans and then Flair capitalizes to win right after. I think Flair holding the title again makes sense as a heel champion with faces like Bayley, Ember Moon and Mickie James (if she's a face again) as potential challengers.
The trio of Kofi Kingston, Xavier Woods and Kevin Owens were shown backstage getting ready for the main event.
(Commercial)
The Firefly Fun House segment featuring Bray Wyatt that was shown on Raw was also shown here.
Analysis: That means we don't know if Wyatt will be on Raw or Smackdown yet. I would guess it will be Raw when he settles somewhere. Wowie Yowie!
The announcers went over the Money in the Bank card so far: Seth Rollins vs. AJ Styles for the Universal Title, Becky Lynch vs. Lacey Evans for the Raw Women's Title, Becky Lynch vs. Charlotte Flair for the Smackdown Women's Title and Roman Reigns vs. Elias. There are also the men's and women's Money in the Bank Ladder Matches, but those were not mentioned. No competitors have been named yet although the Raw names will be announced next week.
The "Big O" Kevin Owens did the New Day promo introduction. Owens joined Kofi Kingston and Xavier Woods while Owens tossed pancakes into the crowd for their entrance. The announcers said Big E is recovering from his injury without saying it was knee surgery and they added he'll be back soon. It's expected to be about six weeks although the announcers didn't say that either. I'm here to inform you, though.
Shinsuke Nakamura entered with tag team partner Rusev in a suit and Rusev's wife Lana joining him.
(Commercial)
The match started after the break. Woods and Owens did commentary at the special New Day announce table that they cut to sometimes. Owens told Saxton he missed him. Heels lie…even though Owens was a face at this point…but you know what I mean.
Kofi Kingston (w/Xavier Woods and Kevin Owens) vs. Shinsuke Nakamura (w/Rusev and Lana)
Kingston's WWE Title was not on the line in this match.
Nakamura was aggressive with a headbutt followed by a back elbow and a dropkick that sent Nakamura out of the ring. Kingston hit a unique splash where he used the ropes to help him get some height. Nakamura went for a triangle choke submission, but Kingston turned it into a two count pinfall attempt. Kingston kicked Nakamura and went up top for a Frog Splash to the back of Nakamura for a two count. Kingston kicked Nakamura out of the ring. Kingston went for a dive, but Nakamura kicked him in the ribs and Nakamura hit a knee drop on the apron leading to a break.
(Commercial)
When the match returned from the break, Nakamura slapped on a headlock on Kingston to keep him grounded. Nakamura dumped Kingston out of the ring. Kingston avoided a whip into the steel steps, but Nakamura punched him in the ribs followed by a sliding kick to the back of the neck. Back in the ring, Owens and Woods were shown on commentary again as they encouraged Kingston to come back. Nakamura did a monkey flip, Kingston landed on his feet and did the "come on" taunt. Kingston with a standing dropkick, a corner splash missed and Nakamura hit a kick to the back of the neck. Nakamura with a snap German Suplex off the middle ropes. That was unique with a rough landing for Kingston. Nakamura charged leading to Kingston coming back with a double foot stomp to the chest. Kingston avoided two kicks and hit the SOS. When Kingston covered, Rusev went into the ring to attack Kingston for the DQ finish after 13 minutes.
Winner by disqualification: Kofi Kingston
Analysis: *** Good match from two veterans with a slow pace early on and then the action picked up as it got going. The DQ finish was cheap, but maybe we'll get to see the match down the road at some point. I'm a little surprised that Kingston wouldn't go over clean because Nakamura has been booked as a tag team wrestler for most of the year. The DQ finish did set up the post match angle, so it does make sense after seeing how the show ended.
After the match, Rusev continued the attack on Kingston until Woods and Owens got in the ring. Owens grabbed Rusev and tossed him out of the ring. Woods tossed Nakamura out of the ring. Woods charged and Owens gave him a back body drop over the top onto Rusev on the floor. Nakamura with a Kinshasa knee strike on Woods on the floor. Nakamura back in the ring, Kingston pushed Owens away to avoid an attack and Kingston hit a Trouble in Paradise kick on Nakamura to put him down. While Kingston celebrated that, Owens decked Kingston with a superkick! Heel turn alert! Heel turn alert! The crowd booed immediately.
Analysis: That was really done well in terms of the way it was set up. The fans weren't thinking about Owens doing that, so when he did it, that really pissed them off. That's exactly how a heel turn should be. I'm not saying Owens turning is a shock. I'm just saying the way they did it was exactly how it should be.
Owens stood over a fallen Kingston as the fans booed him and the announcers were shocked by it. Owens took off his New Day shirt to reveal a KO Show shirt. Owens stomped away on Kingston. Owens tossed Kingston out of the ring. Owens whipped Kingston into the barricade. Graves said that Owens played the New Day, the WWE Universe and Kingston himself. Graves called it an ingenious plan from Owens. Owens whipped Kingston into the ring post and grabbed the WWE Title. Woods was still down on the floor after the Kinshasa from Nakamura.
Owens went into the ring, stepped on Kingston's head and held the WWE Title in the air. Owens said that he hoped Kofi's kids and him had a good time. Owens said he's coming for this and he's taking it from him. Kingston tried to fight back, but Owens came back with stomps against the turnbuckle. Owens tossed Kingston out of the ring. Owens teased a Powerbomb, but Woods came back in with a dropkick. Owens decked Woods with a hard dropkick on the floor. Owens gave Woods a Powerbomb against the side of the ring apron. Owens slowly backed up the ramp as referees and agents (hey Sonjay Dutt) checked on Woods at ringside. Kingston also recovered enough to check on Woods.
Replays were shown of the Owens superkick on Kingston. Graves called Owens a master manipulator that played the entire New Day like a symphony.
Owens and Kingston had a staredown from a distance to end the show.
Analysis: That was a very powerful ending to Smackdown this week. I mentioned the Graves lines on commentary because they were perfect things for the heel announcer to say. Owens did come off as a smart, calculating and devious jerk that played New Day for fools and then turned on them after they trusted him. I don't think anybody should be surprised that Owens would turn heel since his face run seemed forced to begin with. Owens has always been better off as a heel and WWE knows it. Plus, I think there was a need for a top heel to feud with Kingston. Based off this angle, they can probably get two or three PPV matches out of this Owens/Kingston feud, which is perfectly fine with me because they are outstanding performers.
Three Stars of the Show
Kevin Owens
Kofi Kingston
Finn Balor
The Scoreboard
8 out of 10
Last week: 7
2019 Average: 7.03 (Raw is 5.66)
Last 5 Weeks: 7, 6, 6.5, 7, 6
2019 High: 8.5 (February 26)
2019 Low: 5 (January 15)
Final Thoughts
I give this week's Smackdown a 8 out of 10.
This was a very good episode of Smackdown with three matches around the three-star level, a fun main event match with an entertaining brawl after it was over and a memorable heel turn to end the night. They also did an effective job of building Reigns vs. Elias/Shane. I may not be thrilled about Reigns vs. Elias as a match, but from a storyline perspective, they have set it up well. I think with Owens/Kingston, Lynch/Flair again, Reigns/Elias and the two Money in the Bank Ladder Matches with Raw/Smackdown stars involved, they have built the Smackdown side of the Money in the Bank card pretty well already.
Smackdown's new roster had a strong showing this week. The men's tag team division wasn't featured at all, but that happens sometimes on a two hour show when you can only have so many people on there. I miss Daniel Bryan, who has been Smackdown's best performer for the last six months since he turned heel. His current injury is unknown right now. I hope it's not serious and we see him back in the ring soon.
One last thing. Shane McMahon, it's Mount Rushmore. That was awkward lol.
#MITB is shaping up to be…well, MONEY.

💵 @WWERomanReigns vs. @IAmEliasWWE
💵 @BeckyLynchWWE vs. @MsCharlotteWWE for #SDLive#WomensTitle
💵 @BeckyLynchWWE vs. @LaceyEvansWWE for #RAW#WomensTitle
💵 @WWERollins vs. @AJStylesOrg for #UniversalTitlepic.twitter.com/J7lbtFtiJk

— WWE (@WWE) April 24, 2019
Here's the lineup for WWE Money in the Bank on May 19 so far:
Universal Championship: Seth Rollins (c) vs. AJ Styles
Raw Women's Championship: Becky Lynch (c) vs. Lacey Evans
Roman Reigns vs. Elias
Smackdown Women's Championship: Becky Lynch (c) vs. Charlotte Flair
Men's Money in the Bank Ladder Match – Participants to be announced soon.
Women's Money in the Bank Ladder Match – Participants to be announced soon.
I think we will be adding Kofi Kingston vs. Kevin Owens to this list soon.
—
Thanks for reading. My contact info is below. Go Toronto Raptors and Toronto Blue Jays.
John Canton
Email mrjohncanton@gmail.com
Twitter @johnreport
Personal Facebook and TJRWrestling on Facebook