The John Report: WWE Smackdown 07/15/22 Review
This week's WWE Smackdown featured the SD Women's Champion Liv Morgan vs. Natalya, Angelo Dawkins vs. Jimmy Uso and Madcap Moss vs. Theory as three of the big matches on this week's show.
SummerSlam is just over two weeks away on Saturday, July 30th. There's no Roman Reigns or Brock Lesnar advertised this week for Smackdown.
From the Amway Center in Orlando, Florida, this is Smackdown for episode #1195. Follow me on Twitter @johnreport. Let's get to it.
They showed announcer Pat McAfee getting an introduction from the back with the fans cheering him. Michael Cole introduced him.
Let's Hear from Pat McAfee
Pat did a promo in the ring. Pat apologized for missing last week because it meant we had to listen to Corey Graves for two hours and "Bum Ass Corbin" for 17 minutes. Pat called for a replay of why he missed last week.
They showed what happened after Money in the Bank when Happy Corbin beat up McAfee with a cheap attack to accept the SummerSlam match challenge. Last week on Smackdown, Corbin and his buddy Graves mocked Pat by dancing for Shinsuke Nakamura's music like Pat is known to do.
Pat said that he knew Bum Ass Corbin before all of us when they were rookies on the Indianapolis Colts. Pat said when he got to WWE, Corbin became an insufferable douchebag. Some fans chanted "Douchebag Corbin" and Pat said it might not be TV-14 yet, but that's what Corbin is. Pat said that he's been working out, watching film, and getting ready to smack the bad tattoos off Corbin's body.
Happy Corbin did a promo backstage saying that he's glad Pat is back, but he should stay on commentary where he belongs. Corbin said that it was easy for him to drop Pat while Pat just used to punt football. Corbin claimed that he contracted something nasty while on commentary and being near the WWE Universe while showing some red marks on his right arm. Corbin said he might be monkeypox or something. Corbin claimed that he was staying far away…for now. Corbin said he'll see Pat at SummerSlam. Pat said that Corbin is a coward that faked monkeypox. Pat said it's time to move the show along and he introduced the new Smackdown Women's Champion Liv Morgan.
Analysis: A fun promo from McAfee, who is a great talker and especially skilled at getting the crowd fired up. Corbin staying in the back as the cowardly heel fits his persona even though he's the bigger guy. I think the promo was effective in terms of building up the SummerSlam match more, so it was a good way to start the show.
Liv Morgan made her entrance as the Smackdown Women's Champion for her match against Natalya.
(Commercial)
A commercial aired for SummerSlam coming on July 30 with a focus on Roman Reigns vs. Brock Lesnar for their "last match" in a Last Man Standing Match.
Liv Morgan vs. Natalya
This is a Championship Contender's Match so Natalya gets a title match if she wins.
Natalya with a side headlock takedown, Morgan back up and she got her own takedown. Natalya with a hard slap to the face, then they ran the ropes and Morgan hit a dropkick for two. Morgan got a couple of rollup attempts along with another dropkick for a knockdown. Morgan charged, Natalya avoided her and slammed Morgan down. Natalya stepped on the neck, they ran the ropes and they each got nearfalls. Morgan kicked Natalya while on the apron, but Natalya blocked a move and did a catapult sending Morgan into the ring post. Good bump by Morgan going into the post and falling to the floor.
(Commercial)
The match returned with Natalya in control, then Morgan countered a submission move and got a rollup. Morgan with boot to stop Natalya and Morgan jumped off the middle rope with a missile dropkick. That was Liv's third dropkick in the match. Liv kipped up, then a step-up enziguri kick to the head and a dropkick to the back. Morgan got a cradle for two. Natalya went for the spinning clothesline, but Morgan avoided it and Morgan hit the boots to the back, but it didn't look that great. Morgan charge for a corner attack, Natalya caught her and hit a German Suplex for a two count. They went to the turnbuckle where Natalya wanted a superplex, but Morgan slipped out of it. Natalya came back with a sitout Powerbomb for two. Natalya with the Ankle Lock, Morgan slipped out of it and sent Natalya into the middle turnbuckle. Morgan with double knees to the face, Natalya into the ropes and Morgan hit the Oblivion (flatliner) for the pinfall win after 11 minutes.
Winner by pinfall: Liv Morgan
Analysis: ***1/4 A pretty good match here. I like seeing champions retain in non-title match because they don't always get booked that way, so let's enjoy it when it happens. This match was a lot more competitive than Natalya's match against Ronda Rousey last week when Rousey won quickly. I liked some of the spots in the match like the move before the break, I like Liv doing several dropkicks to show that it's a big move for her and then Liv found a way to get out of an Ankle Lock again like she did against Rousey. It took Live a few months after that to get the win. Solid effort from both women.
Liv Morgan was interviewed in the ring by Kayla Braxton, who mentioned Rousey had a more dominant win against Natalya. Liv said she knows she is walking into SummerSlam as the underdog, but she has been the underdog her entire life, but at SummerSlam, you can still call her your Smackdown Women's Champion. Liv held up her title.
Analysis: I like the confidence shown by Morgan. That's what the fans want to see from her.
Theory was interviewed by Megan Morant in the backstage area. Theory said that he's making it happen because with great power comes great responsibility. Theory said that Bobby Lashley is waiting on him at SummerSlam, then Dolph Ziggler is lurking around the corner and Paul Heyman walked into the scene telling Megan to give Heyman a moment with Theory. Heyman said Theory knows that Heyman is responsible for the biggest break of his career. Heyman said that this cash-in at SummerSlam makes no business sense at all. Heyman said that Theory should work with Paul, so he can work with the Tribal Chief and they can set up a scheduled title match. Heyman said all you have to do is not cash-in at SummerSlam and let Paul handle everything for Theory. Theory thanked him saying Paul always has good advice, but Theory said he's going to cash in on Brock Lesnar or Roman Reigns to become the new Undisputed WWE Universal Champion. Theory said maybe then he'll need advice as champion and he can hire Heyman. Theory left.
Analysis: It was Heyman trying to control things to make things easier on his "Tribal Chief" Roman Reigns by not having Theory cash in the briefcase at SummerSlam, but it seems like Theory intends to do it at SummerSlam. Of course just because somebody says when they are going to cash in does not mean that's actually when it will happen.
The New Day's Kofi Kingston and Xavier Woods made their entrance to the theme song of the Viking Raiders and they had some funny attire. "The New Raid" is up next.
This Monday on Raw: Logan Paul confronts The Miz on Miz TV and Bianca Belair vs. Carmella for the Raw Women's Title again.
(Commercial)
Let's Hear from The New Day aka The New Raid
There were replays shown of The Viking Raiders beating up The New Day last week just like they have done for several weeks. The New Day's Kofi Kingston and Xavier Woods were in the ring for a promo.
Woods said he was Erik the Gross and Kofi was Ivar he Ugly. Kofi was wearing some padding to show that he was the fat guy. Woods started talking, the sounded like a pirate and then Kofi wondered why he sounded like a pirate, so Woods said he was bad at accents. They talked about video games and movies. They mentioned their attire that they wore to try to scare their opponents.
Erik and Ivar made their entrance with Woods telling the fans to boo those impostors, so the fans booed. Erik said that they are new and vicious. Ivar said that once they get to the ring, the only words to describe New Day are "mangled" and "broken." Woods wanted to teach them words, so they called them disgusting, deplorable, ugly and so on. The Raiders tossed the microphones down and went to the ring.
When The Viking Raiders got down to the ring, Jinder Mahal and Shanky were there to help New Day. Jinder and Shanky punched the VR guys. Woods and Kofi hit dives onto VR to knock them down. The four of them were able to take out the Viking Raiders at ringside. The VR guys retreated. Shanky danced with New Day, but Jinder didn't want to do that.
Analysis: It was the first time that the Viking Raiders didn't get the advantage after their heel turn, so at least the faces were able to counter them this time. I guess Jinder and Shanky might be faces now.
Gunther and Ludwig Kaiser were interviewed by Kayla Braxton, who showed video footage of Shinsuke Nakamura beating Ludwig last week. Gunther beat up Ludwig with hard chops after the loss. Gunther said that there was no room for failure. Gunther said that they will never lose and losing is unacceptable while adding that losing has consequences. Braxton said next week, Ludwig will face Nakamura next week. Ludwig said he was sorry, he spoke German and Gunther spoke back to him. Gunther gave Ludwig a hard chop to the chest while poor Kayla reacted with a shocked look on her face.
Analysis: Gunther is the greatest. That's all. Kayla's reaction to the chop was terrific.
Aliyah entered for a match against Lacey Evans, who was supposed to be her tag team partner last week.
(Commercial)
They showed a replay from last week's Smackdown with Lacey Evans turning heel on the fans. Evans ripped on the fans for not giving her a big ovation. After her speech, Evans punched Aliyah with the Woman's Right punch to the face.
Lacey Evans made her entrance to boos from the crowd. Evans said that you're not better than her. Evans said that she served her country, she put her life on the line for all of you, she overcame obstacles that would completely crush the average American and she's slightly disgusted by the lack of appreciation that you people deserve to give her. Evans talked about how she's an American Hero that's a prime example of what you should be and you can't be, which is why you hate it. Evans knows that she has offended a few of you and the truths are hard to handle. The fans chanted "WHAT" at her. Evans apologized to anybody she has offended, Pat said that was nice and the fans booed her more. Evans said just like she said last week: "Go to hell." End promo. Evans left the ring instead of having her match with Aliyah. No match. That was it. The announcers talked about it.
Analysis: It was like last week with Evans coming off like an egomaniac while ripping on the fans for not respecting her. It's rare to have somebody with a military background get booed while mentioning that, but part of it is the delivery of Evans, which makes it easy for the fans to boo her. I thought they might have the match with Evans winning very quickly. However, that didn't happen.
The Progressive Match Flo replay showed Drew McIntyre beating Butch last week because Sheamus avoided having a match.
Drew McIntyre made his entrance to a big pop. Drew had Angela the sword in his hands as usual. It's supposed to be Drew vs. Sheamus again.
(Commercial)
The Brawling Brutes trio of Sheamus, Ridge Holland and Butch made their way down to the ring. Holland was introduced as the opponent while Sheamus was on the graphic before the break. Butch grabbed the ring bell, Sheamus stopped him from attacking and Butch rang the bell. That was funny at least.
Drew McIntyre vs. Ridge Holland (w/Sheamus & Butch)
Drew with a belly to belly suplex across the ring. Drew did the ten forearms to the chest of Holland just like Sheamus does. Drew was distracted by Sheamus and Butch on the floor, so Holland sent Drew into the ring post. Back in the ring, Holland with a corner clothesline and Holland hit a powerslam for a one count. Drew got back up with chops, Holland with a headbutt to the gut and Drew hit two clotheslines. Drew hit a neckbreaker. Drew punched Butch off the apron. Holland with a headbutt, Drew with a better headbutt of his own and Drew hit the White Noise slam that Sheamus uses. Drew hit the Claymore Kick on Holland for the pinfall win after about four minutes.
Winner by pinfall: Drew McIntyre
Analysis: ** It was another dominant win by McIntyre to continue building him up for the big match with Sheamus. Holland only got some offense after some distractions from his friends at ringside. A win by McIntyre was the obvious result here.
Post match, Drew and Sheamus had a staredown while Sheamus had to hold Butch back. Drew was yelling at Sheamus that he's going to get to face him soon.
Analysis: It was supposed to be Drew vs. Sheamus for an Undisputed WWE Universal Title shot at Clash at the Castle last week and then this week as well. Drew should win that whenever he has that match with Sheamus…perhaps at SummerSlam.
Theory made his entrance for singles action with the Money in the Bank briefcase in his hand.
(Commercial)
A video aired promoting SummerSlam in Nashville in 15 days.
They showed highlights from Monday's WWE Raw when Brock Lesnar did a promo threatening the "Tribal Hog" Roman Reigns and warning him that he'll get a country ass-kicking that he's never seen. Paul Heyman told Lesnar he will not conquer this streak. Theory interrupted saying it doesn't matter if Roman or Brock wins because Theory will cash in Money in the Bank and leave as the Undisputed WWE Universal Champion. Lesnar beat up Otis and Chad Gable, who tried to attack Lesnar. Lesnar gave Otis the F5 through the commentary table. That was great.
Madcap Moss was interviewed behind the curtain by Megan Morant. Moss answered one question quickly, then Paul Heyman showed up and asked Megan Morant to give them a moment to talk. Heyman shook Madcap's hand with Paul saying that Moss was responsible for Madcap's biggest break (just like he said to Theory). Heyman said that what Theory has in mind for SummerSlam doesn't make business sense. Heyman talked about how Moss beat up Corbin so that he wasn't seen for weeks. Heyman said if Moss did that to Theory then Heyman could pitch Reigns vs. Moss in a scheduled match for the Undisputed WWE Title. Moss said that it sounds to him like Paul is really worried about Theory cashing in at SummerSlam. Moss did not shake Paul's hand and Moss made his entrance.
Madcap Moss made his entrance as they went to break. I think Theory will be in in the ring for over ten minutes before his match starts.
(Commercial)
A video aired about the Maximum Male Models group that debuted over the last couple of weeks with Max Dupri introducing us to Mace and Mansoor. Next week is the MMM 2022 Beachwear Collection. Thrilling. They also have Max Dupri's "sister" Maxine Dupri next week.
Madcap Moss vs. Theory
They spent a few minutes posturing for control until Theory got a shoulder tackle followed by some flexing. Moss ran over Theory with a shoulder tackle of his own. Theory jumped off, Moss caught him on his shoulders and hit a fallaway slam across the ring. Theory applied a chinlock, then he sent Moss into the turnbuckle and Moss came back as he sent Theory into the turnbuckle several times. Moss with a clothesline over the top to the floor. Moss went for a tackle on the floor, Theory with a leapfrog and Moss went crashing into the steel steps. That led to a break.
(Commercial)
The match returned with Theory hitting his flipping move into a dropkick for two. Theory worked over Moss with punches, then Theory ran the ropes and Moss ran the ropes leading to a Pounce knockdown across the ring. Moss and Theory exchanged punches leading to Moss hitting a clothesline. Moss with two shoulder tackles in the corner followed by a spinebuster for two. Theory stomped on the foot to get out of a move leading to a belly-to-back slam (like John Cena) for a two count. The fans chanted "Theory sucks" a bit. Moss sent Theory to the apron, Theory with a necksnap on the apron and Moss with another shoulder tackle. Moss knocked Theory off the apron to the floor. Theory grabbed the Money in the Bank briefcase, Moss followed him and Theory hit Moss with the briefcase for the DQ. It went 11 minutes.
Winner by disqualification: Madcap Moss
Analysis: *** I thought it was an enjoyable match for the most part. Moss is still figuring things out as far as a babyface wrestler goes, but he has a lot of explosive moves, he hits hard and the fans are into his act. Theory getting disqualified fits his heel persona as a guy that really only cares about cashing in MITB instead of winning a match like this. They were given a decent amount of time and had a good match here.
After the match, Theory hit Moss with the briefcase. When Moss was announced as the winner, Theory said no one cares. Theory said he was still Mr. Money in the Bank and soon to be the Undisputed WWE Universal Champion, Theory.
Sami Zayn appeared wearing a sling on his left arm. Zayn wondered if he heard that right. Zayn said that you are disrespecting the "Tribal Chief" Roman Reigns and when you disrespect The Bloodline, there are consequences. Zayn said as an "Honorary Uce" he was recommending that Theory apologizes right now. Theory wondered what Sami was going to do as the Bloodline suck up. Theory asked what Sami was going to do with one arm. The Usos made their entrance as the Undisputed WWE Tag Team Champions. Theory backed away from the entrance and went down to ringside. Moss was still there, so Moss threw Theory into the ring post. Moss threw Theory over the barricade at ringside.
Analysis: A little bit of payback for Moss after Theory gave him the cheap shot with the briefcase. They could definitely do this match on TV again.
The Usos made their entrance for Jimmy's main event match against Angelo Dawkins and we're supposed to find out the special referee for the Tag Team Title match at SummerSlam as well.
(Commercial)
Next week on Smackdown in Boston: Brock Lesnar is back. Also, Liv Morgan and Ronda Rousey go face to face.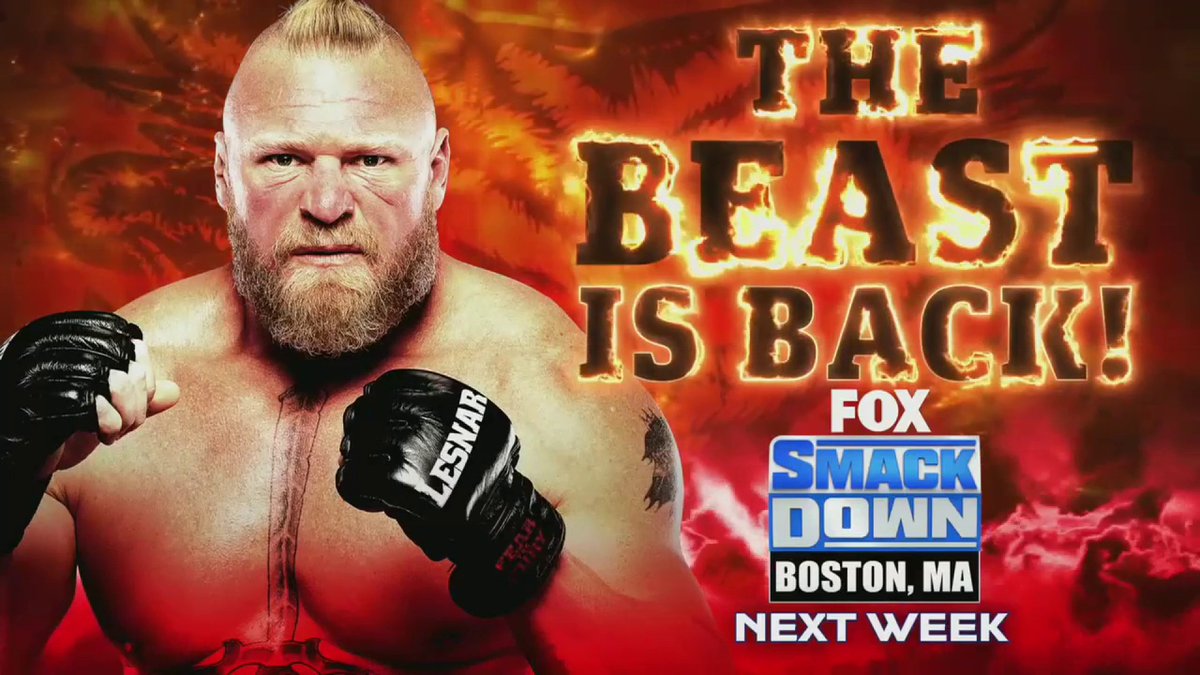 Sami Zayn was on commentary for the main event to support his brethren, The Usos. Pat said that The Usos had his back while Cole said that they were scheduled for a match. Choose what you believe, I guess.
The Street Profits duo of Angelo Dawkins and Montez Ford entered for a singles match. I don't know how many times they have done singles matches between these tag teams, but it's been many times over the last two months.
Angelo Dawkins (w/Montez Ford) vs. Jimmy Uso (w/Jey Uso)
Dawkins with a waistlock takedown, Jimmy with a back elbow and a Samoan Drop. Sami: "Well done, Uce!" Jimmy sent Dawkins to the apron where Jimmy delivered with a spinning kick to the head. Jimmy charged, Dawkins with a punch and a clothesline that sent Jimmy out of the ring to the floor. Dawkins charged at Jimmy with a shoulder tackle that sent Jimmy flying over the barricade to take a bump on the floor by the ring announcer area. That led to a break.
(Commercial)
Jimmy was in control with a corner hip attack, but Dawkins popped right up and punched Jimmy in the face. Jimmy with kicks to the ribs, Dawkins ran the ropes and hit a jumping back elbow. Dawkins hit a double underhook neckbreaker for a two count. Dawkins hit a spinning splash in the corner, then he had to deal with Jey on the apron and Jimmy ran the ropes leading to Jimmy running over referee Charles Robinson. Dawkins got a rollup for about a five count, but there was no referee. Jimmy got back up with a superkick with no referee to count. Jimmy tried to wake Charles up and Dawkins hit a sitout spinebuster for the pinfall win. Jimmy's right shoulder was up during the pin, but the referee was on the other side. It went about eight minutes.
Winner by pinfall: Angelo Dawkins
Analysis: **1/2 It was just an average match between guys that have a lot of chemistry. I think the main purpose was to put over the controversial finish yet again between these teams. The referee bump led to a few of those moments and then Jimmy's shoulder up at the pin to give Dawkins the controversial win. It just furthers that story between the teams.
They showed the replay of the finish that clearly showed that Jimmy's right shoulder was up while Dawkins was making the pin. Zayn said he should be the referee at SummerSlam.
Adam Pearce, the WWE Official, did a promo saying that there's nothing worse than losing due to a questionable call. Pearce said that's why they need a special referee. Pearce said that they found the perfect man for the job…Jeff Jarrett.
A video aired about Jeff Jarrett's Hall of Fame career in WWE and WCW.
Analysis: Jarrett is from Nashville, which is where SummerSlam is taking place, so that's probably why they picked him. Jarrett also works for WWE in charge of Live Events, so he's on the company payroll and I guess they figured they should use a local legend as the referee.
The Usos and The Street Profits got into a brawl in the ring while referee Charles Robinson called for other referees to come out there to try to break it up. During the chaos, McAfee also mentioned that Jarrett was also in charge of WWE Live Events these days. There were so many camera cuts as they showed the wrestlers brawling because that's what the fans love doing. Jimmy broke free from Dawkins and tried to get Jey free as the show signed off.
Analysis: This was okay, but not an exciting brawl or anything like that. I think The Usos are going to keep the titles at SummerSlam.
Three Stars of the Show
Liv Morgan/Natalya
Theory
Drew McIntyre
The Scoreboard
6.25 out of 10
Last week: 5
Final Thoughts
I thought it was okay overall. Better than last week for sure. It was another Smackdown with some pretty good matches since two of them were very good while the main event was okay for the time given. There's a lot of talking on this show every week it seems. I'd like to see more action.
I thought Liv Morgan had a good match with Natalya while the Theory/Moss match was also fine even with a DQ finish. The main event with Dawkins and Jimmy was more about putting over the controversial finish. Drew McIntyre was impressive again in his short victory.
Smackdown remains just an average show most weeks. Next week Brock Lesnar is back, so that might help a bit in terms of star power. I think if you're a casual fan, it's probably tough to really get into Smackdown right now. They need to make it a more exciting show.
The next WWE Premium Live Event is SummerSlam from Nashville on Saturday, July 30th. Here's what we know so far.
* Last Man Standing Match for the Undisputed WWE Universal Championship: Roman Reigns (c) vs. Brock Lesnar
* Smackdown Women's Championship: Liv Morgan (c) vs. Ronda Rousey
* United States Championship: Bobby Lashley (c) vs. Theory
* Unified Tag Team Championships: The Usos (c) vs. The Street Profits – Special Guest Referee is Jeff Jarrett.
* Pat McAfee vs. Happy Corbin
The Miz vs. Logan Paul isn't official yet, but it's happening too.
You can watch WWE SummerSlam, streaming live Saturday, July 30, at 8 ET/5 PT on Peacock in the United States and on WWE Network everywhere else.
===
Thanks for reading. Please check out my reviews of every WWE PPV ever listed in order. Go Toronto Blue Jays. My contact info is below.
John Canton
Email mrjohncanton@gmail.com
Twitter @johnreport