The John Report: WWE Smackdown 02/21/20 Review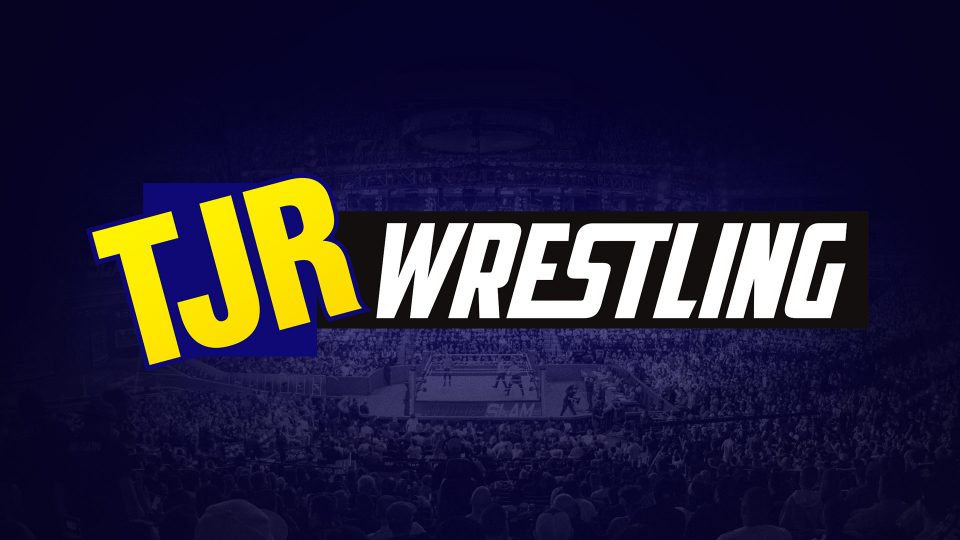 Welcome to another WWE Smackdown review here on TJRWrestling. It's the last Smackdown before Super Showdown takes place next Thursday, February 27. Let's get to it.
Live from Phoenix, Arizona, this is Smackdown for episode #1070. Follow me on Twitter @johnreport. Please visit TJRWrestling.net daily for our regular updates on the wrestling business featuring WWE news coverage along with reviews about wrestling's past and present. Thanks to Melo Man for the banner up top.
The show began with a video promoting Goldberg will be live on Fox. That means in the arena this time as opposed to via satellite two weeks ago.
The Smackdown "Are You Ready" introduction video played. That was followed by a pyro display in the arena to fire up the crowd in Phoenix (or Glendale).
The announce team of Michael Cole and Corey Graves promoted what was to come on this week's show including Carmella vs. Naomi, the "legendary" Bella Twins are on Alexa Bliss' talk show and Braun Strowman teams up with Elias against Cesaro and Shinsuke Nakamura in a "Symphony of Destruction" tag team match.
The Usos made their entrance with the crowd popping for them since they're a popular team in WWE. They are in an eight-man tag team match this week. Jimmy Uso said that last week they couldn't be here and it was very hard for them to be missed with Jey saying that Miz and Morrison couldn't keep their names out of their mouth. They said that they are back in the building, they're having a superkick party and everybody is invited. They asked "who" their partners could be leading to the New Day making their entrance.
Analysis: The superkick party line was interesting because that's what The Young Bucks have said for years. It doesn't mean there's a match coming since they are in different companies. It was just a bit of a surprise to hear that term.
The New Day's Big E and Kofi Kingston entered with the Smackdown Tag Team Titles along with pancakes. The Usos said that they are the most dominant teams on Smackdown with Jimmy saying they hope The New Day keep the titles warm for them. Kofi called The Usos future Hall of Famers no doubt while mentioning they are 6-time Tag Team Champions. Jimmy made Kofi repeat it. Big E said that's incredible, but it's one less tag team title reign than New Day, which makes New Day better than The Usos. Jey said that after they get through Miz and Morrison at Super Showdown, they can do this one more time.
The Miz and John Morrison made their entrance. They will challenge New Day at Super Showdown for the SD Tag Team Titles. Miz and Morrison said they need something catchy for fans to say about them. They came up with "Miz and Morrison hey hey ho ho" that led to awkward chanting from the heels while the fans booed it. They said they're the greatest tag team of the 21st century: "Be Jealous." Morrison said one of their partners had a winning Valentine's Day. Dolph Ziggler made his entrance with Robert Roode as Cole ripped on Ziggler for stealing Otis' date with Mandy Rose. Roode and Ziggler greeted their partners around ringside while the faces were around the ring. The Usos and New Day were in the ring with Usos saying they can start this match right now.
The four heels surrounded the ring, they went to the apron and then the faces scared them to knock them off the apron to the floor.
Analysis: The match was already announced before the show, so they really didn't need to do promos. I guess the reason to do them is to shine a bit of spotlight on the tag team division. I'm not sure what the WrestleMania direction is, but a Tag Team Ladder Match with these four teams plus Heavy Machinery (and maybe The Revival if they're still around) sounds like a good idea.
(Commercial)
The Usos (Jimmy and Jey) and The New Day (Big E and Kofi Kingston) vs. Dolph Ziggler, Robert Roode, The Miz and John Morrison
The babyface team did quick tags as all four guys attacked Ziggler in their corner. Big E with a back body drop on Roode, both Usos hit the running corner splash on Ziggler and Kingston hit a dropkick on Ziggler. Roode distracted the referee, so Morrison used his legs to pull Kingston over the top to the floor. Miz with a boot to the face of Kingston on the floor. The heels worked over Kingston on the floor. Morrison with an elbow drop. Graves said that Cole's trashing of Miz and Morrison sounded like the internet on Reddit, Twitter and told people to be jealous of them. The heels continued to do cheap attacks behind the ref's back. Miz riled up the crowd, which drew boos. Kingston tried to fight out of the heel corner with a headbutt and kicks, but Morrison hit a leaping kick to the head of Kingston to knock him down to the floor. That led to a break.
(Commercial)
The show returned with Kingston as the face in peril as Ziggler hit him with a dropkick. Kingston with a back body drop on Ziggler and then a running stomp to the chest of Roode, who was legal. Big E got the tag against Miz with the usual hot tag offense from Big E including two overhead belly to belly suplex, then a side belly to belly and some hip-swiveling followed by the running splash. Morrison got the tag, Big E charged, Morrison with a knee to the face, Morrison charged and Big E hit the uranage slam for a two count. There was some technical difficulties thing on the screen that is a tease for something, but I don't know what yet. There was some envelope. Big E was looking outside the ring, Morrison with a springboard kick, a running knee and a standing Shooting Star Press got a two count as Kingston broke it up. Kingston with a clothesline to send Miz over the top to the floor. Morrison with a corkscrew cross body block on Kingston. Jey and Roode were the legal men with Jay sending Morrison to the floor. Jey got a rollup on Roode for two, Ziggler went into the ring and Roode/Ziggler hit a spinebuster/Zig Zag combo although Ziggler did not do his part well. That got a two count. Jimmy with a superkick on Ziggler, then a superkick on Miz and Roode hit a Glorious DDT on Jimmy. Jey missed a kick on Roode, but Jey slipped out of a DDT attempt and hit a superkick for the pinfall win after 12 minutes.
Winners by pinfall: The Usos (Jimmy and Jey) and The New Day (Big E and Kofi Kingston)
Analysis: ***1/4 It was a very good tag team match following the usual formula with Kingston as the face in peril, then he got the hot tag and the last few minutes were great to watch. The finish put over The Usos to suggest that they're going to get a push. I thought they would do one of those sequences towards the end where everybody hit big moves like most WWE multi-man tags, but then it ended rather abruptly. The Usos winning is fine with me. It didn't really get me more excited about New Day vs. Miz/Morrison on Thursday, but I think Miz/Morrison are winning the titles in that match.
Daniel Bryan was shown walking backstage with Drew Gulak walking up to him saying he noticed that Bryan had some holes in his game. Gulak said he has a Powerpoint Presentation to teach Bryan. Gulak mentioned Bryan's matches with The Fiend, a tag team match and his match with Heath Slater, who happened to be standing right there. Slater said that Bryan stomped his brains in and made his kids cry while claiming that nobody makes his kids cry, but him. I guess that was funny. Slater claimed he wasn't ready. Bryan asked if he is ready right now and Slater said he wants a rematch tonight, which Bryan agreed to. Bryan suggested that maybe Gulak can help Slater and Bryan left.
Analysis: I really hope WWE can come up with something good for Bryan at WrestleMania. To me, he's the best wrestler in the company and he needs to be featured more than he is. I know Bryan has refused doing the Saudi shows in the past, so that's why he's not going to Super Showdown. I just hope there's something meaningful for him at WrestleMania this year.
They promoted Goldberg's first time on Smackdown on Fox. Goldberg has been on Smackdown before, but not since the Fox deal in October. Also, the Mandy/Otis Valentine's Day date fallout is next.
(Commercial)
A video package aired about Mandy Rose's date with Otis that did not turn out well on Valentine's Day last week. Mandy went to the restaurant first, Otis showed up late due to a text she sent and then Dolph Ziggler was there to steal the date with Mandy. Otis saw Dolph sitting with Mandy, Otis dropped his flowers and he left. Poor Otis.
Mandy Rose and Sonya Deville were shown talking backstage when Tucker (Otis' tag team partner) showed up. Tucker said that Mandy hurt his boy. Tucker complained about how Mandy invited Dolph Ziggler while noting that Otis got her flowers, combed his hair and got new underwear. Tucker said he's never seen Otis so hurt and he didn't even want to leave the hotel room. Mandy claimed she didn't mean to embarrass Otis, she ran into Dolph after Otis didn't show up and Tucker asked then why did you text Otis saying you were running late? Mandy: "What text?" Tucker said that Otis is the sweetest man that he knows, he always sees the best in everyone, but he was a fool to think that Mandy had good intentions. Tucker left. The fans chanted "Otis" as Mandy talked to Sonya asking what text is he talking about? Sonya said that Tucker was sticking up for his boy and she said that Mandy had a good time with Dolph. Mandy said she was looking forward to hanging out with Otis, Sonya said that Dolph is more of Mandy's type so don't worry about.
Analysis: The big thing to take away from that is that Mandy had no idea about a text that Otis received last week saying that she was running late. So who sent the text? Maybe it was Sonya Deville, who doesn't want Mandy to date Otis because Sonya has feelings for Mandy? Maybe it was Dolph Ziggler who somehow got Mandy's phone and sent the text? I don't know if it's going to be revealed who did it, but that's likely the next step.
Lacey Evans Interview with Renee Young
Lacey Evans was seated on a chair backstage with Renee Young for an interview. Young said this is Lacey's first time on Smackdown since the Royal Rumble about four weeks ago. Evans said that she takes pride in putting her best foot forward and not stopping. Evans called Bayley a bully. Young mentioned that not too long ago, Evans was being a bully to people calling them a "nasty" all the time. Evans explained it saying it's a term of endearment while showing how to say it in a friendly way. Evans said that she was a bully, but coming to Smackdown she saw how Bayley and Sasha Banks treated the women's division. Evans said when they were tormenting Lacey's child was when she realized how much of a bully she was herself. Evans said that grandpa used to say that if your pen sticks then you're probably the big. Evans said it's up to her to set the proper example. Renee asked what is next for her. Evans said that her sights are set at the Elimination Chamber and she said she had to take out five women to get the opportunity to become the champion at WrestleMania. Renee thanked her and wished her the best of luck.
Analysis: I think WWE is really wanting to push Evans as a top woman on Smackdown, so this was a way to get back into the title hunt. Evans mentioning Elimination Chamber means that there will probably be a Smackdown women's EC match along with a Raw women's EC match and I assume a men's EC match too. Three EC matches on the same show seems like overkill, but that's where we're headed. Evans winning the SD Women's Title at WrestleMania wouldn't surprise me at all.
There were musical instruments set up around ringside for a "Symphony of Destruction Match" where you can use the weapons at ringside.
Cesaro made his entrance along with Shinsuke Nakamura and their manager/liberator Sami Zayn.
(Commercial)
They showed a highlight of last Friday when Cesaro and Zayn attacked Elias, Braun Strowman made the save and the heels ran away. Strowman tossed a guy over the top onto other security guys on the floor.
Elias did his usual shtick about how WWE stands for "Walk with Elias" with the crowd chanting along right on cue. Elias had a song where he introduced his partner, the "Monster Among Men" Braun Strowman, who is the Intercontinental Champion. Strowman carried a stand up bass down to the ring. The first Symphony of Destruction match was on Raw with Strowman beating Elias.
Symphony of Destruction Match: Braun Strowman and Elias vs. Cesaro and Shinsuke Nakamura (w/Sami Zayn)
This is essentially a Falls Count Anywhere match with musical instruments at ringside that are allowed to be used in this match.
Nakamura started with Elias even though I figured it would be more of a Tornado Tag since weapons are allowed. Why would you wait for a tag when you can just use a weapon to attack somebody? Anyway, Elias hit a hiptoss. Nakamura tried to attack with a tambourine, but Elias used it to hit Nakamura in the back and the chest. Elias with a jumping knee to knock Nakamura out of the ring. Elias had a big drum, Cesaro took it from him and Strowman crushed the drum over Cesaro's body. Zayn hit Strowman in the back with a ukulele. Strowman ran after him and Nakamura hit Strowman in the ribs with a guitar. So why were they going for tags like a regular match? That made no sense to me.
(Commercial)
A commercial aired promoting John Cena on next week's Smackdown. Do we need this while a match is going on in the ring? Odd timing.
The match returned with Cole calling Cena the "greatest of all time" as the match continued with Cesaro using a cowboy. Elias wanted to suplex Cesaro through a table, Zayn grabbed Elias' foot and Nakamura kicked Elias off the apron to put him through a table on the floor. Strowman with a running shoulder tackle on Cesaro and he tripped up Nakamura on the apron. Strowman tossed Cesaro across the announce table. Strowman sent Nakamura into the steel steps and into the barricade. Strowman gave Cesaro a Chokeslam onto the edge of the ring apron. Strowman looked at the huge bass at ringside as Zayn hit Strowman in the back with a keyboard. Cesaro and Nakamura gave Strowman a double suplex through the bass leading to a two count on the floor for Cesaro. A bass is not very thick, so it's not like it's a big bump, but it sounds loud at least. Elias sent Nakamura into the barricade. Nakamura with a spin kick on Elias. Nakamura went for a running knee. Elias moved and Nakamura went knee first into a gong cymbal that was at ringside. Elias hit Cesaro wit ha guitar to the back. Elias went up top Nakamura grabbed him, Strowman got Elias and Strowman tossed Nakamura over the announce table. Elias jumped off the top with an elbow onto Cesaro to break the table. Strowman gave Nakamura a powerslam off the announce table into the top of a piano that was at ringside. The piano split in half pretty much. Strowman covered Nakamura on the floor for the pinfall win after about 11 minutes.
Winners by pinfall: Braun Strowman and Elias
Analysis: *** The match was fun at times, silly at other times and overall it seemed like the fans liked it because the babyfaces got the win. The finish was well done with the faces hitting the big spots to win the match. That spot with Strowman hitting a Powerslam off the announce table onto a piano is something I have never seen in WWE before, so that's unique and I gotta give them credit for coming up with something creative like that. I ask the question again, though, why were they working this as a regular tag team match in the first few minutes? That made no sense to me. This feud has done nothing to help Cesaro/Nakamura and Zayn because they get their asses kicked nearly every week while looking like chicken shit heels all the time.
Nakamura ended up with a cut in the back of his head from the piano bump. This is why they don't bump on pianos! Check out the photo from his Instagram below.
https://www.instagram.com/p/B8263c4Bsjv/
There was a video package about the Roman Reigns feud with Corbin since they have a Steel Cage match at Super Showdown next Thursday.
Analysis: This feud has been going on for about four months. It might end at Super Showdown with a Reigns win, but I'm not sure if that will really be the end of it.
King Corbin was interviewed by Kayla Braxton with Corbin saying it's the end of Roman Reigns as the face of WWE. Corbin said that Reigns hides behind his hoodlum cousins. Corbin claimed that Reigns has never beaten him in a one on one match (he did at Royal Rumble) while saying nobody can help him in the Steel Cage match. Corbin said after Super Showdown, Reigns will be replaced by Corbin and Corbin's face will be all over WWE advertising and on Fox. Corbin said that the entire WWE Universe will bow down to King Corbin…believe that.
Analysis: I am picking Reigns to win at Super Showdown. That's for sure.
There was another plug for Goldberg later on Smackdown.
Carmella and Naomi were shown in separate parts of the backstage area getting ready for their match.
The Bella Twins as guests on "A Moment of Bliss" talk show is next.
Next Monday on Raw, who will Randy Orton strike next? Plus, Becky Lynch is going after Shayna Baszler and Brock Lesnar is back on Raw.
(Commercial)
A Moment of Bliss with The Bella Twins
Alexa Bliss made her way onto the stage to host her talk show called A Moment of Bliss. Alexa said that this is a special Hall of Fame moment of Bliss. Alexa said let's take a look at the 2020 Hall of Fame Class so far. They showed Batista on the screen along with the New World Order's Hulk Hogan, Scott Hall, Kevin Nash and Sean Waltman. I still think it should just be the first three guys there, no offense to Sean or anybody else. Alexa announced the Bella Twins in the WWE Hall of Fame 2020 class as well.
The Bella Twins duo of Nikki and Brie made their entrance with both of them in red dresses and they are both pregnant as well. I believe they live in the Phoenix area. They got a pretty good pop. Nikki said they're so excited, so honored and it was special for them to be in their hometown. Nikki said they're beyond grateful for the Bella Army while saying they wouldn't be where they have been without them or broken barriers without the Bella Army. What barriers? I don't get it. Anyway, Brie put over Bliss for having the first female talk show in WWE history. Brie said that the female WWE superstars keep raising the bar and they are so honored to be there.
Brie mentioned that they are twins that are both pregnant. Brie said they are a week and half apart in their pregnancies while Nikki recently got engaged (to a guy named Artem). Brie said it meant a lot to be there on Smackdown where they got started. Nikki thanked the fans while adding they want to see the Bella Army in Tampa for WrestleMania. The women hugged on the stage. Daniel Bryan, who is married to Brie, walked out with their young daughter Birdie and they shared hugs. Bryan led the crowd in "yes" chants for his match up next.
Analysis: Congrats to the Bella Twins. I think they both worked hard to improve throughout their careers, so I respect them for that. I think Nikki was clearly the better of the two women especially in the last four years of their careers. Nikki had better matches and was the better actress of the two. Nikki also had a very long reign as Divas Champion, so she was pushed a lot. With that said, I thought their rivalry in 2014 was absolutely awful and was the winner of my Johnny Award for the Worst Feud of the Year. I think most fans would agree that the level of acting that took place during that rivalry was really bad. I'll never forget that "I wish you died in the womb" line that was so lame. They aren't favorites of mine by any means, but WWE has pushed them so much in their careers especially after they got the reality shows that it's easy to see why WWE wants to put them in their Hall of Fame. Could WWE waited a bit until they got a bit older to put them in the Hall of Fame? Probably. There are women that have been retired for several years that are probably getting in at some point, yet the Bella Twins got in before them. It's the WWE Hall of Fame, though. There's no explanation or reason for the picks. There might somebody that has been retired for ten years in the HOF class one year and then the next year they might put recent retirees like the Bella Twins, who are two of the youngest Hall of Famers since they are just 36 years old. Who knows? It's just all the whim of Vince McMahon. I don't really complain too much about people going into the WWE Hall of Fame. They let a lot of people in and there are many questionable picks that go in years before deserving people ever get to go in. I know it means a lot to the performers to get in, so that's why I'll always say congratulations to them.
(Commercial)
Heath Slater vs. Daniel Bryan
Bryan pulled down Slater by the arm, Cole said Slater was on commentary and it was really Drew Gulak, so Graves ripped on Graves for it. Slater got some offense with a shoulder to the back of the leg and he drove the left leg into the mat. Bryan jumped off the top, grabbed at his knee and then Slater hit a DDT for a two count. Slater went up top, Gulak told him not to and he told him to get down, but Slater jumped off the top to hit nothing because Bryan moved. Bryan with the Yes Kicks to the chest followed by a roundhouse kick to the head. Bryan led the crowd in "Yes" chants, he went for the knee, Slater avoided it and got a rollup for two. Bryan came back with the running knee to the face for the pinfall win after three minutes.
Winner by pinfall: Daniel Bryan
Analysis: *1/2 Bryan got the win as expected, but Slater got in a bit of offense there. Gulak working with Slater gives those two guys something to do after doing nothing for months on Smackdown. Bryan will need a more high profile rivalry and I hope he gets that before WrestleMania. I don't know what heel there is to face whether it's Baron Corbin or Sheamus. Something good, hopefully.
Post match, Gulak stood up and told Bryan that Slater almost had him a couple of times.
Mandy Rose was backstage by the door looking at her phone with her luggage. The screen was messed up again with a graphic that looked like an envelope of some kind. Dolph Ziggler walked up to Mandy, she said she was waiting for her ride, Dolph said that he has car and she can ride with him. Mandy said sure. Otis was hiding behind some boxes, so when Mandy left, Otis walked out with a sad look on his face.
Analysis: Poor Otis. That's all I got.
Naomi made her glow entrance to a good reaction plus some quality dance moves.
(Commercial)
Next Tuesday on WWE on WWE Backstage on FS1 hosted by Renee Young and Booker T, their guests are Daniel Bryan and The Bella Twins.
Sheamus was shown backstage in a darkened room. Sheamus mentioned Shorty G and Apollo Crews while saying he sent them running like rats from a sinking ship. Sheamus said that Smackdown's problems are far from over. Sheamus said that it's time for him go after bigger prey and the time has come to exterminate every rat in that locker room. Sheamus said he'll do it when he enters the Elimination Chamber.
Analysis: Sheamus has talked about going after the IC Title in the past since it's the only title he hasn't won. The Elimination Chamber match will be for a shot for the Universal Title, I expect Reigns to win that, but they can do something with Sheamus and Strowman in the match to set up an IC Title match at WrestleMania. Maybe Sheamus costs Strowman in the Chamber match after Sheamus is eliminated. It would be easy to set up.
Apollo Crews and Shorty G were shown in the locker room. Shorty said Sheamus is a bully and it makes him sick while adding he's not backing down. Crews told Shorty he didn't need his pep talk while telling him you can handle Sheamus your way and Crews can handle business his way.
Analysis: Perhaps this will lead to a heel turn for Crews. Clearly, Crews hasn't gone anywhere as a face, so it could be a good thing for him.
Bayley was at ringside with the Smackdown Women's Title to watch the match. Carmella made her entrance and she got some pyro as well. They replayed last week when Bayley cheated to win to beat Carmella. Naomi attacked Bayley after the match, so that's how we got this match.
Number One Contender's Match for the Smackdown Women's Title: Naomi vs. Carmella
The winner of this match gets to challenge Bayley for the Smackdown Women's Title at Super Showdown next Thursday.
Carmella with a shoulder tackle, Naomi with a leapfrog and a running back elbow. It was mentioned by Cole that Bayley's title reign has reached 273 days. Naomi kicked Carmella down followed by a running clothesline for two. Naomi hit a full nelson slam into a pin followed by two more nearfalls. Carmella did her headscissors spot, but Naomi came back with a kick to the face. Back in the ring, Naomi with a cross body block off the top for a two count. Naomi went to the middle turnbuckle, Bayley distracted and Carmella hit a headscissors off the ropes. Bayley went over to Naomi to trash talk her, so referee Jessika Karr ejected Bayley from ringside. Carmella hit a suicide dive under the middle rope to take out Naomi on the floor.
(Commercial)
The match returned with Naomi making a comeback with a backbreaker. Naomi kicked Carmella in the legs, but Carmella tripped her up for a two count. Carmella hit a neckbreaker on Naomi for two. Naomi with a jawbreaker followed by a springboard kick to the head with Graves saying Carmella avoided contact, which is another way of saying the kick missed. Naomi hitting a twisting dive to the floor, Carmella wanted to catch her, but Naomi didn't go far enough, so she crashed onto Carmella's lower half. That's not a fun landing. They went back into the ring with Naomi getting a two count. Naomi missed a corner splash, Carmella went up top and hit a cross body block for two. Naomi with a kick to the face, then a sunset flip into the ring and that looked like they were off a bit. Carmella and Naomi each got multiple nearfalls. Carmella slapped on her Code of Silence submission move with her legs around the throat, but Naomi got to the ropes. Naomi with a kick to the jaw and the Rear View (aka The Jumping Ass Attack) by Naomi got a two count. Carmella pulled Naomi off the ropes and kicked her in the face for a two count. Naomi with a knee followed by a blockbuster neckbreaker off the ropes. That was not a smooth landing. Naomi hit a split-legged moonsault off the top for the pinfall win after 13 minutes.
Winner by pinfall Naomi
Analysis: **3/4 This was okay with a few moments that were shaky, but they got through it fine and the finishing sequence was well done. The shaky moments included the Naomi kick that obviously missed as well as the dive onto the floor where she landed too low and it looked like a rough landing. Those are little things, but it's hard not to notice them. They booked it as an even match with Carmella getting several nearfalls throughout the match, which was the right way to do it. Naomi getting the win was the right call because Carmella just had a title shot last week.
The win by Naomi means she'll challenge Bayley for the Smackdown Women's Title at Super Showdown. It will be the first women's title match at a WWE show in Saudi Arabia. I'm probably picking Bayley to retain there.
Goldberg's locker room was shown because he's up next in the main event segment.
(Commercial)
A video aired promoting John Cena on Smackdown next Friday night in Boston.
Let's Hear from Goldberg
Bill Goldberg was shown leaving his locker room with security joining him as he walked towards the arena. Goldberg entered the arena to a big pop with the full classic Goldberg entrance. Goldberg was in a Goldberg shirt and jeans. Goldberg was introduced as a WWE Hall of Famer because he was the headliner in the 2018 WWE Hall of Fame. Goldberg gets to challenge The Fiend for the Universal Championship at Super Showdown next Thursday.
Goldberg showed a lot of energy while saying that it's good to be back. Goldberg called out The Fiend saying that he's ready and Bray Wyatt appeared on the Firefly Fun House.
Wyatt stood in front of the frames on the wall on the Firefly Fun House set. Goldberg said that he's not here to talk, he's here to take the Universal Championship. Wyatt said that he's not taking anything. Wyatt introduced Goldberg to special friends of his while showing the puppets in the Fun House. Ramblin' Rabbit said he loved Goldberg, so Wyatt called him a traitor. Wyatt said he knew somebody that was tying to meet him.
The lights went out in the arena and when they came back on, Goldberg said that The Fiend was right behind him. That was true because The Fiend was standing there as fans chanted "Goldberg." The Fiend charged, but Goldberg was ready and Goldberg hit The Fiend with a Spear. Goldberg wanted The Fiend to get back up, then the lights went out and when the lights went back on, The Fiend had disappeared. The Fiend's laughter played in the arena as Goldberg posed while the fans chanted "Goldberg" and that was the end of Smackdown.
Analysis: This went just how I thought it would go. From my Smackdown preview on Friday morning: "I think Goldberg will do something that will cause The Fiend to retreat, so maybe there's a Spear or something like that." Sometimes I need to pat myself on the back for being right.
Since The Fiend is likely winning at Super Showdown, it's not a surprise that Goldberg got the upper hand here. The fans popped big for everything Goldberg did at well, so it shows that they still really like the guy even as a 53-year-old part-timer. Goldberg still looks like a badass and he looks credible, so WWE is going to keep booking him.
Three Stars of the Show
Goldberg
The Usos/New Day
Braun Strowman/Elias
The Scoreboard
6.5 out of 10
Last week: 6
2020 Average: 6.4
Last 5 Weeks: 6, 5.75, 5.75, 7, 7.25
Final Thoughts
I give this week's Smackdown a 6.5 out of 10.
Smackdown feels like an average show most weeks where there's enough good to keep me from ripping it too much and the bad isn't terrible enough for me to hate it. Is it ever that exciting? Not really. I keep waiting for them to put on an amazing show from top to bottom, but it's always in that range where I'm giving it between a 5 to 7 out of 10.
This episode was slightly above average. The babyfaces had a dominant showing all night with wins for New Day/The Usos, then Strowman and Elias had an emphatic victory, Daniel Bryan won and then Naomi in the main event although Naomi was against another face in Carmella. Goldberg standing tall over The Fiend is also a good thing for the faces. The Goldberg/Fiend segment went exactly as it should have gone to make it seem like Goldberg could win the Universal Title. I don't expect that to happen, but it's certainly a possibility.
There was no Roman Reigns on the show, which was a bit of a surprise. Reigns did wrestle in a dark match after the show for the crowd in Phoenix. I guess WWE felt like Roman needed a break from being on TV, so that's why he was off. That's fine.
The next WWE pay-per-view is Super Showdown on Thursday, February 27. Here's what we know so far.
WWE Universal Championship: "The Fiend" Bray Wyatt (c) vs. Bill Goldberg
WWE Championship: Brock Lesnar (c) vs. Ricochet
Steel Cage Match: Roman Reigns vs. King Corbin
Smackdown Tag Team Championships: The New Day (Big E & Kofi Kingston) (c) vs. The Miz and John Morrison
Raw Tag Team Championships: Seth Rollins and Murphy (c) vs. The Street Profits (Montez Ford and Angelo Dawkins)
Smackdown Women's Championship: Bayley (c) vs. Naomi
Tuwaiq Trophy Gauntlet Match: United States Champion Andrade, Rusev, R-Truth, AJ Styles, Erick Rowan and Bobby Lashley
WWE Super Showdown comes to International Arena at The Boulevard in Riyadh, Saudi Arabia on Thursday, Feb. 27, at 12 p.m. ET/8 p.m. AST, streaming live on the award-winning WWE Network. (I grab that sentence from the WWE.com preview.)
—
Thanks for reading. Go reigning NBA Champions Toronto Raptors and Toronto Maple Leafs. My contact info is below.
John Canton
Email mrjohncanton@gmail.com
Twitter @johnreport
Personal Facebook and TJRWrestling on Facebook