The John Report: WWE Smackdown 01/24/20 Review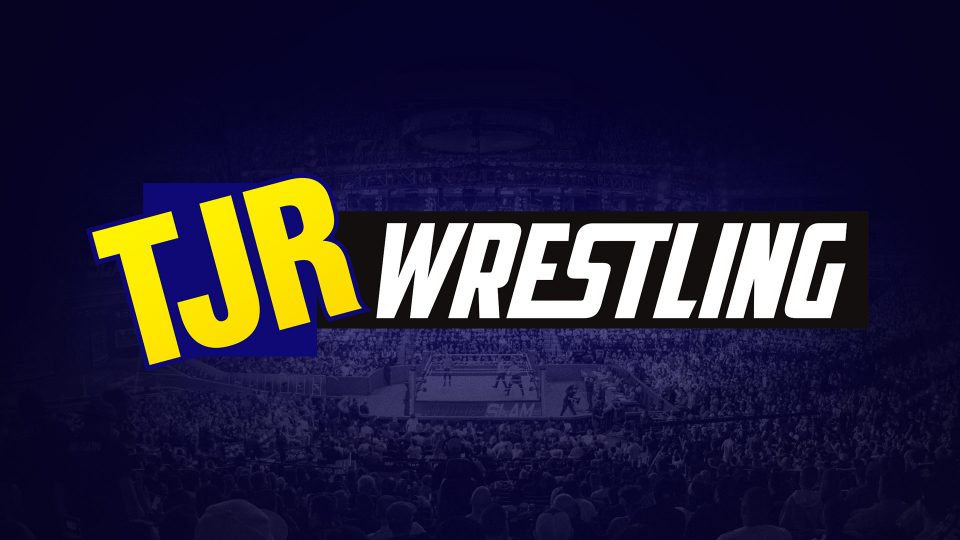 Welcome to another WWE Smackdown review here on TJRWrestling. It's the last Smackdown before Sunday's Royal Rumble event. The main things advertised for this week's show are a six-man tag with Roman Reigns and The Usos facing King Corbin, Dolph Ziggler and Robert Roode. Plus, Bray Wyatt and Daniel Bryan will have a contract signing segment.
Live from Dallas, Texas, this is Smackdown for episode #1067. Follow me on Twitter @johnreport. Please visit TJRWrestling.net daily for our regular updates on the wrestling business featuring WWE news coverage along with reviews about wrestling's past and present. Thanks to Melo Man for the banner up top.
The show began with a shot of the crowd in Dallas and it was right to the first match of the night. They normally show the intro video, but not this week. The Usos made their entrance. The announce team of Michael Cole and Corey Graves were at ringside to call the action.
Roman Reigns made his entrance to join his cousins as Cole screamed about how the "Big Dog" was here. Big pop for Roman. They showed highlights of last week's fun main event with Reigns beating Robert Roode in a Tables Match. The win by Reigns meant that he'll have a Falls Count Anywhere match with King Corbin at Royal Rumble and both guys are in the Rumble match.
King Corbin made his entrance on his sedan carried by six security guys/indy wrestlers while Dolph Ziggler and Robert Roode walked beside it.
Analysis: I thought this match might be the main event, but I don't mind getting it this early in the show. I also like that we didn't have to sit through a promo first. Get to the match.
Roman Reigns and The Usos (Jimmy and Jey Uso) vs. King Corbin, Dolph Ziggler and Robert Roode
The Usos hit a double team elbow on Ziggler. Roode worked on Jimmy, he was sent over the top to the apron and Jimmy sold it like he hurt his left leg. Ziggler hit the Zig Zag on Jimmy against the steel steps. The referee checked on Jimmy at ringside, then told the doctor and others to check on Jimmy for an injury. It looked like there were indy wrestlers wearing the WWE Medical shirts, so that tells you it's a worked injury. Jimmy was helped to the back.
(Commercial)
The match continued without Jimmy in the match because of the injury angle before the break, so it was Roman and Jey against the three heels. The predictable thing happened as the heels worked on Jey with Corbin doing his slide out of the ring, then back in the ring, but Jey hit him with an elbow. Jey went for a top rope attack, Corbin caught him and hit the Deep Six slam for two as usual for that move. Jey was sent out of the ring where Roode drove him back first into the ring apron. Back in the ring, Roode hit a neckbreaker. Corbin worked over Jey with elbow strikes. Jey hit an enziguri kick on Roode to create some space. Reigns reached out for a tag, but Corbin pulled him off the apron and threw Reigns over the barricade into the crowd. Good way to get heat on the heels to prevent the tag. They went to a second commercial break after 12 minutes.
(Commercial)
The heels remained in control as Corbin worked over Jey, but then Jey managed to send Corbin into the ring post. Reigns got the hot tag against Ziggler with punches, a clothesline and a leaping clothesline. Reigns worked over Ziggler with the corner clotheslines followed by a running boot to the face. Roode distracted the referee, Corbin grabbed Roman's hair from behind, so Ziggler hit a superkick on Reigns for a two count. Good nearfall there. Roode and Corbin stomped on Reigns on the floor while Ziggler distracted the referee. Ziggler brought Reigns back in the ring with an elbow drop for two. Corbin worked over Reigns with punches. The match was at the 20-minute mark by this point. Roode wanted the DDT, but Reigns countered into a rollup for two followed by a one arm Powerbomb by Reigns. Jey was back on the apron as he hyped up the crowd. Ziggler pulled Jey off the apron and Ziggler whipped Jey into the barricade two times. Ziggler also tossed Jey over the announce table. Corbin was legal again as he beat up Reigns with punches. Ziggler back in as he set up a superkick, but Reigns countered that with a Superman Punch. Jimmy Uso showed back up hobbling down to the ring. Jimmy got the tag and he hit a Samoan Drop on Roode while selling the left leg injury. Jimmy hit a suicide dive on Corbin on the floor. Jimmy with a shoulder tackle to Roode and a cross body block off the top on Roode for a two count with Corbin making the save. Reigns back in with a Superman Punch on Corbin. Reigns punched Corbin repeatedly and sent him over the barricade into the crowd to preview their Falls Count Anywhere match at Royal Rumble. Reigns threw a trash can at Corbin as they brawled into the crowd. Reigns hit Corbin with a trash can again and Reigns walked to the back with him. Ziggler grabbed Jimmy's bad leg, Jey took out Ziggler at ringside, Jimmy punched Roode down and Jimmy hit the Uso Splash on Roode for the pinfall win after 25 minutes.
Winners by pinfall: Roman Reigns and The Usos (Jimmy and Jey Uso)
Analysis: ***3/4 That was really long and an excellent tag team match with the crowd getting really into it. I would have thought Reigns would get the win if his team went over, but I have no problem with Jimmy pinning Roode like that. As I noted in the review of the match, they did the predictable thing by having Jey as the face in peril to set up Roman for the hot tag, but then it kept on going. Jimmy's injury was obviously a work just to get sympathy for the faces. I thought the heels did a tremendous job of keeping the match going by attacking guys on the apron and it kept on adding more drama to the match. It's rare to see a 25 minute match on Smackdown. It's an interesting way to book the first part of the show and I hope it's something they do again because it's better than the usual opening promo.
Still to come is Bray Wyatt and Daniel Bryan signing a contract.
Lacey Evans was shown backstage doing a photoshoot and we'll hear from her up next.
(Commercial)
There was a plug for WWE Backstage on Tuesday from Miami for Super Bowl week. It's hosted by Renee Young and Booker T with Roman Reigns, Kofi Kingston, Big E and Xavier Woods as the guests.
A replay was shown last week of Lacey Evans beating Bayley in a non-title match to set up the Smackdown Women's Title match at Royal Rumble on Sunday.
Lacey Evans Interview
Lacey Evans was interviewed on the stage with Michael Cole conducting the interview. Evans said that Bayley and Sasha Banks were bullies that disrespected the women's division and she learned that you do not get intimidated by bullies, so that's why she stood up to them. Evans said that she didn't have the easiest upbringing going up while saying that her father battled addiction and depression and he lost that battle. Evans said that you can do whatever you set your mind to. Evans said that the hardest part of being in this position is that she has the chance to show that it does not matter what happens because you can make it, she made it and there's nothing you can't accomplish. Evans said that she needed to show herself a better life, so that's why she went to the Marines and that led her to WWE. Evans said if she's the champion she'll be a leader that inspires people, it doesn't matter what you've been through and her goal is to use this platform to show not just what she's been through, but to set an example for what it means to be a champion.
They showed a clip from last month when Sasha Banks taunted Lacey's daughter Summer at ringside on Smackdown.
Evans said that made her angry, but she was proud that her daughter stood up to the bully. Evans said that she had her 7-year-old daughter crying and she complained about how Banks took advantage of Lacey's daughter being at ringside. Evans said that last week she put Sasha Banks on the shelf and come Sunday, she's gonna put Bayley…and here is Bayley in street clothes. Bayley attacked Evans with punches to the back. There were referees that showed up to break it up quickly and they made Bayley got to the back.
Analysis: The promo was okay. I think it's possible that WWE just told her to speak from the heart while spreading a positive message. It was a way to make Evans more relatable to the audience by talking about the hardships in her life like losing her father, being in the military and raising a daughter while being a WWE superstar. Bayley's attack was obviously going to happen and it took longer than I thought it would happen.
Carmella and Dana Brooke were interviewed by Kayla Braxton to talk about the Royal Rumble. Carmella said that she's going to win the Royal Rumble while talking about winning the WrestleMania women's battle royal and the first women's Money in the Bank while reminding us that Mella is money. Brooke said that everyone has a chance to take big swings at anyone, friend vs. friend and foe vs. foe, it's every woman for herself. Brooke said that she knows what it takes to win and so on.
The camera panned over to where Evans and Bayley continued their fight. Evans threw Bayley into some equipment crates, so Brooke and Carmella went over to try to break it up along with some referees.
Analysis: They are doing a good job of making us care about Evans vs. Bayley. Last week's match was solid and having them brawling in two segments makes it feel more personal for sure.
(Commercial)
There was a plug for Fox's coverage of the NFL's Super Bowl on February 2. I am going with the Kansas City Chiefs over the San Francisco 49ers. It should be a close game too. I'll come up with a score prediction next week.
Alexa Bliss and Nikki Cross entered for a tag team match. A replay showed a clip of Mandy Rose landing in the arms of Otis at ringside while Bliss rolled up Sonya Deville to win a singles match. It was noted by Cole that Bliss and Cross will be in the women's Royal Rumble match.
Mandy Rose and Sonya Deville made their entrance as they showed an earlier today segment where Mandy and Sonya were shown talking backstage. Mandy apologized to Sonya about last week, then Sonya said she shouldn't have asked her to get Otis involved.
The match began for about five seconds, but it never got going because Lacey Evans and Bayley went running into the ring to continue their fight. The referee called for the bell. That led to Sonya and Mandy attacking Evans while Alexa and Nikki attacked Bayley. That's when referees showed up to break it up.
Analysis: This isn't a good way to promote women's wrestling by having a match stopped before it even began. It does further the Evans/Bayley story that they hate eachother. It just doesn't help the other women.
Elias was shown backstage warming up with his guitar. Braun Strowman walked up to him because they're in a tag team match after the break. The bearded dudes walked to the ring for their match.
(Commercial)
Elias was in the ring for a song after saying he's going to put his heart and soul into winning the Royal Rumble. He asked the crowd who wants to walk with Elias, they cheered and he sang his "Texas Dream" song. Elias did a song mentioning Brock, Seth, Ricochet and said for the next part, please welcome Braun Strowman to help him sing.
Braun Strowman made his entrance and he's a huge threat to win the Royal Rumble this year according to the announcers, of course. Elias said as a special treat, they should do a duet and the fans wanted it. Strowman was about to sing while Elias played the guitar, but he was interrupted by Cesaro for the tag team match.
Analysis: The interruption was a good idea. Just saying.
Shinsuke Nakamura, who is the Intercontinental Champion, and the liberator Sami Zayn joined Cesaro as the heel team for this tag team match. Nakamura is in the Royal Rumble match, but Cesaro is not among the listed names in the match.
Braun Strowman and Elias vs. Shinsuke Nakamura and Cesaro (w/Sami Zayn)
Elias sent Cesaro into the turnbuckle followed by a clothesline. Elias did a rope walk leading to a double knee attack on Cesaro. Zayn grabbed Elias' foot and Cesaro hit a clothesline. Cesaro dumped Elias out of the ring leading to a Nakamura kick on Elias. Strowman hit a running shoulder tackle on Nakamura on the floor to put him down and that led to a break.
(Commercial)
The match returned with the heels isolating Elias as you would expect in a match involving Strowman. Elias with a mule kick out of the corner to knock Cesaro down. Nakamura tagged in and stomped on Elias on the back to knock him down. Nakamura and Cesaro kicked Strowman off the apron and Nakamura hit a spin kick on Elias, but then Elias came back with a jumping knee to the face. Strowman was on the apron to tag in for the first time in the match. Strowman threw Nakamura across the ring, corner splash and a forearm to the chest. Nakamura with a kick to the back of the neck followed by a knee attack off the turnbuckle. Cesaro tagged back in, the heels whipped Strowman into the ring post and a double leg sweep and kick by Nakamura got a two count. Cesaro with a running forearm on Strowman for a two count. Zayn distracted the referee, Elias prevented Nakamura from using a chair in the match and that allowed Strowman to hit Cesaro with a Running Powerslam. Elias got the tag and hit a top rope elbow drop for the pinfall win after about nine minutes.
Winners by pinfall: Braun Strowman and Elias
Analysis: **1/4 It was a decent tag team match to put over the faces ahead of the Rumble match. I write it all the time that any time Strowman is in a tag team match it's going to be the same story where he gets the hot tag. Strowman is always booked strong, so of course he got the win, but at least it was Elias winning the match for his team. I don't think Strowman will win the Rumble although he'll probably have a good showing.
They showed a replay of last Friday on Smackdown when Daniel Bryan said he would challenge Bray Wyatt for the Universal Title match.
Bryan was shown in the locker room in his new "YES" shirt made out of organic cotton and recycled materials. He posted about it on Instagram as you can see here.
https://www.instagram.com/p/B7uGiugBlk7/
Big E was backstage putting way too much baby oil on his body. Some guy was there to hug him. Kofi asked what Big E was doing and Big E said if you're greasy then getting eliminated ain't easy, but that's Sunday at the Royal Rumble. Kofi talked about his match with John Morrison, Big E fired up and said it didn't matter what number they were in the Rumble because they have the power of positivity. They said they are doing it for their injured friend Xavier Woods because New Day Rocks.
(Commercial)
A replay was shown of the opening tag team match with Reigns and Corbin fighting to the back as Jimmy Uso pinned Robert Roode.
King Corbin was shown walking backstage with tiny Kayla Braxton there to interview him. Corbin said this Sunday he's facing Roman Reigns in a Falls Count Anywhere match and hand him the beating of the lifetime. Corbin said Reigns will not make the Royal Rumble match, but he will and at WrestleMania, the King (Corbin) will be crowned the Universal Champion.
The announcers talked about it with Cole saying in 2014, Roman Reigns eliminated 12 men in a Royal Rumble match and 2015 when Reigns won the Rumble.
The Royal Rumble "All About The Numbers" video aired. This is the first time they showed it on TV. They uploaded it to the WWE Youtube channel last week. I enjoy the video every year with some unique stats included. They said 1070 competitors have entered the Rumble. There were some nice highlights of near elimination spots along with some of the quickest eliminations ever and of course Titus O'Neil's slide at the Greatest Royal Rumble two years ago. Brock Lesnar as #1 in the Rumble was mentioned and they talked about how he won the Rumble in his first Rumble match in 2003. They mentioned the 7 superstars that have won twice with Steve Austin as the only man to win three times. They mentioned two superstars have won from the #1 spot with a shot of Shawn Michaels (but no mention of Chris Benoit, of course). They showed images of the superstars in this year's Rumble match while saying "three brands collide" even though there might not be NXT guys in the men's Rumble since they have announced nearly 30 names. The women's Rumble is more likely to have NXT superstars in it.
Analysis: Great video as always. I'm a Royal Rumble historian of sorts since I have reviewed them all in-depth and I appreciate the history of the event.
The New Day duo of Kofi Kingston and Big E made their entrance for Kofi's match. They are the Smackdown Tag Team Champions and they are both in the Royal Rumble match. Corey Graves said that the Royal Rumble could be a breakout match for Big E. I would love to see it.
(Commercial)
Sheamus did a backstage promo about how he went after Shorty G three weeks ago. Sheamus said that sneaky little rodent came back last week. Sheamus said this Sunday at the Royal Rumble, he won't be making the same mistake and he'll finish what he started.
Analysis: I expect Sheamus to destroy Shorty G in under three minutes. I don't love it, but that's what I think will happen.
John Morrison made his entrance with his buddy The Miz joining him. The slow-motion entrance is still good after all these years.
The Miz said last week, John Morrison made his return after eight years and how did you celebrate him? You booed him. Miz said he can't understand why and you all think Miz has changed. Miz said that he is still the same guy that lets you in on his personal life on the season premiere of Miz and Mrs. on USA Network. Miz said that Morrison beat Big E last week, he'll beat Kofi this week and they are going all the way to the Rumble because they will be in the Royal Rumble. Miz said it will be awesome.
Analysis: The obvious path for these four guys is New Day defending the Smackdown Tag Team Titles against Miz and Morrison and I thought that title match might be at the Royal Rumble. Nope. They're all the Rumble match. That's fine because they can do the tag team match at another PPV. Plus, you know Kofi and Morrison will have some cool elimination teasing spots as well.
John Morrison (w/The Miz) vs. Kofi Kingston (w/Big E)
Morrison gave Kingston a monkey flip, Kingston landed on his feet and Kingston gave Morrison a monkey flip leading to Morrison landing on his chest. Morrison sent Kingston out of the ring, Morrison tried a dive, Kofi moved and Morrison hit the floor. Kingston used the ropes to dive over the top onto Morrison. Miz distracted Morrison, so John shoved Kofi into the ring post leading to a break.
(Commercial)
Morrison sent Kingston into the turnbuckle, Kingston with boots to the face and Morrison hit a knee to the face. Morrison went for a split-legged moonsault on Kingston against the ropes, but Kofi moved and Morrison hit the mat. Kingston with a chop off the top, then two more chops, a dropkick and Kingston hit a hurricanrana off the top. Kingston with a running double foot stomp to the chest for two. Kingston hit the Boom Drop legdrop on Morrison, Kingston went for Trouble in Paradise, but Morrison came back with a spin kick right to the face for a two count. That looked great and could have been the finish of the match. Kingston and Morrison battled by the turnbuckle, Morrison bumped into the referee a bit, then Morrison took advantage with an eye poke and a Spanish Fly slam off the middle ropes for a two count. Kingston with the SOS for a two count. Morrison tripped up Kingston for a two count using his feet on the middle ropes, so Big E shoved Morrison's feet off the ropes. Kingston kicked Morrison. Miz attacked Big E in the back, Miz to the apron and Kingston with a Trouble in Paradise kick on Miz to knock him to the floor. Morrison kicked Kingston in the back and then Morrison went up top with his Starship Pain splash for the pinfall win after 11 minutes. That Starship Pain looked better than when he did it last week.
Winners by pinfall: John Morrison
Analysis: ***1/4 Good match by two of the best athletes in WWE. Morrison won his second match in a row since returning, so give WWE credit for booking him strong after his return. They did a nice job of utilizing The Miz at ringside to cause a distraction, which led to Kingston hitting Trouble of Paradise on him and then Morrison capitalized on that to win the match. I like how Morrison has been booked since his return because you don't bring somebody back only to have them lose. This should set up the tag team title match in the near future.
Post match, Miz and Morrison celebrated the win at ringside while Kingston and Big E looked frustrated in the ring.
Daniel Bryan was shown walking backstage for his contract signing.
(Commercial)
Contract Signing for the WWE Universal Championship Strap Match at the Royal Rumble
Michael Cole was in the ring to moderate the contract signing for the Universal Title match at Royal Rumble. He introduced the challenger…Daniel Bryan.
Daniel Bryan entered first to loud "YES" chants. He was rocking his new "Yes" t-shirt that I mentioned earlier.
Bray Wyatt appeared on the Firefly Fun House set wit the Universal Title around his waist. Wyatt had some fax machine and he said he tried to send the contract to Bryan, but it didn't work. Wyatt said that this may be a blessing in disguise because why would Bryan want to be connected to a strap with him. Bryan called him sick and to get out there, Wyatt said he's not sick while Mercy the Buzzard, his lawyer, told him to stay there. Bryan said that Bray runs form his mistakes, runs from his past and he'll be attached to a strap. Bryan said he won't make the mistake of letting Bray run away again. Bray said that "mistake" was the word of the day, then said that now it's time to play and Bray said that Bryan won't be competing against Bray, so it's only fitting that "HE" signs the contract.
The lights went out in the arena, Cole left the ring and Bryan looked like he was ready for a fight. The red light was on in the arena as The Fiend stood across the ring from Bryan. When Bryan went to attack, The Fiend overpowered him and gave him the Mandible Claw. The Fiend hit the Sister Abigail neckbreaker. The Fiend ripped Bryan's shirt and hit him with the strap repeatedly.
The Fiend went over to the table with the contract, he stabbed his left hand with a pen and wiped his blood on the contract. The Fiend threw the contract down towards Bryan as Graves pointed out that The Fiend signed the contract in his own blood. Bryan opened up the contract folder to show that there was blood all over it. Bryan looked at it.
They showed a replay of The Fiend's attack on Bryan with Fiend whipping Bryan with the strap.
Bryan was shown in the ring looking serious as fans chanted "YES" to support him. That was the end of the show.
Analysis: This was just okay. They wanted The Fiend to look strong again after Bryan beat him up last week. I would be surprised if Bryan won the Universal Title at Royal Rumble even though Fiend looked strong here, so it's certainly possible that Bryan might win. I just think The Fiend is carrying that title until at least WrestleMania. Signing the contract was unique and it's also fitting for The Fiend as a character. The Strap Match should be good enough because Bryan always has quality matches, but the red light is a hindrance and that could hurt match too.
Three Stars of the Show
Roman Reigns and The Usos
King Corbin, Robert Roode and Dolph Ziggler
John Morrison/Kofi Kingston
The Scoreboard
7 out of 10
Last week: 7.25
2020 Average: 6.75
Last 5 Weeks: 7.25, 6.5, 6.25, 6.5, 5.75
Final Thoughts
I give this week's Smackdown a 7 out of 10.
It felt like a pretty good show to me. There were only three actual matches, but the opener and closer were really well done while the other match was okay. That opening six-man tag that went 25 minutes was a lot of fun to watch, so check that out if you missed the show.
They did a solid job of promoting the Royal Rumble matches involving the Smackdown wrestlers. The women's Rumble hasn't been built up well at all (like on Raw), but I did like the Bayley/Lacey brawling segments.
The main event contract signing angle with Bryan and The Fiend was okay. It put over The Fiend again in a strong way, which is not a surprise after Bryan got the upperhand last week.
The next WWE pay-per-view is the Royal Rumble this Sunday, January 26th in Houston, Texas. Here's what we know so far.
Men's Royal Rumble Match – Entrants include: WWE Champion Brock Lesnar (entered himself at No. 1), Roman Reigns, King Corbin, Dolph Ziggler, Intercontinental Champion Shinsuke Nakamura, Braun Strowman, Kofi Kingston, Big E, Erick Rowan, AJ Styles, Randy Orton, Elias, Rey Mysterio, Ricochet, Drew McIntyre, Otis, Tucker, Rusev, Bobby Lashley, Seth Rollins, Kevin Owens, Samoa Joe, Aleister Black, Buddy Murphy, The Miz and John Morrison. That's 26 names. That's from the WWE.com list.
Women's Royal Rumble Match – Entrants include: Charlotte Flair, Alexa Bliss, Nikki Cross, Natalya and Sarah Logan, Carmella, Dana Brooke, Mandy Rose, Sonya Deville. That's all for now.
Strap Match for the Universal Championship: "The Fiend" Bray Wyatt (c) vs. Daniel Bryan
Raw Women's Championship: Becky Lynch (c) vs. Asuka
Falls Count Anywhere: Roman Reigns vs. King Corbin (They are both in the Men's Royal Rumble match as well.)
Smackdown Women's Championship: Bayley (c) vs. Lacey Evans
United States Championship: Andrade (c) vs. Humberto Carrillo
Sheamus vs. Shorty G
There's also a two-hour Kickoff Show, but nothing has been announced for that as of this writing.
—
Thanks for reading. Go reigning NBA Champions Toronto Raptors and Toronto Maple Leafs. My contact info is below.
John Canton
Email mrjohncanton@gmail.com
Twitter @johnreport
Personal Facebook and TJRWrestling on Facebook