The John Report: WWE Roadblock 2016 Review (Triple H vs. Dean Ambrose)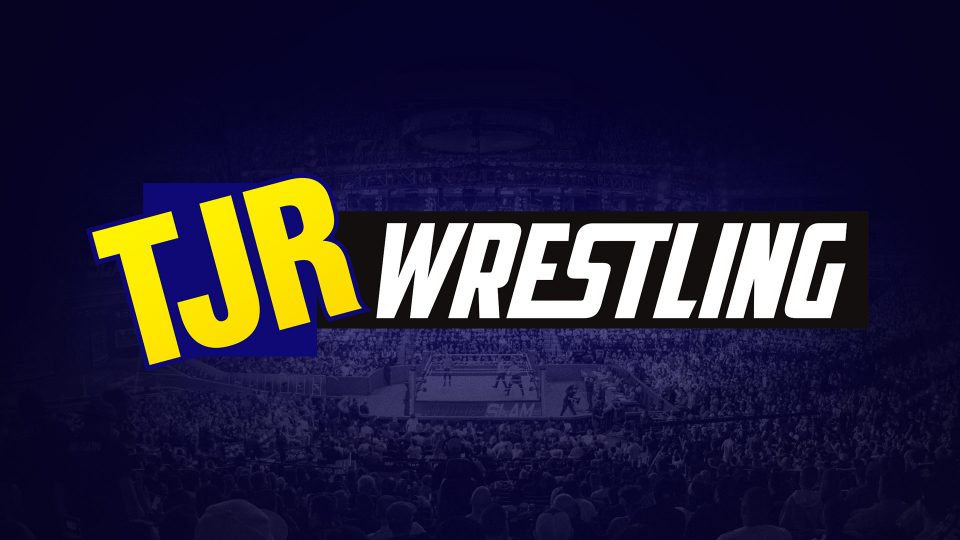 WWE Roadblock
From The Ricoh Coliseum in Toronto, Ontario
March 12, 2016
There was a video package focused on the main event between Triple H vs. Dean Ambrose and the Brock Lesnar vs. Bray Wyatt match as well.
There isn't much of a set. It's similar to what they use for live events with a video screen and a small ramp. The New Day made their way to ringside. The announce team of Michael Cole, John Bradshaw Layfield and Byron Saxton welcomed us to the show.
The New Day received a huge ovation as Xavier Woods played his trombone. Woods wondered what the crowd sees when they see New Day and Woods said that you see the Power of Positivity, hips that do not line, Francesca 2 the trombone and most importantly the WWE World Tag Team Champions. The crowd chanted along with them. Kofi Kingston said it's all because New Day eats their Booty-O's cereal. Fans chanted "Booty O-s" as Kingston showed a box of Booty O's cereal. Big E played a kid talking about Booty-Os cereal saying if he didn't eat the cereal he'll look stupid like Sheamus (they mocked Del Rio & Barrett too) and they couldn't think of Rusev, so onto the next part. Then he said he'll be like New Day and eat the Booty O's cereal. It ended with them saying "New Day rocks" while the crowd joined in.
Analysis: That was fun. It could be the start of their expected face turn or maybe it's just because the Toronto crowd wants to cheer for these guys since they are so entertaining.
WWE Tag Team Titles: The New Day's Big E & Kofi Kingston (w/Xavier Woods) vs. Sheamus & King Barrett
No Rusev or Del Rio with the challengers. Kingston celebrated some basic offense as if it was a big deal. Nice jawbreaker by Kingston on Barrett. Big E nailed Barrett with a huge backbreaker. The champs did their Unicorn Stampede spot in the corner with the crowd chanting "New Day Rocks" for them. Barrett came back with the Winds of Change slam on Kingston. Barrett and Sheamus took turns working over Kingston. After a couple of minutes of that, Kingston nailed a dropkick on Sheamus to knock him down. Big E in with three belly to belly suplexes on Barrett and then a big splash. After a Sheamus distraction, Barrett with a nice suplex. Sheamus is in there against Kingston again. Cross body block by Kingston gets two. Sheamus applied the Cloverleaf submission on Kingston. Barrett went after Big E, but Big E sent him into the ring post. Kingston with a great counter out of the Cloverleaf by Sheamus and then he hit the SOS. Big E tags in, but Sheamus shoved him into the turnbuckle while Kingston was on the top rope. Barrett nailed a standing side kick to jaw, but the ref didn't count the pin because Woods was arguing with the ref. Kingston took down Sheamus outside the ring. Barrett was distracted by all of it, so Big E nailed the Big Ending on Barrett for the pinfall win after 10 minutes.
Winners by pinfall: Big E & Kofi Kingston
Analysis: **3/4 A good win for the champs in retaining the titles. It was booked in a way where the LON guys could have got the win, but once again the numbers game of The New Day is why they were victorious. In a match like this, you want to see them have a very competitive match and that's what they did here. There's a chance this feud could continue after this show because the story could change if Rusev/Del Rio were at ringside for the heels. It's weird writing about a New Day match with them as faces since they have been heels for so long, but they worked well. I think The New Day will be successful as faces if that's the direction long term. I just feel like they are better long term as heels.
Paul Heyman was interviewed backstage by Greg Hamilton, who is usually a NXT guy. Heyman christened Toronto as the new capital of Suplex City. He cut a promo talking about how Bray Wyatt is going to be conquered by Lesnar.
Analysis: It was a fired up Heyman promo for about one minute. Always a good thing.
Chris Jericho's heel turn from Raw was shown and then the clip of him burning the Y2AJ shirt on Smackdown aired.
Jericho made his entrance in his ring gear and he grabbed a microphone. He told the crowd to shut their filthy mouths. He complained about how they could have chanted for him, but instead they chanted for AJ Styles. He spoke about how Canadians are behind the rest of the world and slower than the rest of the world. Jericho called himself the greatest icon in the history of this country. Fans chanted "We Want Bret" so he said you're never getting him again. Jericho said he's ashamed to be Canadian. Then he said moving from Canada was the smartest move he's ever made. "I moved from Canada because Canada stinks." He re-iterated that Canada stinks and Toronto is the anus. Fans chanted "Asshole" at him. He transitioned to talking trash about Jack Swagger saying that "We the People" is so stupid that it was probably invented in Ontario. Actually it's American, but good heel heat. He mentioned Swagger beating Jericho for the World Title six years ago too. Jericho did his "best in the world" and "do you understand what I'm saying to you right now" lines.
Analysis: A good heel promo by Jericho to try to get the crowd to turn against him even though us Canadians love him. Jericho's one of the best heels in WWE when they allow him to cut promos like that. He isn't there to cut a smartass promo where he gets cheered by the crowd. He wants to be booed because that's the reaction a heel is supposed to get.
Chris Jericho vs. Jack Swagger
Too bad there's not a Canadian in this spot against Jericho. They just had Jericho rip on Canada, so here's a guy with a US flag in his entrance. Cole just said Jericho cut his teeth in the wrestling business in Canada. He didn't call it sports entertainment? Shocking. They spoke about Jericho getting his start in Canada. Jericho nailed a dropkick that sent Swagger to the floor. Fans chanted for "AJ Styles" again. After some more Jericho offense, Swagger sent him into the turnbuckle. Comeback by Swagger with clotheslines and the crowd actually booed him more than they cheered him. At least they chanted "We The People" with him. Jericho with a bulldog and the Lionsault misses. Swagger Bomb hits for Jack for two. Each guy went for their submission move. Jericho hit an enziguri kick. Swagger nailed a power slam for two. Swagger applied the Patriot Lock, which Jericho broke by getting to the ropes. Jericho avoided a corner charge, then the Walls of Jericho by Jericho and Swagger tapped out to give Jericho the win after eight minutes.
Winner by submission: Chris Jericho
Post match, Jericho walked away while JBL was yelling "you still got" repeatedly to annoy the viewers at home. No replays of the finish.
Analysis: **1/4 A solid win for Jericho. The crowd barely reacted to anything that Swagger did. It was a competitive match designed to put over Jericho since he'll be in a featured WrestleMania match while Swagger is barely on television. I'm glad Jericho turned heel. He's better in this role especially as the grizzled veteran that can work with the younger guys.
A commercial for WrestleMania aired noting it was 22 days away.
To set up the NXT Tag Titles match, here's a video package about the NXT Tag Champs The Revival (Dash & Dawson) match with Enzo & Cass. This story started back in October when I was at the NXT taping, so here's the big payoff to that story.
There was a big reaction to the very entertaining entrance of Enzo Amore, Colin Cassady and Carmella. A quick "we started at the bottom, now we here" line by Carmella to reference a Drake song since Drake is from Toronto. And you can't teach that. Fans did a "NXT" chant for them.
NXT Tag Team Titles: The Revival (Scott Dawson & Dash Wilder) vs. Enzo Amore & Colin Cassady (w/Carmella)
The faces had control early on with Cass nailing a side slam on Dash. Back body drop by Cass on Dash, then Cass tossed Enzo into Dawson. Cass with a clothesline sent Dawson over the top to the floor. Cass launched Enzo over the top to take out both guys. Back in the ring, the champs took control by sending Enzo into the turnbuckle. That led to a few minutes where the champs worked over Enzo in their corner. Every time Enzo and Cass are in a match, it's going to be Enzo that is worked over by the heels because they want to build to the hot tag spot for Cass. Nice spot where Enzo tried to get the tag, but Dawson tackled him to prevent it. Enzo got free to tag in Cass, who was on fire. Cass with a big slam on Dash followed by an elbow drop. Cass sent Dawson out of the ring. Big boot by Cass for Dash and one for Dawson. Cass nailed his East River Crossing powerslam. Cass wanted to launch Enzo off the top, but Dawson tripped up Enzo. Dawson grabbed Carmella, then she slapped him and that allowed The Revival to hit a double team move on Cass outside the ring. Enzo jumped off the top with a DDT on Dash. Great move! Rollup by Enzo on Dawson. The ref put on the white gloves since Dawson had a cut above his eye. Dash tagged in for his team, he jumped off the top rope while Dawson held Enzo and nailed his double knee attack on Enzo for the pinfall win after 11 minutes.
Winners by pinfall: The Revival
Analysis: ***1/4 A very good tag match that was a nice payoff to this story they told after several months. As I said, every Enzo/Cass match tells the same story with Enzo getting worked over for several minutes, Cass getting the hot tag and the action picking up from there. It would have been cool to see Enzo and Cass win the titles, but I didn't think it was going to happen because of the Jordan/Gable team that is likely to win the gold in a few weeks. I'm glad that there was a NXT match on this show. Plus, they were able to have a really competitive match as well. I was impressed by Enzo both in terms of his bumping as well as his offense. He's really improved as an all around performer. They are ready for the main roster right away.
There was an earlier tonight interview with Natalya dedicating her match to her uncle Bret Hart. She's wearing an awesome Bret Hart/Owen Hart shirt. Charlotte showed up with daddy Ric Flair to talk trash. Natalya wanted a title shot, so she called the Flairs cowards. Charlotte said just like the Toronto Maple Leafs will never win a Stanley Cup again, Natalya won't win the Divas Title again and Charlotte agreed to a title match.
Analysis: It was just a quick angle to make this a title match since there was no backstory going into it.
Divas Title: Charlotte (w/Ric Flair) vs. Natalya
Nice ovation for Natalya's entrance. Good job by Cole mentioning their amazing May 2014 match in NXT that was one of the best women's matches in WWE history. They did some work on the mat early on with neither woman getting the advantage. Nice takedown by Natalya leading to a surfboard spot. Natalya went for a Sharpshooter that was unsuccessful. Charlotte kept trying to escape, then she yanked Natalya to the floor and got the momentum. Charlotte spent a couple of minutes working her over with some submission holds as well as a leg lock around the neck. Charlotte nailed a clothesline while daddy Flair danced outside the ring. Charlotte blocked the clothesline and nailed a neckbreaker. Natalya got a small package to counter the Figure Four, which was good for two. Natalya slammed Charlotte face first into the mat, but Charlotte sent her into the turnbuckle and then a chop block by Charlotte. Charlotte sent Natalya's left leg into the post. They had a slugfest in the middle of the ring with Natalya nailing a neckbreaker and the spinning clothesline. Charlotte went for the rollup, but Natalya kicked out. Charlotte came back with a boot to the face. Charlotte went for the Figure Eight. Natalya fought out of it. I remember their May 2014 match where they had a long exchange in the Figure Four. This wasn't as long as that, but they did it longer than normal. Natural Selection by Charlotte gets two. Good shocked reaction by Charlotte when it didn't get the win while the announcers put over Charlotte beating Natalya with that before. Overhead suplex by Charlotte. She went up for a moonsault, Natalya blocked it and nailed a sitout powerbomb out of the corner for two. That was a very good nearfall. Fans chanted "this is awesome" for them. Small package by Charlotte. Natalya applied the Sharpshooter to a huge pop. Flair distracted Natalya, so she hit him in the face and Charlotte did the ROLLUP OF DEATH~! with her feet on the ropes for the win after 14 minutes.
Winner by pinfall: Charlotte
Analysis: *** That was a really good match by the ladies although I think the finish could have been better. They do that finish with the Flair interference too often. I would have preferred something cleaner, but it's okay for a heel champion to win that way. I'm glad they were given over ten minutes because you don't always see that in divas matches in WWE. What this match should do is remind WWE how great Natalya is when you give her a chance to actually wrestle. She's not allowed to have matches like this that often, so hopefully this leads to longer matches for her more often. Charlotte's really improved a lot as a heel. She's very comfortable in her role right now. It's good to see how much she has progressed in the last six months as Divas Champion.
A video package aired showing how The Wyatt Family eliminated Brock Lesnar from the Royal Rumble.
Bray Wyatt had Luke Harper with him. He did a promo for his entrance talking about all the things that Lesnar has done, even beating The Undertaker at WrestleMania. He said that he and Harper are going to work together to beat Lesnar with Wyatt saying he'll stab the sword through the heart of the beast (Lesnar). That's his way of saying he'll beat Lesnar.
Brock Lesnar made his entrance with Paul Heyman with Heyman walking to the ring with a microphone in hand. Heyman did a big intro for Lesnar similar to what you might hear Bruce Buffer do on UFC telecasts.
Brock Lesnar vs. Luke Harper & Bray Wyatt
It's officially a handicap match. Lesnar hit a German Suplex on Harper while Wyatt was outside the ring avoiding a confrontation. Lesnar went out of the ring after Bray, which led to Luke hitting a dive outside the ring to take out Lesnar. Harper sent Lesnar into the turnbuckle and hit a big boot to the face, followed by two more standing side kicks that put Lesnar down to one knee. Harper hit the Discus Clothesline for two. Lesnar came back with a German Suplex. Harper came back with more kicks to the face, but Lesnar ducked a clotheslined and nailed two German Suplexes in a row. Wyatt was still out of the ring. Lesnar with another GS (I can short form it) on Harper, which is number five. There's GS #6 for Lesnar and then a seventh. Lesnar hit the F5 on Harper. He covered, stared at Wyatt and that was enough for the win after four minutes.
Winner by pinfall: Brock Lesnar
Post match, Lesnar walked towards Wyatt and then Wyatt quickly went to the back to avoid a confrontation.
Analysis: *1/2 It was a total domination by Lesnar, which is what was expected even in a handicap match. Wyatt wasn't a part of the match because they likely want to do Lesnar vs. Wyatt at some point later in the year. That's my guess anyway. Lesnar looking strong makes sense since he's one of the top faces in the company and he's in one of the biggest matches at WrestleMania, so it makes sense that he would be booked to look that way. My only complaint with Lesnar is that he really isn't doing much on offense aside from the suplexes. He never used to rely on them all the time, but I guess as a face he wants to do them more. It would be better if he changed things up a bit. Then again, it's Brock Lesnar. He's always going to get a reaction, so it's fair to say that what he's doing is clearly working.
A commercial aired for the Edge & Christian show on WWE Network.
Good reaction for Sami Zayn, who is from Montreal. Canadians love any wrestler from our country because we have a lot of national pride.
Sami Zayn vs. Stardust
The crowd was doing the "ole ole ole" chant for Zayn. Then they chanted "Cody" to upset Stardust. Stardust was able to get control of the action with his unique brand of offense. It was basically a lot of kicks and punches. JBL talked about the success of his "previous persona" without saying the name Cody Rhodes. Front suplex by Stardust as the crowd chanted for Zayn. Stardust kept him grounded with a waistlock, then when Zayn tried to comeback, Stardust knocked him down with a knee to the gut. Stardust with a clothesline followed by a submission hold that was like a reverse Boston Crab. Zayn tried a comeback, but Stardust nailed him with a Side Effect for a couple of nearfalls. On the turnbuckle, Stardust was able to weaken Zayn enough to connect with a superplex for a two count. Zayn comeback with some clotheslines, punches in the corner and a body slam. With Stardust on the floor, Zayn nailed a flip dive over the top to take over Stardust. Blue Thunder Bomb by Zayn gets two. They exchanged some holds with Stardust connecting with a Disaster Kick for two. Zayn came back and finished him off with a Helluva Kick for the win after 12 minutes.
Winner by pinfall: Sami Zayn
Analysis: **1/4 It was okay, but not as good as you might expect from them getting over ten minutes. They just worked a really slow style while it wasn't really a match where people thought Stardust might win. Stardust was in control for much of it, Zayn made his comeback with his exciting offense and got the clean win. The result wasn't in doubt because Stardust is barely used on television these days while Zayn is new on the main roster, so they want to make him look good. There were points in the match where it was a little too slow. It felt like a house show match – remember this is a televised house show in a lot of ways. The finish was solid, though.
Triple H vs. Dean Ambrose up next. They aired the video package to set it up.
The WWE Champion Triple H entered first. Dean Ambrose was out second. I always prefer the champion coming out last, but they like to have the face come out last a lot of the time. Really good reactions to both guys in terms of giving this a big match feel.
WWE World Heavyweight Championship: Triple H vs. Dean Ambrose
This definitely has a big fight feel to it. There are the announcers talking about how Triple H looks as good as ever. He actually physically looks really good for a guy that's 46 years old, but it's not like when he was in his prime. There was a slow pace to the match with Triple H doing some basic holds, then Ambrose did an armbar and laid across the top turnbuckle to taunt him. I think there was a "CM Punk" chant. More armdrags from Ambrose. Hunter took control with power as he connected with punches. Ambrose came back with a clothesline that sent Hunter out of the ring. Ambrose nailed a clothesline outside the ring. In the ring, Ambrose hit a dropkick into the side of the left leg of Triple H. Ambrose rammed the left leg of Triple H into the post. Ambrose jumped off the middle turnbuckle with a forearm shot to the back of the leg. Hunter kicked Ambrose back first into the steps at ringside and then Hunter dropped him stomach first against the barricade.
Back in the ring, Hunter took control of the match by sending Ambrose throat first into the middle rope and then a suplex. Hunter applied a Crossface to weaken Ambrose. Hard whip into the corner by Hunter. The crowd seemed like they were losing interest a bit. Spinebuster by Hunter gets two. They battled by the turnbuckle, Ambrose won that and nailed a flying elbow to knock down Hunter as both men stayed down. Ambrose built some momentum with forearm shots to the face, a corner forearm shot and then a bulldog gets two. Ambrose countered a Pedigree into a nearfall for two. Hunter fought out of Dirty Deeds, hit the knee smash and then Ambrose nailed his bounce off the ropes clothesline for two. Huge clothesline by Hunter when Ambrose was running full speed at him. Very impressive bump by Ambrose there. Ambrose with a back body drop sent Hunter over the top to the floor. Forearm by Hunter blocked a diving attack by Ambrose.
Hunter cleaned off the announce table, which led to cheers. Ambrose sent Hunter knee first into the steps. Back in the ring drew boos because they wanted that table to break. Ambrose was on the top, Hunter tripped him up and knocked him down. Ambrose fought out of the Pedigree and Ambrose applied a Figure Four Leglock. Cole was yelling about how this could be it. The crowd reacted to it well, but not like some near finish spot. Hunter fought out of that. Ambrose applied a Sharpshooter submission. It didn't look that great at first, but then he sat down on it better. Hunter got to the ropes after about one minute. They were at the 20-minute mark now.
Ambrose hit the Dirty Deeds DDT. The ref John Cone's hand hit the mat three times, but then he pointed out that Ambrose's feet were under the bottom rope. Ambrose complained to the ref about it. Triple H came back with a rollup for two. Ambrose sent Hunter into the turnbuckle leading to Hunter doing his corner bump over the top to the floor. Ambrose hit a suicide dive followed by whip into the barricade at ringside. With Hunter out of the ring again, Ambrose went up top and hit a flying elbow attack to knock him down. Good taunting by Ambrose as he did some DX crotch chops to a fallen Hunter. Ambrose set up Hunter on the announce table. Ambrose went back in the ring to break up the slowest ref count ever. Ambrose jumped off the barricade with an elbow, but he waited too long, Hunter moved and Ambrose went crashing through the table. The announcers put it over like a big deal. Ambrose went back into the ring before the count of ten, Hunter was ready for him and Hunter nailed a Pedigree for the pinfall win after 25 minutes.
Winner by pinfall: Triple H
Analysis: ****1/4 That was an outstanding championship match with an ending that was predictable, but it was a damn good story that they told for nearly 25 minutes. I didn't think Ambrose was going to win although I really liked that false finish spot. Maybe some people expected Ambrose to win, but I really think it was obvious that they were using this match as a way to have Triple H get a quality win before dropping the title to Roman Reigns at WrestleMania. This match did exactly what it was supposed to in terms of delivering that quality WWE Title match that was needed to put over Triple H while also showing that Ambrose belongs as a main event performer for the future. My biggest gripe in the match is that they could have done a better job of selling for a bit longer because Ambrose was working on that knee quite a bit yet in the last ten minutes I don't think Hunter sold it much at all. I liked the ending a lot because it was a case of Ambrose going for a huge move, missing it and Hunter quickly capitalizing to win. It's a way to put over Ambrose as a guy willing to put his body on the line to get the win even though it cost him in this case. Both guys did an incredible job. It's one of the best WWE matches this year so far, no doubt about it. I liked the Fastlane main event a bit more than this one, though.
Post match, they showed replays of the key spots in the match as well as Triple H leaving with his WWE Title while Ambrose looked frustrated about the loss.
The show signed off at 10:26pmET, so it was a two and a half hour broadcast.
Final Thoughts
It was an entertaining show that I'd score a 7.5 out of 10. I'm not going to compare it to a PPV because it's not the same as those shows.
There were good to great matches all night long and the storylines were kept pretty simple. It was a predictable night in a lot of ways. The positive thing about it is that almost all of the match were given an amount of time that made sense. Nothing felt rushed or too short.
Four title matches took place with the champions retaining in those matches. Once again those outcomes were predictable because I didn't expect a title change in any of those matches, but all of the matches were very competitive at least. The NXT Tag Title match was the one where a title change was the most likely, which made it a compelling match.
The main event match did its job in terms of putting over Triple H as a worthy WWE Champion while Ambrose continued to win over the fans by showing a lot of heart in continuing to fight back.
I enjoyed it. There's nothing wrong with putting on a Saturday night show that is essentially a televised live event every few months. That's what WWE Network is for. It's not costing us more if we are a subscriber, so I hope they keep doing this sort of thing a few times per year.
John Canton –mrjohncanton@gmail.com
Twitter@johnreport