The John Report: WWE NXT Review 03/18/15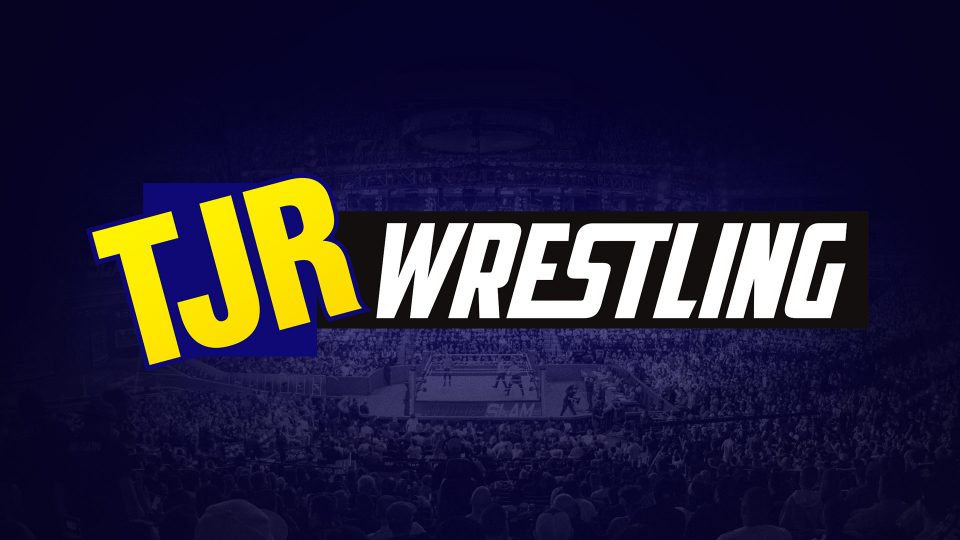 There's a video package to open the show. It mentioned this week's episode is from the Arnold Sports Festival in Columbus, Ohio with Kevin Owens vs. Alex Riley and Sasha Banks vs. Alexa Bliss.
The announce team of Rich Brennan, Corey Graves and Jason Albert welcomed us to the show as Kalisto made his entrance. He's taking on Tyler Breeze, who had the selfie stick with him like usual. The crowd is loud. It's a different kind of stage, but the setup of the building looks good.
Tyler Breeze vs. Kalisto
Slow start with Breeze hitting a shoulder block. Kalisto set up for an athletic headscissors, then an armdrag off the top rope showing off his lucha libre style. Hard kick by Kalisto, but Breeze came back with a dropkick to counter a springboard attack. Very impressive move there. Breeze controlled the action with stomps in the corner and then he yelled at the ref about touching him. Breeze grabbed a headlock as they went to a quick break.
(Commercial – It advertised Triple H vs. Sting at WrestleMania.)
Back to the match, Kalisto hit a spinning cross body block off the middle rope, then a kick to the ribs and a spike hurricanrana that sent Breeze headfirst into the mat for a two count. Kalisto bounced off the ropes and Breeze nailed him with a Supermodel Kick for two. That's another kick count. Fans were chanting "that was gorgeous" for that. Kalisto hit three kicks in a row ending with an enziguiri. Kalisto hit a 450 splash, but Breeze grabbed the ropes before the three count. Great nearfall. Kick to the face by Kalisto. Breeze slipped out of Kalisto's finisher and nailed the Beauty Shot kick for the win. It went about eight minutes.
Winner by pinfall: Tyler Breeze
Analysis: *** A very good opening match with a lot of athletic spots. I really liked how Breeze countered several of Kalisto's moves during the match with that last counter leading to the win. Kalisto's got a lot of exciting offensive moves and has a bright future. Breeze does too. The crowd was into everything he did.
There was a video package setting up the Owens/Riley match.
(Commercial – Flintstones and WrestleMania.)
Alexa Bliss spoke backstage about how she's excited about being in Columbus because it's her hometown. She said that Sasha Banks is going to find out what Alexa Bliss is capable of. Very basic promo.
There was a video package about the WWE Experience from the Arnold Sports Festival. They showed highlights from the weekend with the wrestlers meeting fans, going to the children's hospital and showing bodybuilders that looked very unnatural to me. I'm just saying. There was also a clip of Triple H getting inducted in the Hall of Fame they have at that event. Hunter said he was humbled to be on that stage. There were also appearances by Hulk Hogan, Jimmy Hart and Ric Flair. Hunter said it's not a developmental brand anymore – it's a brand that made a massive impact there.
Analysis: Great video. It really is awesome to see how much NXT has grown. It's something for the hardcore wrestling fans like us. Keep watching, keep supporting it and hopefully the brand can grow more.
Backstage, Finn Balor told Alex Riley that he's going to be watching because Balor faces Owens next week. Riley said he's going to humiliate Owens. Balor told Riley not to overlook Owens or there will be no tomorrow.
Analysis: The Owens/Balor match is for the NXT Title while Owens/Riley is a grudge match not for the title.
They showed the second NXT show from Cleveland, Ohio with clips of Triple H giving a pep talk to the roster and the wrestlers meeting the fans as well as performing in the ring. Charlotte was almost in tears because of how proud she is of the NXT brand. Balor said the brand is growing because it's on WWE Network all around the world.
The crowd chanted along with Enzo and Big Cass' pre-match promo prior to the next match. It's great to see that their act is over with the fans outside of Florida. They were especially loud for the S-A-W-F-T bit.
Wesley Blake (w/Buddy Murphy) vs. Colin Cassady (w/Enzo Amore & Carmella)
Big Cass hit a knee to the gut early on followed by some punches to the ribs. Big toss across the ring. Back body drop by Cass. Blake stunned him across the top rope and then hit a forearm smash off the middle rope for a two count. Cass hit a back suplex to counter a headlock. Cassady hit a corner splash and then a side slam. Murphy went on the apron, Carmella went to yell at him, Cassady gave Murphy a boot to knock him off the apron and Carmella also fell down as Blake gave Cassady the ROLLUP OF DEATH for the win after about four minutes. Blake grabbed the tights a bit.
Winner by pinfall: Wesley Blake
Post match, Carmella was favoring her knee while the guys were checking on her.
Analysis: *1/4 It was a short match that was just average. They're in a tag team title feud, so I thought Cassady would get the win. It was a bit of a surprise that Blake won, but it really doesn't matter too much. I thought the finish was a bit weak. That kind of finish is done too much.
(Commercial – It was a plug for WWEShop.)
There were clips of NXT diva Dana Brooke, who has been a competitor in bodybuilding competitions as well as wrestling. They showed clips of her bodybuilding as well as in the ring. It said "coming soon to NXT" at the end of it.
Alexa Bliss vs. Sasha Banks
Good reactions for both ladies. It's not for Sasha's title. The announcers noted that Bliss had her high school prom in that building. Bliss was aggressive early, but Banks sent her head first into the middle turnbuckle. Banks hit the double knee attack to the ribs with Bliss set up against the ropes. Bliss fought out of an arm submission with a forearm shot, then a low kick and the Glitz Flip driving the knees into the ribs for a two count. Sunset flip into a pin by Bliss for two. Bliss hit a dropkick that sent Banks outside the ring. They battled outside the ring with Banks sending Bliss hard into the ring apron. Bliss shoved Banks into the steel post, the ref kept on counting, Bliss rolled into the ring and Banks was counted out. It went four minutes.
Winner by countout: Alexa Bliss
Analysis: *1/2 I'm okay with the countout finish because they're trying to build up Bliss as a title contender. Beating the champ non-title is fine once in a while. We see it too much on the main shows, but in NXT it's a rare thin, so it means a lot when it happens. Bliss looked great on offense. She improves all the time. Banks is an awesome heel, so she will make it easier to like Bliss in the story too. I look forward to their future matches.
Backstage, Kevin Owens did a promo saying that Riley's going to wish he didn't quit his announcer job. He understands why he did it because he wants to see if he still has it, but he's going to regret it. Owens also said that next week he's going to show Finn Balor that nobody is going to take this (the NXT Title) from him.
Analysis: Best talker in NXT. Just a quick promo, but as usual he expressed himself well.
(Commercial – It was hyping up Lesnar vs. Reigns at WrestleMania.)
Backstage, Alexa Bliss was excited about her win over Sasha Banks. Banks showed up to say that Bliss didn't even pin her. NXT GM William Regal appeared to tell the ladies that next week Banks will defend the NXT Women's Title against Bliss. Banks didn't look happy about it.
Analysis: I'm glad we'll see it again. I know it's already been taped, but I don't pay attention to NXT spoilers. That title match should be longer than this one was.
SAY IT TO MY FACE! I'm still not used to hearing the Alex Riley song regularly again. There was a bigger ovation for Kevin Owens even though he's the heel champion. It's a respect thing.
Kevin Owens vs. Alex Riley
This isn't for Owens' NXT Title although he held it up in Riley's face before the bell rang. Owens kicked Riley in the ribs to knock him down, then nailed him with fists and a headbutt. Riley came back with a nice dropkick followed by a running back elbow against the turnbuckle. Owens caught his foot, kicked him in the leg and then nailed the cannonball attack in the corner. Fans were chanting "Kill Owens Kill" as he nailed a stiff clothesline. More trash talk by Owens as he applied a headlock. Riley nailed Owens with a huge forearm shot that stunned Owens. Another forearm attack by Riley while Owens was on the apron sent Owens to the floor. Owens missed a cannonball attack and Riley nailed a spinebuster for a two count. The crowd didn't believe that nearfall, but announcer Brennan did. Riley missed an attack, so he hit the ropes and went crashing to the mat. Owens hit three running back splashes in a row. Owens sent Riley into some fencing outside the ring. Back in the ring, Owens hit a Popup Powerbomb for the victory after 6 minutes.
Winner by pinfall: Kevin Owens
Analysis: **1/2 It was a quick match with Owens looking very strong from the opening bell. Riley got in a few moves when he went for the comeback, but he really couldn't get anything going. I liked the viciousness of Owens once he saw that Riley made that mistake. It was all over at that point. Owens has such a unique and impressive moveset. We haven't even really seen everything he can do, but what he does looks awesome. I'm not sure what the plan is for Riley after this.
Post match, Owens went for another attack on Riley. However, Finn Balor's music started up. He showed up to tell Owens to stop it. It looked like Owens was going to stop, but when he went for Riley again there was Balor with a forearm attack.
Balor threw Owens into the steel steps at ringside. They went into the ring with Balor nailing Owens with a huge dropkick that sent him into the turnbuckle. Owens got out of there before Balor could continue his attack. Owens escaped with the NXT Title. The show ended with Balor standing tall in the ring.
Analysis: Good angle to set up next week's match. They didn't do anything complicated, which is cool. It was just the basic stuff with the champ escaping before the challenger could attack him some more.
There was a 30 second preview video hyping up next week's NXT show with Owens defending the NXT Title against Balor.
Three Stars of the Night
1. Kevin Owens
2. Tyler Breeze
3. Kalisto
Final Thoughts
It was cool to watch NXT in front of crowd outside of Florida. That doesn't mean that the Florida crowd is bad. I just think it's awesome that the fans elsewhere are so into the product as well. It really shows that NXT is growing as a brand, which is awesome for the entire company. Hopefully they can tour outside of Florida while also taping shows in different venues as well.
Owens continues to be booked very strongly. I wasn't sure if they were going to make Riley look like he could hang with Owens or if he would be made to look pretty weak and they went with the weak route. Owens dominated that match.
The women did a good job like usual. Banks is an established champion with credibility, so it helps Bliss to beat her in a non-title match like that even if it is a countout.
The best match was Breeze beating Kalisto. It was actually the longest match by a bit. I liked the back and forth nature of it as well as the cool moves displayed by both guys.
They set up next week very well. We're getting Owens vs. Balor for the NXT Title and Banks vs. Bliss for the Women's Title. Both of those matches feel like a big deal. I'm very excited about Owens vs. Balor. It should be outstanding.
Thanks for reading.
John Canton –mrjohncanton@gmail.com
Twitter@johnreport