The John Report: WWE Night Of Champions 2013 Review
I was at this show, so I wrote the review a few days later.
WWE Night of Champions
Detroit, Michigan
September 15, 2013 (Twitter @johnreport)
I attended WWE Night of Champions live in Detroit on Sunday night. I'm not going to re-watch the whole thing and write a play by play with analysis of everything like I usually do. Instead, I'll list the matches and segments with my thoughts on each while adding in what I observed from sitting six rows up off the floor. We sat near the main (hard) cameras, so I wasn't visible on the broadcast.
Here's a photo from my phone that was just before the show started. I didn't take other pics because I had to conserve the battery. I don't have a great phone and I zoomed in a bit, so my apologies if it isn't great.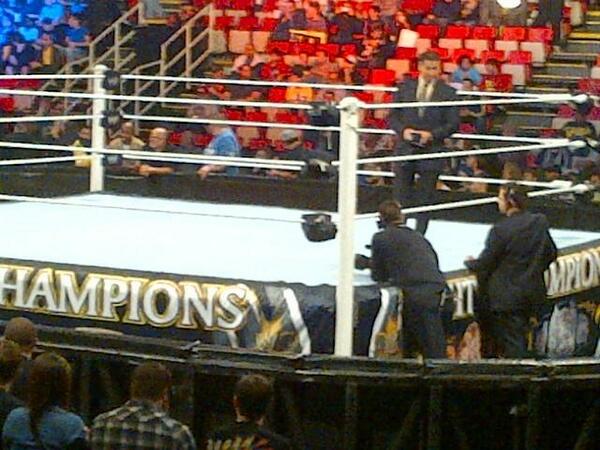 Congrats to Justin Roberts and techie guys for making it into the column.
Kickoff Match: Prime Time Players won Tag Team Turmoil
I think the reactions for all the teams were pretty good, but the match was very basic, predictable and a bit boring at times. I mean when you have teams like Tons of Funk and 3MB out there nobody is going to care. I thought the best part of the match was when the Real Americans were in there with the Usos. The crowd was into the Real Americans act with everybody saying "we the people" along with them. So much for being heels huh? I figured the Prime Time Players would win and of course they came out last, worked a couple of minutes and got the win after a Darren Young Gut Check. (Rating: *1/4 out of 5)
The other noteworthy item from the pre-show is they made the Punk vs. Axel/Heyman match a No DQ match. It was just like SummerSlam when they made Punk vs. Lesnar a No DQ match in the pre-show. As soon as that happened it was obvious Punk wasn't going to win.
I enjoyed the opening video package. The fireworks stunned me a bit. They usually do despite attending dozens of shows in my life.
Triple H started with a promo. I thought it was a PPV. Not Raw. He announced no interference in the Orton/Bryan match, which made me think Cody Rhodes might do a run-in because he's not employed anymore in the storyline. That didn't happen. Paul Heyman came out to try to get out of his match, but instead Triple H booked Axel in an IC Title match to start the show. When Triple H said the person Axel would face is the first person Hunter saw backstage. I was hoping it would be a returning Tyson Kidd. Nope.
Curtis Axel defeated Kofi Kingston retain the Intercontinental Title
I just checked the time on this match and saw that it went about 14 minutes. It felt even longer. The crowd really wasn't into it due to there not being a story in the match. How many times can Kofi wrestle for the IC Title? I think if they went about 10 minutes it would have been better, but I get that the story was that this would tire out Axel before his match with Punk. Heyman was great at ringside looking all upset about everything. There wasn't much reaction to Axel's finisher probably because he loses so many non-title matches. (Rating: **1/2)
There was a comedy backstage segment with RVD & Ricardo Rodriguez was there teaching him some Spanish terms. Crowd loved RVD, which was no surprise since he's originally from Battle Creek, Michigan.
Another backstage segment where the other heel girls didn't want to help AJ Lee anymore. She's just too mean. I sat row one at a house show on Saturday. AJ has a nice physique. I can confirm that. You're welcome.
AJ Lee defeated Natalya, Naomi & Brie Bella to retain the Divas Title
They got about five minutes, which made it hard to have a very memorable match. I really only remember the finish when Natalya applied a Sharpshooter to Naomi & Brie at the same time. AJ saved them by attacking Natalya and forcing her to tap out in the Black Widow submission. My gripe with the finish is that Brie & Naomi were apparently too hurt to break it up. It took too long. I would have had AJ dump them out of the ring so then they would have been too far to save. I expected AJ to retain. It's too early to take the title off her. Perhaps they can do it in a month or two, but I'd prefer her reign goes into next year (Rating: *)
Rob Van Dam defeated Alberto Del Rio via DQ (Del Rio is still World Champion)
I picked Del Rio to win, so got that wrong. However, he's still World Champ so in a sense I was right in that he didn't leave without the title. I saw a 20 minute Ziggler/Del Rio match at a house show on Saturday that was a better match than this. It's not that this was that bad, but it felt like a very average match that went about 14 minutes. The highlight of the match was after the match when RVD hit a Van Terminator to a huge ovation. Michigan loves RVD. No doubt about that. I thought Ricardo would turn on RVD. I still think it will happen soon. (Rating: **1/2)
Backstage, Heyman told Axel to believe in himself. At this point I was wondering why we were being treated to two Axel matches in one show.
In Triple H's office, Randy Orton wasn't thrilled about the no interference. Hunter wanted Orton to prove he was the right guy to be the face of WWE. Orton said he made the right choice.
The Miz defeated Fandango
Nobody cared. The interesting thing about the Fandango reaction was that when the song first hit people reacted to the song, did the stupid dance and then about 20 seconds later nobody cared. If you heard the "Randy Savage" chant it was because there was a guy dressed like Randy Savage in row two that was getting a lot of attention. The match was filler. They got 8 minutes, which was about 4 minutes too much. (Rating: *)
Paul Heyman & Curtis Axel defeated CM Punk in a Handicap Elimination Match
It took Punk about 10 minutes to beat Axel clean, as he should have. There was not much heat on Axel. All anybody cared about was Heyman. He did an awesome job of selling fear with his face. The crowd loved seeing Punk destroy Heyman with the kendo stick and Heyman did a good job of reacting as if it was the most painful thing anybody has ever endured. The handcuffs that Punk put on Heyman were a nice touch.
I was looking at the ramp for somebody to save Heyman and Ryback was a perfect candidate. Instead of the ramp, he popped out from under the ring. Ryback picked Punk up, drove him through a table and put Heyman on top for the win. Ryback carried Heyman to win the match. I thought the match was fine. We wanted to see Heyman take a beating. I even predicted a Punk win, but once I heard the "No DQ" stipulation earlier in the show I knew the interference would happen. Ryback should fit in well with Heyman. It doesn't hurt to have Heyman managing more than one guy. Of course we did see Punk vs. Ryback in a feud last year around this time, so it's not that new. (Rating: **)
Regarding the various polls that they had up during the broadcast, some of them drew interesting reactions like Booker T. being voted best World Champion ever over Ric Flair. Odd. I don't care too much about fan votes. They will always favor current people a lot more although Hulk Hogan did win the best WWE Champion vote. Nothing wrong with that.
Dean Ambrose defeated Dolph Ziggler to win the US Title
They went about 10 minutes. I wish the crowd was into it more. These are two of my favorite guys, but the story going into it was very average. As a result, people really didn't care. Ziggler needs to be booked in a way that makes him look like a bigger deal because right now he's just floating in the midcard. Ambrose won clean with a Headlock Driver. It would be nice to see Ambrose have a US Title feud that has some depth to it, but I'm afraid these secondary titles lack story depth these days. (Rating: **)
Seth Rollins & Roman Reigns defeated The Prime Time Players
Good tag match that had no build to it. The champs retained after about 8 minutes of action. You had four weeks between SummerSlam and Night of Champions. Why not use that time to build a story between the teams instead of a Tag Team Turmoil match? The finish was basic booking with the ref dealing with Darren Young on one side of the ring, which allowed Roman Reigns to hit the Spear on Titus O'Neil for the win for his team. (**1/4)
The video package for the main event was outstanding as usual.
By this point there were some people sitting around us were complaining about how there were no title changes on the show. In my preview I predicted there would be no title changes. I was right up until the main event.
Daniel Bryan defeated Randy Orton to win the WWE Title
I went into the match thinking there wouldn't be a title change. I was hoping for an epic main event match, but it was just a very good match that we've seen on television a lot from guys like this. I don't even know if it was better than their Raw match before SummerSlam. I remember that one very well. It certainly wasn't on the same level of Bryan vs. Cena at SummerSlam. They did all of their signature spots, but there weren't the number of nearfalls we've come to expect in PPV main event matches. No RKO by Orton for Bryan to kick out of. Nothing big like that. It was probably similar to the house show matches they've been doing for the past month except Bryan was able to win the match via pinfall.
When Bryan won the arena exploded in "YES" chants. I think most of the arena was stunned by it because we didn't expect it. Then you realize here's Daniel Bryan holding the WWE Title again and I was just really happy that I was there to see my favorite wrestler holding the title again. It's interesting to note that they had a 4th video camera guy at ringside (usually there are three), which made me think there might be some kind of run-in. That didn't happen, of course.
My immediate thought was that it was a fast count by referee Scott Armstrong. It should be noted that Armstrong isn't a full time ref anymore. He works as a producer backstage, so perhaps this will lead to a firing or it could be revealed he was paid off by Triple H to do a fast count. They had to do something to warrant a rematch without Bryan winning clean, so that's what they went with. Was it the best finish? I'm not sure yet. When they announced the "no interference" thing their hands were tied. I thought when Armstrong took the ref bump he would come back in the end to hit Bryan with a cheapshot because he was a former wrestler. Now I think what they might do is say he was hit in the head when he got bumped to the floor and that's why he counted fast. (Rating: ***1/2)
The night ended with Daniel Bryan celebrating with the WWE Title and the "yes" chants continued in the arena hallways as we made our ways to the exits.
Five Stars of the Show
1. Daniel Bryan
2. Randy Orton
3. CM Punk
4. Paul Heyman
5. Curtis Axel
Final Thoughts
I give it a 5 out of 10.
It was a very average show. That doesn't mean I hated it. I'm still glad that I went and got to see my favorite wrestler Daniel Bryan leave with the WWE Title even though it might be irrelevant by the time Raw goes on the air.
The problem with this show is that the midcard matches had very little story in most cases. Also, there wasn't really a memorable match. The main event was fine, but it feels like those two have had better matches in the recent past. None of the other matches were special at all. That's what happens when you book midcard titles poorly.
If you want to see guys like Daniel Bryan and CM Punk as the top guys in WWE you need to support the WWE product now more than ever. Go to shows. Order PPVs. Show your support. Yes, I wish this show was better, but again I was happy to go to support Bryan. If John Cena was healthy and in the main event against Randy Orton I doubt I'd have gone. That's nothing against either guy. It's just that I like Bryan more, so I had more interest in it. My friend and I (Matty J. Douglas from TJR) bought the tickets about three weeks ago. We wanted to see Bryan in the main event. That's why we went.
This was a transitional PPV. It was used to further storylines that will likely continue at Battleground, which is in three weeks. It was not something we're going to look back on later in the year and remember it as a great event.
Honestly if you missed Night of Champions you didn't miss that much. Check out the main event. Perhaps you can watch the Punk/Heyman match. Other than that there wasn't much that was noteworthy on Sunday's PPV event.
Thanks for reading.