The John Report: The WWE Raw Deal 03/23/20 Review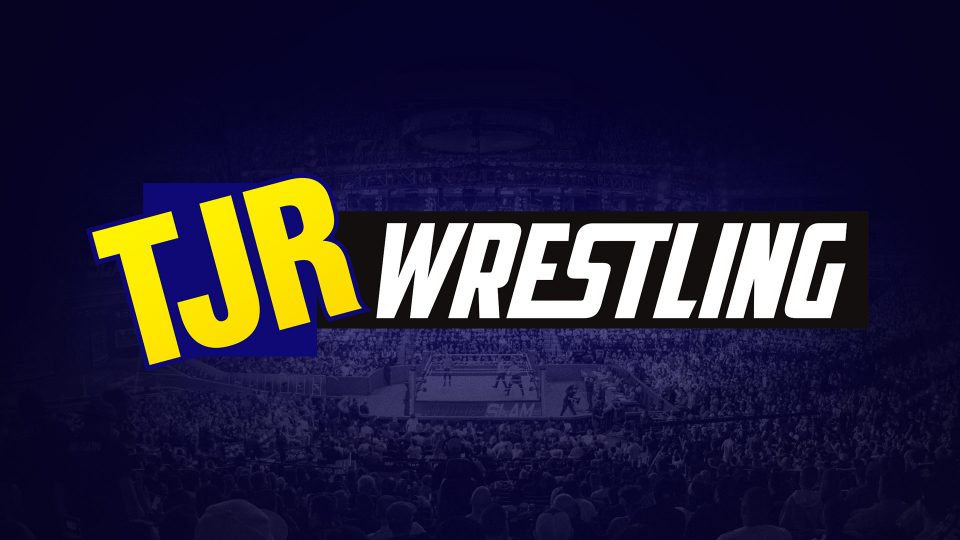 Welcome to another WWE Raw Deal review right here on TJRWrestling. It's the second week in a row where Raw is taking place from the WWE Performance Center with no fans in attendance. That's due to the Coronavirus pandemic that has had a major impact on the world leading to "social distancing" and people staying at home because that's what we're told to do. It's a tough time for our world. As for WWE, they keep moving forward with last week's announcement that WrestleMania 36 is "Too Big for One Night" because it's on Saturday, April 4th and Sunday, April 5th.
Live from the WWE Performance Center in Orlando, Florida, this is the Raw Deal for episode #1400 of Monday Night Raw. Follow me on Twitter @johnreport. Please visit TJRWrestling.net daily for our regular updates on the wrestling business featuring WWE news coverage, insightful columns from our team along with reviews about wrestling's past and present. Thanks to Melo Man for the banner up top. Let's roll.
A video package aired featuring Paul Heyman talking about WWE Champion Brock Lesnar that showed highlights of Lesnar in action. Heyman said that for 18 years, Lesnar is the most dominant force in the history of WWE. Heyman listed victims that Lesnar has conquered: Roman Reigns, Seth Rollins, Randy Orton, Hulk Hogan, The Rock, Ric Flair, "Stone Cold" Steve Austin (that was not a match), John Cena and even The Undertaker at WrestleMania. Heyman said that no one has ever been so dominant for so long. Drew McIntyre replied to Heyman saying that everything that Paul said is 100% true because there has never been anybody in WWE that has dominated like Lesnar, but then Lesnar ran into Drew. They showed a clip of Royal Rumble when Drew eliminated Lesnar with a Claymore Kick. McIntyre also talked about last week on Raw when he hit Lesnar with the Claymore Kick three times. McIntyre said he'll Claymore Kick on Brock Lesnar flush in the face, knock him on his ass and pin Lesnar to become the reigning, defending and undisputed WWE Heavyweight Champion of the World at WrestleMania.
Analysis: This video was on Raw two weeks ago, so I just pasted in my recap of what I wrote back then. It was very well done.
Paul Heyman was standing in the ring with WWE Champion Brock Lesnar in the empty Performance Center. Heyman said that we live in uncertain times and we all just need some certainty in our lives. Heyman said he gives us that certainty in Lesnar. Heyman said that McIntyre can do anything he wants, but he cannot beat Brock Lesnar at WrestleMania, not this unique and extraordinary WrestleMania. Heyman reminded us it's a WrestleMania that is too big for one night. Heyman said that the next time McIntyre prays about WrestleMania, it will be Lesnar that answers the prayer of making it quick and painless. Heyman said that after what happened at the Royal Rumble and Brooklyn, New York, Lesnar will make it quick, but he won't make it painless. Heyman said that since McIntyre won the Rumble and put Lesnar on his back three times, McIntyre is a made man that will be a main eventer for years to come just because of the fight he brought to Lesnar. Heyman said when WrestleMania is over, McIntyre is going to be another bitch that tried and got pushed out by the greatest champion in a WWE ring, Brock Lesnar. Heyman once again reminded us Lesnar is the WWE Champion…then, now and forever…Brock Lesnar. Brock didn't say a word and just looked forward during the whole promo. They filmed this so that the entrance was in the background rather than empty seats on the other side of the ring. That's a change from last week.
Analysis: A good promo from Paul Heyman as usual. It would have been better if Drew McIntyre was out there for a confrontation. Instead of that, we just got the promo from Heyman with Lesnar saying nothing. It may not have been a bad idea to have Lesnar say a line or two to make it stand out a bit more. I still liked it, but it was very basic.
The graphic reminded us that it's Lesnar vs. McIntyre for the WWE Title at WrestleMania.
Still to come: Randy Orton is on Raw.
(Commercial)
It was announced that AJ Styles will be on Raw later in the show.
The announcers for Raw this week are Tom Phillips and Byron Saxton, so they didn't fly in senior citizen Jerry "The King" Lawler, which is probably a good move.
This week's retro match on Raw is from Royal Rumble 2015 when Brock Lesnar defended the WWE Title against Seth Rollins and John Cena. They aired it with commercials as you would expect. Here's my review of that match.
John Cena is the first man out for the WWE Title match with the fans chanting "John Cena sucks" during his song. Seth Rollins entered with his Money in the Bank briefcase along with J&J Security. The fans mostly cheered Rollins. The WWE Champion Brock Lesnar and Paul Heyman entered last.
WWE World Heavyweight Championship: Brock Lesnar (w/Paul Heyman) vs. John Cena vs. Seth Rollins (w/Joey Mercury & Jamie Noble)
(Lesnar was cheered a lot during this period, but he was heelish a lot of the time. Cena was a face that would get booed often. Rollins was in heel mode as the Money in the Bank holder.)
Rollins ran away, so Lesnar hit a German Suplex on Cena. J&J tried to interfere, so Lesnar hit suplexes on them dropping them on their heads. Fans were cheering Lesnar as he hit German Suplexes on Rollins and then Cena. More suplexes by Lesnar although the one on Seth was sloppy because Seth landed on his shoulder. The replay was nasty. Vertical suplex toss by Lesnar on Cena and another one for Rollins with fans chanting for Lesnar. Fans chanted "ECW" for Heyman. Lesnar applied the Kimura Lock on Cena. Rollins broke that up with a flying knee attack off the top rope. There's the first finishing move with Cena hitting the Attitude Adjustment on Lesnar. Rollins covered Brock for only a one count. Lesnar sent both guys out of the ring as the crowd applauded him. Rollins hit a dropkick outside the ring that sent Lesnar into the ring post. In the ring, Cena hit his shoulderblocks and spinning suplex as the crowd booed. Rollins fought out of it, so Cena hit another suplex. He wanted to hit the 5 Knuckle Shuffle, but Lesnar attacked Cena with a German Suplex. They were able to get Lesnar out of the ring briefly. Things slowed down a bit from there. It was a fast-paced start to the match. Lesnar sent Rollins outside the ring, Cena decked Lesnar with a clothesline. Rollins did a springboard attack, Lesnar caught him on his shoulders and hit an F5. Wow that was amazing. Cena made the save, so Lesnar dropped him with another release German Suplex.
Lesnar cleared off the Spanish announce table. When he went back into the ring, Cena hit the AA and then Cena hit a second AA followed by a third AA for a two count because Rollins pulled Cena out of the ring. Rollins hit a Curb Stomp on Lesnar, but Cena attacked Rollins for the save. That's four finishers that Lesnar received in about one minute. Lesnar stumbled outside the ring, so Cena charged at him with a Spear that sent them both through the barricade by the timekeeper. Moments later, Cena threw Lesnar hard into the steel stairs. Cena hit Lesnar in the head with the stairs. Rollins nailed Lesnar with a dropkick. Rollins to the top rope and there's a flying elbow through Lesnar through the table. "This is awesome" chant. Damn right. With Lesnar out of it on the floor, Cena and Rollins battled in the ring with Rollins hitting a superkick. It's been 15 minutes so far. This match has been very physical and intense. Cena went for the AA on Rollins, but Seth landed on his feet and Cena hit a powerbomb for a two count. Heyman was yelling at ringside about needing a doctor, so two doctors were over there checking on Lesnar. Cena set up Rollins on the top rope, Rollins countered that by nailing Cena with the running powerbomb into the turnbuckle (Buckle Bomb) for a two count. After both guys were down for a bit selling pain, Rollins tried for The Stomp, but Cena applied the STF. J&J went into the ring to save Rollins. Meanwhile, stretchers were brought out for Lesnar. Rollins hit a three-man powerbomb on Cena with the help of J&J for a two count. Cena made the comeback by sending Rollins outside the ring (while Seth had the MITB briefcase in his hand) and then hitting the AA on Noble & Mercury at the same time. Cena with the AA on Rollins (after Seth charged with the briefcase) and that got a two. Big pop for that. There was a shot of Lesnar on the backboard. Cole said that Lesnar had at least a broken rib. Rollins hit an enziguri kick to the back of the neck and then a Curb Stomp for a two count. That's two great nearfalls in a row with each guy getting one of them. The match is at the 20-minute mark.
Rollins went up top and hit a spinning corkscrew splash (Phoenix Splash) on Cena that was very impressive. I want to see a replay of that! Lesnar went into the ring for the surprising save with a German Suplex. Lesnar sent Cena outside the ring with a German Suplex. Lesnar wanted a suplex on Rollins, but Seth landed on his feet, Rollins nailed Lesnar in the head with a briefcase shot. Seth hit him multiple times. When Seth ran the ropes, Lesnar popped back to his feet and hit an F5 on Rollins for the successful pin. Lesnar retains the WWE Title by pinning Rollins. The match went 22:42. What a match!
Winner by pinfall: Brock Lesnar
Analysis: ****1/2 That was a phenomenal match. It's tough to explain how amazing it was, but if you saw it then you know. There were three chapters in the match. Lesnar dominated the first third of the match with a barrage of suplexes. Then Lesnar got taken out because Rollins put him through a table, but he also took a beating before that. That led to some great pinfall sequences between Cena and Rollins where they were kicking out of anything. Rollins hit that amazing top rope move and that's when Lesnar came back. He dominated the final two minutes with the clean win on Rollins with the F5. I was very impressed by all of it. Lesnar and Rollins were both fantastic in everything that they did. Cena did well too although not as much of a standout as the other two. The way Lesnar was booked was perfect. I wish he wrestled more often and that he didn't leave, but sadly that's probably what is happening. Lesnar is such a great performer, though. Rollins is a big time star for the present as well as the future. I loved this match. It's a WWE Match of the Year contender for sure. Don't forget about it in December.
(This match won the WWE Match of the Year award in my 2015 WWE Johnny Awards column. It's one of my favorite Triple Threat matches in WWE history.)
They showed a clip of WrestleMania host Rob Gronkowski on Smackdown last Friday. The dancing was bad.
There were videos shown to set up the AJ Styles match against The Undertaker at WrestleMania. Styles is up next.
(Commercial)
The graphic was shown for The Undertaker vs. AJ Styles at WrestleMania. That led to a full video package to set up their match.
Let's Hear from AJ Styles
AJ Styles made his entrance with his buddies Luke Gallows and Karl Anderson from The OC group. They stood on the stage in front of the screen.
Styles said that WrestleMania is too big for just one night and as of last week, Styles will face The Undertaker at WrestleMania. Styles said he didn't care if it's Saturday or Sunday, but maybe Undertaker may care because he's not sure when his wife Michelle McCool will let him out of the house. Styles mentioned Undertaker's stretchy pants last week and Gallows told him they were like maternity pants. Styles continued to make fun of Undertaker's attire. Styles mentioned that Undertaker has a Twitter account and he saw a video of The Undertaker swimming with a tiger – Gallows said it was the Myrtle Beach Safari. They showed the clip of Undertaker, McCool and a tiger in the water.
Styles said that this guy is talking about tigers and he wondered if Undertaker has lost control of himself. Styles said Lesnar hasn't been the same since he lost to Brock Lesnar six years ago. Styles said Undertaker's mystique is gone, then he mocked Taker for selfies on Instagram and he wondered what happened to him. Styles said that he wants The Undertaker from yesteryear, not Mark Calaway posting selfies. Styles said that he's going to give the WWE Universe what they want – he's going to bring back the Deadman in a match that he would love to be in. Styles said that they should have a Boneyard Match. Styles said when it's over, he'll bury him and he said he had a perfect plot for him. Styles said that it is the same plot that Michelle McCool picked out when she buried Taker's career. That ended it.
Analysis: Styles continued to push the buttons of Undertaker by taking personal shots at him in order to get more heat. I thought Styles delivered it well. I liked the bit about making fun of Undertaker's tiger video as well. The point of the promo is to make fun of Undertaker for changing by being on social media and all of this other stuff, so Styles wanted the regular Undertaker to face him. The Undertaker turns 55 years old today (Tuesday) by the way.
A new match was added for WrestleMania earlier on Monday: The Street Profits vs. Andrade and Angel Garza.
The team of Andrade, Angel Garza and Zelina Vega were interviewed by Charly Caruso, who has a crush on Garza. Vega said as far as preparations go, her team will show in their match why they are the most charismatic team in WWE. Vega said that after WrestleMania, Street Profits can jump into the audience holding those cups, but they won't be dancing around with those Raw Tag Team Titles. Andrade said that they want the titles. Garza said that they are both men who know what they want as he stared at Caruso. Charly kept talking, then Garza winked at her and then he left.
This Friday: Bray Wyatt is back with the Firefly Fun House, plus The New Day faces The Usos.
(Commercial)
A video aired about Edge's promo last week that led to him challenging Randy Orton to a Last Man Standing match at WrestleMania.
It's time for the first new match 75 minutes into the show. Andrade, the US Champion, entered with Zelina Vega first along with Angel Garza. Ricochet entered first for his team and he shaved his beard, so if he looks different that's what it is. Garza and Andrade tried to attack before the bell, but Ricochet took care of them. Cedric Alexander entered to be Ricochet's partner.
Andrade and Angel Garza (w/Zelina Vega) vs. Ricochet and Cedric Alexander
They filmed from the side of the ring that showed the entrance area. That's a good choice. Andrade hit Ricochet with a punch to the head, Ricochet came back with a headscissors and a then a dropkick. Garza moved the tag rope to try to tag, the referee saw that and Andrade managed to take over by punching Ricochet off the top to the floor. Garza whipped Ricochet into the side of the ring. The Street Profits made their entrance to watch the match since they're against Andrade and Garza at WrestleMania. Ford and Dawkins decided to join commentary for this match.
(Commercial)
The match returned with Andrade slapping on an armbar on Ricochet as Montez Ford and Angelo Dawkins were on commentary. Andrade launched Ricochet in the air and Garza hit a kick to the ribs. Garza did his pull off the pants routine followed by a running kick to the back. Ricochet knocked down Andrade with a kick and then Garza hit a dropkick to send Ricochet into the turnbuckle. Ricochet tried to fight out of the corner, but Garza stopped him with a knee to the ribs. Andrade tagged in with a sunset flip leading to a Garza running kick for two. Ricochet with a jumping kick on Andrade and then a hurricanrana off the top. Cedric got the hot tag against Garza, spin kick from Cedric, forearm and a running dropkick to the back. Cedric with a boot to the face followed by a springboard flatliner for a two count on Garza. Garza with a boot to the face, Ricochet with an enziguri kick, suplex by Cedric and Ricochet with a standing SSP. Andrade and Cedric went down after kicks. Garza went for a leaping attack off the middle ropes, but Ricochet was waiting with a dropkick to the ribs. That led to a break.
(Commercial)
The match returned with Andrade and Cedric slugging it out with punches followed by Alexander hitting a kick to the head after bouncing off the ropes. Andrade with a drop toe hold that sent Cedric into the ropes. Andrade with the running double knees on Cedric for a two count. Garza tagged in, he set up Cedric on the top and hit a reverse suplex for a two count. Quick tags from Andrade and Garza leading to a double team slam for two as Ricochet made the save. Ricochet sent Andrade out of the ring, but Andrade tripped up Ricochet on the apron. Cedric with a rollup on Garza for two, Garza with a knee to the face and that got a two count. Garza with a moonsault off the middle ropes for a two count on Cedric. Ricochet got back into it with a kick and Ricochet hit a twisting dive over the top on Garza on the floor. Cedric hit a Michinoku Driver slam on Andrade for a two count. Andrade with a spinning back elbow to the head and Alexander didn't kick out, so Andrade got the win with that. The match went 21 minutes.
Winners by pinfall: Andrade and Angel Garza
They might have made a mistake during that finish because the referee didn't count three times in a row as you would see in a regular pinfall finish.
Analysis: ***1/4 This was a very good tag team match that got a lot of time. It's nice to see them go longer like this because last week the only match on Raw was much shorter. I think the result was obvious with Andrade/Garza getting the win since they're getting a tag team title match at WrestleMania. As for Ricochet/Cedric, they work well together, so if neither of them is going to be used that much as a singles wrestler, WWE might as well put them together as a regular tag team in the future. I would like to see that.
Post match, Andrade and Garza trash talked Ford and Dawkins, so The Street Profits went into the ring. Ford with a dropkick on Garza, the champs sent Andrade out of the ring and then they sent Garza out of the ring again. The Street Profits stood tall in the ring.
(Commercial)
They showed a clip from last year's WrestleMania when Kofi Kingston beat Daniel Bryan for the WWE Title. That was the best match at last year's WM and my favorite moment in WWE last year. The crowd made it special too, which won't be happening this year.
There were clips shown from last week when Steve Austin celebrated "3:16 Day" and he delivered multiple stunners to Byron Saxton to end the show.
The Street Profits (Montez Ford and Angelo Dawkins) vs. Shane Thorne and Brendan Vink
This is not for the Raw Tag Team Titles. Dawkins ran over Thorne with a running shoulder tackle. Ford with a dropkick on Thorne followed by some hard chops to the chest. Vink tagged in with a running kick to the head followed by kicks and a hard chop to the chest. Vink with a body slam for two. Thorne tagged back in and hit a flipping splash on Ford against the turnbuckle for two. Ford broke free with a jawbreaker, then a jumping kick to Vink and Dawkins tagged in against Thorne. Dawkins with a running tackle on Thorn, a suplex to Vink, a flapjack to Thorne, corner splashes on both guys and a spinebuster on Thorne. Ford tagged in with a Frog Splash off the top rope on Thorne for the pinfall win after about three minutes.
Winners by pinfall: The Street Profits (Montez Ford and Angelo Dawkins)
Analysis: * An easy win to put the champs over going into WrestleMania. The challengers are NXT guys, so it was no surprise that the Street Profits here.
A clip aired from Sunday with R-Truth beating Riddick Moss with the ROLLUP OF DEATH~! to win the WWE 24/7 Title with a WWE referee there to count the pin. Truth called him "Randy Moss" who is an NFL Hall of Famer, so that was funny.
Shayna Baszler is up next.
(Commercial)
A video aired letting us know WrestleMania 36 is 12 days away as of Monday.
They showed highlights from Smackdown when Rob Gronkowski appeared and he's the host of WrestleMania. The announcers ran down the big matches on the card. The full lineup is at the bottom of this review.
Interview with Shayna Baszler
Baszler was interviewed in the ring by Charly Caruso with both women sitting on chairs. Charly is gorgeous. Just saying. Anyway, Caruso talked about Baszler's dominance in the Elimination Chamber match and with that win, she earned the right to face Becky Lynch for the Raw Women's Championship at WrestleMania, so how will she conduct herself as champion? Baszler didn't say a word. Caruso asked her to put this into words and Baszler asked her why she looked nervous. Baszler laughed and asked if Charly thinks Baszler is going to bite.
Baszler said what Becky should expect at WrestleMania is to lose. Baszler asked her own questions, then said she wants that title because she likes to destroy. Baszler said when she takes that title it will destroy Becky Lynch and it's not that complicated. Baszler said she will show everyone who she is.
Becky Lynch showed up with a steel chair to the back of Baszler. The lights were dim in the arena, so we couldn't see Lynch and then the lights came off. Lynch hit Baszler in the back a second time. Lynch left while Baszler was down selling the attack.
Analysis: The interview was short with Baszler explaining her feelings in a simple way by saying she likes to destroy things and by winning the title, she'll destroy Becky. The attack by Becky was cheap, but it's also payback for past Baszler attacks against Lynch. I'm probably picking Baszler to win the Raw Women's Title at WrestleMania although if Becky keeps the title that wouldn't surprise me either. I feel like it's just the start of a rivalry that will last a few months.
Aleister Black is in action up next.
(Commercial)
A commercial aired for Total Bellas airing two weeks from Thursday on E Network. There's some bad acting. Poor Daniel Bryan.
Aleister Black made his entrance. Black will face Bobby Lashley at WrestleMania. I don't know if that was always the plan, but that's what they are doing.
Aleister Black vs. Leon Ruff
Black walked towards Ruff, he sat down in the ring and Ruff told him to get up. Black avoided a kick, he blocked another kick, spun Ruff around and hit a Black Mass kick to the head for the pinfall win. This match went about 50 seconds.
Winner by pinfall: Aleister Black
Analysis: 1/2* A squash win to put over Black. The Black Mass kick is a good move to practice social distancing since he can reach a far distance with it.
(Commercial)
Let's Hear from Kevin Owens and Seth Rollins
Kevin Owens was in the ring for a promo as they mentioned his WrestleMania match against Seth Rollins. Owens said last week he was there to answer Seth's challenge, but Seth was nowhere to be found. Owens said that he has heard that Rollins is there tonight, so if you have something to say, Owens is all ears. Here comes Rollins.
Seth Rollins walked out in his leather jacket while Owens was in the ring. Rollins said this place is nice, but does Owens think it gives him the home field advantage being in this building? Rollins said he didn't train there and KO is right about that while Owens did. Rollins wondered if Owens understood how he even got there and Rollins said that this building was built on his success.
Rollins said when he got to WWE he started in a dilapidated warehouse, he was told that everything he did before he got to WWE didn't matter – his whole life's work up in smoke just like that. Rollins said that he had to come back day after day, he had to suffer and succeed not for himself, but for people like Owens. Rollins said that he did it so people like Owens can train in a beautiful facility like this while claiming he built the system from the ground up and he's trying to do that for Raw, but Owens gets in his way. Rollins said Owens refuses to fall in line while adding that none of this exists without Rollins. Rollins claimed there's no NXT or Performance Center or Gargano, Ciampa, Undisputed Era, Takeover or Women's Evolution without Seth Rollins. Seth added that without Rollins, there is no Kevin Owens.
Owens cut him off, then Rollins cut him off again and asked if he could finish. Rollins asked Owens why on Earth he picked WrestleMania to try pick a fight with him? Rollins talked about his WrestleMania accomplishments like winning the Intercontinental, winning the Universal Title, cashing in Money in the Bank to win the WWE Title, he beat Triple H and he's got so many WrestleMania moments. Rollins mocked Owens saying that he has had failure after failure at WrestleMania while noting that last year Owens wasn't even good enough to be at WrestleMania. Rollins told Owens he could never beat him on his worst day and WrestleMania is never his worst day. Rollins said that under pressure, he becomes a God. Rollins told him he didn't stand a chance. End promo. Rollins left while Owens said nothing.
Analysis: This was a great promo from Rollins coming off as an egomaniac heel that was bragging about his WrestleMania success, which was all true. I think Owens should have said more, but I think the idea is that Rollins spoke the truth so much talking about his WrestleMania success compared to Owens not doing much at WrestleMania and it's kind of like Rollins put Owens in his place. Rollins "owned" Owens as the kids say. I thought Rollins would win at WrestleMania, but I may change my mind after this.
They showed another taped match. This time it was from WrestleMania 34 when Smackdown Women's Champion Charlotte Flair faced off against Asuka. Here's my review of that match.
Charlotte Flair, the Smackdown Women's Champion, had a spectacular entrance in gold attire. Her father Ric Flair's music played. Charlotte emerged on the stage on a throne with a few guys by her side as he guards It was fitting for her since she's nicknamed The Queen as she likes to remind us. It was like Triple H's entrance at WrestleMania 30 when Charlotte served as an extra. Ric's music stopped, Charlotte's music started and she posed on the ramp as the pyro hit and her guards took her robe.
Analysis: That was a great entrance that was perfect for Charlotte's character as The Queen and the daughter of Ric Flair.
Asuka made her entrance to a good ovation. They used graphics with lasers and replicas of her mask. That was unique.
Smackdown Women's Championship: Charlotte Flair vs. Asuka
Asuka worked over Charlotte with kicks and Charlotte did a strut at her. Asuka got out of a Figure Four attempt and hit a running knee attack for two. There was a shot of John Cena sitting in the crowd. Running hip attack by Asuka. When she went for it again, Charlotte grabbed her and Asuka got a rollup for two. Charlotte did a Flair bump in the corner landing on the apron, but Asuka nailed a kick and a hip attack sent Charlotte crashing into the barricade. Back in the ring, Asuka grounded Charlotte with an armbar. Charlotte with a backbreaker and then she slammed Asuka down. Asuka jumped on Charlotte's back, so Charlotte ran across the ring and fell to her butt to knock Asuka down. Charlotte with a knee to the back of the head of Asuka two times in a row. Charlotte went up top for a moonsault, she jumped off, Asuka avoided it and slapped on an armbar submission. Charlotte turned it into a Boston Crab submission, Asuka countered for a two count and Charlotte got a two count of her own. Asuka pulled Charlotte's left shoulder into the bottom rope. Asuka went for kicks, Charlotte grabbed her leg and shoved Asuka down. Asuka went for a running hip attack, Charlotte avoided it and kicked Asuka to knock her down.
They battled on the apron. Asuka hit a suplex off the apron onto the floor. That was a rough landing for both women. Charlotte was talking to the ref about something, most likely the next spot or to say that she was okay. They went back into the ring with Asuka utilizing strikes to knock Charlotte down. They went to the top rope and Charlotte did a flipping moonsault into a Rock Bottom aka the Spanish Fly on Asuka. Wow that was amazing and it only got a two count. Charlotte hit the Natural Selection, but Asuka flipped over into a submission where she was pulling back on Charlotte's arm. Charlotte tried the Figure Four, but Asuka blocked it and Asuka was relentless going for the Asuka Lock. Charlotte rolled through for a two count. Asuka with a kick to the head. Asuka ran the ropes, but Charlotte stopped her with a huge Spear for a two count. Charlotte went for the Figure Four, Asuka kicked her, but Charlotte was relentless in going for the hold. Charlotte slapped on the Figure Eight submission although she couldn't put her left arm down. Great selling. Asuka tried to fight it, but she couldn't and Asuka tapped out. Wow. The streak of Asuka is over. It went 13:05.
Winner by submission: Charlotte Flair
Analysis: **** Great match. The psychology in the match was good with Asuka working on Charlotte's left arm most of the match and it played a part in the finish with Charlotte not using the left arm at the end of the match. I liked some of the unique spots they did with the suplex off the apron onto the floor and the Spanish Fly by Charlotte off the apron. It didn't go as long as I thought and maybe if they got a few more minutes they could have gone to another level of greatness, but it was still very good for the time given. It's not like I am saying it was a short match. It was similar to the Charlotte/Banks/Lynch match from WrestleMania two years ago in terms of the match quality. The result of the match was a surprise because I thought Asuka's undefeated streak would continue. The good thing about the streak ending is they can book Asuka like a normal wrestler now instead of having to book her in a way that protects the streak all the time. It's not a bad thing for Asuka to lose a match. It also shows how much WWE values Charlotte.
(I thought Asuka would win, but instead, WWE decided to end her winning streak. It's tough to book somebody as undefeated long term anyway, so I can understand the decision. Asuka was hurt from it for sure, but Asuka is still one of the top women in the company. This also added to the legacy of Flair, who has by far the most Women's Title reigns in WWE history.)
Charlotte Flair was interviewed by Charly Caruso backstage. Flair said that she broke Asuka's undefeated streak of 914 days. Flair said she's sure that Rhea Ripley is excited to be the first woman to defend the NXT Women's Championship at WrestleMania and then Flair talked about her history-making moments. Flair said at WrestleMania 36 this year, she'll win the NXT Women's Championship. Flair suggested that Ripley watches some of Flair's legacy matches so that she can learn a thing or two.
Randy Orton is up next in the main event.
(Commercial)
Let's Hear from Randy Orton
Randy Orton made his entrance in his ring gear including a vest as he stood on the stage to deliver a promo.
Orton said over the last few months, he has done some things, said some things that have been misunderstood. Orton said what he did and said came from a place of love. Orton said that it has been taken as an act of brutality or violence. Orton spoke to Edge (staring into the camera) saying he is there to respond to your challenge from last week. Orton said that three weeks ago, he lied to Edge's wife Beth Phoenix saying that Edge is a junkie for the roar of the group. Orton said that Edge is a junkie for his own ego, then said that Adam Copeland (Edge's real name) is a junkie for Edge. Orton said that what Edge said last week was true and Orton said that he was handed an opportunity because of who he is and what his last name is. Orton said just because you are handed an opportunity it doesn't guarantee you a Hall of Fame career.
Orton talked about how one year after he got called up to the main roster, he won the Intercontinental Championship and less than a year after that he became the youngest World Champion in history. Was that handed to him? "I think not." Orton said that Mick Foley didn't pass him anything, he threw Orton into thumbtacks, so Orton spat in his face, beat him and he took that damn torch.
Orton spoke about how he went from being a third generation prospect to the guy with the three most deadly letters in sports entertainment (RKO). Was that handed to him? No. Orton said that he has grit even though Edge claimed Orton didn't have that. Orton claimed that grit doesn't mean sitting at home for nine years wondering "what if" all the time. Orton said that grit is longevity in an industry that seldom has it. Orton said that he is the one constant in the WWE locker room. Orton talked about when he looks around the locker room he doesn't see anybody that has accomplished as much as he has accomplished. Orton said that nobody has as much grit as him, including Edge.
Orton laughed about Edge calling him an "entitled brat" in the past. Orton said that Edge is the ultimate opportunist and he knows Edge would have done the same thing. Orton said that if Triple H asked Edge to join Evolution, would Edge have said no? Orton said that everything he has said and done in the last few months is because he loves Edge, he loves his family and he loves his daughters – Lyric and Ruby. Randy said that's why he sent their father back home.
Orton said now Edge challenged him to a Last Man Standing Match at WrestleMania. Orton: "Edge, you may be writing this story, but at WrestleMania, I'm going to write the last chapter and end it. I accept." Orton stared into the camera as they zoomed in on his face. Orton's music played to end it.
The graphic was shown for Orton vs. Edge at WrestleMania in a Last Man Standing Match. Orton stood on the stage as his music played and that was the end of Raw.
Analysis: I thought that was a fantastic promo from Orton. It's hard to rate some of his promos over the last two months because you can argue that it has been the best run of his career in terms of delivering quality content on the microphone. Orton hasn't been known for doing that consistently in his career, but in this feud, he has done a spectacular job. I think a lot of things that Orton said there fits his character perfectly. Yes, Orton did get into WWE easier because of his last name, but when you look at his accomplishments and success it's due to work he has done in his career. I always say that the best promos are the ones that are relatable to the audience where if you look at things from the character's perspective, like Orton as the cocky heel, then it makes sense. Really good job by Orton here.
Three Stars of the Show
1. Randy Orton
2. Seth Rollins
3. (tie) Andrade/Angel Garza
3. (tie) AJ Styles
The Scoreboard
I'm not going to rate the show while it's at the WWE PC. My decision. If you don't like it, I'm sorry. If I did rate the new content it would be about a 6.5 or 7 out of 10.
Final Thoughts
This was a pretty good effort by WWE considering the circumstances of running a show in a building with no fans. It was better than what they did last week on Raw. There were a lot of heel promos with Randy Orton and Seth Rollins really standing out among the pack. It would have been nice to see Drew McIntyre confront Brock Lesnar to add some more heat to that match, but that didn't happen. There wasn't much physicality among wrestlers in the bigger WrestleMania matches. Becky Lynch attacking Shayna Baszler was fitting for their story.
It was also nice to see a 20+ minute tag team match with good action. Another longer match like that would have been welcome. Instead, they aired two matches from the past and they took up about one hour of the three-hour show. I understand why WWE does that. I just think they could have come up with another match to do, but maybe they just want to be on the safe side while hoping nobody gets sick.
I also think WWE made the right decision to film from the side of the ring where the stage and entrance was in the background. That's something AEW Dynamite did last Wednesday and it made their show look better. I guess people can say WWE "stole" that idea, but that's pro wrestling. I assume that's the look we'll get for WrestleMania too.
The next WWE PPV is WrestleMania on Saturday, April 4th and Sunday, April 5th. Rob Gronkowski will be the host of WrestleMania. The lineup looks like this with official matches announced so far.
* WWE Championship: Brock Lesnar (c) vs. Drew McIntyre
* Universal Championship: Goldberg (c) vs. Roman Reigns
* Last Man Standing: Edge vs. Randy Orton
* John Cena vs. "The Fiend" Bray Wyatt
* Raw Women's Championship: Becky Lynch (c) vs. Shayna Baszler
* Boneyard Match: The Undertaker vs. AJ Styles
*NXT Women's Championship: Rhea Ripley (c) vs. Charlotte Flair
* Kevin Owens vs. Seth Rollins
* Smackdown Women's Title Elimination Match: Bayley (c) vs. Sasha Banks vs. Tamina vs. Lacey Evans vs. Naomi – Dana Brooke was announced for the match, but she's now out because she has been sick.
* Raw Tag Team Championships: The Street Profits – Montez Ford and Angelo Dawkins (c) vs. Angel Garza and Andrade (w/Zelina Vega)
* Aleister Black vs. Bobby Lashley (w/Lana)
* Elias vs. King Corbin
There will also be matches for the Intercontinental Title and Smackdown Tag Team Titles that will be official on this week's Smackdown. A Women's Tag Team Title match may be on the show too.
—
You can contact me using any of the methods below. Be safe and smart out there.
Thanks for reading.
John Canton
Email: mrjohncanton@gmail.com
Twitter: @johnreport
Personal Facebook and TJRWrestling on Facebook