The John Report: The WWE Raw Deal 10/16/17 Review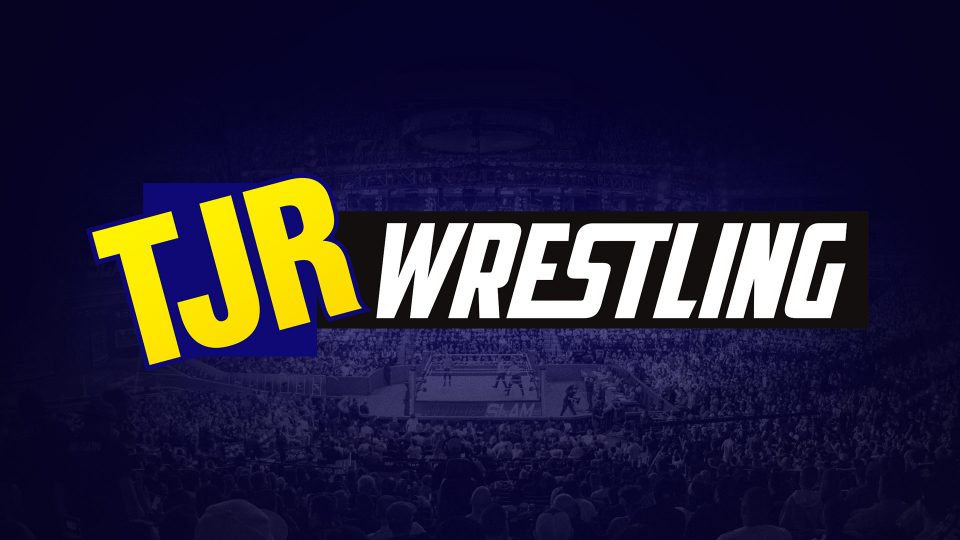 Live from Portland, Oregon this is the Raw Deal for episode #1273. Follow me on Twitter @johnreport.
A video package aired showing what happened last week when The Shield trio of Roman Reigns, Seth Rollins and Dean Ambrose worked together to take care of The Miz, Cesaro and Sheamus and then Braun Strowman later in the night. Coming up on Raw is Reigns vs. Strowman in a Steel Cage match.
The arena in Portland had Tables, Ladders and Chairs on the ramp to promote the TLC show that airs this Sunday on WWE Network.
Kurt Angle, the Raw General Manager, made his entrance to a great ovation as well as the "You Suck" chants.
Angle welcomed us to Monday Night Raw. Angle said it's safe to say that The Shield are back together. Angle mentioned that The Shield will take on Miz, Sheamus, Cesaro and Braun Strowman this Sunday at TLC.
The Shield's music played leading to Rollins, Ambrose and Reigns walking out in Shield gear. They were in the crowd like they used to do it and the crowd was going wild for it. Huge pop.
The Shield trio walked down to the ring. The crowd was really hot for it as they slowly made their way down the steps and jumped over the barricade like they did so many times before. They were wearing their Shield vest and jeans gear like they used to wear. The crowd chanted "this is awesome" as they got in the ring.
Reigns said to Kurt Angle that when they get into the ring, you get out of their yard or they beat your ass. Rollins said it feels good to be out there. Angle left the ring. Rollins said that five years after they started with a match at TLC, they are back and better than ever. Rollins also briefly mentioned what happened when they broke up due to him, but then he moved on.
Ambrose spoke about tables, ladders and chairs. Ambrose said that is not why The Miz, The Bar and Braun Strowman should be scared. Ambrose told them they should be scared because they are going to war with the masters. Ambrose said that nobody divides and conquers like The Shield and added there is no force of nature on this Earth more powerful than The Shield. Ambrose said that maybe he got ahead of themselves challenging 4, 5 or 6 guys, but he said maybe not. Ambrose challenged them to come to the ring to fight now.
Braun Strowman led his team out there with Sheamus, Cesaro, Miz and also Curtis Axel with him. They stood on the stage together.
Kurt Angle was at ringside and he told the guys not to start the 3 on 4 match yet. Angle told Sheamus and Cesaro stay right there while Strowman gets Reigns in a Steel Cage. Angle's music played to end the opening segment.
Analysis: Great to see The Shield together again doing the classic entrance they used to do while that Shield gear. The crowd was hot for it. The segment didn't really accomplish much because everything was already advertised, but it was a solid way to tease what was coming later in the show. It was also cool to see The Shield together for the entrance and the response for it, so I guess that's the main reason why it was done.
Coming up is Rollins and Ambrose vs. Cesaro and Sheamus for the Raw Tag Team Titles and also Reigns vs. Strowman in a Steel Cage match. Strowman will also be a guest on Miz TV hosted by The Miz, of course.
(Commercial)
PLUG TIME: The Shield is back in WWE, so I wrote an article exclusively for The Comeback looking at their past as a group, their run as singles stars and what I hope WWE does with them in the future. In short, I hope it's not just a reunion tour.
There was a commercial for Total Bellas. Poor Daniel Bryan being on that show.
Elias was in the ring doing one of his songs. He had Luke Gallows and Karl Anderson with him. They were all on chairs in the ring. Gallows warmed up his vocal cords by saying "nerd" and then Anderson warmed up his. Anderson sang the Honky Tonk Man song with Gallows doing the backup vocals. Anderson did a good job of it, but the crowd booed. Elias said that wasn't too bad. Elias did a new song that he said might be his best. Elias said "Jason" to Kurt Angle's song and G&A sang "is a nerd" during it.
Analysis: That was fun. Probably the best Elias song segment to date since Gallows and Anderson were entertaining as annoying, over the top heels. Loved Anderson singing the Honky Tonk Man song too.
The trio of Jason Jordan, Apollo Crews and Titus O'Neil made their entrance as the opponents to the heels.
Jason Jordan, Apollo Crews & Titus O'Neil vs. Elias, Luke Gallows & Karl Anderson
Gallows and O'Neil started off with a slug fest. Running clothesline by O'Neil sent Gallows out of the ring. Elias and Anderson got in the ring, then got knocked out quickly and the show went to break one minute into it.
(Commercial)
Back from break, the heels isolated Crews from his partners. Running kick to the face by Crews to Elias created some space. Anderson prevented a tag from Crews, but Crews avoided a suplex and tagged in Jordan. Sweet dropkick by Jordan on Anderson followed by three running attacks in the corner and a belly to belly suplex got a two count with Elias saving. O'Neil, Elias, Crews and Gallows all got sent out of the ring. Crews got the tag for his team and hit the spinning sitout Powerbomb on Anderson for the pinfall win after seven minutes.
Winners by pinfall: Jason Jordan, Apollo Crews & Titus O'Neil
Analysis: **1/4 Decent tag match that didn't get much time. O'Neil was barely in the ring aside from the first minute with Gallows. Crews getting the win was a nice surprise because I figured it would be Jordan if his team won, so at least it gives Crews some credibility with a win on Raw. The finish felt rushed, but also consistent with a typical six man tag where guys go in the ring, hit a move and get out of there. Crews needs a name for that finisher too. I've said that for over a year at least.
The announce team of Michael Cole, Booker T and Corey Graves appeared on camera shilling the WWE TLC show that's on WWE Network this Sunday.
(Commercial)
A video aired about Asuka to hype up her main roster debut at WWE TLC this Sunday. She faces Emma in her first match as part of the Raw brand.
Emma was interviewed by Renee Young in the interview area. Emma said she was sick of hearing about Asuka and complained about how the attention wasn't on her. Emma talked about how she beat four of the top women in the world last week and she's a social media superstar. Alexa Bliss, the Raw Women's Champion, walked in the picture and thanked Emma for starting the Women's Revolution. Bliss talked about how last week Mickie James called her a "biscuit butt" and didn't say the butt part. Bliss suggested Emma team up with her against Mickie James and a partner leading to an old joke saying maybe Betty White is available. Emma said she'd team with Bliss.
Analysis: It was the usual awkward promo time from the women, but they got through it. Bliss continued with the old jokes.
A video aired about Brian Kendrick and Jack Gallagher working together against Cedric Alexander as a growing rivalry as part of 205 Live. Gallagher turned heel to align with Kendrick.
Analysis: Rare to see a video package about a 205 Live feud on Raw that doesn't involve the champion. At least we can give WWE credit for trying to make people care.
Alexander made his entrance for a match against Gallagher up next.
(Commercial)
Gallagher's entrance with Kendrick finished as the show returned from break. Alexander had Rich Swann get out there to watch his back.
Cedric Alexander vs. Jack Gallagher (w/Brian Kendrick)
I feel bad for Gallagher having to wrestle in dress shoes. That can't feel comfortable. The vest isn't fun either. Alexander hit a springboard crossbody block early on followed by a dropkick that sent Gallagher out of the ring. Kendrick went on the apron to distract, so Swann tripped him up and Gallagher hit a double axe to the back of Alexander to knock him down. Gallagher slapped on a chinlock. Dropkick by Gallagher connected. Gallagher did another weak looking chinlock. Kicks to the chest by Gallagher, Alexander caught him, back elbow by Alexander and a cartwheel into a kick to the head by Alexander. Kendrick grabbed Alexander's foot, so Swann hit a Tornado DDT on Kendrick on the floor. Alexander hit the Lumbar Check on Gallagher for the win after about four minutes.
Winner by pinfall: Cedric Alexander
The ring announcer Mike Rome said that Alexander and Swann were winners even though it was a singles match. Oops.
Analysis: *3/4 Quick match to put over the fact that Alexander had help in Swann to neutralize the heels trying to cheat. Loved the DDT spot on the floor and the Lumbar Check in the ring was even better. The Lumbar Check is one of the best finishes in WWE today.
There's a tag team match at TLC with Alexander and Swann facing Kendrick and Gallagher.
Miz TV with Braun Strowman as the guest is next as we near the top of hour two.
(Commercial)
Miz TV with Braun Strowman as the guest
The Miz entered along with his Miztourage member Curtis Axel (no Bo Dallas again) and his TLC partners Sheamus and Cesaro aka The Bar.
The ring had tables, ladders and chairs in it rather than the usual Miz TV "set." A mild Curtis Axel chant started! Axel enjoyed it.
Miz talked about Cesaro and Sheamus winning back the Raw Tag Team Titles later tonight. Cesaro spoke with the mouthguard in his mouth again saying they are going to win the Tag Team Titles again. Sheamus said The Bar would shatter The Shield into three pieces leading to fans chanting "you look stupid" so Sheamus said they were jealous of "The Hawk" aka mohawk. Miz ripped on the fans wondering if they have looked in the mirror. Sheamus said that he and Cesaro will take back their Raw Tag Team Championships and then The Shield will break just like he'll break Dean Ambrose's back with a chair and Cesaro said he'll break Seth Rollins' legs when he shoves them off the ladder. Miz said he'll break Roman Reigns' spirit by putting him through a table. Miz complained about The Shield saying that they aren't as good as you think they are. The Miz said they can't contain with them. Miz said there is nothing he wouldn't do for Curtis, for Bo (who is not here), for Sheamus or Cesaro or the last member of their team, it's Braun Strowman.
Strowman made his entrance to a good reaction. Strowman mentioned that last week The Shield triple Powerbombed him through the announce table, so the crowd cheered that. Strowman said that he's going to tear them down one by one and piece by piece until The Shield is done forever. Strowman says that starts tonight when he beats Roman Reigns in a Steel Cage where he can't run away from him.
The Miz continued saying that The Shield is no match for this. Miz asked the crowd if they think The Shield can take them on and the crowd chanted "yes" to that. Miz did his "REALLY?" routine leading to more "yes" chants. Miz said that Ambrose is still sipping on the Kool-Aid because he said The Shield can take on any four or five guys. Miz said they accept that challenge.
Miz announced The Shield will face Braun Strowman, Sheamus, Cesaro, The Miz and the fifth member…Kurt Angle interrupted him. Angle appeared on the stage saying he didn't agree to a 3 on 5 match. Miz said Ambrose said it. Angle told him he didn't care what Ambrose said. Miz tried to talk Angle into it. Angle told Miz to shut the hell up.
Angle told Miz if he wants a fifth man in the match then Strowman has to beat Reigns. If Reigns wins then the Miz team loses Strowman in the TLC match. If Strowman wins then they get a fifth man on the team. Miz didn't like, but Strowman said they accept.
Angle said during both the Tag Team Title match and the Steel Cage match, everybody is banned from ringside. Fans chanted along to Angle's music as the segment ended.
Analysis: Good job by everybody involved. Miz does so well as an antagonistic heel that is so easy to hate, yet you can also appreciate how talented he is on the microphone. Most of that could have been done during the opening segment, but this is Raw and they have three hours to kill. I like adding the stipulations to the Steel Cage match because it makes it more interesting to see if it will be 3 on 3 or 3 on 5 at TLC.
Later on Raw: Finn Balor has a "Demonic Message" for Sister Abigail.
(Commercial)
Sasha Banks made her entrance as we got a replay of Banks making Alicia Fox tap out in a tag match last week. Fox had a pre-tape interview whining about her loss last week.
Sasha Banks vs. Alicia Fox
Banks took down Fox with an arm wringer and went for the Bank Statement, but Fox got to the ropes. Fox left the ring, Banks went after her and Fox sent her throat first into the top rope. Backbreaker by Fox got a two count. Fox with an elbow to the face kept her in control. Fox slapped on a headlock. Banks came back with a Bank Statement submission and Fox tapped out. The match went about three minutes.
Winner by submission: Sasha Banks
Analysis: * Quick match to put over Banks. Fox got in a bit of offense, but she has been booked like a loser for so long that nobody cared. Banks is without a storyline at the moment, so it felt like just a short match to give her a win.
Post match, Fox did her screaming routine that she used to do after a loss.
Enzo Amore was shown walking backstage because he's up next.
(Commercial)
Sasha Banks was shown walking backstage when Charly Caruso walked up to her asking about the match. Banks said Fox was tough, so Fox attacked her from behind. Fox sent Banks into the equipment boxes that were backstage. A referee showed to tell Fox to stop, so Fox shoved the ref Darrick Moore back. Banks was out on the floor while other refs showed up to end it.
Analysis: It looks like a quick angle to set up a match for the TLC show that is lacking in midcard matches. Later in the show they said Fox was fined for shoving the ref.
Let's Hear From Enzo Amore
Enzo Amore, the former Cruiserweight Champion, made his entrance in street clothes including a jean jacket and jeans.
Enzo said he heard some boos and said people may be wondering where his boo was, the Cruiserweight Title. Enzo asked for the footage. Highlights aired from last week when Enzo lost the Cruiserweight Title to Kalisto thanks in part to Mustafa Ali as a lumberjack that pulled Enzo out of the ring after a pin attempt.
Enzo complained about how he got robbed of his Cruiserweight Championship. Enzo bitched about Moustafa (calls him Moufasa) Ali costing him his title. Kalisto's music started up and he made his entrance with the Cruiserweight Championship, which is still purple despite his photo edit job on a pic posted over the weekend.
Kalisto went in the ring. He told Enzo his mouth is like a 7/11 that never closes. Kalisto said that Enzo can blame him, Kurt Angle or the 205 Live roster – do whatever makes you happy when you sleep at night on knock off Gucci sheets. Kalisto said he's going to come out of TLC as the new Cruiserweight Championship. Oops. He's still the champion. Enzo said that he earned his money being a star. Enzo wondered why Kalisto is standing on the tracks because the Zo Train is coming through. Heel cruisers like Daivari, Dar, Nese and Gulak attacked Kalisto from behind. Enzo led "you deserve it" chants. Enzo yelled at the fans because they didn't want to chant like when Enzo got jumped. Enzo said he didn't want to get his clothes dirty.
Mustafa Ali ran down to the ring for the save with a hurricanrana on Nese, superkick to Gulak, clothesline to Dar, spin kick to Daivari and Enzo took down Ali with a shoulder tackle. Enzo and the heels stomped away on Ali. Nese hit a running knee attack on Kalisto in the corner. Ali tried to fight back, but the heels knocked him down again. Kalisto was helped to his feet, Enzo took off his jacket and Enzo hit the Jordunzo boot to the face finishing move. Enzo asked the two dudes "how you doin'" and noted that neither of them can answer him now. Enzo left with his heel buddies.
Analysis: That was a good heel beatdown segment to have Enzo get revenge for losing the title last week. It went on a bit too long, though. The announcers pointed out a few times that these guys were against Enzo several weeks ago, but they have changed their tune likely because of Kalisto winning the title as a newcomer to the division. That's a good way of explaining it. Two cruiserweight segments in this show that were actually built up well, so that's nice to see.
Raw Tag Team Title match is next: Rollins/Ambrose vs. Cesaro/Sheamus.
(Commercial)
A video aired about breast cancer awareness while telling a story about a woman that's a breast cancer survivor.
Dean Ambrose made his entrance with his Raw Tag Team Title to his own theme song. He entered by the ramp like usual. Seth Rollins made his entrance to his theme song with his Raw Tag Team title. Both men are wearing classic Shield gear with the vests on.
The Bar duo of Sheamus and Cesaro made their entrance. Images were shown of Cesaro suffering the teeth injury at No Mercy a few weeks ago when he went teeth first into the steps. Cesaro is wearing a mouthguard because of it.
Analysis: I didn't use "The Bar" name for them prior to this week, but since WWE is pushing it a lot I'll start using it.
Raw Tag Team Championships: Seth Rollins and Dean Ambrose vs. The Bar (Sheamus and Cesaro)
Sheamus worked on Ambrose with forearms. Ambrose with a running dropkick on Sheamus, Rollins kicked Sheamus out of the ring and a double clothesline sent Cesaro out of the ring. Rollins and Ambrose hit slingshot dives over the top to take out both guys. Back in the ring, Sheamus and Rollins banged heads in a planned spot and Cesaro capitalized with a clothesline on Rollins to give the heels advantage. Show went to break a few minutes into it.
(Commercial)
Back from break, the heels were still in control of Rollins. Double kick to the gut by The Bar on Rollins got a two count. Rollins tried to get to Ambrose, but Cesaro held him back and Cesaro kicked Ambrose off the apron, which pissed off the crowd. Rollins back body drop on Cesaro, but Ambrose was on the floor. Sheamus launched Rollins into a Cesaro uppercut that got a two count for the challengers. Sheamus missed a corner charge on Rollins, so Sheamus hit the ring post. Cesaro tagged in, Rollins back body drop on him and Cesaro was out of the ring. Ambrose got the hot tag on Cesaro with a clothesline followed by a neckbreaker. Ambrose did a slingshot to the corner, but Cesaro avoided hitting the ring post. Ambrose sent Cesaro to the floor. Rollins with a suicide dive on Sheamus on the floor and then Ambrose hit a suicide dive on Cesaro on the floor on the other side of the ring. Ambrose up top and hit a flying elbow smash on Cesaro for two with Sheamus making the save. Sheamus hit a backbreaker on Rollins, which led to Ambrose hitting a clothesline on Sheamus to knock him out of the ring. Back body drop by Cesaro on Ambrose. Sheamus tagged in and Cesaro hit a springboard clothesline off the ropes for a two count broken up by Rollins. Cesaro uppercut on Rollins. Cesaro back in, double team move failed as Rollins hit a kick to the face and knee to the face of Cesaro. Ambrose hit Dirty Deeds on Cesaro and covered for the pinfall win after 12 minutes.
Winners by pinfall: Seth Rollins and Dean Ambrose
Analysis: ***1/2 That was a great tag team match full of action. It was similar to their No Mercy match in terms of being a fast-paced tag match with a lot of cool spots. It was tough to get everything in the review because the pace of it was so fast, but I think I got most of it. Plenty of pinfall attempts in there broken up at the count of two. The chemistry between these teams is great with the heels utilizing the power game well leading to the exciting comebacks from Rollins and Ambrose. I liked the nod to the No Mercy match with the teeth injury by Cesaro where he stopped himself from getting hurt last time. No surprise that the champs retained because it would have been dumb to take the titles off them so soon after winning them. The crowd is on fire for these Rollins/Ambrose matches.
Finn Balor's message is up next.
(Commercial)
This week on Smackdown it's Jinder Mahal issuing a special Survivor Series challenge plus Roode vs. Ziggler.
There was a shot of Cesaro and Sheamus in the locker room with Curtis Axel giving them a pep talk. Axel claimed he would be the fifth man on the team at TLC. Strowman walked into the scene and Axel said he needs this match more than anything. Axel said he wanted to fight Roman Reigns to go fight him right now. Strowman told him to go fight him. Axel said he wasn't prepared. Cesaro said it sounds like he's afraid and Sheamus added if he wants to be a part of their team he shouldn't be afraid. Axel said he'll go find Reigns, so Axel left.
Analysis: Comedy spot coming for Axel, who is portrayed like a loser.
Finn Balor's message for Bray Wyatt
A video aired showing Bray Wyatt turning into Sister Abigail during a promo on Raw last week.
Finn Balor made his entrance wearing his ring gear including his black leather jacket. Graves said it was "too sweet" to experience Balor live.
Balor said this is Balor Club right here in Portland. Cheap pop. Balor talked about how when Bray Wyatt introduced Sister Abigail to the world he didn't know what to think. Did Bray lose his mind or did he outsmart all of them? Balor said he was wrong to think it was another trick or mind game. Balor said that Wyatt may have his tricks, but Balor has his tricks too. Balor said that he will slay a monster with a demon of his own.
There was a shot of the crowd and then after brief pause, on Balor's face as he moved in position with his face right by the camera. Balor said that his demon has no fear. Balor said that his demon dreams about nightmares. There was a shot of Balor's face painted up as The Demon. Balor said that his demon is dying to meet you, Sister Abigail. The Demon version of Balor said "run" and that ended the scene.
Analysis: This is so cheesy. I don't want to dismiss it as awful because I like both characters, but this is pretty bad. It's the kind of thing that makes me feel embarrassed to be a fan. It's probably cool to a 10 year old kid watching, but not to me. The scene was shot so that Balor was staring at the camera in a close up while the Demon clips were filmed earlier and edited into the picture.
(Commercial)
A video aired about Asuka's WWE Raw debut at TLC on Sunday against Emma.
Emma made her entrance for the tag match followed by her tag team partner, Raw Women's Champion Alexa Bliss.
My favorite Mickie James entered for the faces with Mickie saying she is going to be a 7-time Women's Champion when she faces Bliss for the title at TLC on Sunday. Bayley got a nice ovation as Mickie's partner.
Mickie James & Bayley vs. Alexa Bliss & Emma
James started with Bliss leading to Bliss tagging out quickly. Cole congratulated James for being inducted into the Native American Music Awards Hall of Fame and winning for Single of the Year, which is cool of WWE to mention that. Bayley tagged in for a double team elbow drop. Bliss tagged in, did her yelling at the ref routine and Bayley hit her neckbreaker using the middle rope as an assist. Emma pulled Bayley out of the ring and that led to all four women arguing leading into the break.
(Commercial)
The match returned from break with Emma working over Bayley by sending her into the turnbuckle leading to Bayley doing her Hulking Up routine of no selling. Bayley sent Emma into the turnbuckle ten times. Running clothesline by Bayley and knee drop got a two count. Emma draped Bayley's head across the top rope leading to Bayley going to the floor. Emma tagged in with a run followed by a slap. That's funny when she does that. Bliss continued on offense against Bayley and she taunted Mickie while doing so. Bayley got out of the heel corner, Bayley sent Bliss into the ropes and James got the hot tag. Running clothesline from James, forearm smash, kick to the face by James and a running forearm by James. Neckbreaker by James. Bliss avoided a kick and hit a slap to the face. Flapjack by James. Top rope by James and she hit a Thesz Press takedown for a two count with Emma saving Bliss. Bayley took care of Emma. Bliss went after Bayley and knocked her out of the ring. When Bliss turned around, James nailed her with a kick to the head with a Mick Kick for the pinfall win after 12 minutes. It was more like a straight superkick by Mickie rather than the spin kick she sometimes uses.
Winner by pinfall: Mickie James and Bayley
Analysis: **3/4 Pretty good tag match given plenty of time. They built up to the hot tag well to showcase James going into the Women's Title match on Sunday. I think having James pinning Bliss was good in terms of giving James some much needed momentum going into the title match, but it's bad for me wanting James to win the title. I felt like Bliss was going to retain when it was set up and I still feel that way. I'd love to be wrong on that one, though.
Curtis Axel was shown walking backstage. He walked right up to Reigns, Rollins and Ambrose talking to eachother. The scene went to commercial as Axel approached them.
A commercial aired for WrestleMania 34 in New Orleans on April 8, 2018. Tickets on sale November 17. I'm going to that one. Love that city.
(Commercial)
There was a shot of The Miz in the locker room with Strowman, Cesaro and Sheamus. Miz asked where Axel was, so Sheamus told him that the Axe Man was trying to destroy The Shield. Strowman informed Miz that Axel said he wanted to go beat up Roman Reigns, so Strowman told him to go do it.
Mickie and Bayley were backstage talking about their win. Charly Caruso showed up to interview Mickie, so Bayley gave Mickie a hug and Bayley left. Mickie did a promo about how Alexa's words cut her deep and they really hurt, but Mickie is proud of who she is and everything she has accomplished in this business. Mickie talked about having a three-year-old boy at home waiting for her and that he is her everything. Mickie added that it was the greatest feeling in the world while taking home the Women's Championship proudly to her son Donovan would be one of the best feelings of her career. Mickie said that at the end of the day, she will have the last laugh because she'll whip that "biscuit butt" all over TLC and walk out of there as the seven-time Women's Champion. Mickie walked away with a smile.
Analysis: That was really good because they haven't had Mickie mention her son before, so it adds more of a personal feel to the story.
The announcers went over the TLC lineup: Sasha Banks vs. Alicia Fox on the Kickoff Show, Alexa Bliss vs. Mickie James for the Raw Women's Championship, Kalisto vs. Enzo Amore for the Cruiserweight Championship, Asuka vs. Emma, The Demon (Finn Balor) vs. Sister Abigail (Bray Wyatt) and The Shield vs. Miz, Strowman, Cesaro, Sheamus that could become five later. They didn't mention Alexander/Swann vs. Kendrick/Gallagher that was announced earlier.
Analysis: It's probably the worst PPV lineup of the year on paper. Not a good sign for the Raw brand.
The Miz was shown walking backstage looking for Curtis Axel and then there was a shot of Curtis Axel hanging upside down by a forklift. Miz asked referees who did this even though they had cameramen right there that filmed Axel walking up to The Shield before the break.
There was a shot of the steel cage lowering for the main event.
(Commercial)
The "you deserve it" moment sponsored by Payday showed Naomi winning the Smackdown Women's Title over Alexa Bliss at Elimination Chamber back in February.
This week on 205 Live it's Kalisto and Mustafa Ali vs. Enzo Amore and Ariya Daivari as well as Rich Swann vs. Jack Gallagher.
Axel was shown getting looked at by doctors and referees. The Miz was interviewed by Renee Young. Miz said he thinks the world of Curtis Axel, but he was never their fifth man.
Analysis: Good tease for something to happen later in the night.
Braun Strowman made his entrance for the main event. They showed a clip of Braun Strowman slamming Big Show through a steel cage last month from the last time Strowman was in a steel cage. Show has been out after hip surgery since then, but that surgery was scheduled before that spot.
Roman Reigns made his entrance wearing his Shield gear, which is not much different than his usual gear. Reigns walked down the entrance ramp. The door was locked, so no escape through the door for this match.
The Miz joined the commentary team for this match.
Steel Cage Match: Braun Strowman vs. Roman Reigns
You can win the match by escaping the cage, pinfall or submission. I don't know how many Strowman vs. Reigns matches I've reviewed this year, but let's do at least one more.
Reigns nailed Strowman with some kicks, but he couldn't get Strowman up for a Samoan Drop. Strowman charged, Reigns moved and Strowman hit the turnbuckle. Reigns charged in, Strowman caught him and hit a spinebuster for a two count as the show went to break.
(Commercial)
Back from break, Strowman sent Reigns into the steel cage two times. Reigns broke free a bit, tried a climb, but Strowman stopped him and hit a running body attack that sent Reigns into the cage. Strowman missed a second attack, which led to Strowman crashing into the cage. Reigns slowly picked up Strowman for a Samoan Drop that got a two count. Reigns climbed up the cage, but Sheamus and Cesaro showed up to climb the cage. Ambrose and Rollins went up the cage to go after them. The announcers noted that these guys were banned from ringside, which shows how bad that stipulation was. Rollins and Ambrose took care of Sheamus and Cesaro. Reigns got to the top of the cage, he tried to climb down, but Strowman got Reigns back and hit a superplex from the top of the cage. That was an awesome spot. Fans chanted "holy shit" for that. Replay showed that Reigns fell from higher than the top rope, which is a long fall. The two teams went brawling up the ramp. Cesaro tossed Ambrose into the screen. The cameras showed the teams fighting backstage. The Miz showed up and shut a small parking garage door to keep Rollins, Ambrose, Sheamus and Cesaro out of the building.
Back in the ring, Reigns fought out of a powerslam attempt as Miz returned to commentary. Strowman hit a headbutt to knock down Reigns off the top. Reigns tripped up Strowman on the top rope to crotch him up there leading to Strowman getting knocked down. Superman Punch by Reigns and another Superman Punch knocked down Strowman. Reigns charged in, Strowman picked him up and Reigns hit another Superman Punch for a two count. Miz thanked Strowman for kicking out. Reigns set up in the corner, Kane's music started up and Strowman hit a running splash on Reigns in the corner. Reigns came back with a Spear on Strowman. Kane emerged from under the ring in full masked Kane attire. Reigns was stunned by it as the red light filled the arena. Kane hit two Chokeslams on Reigns as the announcers freaked out wondering why Kane was there. Strowman picked up Reigns and hit a Running Powerslam. Kane picked up Reigns and hit a Tombstone Piledriver. Most of the crowd cheered that. Strowman let out a big yell. Strowman gave Reigns another Running Powerslam leading to the pinfall win after 18 minutes.
Winner by pinfall: Braun Strowman
The win by Strowman means the TLC main event will be a 3 on 5 match.
Analysis: *** It was the usual fun match between these two guys that know eachother so well. I really liked the suplex spot off the top of the cage. Kane's interference was a big surprise because he hasn't been around all year. Doing the spot with Kane coming up from under the ring drew a big response. Cheap ending to the match protects Reigns heavily by having him lose only after taking several finishing moves. He's not hurt by this loss at all, yet Strowman can say he beat him.
The Miz was shown on top of a ladder by the entrance saying that in case that wasn't clear enough, the fifth member of his team will be Kane. That means it is Reigns, Rollins and Ambrose vs. Strowman, Miz, Kane, Sheamus and Cesaro in a TLC match. Raw ended with Kane's music and the red light shining in the ring with Kane standing beside Strowman over a fallen Reigns in the ring. That's how Raw ended.
Vote Kane!
Analysis: The storyline explanation for Kane's appearance could be that Reigns bragged about beating Kane's brother The Undertaker at WrestleMania a lot, so Kane was pissed off about it. It's not like WWE must explain it that way because it's Kane, who is a character that has turned face and heel over 20 times in his career, but that's an explanation that would work.
The reality explanation for Kane's return is that he was off TV all year because he's running for mayor of Knox County, Tennessee and has concentrated on that since the election is next spring. I thought Samoa Joe was going to be in that spot since he's likely back in action very soon, but they went with Kane instead.
In case you're wondering, I'm picking The Shield to win at TLC on Sunday. I'll get into that more in the preview next week.
Kane is 50 years old by the way. I look forward to the guys he's against at the PPV calling him old! Oh wait, that's only in the women's feud. I forgot WWE's writing logic.
Three Stars of the Show
1. Seth Rollins and Dean Ambrose
2. Sheamus and Cesaro
3. (tie) Braun Strowman
3. (tie) Roman Reigns
The Scoreboard
6.5 out of 10
Last week: 5.5
2017 Average: 5.85
Average since brand split starting July 25/16: 5.86 (Smackdown is 6.61)
Last 5 Weeks: 5.5, 4.5, 5, 5, 6
2017 High: 8 (April 3)
2017 Low: 4 (Jan. 9, Feb. 27 & June 12)
Final Thoughts
I give it a 6.5 out of 10.
I thought Raw was pretty good. That's my highest score since September 4, so that means it was the best Raw in over a month.
The build to the main event match at TLC was good. They built to the big announcement to end the night very well. I liked the two main matches in the Steel Cage match and the Tag Team Title match.
Some of the midcard angles fell flat mainly the Balor/Wyatt thing that is so cheesy.
Good crowd for this show too. Nice job Portland getting into it. That always helps the quality of show.
PLUS: #TheDemon@FinnBalor and #SisterAbigail will finally clash THIS SUNDAY at #WWETLC! #RAWpic.twitter.com/v5RRMSfa1q

— WWE (@WWE) October 17, 2017
The next WWE Raw brand PPV is TLC on this Sunday, October 22. Here's what we know.
Tables, Ladders & Chairs Match: The Shield (Roman Reigns, Seth Rollins & Dean Ambrose) vs. Braun Strowman, The Miz, Kane, Sheamus & Cesaro
Raw Women's Championship: Alexa Bliss vs. Mickie James
The Demon (Finn Balor) vs. Sister Abigail (Bray Wyatt)
Asuka vs. Emma
Cruiserweight Championship: Kalisto vs. Enzo Amore
Cedric Alexander & Rich Swann vs. Brian Kendrick & Jack Gallagher
Alicia Fox vs. Sasha Banks (Kickoff Show)
—
That's all for this week. See ya next time for the Smackdown review.
You can contact me using any of the methods below. Thanks for reading.
John Canton
Email: mrjohncanton@gmail.com
Twitter: @johnreport
Personal Facebook and TJRWrestling on Facebook