The Undertaker Congratulates Matt Hardy On 30 Years In Pro Wrestling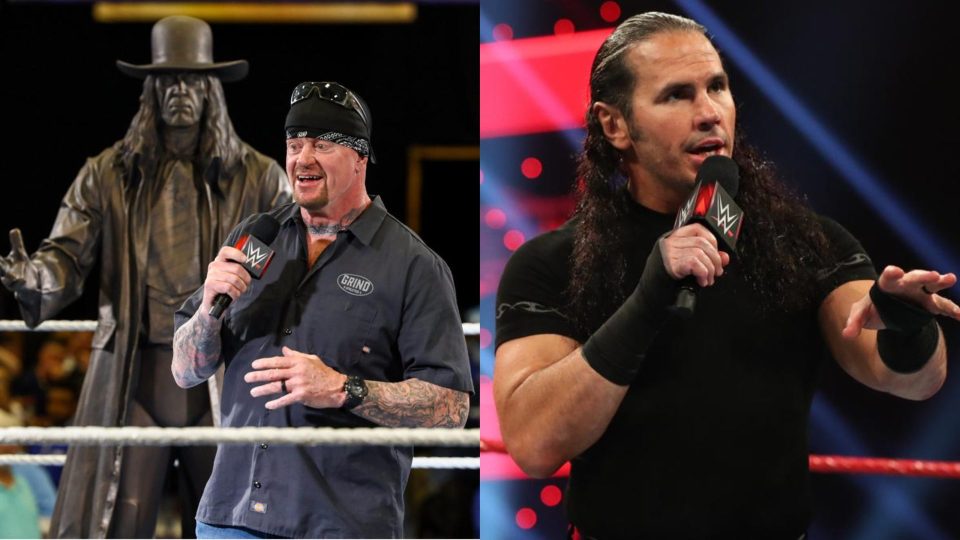 Longevity in pro wrestling isn't easy, but two guys that had long careers at a high level are The Undertaker and Matt Hardy, which has to the Deadman congratulating Hardy on 30 years in pro wrestling.
Matt Hardy recently celebrated 30 years as a pro wrestler. The 48-year-old started wrestling when he was just 18 years old and he, along with younger brother Jeff, formed one of the greatest tag teams ever – The Hardy Boys (Boyz in WWE).
As a team, The Hardy brothers are 12-time Tag Team Champions counting their wins in WWE (that includes WCW), TNA/Impact and ROH. As a singles wrestler, Matt was the TNA World Champion twice, he won multiple singles titles in WWE including the ECW and United States Championships along with many other accolades over the course of 30 years.
During a recent episode of The Extreme Life of Matt Hardy podcast with Jon Alba, the man once known for Mattitude was greeted by congratulatory messages from family and friends that he encountered in his career as a pro wrestler. That included The Undertaker, who shared this message:
"Hey, Matt, it's Take. Man, I just want to reach out and say congratulations. 30 years is quite the accomplishment, man. Just really amazing! I remember when you and your brother first came in back in the day, a couple of teenagers, and now here you are, 30 years later. 30 years in any business is an accomplishment but to stay relevant in the industry is a really huge accomplishment."
The Undertaker and Hardy were full-time members of the WWE roster for a long time from when Matt signed a full-time deal in 1998 to until Matt's departure in 2010. When Matt worked for WWE again from 2017 to 2020, The Undertaker was still an active wrestler that ended up retiring after his 30-year run in WWE.
The message from The Undertaker ended with the Hall of Famer telling Matt he's a long way from being done since Matt is currently an active wrestler for AEW.
"And I just want to reach out and say congratulations; job well done. You're a long way from being done. So, anyway, buddy, I hope you're doing well, and again, just from the bottom of my heart, congratulations on an amazing 30 years. Take care, see you soon."
TJRWrestling also wants to congratulate Matt on 30 years as a pro wrestler. Thank you for the entertainment over the last three decades. We wish you good health and happiness moving forward.