Canton's Corner: Reacting To WWE Releasing Karrion Kross, Keith Lee, More
Here we go again. On Thursday, November 4, World Wrestling Entertainment decided to release 18 wrestlers from their contracts. Some of them were on the main roster, others were in NXT and others were not even on TV yet.
I don't like to make things personal, but yesterday was also my birthday. I was out with some friends for some dinner and drinks when I noticed a bunch of messages coming in. I like to put my phone down during dinner so that I'm not rude to the people I am with. However, my phone was on my vibrate, so I kept getting these messages and I had to peak. A friend texted me about WWE releasing so many wrestlers and I had to check the names. Keith Lee? WTF. Karrion Kross? Geez. Eva Marie? Well, now you've gone too far! Okay, so maybe that last part is sarcasm, but still, I was shocked by some of the releases in general.
It is really sad that WWE has released over 70 wrestlers in 2021 along with many more in 2020. Here's a tweet from Denise Salcedo about it.
The 2020 and 2021 list of WWE Releases.

Some talent have been signed elsewhere, but many of these have not.

#wwereleasespic.twitter.com/bgA2UwfaF3

— Denise Salcedo (@_denisesalcedo) November 5, 2021
There are a lot of ways to look at it because quite frankly, a lot of names listed above were barely on TV or had a minimal impact in WWE. Some people might say who cares if the majority of them are gone since they had such little impact. The reality is that WWE is posting record profits this year just like last year because of their ridiculously large TV contracts. They can say "budget cuts" as a reason to the talent, but the wrestlers know that is bullshit just like the fans know it is bullshit. The main reason that those wrestlers were cut is because the creative team had nothing for them. However, WWE won't say that to the wrestlers because then it's admitting fault.
There's a lot of negativity out there about WWE any time there are releases. However, I don't think the current WWE product is terrible or anything like that. The last WWE PPV Crown Jewel was outstanding. This past week's Raw was a very good wrestling show from top to bottom because it was less about goofy shit about more about letting the wrestlers get in the ring to have meaningful matches. Raw has improved in the two months since Big E has been WWE Champion and I hope it stays that way. As for Smackdown, it is usually a very good show although not every week. The NXT 2.0 brand is different than anything else because it features a lot of young talent like Bronn Breaker, who has been a wrestler for less than a year and they are trying to develop different characters at the same time. It's not fair to compare it to others shows, but it's also not going to have as big of an audience as Raw or Smackdown.
WWE Releases From November 4
Here's the full listing of the November 4 WWE releases that we covered in a news post here. I'll offer some thoughts starting with the talent that was on Raw/Smackdown and then the superstars that were on NXT or not even on television.
Keith Lee – This is one of the most surprising WWE releases in the last year or two. Lee is such a talented big guy that has good matches with everybody, he looks like a star and works hard. What probably hurt him in Vince McMahon's eyes is that he doesn't have a big, larger-than-life personality. Lee is going to be 37 years old on November 8, so maybe WWE felt like he was too old to invest in at this point, but I don't agree with that thinking. Whether it's AEW, NJPW, Impact Wrestling or somewhere else, I think Keith will have no problem finding the motivation to do great work wherever he lands next. One month ago, Lee was the sixth wrestler drafted to Raw in part one of the draft, which gave me optimism that he would get a push. What really changed in a month? I don't know. I think WWE is going to regret this move.
Karrion Kross – Just like Lee, I'm surprised by this move. Kross was a two-time NXT Champion while Lee also held that title and when both guys got called up to the main roster, most of us assumed they would be on the fast track to a push. When Kross had his first match on Raw, he lost to Jeff Hardy because Jeff cheated (even though he's a face), and that was a terrible start for Kross. As an in-ring performer, I don't think Kross is as good as WWE's best guys. However, as a character, he looked intimidating like a guy straight out of the movies and that's something that you think would help him have a big impact. Nope. He's gone now at 36 years old.
Nia Jax – The former Raw Women's Tag Team Champion and Women's Tag Team Champion Nia Jax is also out of WWE. There's a report from the New York Post noting that one of the reasons Jax may have been released is because she is unvaccinated. It's probably not the only reason, but WWE tours all around the world and some buildings even in the US have restrictions on people who aren't vaccinated. There may be others that are unvaccinated as well. Anyway, in Jax's case, I think at 37 years old maybe WWE felt like she's gone as far as she can go and that they don't want to push her again especially since she's had incidents of hurting other wrestlers in the ring. I don't think she'll be missed by fans that much.
Eva Marie – When WWE brought her back earlier this year, my main question was a simple one: Why? I sarcastically put her over all the time, but I didn't think she added anything to the shows. In her first run in WWE, she was more willing to take bumps. It seemed like she just didn't want to have a real match during this run. I doubt most people will notice she is gone.
Mia Yim – I found it very strange that WWE didn't utilize Mia Yim. She is engaged to Keith Lee and she's got a lot of experience in pro wrestling. Her run in the Retribution stable wasn't that memorable, then the group disbanded and WWE refused to use her. I don't get it. Just like Keith, I think she'll do well with whatever is next for her.
Lince Dorado – A talented wrestler that just didn't fit in WWE even though they should have utilized Dorado and Metalik better.
Gran Metalik – It is believed that Metalik asked for his release weeks ago, so that has been granted. Like I wrote with Dorado, they just didn't use these guys well.
Scarlett – The lovely Scarlett didn't debut on Raw or Smackdown, but it was close to happening. She is engaged to Karrion Kross and when Kross appeared on Raw without her, people were surprised by that. It seemed like WWE was just waiting to pick the right time to debut her with Kross maybe after a tough loss or something, but it didn't happen. Now they are gone.
B-Fab – The female part of NXT's Hit Row group was B-Fab. She is not an experienced wrestler like the guys in the group, so maybe WWE felt like she was expendable. I feel bad for her because the group was just drafted to Smackdown last month and now she's gone.
Now here's the group that was in NXT or not on television at all recently.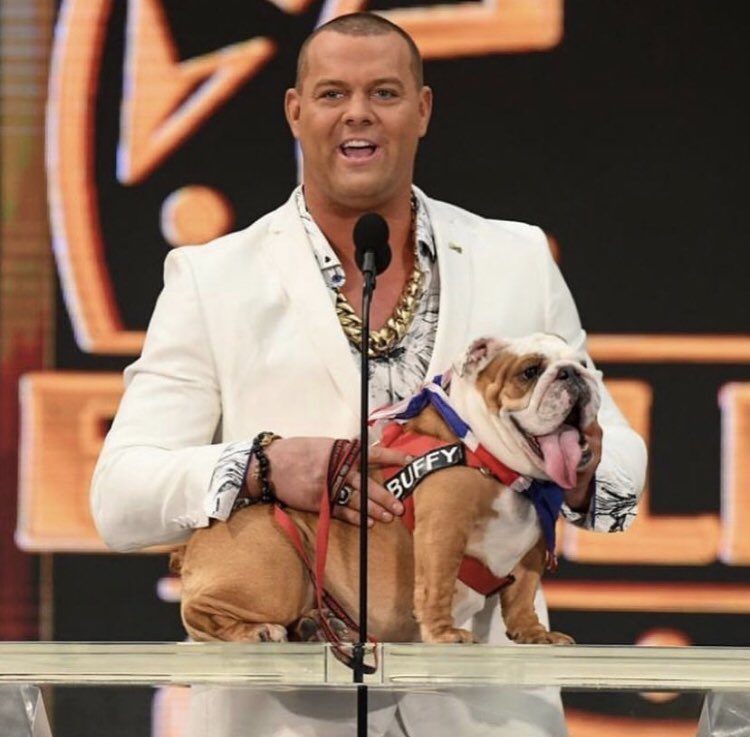 Davey Boy Smith Jr. (Harry Smith) – Earlier this year, Harry Smith did a great job honoring his father at the WWE Hall of Fame induction ceremony. At some point after that, he agreed to a WWE deal, and then the company never put him on TV. Now he's gone. I don't know why. I'm confused by it and disappointed because he's a talented guy that's in the prime of his career.
Franky Monet – The talented Canadian is the wife of John Morrison. At 38 years old, maybe WWE felt she was too old to invest in, but I think that reason is ridiculous if that's why she is gone. They pushed a bit in NXT this year including getting a title shot against Raquel Gonzalez recently, but they really didn't do that much with her. She has a great look, she's an experienced wrestler and is pretty good as an actress, so why give up on her before giving her a fair shot? I don't really get it. I feel bad for her and John, who is poorly booked on Raw as well. She'll go back to using the Taya Valkyrie name and likely land back in Impact Wrestling or maybe AEW will have a spot for her.
Ember Moon – Here's yet another talented women's wrestler. Ember Moon was moved back to NXT after she wasn't doing much on Raw or Smackdown and she came back from a major foot injury. Moon had success in NXT as the NXT Women's Champion and an NXT Tag Team Champion. After the release, she tweeted: "All I can do is laugh." I think she'll be fine with whatever is next, but I also think that she could have been used a lot better. She's very talented as a babyface that can have good matches with anyone.
Oney Lorcan – A veteran midcarder that was mostly in a tag team with Danny Burch for a couple of years. I think he was well-liked by his peers and all that, but did he really stand out from a character standpoint? No. He also didn't get the chance to show much. I'm sure Oney will do fine on the indies and whatever is next for him.
Trey Baxter – He signed with WWE earlier in the year and now he's back to being Blake Christian with bookings already lined up. I was impressed by him before the NXT 2.0 change, but when the change happened with WWE going against using smaller guys, I was worried about his future. His girlfriend Cora Jade remains signed to the WWE NXT roster.
Jessi Kamea – She was paired with Franky Monet for a few months although the pairing never went that far. She's a taller woman with good athleticism, but maybe WWE felt like she wasn't developing fast enough for her.
Zayda Ramier – I only saw her wrestle a few times in NXT and she is a good athlete. They never gave her a shot.
Katrina Cortez – Same as above, but even less. I don't remember much about her.
Jeet Rama – Another wrestler I don't know much about. I found it a bit shocking that he spent six years in WWE and he's 40 years old. If you don't really break through after that much time, I can understand the release.
That's the full list. I don't know if there will be more releases again before the end of the year or what the plan is. I don't know if all of these cuts this year will lead to WWE selling the company to an entity like NBC/Peacock, Fox or Disney within the next few years, but I think that's a possibility. Maybe their plan is to get rid of contracts that they don't want so that they can "trim the fat" so to speak.
Final Thoughts
I don't hate WWE for releasing wrestlers. Some of you might. That's okay. What I worry about at times is the morale of the talent after seeing so many of their friends being released this year. A lot of them are talented people, they work hard and really did nothing wrong to be released except the creative team had nothing for them.
To everybody that got released, I hope they kick ass with whatever is next. Support the wrestlers whether they're on our TV screens or at a local independent show. Being a professional wrestler isn't easy and all of WWE's cuts, as well as Ring of Honor releasing their entire roster, is an example of that. Best wishes to all of the wrestlers released. Use it as motivation and keep kicking ass.
—–
My contact info is below.
John Canton
Email mrjohncanton@gmail.com
Twitter @johnreport