Top 10 Wrestling Stories of the Year 2021: CM Punk to AEW, Many WWE Releases, More
Welcome back TJR readers! Did you spend all year waiting for things to get back to "normal" and missed every show on WWE. Perhaps you were too busy looking for a new job to watch any AEW.
Worry not for I have returned with another edition of The Top Ten Wrestling Stories of the Year in 2021.
10. ROH Goes on Hiatus
The year 2021 was tough for many wrestlers, and unfortunately for anyone who was under contract by ROH, it was especially tough. This past October, ROH announced that they are going on a hiatus for the start of 2022 to "reimagine" the company. ROH released all of their contracted wrestlers and held their last PPV titled "Final Battle" earlier this month. ROH has been around for almost 20 years, with such stars as CM Punk, Bryan Danielson, Kevin Owens, Samoa Joe and Seth Rollins holding their World Championship. We will all have to see what the reimagined ROH looks like, but I personally hope it doesn't include a psychedelic color palette. (TJRWrestling)
9. Roman Reigns Dominates WWE
Although 2021 was a bad year for a lot of wrestlers, it was unquestionably a very good year for Roman Reigns. Reigns entered 2021 as the WWE Universal Champion, and will end 2021 still holding the title. During Reigns' impressive 480+ day reign he has beaten everyone he has faced, including such names as Kevin Owens, Edge, Finn Bálor, Brock Lesnar and John Cena. Reigns will try to continue his dominance on January 1st at Day 1 when he faces Lesnar once again. No matter what happens on January 1st, Reigns is undoubtedly the biggest star out of the 34 wrestlers that WWE still has on their roster. (TJRWrestling)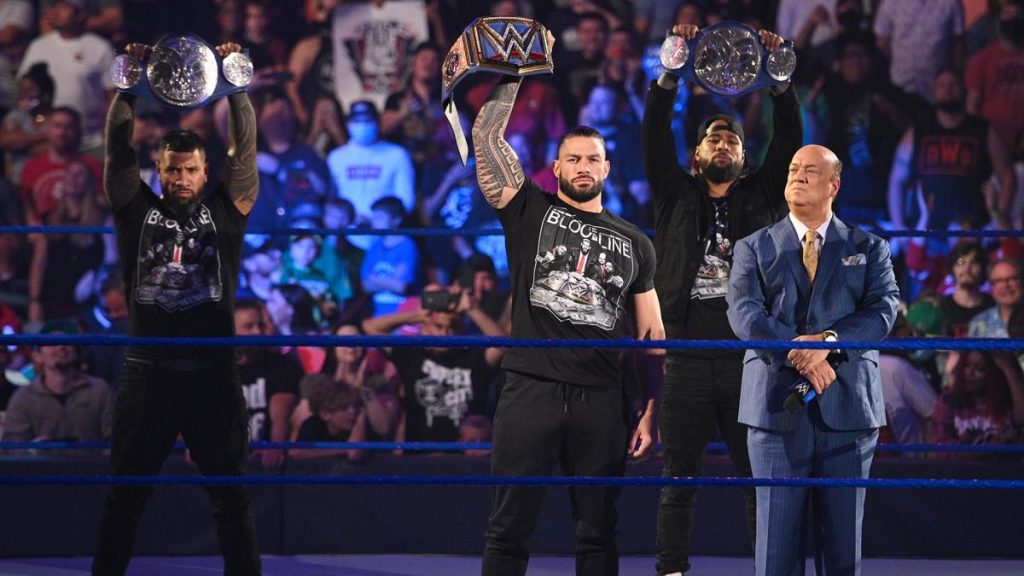 8. Big E Wins the WWE Championship
There are few things more exciting to wrestling fans than seeing someone they have followed for years finally make it to the top of the mountain. That is exactly what happened this past September when Big E cashed in the Money in the Bank briefcase on Bobby Lashley to become the WWE World Champion. Big E has been a fan favorite in WWE for almost ten years, holding multiple other championships throughout his tenure. With 2021 coming to an end, Big E is still the WWE Champion as of this writing. We will have to wait and see if any wrestlers can break through in 2022 and have a New Day in the WWE. (TJRWrestling)
7. Fans Return To Wrestling Shows
When 2021 began WWE was in the heart of the ThunderDome Era. Although better than no fans at all, screens surrounding the ring with virtual fans were still not the same. So when fans were finally able to return this past July, it was a welcome addition. Now instead of seeing fans watch the show on a screen, we can watch fans look at their phone screens while not watching the show. (TJRWrestling)
6. NXT Gets a Revamp
NXT as we knew it ended this past September. Gone were the traditional black and gold colors, being replaced with a new psychedelic color scheme. Also gone was a lot of the older NXT talent like Bronson Reed and Bobby Fish, being replaced with young talents like Bron Breakker and Grayson Waller. These changes have not been met with positivity by the majority of fans, who preferred the original NXT better. We will have to wait and see if NXT 2.0 can find its stride in 2022, and if the 80 new wrestlers they introduced can get over with the traditional NXT fan base. (TJRWrestling)
5. Becky Lynch Returns at SummerSlam
We ended 2020 with Becky Lynch giving birth to her and Seth Rollins' first child (a daughter named Roux), after being away from WWE since May of that year. So when Lynch made her surprise return after a fifteen-month hiatus to defeat Bianca Belair for the Smackdown Women's Championship in less then 30 seconds at SummerSlam, it was a huge moment. Since then the newly heel Lynch has been on a roll, and is the current Raw Women's Champion (Lynch and Charlotte Flair exchanged the two Women's titles after the WWE Draft). Lynch's return truly has been remarkable, as having a child hasn't appeared to ruin her life. (TJRWrestling)
4. Bryan Danielson Debuts for AEW
While WWE seemingly spent all of 2021 trimming their roster while AEW spent the year adding to their roster. Such big names including Christian Cage, Ruby Soho, Malakai Black and Adam Cole all left WWE for AEW this year. Perhaps the biggest acquisition for AEW happened this past September however, when Bryan Danielson debuted. Since debuting with AEW Danielson has won every match he has entered, besides for a 30-min time limit draw against Kenny Omega and a 60-min time limit draw against Adam Page. Both the match with Omega and the one with Page were given 5-star ratings by both Dave Meltzer and John Canton. Danielson will be starting off 2022 by once again facing Page for the AEW World Championship once, when AEW Dynamite debuts on TBS on January 5th. That match will likely have a great chance of being the first of 133 AEW matches that Dave Melzer gives 5 stars in 2022. (TJRWrestling)
.@WWEDanielBryan is here in #AEW!#AEWAllOutpic.twitter.com/oLBH975GP4

— All Elite Wrestling (@AEW) September 6, 2021
3. WWE Network Moves to Peacock
This year we saw a lot of changes for wrestling fans, including where they would be watching some of the biggest shows of the year. Starting this past March, WWE officially shut down the WWE Network for US residents. WWE instead sold the exclusive rights to their content to NBC Universal for more than $1 billion, who now is streaming it on their Peacock App. WWE reportedly made the deal so they can not focus on the streaming wars and on making compelling content instead, which they hope to start doing at some point in 2022. (TJRWrestling)
2. WWE Releases
In August of 2020, Nick Khan was named President and CFO of the WWE. When this news was announced, no one could have predicted the huge impact it would have on the wrestling business in 2021. Since January of this year WWE has released over 80 superstars, including such names as Braun Strowman, Bray Wyatt, Mickie James, Jeff Hardy, Aleister Black, Keith Lee and Karrion Kross. Budget cuts were the reason given to the talent for their releases, even though WWE had one of its most profitable years ever. Several of the superstars cut had just recently signed large multiple-year contracts, making them feel like they really got Khanned. (TJRWrestling)
Dear @VinceMcMahon Im not sure if you're aware, I did receive my @WWE care package today. Thank you. #AlwaysBlessedandGrateful#WomensWrestlingMatters 💋 pic.twitter.com/PyDC7ZC9lG

— Mickie James~Aldis (@MickieJames) April 22, 2021
1. CM Punk Debuts for AEW
Since 2014, one of the biggest questions that wrestling fans have been asking is when and if CM Punk will return to the ring. On August 20th in Chicago, Illinois, that question was finally answered. Punk appeared on AEW Rampage to one of the biggest pops in the history of wrestling. Since then, Punk is undefeated in AEW, winning nine matches in total. Now that perhaps the biggest question in the wrestling world has been answered, the biggest mystery for 2022 may be which question wrestling fans will now ask John Canton 80 times a day. (TJRWrestling)
That will conclude another edition of The Top Ten Wrestling Stories of the Year. Thank you for taking the time to read this each week. Although I often joke, I have recently started refereeing with NYCW and respect more than ever what wrestlers do every week. I wrote an article all about it all right here. If you like what I do, despite my jokes being almost as bad as when you realize that 2022 is pronounced 2020 two, then feel free to listen to my brand new podcast The Smark and the Noob and follow me on Twitter @Fowlerwrestlin1 as well.