The Top Ten Wrestling Stories of the Week 7/9: Malakai Black Debuts in AEW, Jimmy Uso Arrested, Zelina Vega Returns to WWE, More
Welcome back TJR readers! Did you spend all day Friday stocking up on fireworks and hot dogs, and missed Smackdown? Perhaps you were trying to figure out who to call with your one phone call, and missed Raw. Worry not, for I have returned with another edition of the Top Ten Wrestling Stories of the Week.
10. Smackdown to Take Place at Rolling Loud Miami Festival
The West Texas Rednecks would not be happy with the news this week. This week it was announced that the July 23rd episode of Smackdown would be held in both the Rocket Mortgage Field house in Cleveland and the Rolling Loud Miami music festival. Rolling Loud will feature 130 of the hottest acts in Hip Hop performing in the Hard Rock Stadium in Miami Florida. So now all the young kids will get to watch some wrestling while listening to all the new hip acts like Postey Marone and R$VP. (TJRWrestling)
9. Monday Night Raw Draws Lowest Viewership in Show History
Long-time readers of this column know how I feel about television ratings (they are stupid.) However anytime a show pulls its lowest viewership ever, it is not a good thing. That is exactly what happened to Monday Night Raw this week, when only 1.472 million viewers watched the episode live according to Nielsen. The previous lowest viewed episode was way back on December 14th, 2020, when 1.526 million people watched. Clearly, this is not good news for WWE or the USA Network, which is paying over a billion dollars for the rights to Raw for over a five year deal. WWE will try to turn these numbers around, but if they can't I would personally like the million dollars that USA is paying for me to watch every week.
RAW: 1.47 million

— Bryan Alvarez (@bryanalvarez) July 7, 2021
(Note from John Canton: It was also after a big holiday and Raw still was number one on cable in the night. Just saying.)
WWE Raw on USA Network this Monday drew a 1.09 rating and 0.41 in the key 18-49 demo. It was no. 1 on cable that night. Viewership dipped to 1.373 million in the third hour. More at https://t.co/b30cDz6YY1 later.

— Pro Wrestling Torch (@PWTorch) July 7, 2021
8. Karrion Kross to Defend NXT Championship Johnny Gargano Next Week on NXT
A huge title match is now scheduled to take place this week on NXT. This past Tuesday, NXT GM William Regal and enforcer Samoa Joe oversaw a face-off between Karrion Kross and Johnny Gargano. During the face-off, Regal announced that this week on NXT Kross will defend the NXT World Championship against Gargano. To make things even more interesting, Joe will be the special guest referee for the match. This will be Joe's first time involved in a match since suffering a head injury in February of 2020. Since being injured, Joe has been an announcer, an enforcer and now a referee. With all of these recent career changes, Jimmy Uso should ask if Joe is interested in being a chauffeur as well. (TJRWrestling)

7. Kevin Owens Qualifies for Money in the Bank
Kevin Owens and Sami Zayn continued their longtime feud this week on Smackdown. Owens was able to defeat Zayn in a fantastic Last Man Standing match to qualify for the Men's Money in the Bank match on July 18th. With the win, Owens will join Ricochet, John Morrison, Riddle, Big E and Drew McIntyre in the match. Cesaro will face Seth Rollins and King Nakamura will face Baron Corbin in the last two qualifying matches this week on Smackdown. The winner of The Money in the Bank Match will, of course, get to challenge any champion at any time, and hope not to lose their best friend, beard and girlfriend while doing it. (TJRWrestling)
6. Bianca Belair to Face Bayley in an "I Quit" Match at Money in the Bank
Bayley is hoping that the third time truly is the charm. Last week on Smackdown, WWE Smackdown Women's Champion Bianca Belair challenged Bayley to an "I Quit" Match at Money in the Bank on July 18th. Belair has already defeated Bayley at both WrestleMania Backlash and inside of Hell in a Cell last month. It is unclear at this time what Bayley has done to earn another shot at the title. What is clear is that if WWE continues to do so many rematches, a lot of fans are going to be screaming "I Quit." (TJRWrestling)
5. Fyter Fest to Take Place This Wednesday on AEW Dynamite
Next week promises to be a fun week for wrestling fans. Besides the already talked about NXT World Title match and Money in the Bank, AEW will be holding night one of Fyter Fest on Dynamite. Multiple big matches have already been announced including Brian Cage defending the FTW title against Ricky Starks. Matt Hardy and Christian Cage will once again face off. Penelope Ford will go against Yuka Sakazaki. Ethan Page and Darby Allen will face off in a Casket Match. And finally Jon Moxley will defend his IWGP United States Title against Karl Anderson. With all this exciting wrestling action in one week, it truly is a good thing that Raw exists so fans can take a nap. (TJRWrestling)
the @njpwglobal United States Championship has been challenged by #BulletClub Original @MachineGunKA challenges the champion @JonMoxley for a championship match next week at #FyterFest Night 1

Watch #AEWDynamite NOW – @tntdramapic.twitter.com/HVGSo4Dmry

— All Elite Wrestling (@AEW) July 8, 2021
4. Tegan Nox Returns to Cost Indi Hartwell and Candice LeRae the NXT Women's Tag Team Championships
New Women's Tag Team Champions were crowned this week on NXT. For several weeks, there have been teaser vignettes of a battery charging up on NXT. During NXT this week that battery reached full charge, revealing a returning Tegan Nox. Nox came out and distracted Candice LeRae and Indi Hartwell, costing them to lose the NXT Women's Tag Team Titles to Io Shirai and Zoey Stark. Nox has been out of action since September with a torn ACL. Nox will now hope to lead the Charge and be a Positive for NXT, but was obviously a Negative for LeRae and Hartwell this week. (TJRWrestling)
3. Zelina Vega Returns on Smackdown
Big E may not be able to continue his feud with Aleister Black, but he can now start one with his wife. Last week on Smackdown, Zelina Vega made her surprise return. Vega announced that she was a participant in the Women's Money in the Bank Match. Vega was then interrupted by Liv Morgan, who ended up beating Vega in a impromptu match. Vega was released late last year over issues with WWE's new third party edict. Vega then memorably tweeted support of a professional wrestling union after her release. Vega has since deleted that Tweet, showing that enough Money in the Bank will make anybody change their morals. (TJRWrestling)
2. Jimmy Uso Arrested Again for DUI
Jimmy Uso's chances of ever sitting at the head of WWE's table took a serious hit this week. This past Monday, Uso was pulled over by the Pensacola police department for speeding and running a red light. When officers approached the vehicle, they smelled alcohol on Uso's breath. Uso then reportedly admitted to the officers that he consumed "multiple beers" before getting behind the wheel. Uso then failed a field sobriety test and was arrested on misdemeanor DUI after blowing a .205 on the breathalyzer. This is actually the second time that Uso has been arrested for a DUI in the last two years, although Uso was found not guilty on the previous charge. Uso is currently a part of the top storyline on Smackdown with his brother Jey and cousin Roman Reigns. We shall have to wait and see if this affects Jimmy's push, as well as where it will rank him on the stupidest criminals in Florida list this week. (TJRWrestling)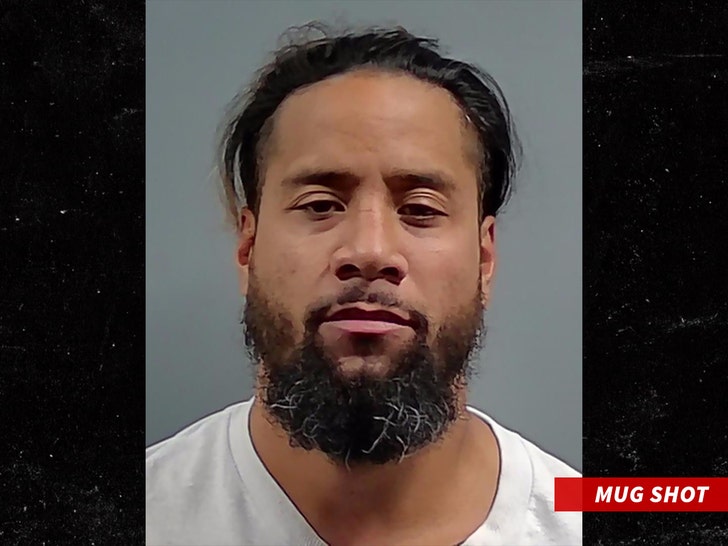 1. Malakai Black Debuts for AEW
AEW added another huge addition to their roster this week. During the opening match between Cody Rhodes and QT Marshall the lights suddenly went out. Later on in the evening, when Tony Schiavone was interviewing Arn Anderson, the lights suddenly went out in the arena again. This time when the lights came back on, Aleister Black appeared in the ring. Black quickly dropped Anderson with a Black Mass, and then did the same to Rhodes when he came down to check on Anderson. Black will now be going as Malakai Black in AEW. Black was released last month due to budget cuts, and due to a clerical error by WWE only had a 30-day no-compete clause instead of the standard 90 days. This meant that Tony Khan only had to wait 30 days and for his father to fall asleep so he could steal his checkbook before signing Black. (TJRWrestling)
That will conclude another edition of The Top Ten Wrestling Stories of the Week. Thank you for taking the time to read this each week. I will be back next week with even more bad jokes! If you like what I do, despite my jokes being as bad as Jimmy Uso's driving record, then feel free to listen to my brand new podcast The Smark And The Noob and follow me on Twitter @Fowlerwrestlin1.