TNA Impact Wrestling Review 04/24/15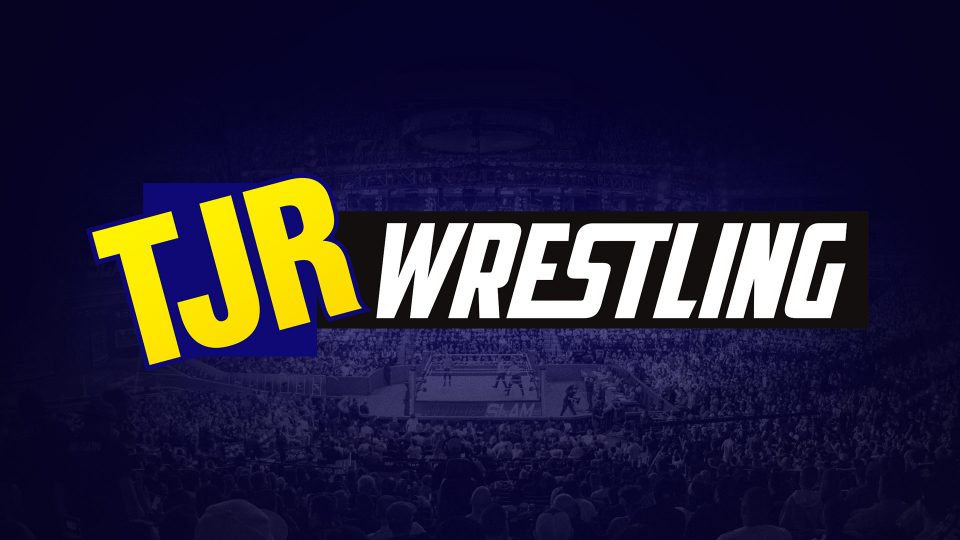 Welcome to a special edition of Impact Wrestling, and the Impact Wrestling Report here on TJRWrestling. Tonight's show is dedicated to the Knockouts, as we'll have a Knockouts Title Main Event, a 4 way match to determine the next #1 contender and the debut of some new knockouts as well. In between all of that, Eric Young will also finally get his one on one World Title Shot against Kurt Angle. So let's get started.
We have a video package that showcases everything that I described above, and then we go to ringside and Kurt Angle is on his way to the ring. Josh Matthews is again riding solo for announcing on this show.
Angle wastes no time in calling out Eric Young to the ring. Angle says he wants to know which Eric Young he's facing tonight, the lunatic, or the old EY that everyone loves and has actually won the TNA World Title. EY recaps his actions from last week and how Angle has stopped the lunatic from coming out, even though it was out of control ever since he lost the World Title. EY says that Angle will face the best Eric Young tonight, he'll face the real Eric Young. They shake hands as Austin Aries' music hits.
Aries comes to the ring and says that the real Eric Young is the EY that took out his best friend and cost him the World Title. Aries talks about the briefcase he possesses for a shot at the World Title, and he notifies Angle and EY that plans have changed tonight. EY is going to have to wait, and take his "crazy" to the back, because tonight, the World Title Match is actually going to be Austin Aries cashing in his briefcase and he will be taking on Kurt Angle! EY argues with Angle about this, and Aries tells Angle to focus on him, go to the back and get mentally prepared for an epic World Title match tonight.
My Take: Wow! Did not see that coming. I like the fact that Aries is upfront with when he's cashing in. That's a good babyface move there. This also helps EY and his psycho personality, because clearly he was not going to turn back from his heel turn even though that's what they were teasing in the promo here. This gives EY more ammunition, and I'm fairly certain we haven't seen the last of him tonight. I just hope they give Aries a legit title shot and he doesn't just waste his opportunity.
4 Corners #1 Contenders Knockouts Match: Gail Kim vs. Angelina Love vs. Brooke vs. Madison Rayne
All four women make their way out, which gives me the opportunity to say we still miss you Velvet Sky. Madison bum rushes Brooke as she makes her entrance, and all four women end up brawling on the outside as we go to our first commercial break.
We return and all women are back in the ring. Angelina and Madison send Brooke to the outside, and Gail takes on both women 1 on 2 inside the ring. Madison and Angelina double team Gail, while they keep Brooke on the outside. Madison gets the first two count of the match after a Northern Lights Suplex onto Gail. Madison then kicks Angelina when she's not looking and that effectively ends the teamwork. Gail goes after Madison, but Brooke intercepts Gail with a Pounce-like Spear on Gail that sends her hard into the ropes. Brooke now fires up on both Madison and Angelina, hitting Angelina with a flapjack. Gail then comes back and puts Madison in a really cool headscissors submission. Angelina then hooks Gail in a submission, followed by Brooke putting Angelina in a submission, and all four women are locked in a human centipede. Cool spot. Madison gets out first and kicks Brooke in the head, but Brooke recovers with a neckbreaker. Brooke goes to the top rope and hits a flying elbow and then Gail hits a front missile dropkick on Angelina. Gail and Brooke face off and knock each other down, all four women down now. Angelina hits a jumping flatliner on Brooke, Gail then hits Angelina with Eat Da Feet, and then Madison hits Gail with her finisher, almost like a cradle DDT. Brooke then gets Madison up for a back suplex but drops her forward, and goes for the cover, 1-2-3, we've got a new #1 Contender.
Winner: New #1 Contender for Knockouts Title: Brooke
My Take: I can't say I saw that decision coming. Brooke has been a former Knockouts Champion before, but she has definitely been on the back burner as of late. Her and Taryn are definitely their best looking Knockouts now, so in that sense, I can see why they'd be giving her a push. Solid match from the four of them though.
We go to a promo from The Rising. It's shot in a yellow screen filter, and the whole video package is really well done. Makes The Rising different from anyone else. All three members talk about how the plan is to take out the BDC and tonight, The Rising has picked Micah to take on a member of The BDC.
We come back from a break and the mystery cameraman has found Eric Young backstage and asks him his thoughts on Austin Aries. EY says that everything was taken away from him tonight, and the cameraman and anyone else couldn't understand what that feels like.
The Rising vs. The BDC
Just for the record, TNA apparently doesn't know how to spell Micah's name, so I'm going with the spelling from his twitter handle. MVP has a mic and says that tonight will be strictly a one on one match. Micah announces he has stepped up for The Rising and MVP makes it seem he will be the BDC representative. But as Micah follows him out the ring, Kenny King attacks from behind and it will actually be King in the match. The bell rings and King continues the attack. Drew Galloway trips the ankle of King from the outside, but Earl Hebner saw him so Hebner has kicked out The Rising. The BDC gets to stay. Both men trade blows with King having the majority of the advantage. Micah hits a huge high angle back suplex to get the advantage, and then hits a Stinger Splash, followed by a Big Ending. MVP distracts the ref as Micah goes to the 2nd rope, but Low Ki grabs his leg so that King can connect with a kick to the head. Micah kicks out at two though. King hits another kick and goes for a Springboard move, but Micah "catches" him in a Samoan Drop and picks up the 1-2-3.
Winner: Micah
I put "catches" in quotations because they did a poor job editing what was surely a botch by Micah on that finish. Not sure if they did it twice or what happened, but it was quite blatant.
The BDC then jump Micah, but Drew and Eli Drake are not far behind. Homicide then shows up with his billy club and lays out all of The Rising with it. The BDC singles out Drew Galloway and Low Ki is looking for revenge on Drew with the metal pipe that Drew used in Europe that busted open Low Ki's ear. Low Ki just hits Drew in the ribs with the pipe though, and The BDC stands tall over The Rising.
We come back from break and Micah and Eli are helping Drew backstage. Drew sees the camera and talks about the issues with the pipe between him and Low Ki. Drew says next week is Hardcore Justice, and next week it's going to be him and Low Ki in a steel pipe on a pole match. Low Ki is going to have to kill Drew to stop him.
We get another vignette for The Dollhouse, and this one says "It's Playtime", which then leads to them making their debut in the arena.
Jade (w/Marti Bell) vs. Laura Dennis
Their entrance is just the two of them holding hands and jumping around like little girls would. When Christy Hemme announces their names, they go from happy to angry and confront Christy about it. They tell her to say it again and say it right. It's The Dollhouse. Christy announces them as such and they go back to happy and jumping around. Laura Dennis is known as Cherry Bomb on the indies. Apparently the fans are familiar with her, as there's a couple Cherry Bomb chants. Jade wrestles as if she's psychotic, goes from happy to flipping out constantly. She hits a gutwrench suplex and a fallaway slam with a lot of punches mixed in. Laura Dennis turns the tables, but Marti Bell apparently didn't learn anything from Drew Galloway, as she trips Laura and also gets kicked out for it. Marti acts as if she's going to the back, but when the ref goes back towards the ring, Marti hits a running knee that sends the ref into the ring post. The ref tells Christy Hemme from the outside that this is a disqualification.
Winner: Laura Dennis by Disqualification
The Dollhouse then flips out on Christy for the announcement. They both sucker punch Christy and then Marti sends Christy into the steel steps, followed by Jade dropkicking Christy against the stairs. Marti then has a jawbreaker according to Josh Matthews, and licks it and then forces it into Christy's mouth as she's out cold.
My Take: That whole segment was just… odd. I don't know what they're going for here.
After a break, we see Kurt Angle who's found Eric Young backstage. Angle tells EY that he's the #1 Contender and that he had nothing to do with Aries cashing in. He tries to tell EY that after he defends the title tonight, EY will get his shot, but EY cuts him off and says he's tired of this, and he doesn't even know if he wants to be here anymore.
Back to the ring and Magnus is there with a microphone. Magnus thanks the fans for their support the last few months. Tonight, however, is about his fiancée and her news about the future of her wrestling career. Mickie comes to the ring with Magnus as Josh Matthews talks about the rumors of her retirement that's been going around. The crowd gives her a big ovation as she grabs the mic. Mickie says she came back to support Magnus during his tough time with Bram, and she is so appreciative of the fans supporting her. She talks about the great women she's wrestled against and being able to hold the title as a woman's champion. Her life has changed, however, and that change is her son Donovan. She talks about how much having a family means to her, so it's time to go home and be a mom. She hopes everyone can understand that, as that's her calling now.
After the crowd chants "Thank You, Mickie", The Revolution's music hits and here comes James Storm. Storm jokes with Mickie and tells her that there's no crying in wrestling. He says that anyone that knows him, knows he loves cold beer, hot women, and fast cars. And when he looks at Mickie, he sees a woman that would rather wear cowboy boots than high heels, a woman who would rather drink wine from a box than a fancy cup. A woman who would stand up for herself, no matter who she has to stand up to. Storm talks about the adrenaline he knows that Mickie gets when her music hits and she comes out to the ring, and that he doesn't want to see her go, and neither do the fans. Magnus interjects and tells Storm that he and Mickie appreciate the kind words, and appreciate the actions of Storm saving Mickie before, but this was a difficult decision for both of them. Storm says he always makes easy decisions. Cause if a decision is difficult, it shouldn't be made. Storm again talks about how no one wants to see her leave and how good she is in the ring and on the stage singing too. Mickie asks Storm not to make this more difficult, but she's at peace with her decision. Storm says he understands everything about a family and how much she loves hers, but these fans love her just as much. Storm isn't asking her to do a full time schedule, he just wants her to do it one more time. He leads the crowd into a "One more match" chant. Mickie finally agrees to one more time and Storm is beyond excited. As he leaves, he pats Magnus on the shoulder, who does not look happy at all.
After the break, Magnus and Mickie are walking backstage and Magnus asks Mickie what that was about. Mickie says she just got caught up in the moment and one more match isn't that big a deal because she loves the business. Magnus says he supports her, and then Davey Richards shows up. He wants to talk to Magnus privately. He warns Magnus about Storm and tells him that Storm is the devil. Don't let Storm deceive him the way he deceived Davey. Magnus thanks him for the words as Davey goes to the ring.
Manik vs. Davey Richards
Tremendous back and forth action to start the match, with Richards finally getting the upper hand with a dropkick that sends Manik outside. Manik hits Davey with a modified hurricanrana and then tries to lock on a cross arm breaker, but Davey gets to the ropes and then both men go to the outside again. We see backstage that Storm is talking to Abyss and Khoya. Manik has the advantage as they go back in the ring, working over Davey's left arm. Manik goes for a springboard move, but Davey manages to kick him in midair and goes back on the attack. He hits Manik with a massive kick to the head, followed by a German Suplex which leads to a two-count. Davey goes to the top rope but misses a double foot stomp. Manik goes for a move, but Davey reverses it into a roll up, which Manik kicks out, but it leads to a toss up kick to the head and then his Creeping Death kick for the pin.
Winner: Davey Richards
As Davey celebrates the win, Abyss and Khoya attack Davey. Abyss goes to chokeslam Davey on the steps, but The Hardys music hits and here comes Matt and Jeff. They take out The Revolution, and then hit Manik with a new double team Twist of Fate, which Josh Matthews calls Check Fate.
Backstage, EC3 is with Tyrus. The mystery cameraman asks EC3 about his big announcement tonight. EC3 says tonight is about talking his #EC32015 campaign. Tonight is the night he announces something very important and specific.
We return to EC3 coming out with Tyrus, who's holding balloons. There's a podium in the ring that says EC3 2015 on it. EC3's announcement is that he's declaring himself the new TNA World Champion. Tyrus holds up a sign that says "EC3 for Champ" as proof. EC3 says that he's beat every TNA Hall of Famer, and he can take TNA forward for the next 8 years. EC3 shows a chart that says Unemployment will go down 79% and unmotivated children and lazy millennials will go down 67% once he becomes champion. There are too many funny one liners to recap here, but EC3 is gold during this promo. After he finishes his statement, Mr. Anderson's music hits.
Mr. Anderson says that EC3 has a hell of a future. He's not referring to being a world champion, but with all the BS that comes out of EC3, he'd be a perfect fit for Washington DC. Anderson says that he should run for president. EC3 and Anthony Wiener. Little Wiener and Anthony Wiener, that's the ticket. Anderson says you don't politic for championships, you bleed, you sweat, you cry for them. Anderson took 11 years to get his first championship. EC3 says he'll show Anderson why he's championship material and goes after Anderson. Anderson knocks down Tyrus and goes for the Mic Check on EC3, but he gets away.
My Take: Awesome segment all the way around. I look forward to more as they are incredible on the mic.
TNA Knockouts Title Match: Taryn Terrell (c) vs. Awesome Kong
We only have 20 minutes left for two title matches, so someone is getting hosed tonight. That's unfortunate. Taryn gets in the ring and says she wants to make this a no disqualification match. Taryn goes right after Kong, but gets tossed aside repeatedly. They go to the outside and Kong does a big swing that sends Taryn into the barricade. Kong grabs a couple of kendo sticks and hits Taryn with them. She goes to powerbomb Taryn on the stairs, but Taryn fights out and stomps Kong's head into the stairs. Kong trips Taryn though and is back in advantage. After Kong misses a splash, Taryn gets a couple shots in and then hits a cross body off the top rope, but only a two-count. The crowd chants for tables and Taryn obliges as she brings one into the ring. Taryn clotheslines Kong with the kendo stick and then sets up the table as The Dollhouse comes out for some reason. Taryn goes to RKO Kong through the table, but Kong blocks it. She puts Taryn on the table and goes for a splash, but The Dollhouse interfere and hit Kong with the kendo sticks. Taryn smiles and all three women team up for a triple power bomb through the table! Taryn goes on top of Kong, and she retains her Knockouts Title.
Winner: Still TNA Knockouts Champion, Taryn Terrell
Taryn grabs a mic and says that everyone said she couldn't beat Kong, but no one will stop her, because if they mess with her, they mess with her friends. This is their house. Taryn poses with the title as Jade and Marti jump around her, and we have a new female stable.
My Take: I definitely did not see that turn coming. Maybe now with Taryn as the ringleader, there will be some more substance to the group.
Aries is backstage and asked by the mystery camera, why did he pick tonight? Aries says he's the one that sets the standard here, and he has to beat Angle one on one tonight. As he goes to the ring, he runs into Eric Young, who's leaving the venue. Aries tells him that he's sorry and will give EY the first shot once he beats Angle.
Back from the last break and there's another mystery camera that sees Magnus who's talking to a camera crew and he asks them to follow Mickie around, with everything going on lately. They agree to follow her.
TNA World Title Match: Kurt Angle (c) vs. Austin Aries
We have 4 minutes left in the show as Aries makes his way out, so this won't be much of a match, if at all. Sure enough, as I type that, Eric Young comes through the crowd and attacks Aries from behind. He hits Aries with the briefcase and sends him outside, which he then follows up with a huge piledriver on the floor. As if that wasn't enough, EY hits a piledriver on top of the steel steps! Wow. That takes a lot trust from Aries. Angle finally comes out and tries to run off EY, but EY attacks Angle and stomps Angle's head into the steps. EY takes off the protective knee brace that Angle wears and then slams a chair on the knee. Angle is bleeding from the shot to the stairs, as EY hooks on the Figure Four Leglock to end the show.
This Week's Wrap-Up
This was certainly an interesting show. I liked it much better than last week's show. The Dollhouse made their presence known in their debut, and even though I'm not sure what to make of them at all, Taryn Terrell being the ringleader and current champion, gives them instant credibility. We're now set for a Brooke vs. Taryn match for the title soon, so it'll be interesting to see if Brooke finds any backup to counter what Taryn has supporting her now.
As I've stated multiple times, James Storm is my favorite character in TNA right now, and so I'm very intrigued to see where this leads between him and Magnus and of course Mickie James. Will Storm dictate what Mickie's last match is going to be? Will he recruit her into The Revolution? There are a lot of routes they can take with that angle, and I'm very much looking forward to it.
The real stars of the show tonight were EC3 and Eric Young. They are clearly 1 and 2 on the Heel roster for TNA right now, and both showed why tonight. EC3 got tremendous heat during his segment, and the closing segment from EY really spotlighted him well. With Slammiversary coming in about six weeks, there are multiple options for who Angle is going to defend the title against at the PPV. Aries did not officially cash in the briefcase, so he still has a title shot.
Next week's theme will be Hardcore Justice and we already know there will be a steel pipe on a pole match with Drew Galloway vs. Low Ki and a six-man Street Fight between The Revolution and The Hardys with Davey Richards. We'll be here to cover it all, in the meantime follow me on Twitter @FriscoKTank, and I'll see you next week. Thanks for reading!