TJR WWE SummerSlam Reviews: 2007 (John Cena vs. Randy Orton)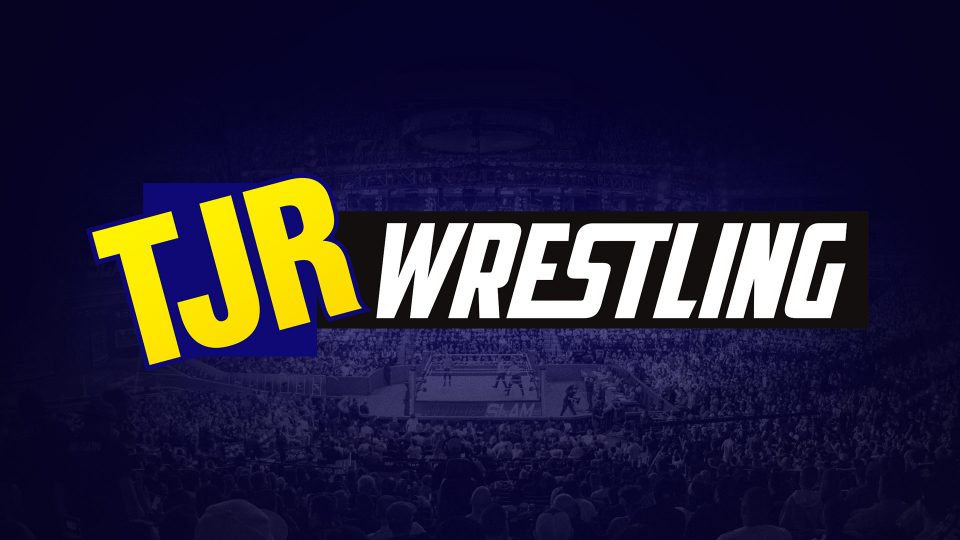 The year 2007 marked the 20th edition of SummerSlam, which made it seem like a big deal. Did it really end up being a big deal? No. It's just a number. This was the second SummerSlam where it featured Raw, Smackdown and ECW meaning there was only one ECW match on the card. This was a difficult period for WWE because of something that happened far away from the ring. I'm talking about the Chris Benoit double homicide and suicide that took place in June 2007.
This was the only time in my 32 years or so of being a WWE fan (I'm 38 in a few months) where I stopped watching regularly. By that I mean I didn't watch every Raw, Smackdown or PPVs live. I watched some here and there, but I didn't always record it either. I would read recaps regularly, though. It wasn't that long of a break. It might have been from around July 2007 to the end of the year and I was back into it again by 2008 leading up to the Rumble in part due to Jericho's return and the Flair retirement angle. It was just harder to be a fan because I liked Benoit so much, I had taught my nephews about the business and they liked Benoit too. Then this whole thing took place and it was hard to look at WWE the same. As time went on, I realized I missed being a fan and I admired the performers so much. What happened with Benoit was awful, but it's also one of those things that hopefully we never have to experience again. I like and respect the performers too much to give up on them.
I don't even remember if I watched this show when it aired. When I looked at the lineup, nothing looked that familiar to me. I didn't write much in 2007 or 2008 because those were busy years in my life and I had other things going on. It was 2009 when I really committed to writing full time.
This event took place at a time when the Mr. McMahon bastard son storyline was a hot topic, so there were a lot of McMahon skits throughout the show.
The show did a good number in terms of PPV buyrates with 537,000 buys, which was just short of the 541,000 buys that SummerSlam 2006 did. It was better than the Royal Rumble, so it was second only to WrestleMania 23, which did a massive 1.188 million buys. Thanks Trump. I'm not a fan of the man, but I'm not kidding when I say WWE probably thanks him for helping generate that huge number. He played a major part of the success of WrestleMania 23.
As a reminder, you can check out all of my SummerSlam reviews here in case you want to know what I think about a particular match whenever you feel like re-watching the shows. Here's SummerSlam 2007.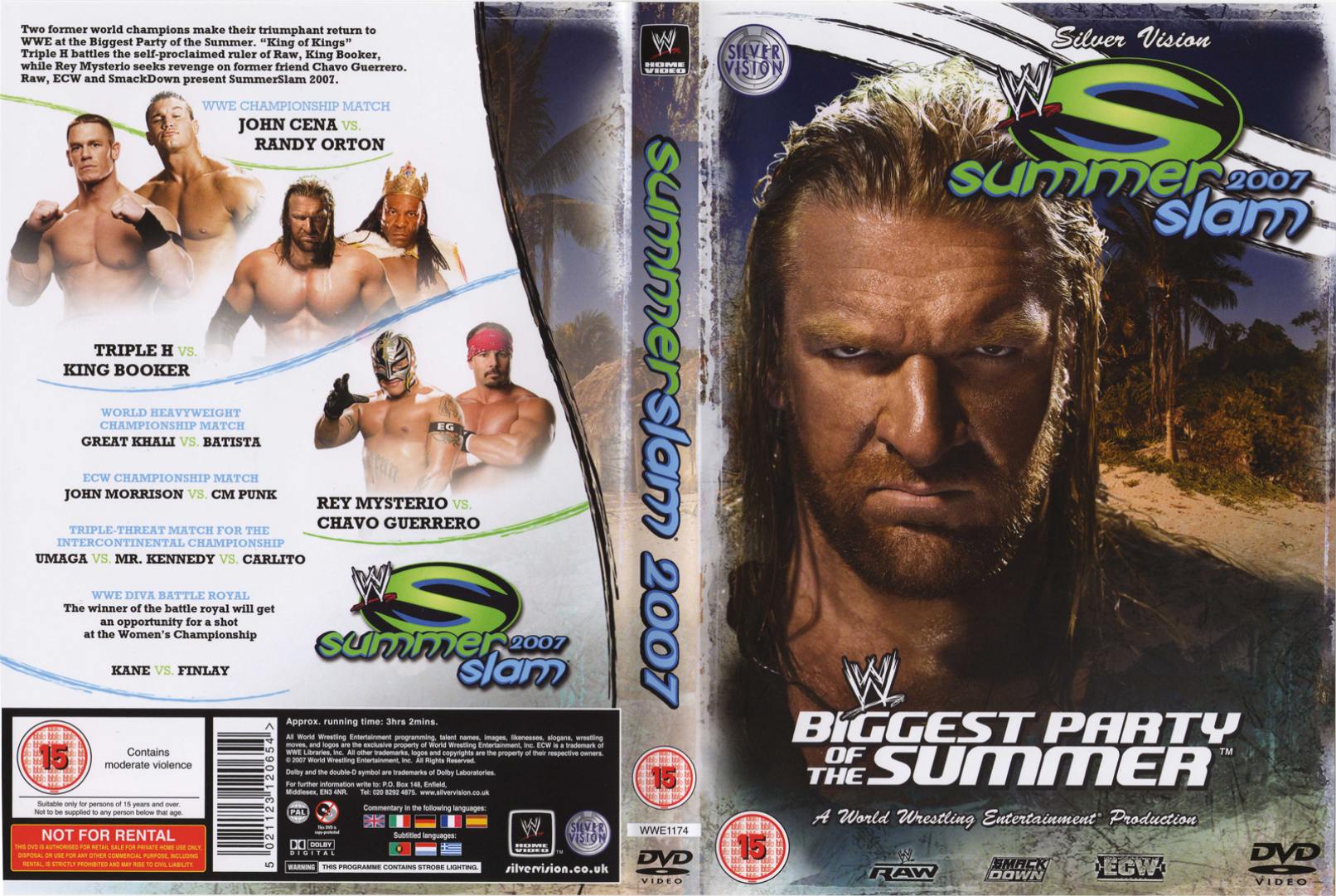 WWE SummerSlam
Continental Airlines Arena in East Rutherford, New Jersey
08/26/07
It began with a TV 14 logo with "V" for Violence. What, no sexual content? Shocking.
The opening video packaged focused on the return of Rey Mysterio, Batista challenging Great Khali for the World Title (oh shit I have to watch a Khali match) and Randy Orton going after John Cena's WWE Title. It also focused on the return of Triple H in a match against Booker T. I'll get into those stories more as the show goes on.
The pyro went off in the arena and it was a sold out crowd. Michael Cole said it was 17,441 fans and they have been sold out since January.
The Smackdown announce team of Michael Cole and John Bradshaw Layfield were at ringside, the Raw announce team of Jim Ross and Lawler were at ringside and the ECW announce team of Joey Styles and Tazz are at ringside to call their one match.
Kane made his entrance with his ribs taped up. Finlay was booed during his entrance.
Kane vs. Finlay
Pre-match notes: Kane was the face looking for revenge after Finlay hit him in the ribs with the shillelagh. Finlay was the heel in the match. This was a Smackdown match.
Kane opened up with punches, a back elbow and an elbow drop. Kane with a body slam. Kane drove his knee into the ribs of Finlay. Kane continued the offense with punches. Finlay got back into it with a kick to the face, but Kane punched Finlay off the middle rope and sent him over the top to the floor. Kane left the ring with a boot to the face. Back in the ring, Kane went up top, Finlay tripped him up and Kane was selling the ribs. Finlay stomped on the ribs of Kane followed by senton splash on the ribs for a two count. Kane with an enziguri kick to the back of the head of Finlay. There was another boot to the face by Kane, two corner clotheslines and Kane hit a one-armed sidewalk slam for two. Kane went up top and connected with the clothesline like he did many times. Kane was selling the rib injury. Finlay avoided an attack, Kane hit the turnbuckle and Finlay hit a running splash to the ribs for two. Finlay left the ring, Hornswoggle popped out from under the ring and he went into the ring. Hornswoggle tried to leave under the ring, but Kane brought him back in the ring. Kane shoved Hornswoggle out of the ring. Kane tried a Chokeslam, the ribs were hurting, so Finlay kicked Kane in the ribs to break free. Finlay with a DDT for two. Finlay exposed the steel turnbuckle, the referee Jimmy Korderas covered it back up, Finlay grabbed the shillelagh and Kane decked him with an uppercut punch. Korderas grabbed the shillelagh, Hornswoggle gave Finlay another shillelagh and Finlay hit Kane in the ribs with it without the ref seeing. That was clever. Finlay got a two count on a rollup. Finlay charged in against the turnbuckle, Kane moved and Finlay hit the turnbuckle hard. Kane hit a Chokeslam for the pinfall win at 8:54.
Winner by pinfall: Kane
Analysis: **1/4 It was a dominant win for Kane with Finlay getting in a decent amount of offense, but I don't think anybody believed that Finlay had a chance of winning other than the shillelagh attack near the end of the match. Kane bored me as a face. He was always better as a heel.
There's a "Biggest Party of the Summer" office with Jonathon Coachman, Teddy Long, Armando Estrada and William Regal. Vince McMahon showed up to ask them where the woman were. Santino Marella showed up to suggest that Vince is really Vincenzo and is really Santino's dad. MVP said he didn't know if he was his son, but he thinks Teddy Long has blown it big time by not putting MVP on the show. MVP said he'll have an open challenge to Matt Hardy, but not a wrestling match – Vince said it's cool. Regal said that McMahon's son would be more dignified and more regal. Coach asked if Vince was with an English woman, Vince dismissed it and Vince complained that the office was gaudy.
Analysis: There will be more "office" hijinks to come. Yawn.
Ken Kennedy made his entrance and did his own introduction as he was known to do. Carlito was up next to not much of a reaction. Umaga was last and he was the Intercontinental Champion.
Intercontinental Championship: Umaga vs. Ken Kennedy vs. Carlito
Pre-match notes: Umaga was the face champion after a successful heel run. Kennedy and Carlito were both heels. This was a Raw match.
Umaga decked each man with an uppercut punch leading to Carlito spitting out some apple. Umaga worked over both guys with punches. The heels left the ring at the same time. They agreed to work together. It didn't work well because Umaga tossed Kennedy out of the ring and punched Carlito into the corner. Kennedy grabbed Umaga's foot, so Carlito hit a dropkick that sent Umaga out of the ring. Kennedy with a running kick on Umaga against the steel steps. Back in the ring, Carlito got a rollup for two because the ref saw his hand on the ropes when he was trying to cheat. Carlito came back with a springboard elbow for a two count. Kennedy whipped Carlito into the turnbuckle and hit a front slam. Umaga managed to pull Kennedy out of the ring. Umaga back in the ring with a body slam on Carlito. Umaga to the middle rope for a headbutt to the shoulder of Carlito. Umaga went for a corner splash, Kennedy pulled Carlito out of the way and Umaga hit the turnbuckle. Kennedy grabbed a monitor from the announce table and hit the ring post with it while Umaga's head was against it. Carlito knocked Kennedy off the apron. Carlito got a two count on Umaga. Carlito and Kennedy finally decided to work together. Umaga hit a double suplex on both guys at the same time. Umaga hit double clotheslines, a Samoan Drop by Umaga on Carlito and a spinning slam by Umaga on Kennedy for two. Umaga with a standing side kick on Carlito and a running butt splash against the turnbuckle on the face of Carlito. Kennedy ducked a charge by Umaga leading to Umaga going to the floor. Kennedy hit the forward roll with Carlito on his shoulders. Umaga back in with a Samoan Spike on Kennedy for the pinfall win at 7:35.
Winner by pinfall: Umaga
Analysis: **1/2 It was a solid match with some fun moments in the last few minutes. This was all about putting over Umaga as a face. Umaga dominated most of the match. I think WWE thought that Umaga could get over as a major face, but the lack of promos probably hurt and Umaga didn't play to the crowd at all either. It was hard for the fans to really get behind him even though he was a pretty good performer.
A video package aired about Rey Mysterio's match against Chavo Guerrero. Mysterio missed about nine months after major knee surgery, so this was Mysterio's return to PPV. At the time they did an angle with Chavo as the guy that injured Rey, so this was a follow up to that. The video package showed Guerrero attacking the knees of guys like Shannon Moore and Funaki to set up this match.
Chavo Guerrero made his entrance to some mild heat.
Rey Mysterio got a big ovation for his return after missing nearly one year. Mysterio had on a silver mask, he had silver spray on his body and silver tights. Mysterio looked thicker than normal, so perhaps it took him some time to get back to his more agile look coming off surgery.
Chavo Guerrero vs. Rey Mysterio
Pre-match notes: Guerrero was the heel and Mysterio was the face making his return after a long layoff. These guys wrestled many times in their careers. This was a Smackdown match.
The fans chanted "Chavo sucks" before they locked up. They did an athletic spot where Mysterio hit a flipping armbar that sent Guerrero out of the ring. Guerrero kicked the knee of Mysterio, but Mysterio came back by sending Guerrero out of the ring. Mysterio hit a dive to take out Guerrero on the floor. Back in the ring, Mysterio with a dropkick to the left knee. Mysterio jumped off the middle ropes with a headscissors takedown. Mysterio up top, Guerrero tripped up to knock him upside down and Guerrero punched the knee of Mysterio. Guerrero with wrapped the left leg of Mysterio against the ring post. Guerrero kicked the back of the left knee of Mysterio to take him down. Guerrero put Mysterio's leg around his own neck to work over the knee again. Mysterio came back with a headscissors with JBL noting that the worst part of an injury is wondering if you are healthy or not. Chavo wrenched on the knee of Mysterio to continue to weaken the knee. When they got back up to their feet, Mysterio hit an enziguri kick. Mysterio went for the 619, but then he collapsed while he was running. Good selling by Rey there. Guerrero slapped on the single leg crab submission, but Rey got to the bottom rope to break the hold. They battled on the turnbuckle, Mysterio set up Guerrero upside down and Mysterio pounded away on Guerrero's knee. Mysterio sent Guerrero to the floor. Mysterio jumped off the apron with a seated senton splash to take down Guerrero on the floor.
Back in the ring, Mysterio with a springboard senton. Kick to the head by Mysterio got a two count. Mysterio went for a moonsault off the ropes, Guerrero caught him and Mysterio hit a Tornado DDT for a two count because Guerrero got his foot on the bottom rope. Mysterio went up top, he jumped off, Guerrero moved and Mysterio hit the mat hard. Guerrero hit the Gory Bomb for the two count. Nice nearfall. Mysterio set up for a 619, Guerrero moved, Guerrero hit two suplexes and Mysterio with a headscissors into a 619 that connected. Mysterio up top with the springboard splash for the pinfall win at 12:06. That drew a good ovation.
Winner by pinfall: Rey Mysterio
Analysis: ***1/2 It was a typical very good match from these two men that wrestled eachother many times in their careers. This match was more than just about high flying moves and sweet counters. This was the heel Chavo going after Rey's knee relentlessly all match long with Mysterio showing that he could come back to win. Both guys played their roles well with Mysterio showing he was back from the knee injury while Guerrero was relentless while he attacked the knee. They had better matches together like the four star classic at No Way Out 2004, but this is still a quality match worth checking out.
There were replays that showed the key spots in the match. Mysterio celebrated the win with the fans.
King Booker and Queen Sharmell were interviewed by Todd Grisham in the interview area. Booker said the return of Triple H will be a tragedy because he returns to Booker's kingdom and he will be exposed in the worst way. Booker's fake British accent was comical.
There was a divas battle royal up next. The Women's Champion Candice Michelle made her entrance to watch the match from ringside. I don't remember much from her title reign, but she always looked good.
Women's Battle Royal: Maria (Raw), Beth Phoenix (Raw), Melina (Raw), Jillian Hall (Raw), Mickie James (Raw), Torrie Wilson (SD), Victoria (SD), Kristal (SD), Michelle McCool (SD), Layla (ECW), Kelly Kelly (ECW) and Brooke (SD)
Pre-match notes: A wrestler can only be eliminated by being thrown from the ring and both feet touching the floor. My three favorites in the match are Mickie James, Torrie Wilson and Melina.
The 12 women all battled by the ropes to try to eliminate the others. Maria nearly tossed out Brooke, but Brooke held on. Phoenix picked up Brooke and eliminated her. Maria did the splits while doing a spot with Jillian, but that didn't lead to much success because Jillian hit a shoulder tackle to eliminate Maria. Layla was eliminated by Melina. The cameras didn't really get that one. Kristal eliminated Victoria, which was a bit of a surprise. Michelle McCool eliminated Kristal with a forearm after Mickie James moved out of the way. Jillian and Beth threw out Kelly Kelly together. James did a headscissors to Jillian to try to get rid of her, so Torrie Wilson came over and knocked Jillian out. While James was on the apron, Melina kneed James out of the ring. The crowd hated that. Me too.
The final four are Michelle McCool, Beth Phoenix, Torrie Wilson and Melina. Phoenix battled with McCool in one corner while Melina took down Torrie with a senton off the ropes. McCool hit a clothesline on Melina to knock her over the top to eliminate her. That was a bit of a rough bump for Melina. Wilson and McCool worked together against Phoenix briefly, but Phoenix ended up tossing Wilson out to eliminate her. McCool got in some punches, but Phoenix came back by lifting up McCool and sending her over the top to the floor to eliminate McCool. That's a win for Phoenix at 7:09.
Winner: Beth Phoenix
Analysis: 1/2* It was one of the most boring battle royals I've ever seen. The finish felt rushed because Beth and Michelle barely did anything to eachother, yet they went straight to the finish. I think Beth going over the was the right call because she was a good heel known for her power.
MVP Competition
As soon the women's match was done, Montel Vontavious Porter made his entrance for whatever competition he had in mind.
MVP was the United States Champion and he was in a suit. He did a promo about how when he was younger he might drink beer, but now he only drinks beverages suitable for the MVP like Cristal. MVP said he's going to lower himself and engage in a beer drinking contest. He said he hopes Matt Hardy is ready, so he invited Matt to come out there.
Matt Hardy made his entrance and each guy had a beer can in hand. Hardy said they may each win some competitions, but as far as MVP being better than everybody, that is wrong. Hardy said he's a normal guy and he is proud of that fact. Hardy said he knows he can outdrink MVP, but he's not even going to try. Hardy talked about how a few weeks ago they were supposed to have a boxing match and MVP picked a substitute. The fans cheered because they knew what was coming. Hardy said it was former 4-time World Champion Evander Holyfield. Hardy said he's got a suitable substitute himself and he is one of the all-time greats in beer drinking. The crowd started an "Austin" chant.
The glass broke and Steve Austin entered to a huge ovation. JBL whined about how it wasn't fair. Austin had a big grin on his face as he walked down to the ring. And soaked up the cheers from the fans. Austin and Hardy had a beer each. Hardy left.
Austin ran the ropes a few times, he did push ups and jumping jacks. Fans chanted "Let's go Austin" as Austin grabbed two beers that were in the cooler in the ring. Austin and MVP each had beers in their hands, but Austin chose to give him a Stone Cold Stunner instead. Austin's music played with the fans cheering loudly for Austin. The celebration was on with Austin toasting the crowd and drinking many beers like he had done so many times in his career. Austin left to a huge ovation.
Analysis: That was a fun segment to kill about ten minutes. Austin got the biggest pop of the night so far. The surprising thing is that Austin didn't even do a promo at all, which is rare for him. I enjoyed MVP's heel persona and I think he's a guy that should have been pushed even more than he was. Sometimes it just doesn't work out for some guys.
A commercial aired for WrestleMania 24 in Orlando on March 30, 2008. You can read my review of WrestleMania 24 here.
The foursome of Vince McMahon, Jonathon Coachman, Teddy Long and William Regal were in the SummerSlam party office. The Cryme Tyme duo of JTG and Shad Gaspard showed up. Shad called Vince "V-Mac" while noting that perhaps one of them could be Vince's son. They said they had something in common because they like to make that "money money yeah yeah" and then they repeated that song as they danced around Vince and Regal with Long and Coach joining in. Regal even joined in, which drew a lot of laughs. Everybody stopped, then Ron Simmons showed up and delivered a "DAMN" to Regal.
Analysis: It was just a comedy segment. The "DAMN" always drew a good reaction.
A video aired about John Morrison, who was the ECW Champion that changed his name from Johnny Nitro to John Morrison.
Morrison made his entrance first wearing a fur coat and the ECW Title around his waist. CM Punk got a good ovation for his entrance. The ECW announcers Styles and Tazz were on the call for this match.
ECW Championship: John Morrison vs. CM Punk
Pre-match notes: Morrison was the heel champion while Punk was the top face on the ECW brand.
Punk with an arm drag followed by a body slam and Punk put Morrison on the apron. Punk with a springboard dropkick. Morrison came back with a neckbreaker on the side of the ring apron, which looked painful. Morrison with two uppercuts for two. Punk broke free briefly, but Morrison tripped him up and sent him face first into the middle ropes. Morrison slapped on a headlock. Punk with a sunset flip into a pinning predicament for a two count. Punk came back with a cross body block off the middle ropes for two. Running knee lift by Punk followed by a step up enziguri for a two count. Punk with a snap powerslam that got a two count. Morrison with a backbreaker into a neckbreaker similar to what The Miz would end up doing in every one of his matches. Punk avoided a Morrison move and hit a clothesline. Punk up top and he hit a moonsault for two. That was not a move that Punk did that often. Morrison missed an attack by the ropes, he was crotched on the top and Punk jumped off the middle ropes with a clothesline for two. Punk with a roundhouse kick to the back of the head. Punk set up Morrison on the top, Punk went for a hurricanrana, Morrison held on and Morrison covered Punk with his feet on the middle ropes. The ref never saw it, so he counted and Morrison won in controversial fashion at 7:09.
Winner by pinfall: John Morrison
Analysis: **1/4 It was a good match for the time given, but it was disappointing that they only got about seven minutes. The crowd didn't react to the match very well, so that likely played a part in the match time. I was a big fan of these guys, especially during this period. They both had the potential to become future World Champions on the main roster. It happened for Punk, but not for Morrison in WWE. Morrison has had a lot of success outside of WWE, though.
Post match, Morrison celebrated with the title while Punk was frustrated in the ring.
There was a shot of Batista and Great Khali on the split screen warming up for the match coming up later. Thanks for reminding me that match is still coming, jerks.
King Booker entered with Queen Sharmell. A clip aired from two weeks earlier when Booker attacked Jerry Lawler with a TV monitor to the head. One week earlier, Booker made Jim Ross kiss his ring and Sharmell shoved Booker into the kiss, so JR kissed the ring. Booker and Sharmell posed in the ring.
There was a loud ovation for Triple H for his entrance. This was Triple H's return to action from the second torn quad injury of his career with JR noting it was nine months in the making. They showed a video about Triple H training to come back, they played some of the "King of Kings" song and then The Game song hit to signal his entrance.
Triple H looked like he was in great shape and perhaps even more muscular than the last time we had seen him. That's not much of a surprise because a guy like him is going to work hard to come back bigger than ever. The pop that Triple H received in MSG on Raw in January 2002 was probably louder, but this was still pretty impressive in terms of how big the pop was.
Analysis: A torn quadriceps muscle is not a common injury and it's something that can happen to a really muscular guy like Triple H, but not necessarily to those of us with normal physiques. This was the second time where it happened to Triple H with the first time coming in 2001. At least two torn quads is something that Hunter has in common with his father in law, Vince McMahon. I wonder if they bond over that.
King Booker (w/Queen Sharmell) vs. Triple H
Pre-match notes: Booker was the heel that milked that King of the Ring win for over a year. Triple H was the face King of Kings, so that's why Booker had an issue with him. Triple H was a 10-time World Champion at this point in his career. This was a Raw match.
Booker started with punches, but Triple H got back into it with a clothesline that sent Booker over the top to the floor. Lawler and Ross said they couldn't support Booker at all in a match like this. Booker with a back elbow, Booker held onto the ropes and Hunter hit a clothesline to send him out of the ring. That looked like they may have messed up something minor there. Back in the ring, Hunter hit a facebuster by slamming Booker's face into his knee for two. Sharmell grabbed Hunter's foot when the ref wasn't looking and Booker capitalized with a dropkick to the thigh. Booker drove the leg of Hunter into the apron. Triple H came back with a chop block to the back of the leg followed by the Figure Four Leglock. Sharmell raked Hunter's eyes to cause a break while the referee didn't see it. Booker capitalized with a boot to the face for two. They exchanged punches and Hunter tossed Booker over the top to the floor. Hunter sent Booker face first into the ring steps. Back in the ring, Corner clothesline by Hunter. Booker with a boot to the face, but Hunter came back with a great spinebuster for two. Booker went for a scissors kick, Hunter avoided it and Booker hit the Book End for two. Sidewalk slam by Booker. To the top for Booker, he jumped off with a spinning leg drop and it didn't come close. That was a finish for him in his younger years. Hunter with a boot the gut, Booker avoided it once and then Hunter hit a Pedigree for the pinfall win at 7:58.
Winner by pinfall: Triple H
Analysis: **1/4 It was an average match that was like watching a house show match. They went short likely because it would have been foolish to put Hunter in a long match during his big return. I like the way they involved Sharmell in the match a few times because it gave her a role and some managers in wrestling today don't get to do stuff like that. It helps a match to have a manager cheat. It was no surprise that Triple H won since he was making his big return after a long layoff.
After the match was over, Triple H celebrated the win in front of an appreciative crowd. Ross and Lawler were shown standing at ringside giving him a standing ovation since they didn't like Booker. Hunter was emotional as he sat in the ring thanking the fans.
Analysis: Triple H ended up winning the WWE Title two months later although it was a short reign because he lost it back to Randy Orton later that same night.
The video package aired for World Champion Great Khali against Batista. The video focused on Khali squeezing the head of other wrestlers. I'd summarize it, but it's the Great Khali and I can't pretend to give a shit about a Khali feud or match.
The Great Khali waddled his way out there with the World Heavyweight Title on his shoulder. There was barely a reaction to him. Ranjin Singh, whose real name is Dave Kapoor that is long time member of WWE's creative team, was with Khali as his manager.
Batista made his entrance to a pretty good pop along with a lot of pyro.
World Heavyweight Championship: The Great Khali (w/Ranjin Singh) vs. Batista
Pre-match notes: Khali was the heel World Heavyweight Champion. Batista was the face challenger. This was a Smackdown match.
Khali dominated the first minute with punches and kicks against the turnbuckle. Khali hit two clotheslines while the announcers overrated how hard he was hitting to try to put over Khali. A kick by Khali sent Batista out of the ring. Back in the ring, Khali with a chop to the head for two. Khali sent Batista into the ring post two times. Khali grabbed the trapezius muscles of Batista by his neck. Khali hit Batista with a forearm to the back. Another rest hold by Khali grabbing the neck. Yawn. Batista hit a jawbreaker to break free. Another chop by Khali. The fans were shitting all over this match with a "boring" chant. Batista blocked a vice grip attempt and hit a spinebuster. Khali shoved Batista into the turnbuckle. Batista went up top even though he rarely dad that, he jumped off and Khali hit the Khali Bomb double chokeslam for a two count. Singh tossed a steel chair into the ring, Khali grabbed it from the ref and hit Batista in the back with it. The ref saw it, so he called for the bell for the disqualification at 6:51.
Winner by disqualification: Batista (Khali retains the World Title)
Analysis: -* I don't go negative stars that often, but this was painful to watch. Khali couldn't have good matches with anybody. I understand the appeal of him as a legit seven-footer and I'm sure Vince McMahon loved using him, but it was tough for a guy that big to entertain us in 2007 when we had seen so many better workers. Khali was like a 1980s character that failed to entertain us in the 2000s. The disqualification finish was just done to set up a rematch. This was fucking awful. It hurt almost as bad as having a tooth pulled and getting kicked in the balls at the same time.
Post match, Batista ducked another chair shot and connected with a Spear to the ribs of Khali. Batista hit Khali with a chair to the back about eight times in a row. Batista screamed, the fans cheered and Batista's music played to end it.
Analysis: Batista ended up winning the World Title from Khali at the next PPV, Unforgiven. That was a triple threat that also involved Rey Mysterio likely because of how shitty this match was and nobody wanted to see it again.
Vince McMahon was in the office with Jonathon Coachman and William Regal said they found some ladies. It was Mae Young with Fabulous Moolah. Regal said that Mae wants to have relationships with Vince to have his bastard son. Mae tackled Vince on the couch and kissed him. When Mae was pulled off Vince, he sold it by coughing. Coachman said he tried to help. Vince complained about the taste in his mouth. Coach wanted to give him Tic-Tacs, Vince said not right now and Vince said he liked it because it kind of turned him on. Coach said that's disgusting. Vince: "Old chicken makes good soup." That ended it with Vince smiling.
Analysis: I guess if the goal was to book a backstage skit worse than the Khali match they found the perfect segment for it.
The video package aired for John Cena defending the WWE Title against Randy Orton. Cena was the long term WWE Champion that had held the title for nearly one year going into this match. The video showed clips of Orton destroying different opponents with his infamous Punt and other moves. In the build up to the match, Orton hit a RKO on Cena on a steel chair. It was a memorable visual.
Analysis: These two would end up wrestling dozens of times in the years that followed, but this was their first major PPV singles match.
Randy Orton made his entrance with his "hey nothing you can say" song. There were a lot of boos, but some cheers in there too. Orton had a cool heel vibe to him during this heel run.
John Cena, the WWE Champion, got a loud reaction as usual. There were plenty of cheers, but some fans were booing too. JR noted that it was like a road game for John Cena and Lawler pointed out that Orton has a lot of fans there as well. JR noted that Cena was WWE Champion for 24 of the previous 27 months.
WWE Championship: John Cena vs. Randy Orton
Pre-match notes: Cena was the face WWE Champion and Orton was the heel challenger. Cena was 30 years old at the time of this match while Orton was just 27 years old. Both guys debuted on the main roster around the same time about five years earlier. This was their first singles match against eachother on PPV. They had other PPV matches like a great 4-Way at Backlash 2007 before this. This was a Raw match.
Cena grabbed a headlock leading to some boos from the crowd. After about one minute of that, Orton got a headlock of his own and hit a shoulder block leading to some cheers. Cena tried for a STFU, but Orton got to the ropes. Orton decked Cena with a punch that Cena sold well. Orton continued the punches as well as an uppercut as Cena sold it like he was dazed. Cena came back with a bulldog for a two count. Orton came back with a kick to the chest and a forearm to the head for two. Cena went for a shoulder tackle, Orton ducked it and Cena hit the mat hard. Cena went to the apron, so Orton knocked him into the announce table at ringside. The fans were cheering that. Orton left the ring to bring Cena back into the ring for a two count. Orton slapped on a tight headlock again. Cena back up, he charged at Orton, who moved and Cena went crashing into the turnbuckle. Orton stomped on Cena's body parts. The fans did the "Let's Go/Cena Sucks" chanting routine. Orton hit a powerslam followed by another headlock. The fans were loudly chanting "Let's Go Cena" and others were chanting "Let's Go Orton" as well. Cena got back up, but Orton put him down with a dropkick. Orton slapped on a sleeper, Cena went for a back suplex and Orton applied a headlock again. Cena sent Orton back first into the turnbuckle.
Cena with the two shoulder tackles and the spinning slam. Cena signaled for the Five Knuckle Shuffle, a lot of fans booed him and Cena connected with the fist drop. Orton back up, Cena wanted the FU, Orton slipped up and Orton hit his modified backbreaker. Cena rolled to the apron. Orton hit the draping DDT off the ropes for a two count. Orton set up for the RKO, Cena shoved him off and Orton pulled down the top rope, so Cena went running over the top rope and he hit hard on the floor. Orton whipped Cena hard into the steel steps. Orton rolled Cena back into the ring. The announcers kept pushing the story that Cena may be dealing with a concussion. Orton got a two count. Cena ran the ropes and hit a running neckbreaker. Cena went up top, Orton recovered with punches to the face and Cena shoved Orton back down. Cena jumped off the top rope with a lefty leg drop to the back of the head. That looked great. Cena wanted the FU, Orton held onto the top rope and drove Cena's neck into the top rope. Orton stared at Cena, who was grabbing his head. Orton signaled for the dreaded running Punt kick. Orton went across the ring, he went for a Punt, but Cena moved out of the way and Cena slapped on the STFU submission. Orton slowly crawled over to the bottom rope with the crowd cheering when Orton grabbed it. They both got back up, Cena walked over and Orton hit a RKO. Slow cover by Orton for one…two…and no. What an awesome nearfall that was. The fans reacted to that in a big way. Orton got back up first, Cena powered back up and hit a FU for the pinfall win at 21:20.
Winner by pinfall: John Cena
Analysis: **** That was a great match worthy of the main event spot at SummerSlam. Orton was a good heel that was an established top guy by this point while Cena was clearly the top guy that was a fixture in the main event scene for about two years before this. The first ten minutes weren't that exciting with too many headlocks, but they cranked it up to the next gear in the second half of the match, which is what you want to see out of your top guys. Over the next decade, these guys wrestled so many times in front of crowds that were sick of seeing this match, but this SummerSlam crowd reacted to it like a big deal. Cena's selling was better than usual in this match. There were times in Cena's career where he forgot to sell or he did a poor job of it, but in this match he did well to sell like he may have been concussed. I like the way they built up to some near submission and nearfalls before Cena was finally able to put Orton away.
Post match, Cena celebrated with the WWE Title as the crowd continued to give him a mixed reaction. The highlights aired of the last few minutes of action.
Cena celebrated with the WWE Title to end the show.
Analysis: Cena suffered a torn pectoral muscle in early October with the expectation being that he would miss at least six months and likely more. He was back in less than four months as the surprise winner of the 2008 Royal Rumble. Orton ended up wrestling Triple H in a lot of WWE Title matches after this.
The show had a run time of 2:40:25 on WWE Network.
FIVE RANDOM THOUGHTS
– This event was lacking in terms of big moments and excitement. The two major selling points going in were the returns of Triple H and Rey Mysterio from injury. While the crowd was really happy to see Triple H again and the response to Mysterio was very good too, there just wasn't much else to get excited about.
– A lot of big names were missing this show due to injuries. Guys like The Undertaker, Shawn Michaels, Edge, Rob Van Dam and Ric Flair to name a few. I think their presence would have helped.
– There were no tag team matches on this card and no tag team titles represented at all. This was an era where tag team titles were often hot and cold in terms of how they were presented. Obviously, this was not a good time for the tag team division.
– It was tough to get through that Khali match. It was so tough to watch him try to wrestle. I'm shocked that he lasted as long in the company as he did, but that's again an example of how much Vince McMahon has always loved using big guys. Batista was a terrible opponent for Khali, which WWE likely realized and that's why when Khali dropped the title one month later, they added Mysterio to the match as well.
– The crowd was really into the Cena/Orton match. As the years went on, they didn't care as much, but this was early in their rivalry. I think the reaction from the fans showed that WWE clearly made the right decision to keep them apart for the majority of the five years before this because that made this match more special. The first ever Cena vs. Orton singles match on PPV (they wrestled on TV before) could have headlined a WrestleMania, but there's nothing wrong with headlining a SummerSlam.
OPINIONS
Show rating (out of 10): 5
Best Match: John Cena vs. Randy Orton (**** out of 5)
Worst Match: Batista vs. The Great Khali (-*) – That's not a surprise when there's a Khali match on the card.
Most Memorable Moment: I think the ovation for Cena's FU for the win was the most memorable. Either that or when Khali's match was over and I didn't have to watch him try to wrestle anymore.
Five Stars Of The Show
John Cena
Randy Orton
Rey Mysterio
Chavo Guerrero
Triple H
Matches With Ratings ****+ (out of 5*) and higher:
British Bulldog vs. Bret Hart @ SummerSlam 1992 (*****)
Steel Cage: Bret Hart vs. Owen Hart @ SummerSlam 1994 (*****)
Ladder Match: Shawn Michaels vs. Razor Ramon @ SummerSlam 1995 (*****)
Kurt Angle vs. Steve Austin @ SummerSlam 2001 (****3/4)
TLC: Edge & Christian vs. Dudley Boyz vs. Hardy Boyz @ SummerSlam 2000 (****3/4)
Unsanctioned Street Fight: Shawn Michaels vs. Triple H @ SummerSlam 2002 (****1/2)
Ladder Match: Triple H vs. The Rock @ SummerSlam 1998 (****1/2)
Bret Hart vs. Mr. Perfect @ SummerSlam 1991 (****1/4)
Kurt Angle vs. Brock Lesnar @ SummerSlam 2003 (****1/4)
Shawn Michaels vs. Vader @ SummerSlam 1996 (***1/4)
The Rock vs. Triple H vs. Kurt Angle @ SummerSlam 2000 (****)
Ladder Match: Rob Van Dam vs. Jeff Hardy @ SummerSlam 2001 (****)
John Cena vs. Randy Orton @ SummerSlam 2007 (****)
Ranking SummerSlam Reviews (on 1-10 scale)
SummerSlam 2002 (Brock Lesnar vs. The Rock, Shawn Michaels vs. Triple H) – 9
SummerSlam 2001 (The Rock vs. Booker T, Steve Austin vs. Kurt Angle) – 8
SummerSlam 1998 (Steve Austin vs. The Undertaker) – 8
SummerSlam 2000 (The Rock vs. Triple H vs. Kurt Angle) – 7.5
SummerSlam 1992 (British Bulldog vs. Bret Hart) – 7
SummerSlam 2005 (Hulk Hogan vs. Shawn Michaels) – 7
SummerSlam 2004 (Randy Orton vs. Chris Benoit) – 6
SummerSlam 2006 (Edge vs. John Cena) – 6
SummerSlam 1997 (Bret Hart vs. The Undertaker) – 5.5
SummerSlam 1996 (Shawn Michaels vs. Vader) – 5.5
SummerSlam 1989 (Hogan/Beefcake vs. Savage/Zeus) – 5.5
SummerSlam 2003 (Elimination Chamber) – 5.5
SummerSlam 2007 (John Cena vs. Randy Orton) – 5
SummerSlam 1994 (Undertaker vs. Underfaker, Bret vs. Owen) – 5
SummerSlam 1999 (Mankind vs. Steve Austin vs. Triple H) – 5
SummerSlam 1988 (Mega Powers vs. Mega Bucks) – 5
SummerSlam 1991 (Match Made In Heaven & Hell) – 4.5
SummerSlam 1995 (Diesel vs. Mabel, Michaels vs. Ramon) – 4
SummerSlam 1993 (Lex Luger vs. Yokozuna) – 4
SummerSlam 1990 (Ultimate Warrior vs. Rick Rude) – 3.5
Next up: SummerSlam 2008.
Check out the SummerSlam Reviews archive.
—
Thanks for reading. My contact info is below.
John Canton
Email mrjohncanton@gmail.com
Twitter @johnreport