TJR: WWE Royal Rumble 2014 Match Review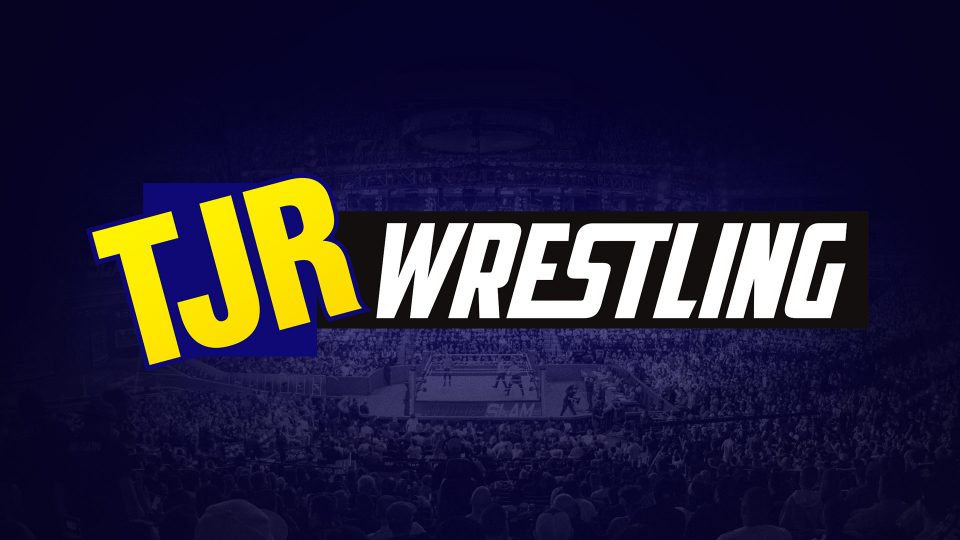 This review was written live on the day of the show and not altered since then.
WWE Royal Rumble
Pittsburgh, Pennsylvania
January 26, 2014
The announcers for the match are Michael Cole, John Bradshaw Layfield and Jerry Lawler.
CM Punk entered the match at #1. In at #2 is Seth Rollins. Good choice since he's one of the best workers in the company. Running kick by Rollins as Cole called him the "architect" of The Shield. Punk hit his running knee in the corner, then Rollins hit a kick and then Punk did one. They were both down as #3 is Damien Sandow. That's why Khali was laughing. The heels worked together to try to eliminate the babyface Punk. Punk hit a nice neckbreaker/DDT combo. It's Cody Rhodes at #4. He hit Cross Rhodes on his old rival Sandow. They paired off with Punk giving Sandow a back body drop over the top to the floor to eliminate him. Sandow lasted about two minutes. The #5 entrant is Kane, who wasn't listed in the match, but there were many spots available. He was wearing black dress pants as he wrestled. He went right after Punk with a clothesline and a sidewalk slam. Punk gave Kane a roundhouse kick and dumped him over the top to the floor. Kane lasted about 80 seconds (assuming these entrances are 90 seconds). The Bulgarian NXT performer Alexander Rusev was in at #6. He's a power wrestler that was destroying everybody. He went after everybody and hit a nice fallaway slam on Punk. Jack Swagger of the Real Americans is #7. He hit a Swagger Bomb on Rollins and on Rhodes as well. Rusev stared at him, they exchanged punches and Rusev hit a body attack on Swagger. Kofi Kingston is #8 as he went right after Punk. Kingston is a close friend of Punk outside the ring (watch the Punk DVD to see that). There wasn't a whole lot happening as the six guys in the ring were all standing by the ropes. Jimmy Uso is #9 and he hit a full nelson bomb on Rollins. The #10 man in is Goldust. His brother Cody is still in there.
There were 8 guys in the ring since Kane and Sandow were the only two eliminated in the first third of the match. A bunch of babyfaces worked together to eliminate Rusev. Kingston was on the apron. Punk gave him a forearm shot. Kofi landed in the arms of Rusev. Following that, Rusev placed Kingston on the barricade. Refs stopped him. Kingston ran across the barricade and jumped onto the apron. There's your annual Kingston save spot. Very impressive. The #11 entrant is Dean Ambrose, who ran in from the regular entrance rather than going into the ring via the crowd. Dolph Ziggler is in at #12 with a missile dropkick on Ambrose. Crowd chanted "let's go Ziggler" and Hacksaw Jim Duggan probably joined in since Ziggler was his pick. There were a lot of teased eliminations, but nobody went out. The #13 man is R-Truth. Somebody held up a "Jobber" sign right there. Good timing. Right on cue, Ambrose hit a running dropkick on Truth to eliminate him. He lasted about 15 seconds. Jimmy Uso went to the top, but Rollins kicked him in the head and Ambrose shoved him out. The Shield worked together right there. Kingston ripped off Swagger's boot and held on by using his feet along the bottom ropes. He hit Swagger with the boot. Kevin Nash is #14. There's a surprise. He looks to be in great shape and had dark brown hair. He came out to the NWO theme music. Nash immediately eliminated Swagger. The Shield went after Nash, so he only eliminated one person there. The #15 entrant is Roman Reigns, who is the muscle of The Shield as Cole called him. Reigns entered by hitting a leaping dropkick onto Punk while he was on the apron. Reigns hit a Spear on Rhodes. Kingston went after him, but Reigns caught him and dumped him over the top. Ziggler DDT on Reigns. Reigns quickly came back with a Spear and he eliminated Ziggler. Nash charged in, Reigns ducked and out went Nash. That's three eliminations for Reigns.
The #16 man is Great Khali. The Shield quickly worked together and Reigns hit him with a Superman Punch. They dumped Khali out. He was in for about 15 seconds. They were showing Khali replays. Goldust eliminated his brother Cody and then Reigns eliminated Goldust. The Rhodes brothers are out. They didn't show anything after the elimination, but it's been rumored they could do Goldust vs. Cody at WrestleMania. The man at #17 is the returning Sheamus, who has been out with a shoulder injury for the past five months. It wasn't announced that he'd be there, but most of us expected it. Sheamus went after The Shield members while Punk recovered in the corner. Sheamus hit a nice Brogue Kick. The crowd was really into the return of Sheamus. The #18 spot belongs to The Miz, who went after The Shield. He barely got a reaction. Has a former WWE Champion fallen as far and as fast as him in three years? Fandango is in at #19. He just did a quick dance with Summer Rae before entering while the crowd was doing the dance. He almost eliminated Miz, but that didn't work. Then the match died down again. It's #20, so that meant it was time for El Torito. He's in the Rumble instead of Diego and Fernando. He hit some big spots on Rollins as well as Miz. Cole said Torito is the smallest competitor in Rumble history. He ran at Punk, so Punk palmed him by the head and Torito hit a headscissors. Fandango decked Torito, who almost eliminated Fandango. Then a missile dropkick eliminated Fandango. Reigns caught Torito and he threw him over the top onto Fandango to eliminate him. That's 6 eliminations for Reigns.
Antonio Cesaro is #21 and he gave the Cesaro Swing to Miz. He briefly did the swing to Punk, but that didn't last and Cesaro gave the Cesaro Swing to Rollins for at least 25 revolutions. That's what it felt like. Luke Harper is #22. Reigns hit a Spear on Cesaro. Harper didn't do much when he went in there. It's Jey Uso at #23. There were 9 guys in the ring at this point. Huge uppercut by Cesaro on Harper and then Harper hit a huge boot to the face. That would be a fun power match. The #24 spot belonged to JBL, who slowly entered the ring and took off his coat. He told Cole to take his coat. As that happened, he turned his back to Reigns and that led to Reigns eliminating him too. There's another comedy spot in the match. Erick Rowan of the Wyatt family is in at #25 and he went after Miz, who was attacking Harper. Miz couldn't deal with them because Harper hit a huge clothesline while Miz was on the apron and that was the end of Miz.
The man at #26 is Ryback and the crowd was chanting "Goldberg" at him. Sheamus and Cesaro were exchanging forearm shots in the middle of the ring while everybody else was paired up in the corner. Cole mentioned that Punk & Rollins were in there for 40 minutes by now. Alberto Del Rio is #27 and he quickly joined everybody else in fighting in the corners of the ring. The #28 spot belongs to Batista. His ring gear is a bit different than what he had before, but he looks to be in great shape obviously. He eliminated Rowan. Ryback wanted a faceoff, so they went at it until Batista gave Ryback a back body drop over the top rope to eliminate him. Del Rio with a standing side kick to Batista. Batista fought back to eliminate Del Rio, so that's three eliminations for Batista. It's Big E Langston in the #29 spot, so only one more person left. Langston hit some power moves, then paired off with Sheamus. The #30 entrant is Rey Mysterio. He was booed loudly. The crowd wanted Daniel Bryan, but he's not in the match. Punk went at with Mysterio as they rekindled an old feud and each guy held on.
Sheamus eliminated Langston with a clothesline. 619 by Mysterio to Rollins, but then Rollins came back with a dropkick while Mysterio was on the apron. Reigns hit a Superman Punch on Harper to try to eliminate him. Reigns was celebrating that, so Ambrose tried to eliminate him. Rollins didn't like that. Cesaro tried to eliminate The Shield guys. Reigns ended up eliminating Ambrose, Rollins & Cesaro at the same time. That's 11 eliminations for Reigns, which ties a record.
Final four: Batista, Reigns, Punk & Sheamus. They all hit signature moves on each other. Punk ended up as the last man standing. He stood by the turnbuckle. Kane came out of nowhere, eliminated Punk and assaulted him outside the ring. Kane gave Punk a Chokeslam through the Spanish Announce Table. Good to see the Spanish table broken. That's what it does! I don't like when somebody is eliminated by somebody that's not legally in the match. It plays into the story that Punk is going to have an uphill battle and it will likely lead to a match against Triple H at WrestleMania.
They did a big final three setup with Batista, Sheamus & Reigns staring at each other. Batista hit a powerslam on Reigns. There were fans in the crowd chanting "no" during this. Sheamus wanted the Brogue Kick and the crowd chanted "no" during the setup for it. Batista Bomb attempt, but Sheamus fought out. He was on the apron. Reigns with a shoulder tackle eliminated Sheamus. That's 12 eliminations by Reigns, which a new record. Batista tried to eliminate him, but Reigns held on.
Final two Reigns and Batista had a big staredown. Reigns got the advantage early. Crowd was chanting "Roman Reigns" for him. He wanted the Superman Punch, but that didn't end up happening because he hit a Spear on Reigns. It didn't look that great. Reigns hit a Spear of his own that looked awesome. They got to their feet, Reigns tried to throw him out, but Batista ended up turning it around and he tossed Reigns over the top to the floor. The match went 57 minutes.
Winner of the Royal Rumble: Batista
After it was over, they replayed a lot of Reigns' eliminations because 12 eliminations is the new record. There were a lot of highlights along the way.
Analysis: *** It was an average Rumble, so I'll give it three stars out of five. The formula is always there for them to hit three stars. There were some cool moments and Reigns was obviously the star of it despite the fact that he wasn't the winner. Batista came in late, only did a couple of eliminations and didn't really look that impressive. It's not like the crowd reacted to him like a top guy. They gave him the reaction of a regular guy who was just back in a match. It was good to see Sheamus again. I've been a fan of his work for a while. With that said, they didn't book him strong enough. CM Punk lasted nearly the whole match, yet he barely had eliminations or memorable moments. He was down on the mat for a lot it. The way he was eliminated will likely lead to a showdown with Triple H in the near future. I think we could also pencil in Punk vs. Kane for Elimination Chamber as a possibility. The Kofi Kingston save spot was fun. The comedy spots with Torito & JBL were just average. Not that funny, really. After Mysterio came in at 30, it was almost as if the air went out of the building because the crowd realized their hero Daniel Bryan wasn't coming in. Hopefully WWE officials listened to that. It was obvious what the fans wanted and who they wanted.
Batista was celebrating the win to end the show. You could definitely hear the booing. Batista pointed to the WrestleMania 30 sign as fireworks went off in the arena.
Ranking the Rumble matches in terms of star ratings:
1992: ****1/2
2007: ****1/4
2001: ****
2005: ****
2002: ***3/4
2000: ***3/4
2013: ***3/4
2004: ***1/2
1990: ***1/2
2010: ***1/4
2006: ***1/4
2003: ***1/4
2008: ***1/4
1997: ***1/4
2012: ***
2011: ***
2009: ***
2014: ***
1994: ***
1995: **3/4
1998: **1/2
1988: **1/2
1996: **1/4
1993: **1/4
1991: **1/4
1999: **
1989: **
It's 2015 up next, which is a Rumble match that didn't do a good job of cleaning up the mess that WWE made in 2014.