The John Report: WWE Smackdown Live Review 10/18/16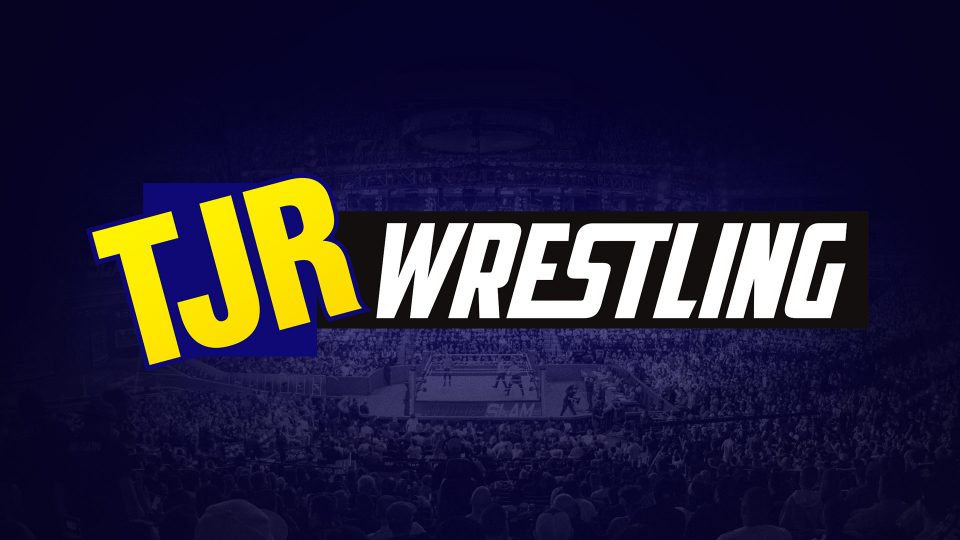 This week's edition of WWE Smackdown Live has a WWE Title match announced as AJ Styles defends the WWE World Championship against an unlikely opponent in James Ellsworth, who beat him last week thanks to some cheap refereeing from Dean Ambrose. Other matches announced from last week are Alexa Bliss vs. Naomi and Baron Corbin vs. Jack Swagger. They also announced Randy Orton vs. Luke Harper and a six man tag with Dolph Ziggler, Heath Slater & Rhyno against The Miz, Kenny & Mikey.
Live from Denver, Colorado this is Smackdown for episode #896.
There was a brief video package about the WWE Title match tonight with AJ Styles defending the gold against James Ellsworth.
Ellsworth was shown in the locker room taping up his wrists. Dean Ambrose showed up with the new Ellsworth t-shirt. He told him to have confidence and Ellsworth was amazed that he has a new shirt.
Analysis: The shirt is real and it's spectacular. It's legitimately available on WWEShop.com now.
Randy Orton made his entrance in his wrestling attire. I won't do my usual complaint about a guy walking out in his gear as a way to tip off a match because he's already announced for a match against Luke Harper.
The announce team of Mauro Ranallo, John Bradshaw Layfield and David "Rarely Says Anything Interesting" Otunga. I added the nickname. You're welcome.
Orton said he has to give credit where credit is due to Bray Wyatt. The harder you fight to escape Wyatt's world, the more you feel like you are suffocating. He feels like he's losing his mind and like he's going crazy. Orton said that Wyatt has torched every last shred of sanity. Orton told Wyatt that he is vengeance and he is coming for Wyatt.
There was a casket with Bray Wyatt lying in it. There were dudes in sheep masks standing by it. Wyatt spoke about how he's going to take Orton on a journey where Orton will be gasping for his last breath over and over again. Wyatt laughed. He said he was having so much fun and asked Orton if he is too. "By the way, he's here." That ended it.
Analysis: Wyatt lying in a casket could mean a Casket Match is coming between them. Obviously, that's a gimmick usually reserved for The Undertaker, but they wouldn't use a casket for nothing. I guess it's something to think about for the future. Orton was very serious with that promo, which is when he's at his best. If he's telling jokes he usually fails in terms of promos.
Luke Harper made his entrance with his eyeball theme song and video instead of the Wyatt song.
Randy Orton vs. Luke Harper
Harper hit a kick on Orton to send him out of the ring. Orton stopped a diving attack with a forearm smash. They battled on the top rope. Orton nailed a superplex, which he likes to do in a lot of his matches. The Wyatt Family logo appeared on the screen with the lights going out. Fans held up their phones for light. Bray Wyatt entered the ringside area in a casket with the masked dudes helping him down there. The match went to break after three minutes.
Analysis: It bothers me when a full entrance of somebody else takes place during the match, but at least it didn't affect the finish. Did Bray Wyatt win the Casket Match gimmick when he stole Undertaker's powers or whatever that was? Sure.
(Commercial)
Back from break, Orton was outside of the ring as Wyatt was at ringside with the casket beside the ring. Harper with a chinlock. Harper with a Michinoku Driver for a two count. Gator roll time by Harper. The heels tried to put Orton in the casket, but Orton fought back with clotheslines on Harper followed by a powerslam. Orton went for the DDT, but Wyatt grabbed him from behind. It went about seven minutes.
Winner by disqualification: Randy Orton
Analysis: *1/2 The match never got going with no moments where it seemed like it was going to end. Wyatt causing the disqualification was predictable as soon as he made his way out there.
Post match, Wyatt nailed Orton with a throat thrust and Harper nailed a boot to the face. The heels stomped away on Orton. When Wyatt opened up the casket, Kane was inside it. He punched Wyatt and Harper. Orton hit a draping DDT on Wyatt. Kane hit a top rope clothesline on Harper. The lights went out again. When they came back on, Wyatt and Harper were gone. Kane lit the ringposts on fire to end the segment.
Analysis: This angle is getting pretty silly after last week with Kane disappearing during a match due to the heels. Now he's in a casket that was previously occupied by Wyatt. I know that WWE used to do these angles with Undertaker and Kane all the time. It just seems too cheesy in 2016 when the audience tends to be smarter towards these things. It's hard to "analyze" an angle where people disappear without any warning. It would be nice if they cut back on this aspect of the Wyatt character because it's just too over the top at this point.
AJ Styles was interviewed backstage by Andrea Dimarco. Styles talked about how he is the WWE Champion. He called Ellsworth a "fat, skinny turd." Styles said that Dean Ambrose is going to try something to try to embarrass Styles and cause the biggest WWE upset in history. This could be like WCW all over again, like when David Arquette won the WCW Championship. Styles yelled about how he's going to find Dean Ambrose – he doesn't care where he is. He's going to find him and take him apart piece by piece.
Analysis: The Arquette references don't fit that often, but it fit in this case although Ellsworth isn't a movie actor like Arquette was. Good promo by Styles, who is a mix of being cocky and being worried about Ambrose causing problems for him.
Coming up later is Styles vs. Ellsworth, a six man tag and Bliss vs. Naomi is up next.
(Commercial)
The entrance of Naomi is the new leader for longest entrance since Undertaker is not a regular. Congrats to her.
Naomi vs. Alexa Bliss
Naomi with a Thesz Press attack early on with Ranallo saying that Bliss is "five feet of fury." That doesn't sound intimidating. Naomi did her barrage of kicks routine followed by a dropkick. Naomi with a kick to the face and a springboard cross body block for two. Running clothesline by Naomi and then a leg drop gets two. The announcers say Naomi is a great athlete every match she's in for like four years now. I agree, but they need to say new things. Naomi with a drop toe hold that sent Bliss into the turnbuckle. Bliss rolled to the floor, so it's time for a break.
(Commercial)
Back from break, Bliss was back in control with a chinlock. JBL said Alexa Bliss is "exactly the same" as Mike Tyson, who was small and a World Heavyweight Champion. That's a biiiiiiiiiiiiiiiiig reach. The "i" is not stuck on my keyboard. Naomi with a backbreaker, a clothesline, a leg lariat and a sitout jawbreaker. Naomi with a split legged moonsault for two. That's impressive. Naomi to the top again, but Bliss tripped her up and kicked her in the back. Bliss pulled Naomi down. Bliss went up top and hit the Twisted Bliss for the pinfall win after 10 minutes.
Winner by pinfall: Alex Bliss
Analysis: **1/4 It was a solid match. They got more time than I would have expected them to get. Naomi was on offense for about 75% of the match and her moves great like usual. Naomi is one of the more talented women that WWE has, yet they never seem to get behind her enough to put a title on her. Perhaps it will happen for her next year. I thought Bliss should have done more before the pin. The finish was a bit weak.
Post match, Bliss was interviewed in the ring by Renee Young. Bliss said that at three weeks she's going to beat Becky Lynch for the Smackdown Women's Title. There's no more happily ever after and the wicked witch is dead. The new champion will be the fairest of them all – her, Alexa Bliss.
Analysis: Her promos are very good. I like her presence a lot when she talks.
The six man tag to come is Ziggler, Slater & Rhyno vs. Miz, Kenny & Mikey.
Curt Hawkins is up next with JBL saying it's his very first match.
Analysis: Hawkins worked for WWE for nearly a decade. Stop calling it his first match. I guess his first match on Smackdown Live since it wasn't live before. That's a lame technicality. I shouldn't care this much about it, right? Let's move on.
(Commercial)
Apollo Crews was in the ring. Curt Hawkins made his entrance with his cane. He delivered some facts to Crews before the match. Crews punched him in the face and it sent Hawkins out of the ring. Hawkins said that Crews just ruined his big debut. Hawkins said that Crews deprived the people of seeing him in action. Hawkins said he's leaving and went up the ramp.
Analysis: That was bad. At least nobody disappeared. I'm always trying to look on the bright side.
Carmella is up next.
(Commercial)
Carmella Has Some Things To Say
Carmella made her entrance as we got more replays of her recent history with Nikki Bella.
Carmella complained about Nikki Freakin' Bella stealing the spotlight at SummerSlam. Carmella said she's there to spill the tea. Here comes Nikki Bella.
Nikki went into the ring to face off with Carmella as they each had a microphone. She wondered what Carmella had to say and suggested she say it to her face. Carmella said that Nikki stealing the spotlight and suggested that Nikki can get away with whatever she wants because her boyfriend is John Cena. The crowd let out a big "ohhh."
Nikki told Carmella she's a jealous hater like the people that Nikki has had to deal with over the last four years. Nikki says she's not hiding it because she has two television shows and thousands of pictures online. Nikki fired back saying when she's on Smackdown Live she's there to take care of business, as the fans chanted "shame" at Carmella. It led to Carmella called Nikki a whiny gold digger. Carmella said that if you watch Total Bellas and Total Divas then you already know, but if not then check this out.
There were clips of Nicole on her Total shows that don't make me want to watch those shows ever, except Nikki does look hot. That looks like the only perk of this garbage. It said Nikki is a "Total Nerd-Freak."
Nikki credited Carmella for editing as if Carmella edited the video. Nikki said that she paved her own road, she pays her own bills, she fights her battles and wears the pants in her relationship. Nikki fired back saying that she was told to never wrestle again because of her neck, but she never gave up and "Fearless" is what it's all about. They (the fans) know that she's not afraid of anything like a queen (Charlotte), a boss (Banks) or some princess from Staten Island (Carmella).
Carmella wondered if John helped her come up with the "Fearless" thing. She said that Nikki used her looks to get her foot in the door, she used her sister to get her foot in the ring and she used her boyfriend to become a celebrity. Carmella just said "capiche" and left the ring. Capiche means do you understand if you don't know.
Analysis: That was well done. I was impressed by both women. I think you can easily see both sides of their argument with Carmella saying that Nikki used her sister and Cena to get where she is, which is true in a lot of ways. In Nikki's defense, she did work hard to get better as a worker and has fought back after major neck surgery. I just like that the promo felt more weird than some of the overly scripted garbage WWE performers spew sometimes. The video package thing for Carmella mocking Nikki didn't feel that original since we saw Miz do that for Ziggler within the last month as well. Most of the rest of the segment was well done, though.
The great James Ellsworth was interviewed by Renee Young in the locker room. He talked about how the unthinkable happened with him getting a WWE Title match against AJ Styles. He said he knows he's not in the same league as AJ Styles, but one day he can tell his grandkids that their grandpa got to compete in the main event of Smackdown Live for the WWE Title. He was crying as Renee left and JBL made fun of him for it.
Six man tag is next.
(Commercial)
The Miz and his lovely wife Maryse entered with the Spirit Squad's Kenny and Mikey.
The Intercontinental Champion Dolph Ziggler and the Tag Champions Rhyno and Heath Slater walked out together as well. Prior to the match in a pre-tape, Slater said he helped Ziggler to inspire his own kids and Rhyno said he just doesn't like male cheerleaders. That's clever.
Dolph Ziggler, Heath Slater & Rhyno vs. The Miz (w/Maryse), Kenny & Mikey
Rhyno with a shoulder tackle on Mikey early on. Mikey fought out of the corner, tagged in Kenny and Rhyno gave Kenny a belly to belly suplex. Double back elbow from Slater and Rhyno on Kenny. Ziggler tagged in and was met with a back elbow from Kenny. Miz tagged in, but Ziggler met him with a dropkick. The heels were able to trap Ziggler in their corner briefly, but he fought back, went for a superkick and Miz escaped. The heels were on the floor, so time for a break three minutes into the match.
(Commercial)
Back from break, Ziggler was in there with Miz, but then Maryse tripped up Ziggler without the ref seeing it. Miz capitalized by taking down Ziggler and the heels took control. JBL said he uses his wife to get ahead – that's why he's retired and in Bermuda. Good point! The heels continued to work on Ziggler, but then Ziggler nailed a suplex on Mikey. Miz tagged in to stop Ziggler from tagging it. Ziggler nailed a superkick that looked like a short uppercut kick. Hot tag to Slater against Kenny with Slater hitting a running boot to the face and a leg lariat on Mikey. Neckbreaker by Slater gets two as Mikey broke up the pin. Rhyno nailed a huge Gore that crushed Mikey. Kenny shoved Rhyno out of the ring. Miz hit Slater with a punch and Kenny did the ROLLUP OF DEATH~! for the pinfall win after nine minutes.
Winners by pinfall:The Miz, Kenny & Mikey
Analysis: **1/2 The dreaded ROLLUP OF DEATH~! strikes again just like it did on Raw. I hate that finish so much. I know they did it because it's a cheap way for the heels to win. I just wish they can come up with different finishes once in a while because it feels so repetitive. That ending also suggests that perhaps Kenny & Mikey are going to stick around for a while for a feud with Rhyno & Slater, which is pretty weird considering the other teams on Smackdown. I guess it helps the lack of depth in the tag division, though. I'm not sure when Ziggler vs. Miz will have another IC Title match again. It didn't seem like it was the focus of this match.
The Smackdown GM Daniel Bryan was talking on the phone to Shane. The lovely Natalya showed up to talk about how she wanted to be on the women's team for Smackdown in the 5 on 5 tag team match. He asked her why she wanted to be on the team. Natalya quoted some song and Bryan wondered if she was quoting Whitney Houston, so she said she wants to dance with somebody, which is definitely Whitney Houston. Natalya told Bryan to follow her cat on Instagram as the segment came to a close.
Analysis: The "division" only has about six active women, so obviously she's going to be on the team.
(Commercial)
Jack Swagger was in the ring for a match. There were members of the Denver Broncos sitting ringside. Swagger's up against Baron Corbin again.
Jack Swagger vs. Baron Corbin
Swagger with a clothesline that sent Corbin over the top to the floor. When Swagger was on the apron, Corbin nailed him with a shoulder tackle that sent him into a barricade. Corbin hit Swagger with some forearms. Corbin hit the End of Days for the win in two minutes.
Winner by pinfall: Baron Corbin
The announcers put it over as a shocking win because Corbin won so easily.
Analysis: 1/2* A quick match that meant very little. It's not a shocking win at all because Swagger loses all the time. I hope this feud is over because the crowd didn't care about any of their matches. I was hoping it would be a better feud than this. It was poor, though. Get Swagger a tag team partner and try to re-invent his character because he's a worthwhile performer that just needs a change.
Natalya was shown backstage looking at pictures of her cats. She was still showing pictures to Daniel Bryan. Dean Ambrose showed up in a referee shirt. She left as Ambrose talked to Bryan. Ambrose wanted to be the referee again. Bryan told him he cannot be the referee tonight. Bryan said it can't happen for a World Title match, but said that Ambrose can be something like ring announcer, timekeeper, guest commentator or something else. Ambrose said he'll do that as Bryan asked: "Which one?" Ambrose just left.
Analysis: It makes sense that wacky referee Ambrose isn't the referee with the WWE Title on the line. What's he going to be? We'll find out after the break, which is fine with me because it doesn't give it away.
(Commercial)
Dean Ambrose made his entrance for the main event. He sat by the announce table at first.
The WWE World Champion AJ Styles made his entrance first. Styles yelled at Ambrose for being out there. James Ellsworth, the challenger, made his entrance while wearing his very own t-shirt that has his face on it. He even has a generic rock song. He received a good reaction.
Ambrose told ring announcer Greg Hamilton to leave the ring as the crowd chanted "Ellsworth" for the challenger. Ambrose said this is for the WWE World Heavyweight Championship and laughed saying it's true. Ambrose did a big introduction for the man with the eye of the tiger, James Ellsworth. More "Ellsworth" chants. Ambrose called Styles the master of taking the easy out and the current, as well as temporary World Champion AJ Styles. Ambrose rang the bell repeatedly in a very annoying way.
WWE World Championship: AJ Styles vs. James Ellsworth
Ellsworth went for a hiptoss early, but Styles applied an abdominal stretch. Ambrose told them to stop the match because they have to take a commercial timeout. Ambrose: "We gotta pay the bills, bro." The show went to break.
(Commercial)
Styles went for a rear chinlock, but Ellsworth slipped out of it because he has no chin or a small chin. That's clever. Ambrose plugged the Ellsworth shirt that's now available. Styles nailed Ellsworth with two punches to the face with JBL ranting about how Ellsworth can't win here because it's so prestigious. Styles with a dropkick. JBL: "He dropkicked his chin off!" The crowd did dueling chants for Styles and Ellsworth, which is surreal. Styles with a snap suplex into the turnbuckle. Styles left the ring to yell at Ambrose and say that this is his fault. Styles nailed Ellsworth with a hard chop. Ambrose read something on a card about a car's lights being on as a way to distract Styles. Ellsworth went for a cross body block off the middle rope, but Styles moved and Styles nailed a hard kick to the chest. Styles dumped Ellsworth out of the ring. Ambrose dumped Ellsworth back in the ring. Styles dumped him back out. They did that a few more times with Styles sending him out and Ambrose sending him back in. More "Ellsworth" chants. Styles stood on the turnbuckle yelling at Ambrose, so Ellsworth tripped him up. Ellsworth hit a superkick for 1…2…no! NO CHIN MUSIC! The crowd was chanting "Holy Shit" for that. Styles came back with a Spinebuster to stop Ellsworth. Styles kicked Ellsworth in the corner as Ambrose said that he knew Styles looked like a soccer mom, but didn't know he kicked like one too. Styles punched Ellsworth against the ropes repeatedly. Styles didn't stop punching Ellsworth against the ropes, so the referee rang the bell. Ellsworth wins the match by disqualification. It went 12 minutes.
Winner by disqualification: James Ellsworth (AJ Styles is still WWE Champion)
Analysis: *1/2 It was a comedy match that was like what they did last week, but they entertained me the whole way. I'm glad that they told a story with Ambrose interfering a lot to make things tough for Styles and Ellsworth almost benefited from it. Ellsworth got that awesome nearfall with the superkick – loosely named NO CHIN MUSIC – and he almost left with the WWE Title. The crowd was really into the whole thing, though, so that's the important thing to remember. The joke is that Ellsworth has beaten Styles two weeks in a row.
Post match, Ambrose said that the loser of the match is AJ Styles. That led to Ambrose saying the winner of the match is…Styles went after him, so Ambrose dropped him with Dirty Deeds. Ambrose held up Ellsworth's hand even though Ellsworth was down against the ropes. More "Ellsworth" chants from the crowd.
The show ended with Ambrose in the ring while Styles was knocked out in the ring and Ellsworth was still not moving.
Analysis: It's a fun story. I know some people are going to find it stupid, but it's okay to have silly storylines in wrestling as long as it also furthers a bigger thing like this Styles vs. Ambrose angle.
On Talking Smack, AJ Styles complained about things and it led to him asking for a match with Ambrose next week. Bryan said if Ambrose wins then he gets a WWE Title shot. Styles said that's fine.
Three Stars of the Show
1. AJ Styles
2. James Ellsworth
3. Alexa Bliss
The Scoreboard
4.5 out of 10
Last week: 6.5
2016 Average: 6.01
2016 Average Post Brand Split (July 26): 6.19 – Raw is at 6.04
Last 5 Weeks: 6.5, 5.5, 8, 7.5, 6
2016 High: 8 (August 23/September 27)
2016 Low: 4 (January 21)
Final Thoughts
It gets a 4.5 out of 10.
The show was off this week. It was one of the worst editions of Smackdown this year and my lowest score since the brand split started.
They are losing focus on what really works in terms of giving us entertaining matches. Why are talented people like American Alpha not even on the show? It's a shame.
It's disappointing that they say that Smackdown should be the wrestling show, yet we get a show like this one where nothing that exciting took place.
I did enjoy the Styles/Ellsworth match to further AJ's story with Dean Ambrose, but it's more of a silly midcard angle instead of something that should be for the WWE Title.
I thought both Raw and Smackdown were disappointing this week. Creative needs to be better.
—
PLUG TIME: We do a TJRWrestling Podcast every week that you can listen to right here on Podbean or use iTunes by searching "TJRWrestling" or "John Canton" to get it. Please check it out! Thanks!
That's all for now. Go Toronto Blue Jays. Go Los Angeles Rams.
John Canton – mrjohncanton@gmail.com
Twitter @johnreport