The John Report: WWE Smackdown Live Review 05/22/18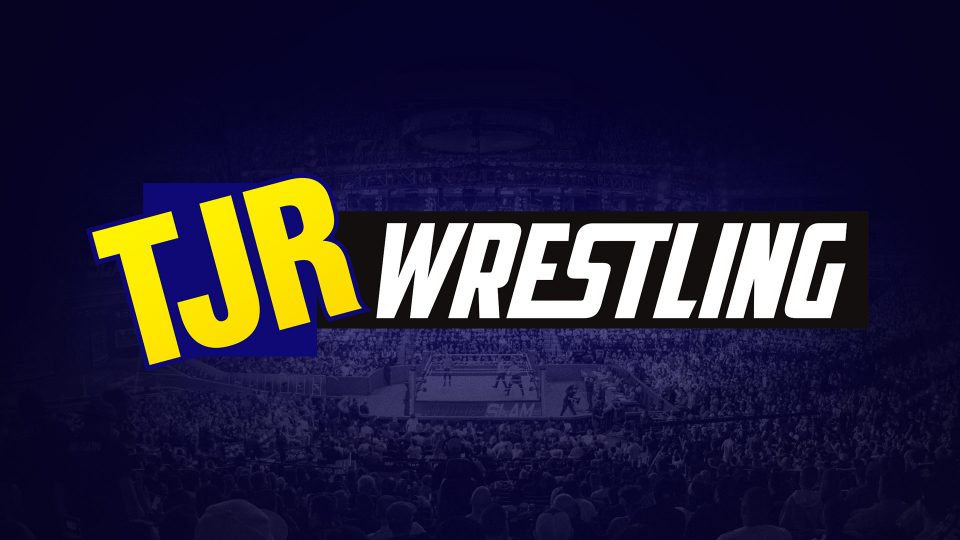 Live from Worcester, Massachusetts, this is Smackdown Live for episode #978. Follow me on Twitter @johnreport. Thanks to Melo Man for the banner up top. Thank you for reading and remember you can always pick up a TJRWrestling t-shirt to support the site as well.
The show began with a plug for the big main event with Daniel Bryan facing Jeff Hardy.
Miz TV with The New Day
The Miz was in the ring in his ridiculous ring gear that includes the headband and the leather jacket. That means he'll be put in a match. Miz asked the fans what they think about the Cleveland Cavaliers since they are Boston fans and they booed. Miz plugged his Miz & Mrs. USA Network show starting on Tuesday, July 24 at 10pm. The Miz invited The New Day trio to the ring because one of them will get a spot in the Money in the Bank ladder match.
The New Day trio of Kofi Kingston, Big E and Xavier Woods were all seated in the ring. They put some pancakes on a table that was in the ring. Miz was in his chair asking them to watch Miz & Mrs. and The New Day guys didn't seem interested in it.
The Miz asked The New Day who it would be in the Money in the Bank match. That led to "who" chants, so Miz said "which" and they said "which" repeatedly. All three guys said that "it's gonna be me" with Miz asking if they are going to be N Sync. Miz told them that he thinks that the three of them hold eachother back.
Woods said that Miz has a lot of things going for him while talking about his accolades (movies, TV shows, titles, main eventing WrestleMania, etc.) and Miz seemed impressed by that. Woods called Miz a "living legend." Woods added that the thing nobody likes about The Miz is that he always makes sure that Miz comes first. Miz pointed out that he won Money in the Bank, cashed in and became WWE Champion.
Miz talked about how Kofi has won titles in WWE, but he hasn't been able to be WWE Champion and pointed out that Kofi has been in six MITB matches and not won a single one. Miz spoke about Big E's size, charisma and when that bell rings, Big E has everything it takes to be a true champion. Miz said that Big E won't be taken seriously because he doesn't take himself seriously. Miz pointed out that Woods takes himself seriously and has a Youtube empire with UpUpDownDown with 1.5 million subscribers that he built on his own. Miz mentioned Fortline and Woods, as well as people in the crowd, corrected him that it's Fortnite. I don't play it either, Miz. Miz asked again who is it going to be and the fans chanted "who" again.
Woods said that it's going to have to be Big E and Big E said "or Kofi." Kingston said "or Xavier." Miz yelled at them saying that he brought them out there to make an announcement and Miz said that he's sick of their games. Miz said he can beat any one of them any day of the week.
The New Day huddled together. Kingston said Miz made the decision for them. Kingston said it's going to be Big E. Miz said there you have it that it's going to be Big E for Money in the Bank. Woods said they are talking about something else and Big E said they are talking about tonight. Miz asked Big E if he wants a match against Miz right here, right now. The fans chanted "yes" for that. Miz said no match and he'll see one of them at Money in the Bank.
The New Day trio tossed pancakes at Miz and said "shame" at Miz, so the fans chanted "shame" at Miz as well. Miz left the ring and ran to the back.
When Miz got to the back, Smackdown GM Paige was there. Paige said she understands that not everyone likes pancakes. Paige said that Miz thinks he can beat any member of New Day any day of the week and she told him to go do it right now. The Miz went back through the curtain to go have the match. The show went to break there.
Analysis: That was a fun opening segment even though it really didn't accomplish much because we still have no idea what New Day member will be in the Money in the Bank ladder match, which was supposed to be the point of the segment. All four guys are good talkers, though, so it was an entertaining promo exchange.
(Commercial)
The bell rang after the break. Xavier Woods joined the announce team of Corey Graves, Tom Phillips and Byron Saxton at the announce table.
The Miz vs. Big E (w/Kofi Kingston and Xavier Woods)
There was some comedy by Big E in the match early on. Woods mentioned that New Day doesn't want to give away who the New Day member will be in Money in the Bank because it's strategy. Miz ran the ropes, Big E avoided him and slapped on the abdominal stretch that included spanking wit the fans chanting "New Day Rocks" for it. Big E with a running back elbow on Miz. Big E stomped on Miz on the apron. Big E went for a running splash on the apron and he connected with it, which sent Miz rolling to the floor. Woods and Kingston gave Big E some syrup as if it was a boxing match and it was the end of a round. Miz got back into it by tripping up Big E on the apron sending him face first into the apron. Miz whipped Big E into the barricade as the show went to break.
(Commercial)
The show returned with Miz applying a sleeper and Big E backed Miz into the turnbuckle. Kingston took over on commentary. Miz went for his corner clothesline, Big E caught him and hit the belly to belly suplex twice. Big E hit the side belly to belly suplex followed by another running splash. Miz with a boot to the face of Big E, he wanted a DDT, Big E powered out of it, Miz charged in and Big E hit a uranage slam for a two count. Big E went for a running tackle, but Miz blocked it, Miz kicked the knee and Miz hit a DDT for a two count. Big E got back up, went for a slam, Miz got out of that and they did a double clothesline that knocked both guys down. Cesaro and Sheamus attacked Woods outside the ring. Kingston saved Woods with a leaping attack by jumping off Cesaro's shoulder onto Sheamus, but Sheamus recovered and hit a Brogue Kick to knock Kingston down. Big E was distracted by it, Miz avoided a slam and Miz hit the Skull Crushing Finale for the pinfall win after about 11 minutes of action.
Winner by pinfall: The Miz
Analysis: **1/2 It was a solid match with a cheap ending. It was nice to see Big E getting a lot of offense in the match and he came close to winning a few times. Miz winning was what I expected since he's the singles wrestler of the two. The Sheamus and Cesaro story with New Day has been building for a few weeks. I still think it will be Big E representing New Day in the Money in the Bank match, but that's not official yet.
The announcers talked about Daniel Bryan vs. Jeff Hardy later with Graves complaining about Paige making that match since both guys already lost MITB qualifiers.
There was a replay of last week's Smackdown with Bryan destroying Big Cass and attacking his left knee viciously.
They showed Big Cass backstage on crutches with Phillips talking about how Cass has not been medically cleared to compete. Cass looked angry. That led to Paige making the Bryan vs. Hardy match for later.
Daniel Bryan was warming up backstage when Dasha Fuentes showed up for an interview. Bryan said this second chance qualifier means everything because nobody knows about second chances like him. Bryan said he showed Big Cass it doesn't matter how tall you are because if you kick a hornet's nest, you're going to get stung. Bryan said it's crazy and insane to think that it's Daniel Bryan vs. Jeff Hardy in 2018. Bryan talked about how Hardy is a legend and a difficult mountain to climb, but tonight he will tap a legend out.
Analysis: Good promo from Bryan as usual. Calling Jeff Hardy a legend is fine with me.
The lovely Lana was shown in the locker room checking herself out in a mirror because she faces Billie Kay up next.
(Commercial)
PLUG TIME: Check out my article on The Comeback about Smackdown moving to Fox in October 2019, which also means a new night because it's going to be a Friday night show again. The money is huge at over $1 billion for five years. Also, I wrote about ten NXT stars that I believe are going to be the most successful when they head to the main roster.
There was a plug for KnowYourGirls.org for WWE's work with women's breast cancer awareness.
Aiden English appeared on the stage for a song ending with the "Lana is the best, Lana number one" part. The fans sang along with it leading to Lana's entrance. Lana danced her way down to the ring with English joining her at ringside.
The Iiconics duo of Billie Kay and Peyton Royce annoyed the crowd with their warming up and fans chanted "Rusev Day" at them. Their song was "Lana is a loser." Then they celebrated it. That was it. Peyton said when they win Money in the Bank, Smackdown will become iconic.
Money in the Bank qualifying match: Billie Kay (w/Peyton Royce) vs. Lana (w/Aiden English)
English held up a "Lana Day" sign at ringside. Royce and Kay yelled at him about it. Royce slapped English. Lana slapped Royce and tossed her into the barricade. Kay sent Lana into the ring. Lana with a jumping kick to Kay's head. Lana with a sitout facebuster and pinned Kay for the pinfall win after one minute.
Winner by pinfall: Lana
Analysis: 1/4* It was brief, but it was entertaining and the crowd was into it, so I'll give them credit for that. I picked Lana to win last week because I figured she was put in the match to try to capitalize on her popularity. Listen to that crowd. They love her. It's easy to see why.
Post match, Lana celebrate the win. It's her first singles win on WWE television. Fans were chanting "Lana Day" for her.
Later: The Usos will face Luke Gallows and Karl Anderson.
Andrade "Cien" Almas and Zelina Vega were backstage for a promo. Vega did a promo complaining about the treatment for Almas and said that Almas is the future of Smackdown Live. Vega said if Almas doesn't get what he deserves then they're just going to take it. Almas is in action up next.
(Commercial)
Andrade "Cien" Almas entered with Zelina Vega.
Analysis: I'm a big fan of this guy and she's a great manager for him. It's a reminder that managers can be very useful for talent and WWE should consider having more managers for people that need that extra boost to get to that next level.
Andrade "Cien" Almas vs. Some Guy With No Chance
They did not announce the name of Almas' opponent. Running clothesline in the corner by Almas. Fans chanted "Let's go Jobber" for the blonde-haired wrestler whose name wasn't announced. Elbow by No Chance followed by a punch, but Almas nailed a spinning back elbow to take him down. Almas hit the running knee attack against the turnbuckle. Almas did the running knee attack again, this time to the back of the head. Almas hit the Hammerlock DDT for the pinfall win after about two minutes.
Winner by pinfall: Andrade "Cien" Almas
Analysis: 1/2* Easy win for Almas just like last week. It's lame that WWE doesn't even attempt to give a name to the opponent. Lucky for you, I'm happy to come up with a name for Mr. No Chance.
Carmella, the Smackdown Women's Champion, was interviewed backstage by Dasha Fuentes. Carmella said that everybody is a hater and everybody is afraid of Asuka, but not her. Carmella mentioned that she beat Charlotte Flair twice and Charlotte beat Asuka, so that means Carmella is twice as good as Asuka. Carmella said that at Money in the Bank she's going to moonwalk over Asuka and prove once again that Mella is Money.
Analysis: I enjoy Carmella's promos. She's one of the better talkers in the women's division and that's part of the reason why she's holding that title.
The Nakamura/Styles Money in the Bank stipulation announcement segment is next.
There was a commercial for next week's Raw: Seth Rollins vs. Jinder Mahal for the Intercontinental Title and a 7-woman Money in the Bank gauntlet qualifying match.
(Commercial)
Money in the Bank WWE Title Match Stipulation Announcement
AJ Styles, the WWE Champion, made his entrance for the Money in the Bank WWE Title match stipulation announcement. Renee Young was in the ring to conduct the interview. There was a big ovation for Styles like there is every week because he deserves it.
Shinsuke Nakamura was introduced by Renee Young. Nakamura made his entrance with his unique dance moves on the way down to the ring. I'm still digging his heel theme song, by the way. Nakamura beat Styles last week and this week, Nakamura can announce the Money in the Bank match stipulation.
Styles interrupted Renee's attempt at asking a question to Nakamura. When Styles asked for the stipulation, Nakamura told him to relax and wanted to remind him why Nakamura gets to pick the stipulation. That led to a highlight of last week when Nakamura pinned Styles after a Kinshasa knee strike.
Styles said he remembered it and told Nakamura to enjoy that because it will never happen again. Renee left the ring at this point. Nakamura said that he's not just going to beat Styles, he will destroy him and Styles will never recover. Nakamura said the title is his. Nakamura said that AJ's "house" is his house. Styles asked Nakamura again to tell them what the stipulation is.
Nakamura said that the stipulation at Money in the Bank will be a…pillow fight. Styles checked to see if Nakamura really said that. Nakamura was laughing about it. Fans chanted "pillow fight" for that. Styles said he always knew Nakamura was the king of soft style. Nakamura said that he jokes because he has the upper hand. Nakamura said he looks into Styles' face and all he thinks about is knee to face. Nakamura said "knee to face" repeatedly, so Styles said he's got it. Styles said that Nakamura that can't beat him when it counts and said he is not the Shinsuke Nakamura they wanted on Smackdown Live. Styles ended the promo saying he'll see him at Money in the Bank.
Nakamura tried a punch, Styles blocked it and punched him out of the ring. Styles dumped Nakamura over the barricade at ringside. Nakamura came back with a steel chair. Styles avoided the chair shot and Styles tossed Nakamura over the barricade. They went brawling into the crowd. Styles won that fight and he tossed Nakamura over the barricade to send him to the ringside area again. Styles jumped off the barricade, but Nakamura blocked it with a chair shot to the ribs. Nakamura counted Styles down until Styles got up after a five count. Nakamura with a knee to the ribs. Nakamura with a suplex stomach first onto the announce table. Nakamura hit the Kinshasa knee strike on the floor. Nakamura counted Styles down from 1 all the way up to 10 with Styles not moving. That would suggest Last Man Standing.
Nakamura grabbed a microphone: "Last Man Standing Match." Nakamura celebrated over a fallen Styles as Nakamura's played and that ended the segment.
Analysis: The segment was pretty good. It was about ten minutes with a lot of stalling due to Nakamura being a jerk as a heel and Styles was frustrated with him. It was no surprise that things got physical with a brawl into the crowd. I'm also not surprised by the Last Man Standing stipulation because that's what I expected it to be based on the last match ending when neither man could answer the ten count. If that happens again then there's no winner, but that finish at Backlash sets up this next match in terms of how WWE usually sets up a match like this. I think it's very possible that Nakamura wins the WWE Title at Money in the Bank although if Styles retains and feuds with a guy like Samoa Joe I'd be fine with that too.
Still to come: Daniel Bryan vs. Jeff Hardy. The Usos vs. Gallows and Anderson is next.
(Commercial)
The Usos finished their entrance for the tag team match. Luke Gallows and Karl Anderson were already in the ring.
Anderson and Gallows did a pre-match promo saying The Usos blew their shot at the Bludgeon Brothers. Gallows said at Money in the Bank, it's going to be the Bludgeon Brothers against the Good Brothers at Money in the Bank. Jey Uso took Anderson's microphone telling him it's not Japan or Monday Night Raw. Jey said it's Smackdown Live and welcomed them to the Uso Penitentiary. Anderson said he doesn't see wardens, they see a couple of…Gallows said "nerds" and the Usos punched them.
Analysis: It was a quick promo from both teams talking trash about wanting to be the challengers to the SD Tag Team Titles. The tag division has been forgotten in recent weeks, so it's nice to see them get some time to say something.
The Usos (Jimmy & Jey) vs. Luke Gallows and Karl Anderson
Gallows nailed Jey with punches as the ref called for the bell. Jey wit ha clothesline that sent Gallows over the top to the floor. Jimmy punched Anderson out of the ring. Jey jumped over the top and took out G&A on the floor as the show went to break.
(Commercial)
Back from break, Anderson nailed a running forearm followed by a jumping kick to the head. Anderson nailed a neckbreaker off the middle rope for a two count. Jey nailed a jumping kick to the head. Jey went up top, Anderson kicked him down and crotched him on the top. Jey with a headbutt that knocked down Anderson followed by a spin kick. Gallows tagged in with a splash that missed, both Usos nailed kicks and Jimmy nailed two superkicks on Gallows. Jey was the legal man and he jumped off the top with a Superfly Splash for a two count. I'm surprised Gallows kicked out of that. Jimmy and Jey went up on opposite corners. Jimmy was the legal man. Anderson knocked Jey off the top. Jimmy nailed a superkick on Gallows and Gallows came back with a superkick of his own. Anderson tagged in and they hit the Magic Killer double team finisher on Jimmy for the pinfall win. It went about six minutes.
Winners by pinfall: Luke Gallows and Karl Anderson
The win means that Gallows and Anderson will challenge the Bludgeon Brothers at Money in the Bank.
Analysis: ** It was fine for the time given. It's tough when you are only given a few minutes to have a match. I was surprised when Gallows kicked out of the splash, but it also told me that G&A were going to win. I'm fine with Gallows and Anderson winning because we have seen The Usos put over The Bludgeon Brothers a few times already. I don't expect Gallows and Anderson to beat the Bludgeon Brothers at Money in the Bank. I'm not sure what team will beat the Bludgeon Brothers, but I doubt it's Gallows and Anderson.
A replay aired of the Nakamura/Styles segment and the announcement that they will have a Last Man Standing Match for the WWE Title at Money in the Bank.
Naomi made her glow entrance with the crowd fired up to see her as the show went to break.
(Commercial)
Sonya Deville made her entrance for the MITB qualifying match against Naomi, which was set up last week. Mandy Rose was with Sonya and Mandy looked incredible like usual.
Money in the Bank Qualifying Match: Naomi vs. Sonya Deville (w/Mandy Rose)
Deville took down Naomi with a waistlock. Naomi got a rollup for a nearfall. Becky Lynch was shown watching on a television backstage. Naomi did the splits after Sonya caught her foot, but Deville came back with a tackle. Charlotte Flair was shown watching on another television. Deville with a running knee to the back for a two count. Deville grounded Naomi with a leg scissors around the waist. Naomi managed to get Deville off her back. Naomi charged, Deville caught her and slammed her down like a spinebuster. Deville worked over Naomi with kicks to the ribs. Naomi came back with a kick, which led to the women exchanging kicks in a very choreographed exchange and Naomi nailed a jumping kick at the same time as Deville. Naomi avoided a kick, used her legs to rollup Deville and sat on top for the pinfall win after five minutes.
Winner by pinfall: Naomi
The win means Naomi is the final Smackdown woman in the women's Money in the Bank qualifying match.
Analysis: *1/2 It was okay. Some of Deville's offense looks great when she's doing the strikes. At other times, her matches are hurt because she's still green in terms of putting together a complete match. Naomi was selling for about 90% of the match and got the win with a crafty rollup. I'm not surprised by the result.
Jeff Hardy, the US Champion, was shown leaving the locker room for his main event match. Renee Young showed up to interview him. Hardy talked about how excited he was and he's going to take it one step at a time. Hardy said he's focused, fired up and he's taking flight.
Samoa Joe entered to join commentary for the main event.
(Commercial)
Next week on Smackdown: The New Day vs. The Miz, Sheamus and Cesaro.
Samoa Joe was on commentary in his ring gear and the towel around his neck. Joe faces the winner of Bryan vs. Hardy next week on Smackdown for the final spot in the men's Money in the Bank ladder match.
Analysis: The story is that Hardy and Bryan already lost qualifiers while Joe has yet to have a qualifying match, so Bryan and Hardy have to have a match to see who will face Joe, who was originally going to face Big Cass, who is now injured in the storyline.
Jeff Hardy, the US Champion, made his entrance to a loud reaction from the crowd.
Daniel Bryan was up next to an even louder reaction from the crowd thanks to the "yes' chants.
Jeff Hardy vs. Daniel Bryan
They shook hands before the match. Hardy took down Bryan with a shoulder tackle. Bryan grounded Hardy with an armbar and then Bryan ran the ropes leading to a shoulder tackle of his own. Joe talked about Bryan saying he's one of the greatest technicians. Joe said he's beaten up Bryan all over the world and he'll be happy to do it again next week. Hardy with an inverted atomic drop followed by the double leg drop and the low dropkick that sent Bryan out of the ring. That led to a break.
(Commercial)
The show returned with each man running the ropes and they hit a double cross body block where their bodies collided at full speed. Bryan worked over Hardy with kicks to the chest followed by an enziguri kick that sent Hardy out of the ring. Bryan with a dropkick that sent Hardy into the barricade. Bryan missed an attack off the apron when Hardy moved, so Hardy ran across the apron and hit a clothesline on Bryan on the floor. Back in the ring, Bryan set up Hardy upside down against the turnbuckle in the Tree of Woe position. Bryan with a low dropkick. Bryan set up Hardy on the top rope for a suplex, but Hardy punched him off. Hardy went up top and hit the Whisper in the Wind attack for a two count. Bryan came back with a dropkick to the left knee after Hardy was favoring his left knee a bit. Hardy with the yes kicks to the chest, Hardy avoided the roundhouse kick and Hardy hit a Twist of Fate neckbreaker. Hardy up top and he jumped off with the Swanton Bomb, but Bryan got the knees up to block it. Bryan with a roundhouse kick to Hardy's head for a two count. Bryan went for the knee, Hardy avoided it and Hardy got a rollup for two. Hardy with another rollup for two. Bryan with two uppercuts, Hardy went for a Twist of Fate again, but Bryan took him down with a dragon screw leg whip. Bryan slapped on the heel hook leg submission and Hardy tapped out. The match went 11 minutes.
Winner by submission: Daniel Bryan
The win by Bryan means he faces Samoa Joe in a MITB qualifier next week.
Analysis: ***1/4 That was very good for the time given. It's one of those matches where I wish they could have got 15-20 minutes because they were on their way to an outstanding match if they were given more time for it. Bryan winning with the heel hook submission is done because he was working over Hardy's leg for most of the match, so it makes sense as a finishing move for Bryan. I liked the way they set up the Swanton Bomb by Hardy only for Bryan to get his knees up to block it and they had a couple of nearfalls after that as well. Fun match by two very good pros. I'd like to see this match again.
After the match was over, Joe did a promo to remind Bryan that next week on Smackdown Live, Bryan will face Joe. Joe walked to the back.
Samoa Joe was interviewed by Renee Young behind the curtain. Joe said next week, Daniel Bryan goes to sleep "yes, yes, yes."
Bryan celebrated in the ring with "yes" chants and that was it for Smackdown.
Analysis: I'm looking forward to Bryan vs. Joe next week. I have seen them wrestle elsewhere like Ring of Honor many years ago, but this will be their first match in a WWE ring. I'm picking Joe to win perhaps due to interference from Big Cass. That's just my guess at this point.
Three Stars of the Show
Daniel Bryan
Jeff Hardy
The Miz
The Scoreboard
6 out of 10
Last week: 7
2018 Average: 6.24
Last 5 Weeks: 7, 7, 6, 6, 6.5
2018 High: 8 (April 10)
2018 Low: 4.5 (January 2 and January 9)
Final Thoughts
Smackdown gets a 6 out of 10 this week.
It was an average show this week with only the main event really standing out. This Money in the Bank build has been so slow that the main event this week was just a qualifying match to lead to another qualifying match next week. It seems a bit tedious. That's what happens when they have six weeks between PPV events, so the build to this Money in the Bank PPV is taking so long to get there.
The Nakamura/Styles segment was lame early on, but once things got physical and Nakamura kicked AJ's ass to set up the stipulation announcement it was good. It just took a while to get to that point.
The tag team division was featured a bit this week, so that's a good thing.
IT'S OFFICIAL: #WWEChampion@AJStylesOrg vs. @ShinsukeN in a #LastManStanding Match at #MITB! #SDLivepic.twitter.com/xKmcrUSNDw

— WWE (@WWE) May 23, 2018
The next WWE PPV is Money in the Bank in Chicago on June 17. Here's the lineup so far.
WWE Championship Last Man Standing Match: AJ Styles vs. Shinsuke Nakamura
Raw Women's Championship: Nia Jax vs. Ronda Rousey
Men's Money in the Bank Match: Braun Strowman (Raw) vs. Kevin Owens (Raw) vs. Finn Balor (Raw) vs. Bobby Roode (Raw) vs. The Miz (SD) vs. Rusev (SD) vs. one member of The New Day (SD) and one more SD guy (Samoa Joe vs. Daniel Bryan next week).
Women's Money in the Bank Match: Ember Moon (Raw) vs. Alexa Bliss (Raw) vs. Charlotte Flair (SD) vs. Becky Lynch (SD) vs. Natalya (Raw) vs. Lana (SD) vs. Naomi (SD) vs. one more woman from Raw (Gauntlet qualifying match next week).
Roman Reigns vs. Jinder Mahal
Smackdown Women's Championship: Carmella vs. Asuka
Smackdown Tag Team Championships: The Bludgeon Brothers vs. Luke Gallows and Karl Anderson
Other likely matches: Sami Zayn vs. Bobby Lashley
—
Thanks for reading. My contact info is below. Go Toronto Blue Jays.
John Canton
Email mrjohncanton@gmail.com
Twitter @johnreport
Personal Facebook and TJRWrestling on Facebook