The John Report: WWE Smackdown Live 10/23/18 Review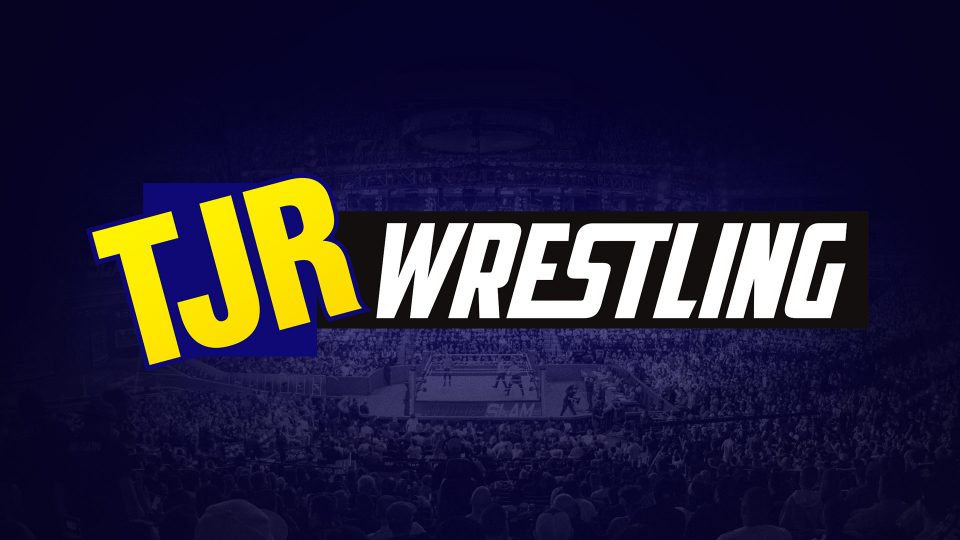 It's time for episode 1001 of Smackdown Live following last week's big episode 1000 celebration. Advertised for this week's Smackdown is The Usos facing AJ Styles and Daniel Bryan in a rematch from last week, Rusev battles former friend Aiden English and Rey Mysterio is a guest on Miz TV.
Live from Newark, New Jersey, this is Smackdown Live for episode #1001. Follow me on Twitter @johnreport. Thanks to Melo Man for the banner up top.
There was a shot of the crowd in Newark with Tom Phillips welcoming us to Smackdown. I was told that most of one side of the arena was tarped off, but that's not going to be shown obviously.
Let's Hear From The New Day
The New Day trio that are the former Smackdown Tag Team Champions entered to a nice ovation. They dumped pancakes on some kid in the crowd. A replay aired from last week that showed Big Show putting Kofi Kingston, who was not in the match, through an announce table leading to Sheamus hitting Big E with a Brogue Kick to win the SD Tag Team Titles.
It was announced that at Crown Jewel, Sheamus and Cesaro will defend the SD Tag Team Titles against The New Day.
The New Day trio were in the ring for a promo. Kofi Kingston said that The Bar lowered the bar, but he's not surprised by that. Kingston wondered what was up with Big Show. Xavier Woods wondered if Show was the "bartender," which drew no reaction and Big E made fun of it. Big E said that Big Show flips back and forth more than a flapjack. Kingston said that he wants payback. Kingston said that tonight, somebody is getting that work.
The Bar duo of Sheamus and Cesaro, who are the new Smackdown Tag Team Champions, made their entrance. They were joined by their new big buddy Big Show at ringside.
Big Show (w/Sheamus and Cesaro) vs. Kofi Kingston (w/Big E and Xavier Woods)
Show was dominant early with chops to the chest followed by a throw that sent Kingston across the ring. Show picked up Kingston and hit a Chokeslam. Show hit Kingston with a second Chokeslam. Show connected with a third Chokeslam on Kingston. Big E and Woods went into the ring to brawl with the heels, so that ended the match. It went about one minute.
Match Result: No Contest
Analysis: 1/2* It wasn't much of a match. It was an ass kicking with Show dominating Kingston easily.
The trio of Cesaro, Sheamus and Show dominated the New Day trio. Show whipped Kingston into the ring post. Show picked up Big E and hit him with a Chokeslam. Show with a KO Punch to Woods to knock him out. The Bar with Show celebrated. Show hit another Chokeslam on Woods and the heels left.
Analysis: You can tell that WWE really wants to establish this heel trio as a dominant force. They won gold last week and kicked ass this week. I'm fine with it because Smackdown could use a good heel group like that since the creative team ignores Sanity these days. Big Show, who is 46 years old, seems fresh again thanks to this trio he's now a part of.
Still to come is Miz TV with Rey Mysterio and up next is Styles/Bryan vs. The Usos in a rematch from last week.
(Commercial)
The Smackdown announce team of Tom Phillips, Byron Saxton and Corey Graves set up a video showing the big news from Raw with Roman Reigns announcing his absence due to leukemia, which is a form of cancer. The video package showed clips of Roman in his younger days and moments with his family. They showed the end of Roman's speech with fans chanting "thank you Roman" for him.
Analysis: I covered it all in my WWE Raw Deal review that you can read in case you didn't see it. The video package makes me just as sad as the announcement. We're all thinking of you and praying for you, Roman. Get well soon.
The fans at Smackdown chanted "thank you Roman" just like the Raw crowd did one night earlier. Images were shown of various media outlets covering the story. Graves said that Reigns can inspire people and they love him.
The Usos were in the ring for the rematch from last week. They are the cousins of Roman Reigns that are also his best friends. If you know their history, they grew up with Reigns since they are all around the same age and spent so much time together.
AJ Styles, the WWE Champion, made his entrance to a good ovation. A clip aired of last week with The Usos pinning Daniel Bryan in the tag team match after Bryan accidentally hit Styles with a forearm. Daniel Bryan made his entrance and of course, he was greeted with the "yes" chants from the fans. Styles vs. Bryan is the WWE Title match at Crown Jewel.
AJ Styles and Daniel Bryan vs. The Usos (Jimmy and Jey)
The team of Styles and Bryan were in control early with Bryan hitting a clothesline that sent one of the Usos over the top to the floor. Styles sent the other Uso out of the ring and that led to Styles/Bryan hitting slingshot cross body blocks to take out both Usos on the floor. Bryan led the crowd in "yes" chants leading to a break.
(Commercial)
The show returned with The Usos in control of Bryan. Jimmy went up top with a double axe to the ribs of Bryan for a two count. Jimmy and Bryan did a collision spot leading to both guys being out on the mat. Styles tagged in against Jey with a forearm and a fireman's carry neckbreaker (Ushigoroshi) by Styles for a two count. Styles rolled through and slapped on a Calf Crusher submission, but Jimmy saved Jey from tapping out. Bryan with a back body drop that sent Jimmy out of the ring. Styles went for a Phenomenal Forearm off the top, Jey moved, Styles almost hit Bryan and stopped himself. Styles hit a Pele Kick, Jey moved and Styles kicked Bryan in the head. Jey with a superkick on Styles. Jimmy was the legal man and he hit a Superfly Splash on Styles for the pinfall win after nine minutes. When Jimmy did the splash, he did a Superman Punch hand gesture in tribute to cousin Roman Reigns, so that was pretty cool to see.
Winners by pinfall: The Usos
Analysis: **3/4 It was a good match between four guys that are awesome in the ring. I liked the way it was going and wish they got five more minutes, but I understand that it was just done to do a finish like last week. The difference is that Styles accidentally hit Bryan this time as opposed to Bryan doing it last week. The Usos capitalized to win. Easy story to tell, but it's not that compelling either. There are better ways to build up a WWE Title match that are more productive than having the two guys lose tag matches.
Post match, Bryan and Styles looked at eachother wondering what happened.
A video package aired promoting Ronda Rousey vs. Nikki Bell at Evolution on Sunday.
Up next are highlights of an altercation between Charlotte Flair and Becky Lynch at the Performance Center.
(Commercial)
A video package aired about WWE"s work in raising money and awareness for breast cancer.
The duo of Styles and Bryan were shown walking backstage with Dasha Fuentes interviewing them. Styles said that this was an accident while Bryan said that last week what he did was for sure an accident. Bryan said it looked like Styles' nose was growing, which is a Pinocchio joke about lying. Bryan did the "too sweet" hand gesture, which Styles did not appreciate and he left.
There was a clip of Charlotte Flair talking to the women at the WWE Performance Center over the weekend. It showed Charlotte talking about how you need to work hard at the Performance Center and listen to your coaches. Charlotte kept on giving them advice when all of a sudden, Becky Lynch showed up with her title to say that the women should hear from the champ, not Charlotte. Becky told the women not to make friends with anybody and that led to a brawl. They got into a scrap by one of the rings, but it didn't last that long because the other women broke it up as Flair was yelling at Lynch for her actions.
Analysis: That was effective in terms of showing that Lynch will do anything to try to piss off Flair and try to steal her spotlight. I didn't recap everything the women said, but you get the point.
Charlotte Flair did a promo backstage complaining about Becky's attack against her. Charlotte said that Becky has changed and there's no going back because there's no line that she won't cross. Charlotte said that when she wins back her Smackdown Women's Champion at Evolution, she'll be standing over her friend that lost her way.
Analysis: Solid promo from Flair. Lynch has been better at promos in building up this feud, but I think Flair is pretty good at them too.
At Evolution, it's Lynch vs. Flair in a Last Woman Standing match for the SD Women's Title. I think Lynch is going to retain, but it could go either way
Rusev entered with his lovely wife Lana by his side for his match.
(Commercial)
English made his entrance with a "Happy Aiden Day" shirt while doing a song about how he's going to destroy Rusev. English sang that instead of a short Rusev Day, Lana could have had a long Aiden Night.
Rusev (w/Lana) vs. Aiden English
Rusev chased English outside the ring and hit a punch to the head. Rusev sent English into the barricade. Back in the ring, English hit a neckbreaker on Rusev. English yelled at Lana and said that this is all her fault. Lana threw a shoe at English. Rusev slapped on the Accolade submission and English tapped out to end this match in under two minutes.
Winner by submission: Rusev
Analysis: * It's disappointing that this grudge match was only given two minutes. These guys teamed together for about one year, yet they can't even get more than two minutes? That's weak. I feel bad for both guys because they're good all around performers, but they had no chance here.
Still to come is Jeff Hardy vs. Randy Orton. The Miz was shown backstage because he's up next hosting Miz TV.
(Commercial)
Miz TV
The Miz was in the ring wearing his ring gear, so he's going to be put into a match. Miz recapped some of the big moments from last week's Smackdown 1000 episode including his quick win over Rusev. Miz mentioned his guest beating Shinsuke Nakamura and introduced Rey Mysterio. The crowd gave Mysterio a nice ovation with Graves putting over Mysterio as the greatest masked superstar in sports entertainment.
The Miz and Mysterio are two of the eight men in the World Cup tournament at Crown Jewel if it takes place as scheduled on November 2 in Saudi Arabia. There has been no mention of the location of the event.
The Miz welcomed Mysterio back and asked him why he came back. Mysterio said it feels great to be back home. Miz mocked Mysterio by doing a bad impression talking about how Mysterio talks about being a plucky underdog. Miz said that's very 90s of him. Miz said that people don't care about underdogs, they are interested in larger than life stars like Miz. That didn't draw a reaction, so Miz said it again to draw boos. Miz talked about how he became the most must see star in WWE that has beaten everybody and he's the multi-talent in WWE because he does it all. Miz said that he's going to advance out of the Smackdown bracket and advance to the finals to beat whoever Raw has to prove that he is the best in the world.
Mysterio said that he is very disappointed because he thought he was booked to be on Truth TV, which led to a "Truth TV" chant. Mi wondered if that was a joke and asked if he wanted a dance break, so the fans cheered that. Miz said that he beat Truth to have his show canceled and what happened last week was illegal. Mysterio told him to take him easy. Mysterio said that he didn't come back to Smackdown Live to be on some dusty talk show. Mysterio said he came back to compete, so if Miz has nothing else to say, let's throw down right now. Miz said that nobody there wants them to fight, which led to the fans not agreeing with him and chanting "yes" at Miz.
Miz kicked Mysterio in the ribs and stomped away on him. Mysterio hit an enziguri kick. Mysterio wanted a 619 kick, but Miz bailed to the floor as the show went to break.
Analysis: It was a decent talk show segment to set up the obvious singles match since they were both in their ring gear. Miz spoke for about 80% of it, which is typical of him as an arrogant heel. The crowd was strongly behind Mysterio.
A commercial aired for Evolution plugging Lita and Trish Stratus against Mickie James and Alexa Bliss.
(Commercial)
The match began after the break with the announcers saying that Smackdown GM Paige, who has not been on camera this week, made the match.
Rey Mysterio vs. The Miz
Mysterio with a headscissors that sent Miz out of the ring and Mysterio hit a sliding splash under the bottom rope onto Miz on the floor. That's such a great spot. Back in the ring, Mysterio with a springboard cross body block. Mysterio worked over Miz with punches against the turnbuckle. A running splash by Mysterio missed because Miz moved and Mysterio hit the turnbuckle hard. Miz with a running splash to the back of Mysterio. Miz slapped on a headlock. Mysterio with a boot to the face, Miz sent Mysterio into the turnbuckle again and Mysterio punched him. Mysterio with a headscissors that sent Miz into 619 position against the ropes, Miz avoided the 619 and Miz hit a snap DDT for a two count.
(Commercial)
Back from break, Miz hit the It Kicks to the chest of Mysterio, the roundhouse kick was ducked like always, Mysterio rollup and Miz came back with a boot to the head. They went to the top rope with Miz teasing it off the ropes, but Mysterio countered with a sunset flip like move that knocked Miz down. Mysterio with a springboard senton splash, Mysterio rolled through and hit Miz with a kick to the head. Mysterio with a jumping kick to the side of the face. Mysterio jumped off the top, Miz caught him and hit a backbreaker into a neckbreaker combo for two. Mysterio ran the ropes leading to Miz hitting him with a boot to the face. Mysterio with another headscissors that sent Miz into the ropes followed by the 619 kick and Mysterio hit a springboard splash on Miz for the pinfall win after about nine minutes.
Winner by pinfall: Rey Mysterio
Analysis: *** Good action in that match with a lot of counters from each guy. They work well together for a couple of guys that haven't had a match in six years as Phillips mentioned during the match. I liked the way Miz kept going for pinfalls, Mysterio kept kicking out and they set up the finishing sequence well. In terms of storylines, it doesn't matter that much since they are both in that World Cup and this match had no bearing on that. Mysterio is 2-0 on SD since his return last week, so clearly WWE wants to push him like a big star, which is the right way of doing it.
Still to come: Jeff Hardy vs. Randy Orton.
Naomi made her entrance for a match after the break. She likes to glow. Asuka joined Naomi because they are in a tag team match.
(Commercial)
Sonya Deville and Mandy Rose made their entrance with Graves telling Phillips to shut up while Rose made her entrance. I agree with Graves! Hello Mandy. They plugged the battle royal at Evolution with all four of these women in the match.
The Iiconics made their entrance in their ring gear. Billie Kay said that she was excited, Peyton Royce asked what was exciting about Newark and Kay said she was excited about Evolution.
Lana interrupted them to try to talk, but Carmella interrupted her. Happy birthday to Carmella. Carmella said that nobody wants to hear them talk, what they really want is a dance break, so Zelina Vega showed up and tossed Carmella into the ring.
That led to a brawl with all of these Smackdown women battling in the ring. Women hit a move and then left. Zelina Vega hit a double knee attack on Lana. Asuka went back in the ring and hit a spin kick leading to Vega bumping to the floor. Asuka's music played to end it.
Analysis: That was a rushed segment to try to get the Smackdown women on the show. They were having each women a hit a move and then the other woman would bail to the floor selling as if they couldn't recover from it. That just looks too cheesy. Asuka standing tall is a way to show that she's a favorite to win. I'm not sure who my battle royal pick is, but I'm leaning towards Nia Jax or Ember Moon.
The announcers went over the Evolution card for Sunday's PPV. I have the lineup on the bottom of the post. We will have a preview up on Friday.
Randy Orton was shown looking ready for his match. He's up against Jeff Hardy up next.
(Commercial)
Shane McMahon, the Commissioner of Smackdown, made his entrance. Congrats to him for showing up to work for two weeks in a row. I'm jealous of his work schedule.
Shane sucked up to the crowd asking how they were doing. Shane talked about the first ever all-women's PPV Evolution. Shane congratulated to all the women from WWE's history that has helped make it possible. Shane talked about the WWE World Cup at Crown Jewel to determine who is the best in the world. Shane wondered who that person will be as fans chanted "CM Punk" at him. Well, it was his catchphrase! Shane: "I don't believe he's in the tournament." Haha.
Shane talked about the field taking part in the WWE World Cup and mentioned the four Smackdown guys in the eight man tournament. The four guys are Jeff Hardy, The Miz, Rey Mysterio and Randy Orton. Shane said let's get to the main event.
Analysis: There wasn't much to that. It was just a way for Shane to get on the show and try to promote the PPVs coming up. The CM Punk chant isn't something WWE likes since he quit four years ago, but when you call a tournament "best in the world" the fans are going to think of Punk since that was one of his catchphrases. Shane did not mention Saudi Arabia during his speech.
Jeff Hardy made his entrance for the main event. He's got the face paint on. The fans cheered him as usual. Randy Orton entered at a slow pace. The show went to commercial there.
(Commercial)
A video aired promoting the WWE 2K19 video game available now.
Randy Orton vs. Jeff Hardy
The match began with about ten minutes left in the show. Orton was in control out of the ring when he slammed the back of Hardy's head into the steel steps repeatedly. Back in the ring, Orton slapped on a headlock. Orton pulled down Hardy by the hair. Orton connected with a dropkick followed by another headlock. Hardy with a back elbow, Hardy up top, Orton tripped him up and Hardy was upside down against the turnbuckle. Orton pulled on the earlobe of Hardy like he has done in the past. Orton brought Hardy out of the ring and gave him a belly to back suplex onto the announce table, which did not break. Back in the ring, Orton got a two count out of it. Hardy got back into it with a forearm, double leg drop and a low dropkick for a two count. Hardy wanted a Twist of Fate, Orton shoved him to the turnbuckle and Hardy came back with a Whisper in the Wind attack off the ropes for a two count. Hardy hit a modified version of a Twist of Fate. Hardy went up top, but Orton rolled out of the ring to get away. Hardy went for a Swanton Bomb off the apron to the floor, but Orton moved out of the way leading to Hardy hitting the floor hard. They went back into the ring with Orton teasing a RKO. The crowd was not that into this match, by the way. Hardy with a backslide pin attempt, Orton got out of that, Hardy wanted a Twist of Fate, Orton slipped out and Orton hit a RKO out of nowhere for the pinfall win after about nine minutes.
Winner by pinfall: Randy Orton
Analysis: **1/2 It was just an average match between two guys that have wrestled on television dozens of times. Orton controlled most of it, Hardy tried the comeback, that failed and Orton won clean. I would have thought maybe Orton wins cheap, but no it was totally clean. I don't see how this is supposed to get us excited about the World Cup tournament they have planned. It's just a singles match and there's no storyline going into the tournament, so should we really care? I don't think most fans care and you could hear how quiet this crowd was too.
Orton celebrated the win to end the show. That was it.
Three Stars of the Show
1. Rey Mysterio
2. The Miz
3. (tie) The Usos
3. (tie) Styles/Bryan
The Scoreboard
5 out of 10
Last week: 7.5
2018 Average: 6.53
Last 5 Weeks: 7.5, 7.5, 5, 7, 7.5
2018 High: 8.5 (July 31)
2018 Low: 4.5 (January 2, January 9)
Final Thoughts
I give this week's Smackdown a 5 out of 10.
It was a below average show (based on my annual average score) that lacked interesting segments. I don't really like the build to Styles vs. Bryan with another tag team loss. It's not the right way to get fans excited about their match. The only SD featured match at Evolution is Lynch vs. Flair and they weren't even shown in the arena.
The two main singles matches featured four of the guys in the World Cup tournament at Crown Jewel. They didn't excite me that much. This Crown Jewel show doesn't feel like a big deal at all with a quiet crowd for the Hardy vs. Orton main event. Skippable show this week if you missed it.
Last Friend Standing? NOPE.

This Sunday at #WWEEvolution, it's about the LAST WOMAN STANDING! #SDLive@MsCharlotteWWE@BeckyLynchWWEpic.twitter.com/U1Iku7Q53B

— WWE (@WWE) October 24, 2018
Here's the updated lineup for women's only Evolution PPV this Sunday on October 28.
Raw Women's Championship: Ronda Rousey (c) vs. Nikki Bella
Smackdown Women's Championship Last Woman Standing: Becky Lynch (c) vs. Charlotte Flair – That's the main event to me, but WWE may put the Rousey match on last.
Trish Stratus and Lita vs. Mickie James and Alexa Bliss
Sasha Banks, Bayley and Natalya vs. Ruby Riott, Liv Morgan and Sarah Logan
NXT Women's Championship: Kairi Sane vs. Shayna Baszler
Battle Royal for a future Championship match – Names include: Nia Jax, Dana Brooke, Alicia Fox, Ember Moon, Peyton Royce, Billie Kay, Tamina, Asuka, Mandy Rose, Carmella, Lana, Sonya Deville, Naomi, Torrie Wilson, Alundra Blayze, Ivory, Michelle McCool, Molly Holly, Zelina Vega, Kelly Kelly and Maria Kanellis.
Mae Young Classic Tournament Final – I won't list the names because that's a spoiler.
NXT UK Championship Match – I won't list a spoiler here either.
That looks to be the full card with eight matches.
Here's the updated lineup for men's only Crown Jewel on November 2.
Universal Championship Match for the Vacant Universal Championship: Brock Lesnar vs. Braun Strowman
Triple H and Shawn Michaels vs. The Undertaker and Kane
WWE Championship: AJ Styles vs. Daniel Bryan
WWE World Cup: John Cena, Kurt Angle, Jeff Hardy, Randy Orton, Seth Rollins, Dolph Ziggler, The Miz and Rey Mysterio in a tournament.
Smackdown Tag Team Championships: The Bar vs. The New Day
There are rumors that the show could be moved and/or changed in a big way, so we'll see if it actually takes place.
—
Thanks for reading. My contact info is below. Go Los Angeles Rams.
John Canton
Email mrjohncanton@gmail.com
Twitter @johnreport