The John Report: WWE Smackdown Live 01/29/19 Review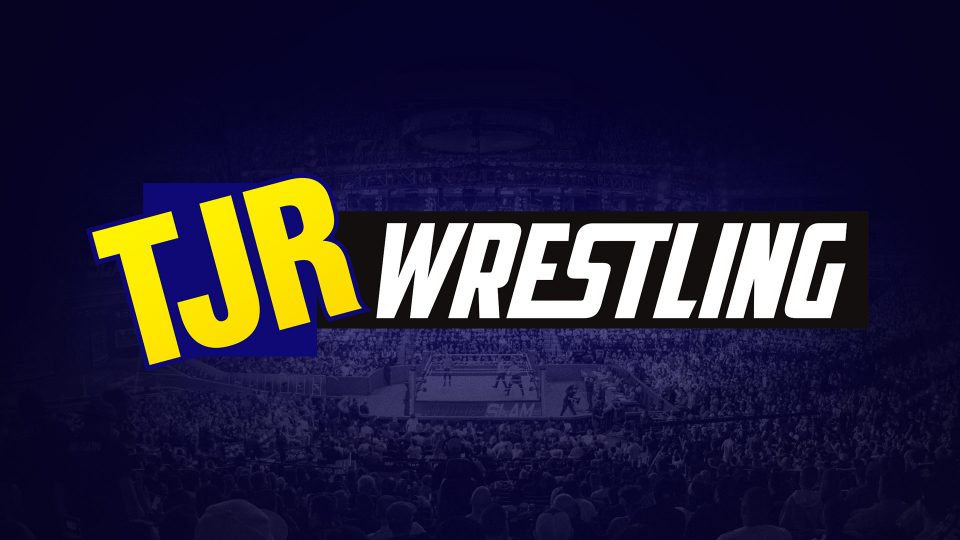 Live from Phoenix, Arizona (for the fourth night in a row), this is Smackdown Live for episode #1015. Follow me on Twitter @johnreport. If you want to support us at TJRWrestling, here's a Donate Link for our Paypal where anything you send will go towards building the site. Thanks to Melo Man for the banner up top.
The show began with a highlight from the women's Royal Rumble when Becky Lynch found her way into the match as a replacement for Lana at #28 and she ended up eliminating Charlotte Flair to win. Read my Royal Rumble review here in case you haven't done so already. This week on Raw, Becky Lynch showed up and told Ronda Rousey that she is challenging her at WrestleMania for the Raw Women's Title. Good segment. Read my WWE Raw Deal review here.
The show began with a live shot of the crowd in Phoenix. Becky Lynch made her entrance to a huge ovation and she limped down to the ring favoring her left leg that was storyline injured at the Royal Rumble. There were plenty of "The Man" signs held by the crowd. The announce team of Tom Phillips, Corey Graves and Byron Saxton welcomed us to the show.
Let's Hear from "The Man" Becky Lynch
Lynch said that a lot has happened in Phoenix in the last few days. She said she showed up on Raw after winning the Royal Rumble match because she couldn't resist looking Ronnie (Ronda Rousey) in her angry looking eyes once again. Lynch said that the beginning of the Royal Rumble pay-per-view didn't go her way (she lost to Asuka), but unlike Ronda, she doesn't crumble when she loses because she won the Rumble match on one good leg. The fans started a "Becky" chant. Lynch said that Rousey the arrogant dope bragged about main eventing while Lynch said that she is proud of working hard to get where she is today. Lynch said that she is very proud of being in the pre-show of last year's WrestleMania to being in this year's main event while nobody handed her nothing (or anything). The fans chanted "you deserve it" for Lynch. That's a silly chant in general, but it's fine for her. She thanked the fans for that.
Lynch said that the main thing she saw when she looked in Ronnie's eyes last night is the one thing she didn't have anymore…and that's doubt. Lynch said that she'll break Ronnie's arm in front of the world and if Ronnie doesn't believe that, she'll be carried out knowing it.
Analysis: It was a very good promo from Lynch as usual. I think the one thing that's really cool about her promos is that she's always a lot of confidence and has a lot of believability in everything she says. When Lynch said she's proud that she went from pre-show to main event that's cool because that will inspire the fans into thinking they can achieve their dreams too. Lynch is the regular woman that was not the "chosen one" at the time, but through hard work and respect from the fans, she earned her spot. That's why her promos work so well. They are believable.
Charlotte Flair made her entrance in her street clothes as she got some cheers, some woo's and some boos from the crowd. Flair congratulated Becky for making it off the Kickoff Show and said she's so happy for her while noting that she must be ecstatic. Fans chanted "Becky" so Flair said she's proud of her too.
Flair noted that Lynch wasn't even in the match, but somehow she willed her way into it and won. Flair said that maybe Lynch learned from her after all because she grew into The Man from lessons learned from The Queen. Flair said that she is the one that brought Becky to the main event. Flair said that she was so happy that she got to do this for Lynch and said "you're welcome" to her.
Lynch responded to Flair's cockiness with a sucker punch to the face and Lynch left while her music played. Flair didn't accept that, so Flair attacked Lynch on the ramp as they got into a slugfest. Flair whipped Lynch into the barricade at ringside. The women were separated by referees and producers in suits as fans chanted "let them fight." Lynch ran at Flair and attacked her with more punches. Lynch limped away while Flair laughed at a fan. Fans were chanting "Jamie Noble" because he was one of the guys in suits. Lynch's music played and Flair mocked the limp of Lynch.
Analysis: That was a heelish promo by Flair as well as the cheap attack from behind, so perhaps she's going to turn back into the heel role that she was in the past. I think she's better and more natural as a heel, but she has done well as a face too. I like the cocky laugh too. Charlotte looks as good as ever also. Lynch punching her in the face instead of saying something was cool. The brawl was very believable as well. It was interesting that Flair didn't complain that much about Lynch not legally being in the Rumble match, yet she was the winner, which is something Flair could have complained about it. Anyway, this story isn't over, especially because the plan is still to do Lynch vs. Rousey vs. Flair at WrestleMania.
Shinsuke Nakamura was shown backstage with his new US Title because he's against R-Truth up next.
(Commercial)
R-Truth entered with Carmella. Images were shown from the Royal Rumble with Truth getting attacked by Nia Jax and she entered the men's Rumble at #30.
R-Truth complained about how Nia Jax took him out of the Royal Rumble match. Carmella noted that they worked hard to win Mixed Match Challenge to earn the #30 spots. Truth: "I don't know what happened. One minute I was rapping, one minute I was napping." Truth claimed he would have won that match, which is why the McMahons granted him this US Title match right now.
Analysis: That explanation was fine with Truth saying he gets the title shot because he was attacked at the Royal Rumble. The rapping and napping line was clever. There's always going to be one funny line in a Truth promo. He cracks me up sometimes.
Shinsuke Nakamura made his entrance with the US Title around his waist. He won the title back from Rusev on the Royal Rumble Kickoff Show.
United States Championship: Shinsuke Nakamura vs. R-Truth (w/Carmella)
Nakamura started the match with a running kick to the head followed by a reverse Exploder Suplex. Nakamura went for the Kinshasa, Truth ran at him and hit the Lie Detector slam into the mat with Nakamura rolling to the floor. They went to break one minute into it.
(Commercial)
The match returned with Nakamura hitting Truth with three running knee attacks to the ribs while Truth was against the turnbuckle, which drew a two count. They did a spot where Truth got an inside cradle on Nakamura and it looked like Nakamura kicked out, but ref Mike Chioda counted three and called for the bell. The guys didn't think that was it because Truth went for a kick with Nakamura moving. Nakamura argued with the referee.
There was a replay that showed Nakamura kicked out before the three count. Truth was handed the US Title. It went about six minutes.
Winner by pinfall and New United States Champion: R-Truth
Analysis: *1/4 That was weird. I did not expect that at all especially at that moment. It was done in a way where it was clear that Nakamura kicked out before the three count. It was weird to see a title change two days after the last title change, but the US Title is hurting in terms of credibility of late. Why book it like that? Even if it was a rollup win by Truth that would have been better than a win where the guy kicked out before the three. I'm not sure what the end game is here.
After the match, Rusev (with no "Rusev Day" shirt) walked out with the lovely Lana by her side. She had a boot on her left foot to sell her left foot injury. Rusev said that he took the US Title from Shinsuke Nakamura deserves better than Nakamura and that title for sure deserves better than R-Truth. Rusev challenged Truth for the title right now. Carmella and Lana got into an argument where Carmella shoved Rusev down. Rusev and Truth shoved eachother, so Truth said he'll put the title on the line. It's after a break.
Analysis: That promo was heelish from Rusev, who insulted Truth. Since he's not doing the "Rusev Day" thing anymore, maybe he's going back to being heel the way Elias turned on Raw as well.
(Commercial)
The match started before the break with blind referee Mike Chioda as the referee of this match as well.
United States Championship: R-Truth (w/Carmella) vs. Rusev (w/Lana)
Rusev was in control with a side headlock. When Truth got back to his feet, he kicked off the turnbuckle and then pinned Rusev for the pinfall win. It was not the ROLLUP OF DEATH~! but more of a rollup where he sat on top for the pin. This went about two minutes.
Winner: R-Truth
Analysis: 1/2* Another surprising win by Truth. I guess that's his thing now.
Post match, Nakamura went down to ringside and attacked Truth from behind. Nakamura sent Truth into the ring, so Rusev and Nakamura worked over Truth together. Nakamura picked up Truth and Rusev hit a Machka Kick on Truth. Rusev held up Truth leading to Nakamura hitting the Kinshasa knee strike to the face of Truth.
Analysis: The double team heel attack from Rusev and Nakamura means that Rusev is back in the heel role. I liked him as a face, but he's had a lot of success as a heel too. The referees were quick to break up a one on one fight from Charlotte and Becky, but nobody cared about helping Truth from a 2 on 1 attack. I'm just pointing that out because those kinds of things come to mind when I see stuff like that.
A replay aired of Charlotte Flair and Becky Lynch brawling in the opening segment of the night.
There was a shot of Becky Lynch limping in the parking lot while wielding her luggage. Lynch put her suitcase into the back seat of a car. An interviewer showed up to ask why she didn't let the medical staff look at her leg and Lynch said she didn't need to miss more time. Lynch drove off in the car. The announcers remarked that maybe Lynch is more injured than she will let people know.
Analysis: It looks like Lynch will be selling that leg injury for a few weeks at least.
Rey Mysterio made his entrance to a nice reaction from the crowd. He's against Samoa Joe after the break.
(Commercial)
There was a shot of R-Truth getting looked at by a trainer with Carmella by his side. Truth told the trainer he was fine. The trainer was likely some indy wrestler.
Rey Mysterio was in the ring looking ready to go. A clip aired of Samoa Joe attacking Mysterio and Andrade last week to end their match.
Zelina Vega, the business manager of Andrade, showed up for a promo. That's a big wedding ring. Good job, Aleister Black. She wondered if Rey is that distracted by her that he can't even focus on his opponent. She said that Andrade is head and shoulders above everybody else, especially him. Andrade attacked Mysterio from behind.
Andrade beat up Mysterio with punches. Andrade picked up Mysterio and hit the vertical suplexes like Eddie Guerrero, but Mysterio kicked him. When Rey went for a 619, Andrade blocked it and knocked Rey down with a kick. Andrade hit the Hammerlock DDT to put Rey down. Andrade posed in the ring with Vega.
Analysis: No match for Mysterio as they continue to build the Mysterio feud with Andrade. I assume this will lead to another Mysterio vs. Andrade match at Elimination Chamber, which is fine with me because they have awesome matches together.
Later on Smackdown: Daniel Bryan is there. Good.
Rusev was shown in the locker room, so Karl Anderson and Luke Gallows showed up to talk to him. Anderson said R-Truth didn't deserve what happened to him. Rusev told Anderson to mind his business all the way back to catering and take his tall friend with him. Anderson said that Rusev and Nakamura deserve eachother, but he didn't think they would fare well against these good brothers. Nakamura showed up to say challenge accepted as Anderson and Gallows left. Rusev told Nakamura that he'll team with him one time and said, "do not screw me over."
Analysis: It was another way to cement the heel turn of Rusev by having faces like Gallows and Anderson saying that what he did was wrong. Rusev and Nakamura could be a new heel alliance. Rusev said they'll team up one time, but it might lead to more than that.
The Miz and Shane McMahon were shown walking backstage as the Smackdown Tag Team Champions. Shane said that Miz will love the celebration.
(Commercial)
There was a clip of The Rock and Paige at the premiere of the movie "Fighting With My Family" at the Sundance Film Festival. There were comments from Rock, Paige, actor Vince Vaughn, actor Florence Pugh (she plays Paige) and director Stephen Merchant talking about the movie. The movie is in theaters everywhere on February 22.
Shane McMahon and The Miz celebrate their Smackdown Tag Team Championship Win
The Miz made his entrance first in a suit and he was joined by his partner Shane McMahon. They had the Smackdown Tag Team Titles with them. There was nothing extra in the ring for the celebration.
Shane did his suck up with a "what's up Phoenix" leading to "Shane O Mac" chants. Miz said that Phoenix is ready to party with the Smackdown Tag Team Champions. Shane said that Miz helped make a dream come true when they became Tag Team Champions. Shane said that he was thinking of how he could repay him and show his appreciation. He said the one thing he can do for Miz, he promises him that after tonight's moment, he will never forget this moment for the rest of his life. Shane cued up a video recapping their time together as a team.
A video aired showing all the promos and Shane's Crown Jewel World Cup win back in November, so it took about three months to get to this point. Miz wanted Shane to team with him, Shane was reluctant and Miz said that this is about his dad being proud of him and his dad suggesting that Miz team with Shane. Shane said he could relate to that, so they became a team. Highlights aired of their Smackdown Tag Team Title win. The fans chanted "you deserve it" at them when the video ended.
Shane said that at first, he didn't know his motivation to be his partner until they all found out. Shane said that he had something that Miz will remember for the rest of his life. Shane introduced everybody to the Miz's dad, George Mizanin.
George Mizanin made his entrance to the Miz music and had on a "Miz & Mac" shirt. Graves ripped on this saying it's not a big deal since Miz saw his dad on Sunday and he was at the Royal Rumble. George entered the ring with his son. Graves said he didn't see the big deal and Saxton said that it was about Miz proving something to his dad. The fans chanted "Mr. Miz" for George.
Miz said that Mr. Miz was supposed to be on a flight this morning. Shane said that he called George because he wanted him to be part of this and his dad has something to say. George said to Miz: "Mike, I love you and I'm very proud of you." Miz hugged his dad. Shane celebrated. Graves said that they could have done this backstage and he didn't understand why they celebrated this. Fans chanted "Mr. Miz" again.
Analysis: That was a fine segment that followed up on the story of The Miz wanting to prove to his dad that he was the best and wanting his dad's acceptance. Graves was pretty funny on commentary by questioning this and ripping on why they needed to this when they could have just done it backstage. Miz dad is pretty funny with how awkward he is when they use him at the Hall of Fame for interviews and on the Miz & Mrs. show as well.
Shane said it's one thing to be tag team champions, but it's another thing to defend them, so they will find out their next opponents in a four-way elimination match. The Usos made their entrance leading to a break.
(Commercial)
The video aired to let us know that WrestleMania is 68 days away as of Tuesday. I think the Kickoff Show just started. I'll make that joke a few times in the next two months. Sorry in advance.
There was a plug for the Worlds Collide tournament that airs on WWE Network on Saturday.
The lovely Mandy Rose and Sonya Deville were interviewed by Kayla Braxton backstage. Mandy said that Sonya and her are officially declaring for the Women's Tag Team Title match at Elimination Chamber. Mandy said it's not always that easy being me because when you look like this and you're one half of the fiercest, hottest team on the planet, people try to knock you down like Naomi. Mandy mentioned she had footage, so a clip aired from Tough Enough 2015 when Tamina slammed Mandy and Naomi told Tamina to splash Mandy, so Tamina did. Sonya claimed that Naomi said something bad when the camera was off and noted that Naomi made Mandy cry. That led to Mandy saying that she cried and she developed a complex so bad that her boyfriend dumped her. She said that Naomi ruined her relationship, so she went after hers. Mandy said that this will never end. Mandy said her mind is on the Elimination Chamber when her and Sonya become the Women's Tag Team Champions, Naomi will be the last thing on her mind.
Analysis: They had qualifying matches for the Elimination Chamber Women's Tag Team Title match on Raw while on Smackdown, a team can just declare that they are on it. That's odd. I think the Iiconics from Smackdown will be in the match too. The other Smackdown team should be faces, so maybe Naomi teams with Carmella or something like that. As for the story after the Tag Team Title situation, I like Mandy, but some of the acting in that segment was weak. At least they tried to provide some backstory with Mandy holding a grudge with Naomi going back four years. I am happy with Mandy getting more screen time because she's got a lot of potential, plus look at her. She has a bright future. I'm picking Sasha and Bayley as the Women's Tag Team Champions at this point.
The tag teams were in the ring for this elimination match. Heavy Machinery got a televised entrance.
Four-Way Elimination Tag Team Match: The New Day's Big E and Kofi Kingston (w/Xavier Woods) vs. Heavy Machinery (Tucker Knight and Otis Dozovic) vs. The Bar Sheamus & Cesaro vs. The Usos (Jimmy and Jey Uso)
There are two guys in the ring and the other teams are on the apron. When one guy on a team is eliminated, the team is out. The winners become the challengers for the Smackdown Tag Team Titles at Elimination Chamber.
Kingston started with Dozovic with Dozovic sitting on the back of Kingston. Big E tagged in as the big men faced off with a double clothesline from Big E and Dozovic at the same time. Big E and Dozovic had a collision. Dozovic with a body slam on Big E. Knight tagged in with a double knee lift and they celebrated it.
(Commercial)
The match continued with Sheamus hitting a knee drop on Jimmy Uso with Graves noting he texted Mandy saying that she said she was okay with a sad face emoji. Graves' obsession is comical although it's weird since he is married with kids. I'm sure it's something Vince encourages because it helps Mandy stand out. Cesaro tagged in and Jimmy hit a belly to back suplex on him. Jey tagged in against Sheamus with two clotheslines, a kick to the gut and a Samoan Drop for two. Sheamus sent Jey over the top to the floor with Big E tagging Jey while he was sent to the floor. Kingston kicked Sheamus and tagged in leading to Kofi hitting a double foot stomp off the top on Sheamus while Big E was holding Sheamus. That was cool as Cesaro saved his partner. Big E hit a clothesline on Cesaro to take him out. Dozovic tagged in against Kingston, when Kofi jumped, Dozovic caught him and Knight tagged in for the Compactor double team finisher on Kingston (Knight jumps on Dozovic's back while Dozovic lands on Kingston with a front slam) for the pinfall to eliminate New Day.
The New Day eliminated by Heavy Machinery
Jey faced off with Knight and Jey sent Knight to the floor. The Heavy Machinery guys were on the floor, so Jimmy hit a dive on the Heavy guys on the floor while Cesaro tagged Jey to become the legal man. The Bar slammed Jey into the barricade leading to the break.
(Commercial)
Cesaro had Knight grounded with a headlock and Sheamus tagged in with a kick to the back of Knight. When Knight got up, he knocked down Sheamus with a clothesline. Dozovic got the hot tag against Cesaro with shoulder tackles, running clotheslines on both guys of The Bar and Dozovic hit an overhead belly to belly on Cesaro. Dozovic with a running splash on both members of The Bar against the turnbuckle. Dozovic did the caterpillar leading to an elbow drop for two. That drew a pop from the crowd because it's funny to watch. Knight tagged in, Sheamus grabbed Knight's foot and there was a double team slam by Machinery for a two count with Sheamus saving Cesaro. Knight took out Sheamus. Cesaro with a boot to the face. Jimmy tagged in with a cross body block off the top on Knight for two. Good nearfall. Jimmy kicked Dozovic off the apron and a superkick on Knight. Sheamus tagged Jimmy, Cesaro uppercut on Knight and Sheamus with a Brogue Kick on Knight to pin him.
Heavy Machinery eliminated by The Bar
When Sheamus turned around, Jimmy decked him with a superkick and Jimmy kicked Cesaro to knock him off the apron. Jey tagged in while Jimmy hit a dive over the top onto Cesaro on the floor to take him out. Jey up top and he hit a Superfly Splash on Sheamus for the pinfall win after 16 minutes of action. The crowd popped big for the finish and the end of this good match.
The Bar eliminated by The Usos
Winners: The Usos
The win means The Usos will challenge Shane and Miz for the Smackdown Tag Team Titles at Elimination. Shane and Miz were shown watching backstage.
Analysis: ***1/2 It was a very good match with some eliminations that were really well done, especially the finish. I liked that Heavy Machinery were booked strongly in the match as they were able to work together to eliminate The New Day. That was a big thing for them in terms of credibility. The Bar did well in the match, which is not a surprise since they work so well together as the best heel team in WWE. The Usos getting the win was a good call because they are one of the best teams in company history and it's time for them to get in the championship picture.
Daniel Bryan was shown walking backstage with the WWE Title on his shoulder. Some guy was about to eat some sandwich near him, so Bryan knocked it out of his hand. Bryan is up next.
(Commercial)
It's main event time. Sometimes they plug something that might happen next week, but there was nothing here.
Daniel Bryan Changes the Climate of WWE
Daniel Bryan, the WWE Champion, made his entrance in street clothes with the WWE Title on his shoulder. Images were shown from the Royal Rumble with Bryan getting the cheap win thanks to Rowan (they already stopped using "Erick" after using it on Sunday) giving AJ Styles a Chokeslam and Bryan won the match after that. The ref was bumped, so he never saw it.
Bryan asked if we know who won this past Sunday at the Royal Rumble? The fans chanted "Becky" to answer that question. He said that the fans all won and your children won and your children's children won because Bryan won. Bryan claimed that a victory for him is a victory for Planet Earth because he is the Planet's Champion. Bryan said he found somebody that agrees with everything he says and he showed up on Sunday for the greater good. Bryan introduced Rowan.
Rowan made his entrance wearing a flannel shirt and his theme music was the music he had during his poor singles run a few years ago. Rowan had a bag with him. Bryan asked the fans to "give it up" (cheer) for Rowan and they booed him.
Bryan asked what they see when they see Rowan. Bryan said that Rowan spends his evenings reading books and said that he is an enlightened man of the Earth. Bryan said that Rowan is his intellectual peer and that's how he's able to see through the façade of all of us and the façade of AJ Styles. Bryan said that even somebody as ignorant as Styles is right sometimes. Bryan said that last week, AJ Styles implied that Bryan is a hypocrite and Bryan said that he is a hypocrite. Bryan said that he was a hypocrite because he carried the WWE Title.
Bryan called for a trash can to be brought into the ring. Bryan said that the WWE Title is a symbol of excellence, but also a symbol of excess. Bryan said it is gaudy, it is made from cheap labor, worst of all, it is bound to the skin of a cow whose life was taken from her. Bryan said he wants to give that cow and her name was Daisy. Bryan said that Daisy had the ability to feel immense joy as the crowd chanted "Daisy" and that was funny. Bryan said that Daisy didn't get to experience much joy, but she felt pain. Bryan noted that Daisy gave her life for this symbol and this symbol is this very thing that Bryan and Rowan stand against. Bryan dropped the WWE Title into the trash. Bryan said that the WWE Title is trash.
Bryan said that when he became WWE Champion, he would change the world and to change the world, we need new symbols. Fans chanted "Goodbye Daisy" to honor the WWE Title. Rowan gave Bryan the bag and Bryan revealed a new WWE Title that was brown. Bryan held up the title. Fans booed him.
Bryan said these people are ignorant. Bryan said that this title is made from 100% sustainable organic hemp. Bryan said that the title was carved from a naturally fallen oak, but here comes AJ Styles.
Analysis: I think it looks pretty good and it fits the Bryan gimmick, so I'm fine with a new look WWE Title during Bryan's reign as the champion. If you want a gimmick to get over, you need to go far with it and Bryan is doing an awesome job in these promos in getting over this "new" Daniel Bryan character. I'm sure some people will complain about the WWE Title being dumped in the trash, but it's not like this is a permanent thing and it will only last until there's a new champion. If it gets heat that Bryan did that then it's worth it. Nobody should be offended by the title being thrown in a trash can since it's just an angle to get heat for the champ.
AJ Styles said he's not going to sit in the back while Bryan throws the WWE Championship in the trash. Styles asked if Bryan smoked the prototype to the championship he has now. Bryan said "no" to that. Fans chanted "yes" to that. Styles said that Bryan may hate corporations, but he just found a big insurance policy in Rowan. Styles nearly made his way down to the ring.
Randy Orton was up next as he walked out there in his wrestling gear leading to a break.
(Commercial)
Jeff Hardy was in the ring already along with Orton, Styles, Bryan and Rowan.
Mustafa Ali showed up to say that he sees a ring full of Hall of Famers arguing about where the line starts for the next WWE Title opportunity. Ali wanted to remind them of what he's done with Orton reminding him that he got tossed out of the Rumble by a girl (Nia Jax), which drew an "ooohhh" reaction from the crowd. Ali said it was right before he…and here comes Samoa Joe.
Samoa Joe was the sixth wrestler to join this party, which makes it obvious what is coming. Joe said that he's not asking for permission, he came to put a champion to sleep. Joe said that when he defangs the Viper it ain't going to come from nowhere. Joe said he already put Jeff out. Jeff said keep on talking and Joe said to act like an AA meeting while telling Jeff to shut his mouth. What a line! That was good. Joe said Mustafa was a boy among men. Bryan and Rowan left the ring as Joe entered the ring. Joe said that last week, Ali's eyes were closed when Joe put his ass to sleep. Joe went over to Styles and asked "How is our old girl Wendy doing?" and Styles punched him.
The brawl started with Orton hitting Joe with a RKO and Jeff hit Orton with a Twist of Fate. Ali hit a spin kick on Hardy. Styles was knocked down too. Bryan was on the WWE Title saying nobody will get a title shot.
Triple H appeared on the video screen. He said that Bryan won't take on any "one" of those WWE Superstars because he'll defend the WWE Title against ALL of those WWE Superstars and Bryan will do it inside Elimination Chamber. That led to "yes" chants from the crowd. Bryan was mad about it.
That means that inside Elimination Chamber on February 17 it is Daniel Bryan defending the WWE Championship against AJ Styles, Jeff Hardy, Randy Orton, Samoa Joe and Mustafa Ali.
There was still one minute left in the show, so the battle continued in the ring. Bryan ran to the back along with Rowan while Joe brawled with Styles into the crowd. Ali tossed Jeff out of the ring. Orton whipped Ali into the barricade at ringside. The show ended with the wrestlers continuing to brawl while Bryan and Rowan went to the back. That was how Smackdown ended.
Analysis: It's amazing how they had exactly six guys in the ring at the same time to set up the Elimination Chamber. What if they had eight or nine, then what? I'm just being silly. It was obvious what was coming with Elimination Chamber less than three weeks away and I'm fine with the choices for the six-man Chamber match. I think some of the guys in the match could have been booked better in recent weeks, like Jeff Hardy, who hasn't done much in January and Orton has barely been on the show. They have credibility as former WWE Champions, so I guess it doesn't matter too much. Ali being in the match is nice to see as well. Samoa Joe had the best promo among the challengers in the match.
There's no Rey Mysterio or Andrade involved because they'll likely have a match against eachother Elimination Chamber as well, which is fine with me.
I expect Bryan to hold onto the WWE Title until WrestleMania although I don't know who his opponent will be. Perhaps there will be multiple opponents. There's still Elimination Chamber and Fastlane to get through before WrestleMania, so there's plenty of time to figure it out.
Three Stars of the Show
1. Daniel Bryan
2. The Usos
3. (tie) The Bar
3. (tie) Becky Lynch
The Scoreboard
6.5 out of 10
Last week: 7.5
2019 Average: 6.8
Last 5 Weeks: 7.5, 5, 8, 7, 6.5, 7
2019 High: 8 (January 8)
2019 Low: 5 (January 15)
Final Thoughts
I give this week's Smackdown a 6.5 out of 10.
It was a promo heavy edition of Smackdown, so it was different from what we get most weeks out of the blue brand. The good thing is that the promo time was given to some of the best talkers like Becky Lynch and Daniel Bryan, along with The Miz (and Shane), so I'm okay with there being a lot of talking if they are quality promos.
There wasn't a lot of in-ring action this week aside from the very good tag team elimination match. I didn't like the way the US Title situation was booked. It was a messy situation, but I'm okay with it leading to Rusev becoming a heel again because he's pretty good in that role. The whole "Rusev Day" thing went on long enough.
They set up some things for Elimination Chamber well, especially the WWE Title match, so it was a productive show in that sense. I still think Charlotte Flair should have complained a bit more about Becky winning the Rumble when Becky wasn't officially in the match, but maybe that's a point that will be addressed down the road. The crowd was pretty good most of the night, so shoutout to Phoenix after making some noise for the fourth straight night.
The next WWE pay-per-view is Elimination Chamber on February 17 in Houston. Here's what we know so far.
WWE Championship Elimination Chamber Match: Daniel Bryan (c) vs. Randy Orton vs. Mustafa Ali vs. Samoa Joe vs. AJ Styles vs. Jeff Hardy
Smackdown Tag Team Championships: The Miz and Shane McMahon (c) vs. The Usos
Women's Tag Team Titles Elimination Chamber Match: Nia Jax and Tamina vs. Sarah Logan and Liv Morgan vs. another Raw team vs. Mandy Rose and Sonya Deville vs. two more Smackdown teams.
There will be more to come over the next two weeks.
—
Thanks for reading. My contact info is below. Go Los Angeles Rams, Toronto Raptors and Toronto Maple Leafs. They're all good!
John Canton
Email mrjohncanton@gmail.com
Twitter @johnreport
Personal Facebook and TJRWrestling on Facebook